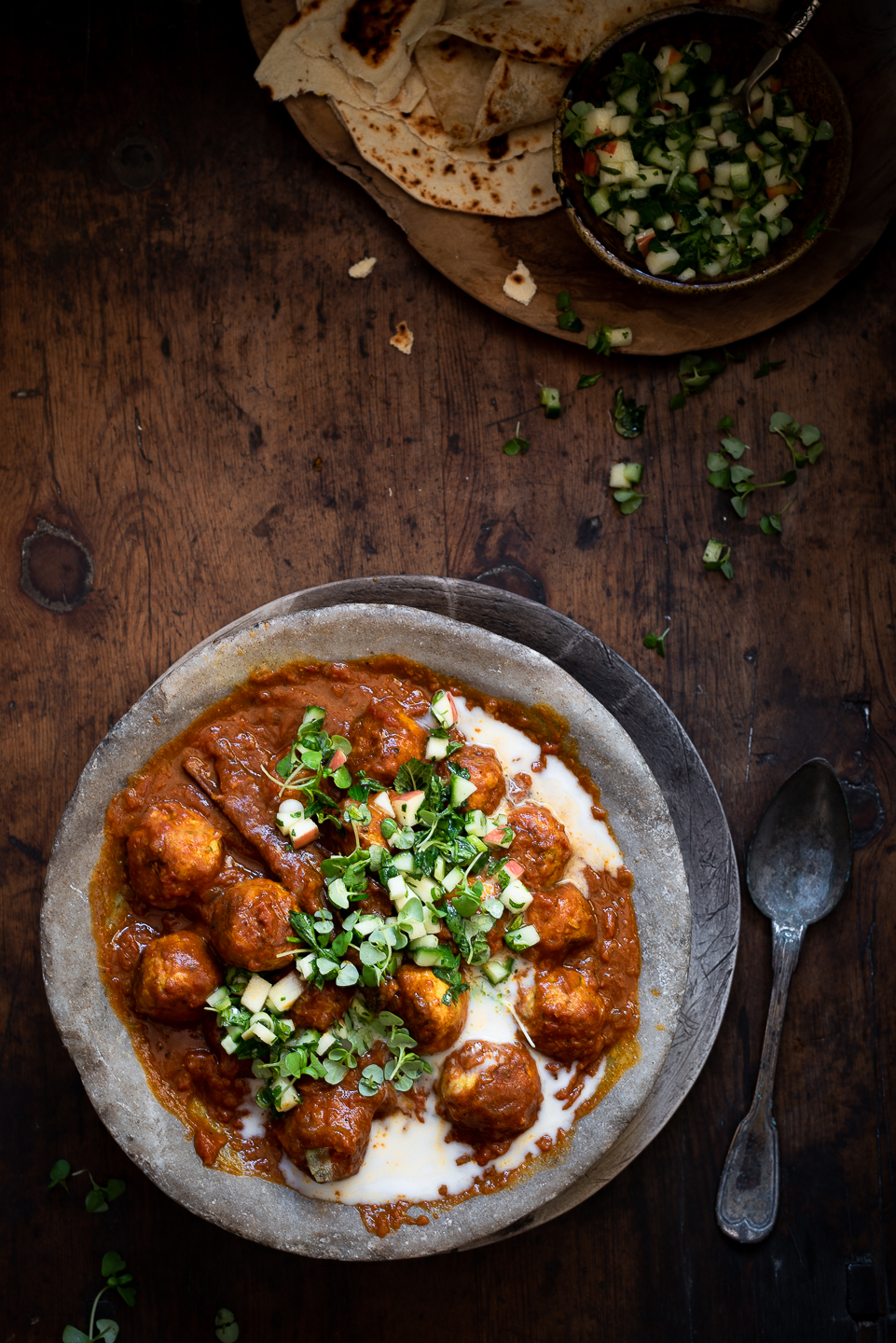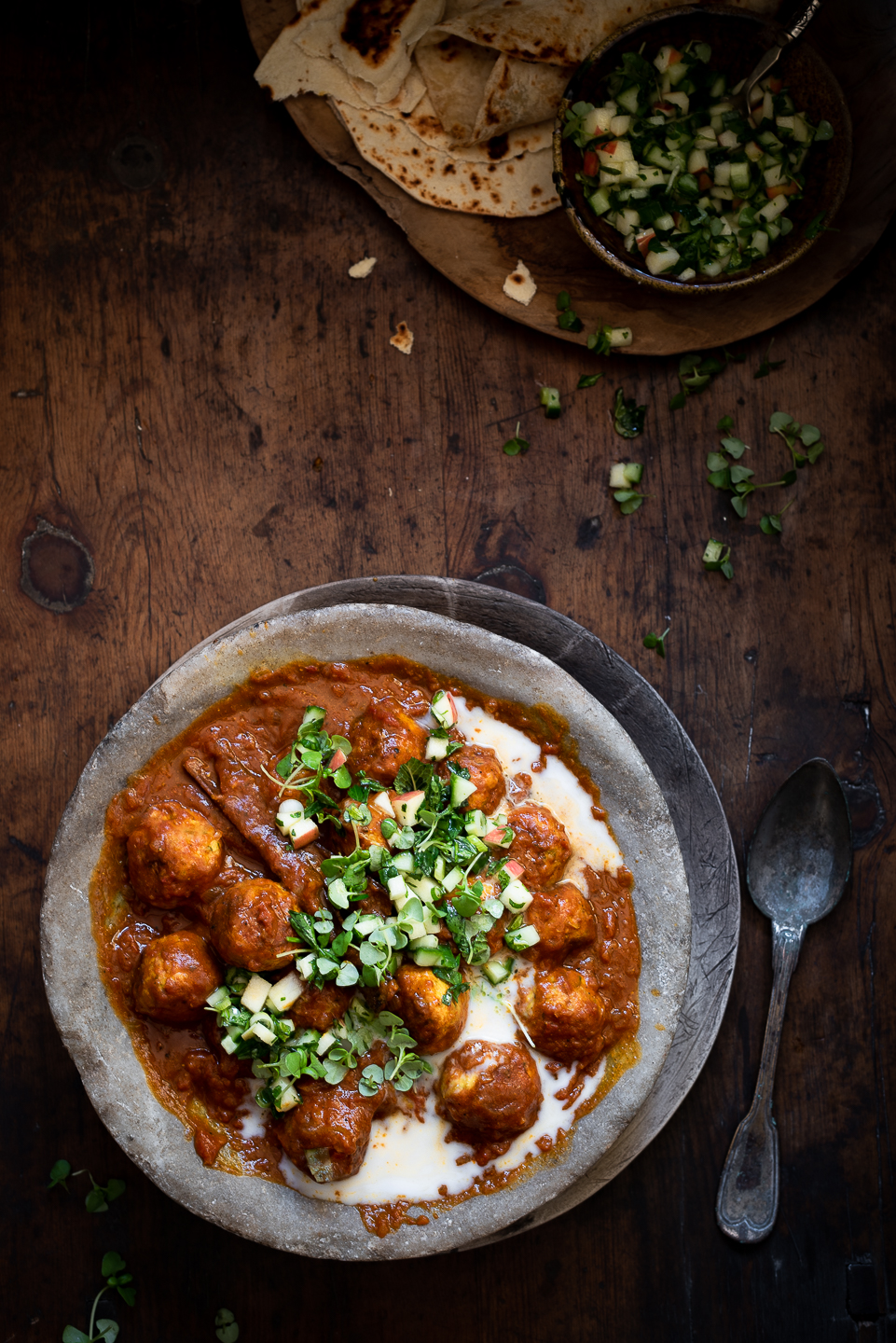 It's not often that I strongly suggest, and by that I mean, implore, that you make a recipe. But. These Cape Malay chicken meatballs are not to be missed.  I made them for Sunday lunch. By Monday, I was ready to make them again. In the 6 years of blogging, meatballs, chicken and cake, have been amongst the most popular recipes on the blog. This is the first chicken meatball recipe. I think it is going to rival Ottolenghi's Ricotta meatballs, for sure.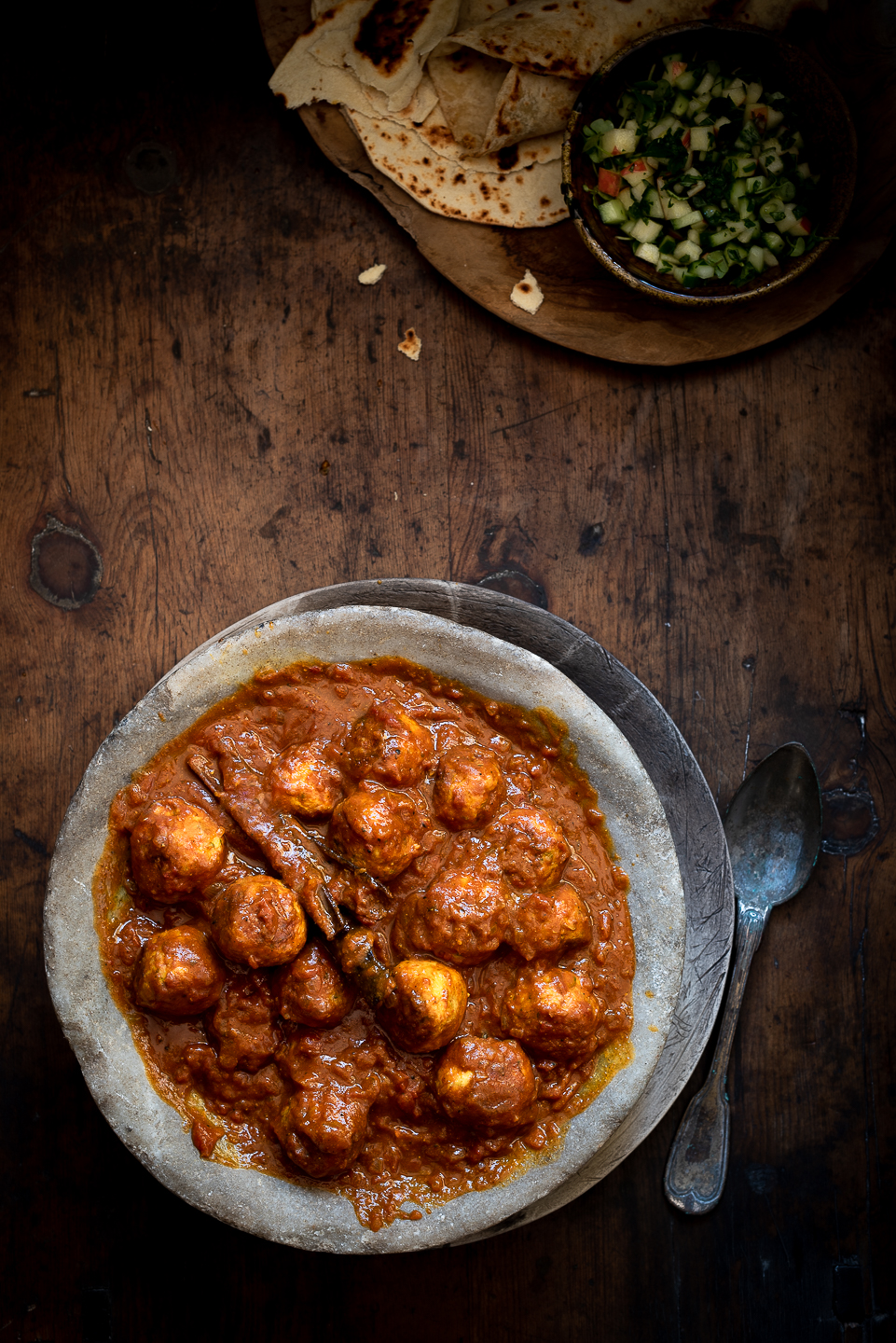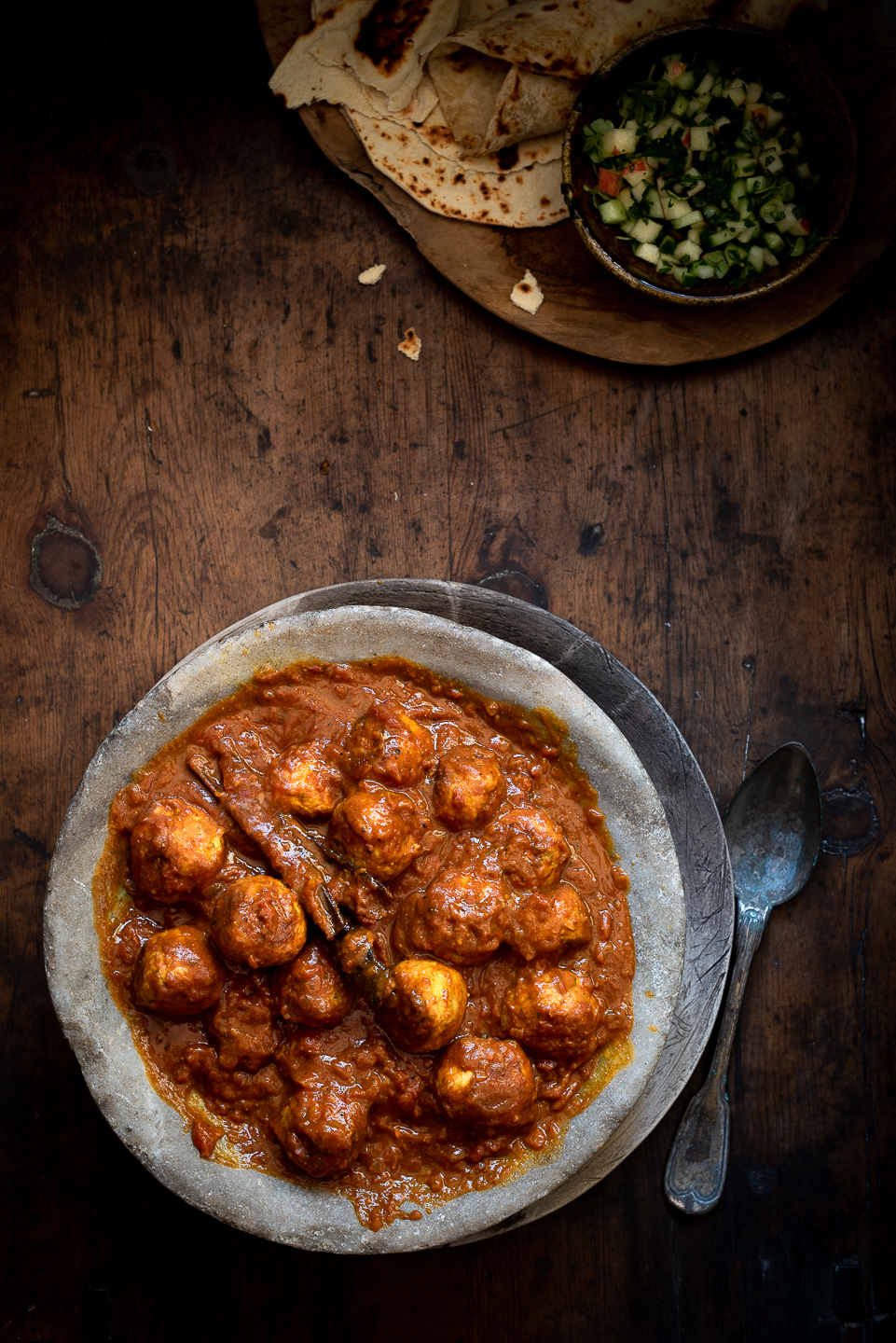 Inspired by the flavours of a traditional Cape Malay curry, here is my playful take on one of South Africa's most loved curries. Leaning on creative latitude and being a avid supporter of, eat more veg, I've added grated zucchini to the meatball mixture. It lightens the texture somewhat and pairs well with the chicken. When thinking about what to serve alongside, chutney was the obvious choice. My eye fell to the Pink Lady apples on the counter. After a quick fridge forage, I found more fresh potential for a throw-together apple chutney, come salsa. The flavour is delightfully clean and fresh with a zingy-ness that does wonders to counter the rich tomato sauce. We all agreed it was the making of the dish.
Cook's Notes :
Chicken mince is leaner than beef with no fat marbling so keep a watchful eye when browning, not to overcook.
The texture of the meatball mixture is soft, almost sticky. Use wet hands to roll the balls.
Freeze the uncooked meatball mixture on an open tray for 30 minutes to firm up.
When cooking the meatballs, use a non-stick pan. Only turn once a golden crust has formed.
Wring the zucchini well to remove as much liquid possible before adding to the meatball mixture.
Do make the salsa.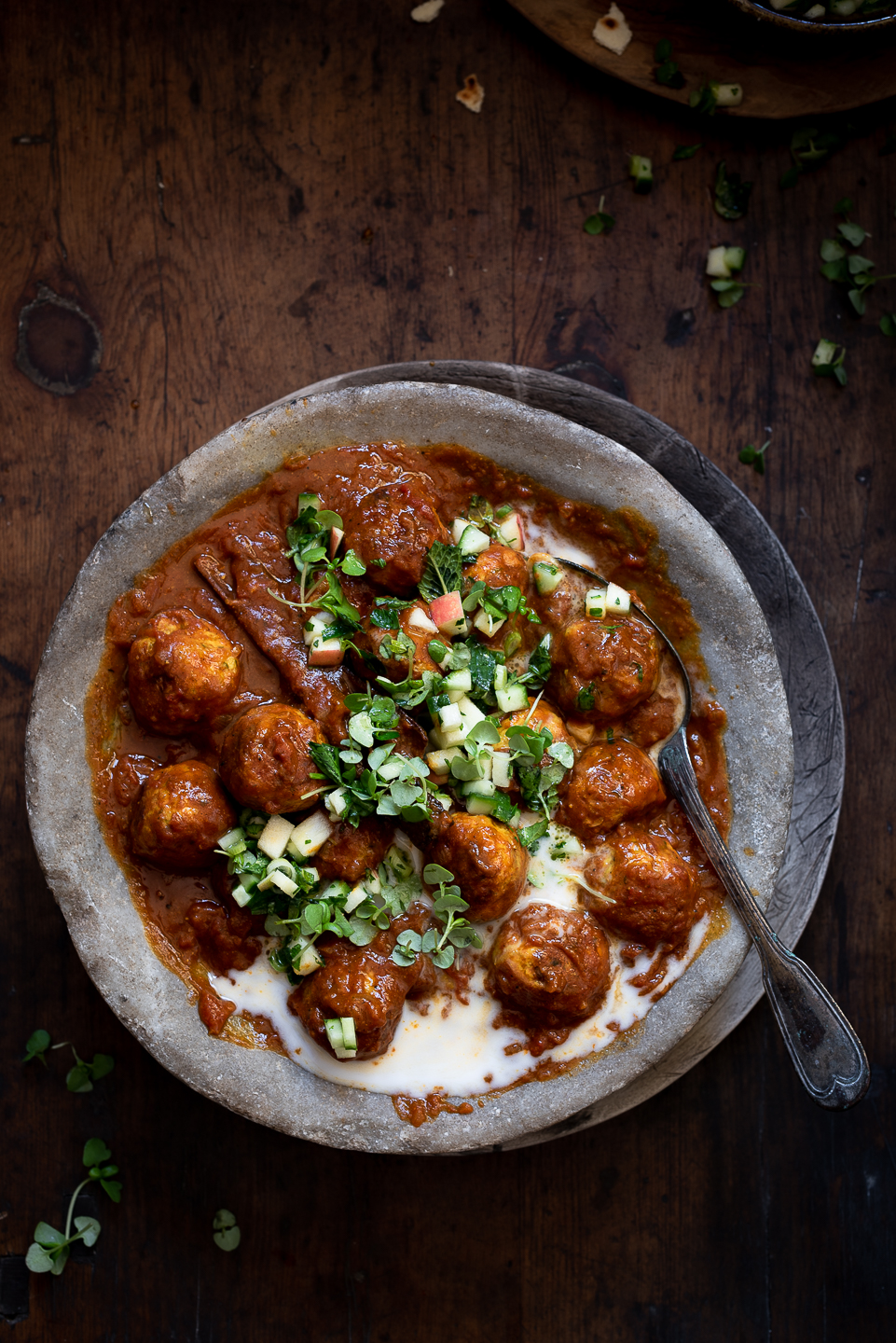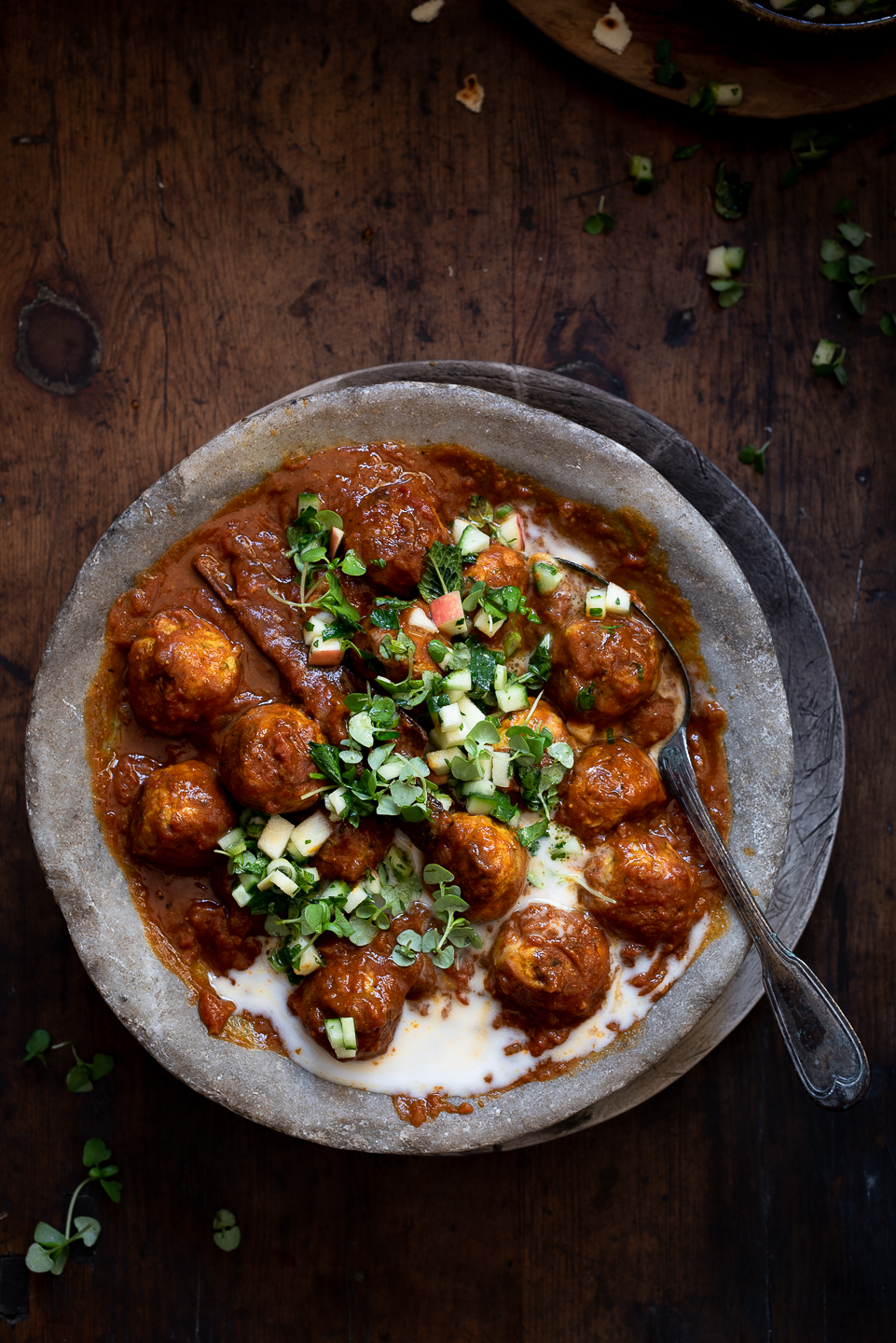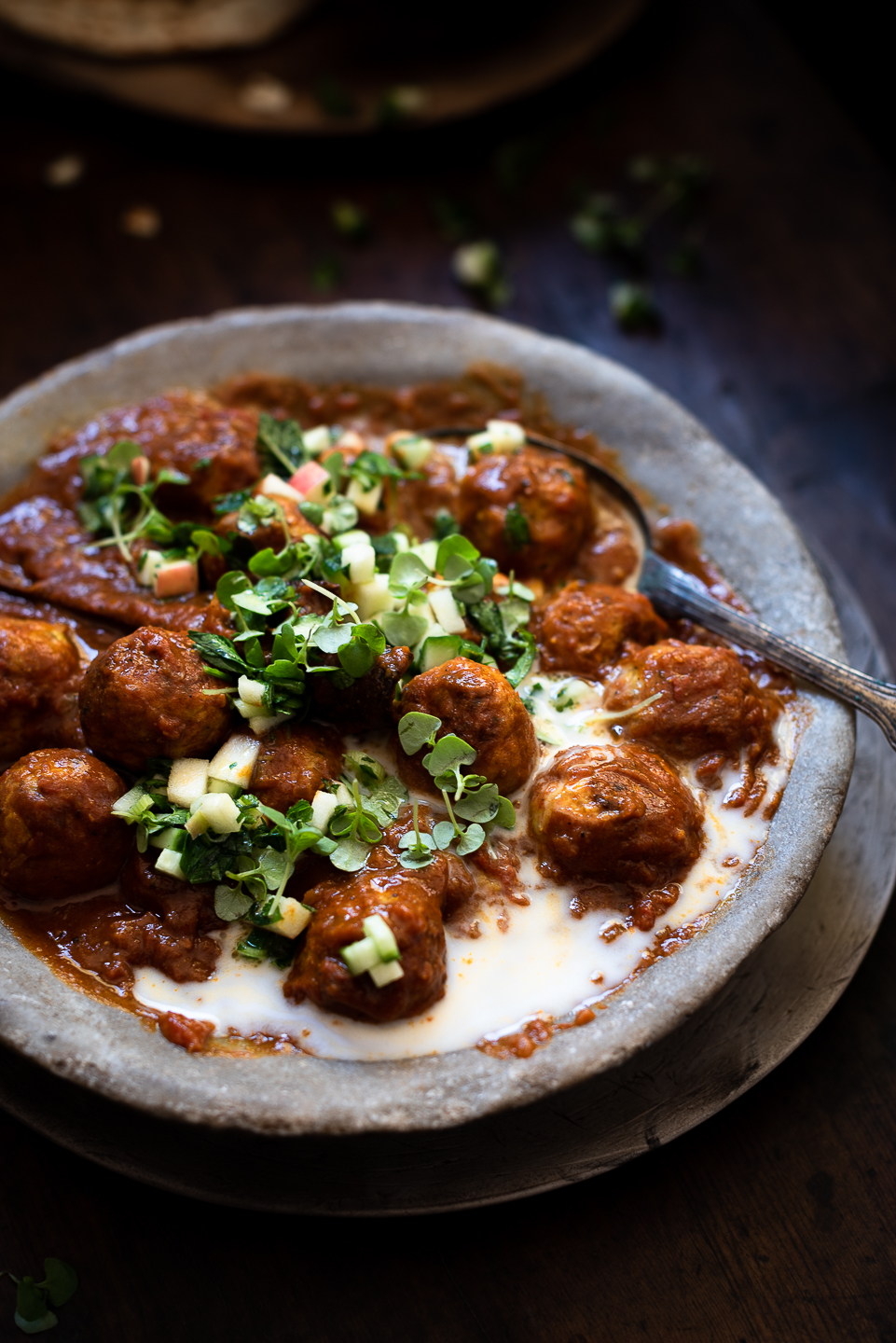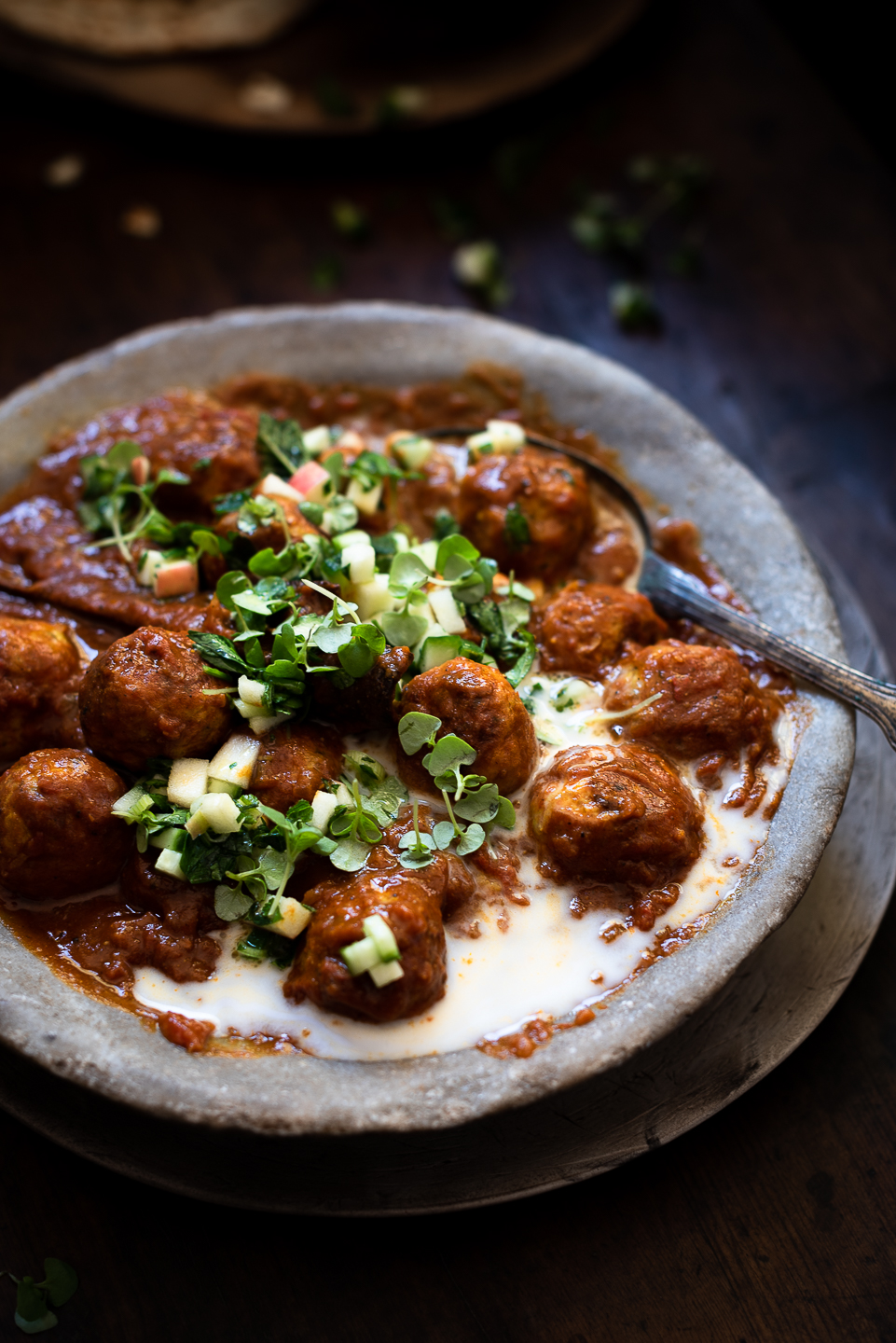 Cape Malay Chicken Meatball Curry
Serves 4
For the meatballs
500g chicken mince
3 medium-sized zucchini, grated and excess water wrung out
1 cup fresh breadcrumbs
5ml (1 teaspoon) ground coriander
5ml (1 teaspoon) ground cumin
3/4 teaspoon fine salt
Sauce
coconut oil, for cooking
1 large onion, finely diced
2 cloves of garlic, minced
1 tablespoon freshly grated ginger
1/2 teaspoon red chilli flakes
2 1/2 teaspoons garam masala
5ml (1 teaspoon) turmeric
5ml (1 teaspoon) brown sugar
2 cinnamon sticks
5ml (1 teaspoon) sugar
30ml (2 tablespoons) tomato paste
400g tin chopped tomatoes
125ml (1/2 cup) chicken stock
250ml (1 cup) coconut milk
salt and freshly ground black pepper
Crunchy apple salsa
1 Pink Lady Apple, skin-on, diced
half a cucumber, deseeded, cut into fine dice
a handful of flat leaf parsley and mint, roughly chopped
3 spring onions, sliced
40ml extra virgin olive oil
30ml (2 tablespoons) lemon juice
sea salt flakes and freshly ground black pepper
a scattering of micro herbs, if you like
For the meatballs, combine all the ingredients in a mixing bowl. Roll into evenly sized balls. The mixture makes about 22-24.
Heat 1 tablespoon oil in a wide-based pan. Brown the meatballs on all sides, then remove and set aside.
Add a little more oil to the pan and sauté the onion until softened, 6-8 minutes. Stir in the garlic and ginger and cook for another minute or so. Add the spices, mix through and toast for just a minute to intensify the flavours. At this point the onions will look dry and crumbly.
Add all the remaining ingredients, stir through and bring up to the boil. Return the meatballs to the pan, cover and simmer for around 25 minutes until the sauce is thickened and reduced.
For the salsa, combine the apple, cucumber, onions and herbs in a small bowl. Drizzle with olive oil and lemon juice, then season lightly with salt and black pepper. Toss to combine.
For more on the best meatballs, here are some of the most popular recipes on the blog:
Creamy Swedish meatballs with mushrooms
Ottolenghi's Ricotta and oregano meatballs
North African Chermoula meatballs