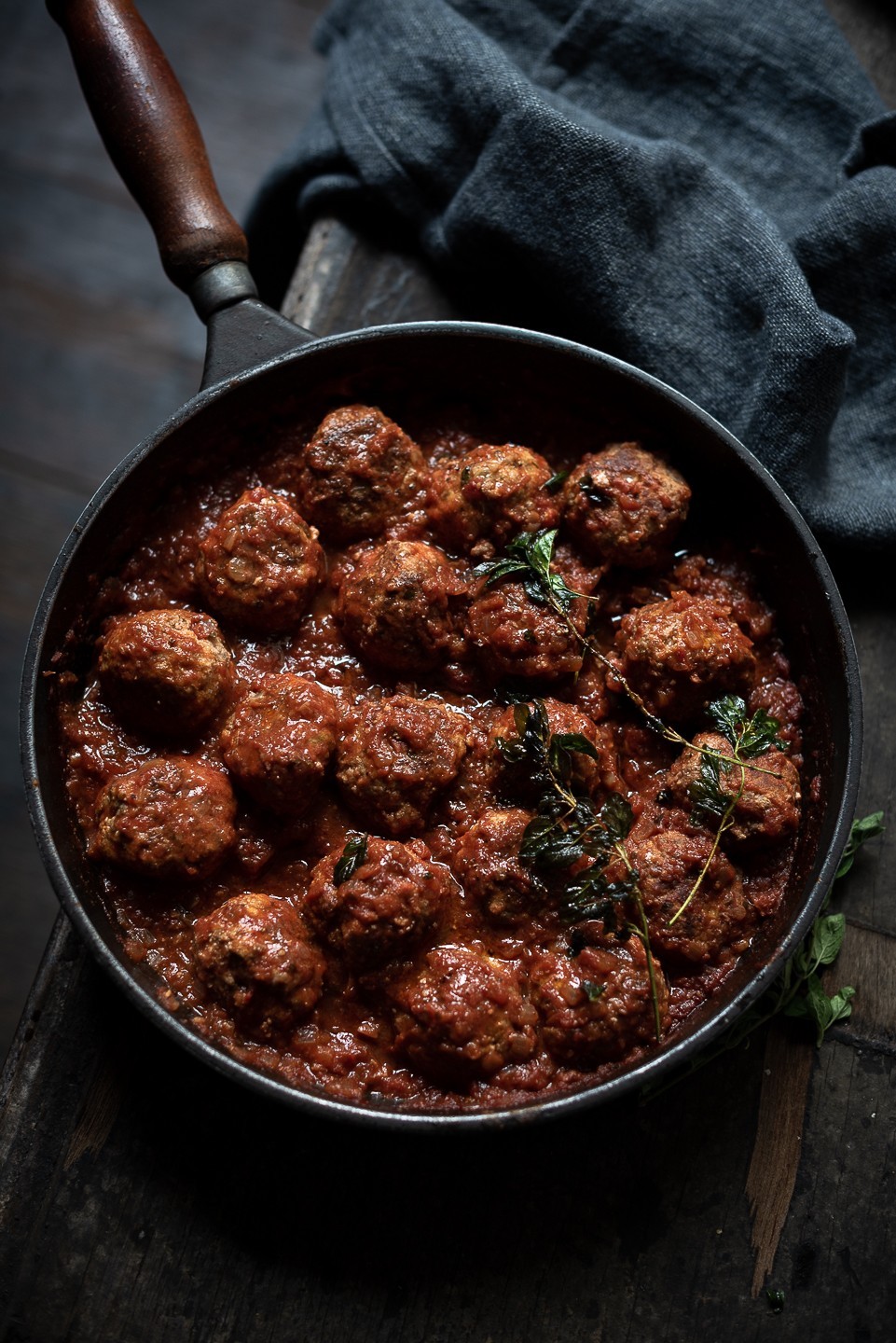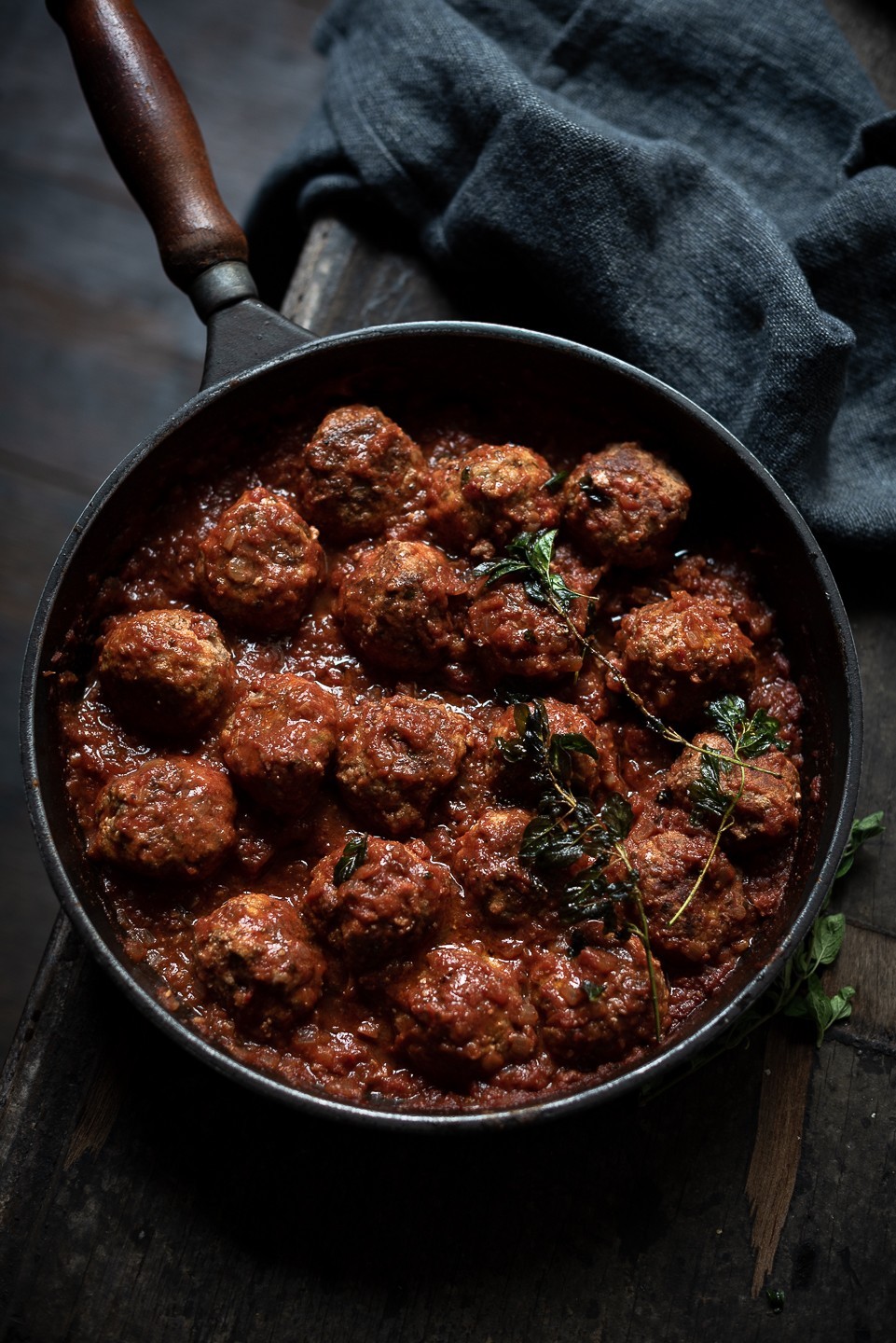 Some of the most popular recipes on the blog are meatballs, from a Spanish inspired recipe to creamy Swedish meatballs and local favourite, North African meatballs. I'm confident that Ottolenghi's ricotta and oregano meatballs will soon be a regular at your dinner table, too.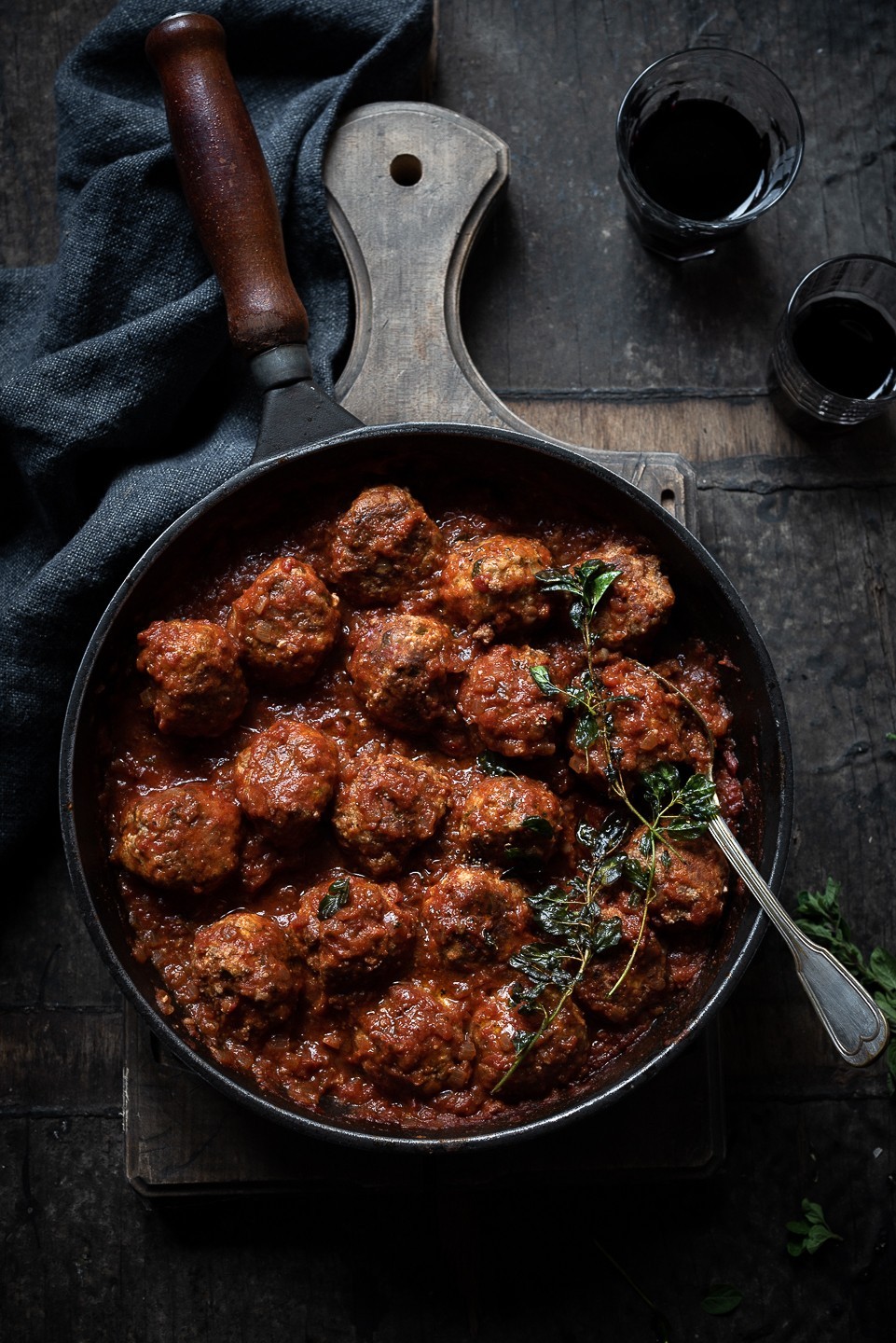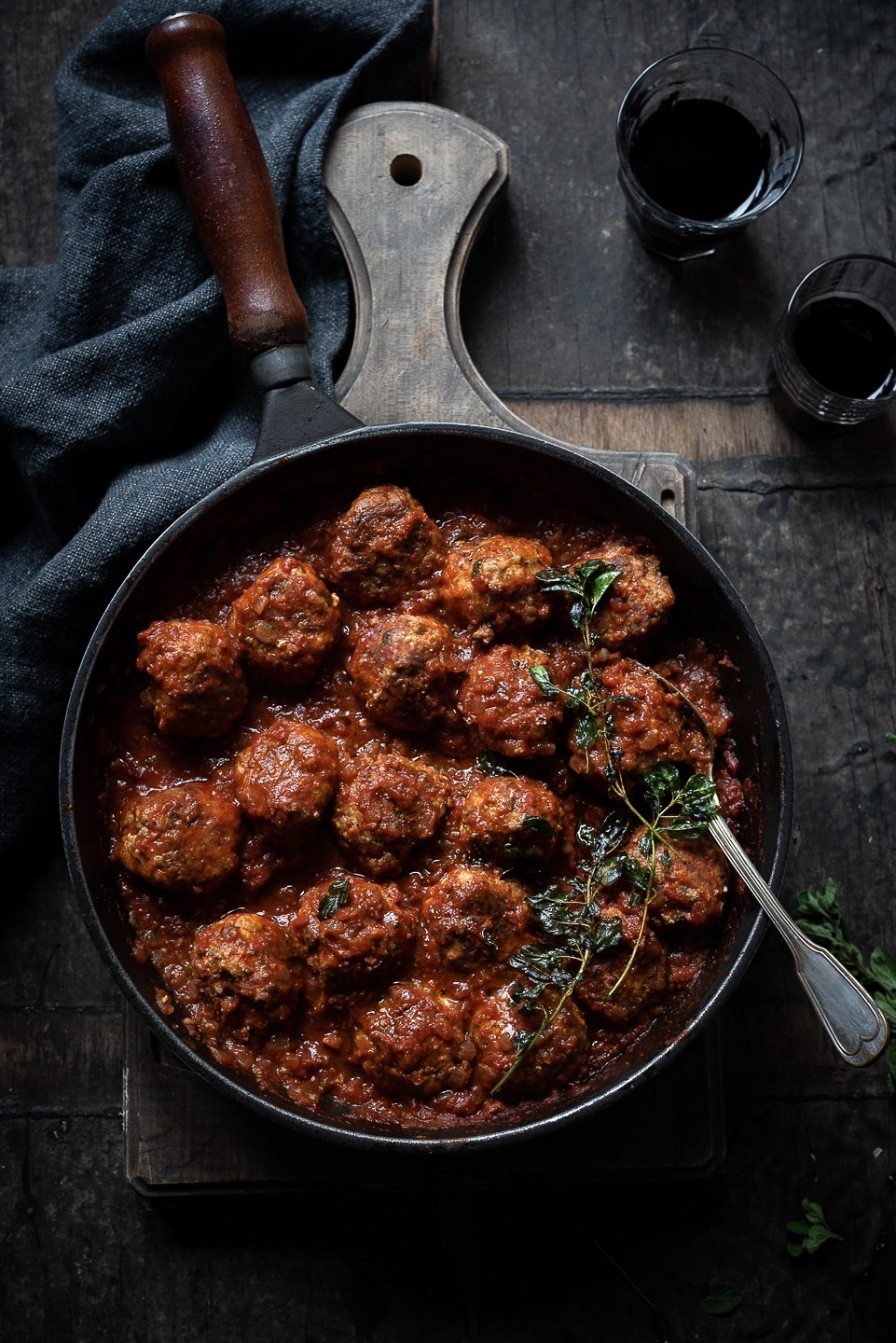 In his latest cookbook, Simple, Ottolenghi assures us that these meatballs are super light and fluffy. If you're a seasoned 'meatballer' you'll know that sturdy flavourings are as important as the lightness of the meatball itself. Whenever I cook a new recipe, I scan the ingredient list first. Here, I needed only ricotta. Initially, I thought 250g ricotta might be a bit much but it's this, that makes them defiantly light. For the breadcrumbs, I used a good old government loaf. It makes the softest crumbs.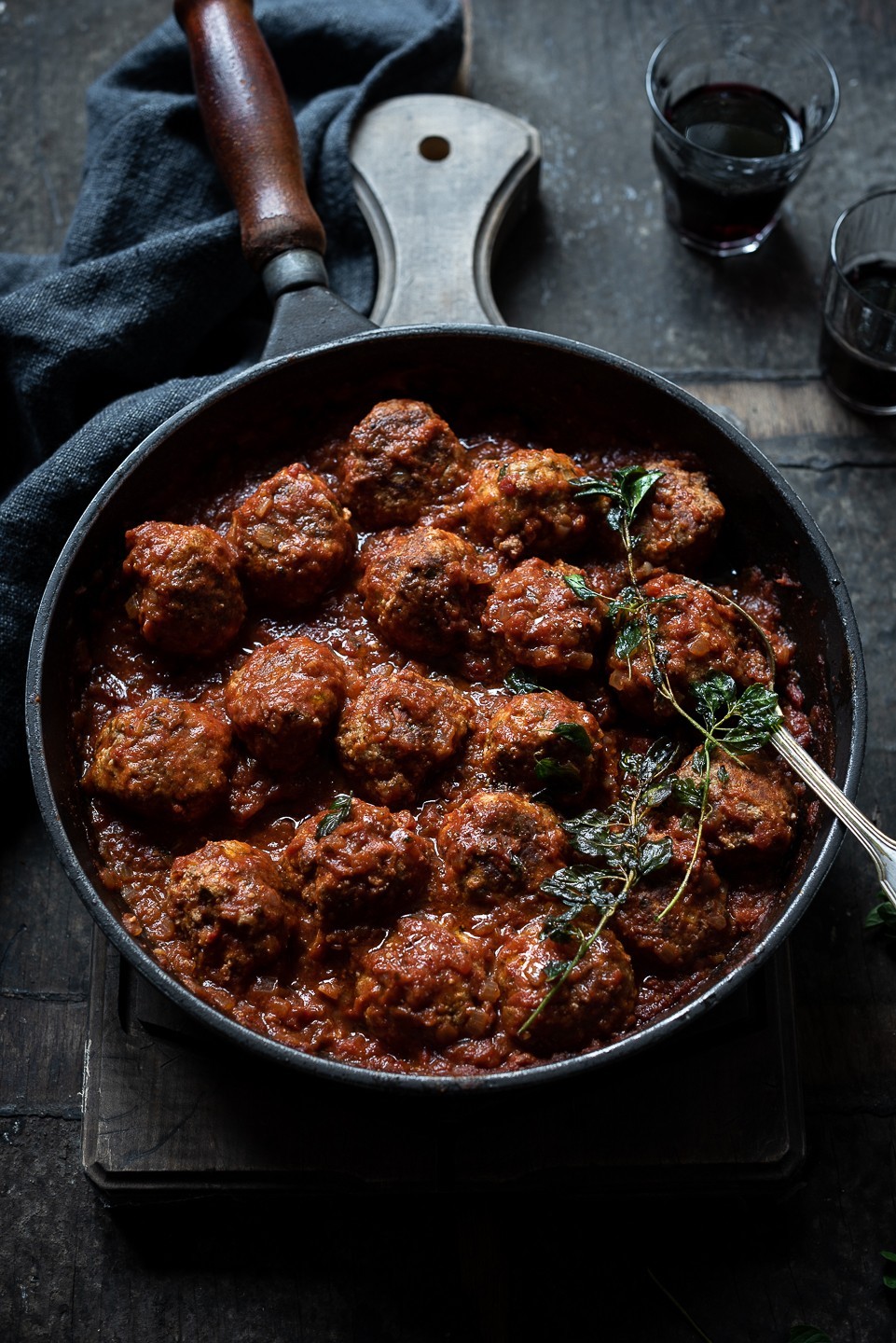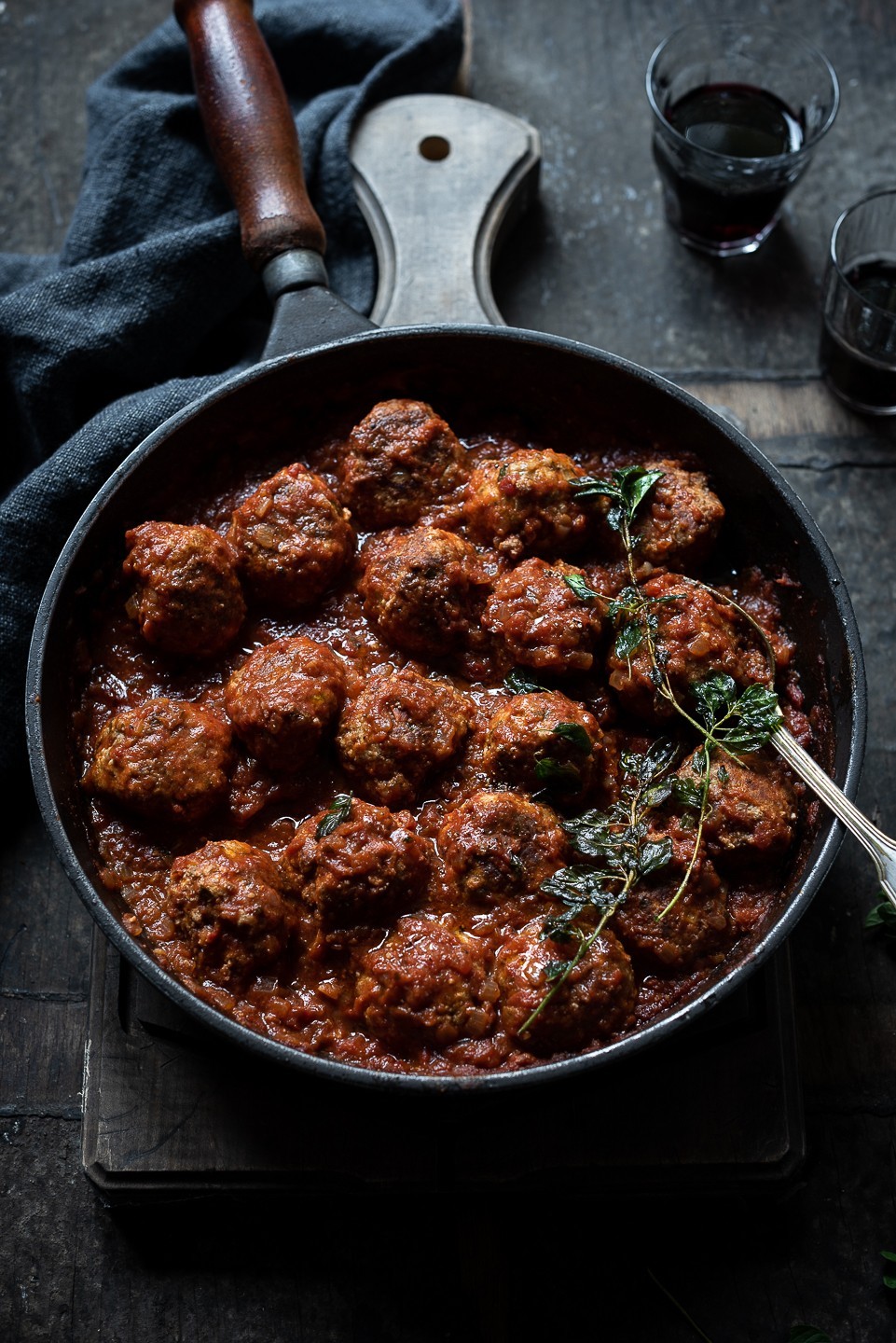 A note on the sauce : I never intend to derail a recipe. In fact, I kept it together rather respectfully up until the sauce stage. I love cooking with wine and find it almost impossible not to add a splash, especially if the ingredients lean towards something Italian. You can leave the red wine out, but if you're prone to do the same, a third of a cup should suffice. To deepen the tomatoey flavour, I also stir in some tomato paste. If you don't have paste, just leave it out. No one will be any the wiser. To mimic the herby flavours in the tomato sauce, I pan-fry oregano sprigs and scatter them over the top. It's so delicious. They're like wafer-thin, herb crisps.
So what did the household think of the ricotta and oregano meatballs? A big thumbs up here. Everyone loved them and commented (unprompted), that they were soft and yes, super light. The flavour will take you to Little Italy, a place most of us would be more than happy to go.

Ottolenghi's ricotta and oregano meatballs
Serves 6
30ml (2 tablespoons) olive oil
2 white onions, finely diced
2 cloves garlic, minced
several sprigs oregano, leaves roughly chopped
30ml (2 tablespoons) tomato paste
80ml (1/3 cup) red wine
400g tin chopped tomatoes
600ml chicken stock
500g free-range beef mince (lean)
100g fresh brown breadcrumbs (about 2 thick slices)
250g ricotta
60g parmesan, grated
1 egg plus 1 yolk, lightly whisked together
several stems flat leaf parsley, roughly chopped
salt and freshly ground black pepper
Heat 1 tablespoon oil in a pan and sauté the onion until softened, about 8-10 minutes. Remove half the onion and set aside for the meatballs.
Add the garlic and oregano to the onions in the pan and cook for another minute or two, then add the tomato paste and stir through. Pour in the wine and reduce by half.
Add the chopped tomatoes and half the stock. Season lightly with salt and pepper, cover partially and simmer for 10-15 minutes.
For the meatballs, combine the beef, breadcrumbs, ricotta, parmesan and reserved onions in a mixing bowl. Season with 3/4 teaspoon salt and black pepper. Add the egg mixture and parsley and mix together by hand. Shape into evenly sized balls. You'll get about 18 per batch.
Heat the remaining oil in a non-stick pan. Brown the meatballs on both sides, turning gently with a spoon. Place the meatballs in the tomato sauce, add the remaining stock, cover and simmer until the sauce is thickened and the meat, cooked through, about 25-30 minutes.
For the crispy oregano: Heat 20ml olive oil in a pan and fry 3-4 sprigs oregano until crisp. Scatter the oregano over the meatballs and drizzle the pan oils over, too.
More meatball recipes to pin to your must-make list:
Stuffed cabbage with freekeh meatballs
Barbecue meatballs with bacon gravy
Prosciutto Meatballs and spaghetti