Creamy Swedish meatballs with mushrooms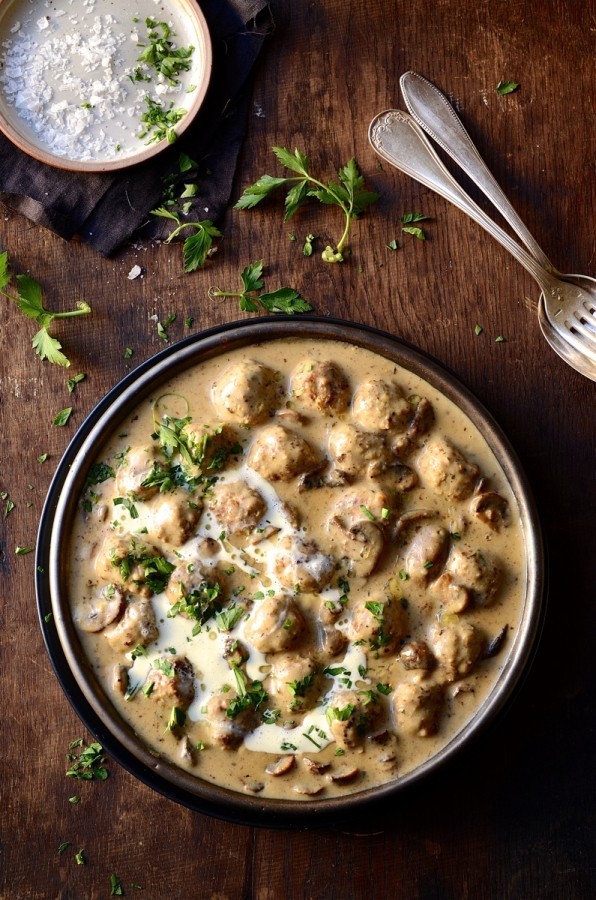 Without even looking at the calender, I can feel the November coming. Life becomes busier with a mad rush to tick off never ending to-do lists. At the end of a busy day, what to make for supper is sometimes at the bottom of my list. The solution? Creamy Swedish meatballs with meaty mushrooms. True story – Temporary respite can be found in a bowl of food.
I think Meatballs were invented to feed families. It conjures up childhood memories of cosy family suppers. In our home that usually meant scarlet-red sauce and long, slurpy strands of pasta. Meatballs and spaghetti originated from New York in the early 1920's, the creation of ingenious Italian immigrants. It seems most countries have their own version this popular meaty dish. Favourites at our table include spicy tapas-style Spanish meatballs, these North African chermoula meatballs and of course, Italian Prosciutto meatballs in a rich tomato sauce. Adding to the blog's meatball repertoire is my latest favourite, creamy Swedish meatballs. This is the first time I've made the Nordic speciality, Sweden's famed meatball, known to locals as Köttbullar.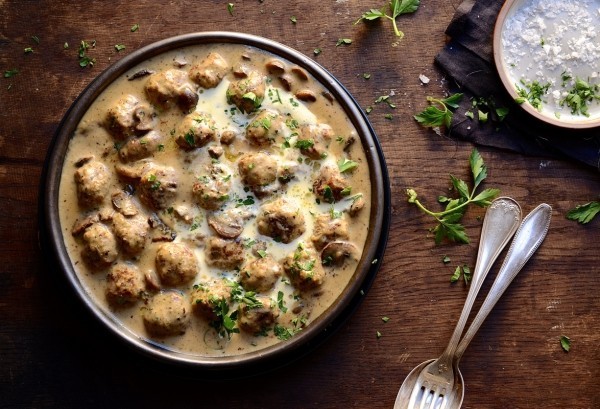 The sauce is rich with sturdy flavourings that meld easily together. One would think that with a Swedish recipe, the ingredients would be hard to find. Surprisingly, they're everyday foodstuffs that live in your kitchen – Dijon mustard, Worcestershire sauce and a pot of cream. That takes care of the sauce. For the meatballs you'll need fresh parsley, mixed spices, egg and breadcrumbs. Very simple, in fact.
Traditionally, Swedish meatballs are made with pork mince, but I think beef mince works too. I've also added meaty mushrooms to the sauce. To finish, a drizzle of lemony extra virgin olive oil contrasts the richness of the sauce, so be as liberal as you like. Fluffy mashed potatoes or tagliatelle are perfect to serve with this comforting home-style food.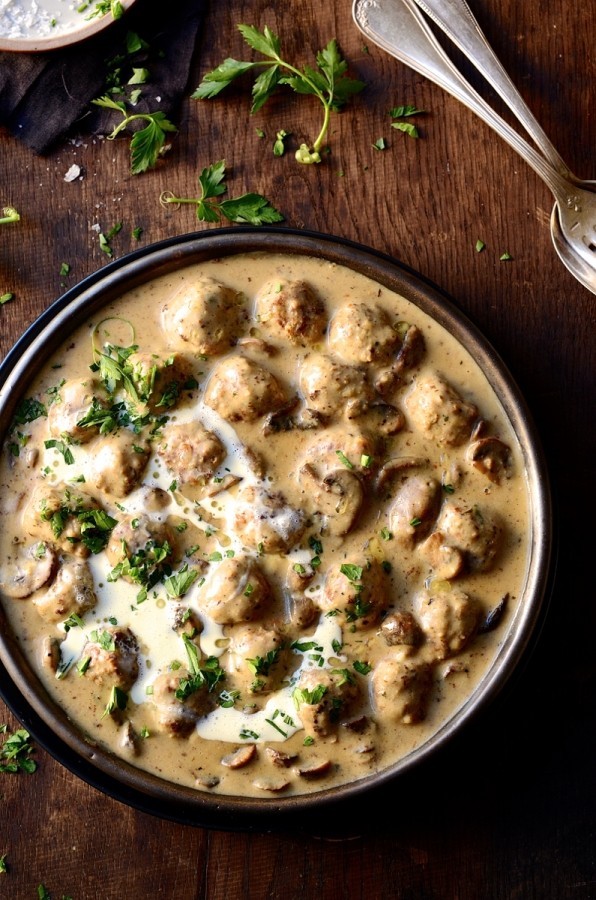 Creamy Swedish meatballs with mushrooms
olive oil, for frying
1 brown onion, finely diced
250g mushrooms, sliced
1/2 teaspoon oregano
500g lean beef mince
1/4 cup fresh breadcrumbs
1 egg
1 tablespoon fresh flat leaf parsley, chopped
1/2 teaspoon mixed spice (all spice)
1/4 teaspoon ground nutmeg
1/2 teaspoon salt
freshly ground black pepper
1 tablespoon butter
1 tablespoon all-purpose flour
350ml chicken stock
1 tablespoon Worcestershire sauce
2 heaping teaspoons Dijon mustard
a squeeze of fresh lemon juice (about 1 tbls)
250ml cream (single or whipping cream – about 35% fat content)
a handful fresh flat leaf parsley, to finish
In a large-based frying pan, sauté the onion until soft and translucent. Scrape into a mixing bowl and cool.
In the same pan, cook the mushrooms on a high heat until all the liquid is evaporated. Season lightly with salt and oregano. Remove from the pan, cover and set aside.
To make the meatballs, combine the mince, sautéed onion, breadcrumbs, egg, chopped parsley, spices, salt and pepper. Mix by hand until all the aromatics and breadcrumbs are evenly worked through.
Roll into smallish balls. The mixture yields about 20 -25 meatballs. Heat 1 tablespoon olive oil in the same pan and cook the meatballs until browned on all sides. Add the meatballs to the cooked mushrooms.
Add the butter to the remaining oils in the pan and heat until bubbling. Stir through the flour and cook for 2 minutes. Slowly add the hot chicken stock, whisking all the while to prevent lumps forming.
Once all the stock is incorporated, add the Worcestershire sauce, Dijon mustard and lemon juice. Stir in the cream and bring slowly up to the boil.
Return the meatballs to the pan and coat in the creamy sauce. Simmer for 4-5 minutes until the meatballs are cooked through and the sauce is thickened.
Scatter over a handful of chopped fresh parsley and drizzle with Lemon enhanced olive oil.
Serve with buttered tagliatelle pasta or garlic mashed potatoes.
More meatball loving.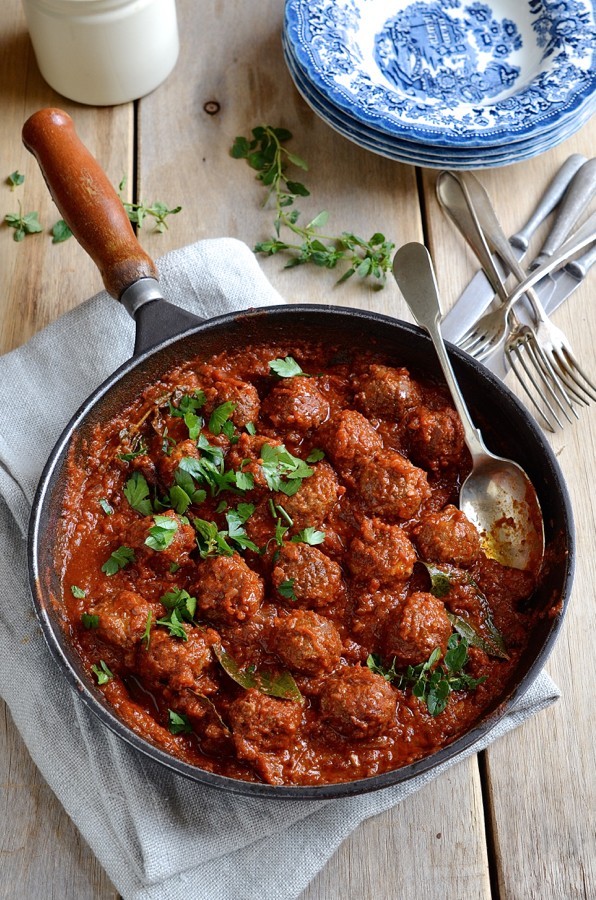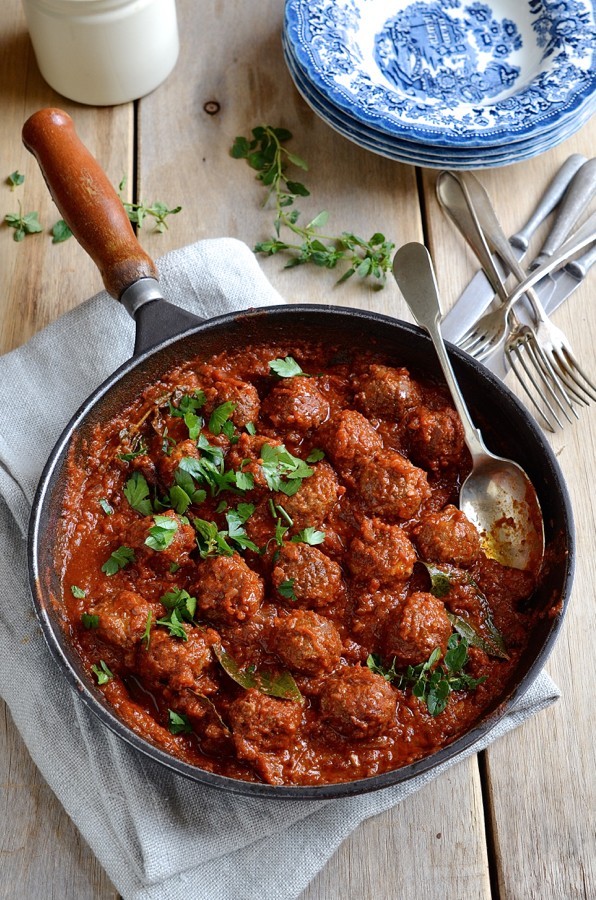 Barbecue meatballs with bacon gravy