Barbecue meatballs with bacon gravy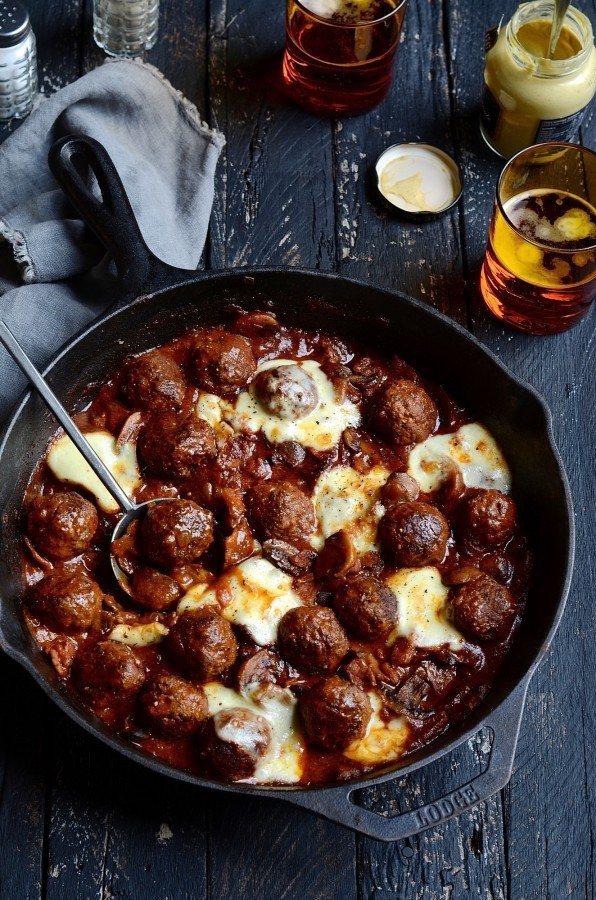 What's better than barbecue meatballs? Barbecue Meatballs in bacon gravy. Yes, there's bacon in the gravy and red wine and mushrooms and pools of melty mozzarella. #takethatmonday! This recipe is all about comfort food, those familiar family foods that we grew up eating, in a time when cooking from scratch was nothing new. Some of the most viewed recipes on this blog involve meatballs, like these North African Chermoula meatballs or a pan of tapas-style Spanish meatballs. I have a feeling however, that barbecue meatballs with bacon gravy are going to become kind of popular around here. As you'd expect, the sauce delivers a savoury-sweet tang with just enough smoked chilli heat to warm the cockles on a cold and dreary autumn night.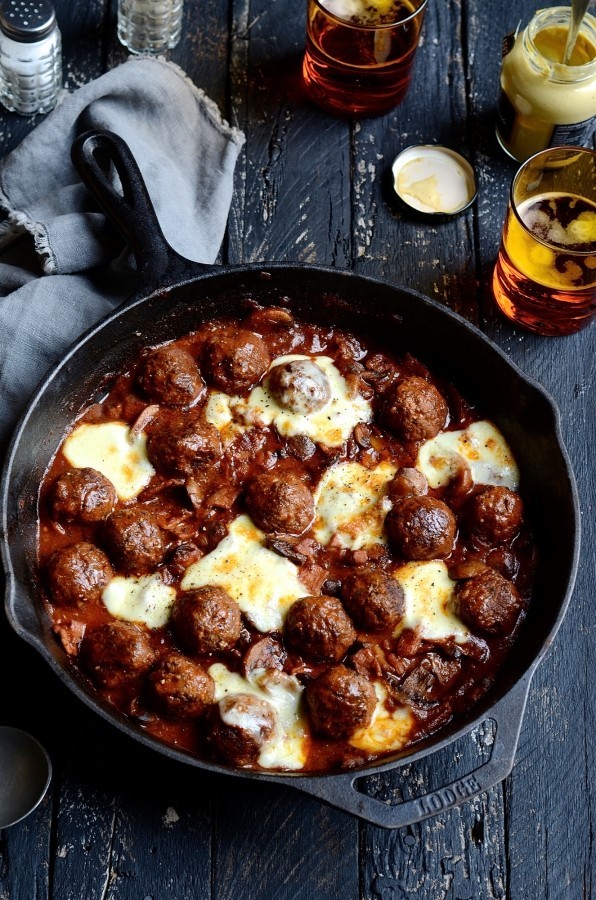 This is the forth recipe in my 'childhood favourites' series so I simply had to include meatballs or frikkadels, as we knew it. Admittedly, these barbecue meatballs aren't exactly the same as I remember my mum making, but I think they're every bit as gratifying. There's no right or wrong way to serve meatballs – with pasta, rice or mashed potatoes. In this instance though, a crusty sourdough would help enormously as a pan-mop for the marmitey sticky bits. I'm thinking a filled baguette, piled high with meatballs for seriously good dude food, along with a squidge of hot sauce and peppery rocket. Sweet potato mash or creamy polenta can swing it all the way to pure comfort food.
A quick word on the bacon gravy. If you're going to use bacon, smoked is usually the way to go. It adds a sweet-salty-smoky depth of flavour that only bacon manages to do, but feel free to omit this to suit dietary preferences. The sauce is robust enough to hold its own. To finish, scatter with mozzarella and blister under the grill because when was adding cheese ever a bad idea?
Now if you're serious about meatballs, like this enthusiastic crowd over at The Feedfeed, you can wade through a melange of meatball recipes from Asian to Vegetarian, Curried and quinoa'd. Be sure to check out my Creamy Swedish meatballs with portobello mushrooms and frothy cream.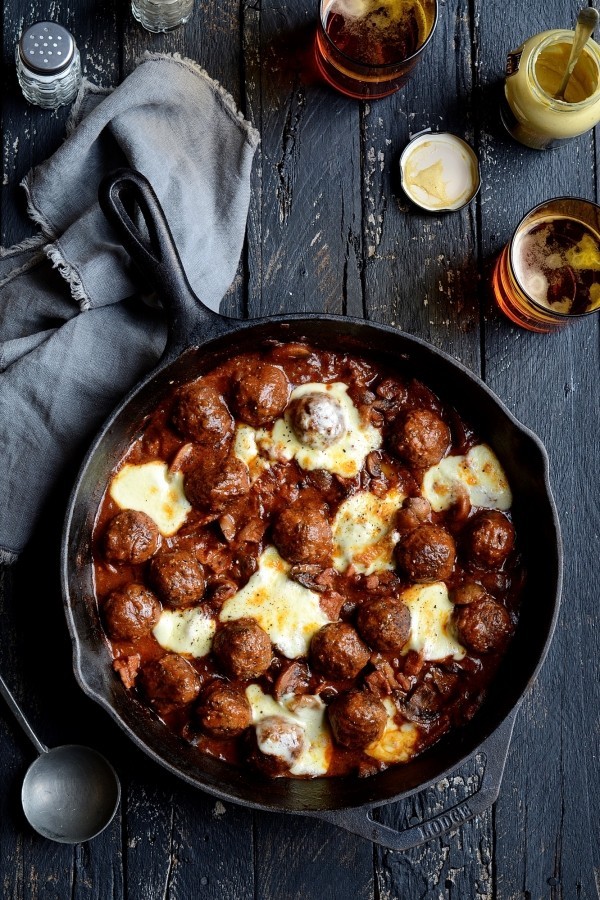 Barbecue meatballs with bacon gravy
Prep time:
Cook time:
Total time:
Ingredients
500g free-range beef mince
1/2 cup fresh breadcrumbs
3/4 teaspoon salt
1 teaspoon paprika
1 teaspoon dried oregano
1/2 teaspoon ground coriander
1 egg
Bacon gravy
2 tablespoons olive oil
1 red onion, finely diced
250g (1 punnet) button mushrooms, sliced
1 garlic clove, minced
125g (6 rashers) smoked bacon, cut into smallish pieces
2 sprigs thyme
1/3 cup red wine
1 heaped teaspoon Dijon mustard
2 tablespoons tomato sauce
1/3 cup tomato passata
2 tablespoons fruit chutney (Mrs Balls peach chutney works well)
1 tablespoon Worcestershire sauce
1 cup weak beef stock
a pinch of dried red chilli flakes
salt and freshly ground black pepper, to taste
several slices of mozzarella cheese
Start by making the meatballs. Place all the ingredients in a large bowl and combine until the spices and bread crumbs are incorporated.
Roll into 20 – 24 evenly sized balls. Cover with cling film and refrigerate for 30 minutes to firm up.
Heat 1 tablespoon olive oil in a large pan and brown the meatballs on all sides. Remove the meatballs from the pan and set aside.
Add the remaining oil to the pan and sauté the onion until softened.
Toss in the mushrooms and cook on a high heat until all the water has evaporated. Season lightly with salt and pepper.
Move the mushrooms to the side of the pan and add the bacon and thyme. Cook for several minutes until the bacon is lightly browned.
Deglaze the pan with the wine and reduce by half.
Add all the remaining gravy ingredients and the meatballs back into the pan.
Cover with a lid and simmer for about 20 minutes until the sauce is thickened and the meatballs are cooked through.
Dot with mozzarella and place under a preheated grill until the cheese is bubbling and golden.