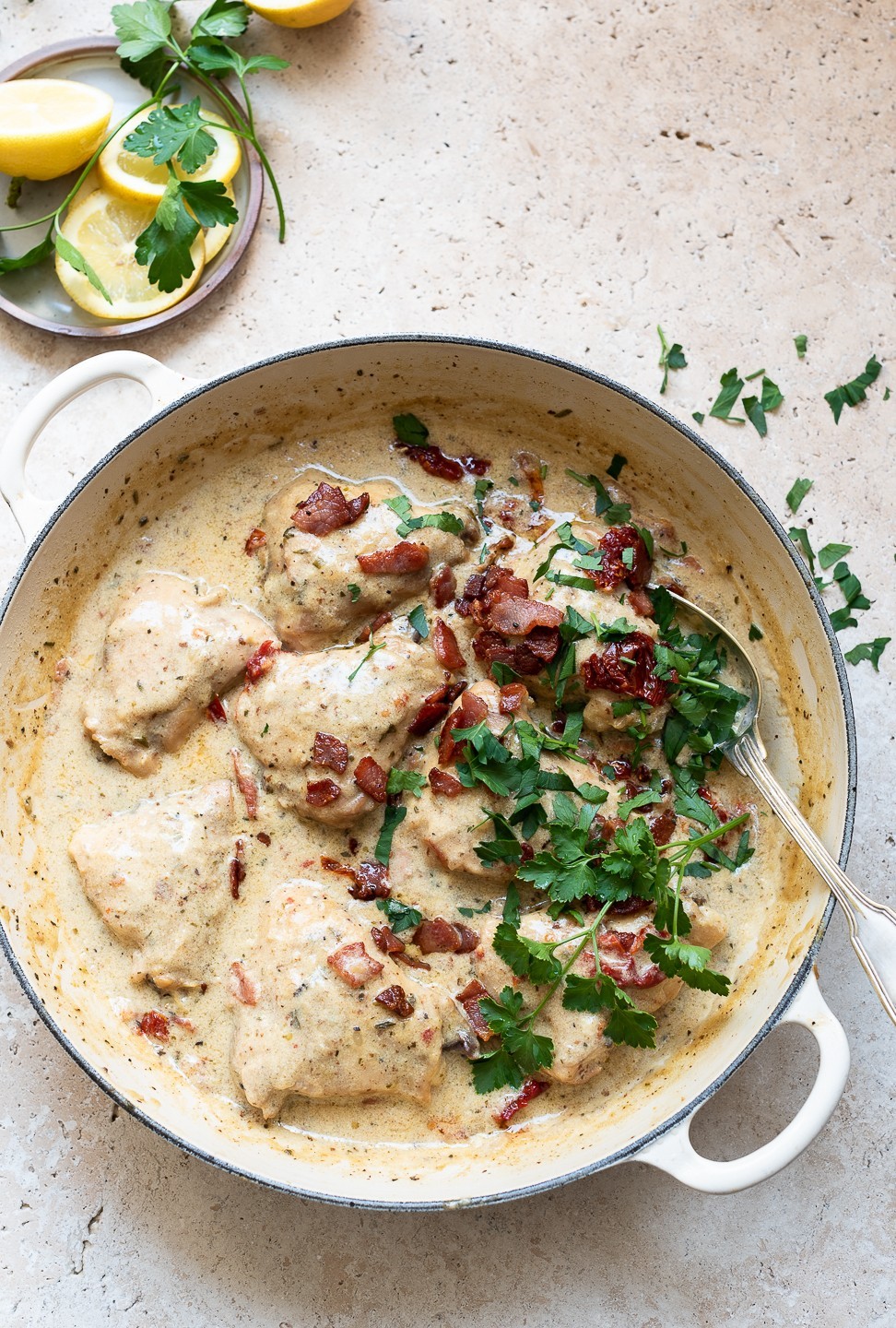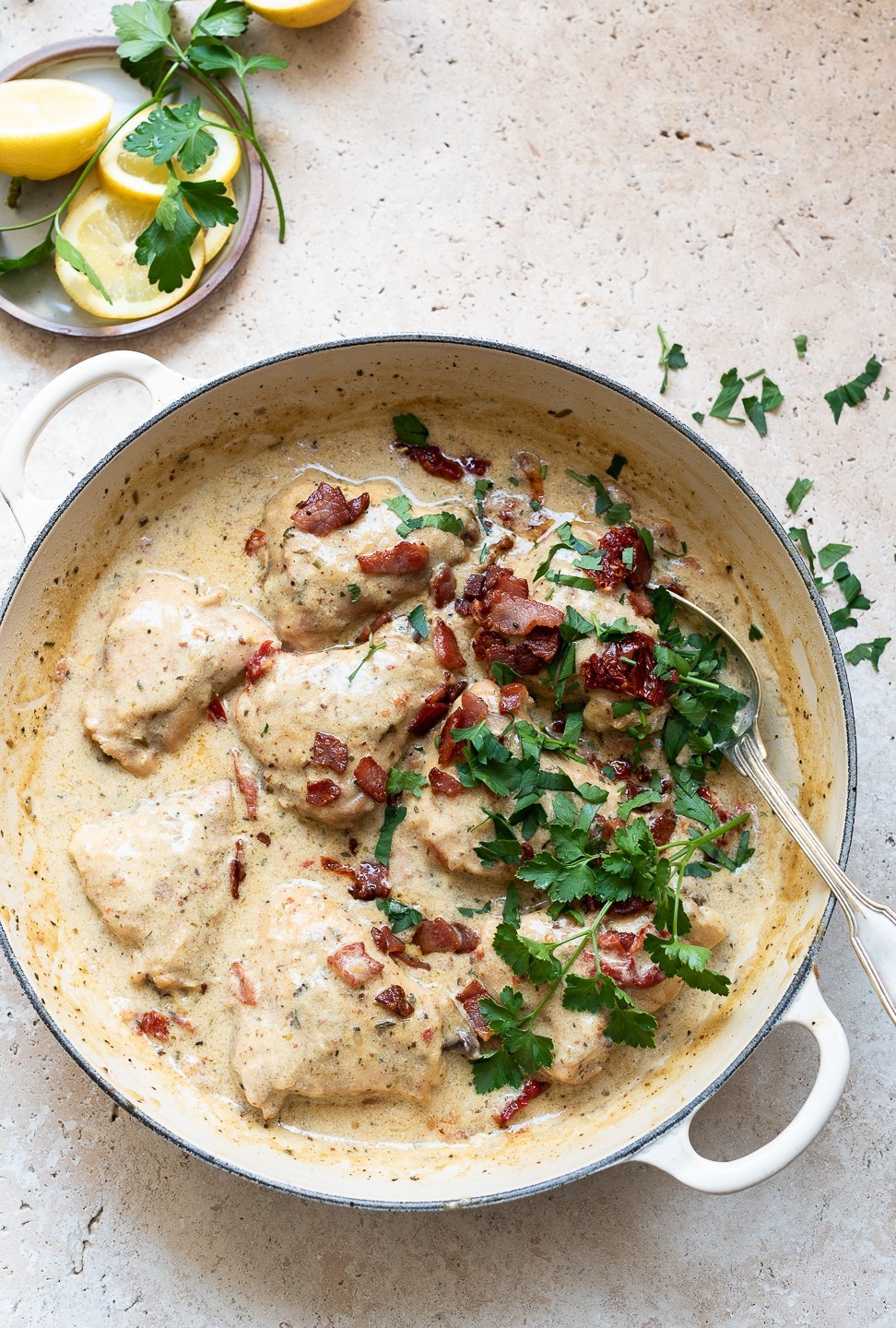 Like with my chicken and leek casserole, which happens to be one of the top five most popular recipes on the blog, I see another winner chicken dinner happening here. This Rosemary and Bacon Chicken has all the makings of a family favourite – succulent chicken, creamy sauce, sundried tomatoes and crispy bacon bits for salted crunch. Not much to argue about there. I'd serve it with fluffy mashed potatoes and maybe flash-fried tenderstem broccoli or steamed green beans.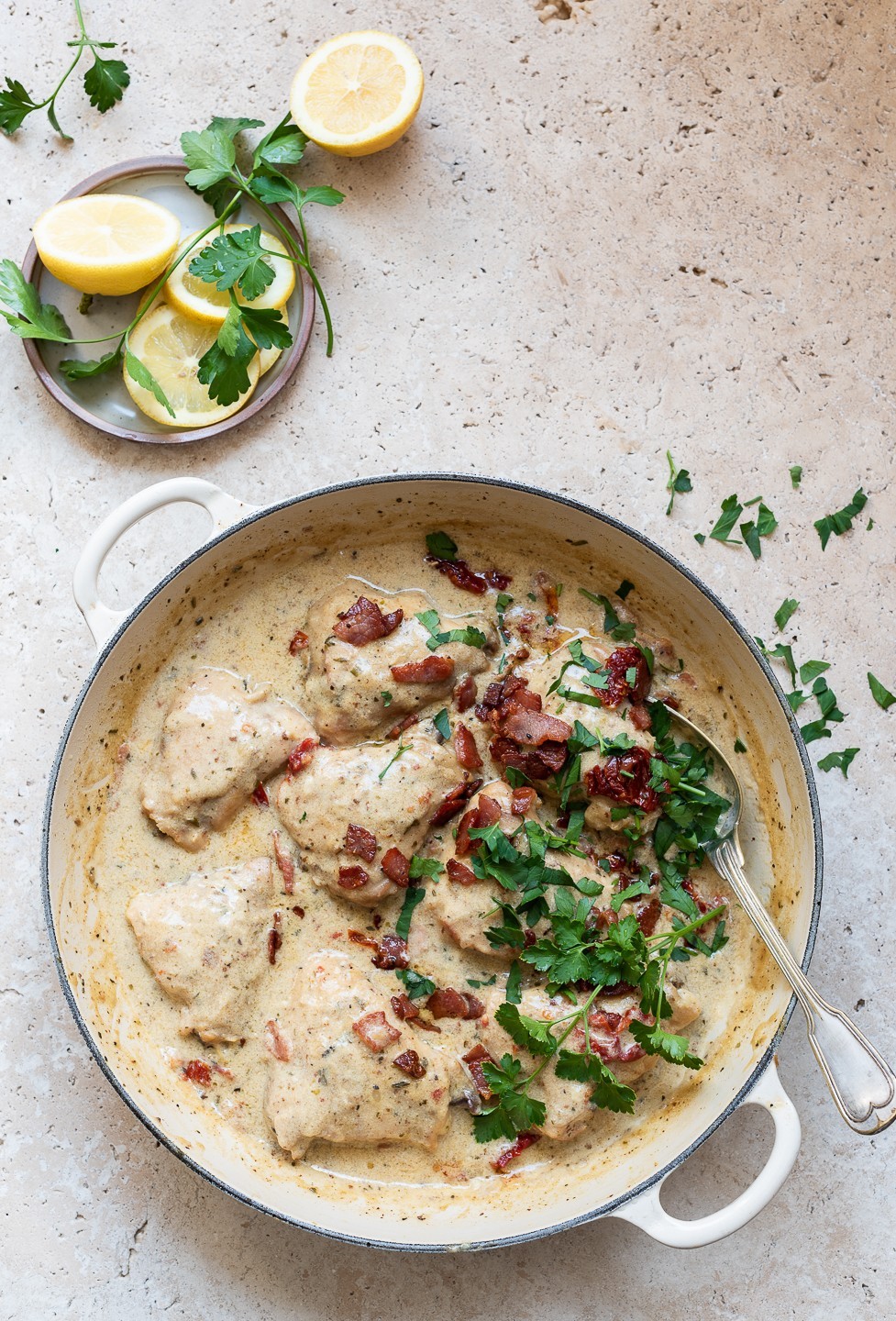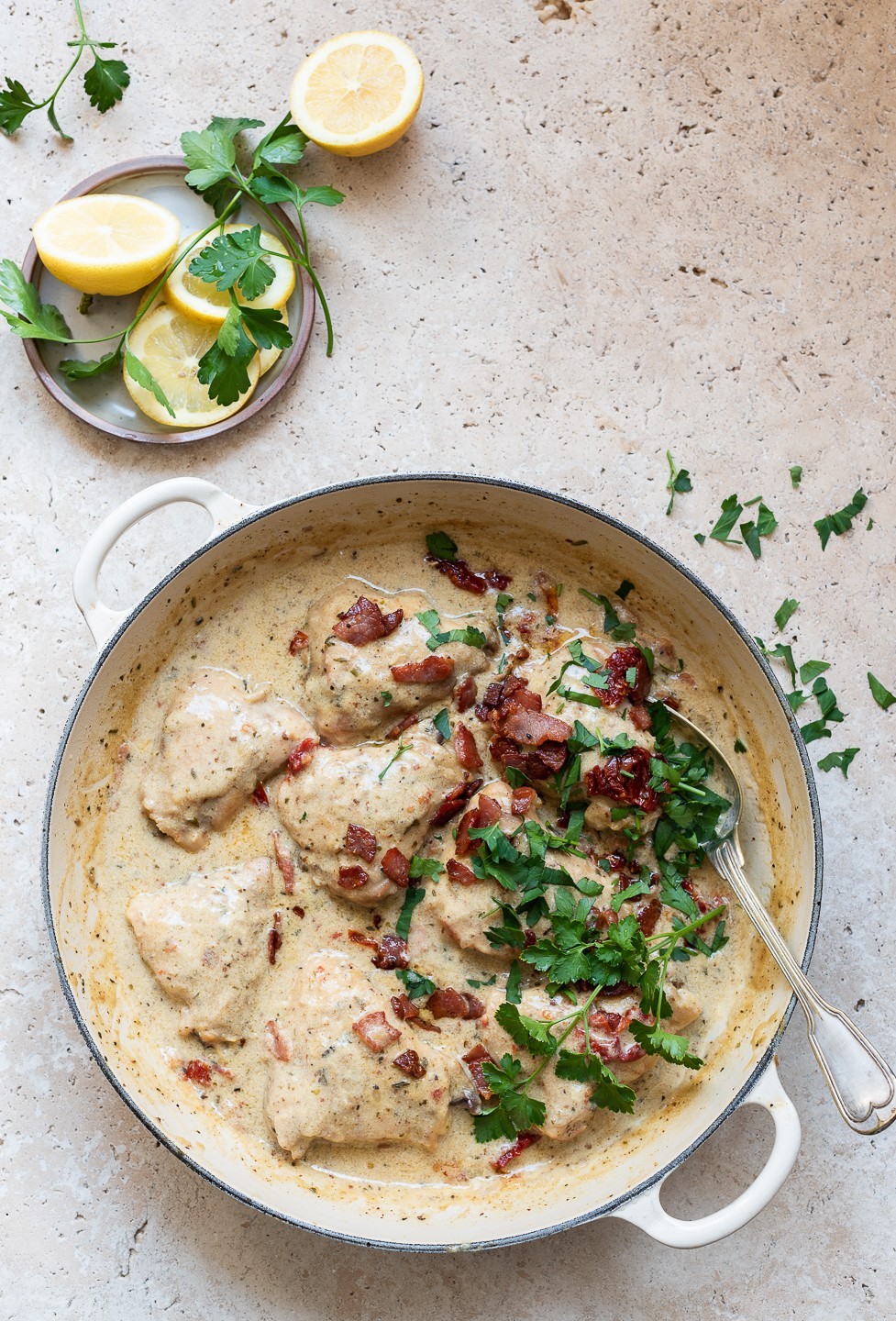 When it comes to cream sauces, most often, I'll use a combination of fresh cream, milk, stock and wine. It's rich and creamy, but not overly heavy. Once all the liquid is added to the pan, it'll appear slightly watery. You'll need this volume to cover the chicken, allowing for a kind of poaching. This cooking method helps keeps the chicken from drying out. At the end of the cooking time, I add a little cornflour slurry to thicken the sauce. It amalgamates the broth-like cream and gives it an unctuousness that glosses the back of a spoon.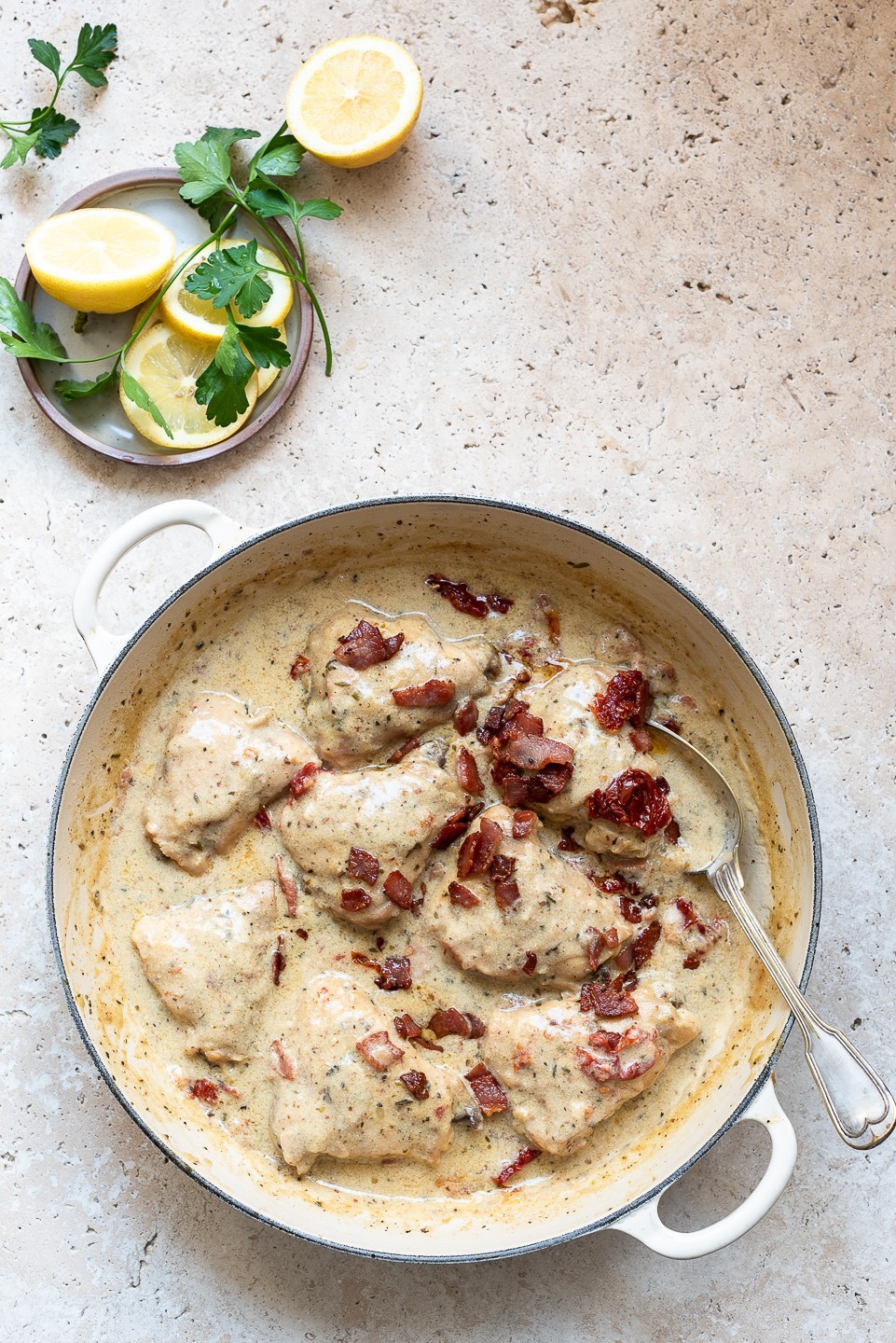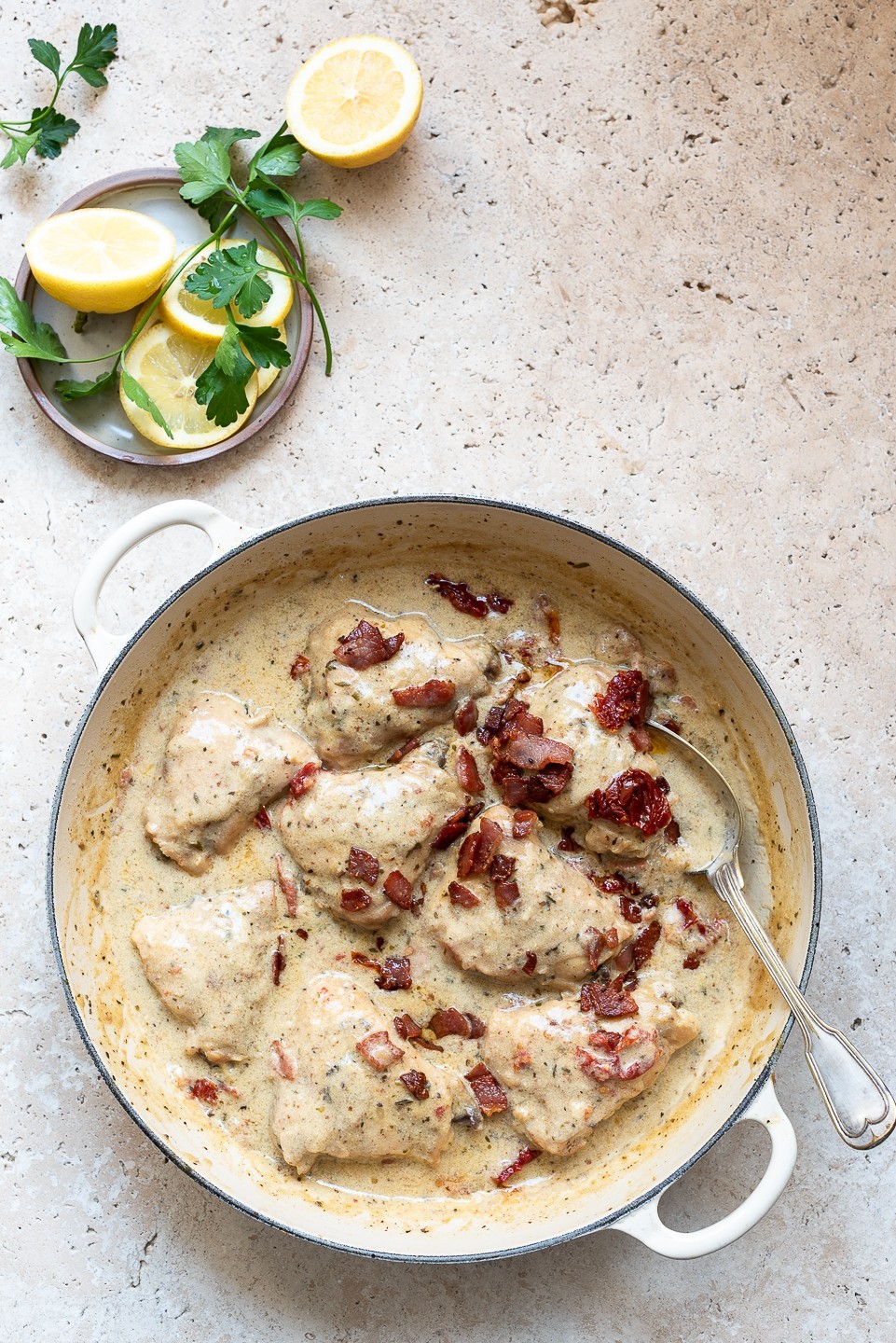 The recipe is also versatile enough to allow for a bit of tinkering. Feel free to leave out the bacon if you prefer, in which case I'd maybe finish with a handful of toasted pine nuts. It adds a nuttiness that's well-suited to the Mediterranean flavours of this dish. Another option, is to use deboned chicken thighs or even fillets and cut into strips. Cook as per the remainder of the recipe and toss with fresh tagliatelle pasta. And then, you'd have to finish with plenty parmesan, of course.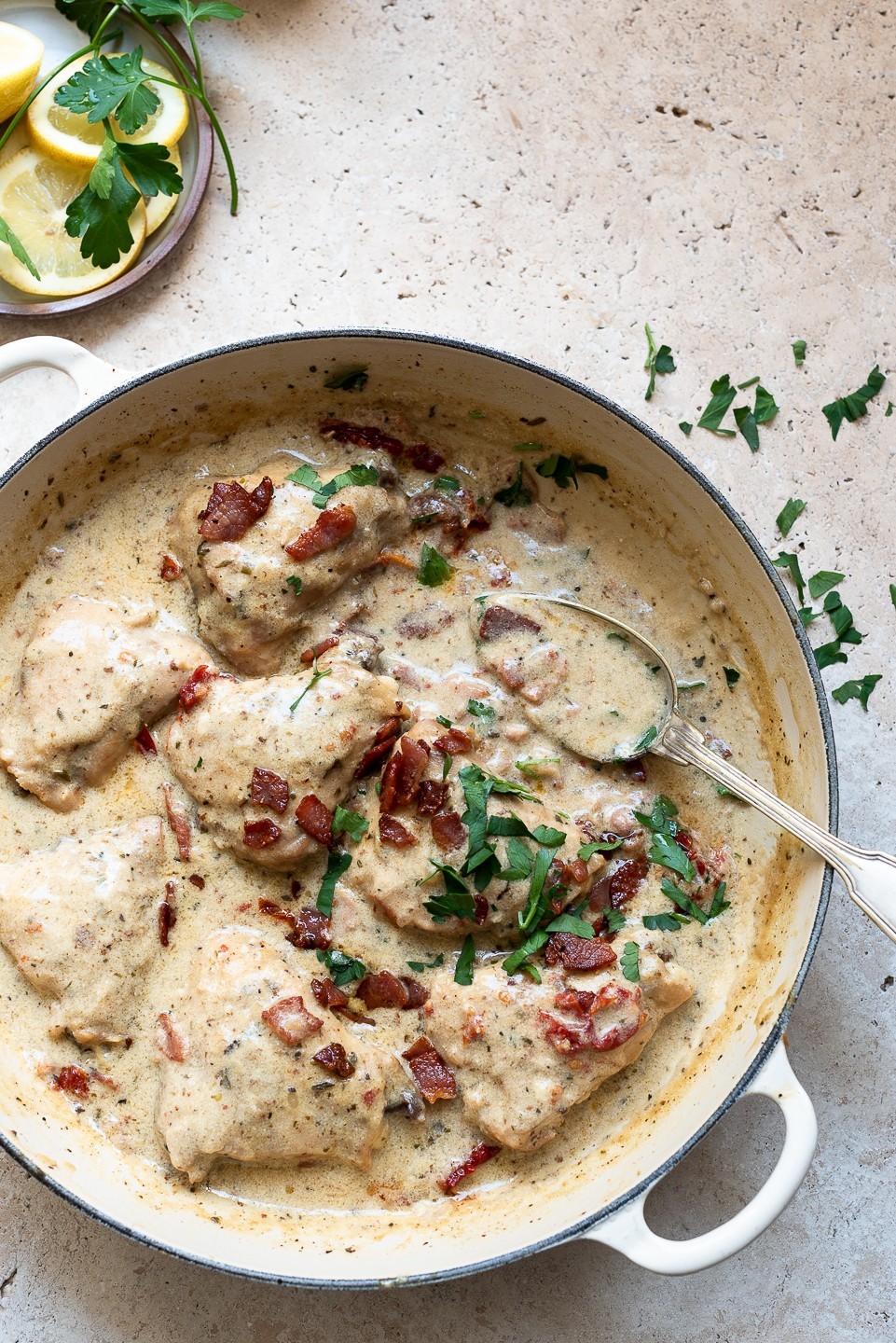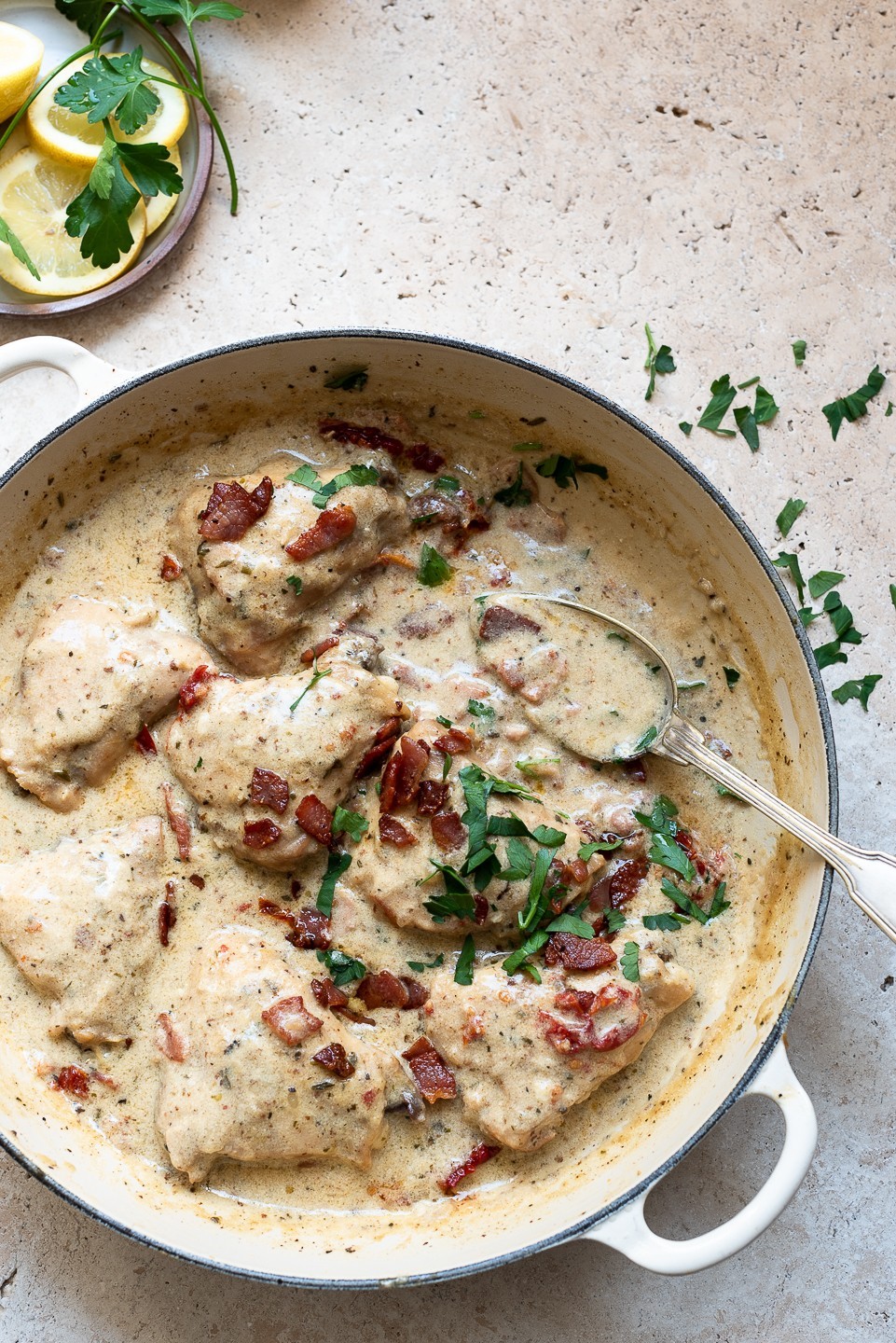 Rosemary and Bacon chicken
Serves 4
olive oil, for frying
250g smoked back bacon, excess fat removed and diced
8 free-range, bone-in chicken thighs, skinless
1 large white onion, finely diced
1 garlic clove, minced
2 stems fresh rosemary, leaves picked and finely chopped
5ml (1 teaspoon) dried oregano
80ml ( 1/3 cup) white wine
325ml (1 1/3 cup) chicken stock
125ml (1/2 cup) fresh cream
125ml (1/2 cup) full cream milk
30ml (2 tablespoons) cold water
10ml (2 teaspoons) cornflour
3 oil-soaked sun-dried tomatoes, roughly chopped
salt and black pepper, to taste
a handful flat leaf parsley, roughly chopped, to finish
lemon wedges, to serve
Heat 1 tablespoon oil in a wide-based pan and fry the bacon until golden and crispy. Remove and drain on kitchen paper.
Season the chicken with salt and pepper. Brown on both sides in the remaining bacon fat. Remove the chicken and set aside.
Add a little more oil to the pan and sauté the onion until softened, about 6 minutes. Add the garlic, rosemary and oregano and cook for another minute or two. Deglaze the pan with the wine and reduce by half. Add the stock, cream and milk and bring the sauce up to a simmer. Add the chicken back into the pan. Cover with a lid and simmer for about 45 minutes.
Make a slurry with the cornflour and water, then add to the sauce. Simmer for several minutes until the sauce is creamy and thickened. Add half the bacon to the pan, along with the sun-dried tomatoes and mix in gently. Adjust seasoning if needed. Scatter the remaining bacon on top and finish with fresh parsley, if you like. Serve with lemon wedges on the side.
Here's the recipe link for that famous chicken and leek casserole, plus a few more easy weeknight chicken ideas:
Sticky honey and soy chicken drumsticks
Quick pesto cream chicken casserole
10 Minute pan fried Greek chicken breasts