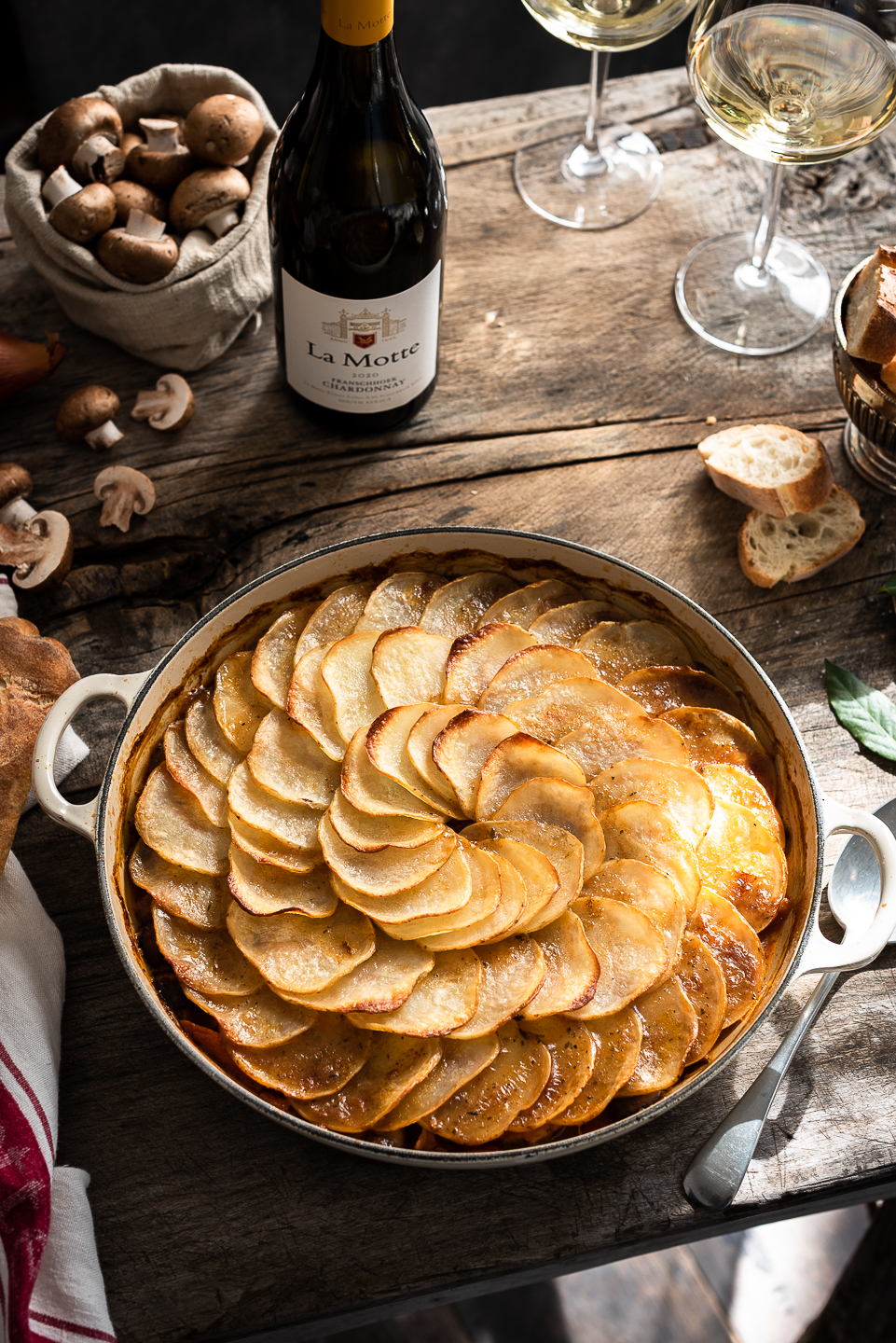 Glancing at the ingredients, you could wonder what the fuss is all about. Is Coq au Vin really that good? The doyenne of doable French cuisine, Julia Child, thought so. Although not invented by Julia, her dedication to simplifying what was traditionally a demanding rooster recipe, made it achievable for those who secretly wished they were indeed, French. Doing away with the need to scour the land for above mentioned rooster, chicken, thankfully, is now the norm. In celebration of Bastille Day, which falls on 14th July, we are clinking glasses and toasting all things French and fabulous with my Coq au Vin Pot Pie.
Some recipes are best saved for the weekend, when time is of less consequence than hurried week nights. While not difficult in the least, Coq au Vin does require a little effort. It is proper French cooking that's immensely pleasurable and rewarding. As with most stews and casseroles, an overnight sojourn in the fridge does wonders to the flavour, adding to its rich complexity, which means, you should really make it the day before.
Straying slightly off track while still holding fast to all the finer nuances that make Coq au Vin what it is – exceptional – we'll be swapping the traditional Burgundy or Pinot Noir, for an equally exceptional, Chardonnay from  La Motte Wine Estate. Situated in the beautiful Franschhoek Valley in the Cape winelands, La Motte is home to the finest wines, acclaimed both internationally and locally for their distinguishable quality.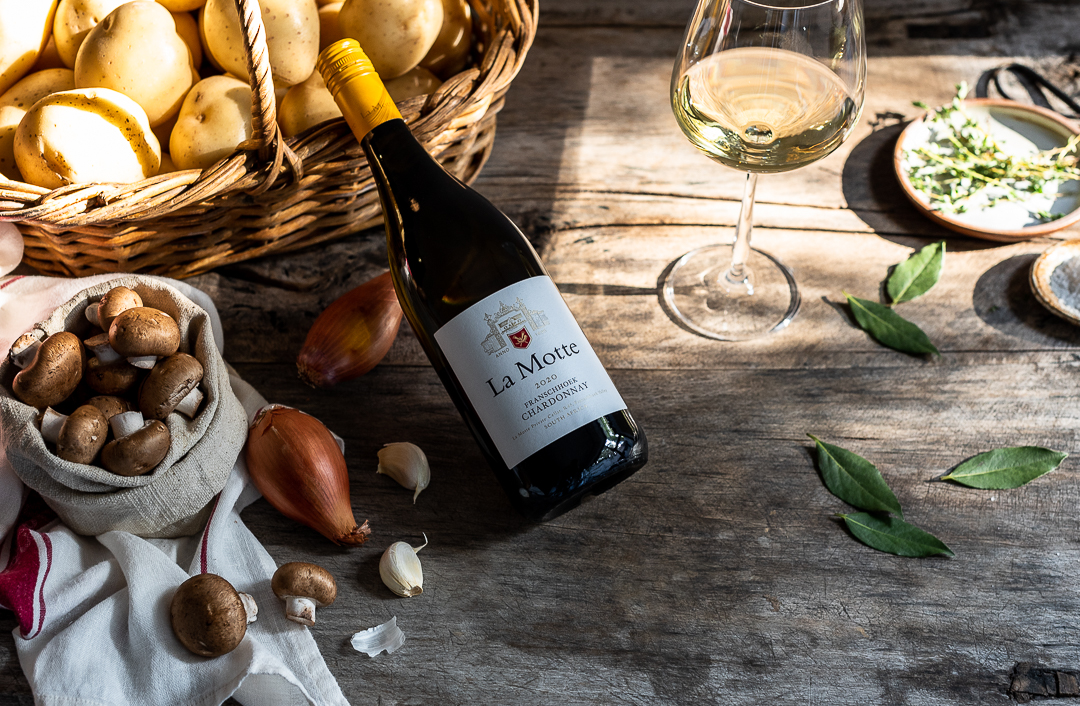 Coq au Vin relies on rendered bacon fat, butter and grassy green olive oil for its rich flavour and mop-able sauce. Not being inclined to dismiss the importance of butter in cooking, or baking, the French know which side of the bread should be buttered. In the recipe, I've omitted the amount of oil or butter. Prescriptive measures might be stifling if not indeed, useless here. If the mushrooms look like they need more, they need more. Add as intuition or personal preference dictates.
Further adaptations include swapping little pearly onions for shallots. Personally, I prefer the subtle sweet taste of shallots to onions. About the potatoes. In place of the more obvious mash, although there's nothing saying it wouldn't be as good without, thinly slice a couple of skin-on potatoes, then do your best scallop work to cover the whole affair. And yes, the potatoes are coated and brushed with more butter and olive oil. All that's left to do is sit back, pour yourself an elegant glass of Chardonnay, (wine pairing taken care of), and you'll be well on your way to beautiful Burgundy.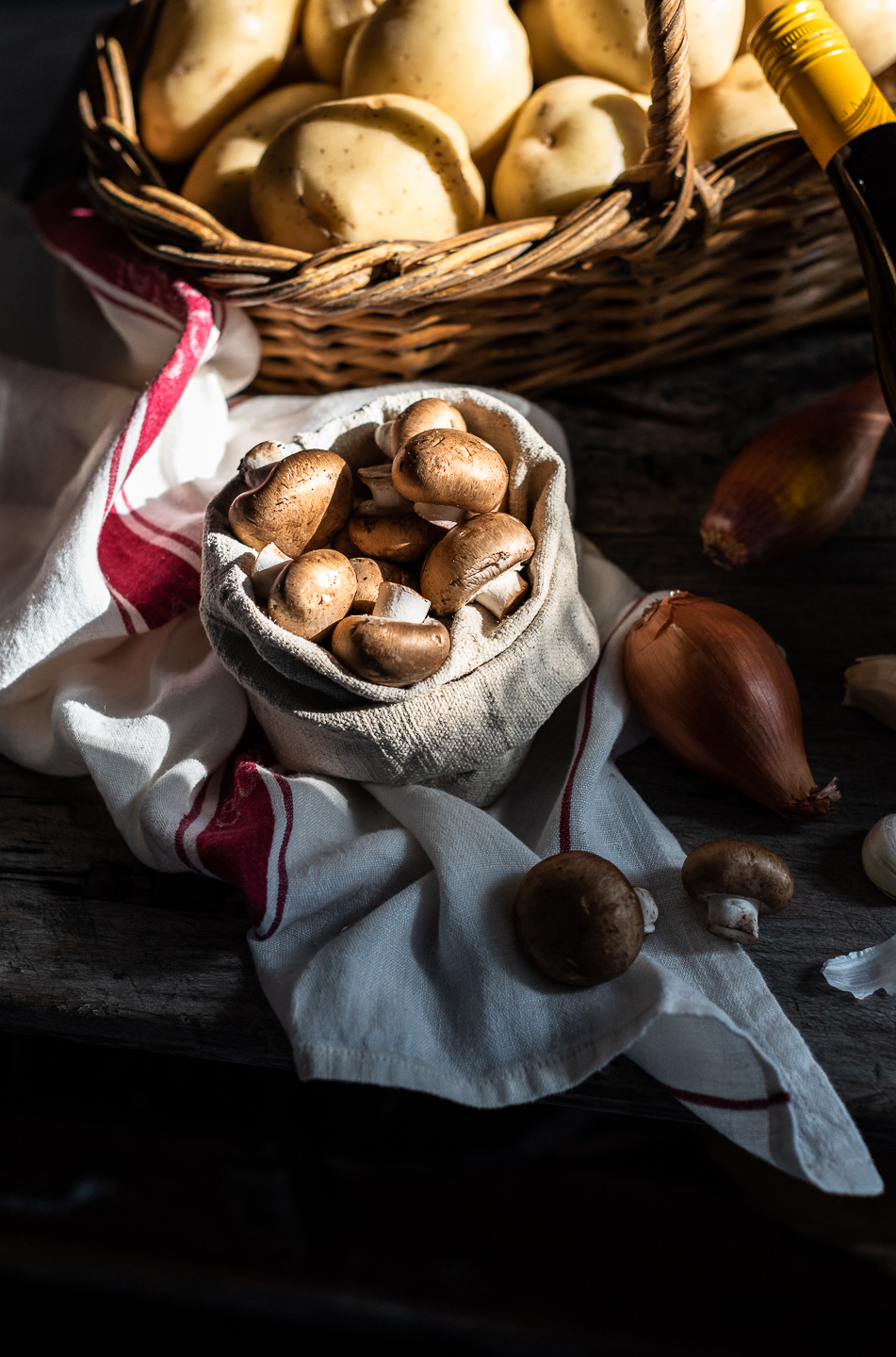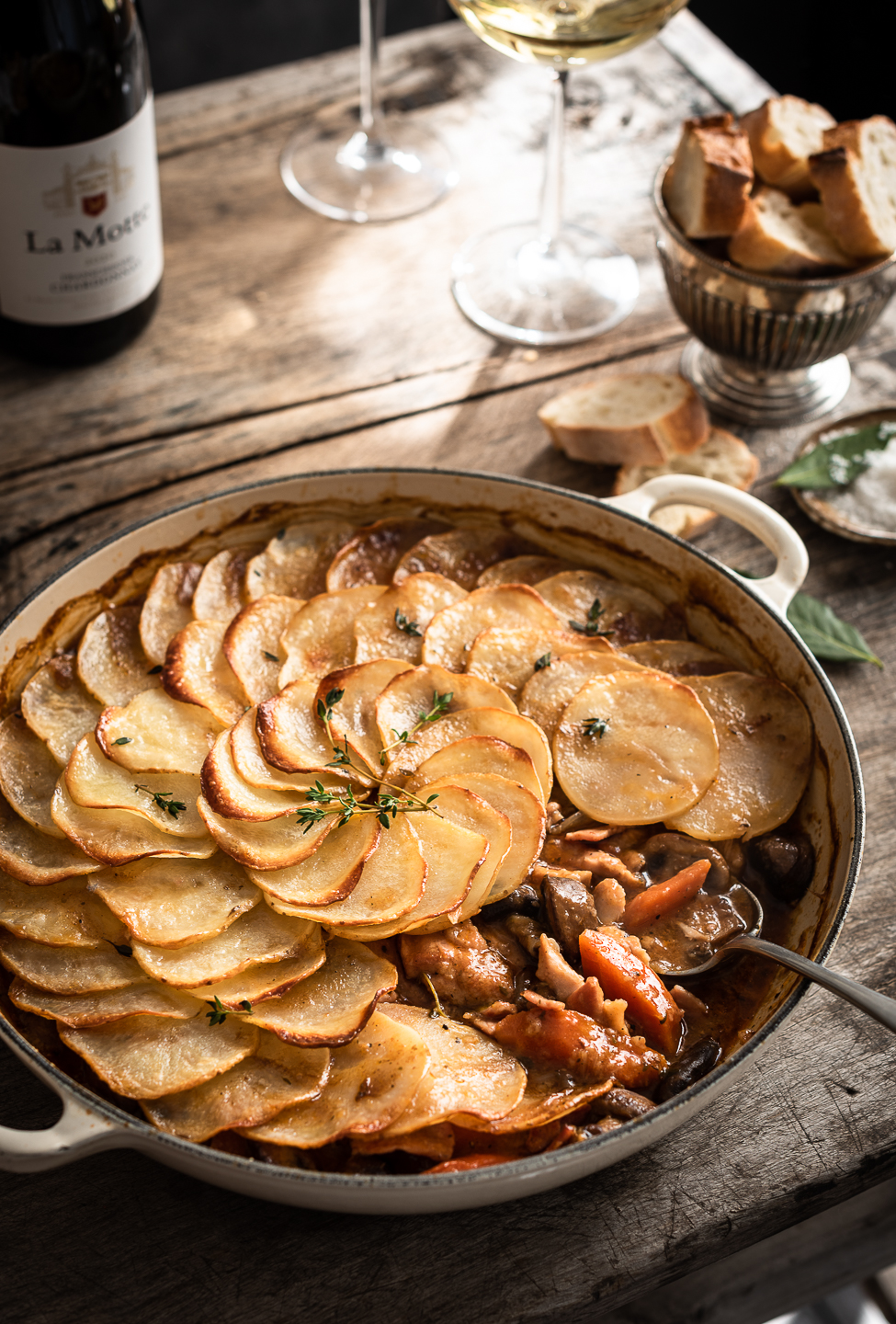 Coq au Vin Hot Pot
Serves 6 (generously)
olive oil and butter, for sautéing and roasting
500g mixed mushrooms, brushed and halved (button and portabellini)
¾ teaspoon Herbs de Provence
200g bacon, cut into thin strips
5 medium shallots, peeled and quartered
3 cloves garlic, finely diced
2 heaped tablespoons cake wheat flour
700g chicken thighs, skinless and deboned, cut into 2cm strips
250ml (1 cup) La Motte Chardonnay
15ml (1 tablespoon) tomato paste
1½ cups chicken stock
8 sprigs thyme
3 bay leaves
3 medium carrots, peeled and roughly chopped
5-6 large potatoes, washed (skin-on), thinly sliced
salt and freshly ground black pepper
Start by heating a knob of butter in a wide based pan. Add the mushrooms and brown over a high heat. They needn't be cooked through, just golden. Season lightly with Herbs de Provence, salt and black pepper. Remove from the pan and set aside.
To the same pan, add a drizzle of olive oil. Sauté the bacon until the fat renders and the edges turn golden and crisp. Remove with a slotted spoon and add to the mushrooms.
Heat another tablespoon of oil to the pan. Add the shallots and sauté over a medium heat until caramelized and soft, about 20 minutes. Stir through the garlic and cook for a further 2 minutes. Add the shallots to the mushrooms and bacon.
Place the flour in a shallow dish and season with salt and black pepper. Dredge the chicken pieces in the flour. Heat a little more oil in the pan and brown in batches until golden on both sides. Deglaze with La Motte Chardonnay, scraping up all the sticky bits on the base of the pan, then reduce the liquor by half.
Add the tomato paste, stock, thyme and bay leaves. Return the mushrooms, bacon and shallots to the pan. Add the carrots, cover with the lid on and simmer over a medium heat for about 35 -40 minutes.
Preheat the oven to 200 C.
Blot the potatoes with paper towel to remove excess moisture. Place in a large bowl and drizzle with olive oil to coat, a tablespoon or two will suffice. Season lightly with salt and black pepper. Arrange the potatoes on top of the Coq au Vin. Brush with melted butter and bake until the potatoes are fork tender and golden, about 40 -45 minutes.
Scatter with thyme sprigs just before serving.
Cook's Note: To counter the rich, buttery-ness of the dish, offer with steamed green beans or broccoli and a crusty baguette. A chilled bottle of La Motte Chardonnay is requisite.