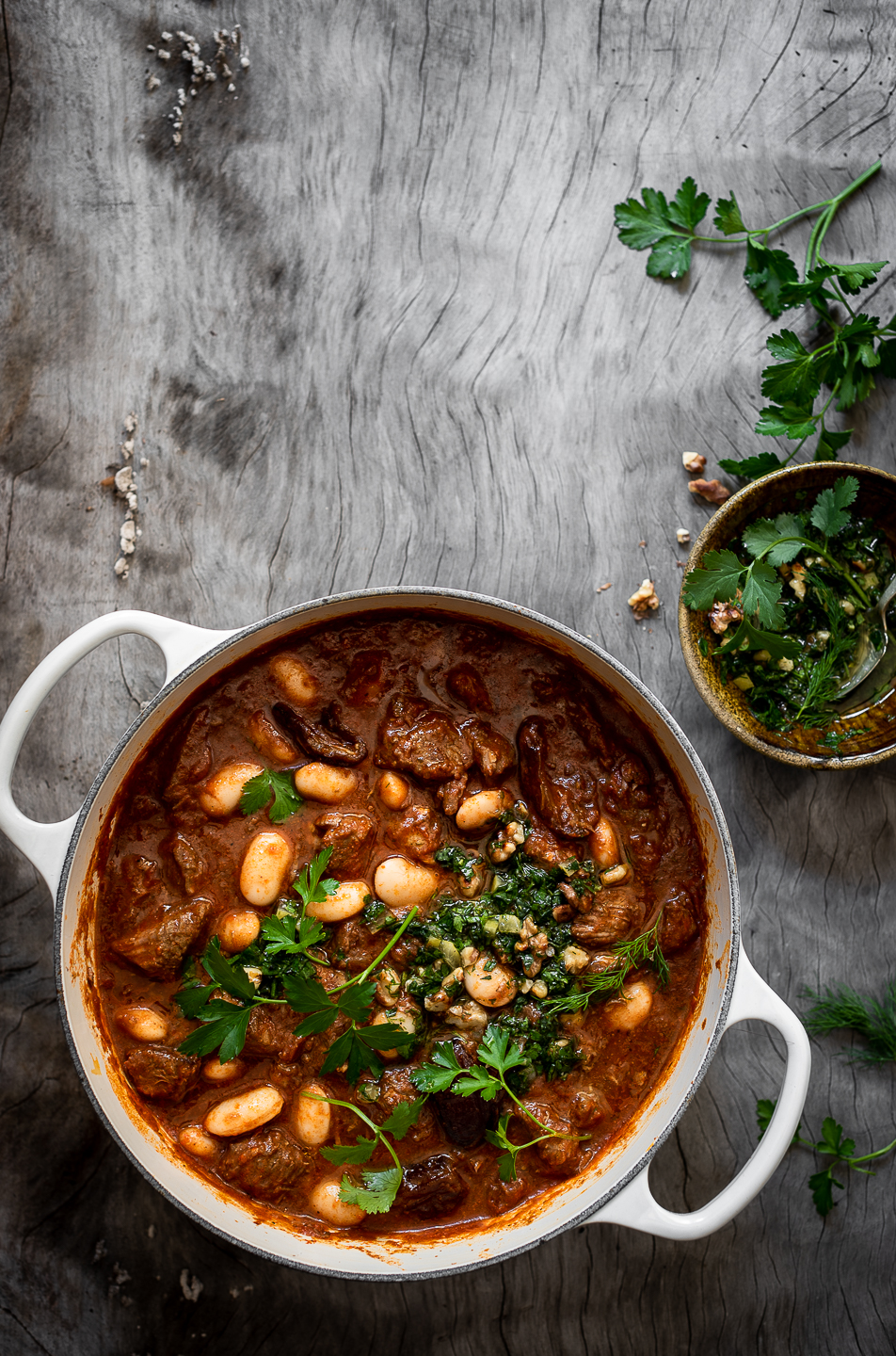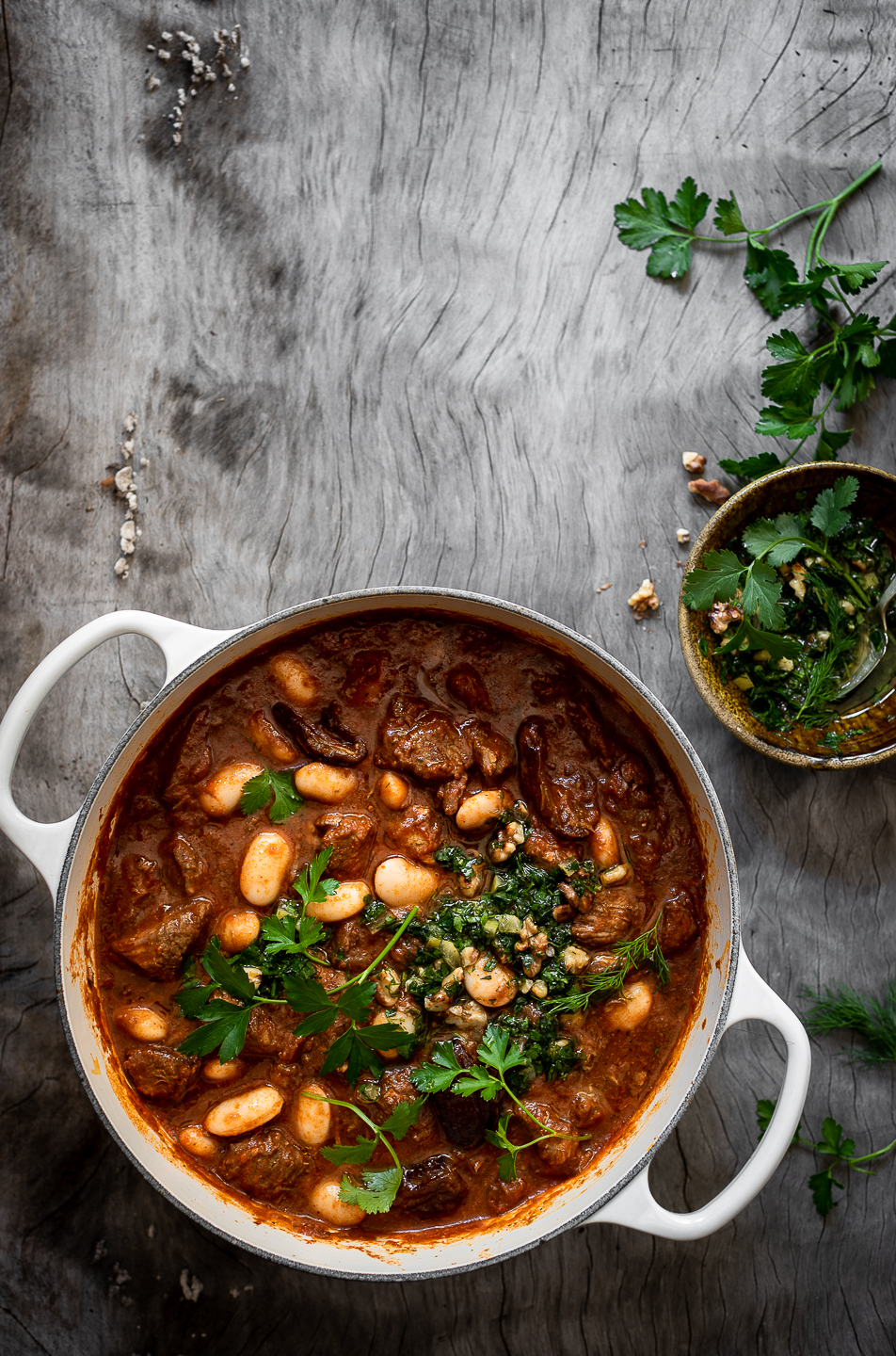 Slow braises and hearty casseroles epitomise the essence of home cooking.  Besides the simplicity of these one pot wonders, I love the relaxed and cosy atmosphere that emanates around the table as the lid is lifted, a gush of complexity spilling out and enticing guest to lean in. Despite the initial investment of chopping and sautéing, there's little else to do other than potter about whilst sipping on a warming red to pass the time. As we edge closer towards spring, I've bundled together some of the most loved stews and casseroles from the blog and my cookbooks to see you through the last of winter's lingering chill. The sultry red-sauced Ras el Hanout stew (above), is from the ebook, Beautiful Home Food.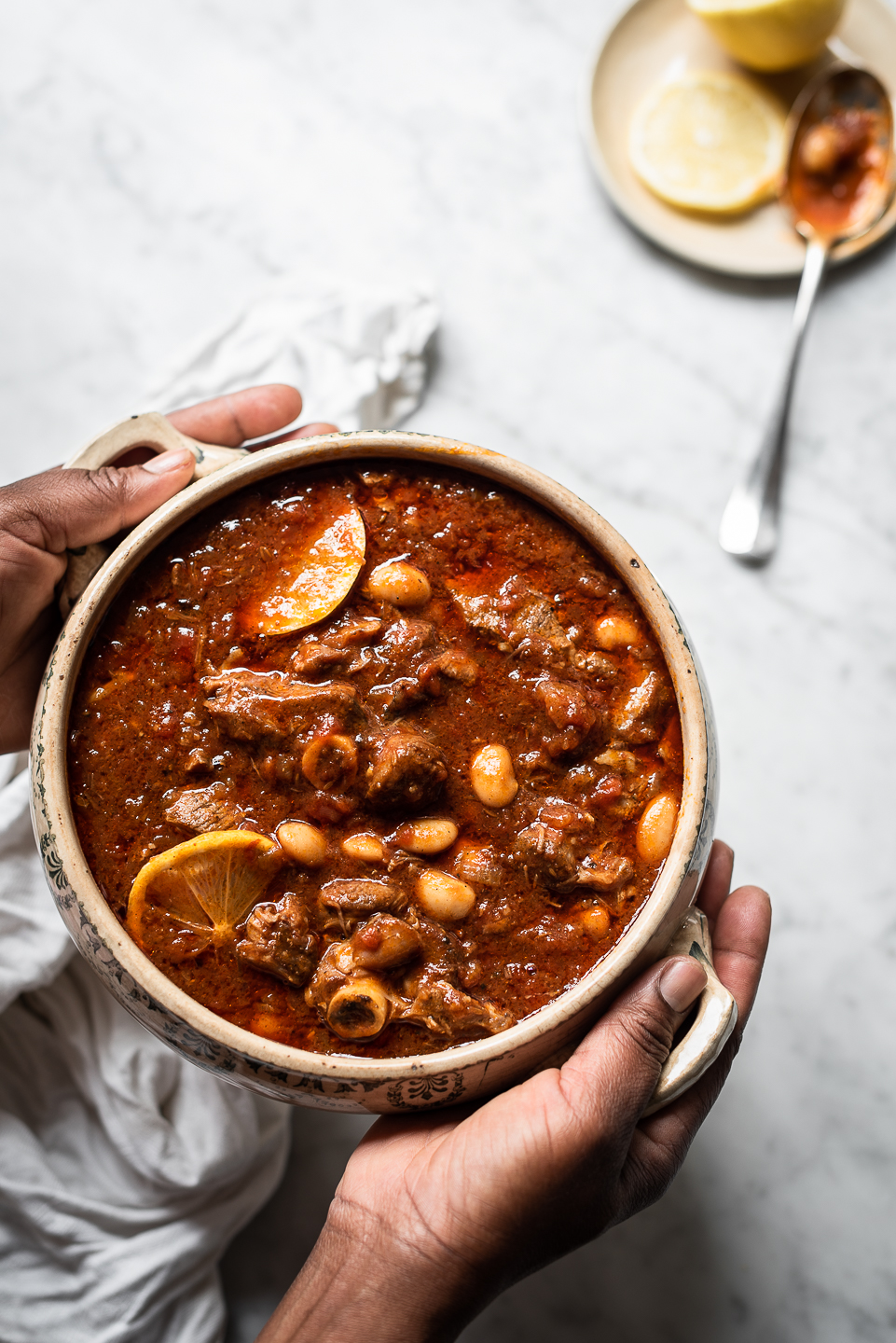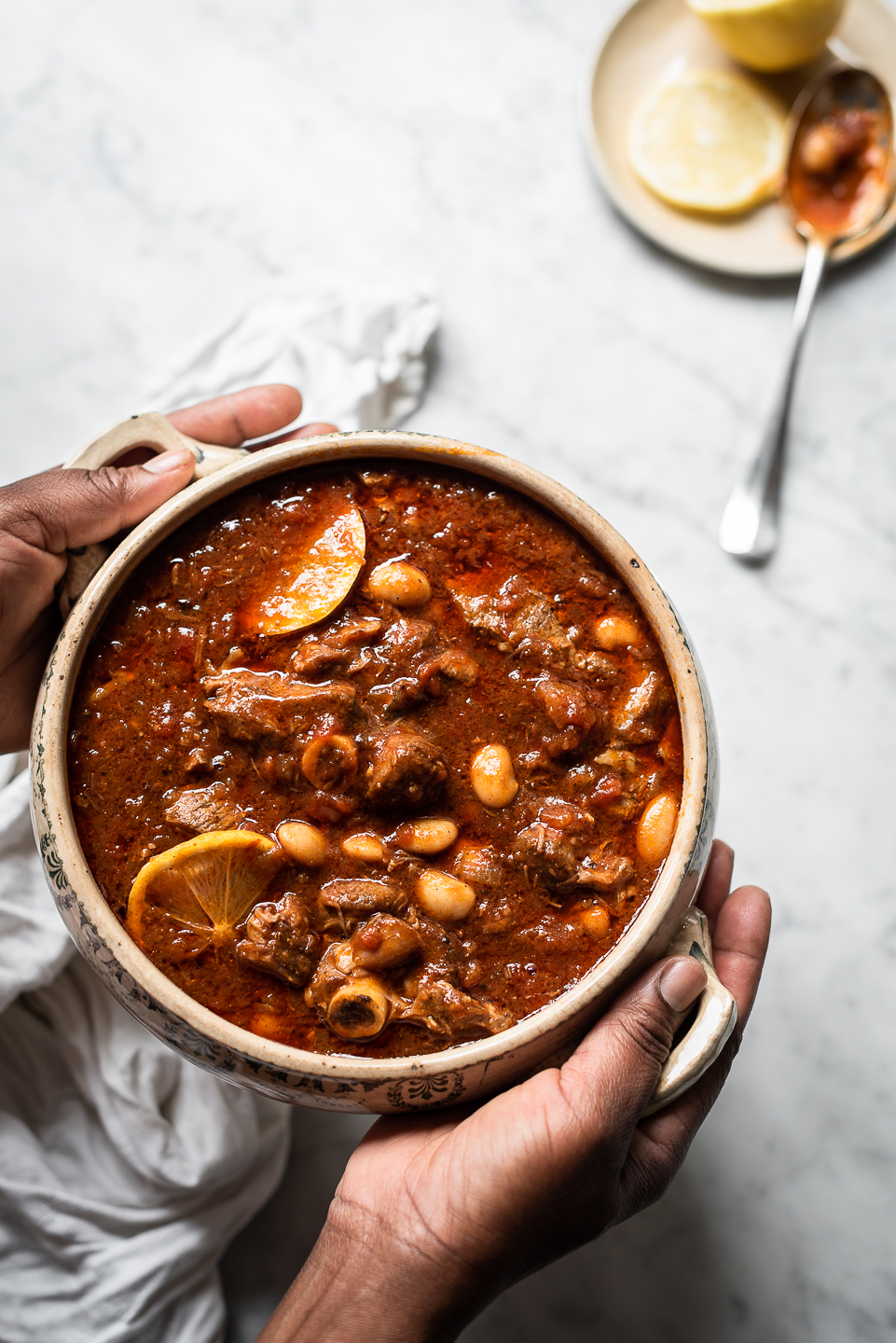 Traditionally made with  mutton or stewing lamb, bredie is a South African favourite. For my North African Lamb bredie, I've used knuckles. As with most stews, it starts with onion, garlic and a good stock. From there, you can add most seasonal vegetables. Pumpkin, green beans and waterblommetjies are typical. Bredie is a slow-cooked Cape Malay speciality. While not hot, it is well spiced with great depth of flavour. Coriander, garam masala and cumin lend an earthiness while ginger and chilli offer a heated element. I balance the savouriness and acidity with a squidge of honey.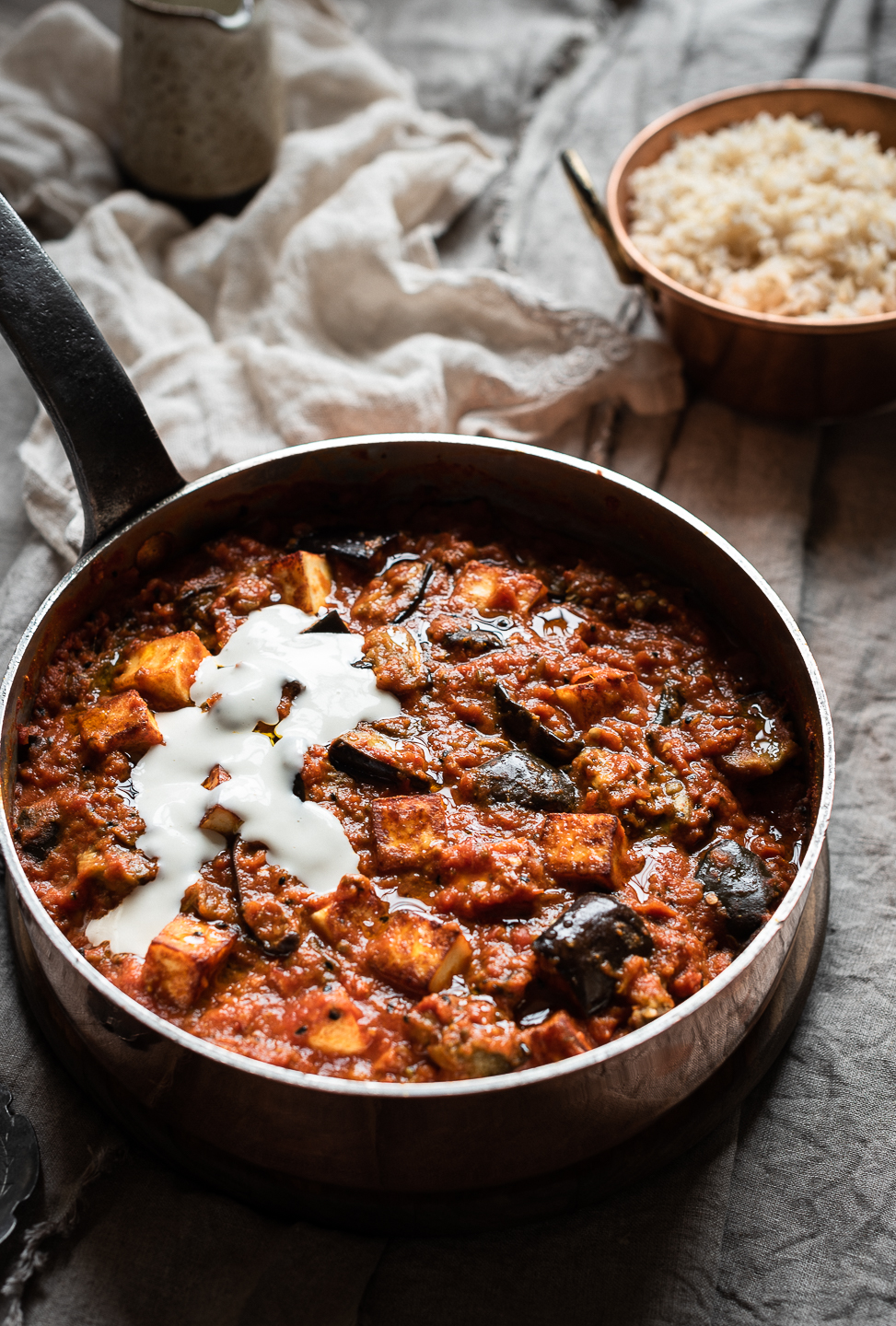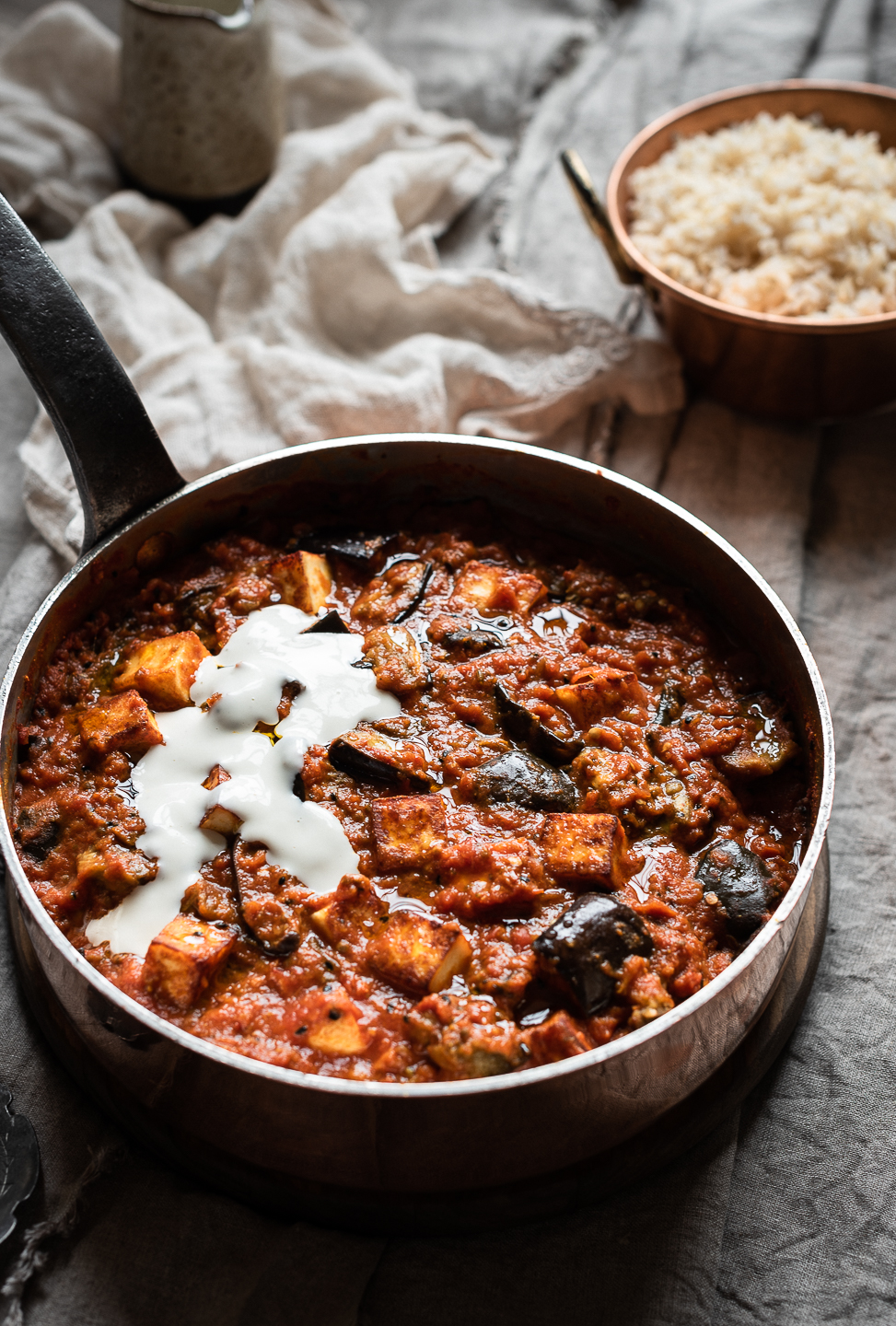 The recipe for this glorious Aubergine and paneer curry is from first recipe book, Bibby's Kitchen. It's been one of the most popular vegetarian recipes by far. I like to serve it with a wild rice and quinoa pilaf or yoghurt flatbreads. It comes with a velvety cashew cream.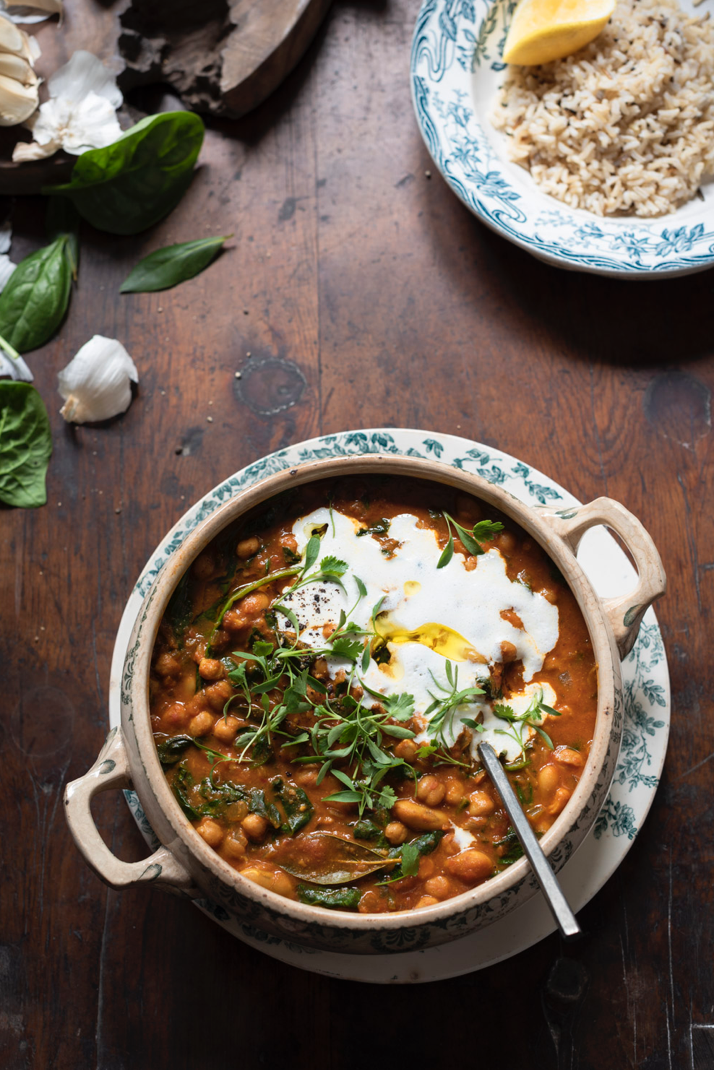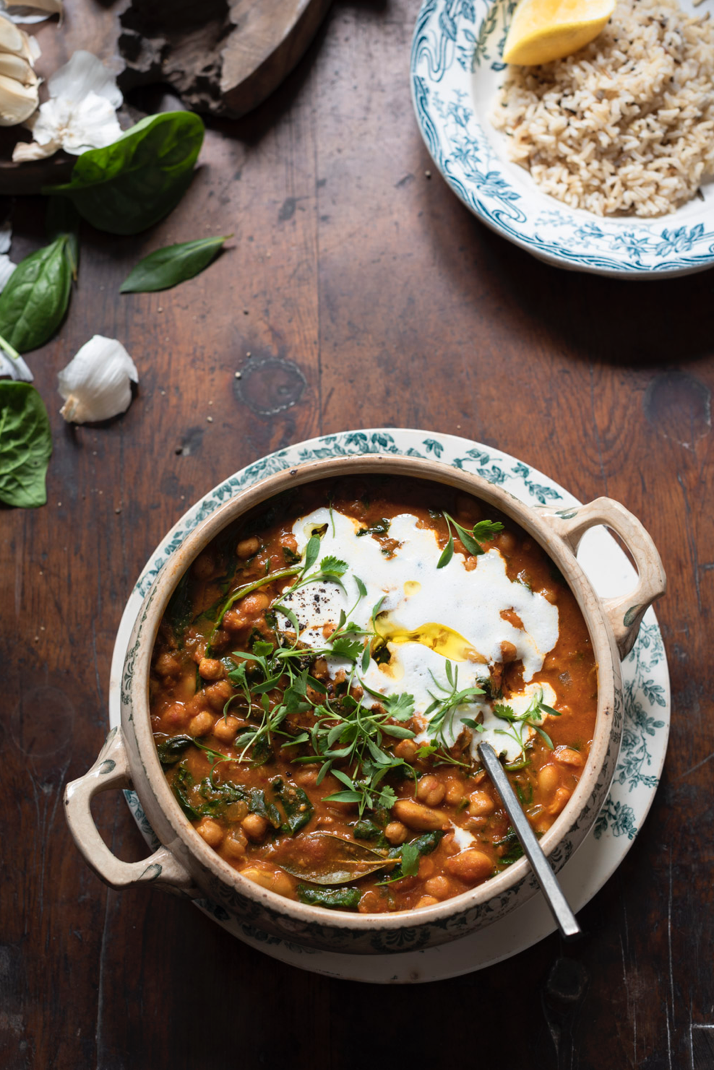 If you're looking to include more plant-based meals into everyday cooking, a chickpea stew is an excellent place to start. For the stew, I've used chickpeas and butterbeans, although most creamy beans will rise to the occasion. The recipe comes together with pantry staples and a handful of fresh ingredients. Nothing foreign or exotic, just the usual curry suspects like onions, garlic and ginger. Fresh turmeric is ideal here, but we're going in with ground spices off the rack. For convenience, I use dried red chilli flakes for a mellow heat, although, if you have a few fresh chillis lurking in the fridge draw, use those instead.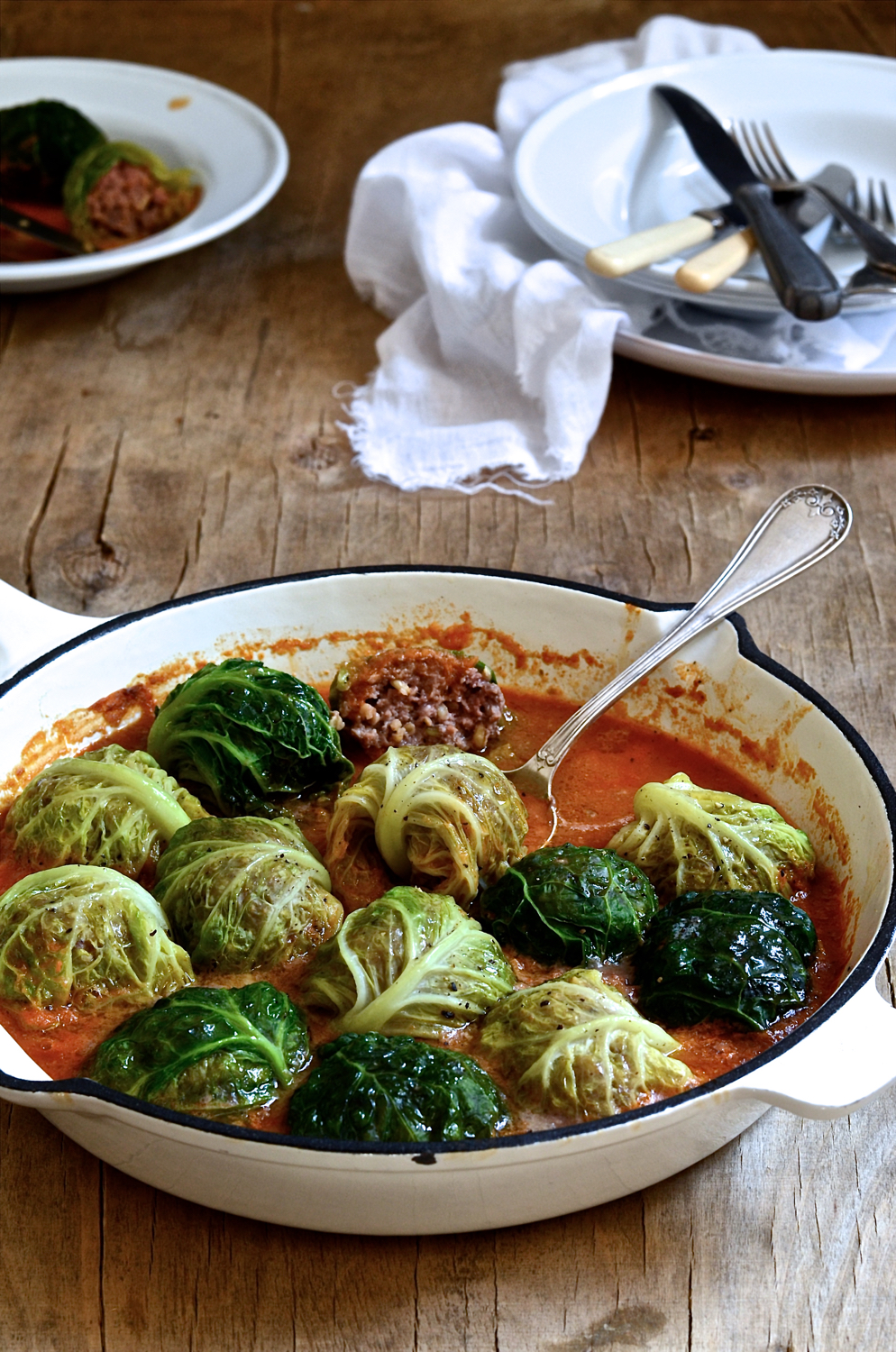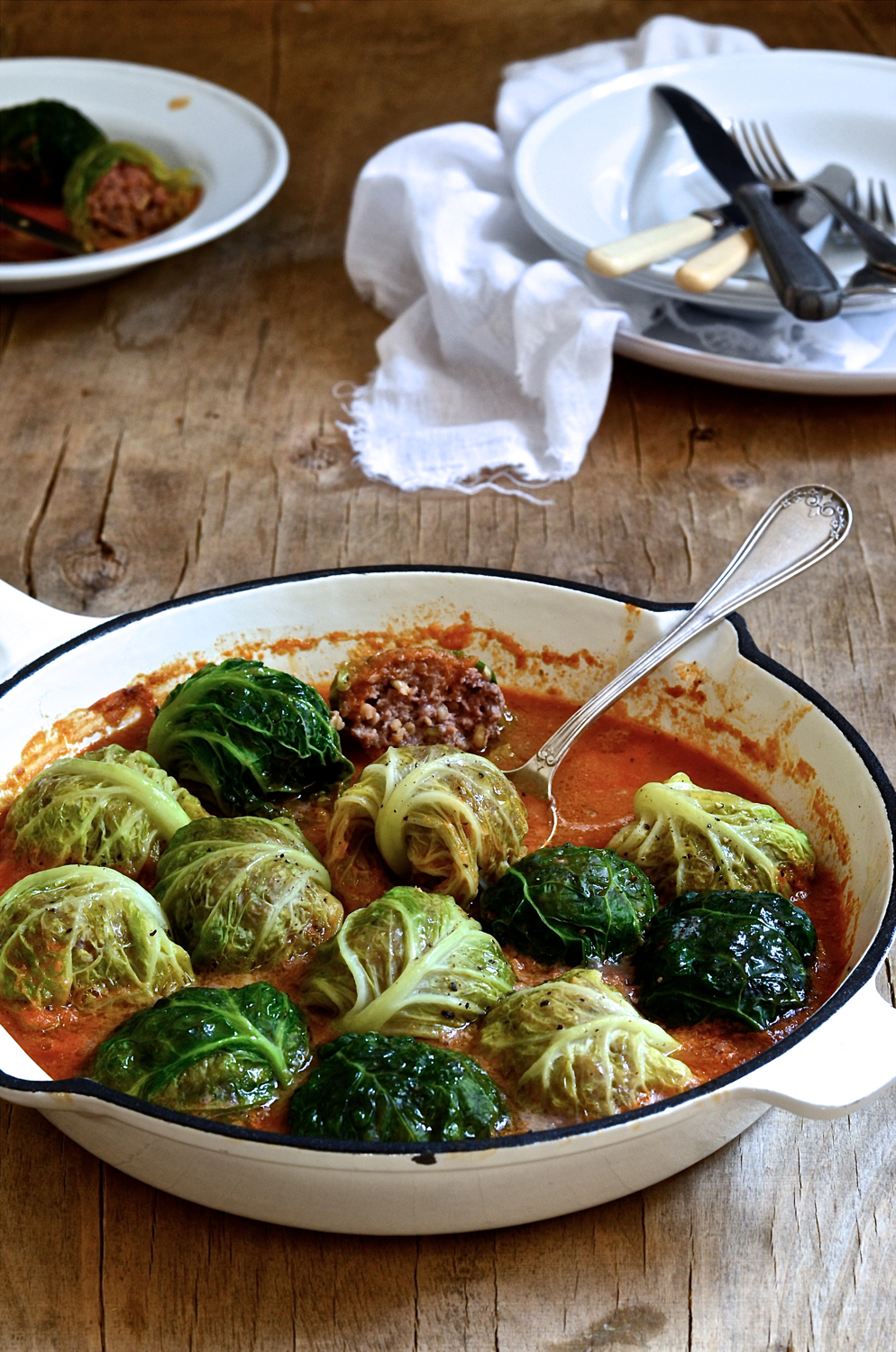 Stuffed cabbage rolls, also affectionately known as 'Oumens or oumas onder komberse' is given a healthy makeover. Stuffed with nutty freekeh grains and spiced meat, this South African favourite is slow-baked in a light tomato sauce until the succulently tender.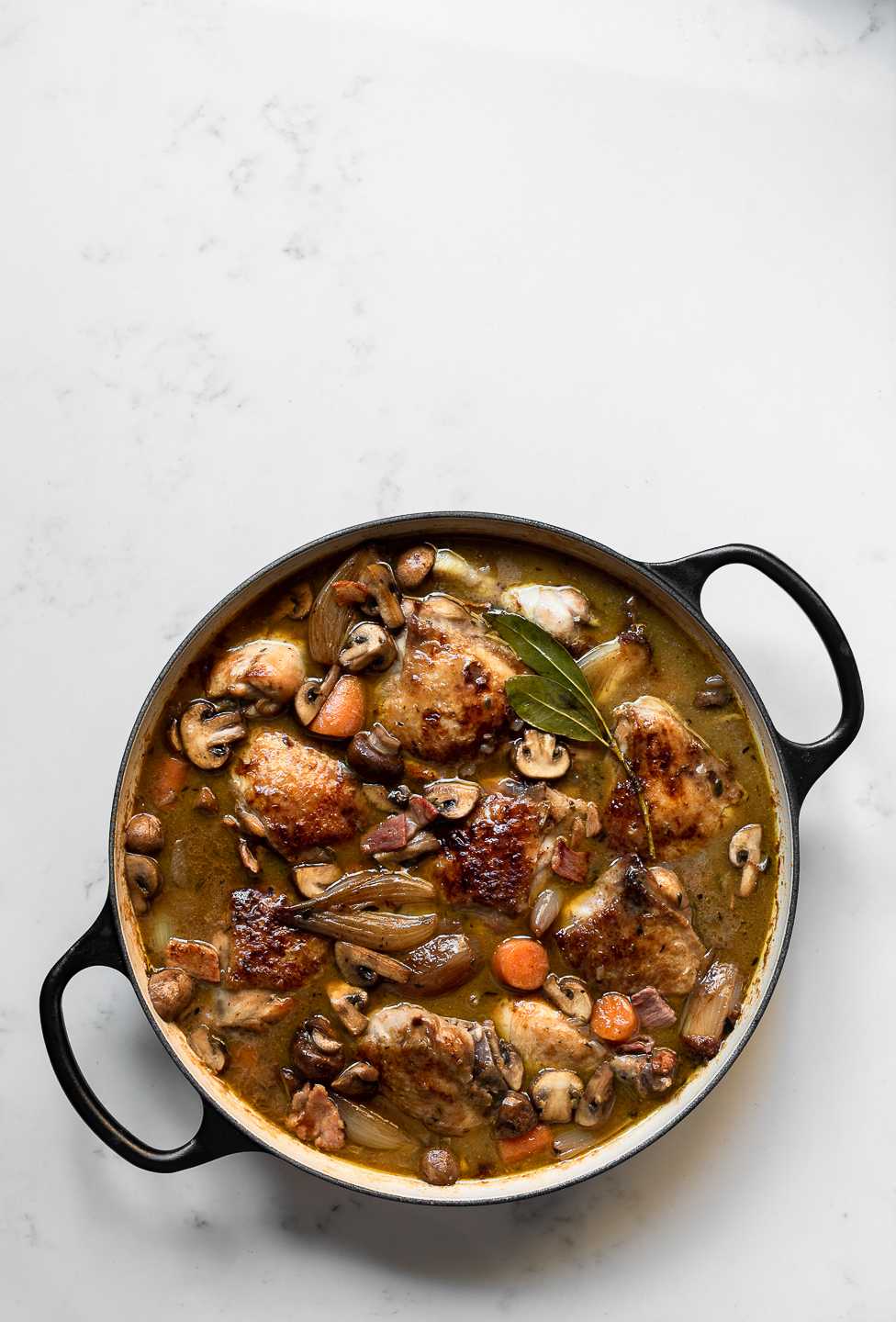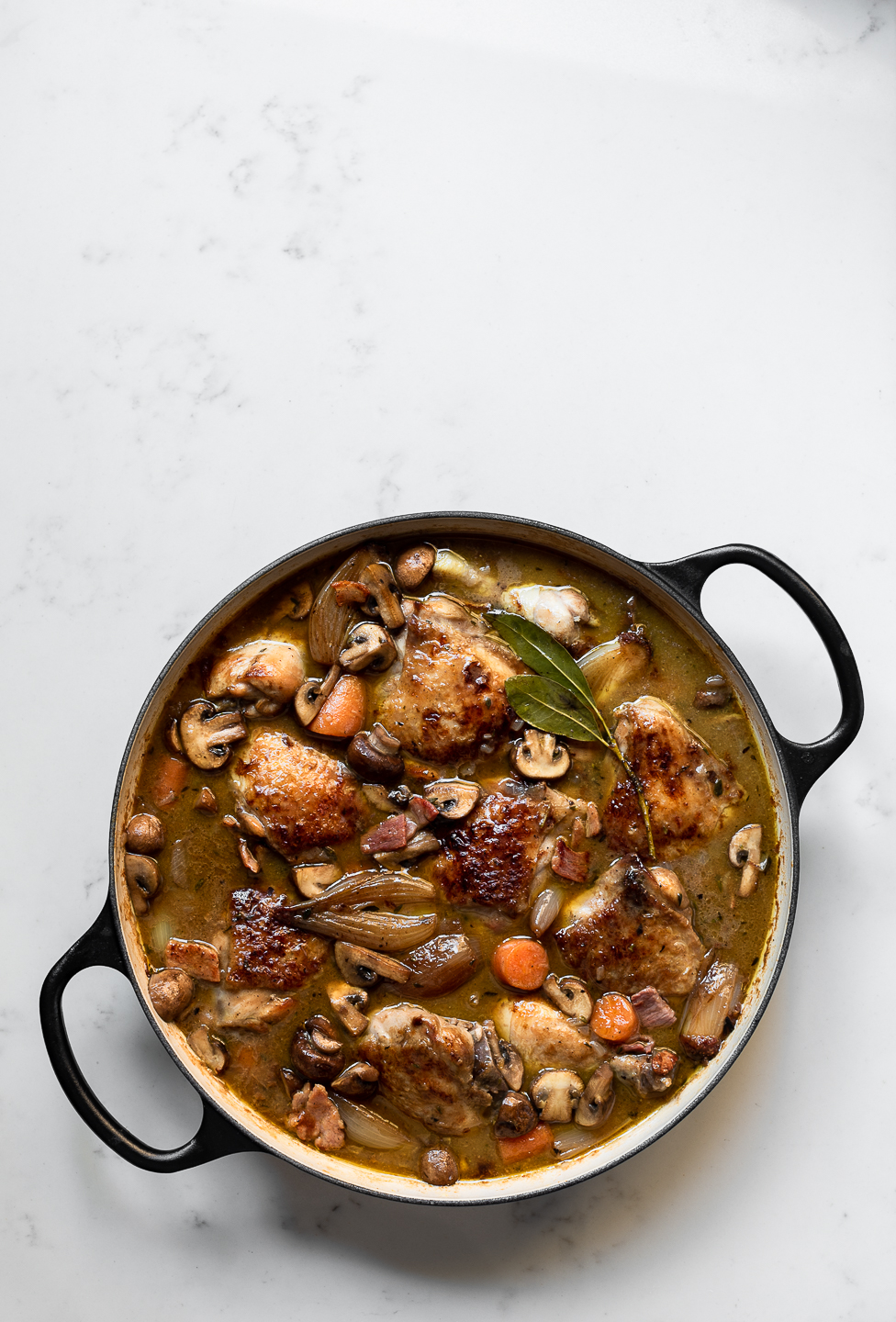 When it comes to the classics, there are few casseroles that can challenge a decent Coq au Vin. Although traditionally made using a good red, this Blanc version is a little more frivolous and light but utterly delicious. Ideally, Coq au Vin should be made on the weekend when you're unhurried when you have the time and patience to be deeply invested in the process, rather than a dinner dash. The recipe is from  my ebook, Beautiful Home Food.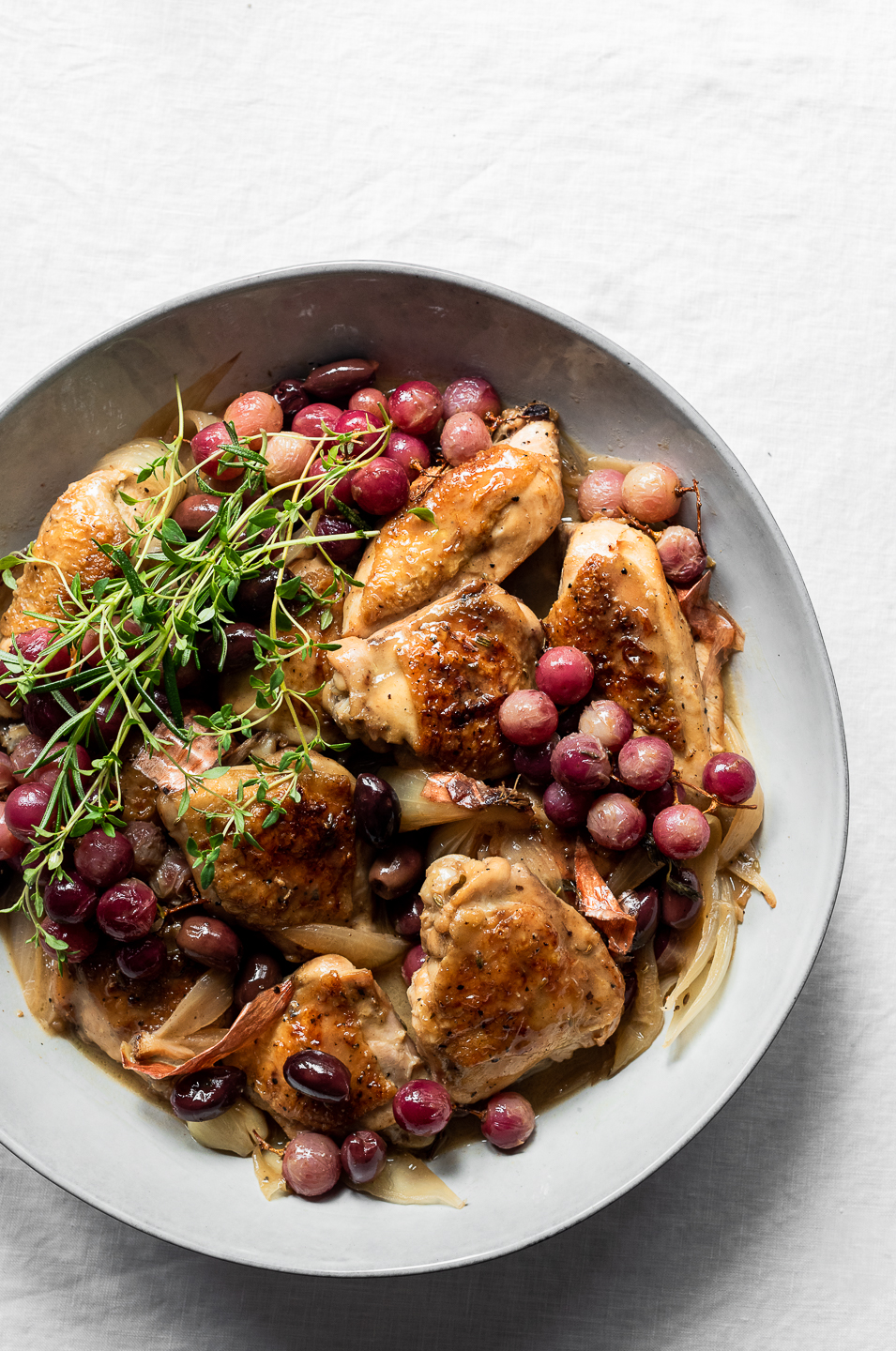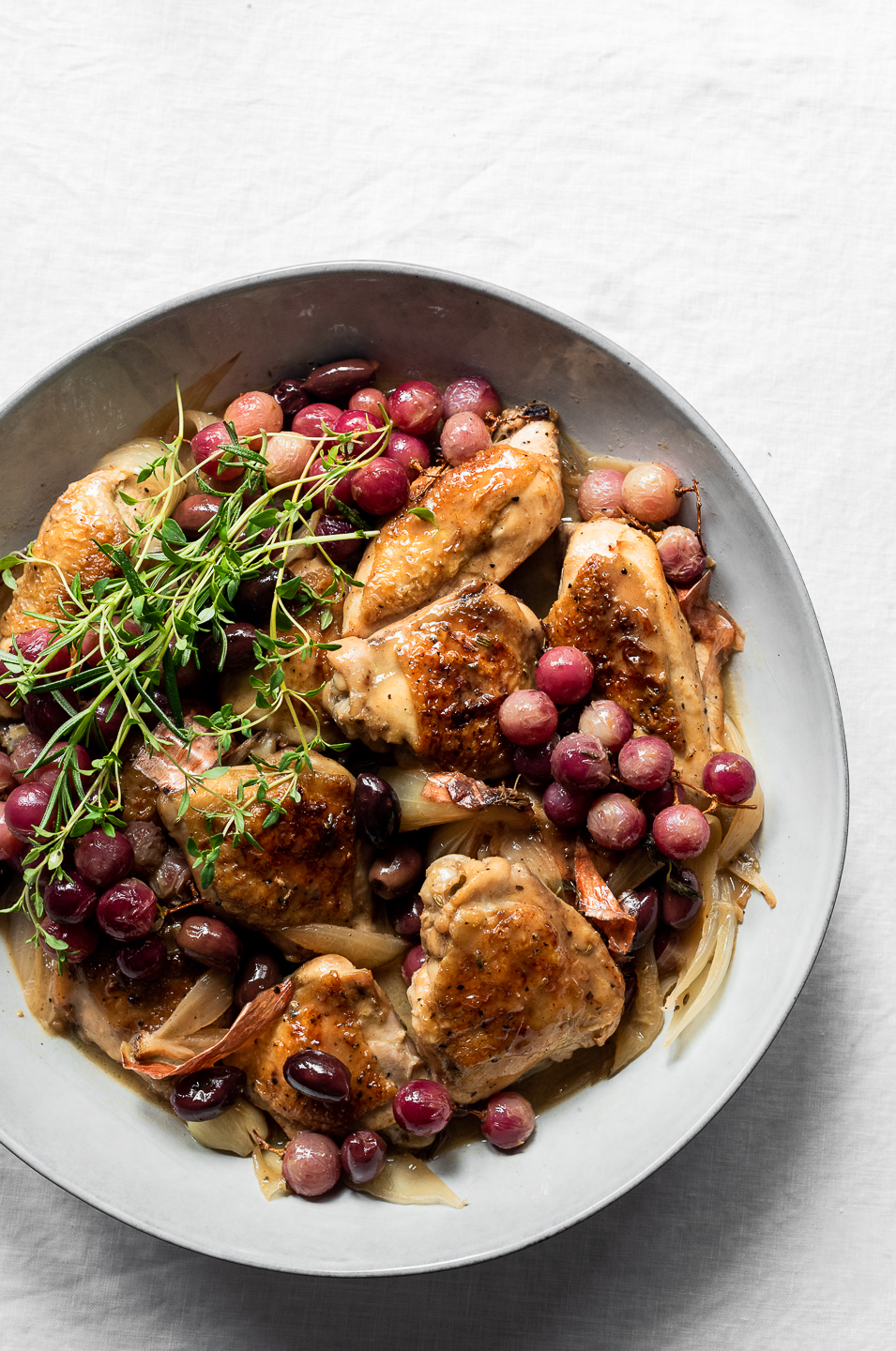 Chicken loves thyme and rosemary. I add plenty of both along with slithers of lemon, garlic and fresh fennel. Fennel is especially good with grapes. I add the grapes half way through the cooking time, blistering them until they burst their sweetness into the sauce. The buttery chicken juices are slicked with the rendered fat which makes this Sticky chicken dish intensely flavoursome.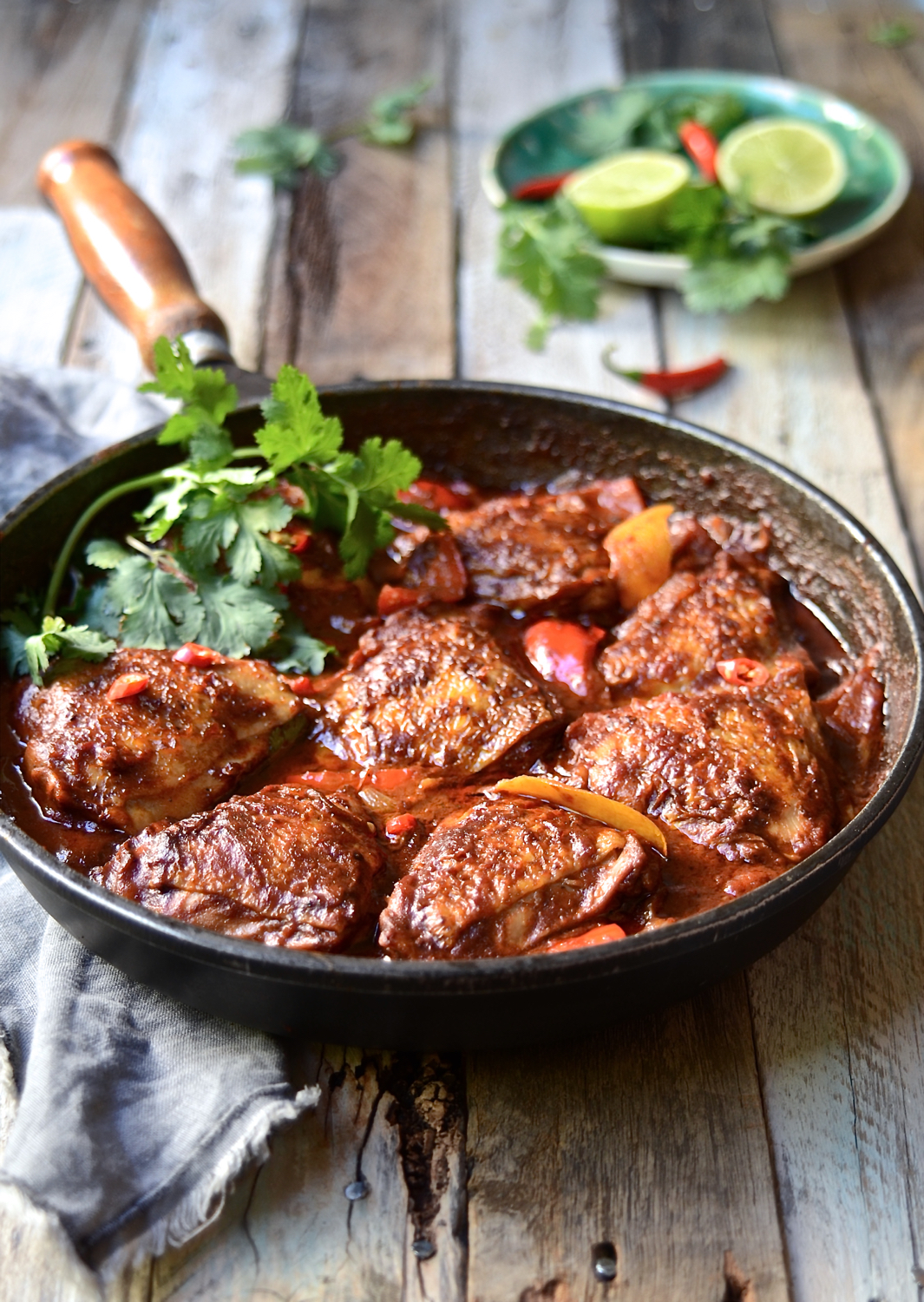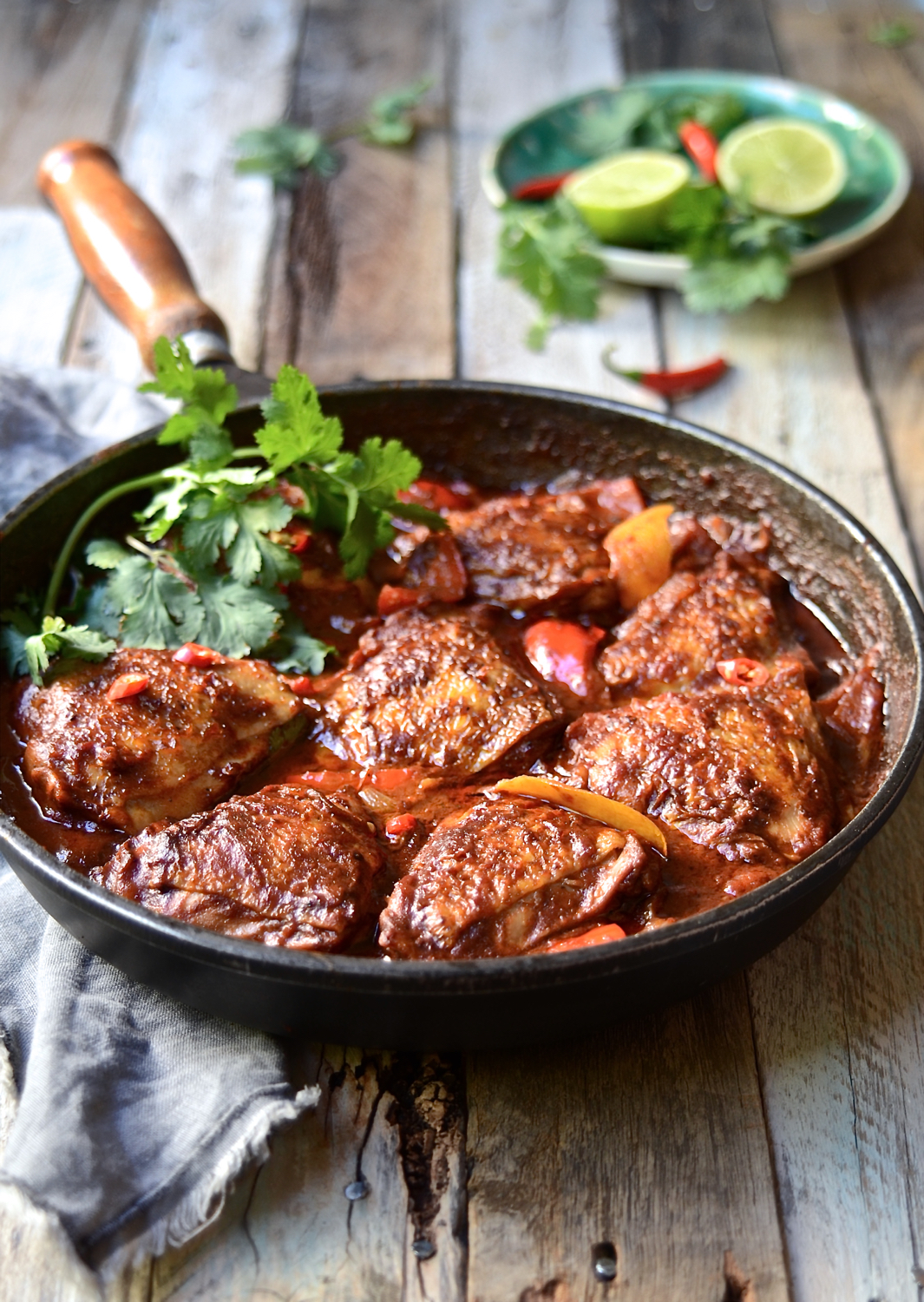 The most important consideration when combining savoury and sweet is a balance of flavours. This Mexican chicken casserole has it covered. The flavours here are bold and gutsy.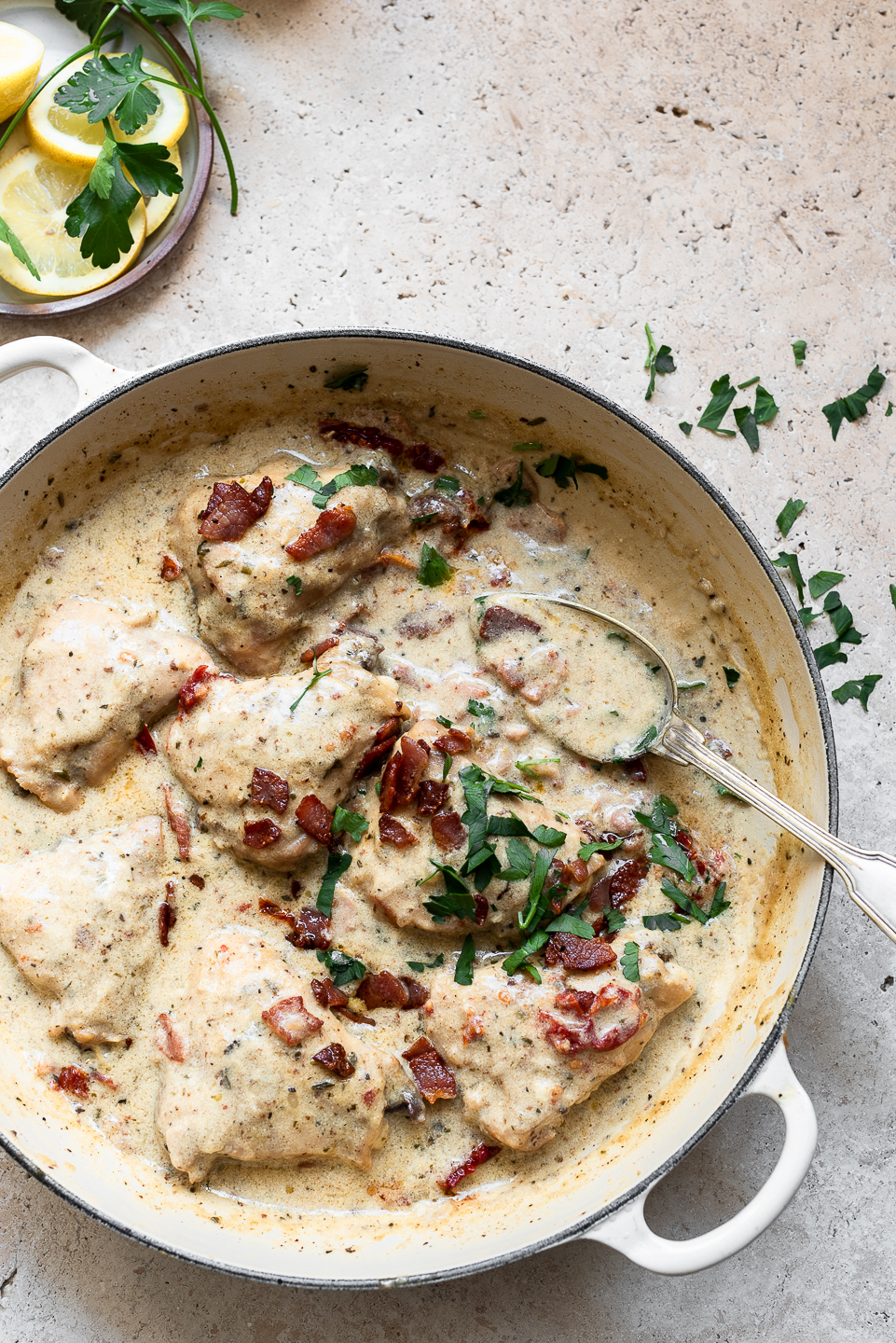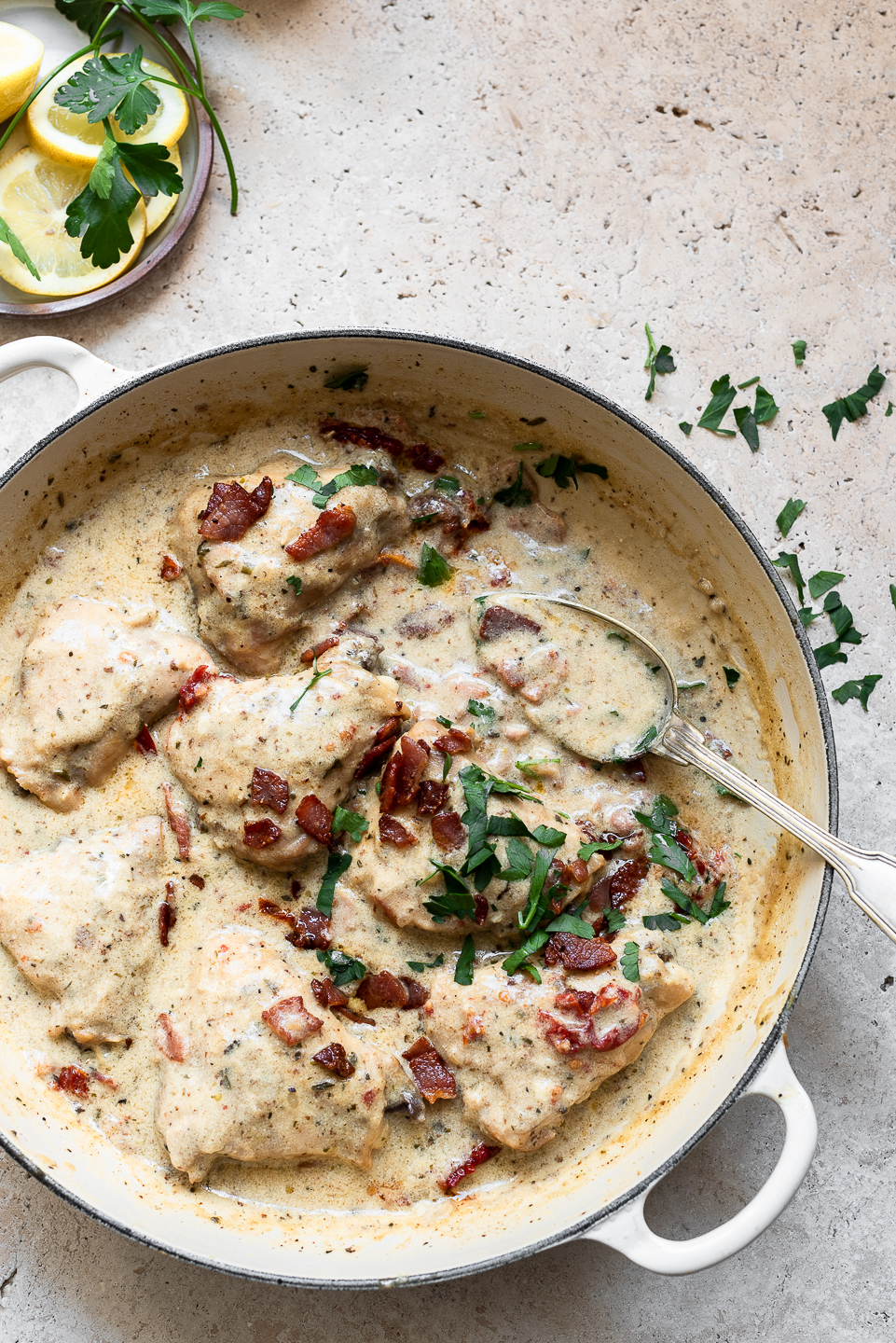 Like with my chicken and leek casserole, which happens to be one of the top five most popular recipes on the blog, I see another winner chicken dinner happening here. This Rosemary and Bacon Chicken has all the makings of a family favourite – succulent chicken, creamy sauce, sundried tomatoes and crispy bacon bits for salted crunch. Not much to argue about there. I'd serve it with fluffy mashed potatoes and maybe flash-fried tenderstem broccoli or steamed green beans.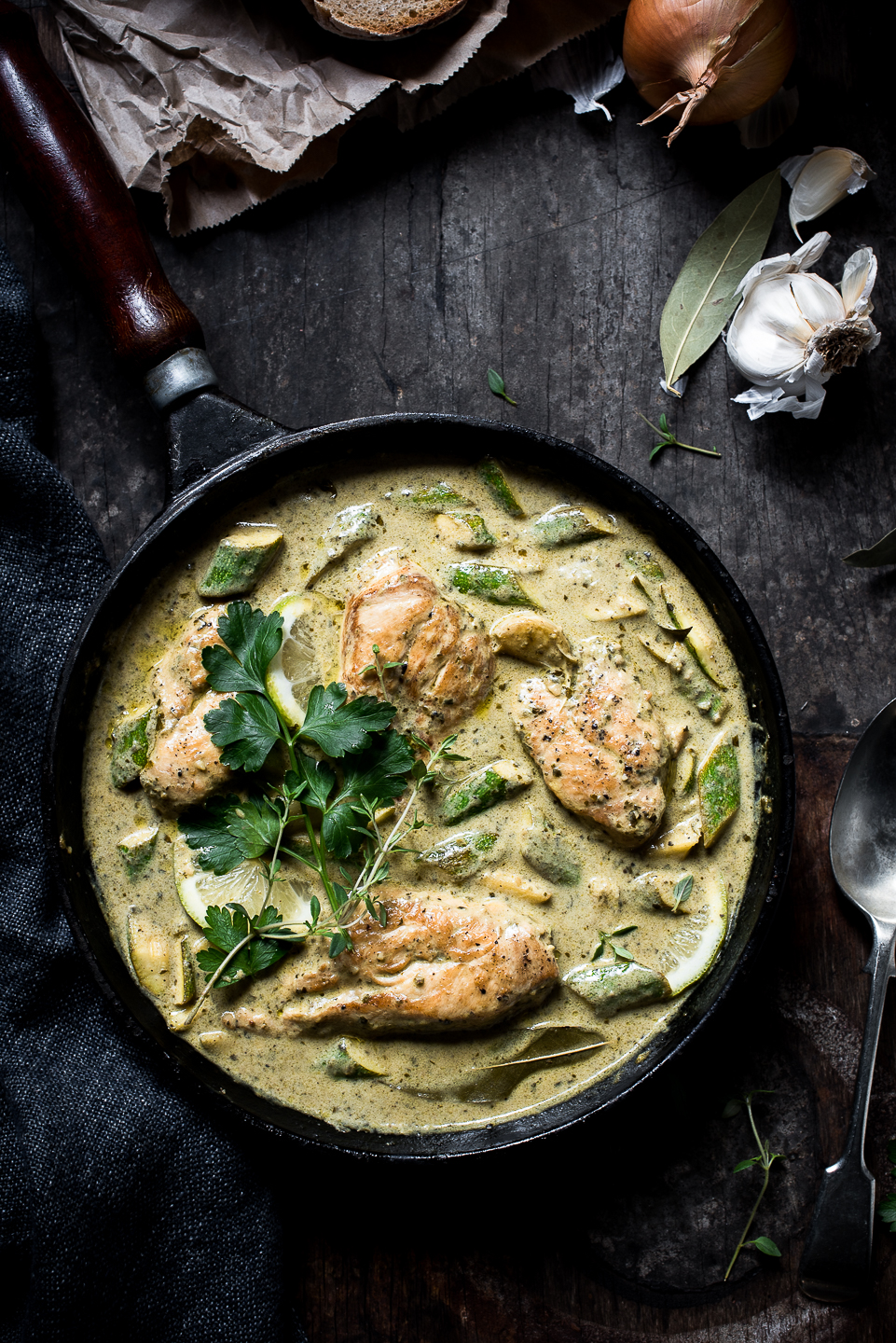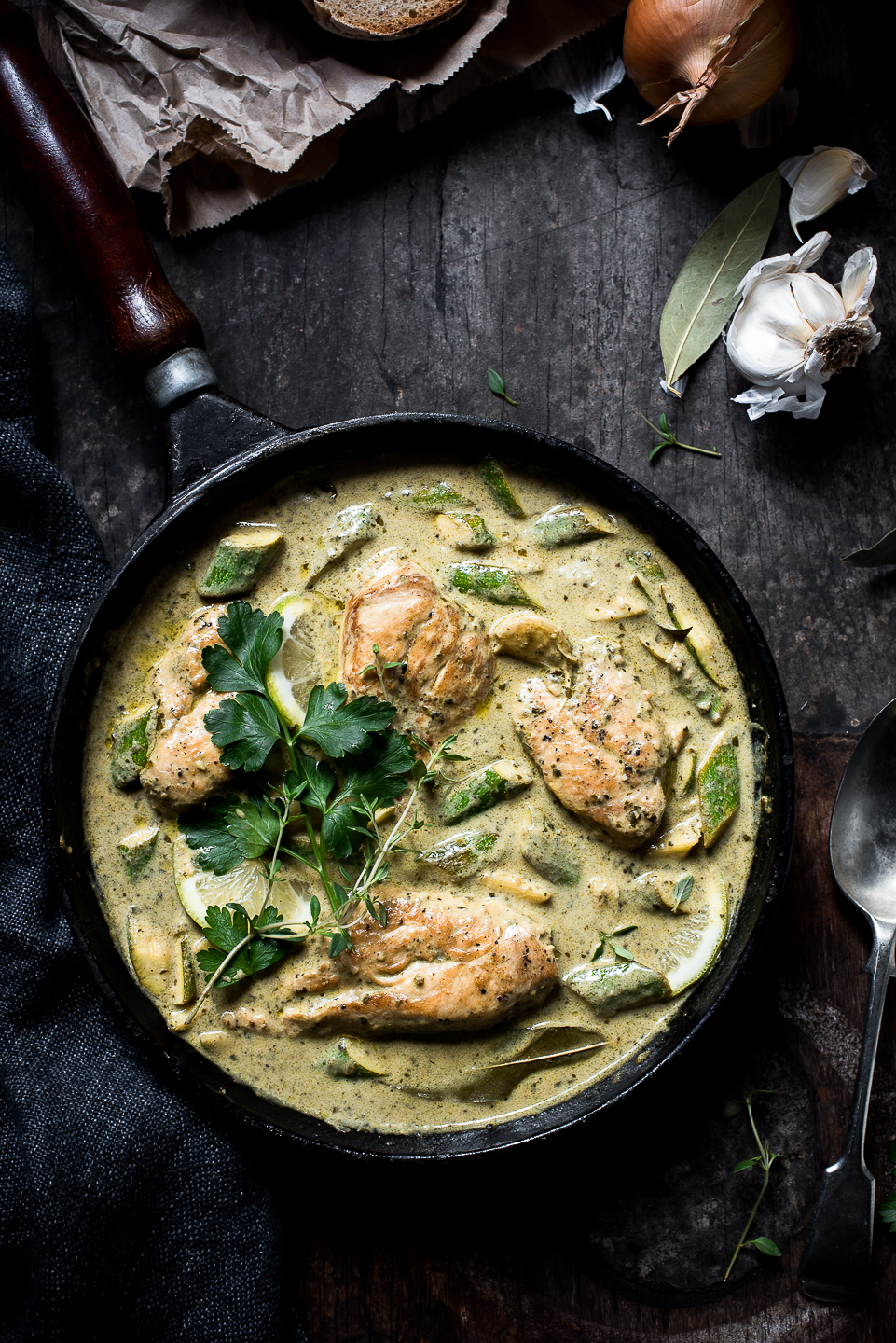 Casseroles are essentially stews cooked slowly in the oven. This quick pesto cream chicken casserole is a short cut version. It tastes as good, but the slow-oven cooking is replaced with a quick stove-top method. It takes 25 minutes, tops. Monday needs this dish.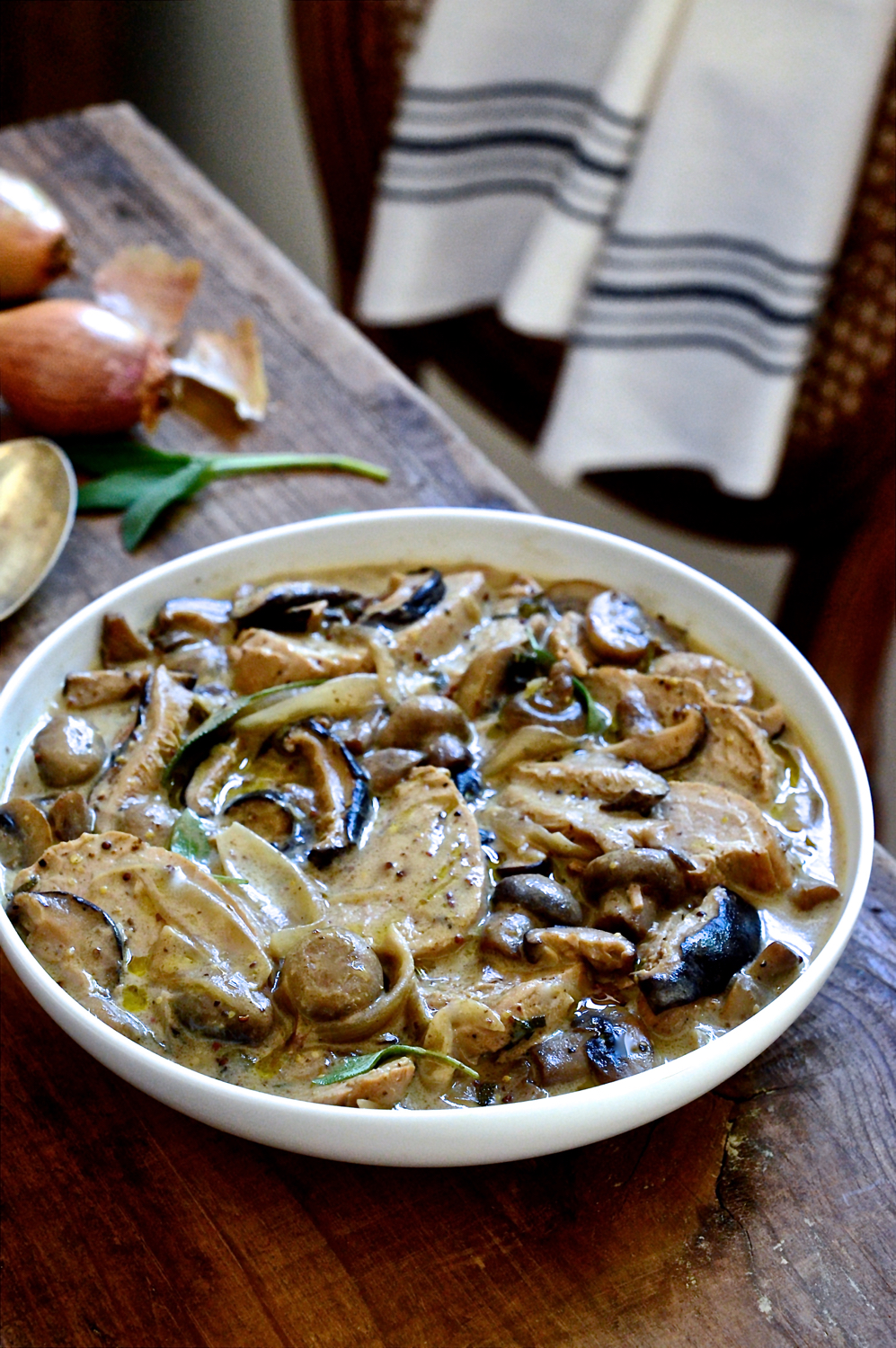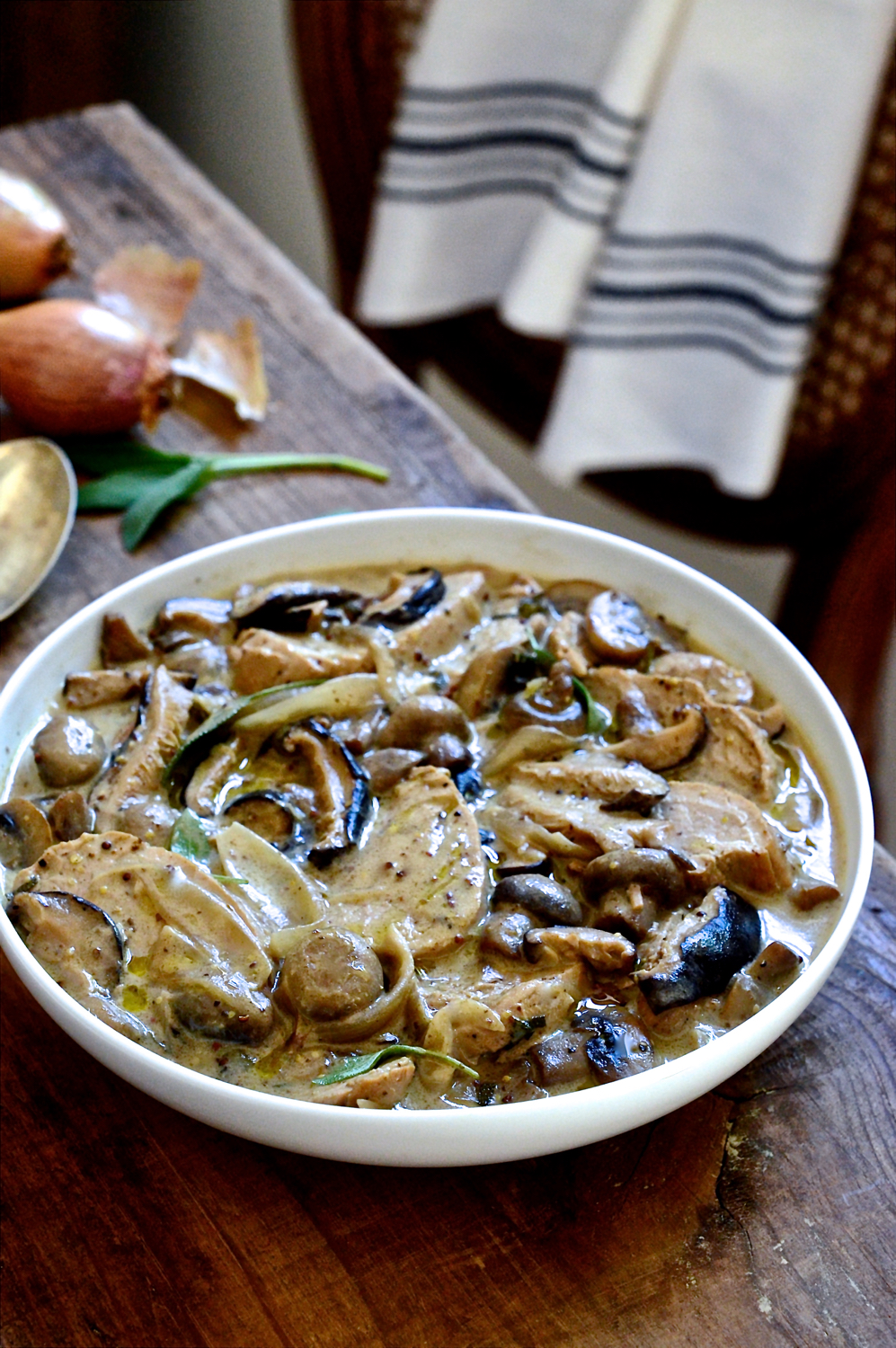 There's something homely about the word casserole. It rolls easily off the tongue encouraging an informality that permits elbows on the table, bowl mopping and casual end of day banter. It's also the kind of dish that welcomes new neighbours to the street and fortifies the poor in spirit. Good food isn't reserved only for weekends. If you haven't tried this Shallot and Pork casserole yet, l'd give it a go this weekend.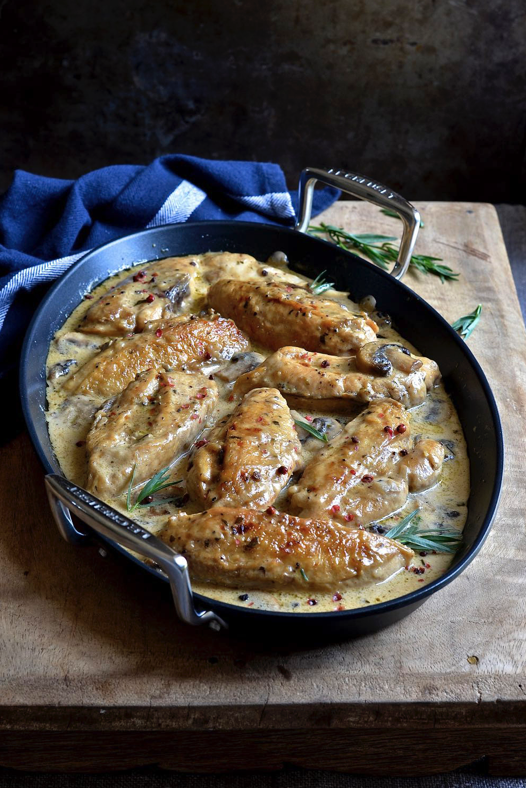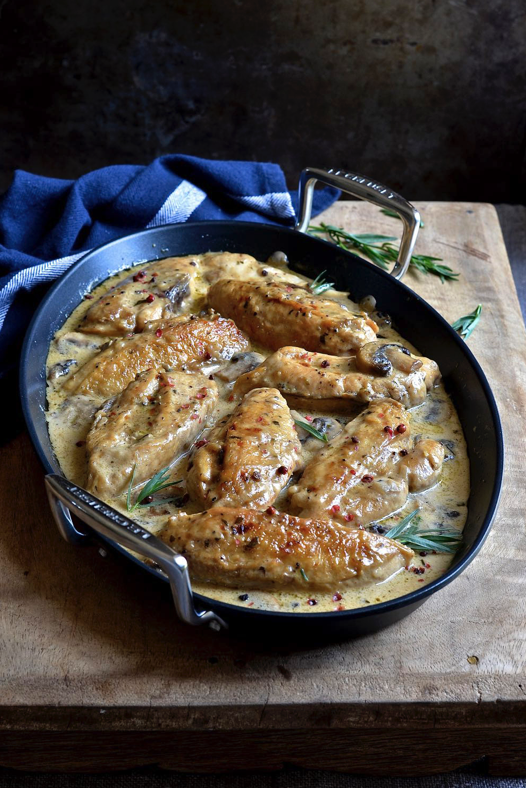 Tarragon cream chicken is ambrosial comfort food. I imagine myself eating in this dish in a French country kitchen with crusty baguettes bought from the local boulangerie, roughly torn and passed around, along with a casual bottle of wine to wash it all down. Sadly, we're not in Provence, but wherever you find yourself, this chicken casserole is sure to evoke feelings contentment. At its core, it's soul food.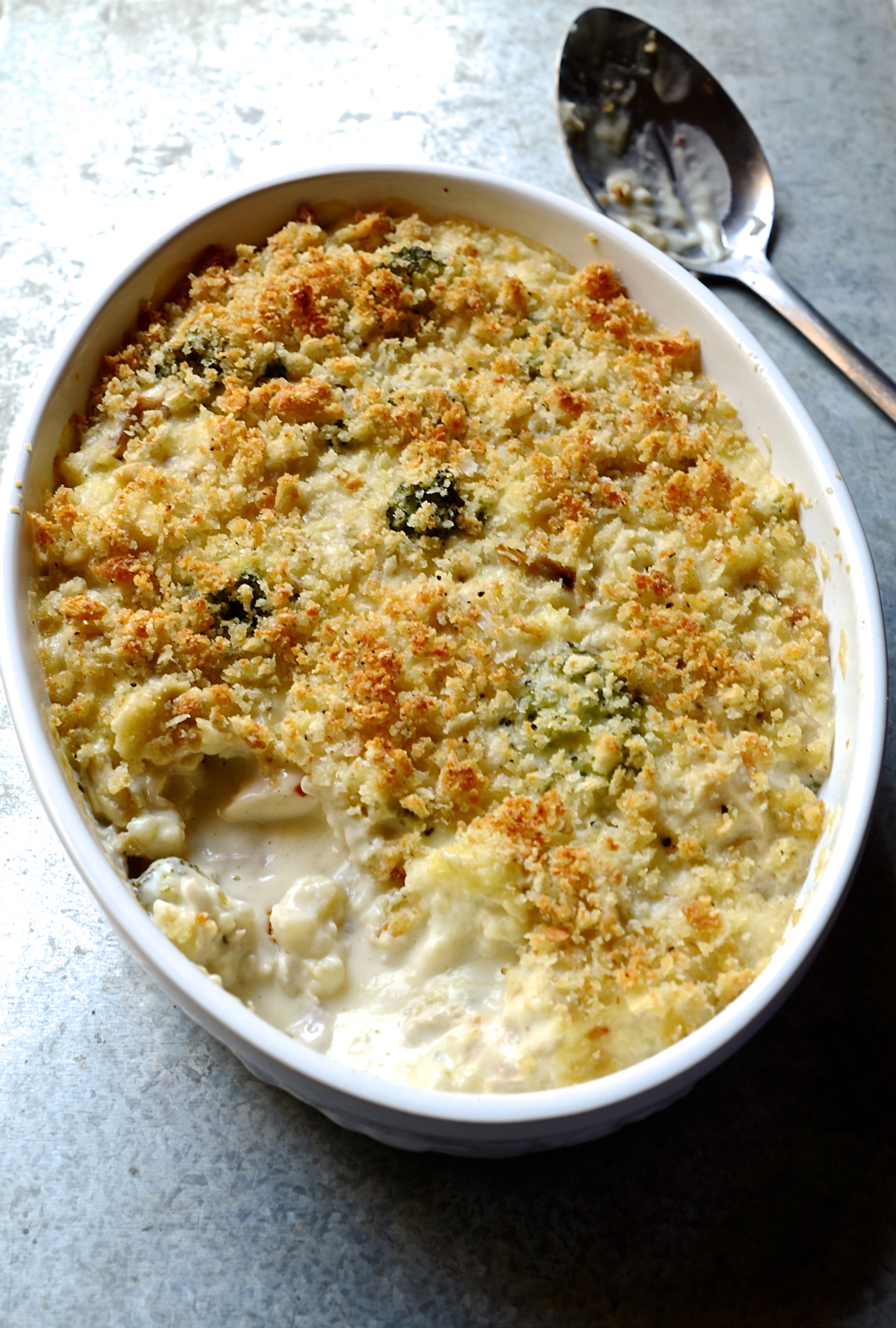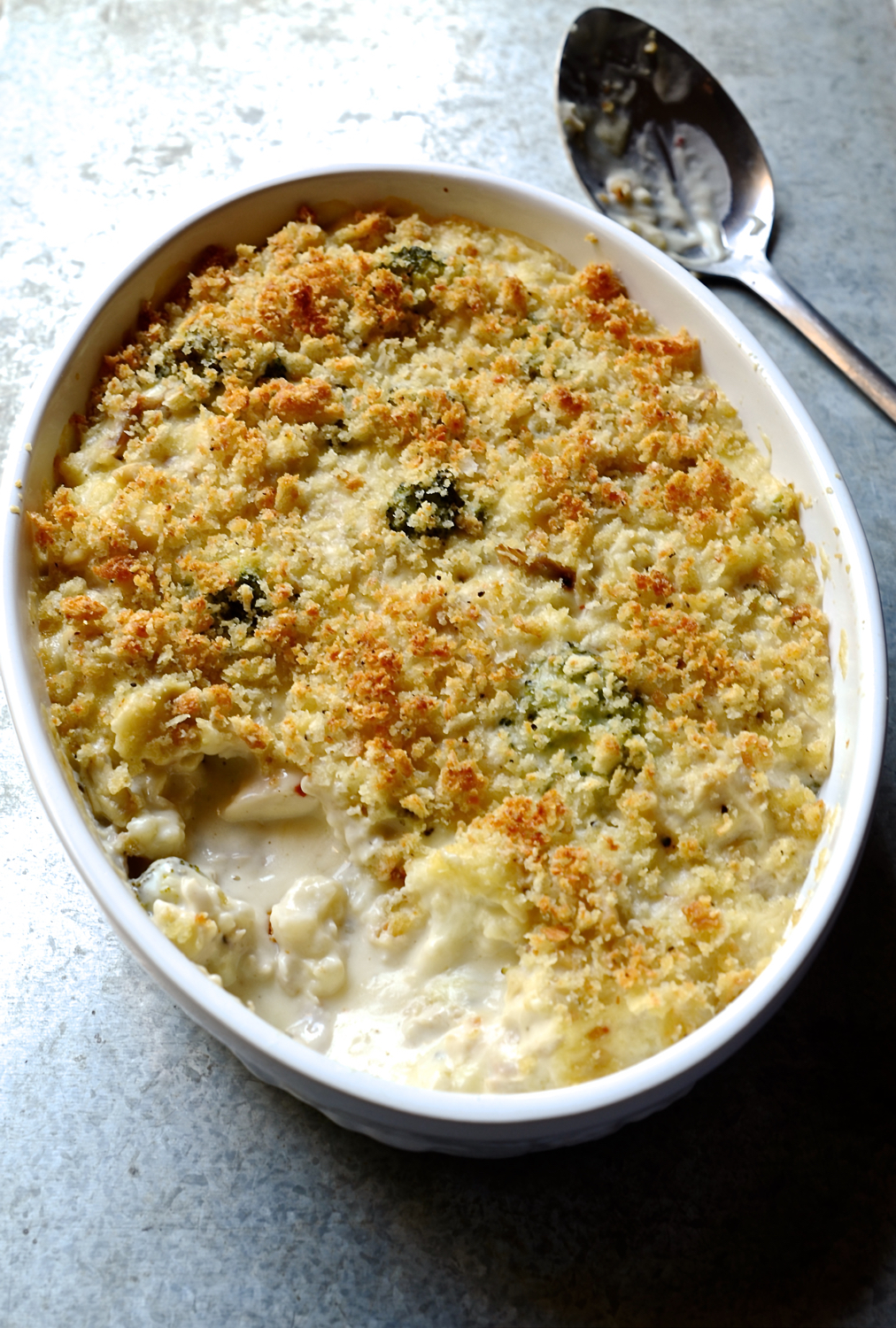 When I think of family-style food, Broccoli chicken casserole comes to mind. Growing up, my mother made often. And we loved it, despite the fact that it had little green trees hidden within the creamy cheese sauce.  It's honest food, the sort that both children and grown ups are happy to eat. I've started adding cauliflower to mine, along with the broccoli. The cheesy sauce and parmesan crumble topping makes it a winner dinner.