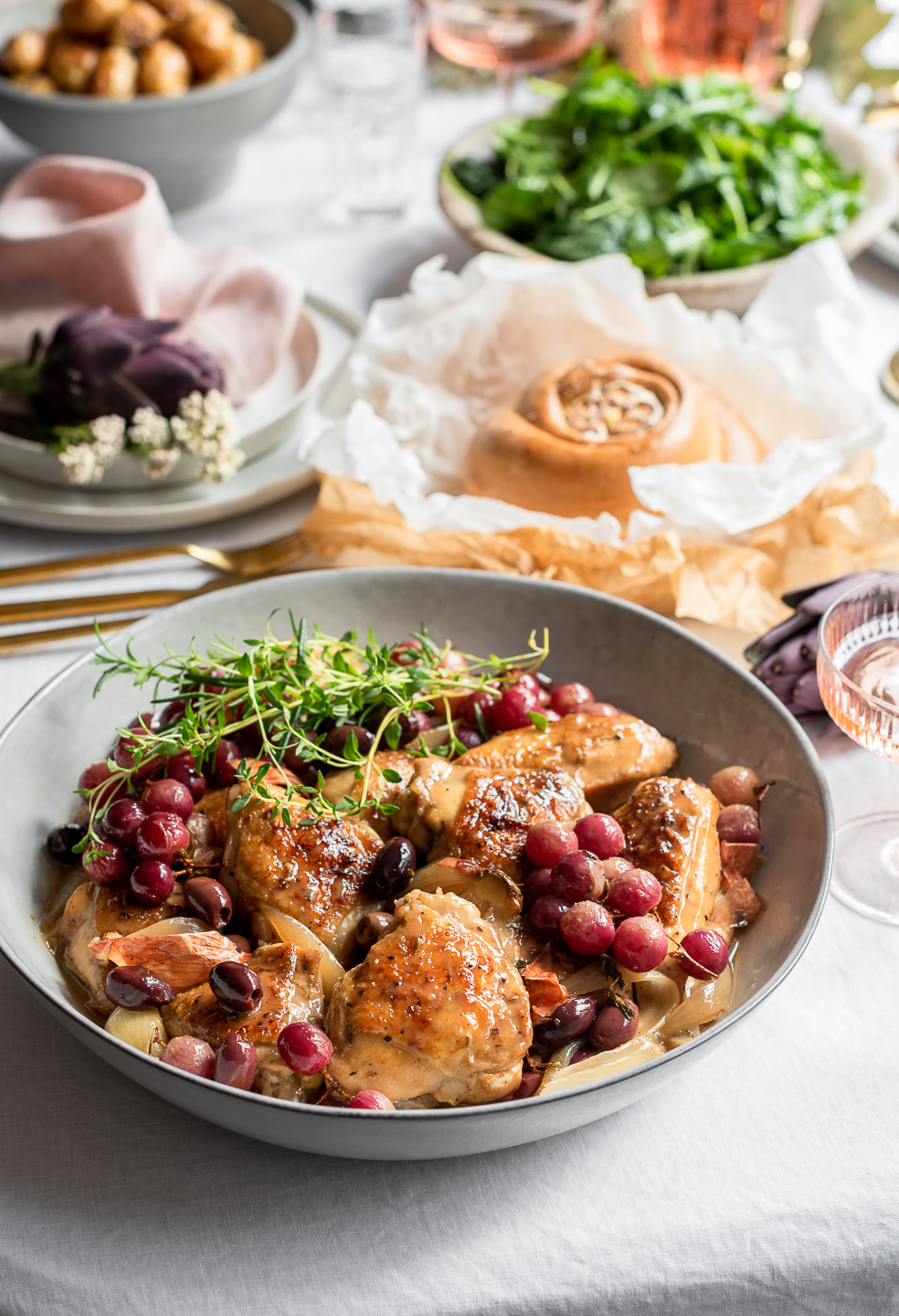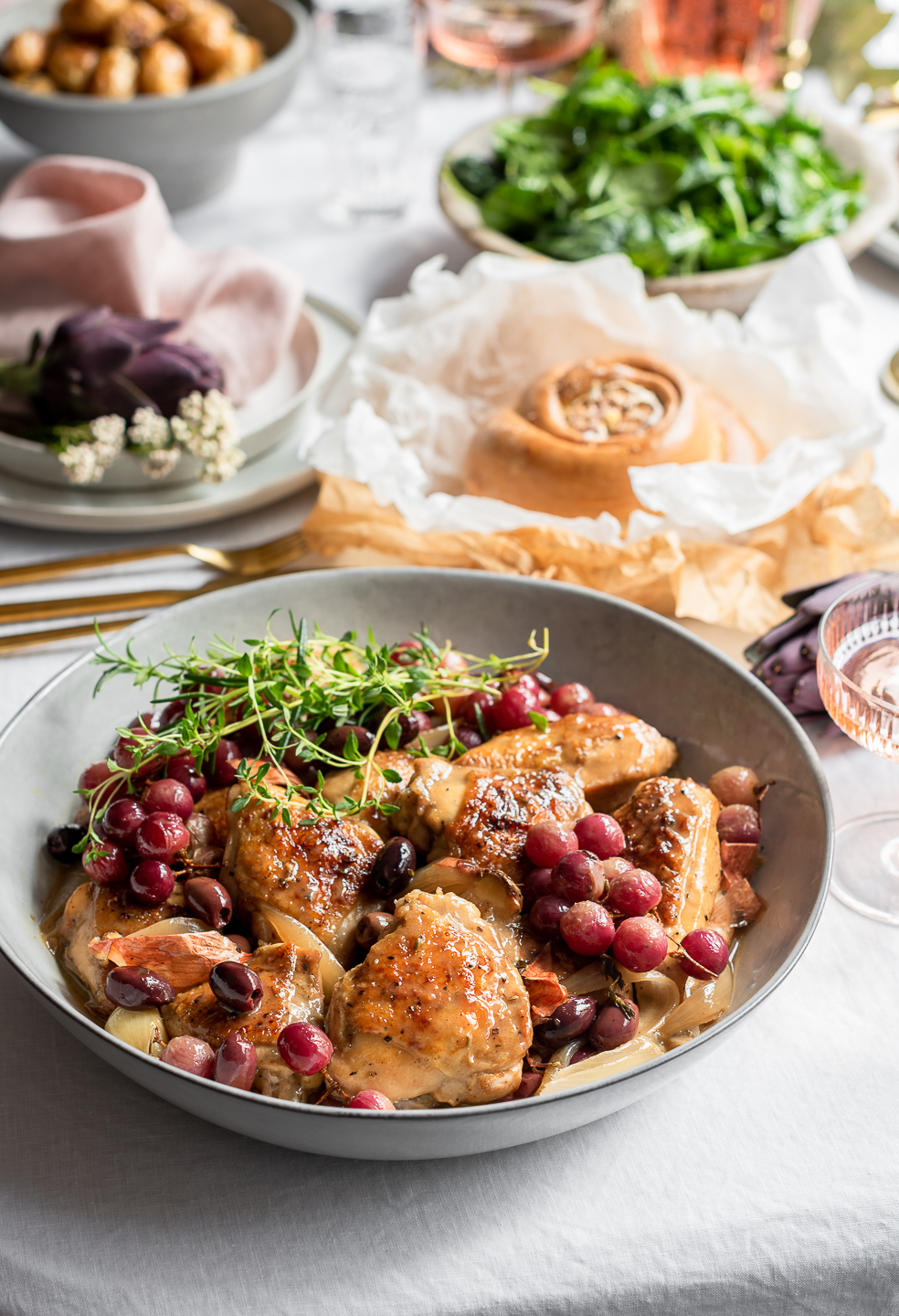 Diana Henry thought it worth dedicating an entire book to chicken recipes for every day and every mood. Julia Childs believes one can judge a good cook by the quality of his or hers roast chicken and, Ina Garten says she can do it in her sleep. Roast the perfect chicken, that is. Besides being in the top ten most searched google food terms, chicken is also one of the least intimidating meals to cook. It's the darling of home cooking, really. To celebrate Spring, we're headed outdoors and welcoming in the new season with easy, help yourself food. It's Sticky chicken with roasted grapes, crisp sage potatoes and a charming knotted garlic loaf to soak up marmalade-ish pan juice. And to serve alongside, frosty sun-blushed Mourvèdre Rosé.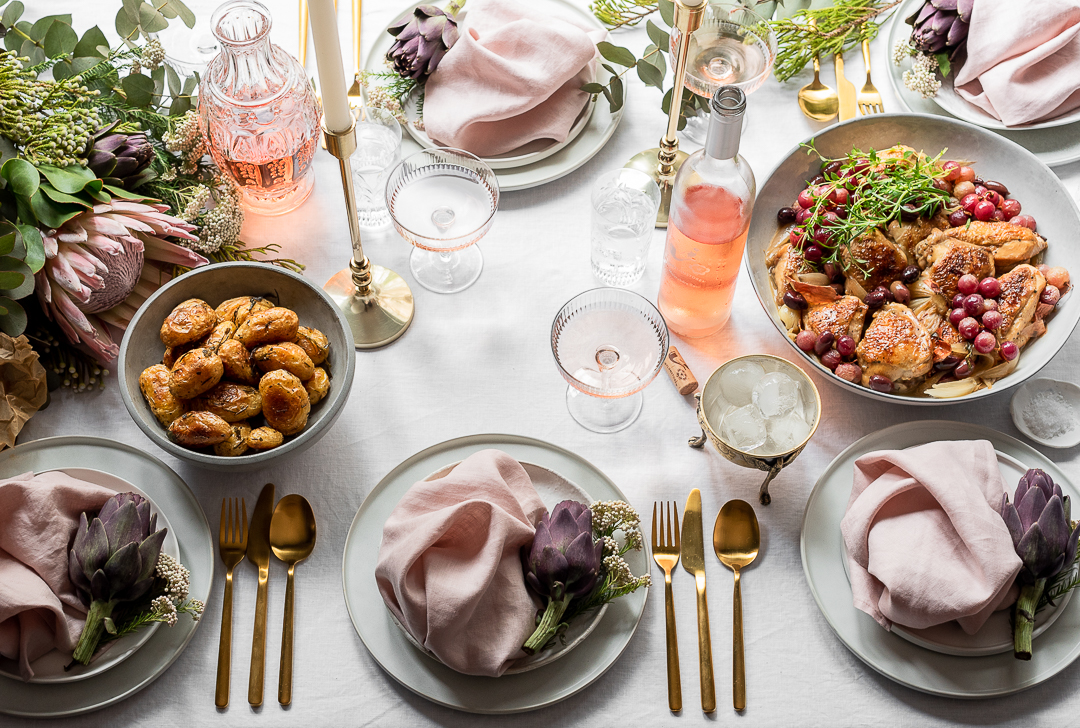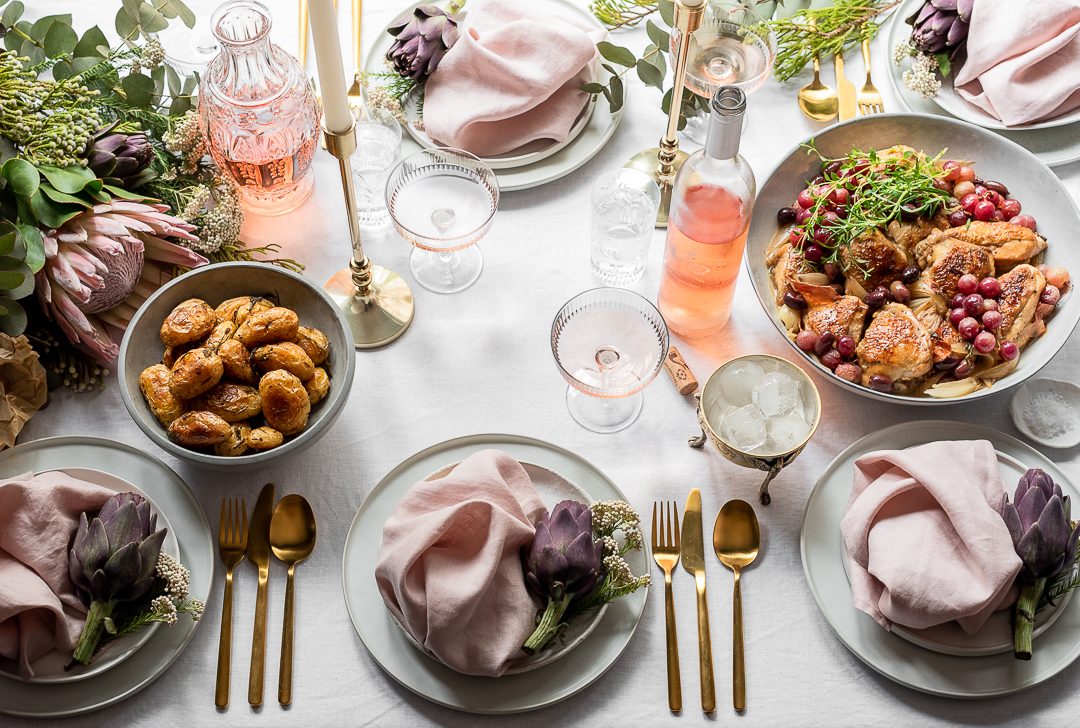 Besides being an elegant aperitif, Rosé pairs beautifully with food, from appetisers to casual weekend brunches, mains and dessert. Think spring asparagus, delicately smoked trout or a creamy risotto with buttery prawns. For meatier opposition, a gingery pork belly with crisp crackling is rather spectacular. Rosé varies in degrees of sweetness, intensity and colour. Paler hued Rosés are generally light-bodied whereas darker tones lean towards a deeper aroma and intensity. When it comes to cooking with wine, use only what you're happy to serve at the table.
Back to the chicken. If you're going to eat the chicken skin, which is where most of the flavour congregates, you'll need to render the fat and crisp the skin. The best way to do this is by ensuring the skin is completely dry before it hits the heat. Seasoning liberally with salt also helps to render a crackly, golden exterior. Flavour-wise, thyme and rosemary are the unrivalled champions when it comes to adding herbaceous vigour. I add plenty, along with lemon skins, garlic and fennel. Restraint is advisable when cooking with fennel seeds. It dominates easily, but when used sparingly, is delightfully interesting. It's especially good with grapes. I add the grapes half way through the cooking time, blistering them until they burst their sweetness into the sauce. The buttery chicken juices are slicked with the rendered fat which makes everything intensely chicken-y.
To taste Spring in a glass, Babylonstoren is offering a Spring promotion when you buy 4 bottles of Mourvèdre Rosé. Along with your favourite Rosé, you'll receive a complimentary tin of their exquisite extra virgin olive oil. This offer is available until the end of October for all on-line orders. For more ideas of what to pair with this delicate salmon-pink Rosé, here are several delectable combinations:
Roasted figs with gorgonzola cream
Charred leek and asparagus risotto
Cajun spiced pulled pork tacos with mango and pineapple salsa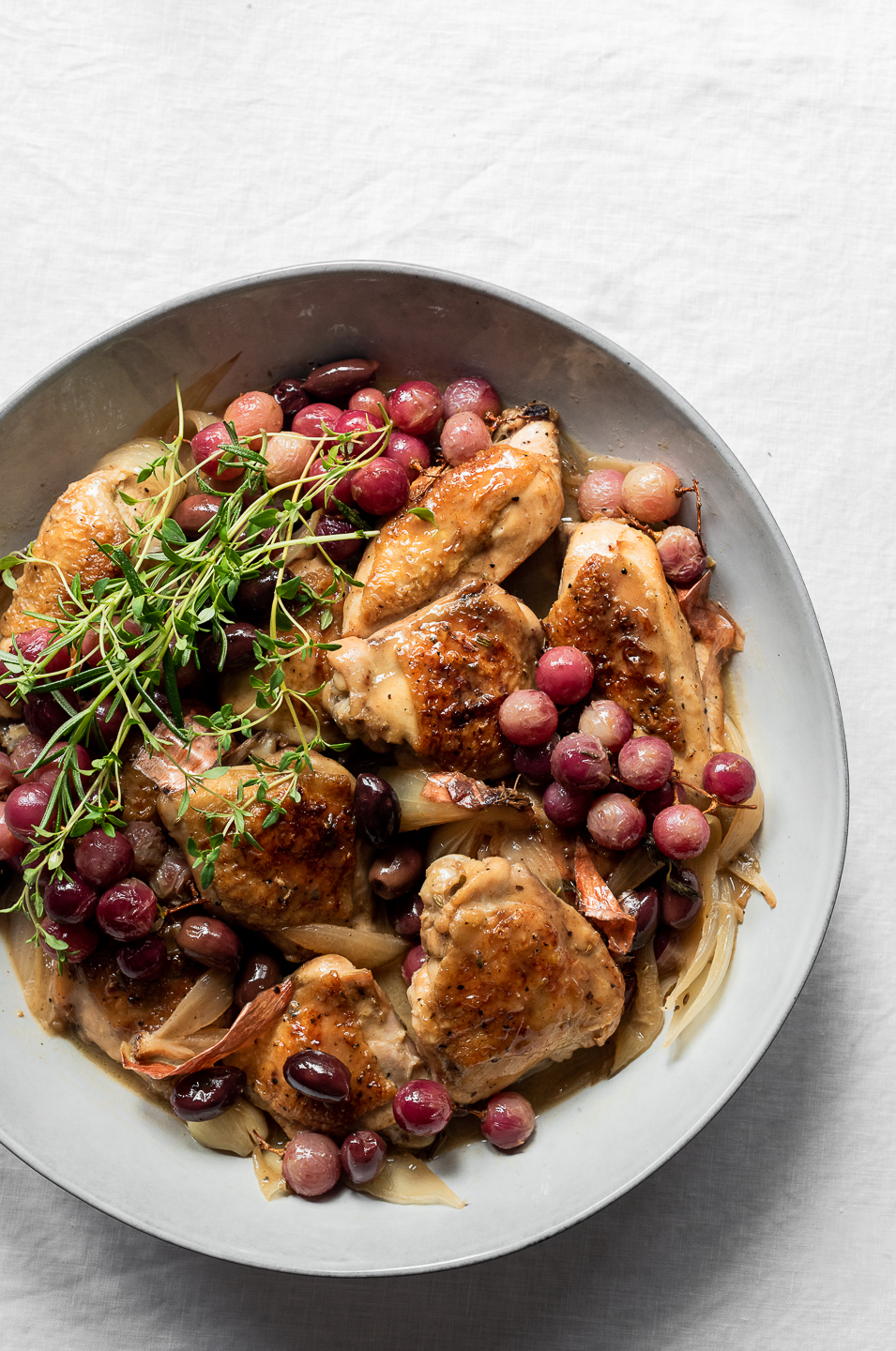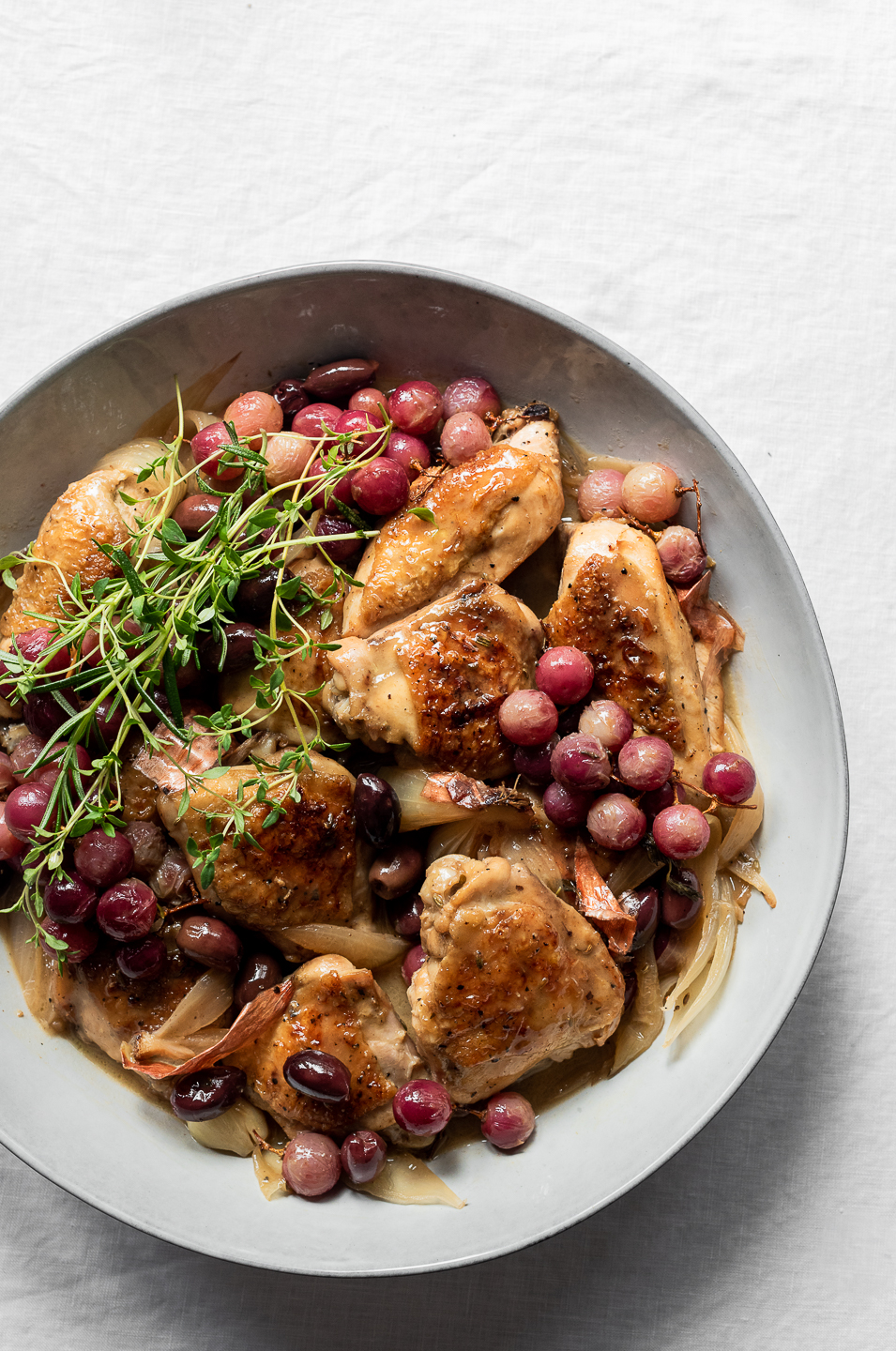 Sticky Chicken with Roasted Grapes
Serves 4-6
30ml (2 tablespoons) olive oil
8 chicken pieces, skin on, bone-in
1 large onion, skin-on, cut into wedges
1/2 teaspoon fennel seeds
2 cloves of garlic, bruised
30ml (2 tablespoons) butter
150ml Babylonstoren Mourvèdre Rosé
300ml hot chicken stock
15ml (1 tablespoon) lemon juice
thinly sliced peel of 1 lemon
15ml (1 tablespoon) honey
3 sprigs rosemary
several sprigs fresh thyme
seedless red grapes, snipped into bunches (about 300g)
1/4 cup pitted olives
sea salt
freshly ground black pepper
Preheat the oven to 200º C
Heat 1 tablespoon olive oil in a wide-based pan until hot. Pat the chicken dry with paper towel. Season with salt and freshly ground black pepper. Brown on both sides until the skin is golden. Remove from the pan and set aside.
Add the remaining oil to the pan along with the onions and a pinch of salt. Sauté over a medium heat until caramelised and golden, 8-10 minutes. Add the fennel seeds, garlic and butter. Cook for 2-3 minutes until the butter is bubbling and nutty. Deglaze the pan with the Rosé wine and reduce by half. Pour in the stock and simmer for several minutes. Add the lemon juice and peel, honey, rosemary and thyme.
Return the chicken to the pan and coat in the juices. Cover with foil and roast for 25 minutes. Remove the foil and baste the chicken with the pan juices. Tuck the grapes in between the chicken and roast uncovered for a further 20-25 minutes or until cooked through. To crisp the skin, place under the grill for several minutes. Tumble in the olives just before serving.
Serve with crusty bread or roast potatoes and a garden salad.
Cook's note: If you prefer a gravy-like sauce, thicken the juices with 1 teaspoon of cornflour combined with 2 tablespoons cold water. Add the cornflour slurry to the sauce and simmer on the stove top for several minutes.
Developed in proud collaboration with the Cape's most beautiful working farm, Babylonstoren.
Here's what we made last year.
Honey Pannacotta cake with Rosé Jelly
Roast salmon with Rosé and shallot yoghurt