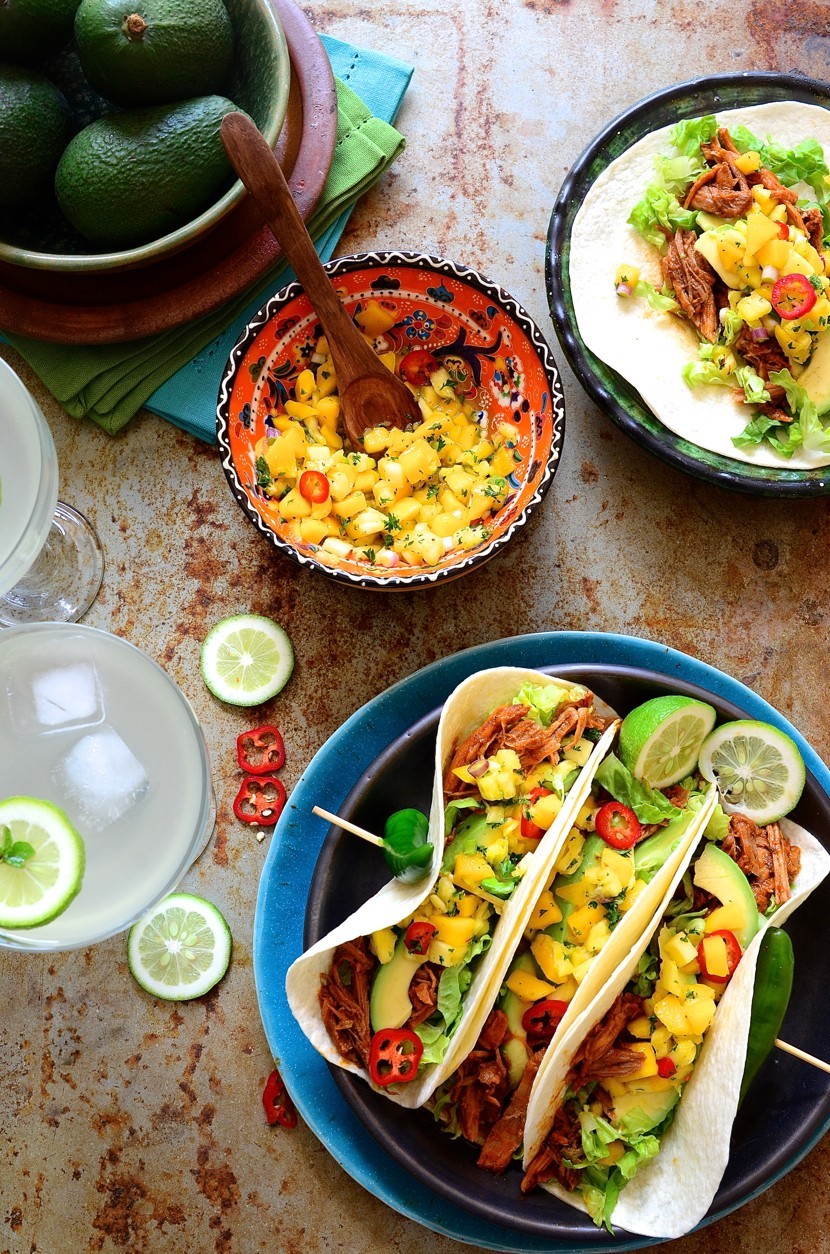 These cajun pulled pork tacos are spicy and vibrant. The pork is cooked low and slow in a spicy tomato sauce, then wrapped in flour tortillas. I serve it with a pineapple-mango salsa and sliced avocado. Make sure to bring plenty of napkins!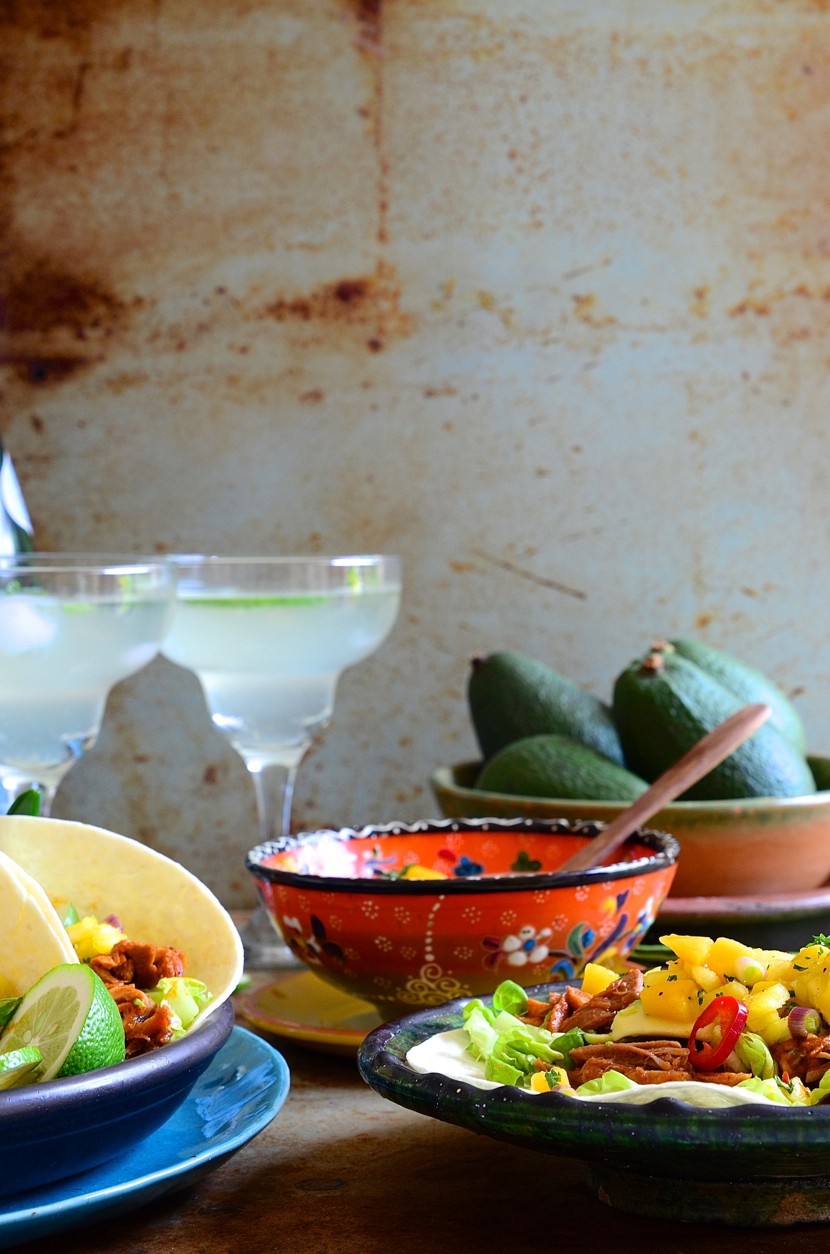 Slow cooking is the best way to ensure meat stays tender and succulent. It also concentrates flavours as the liquids reduce. As far as meat goes, pork is an extremely versatile and well suited to fruit pairings. For today's recipe, we're leaning towards Jamaica.
While the cooking time is long, the prep minimal. The oven takes over and does all the work. The pork can be made the day before and left to macerate in the sticky sauce. Reheat on a medium heat and allow to simmer for at 8-10 minutes. Add a splash of water to get things going. I serve my tacos without the strong cheddar and a dollop of sour cream.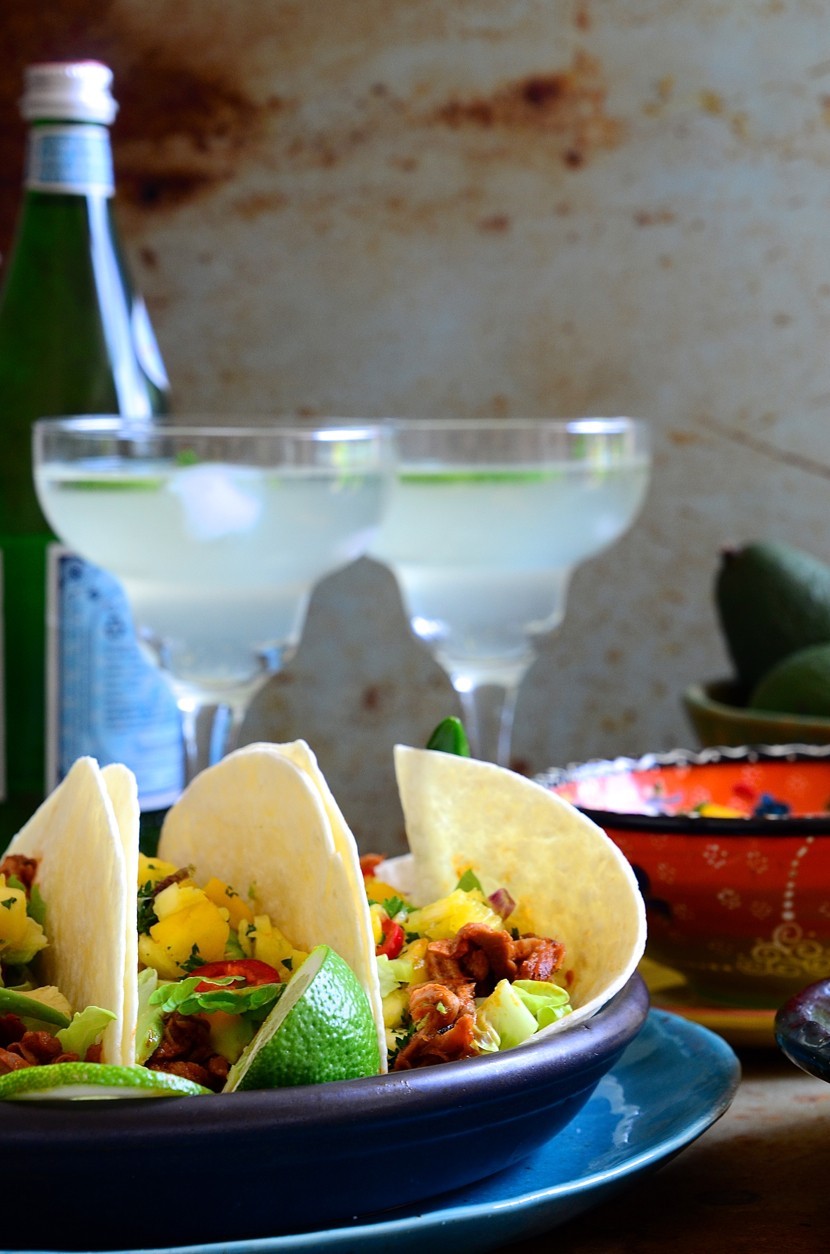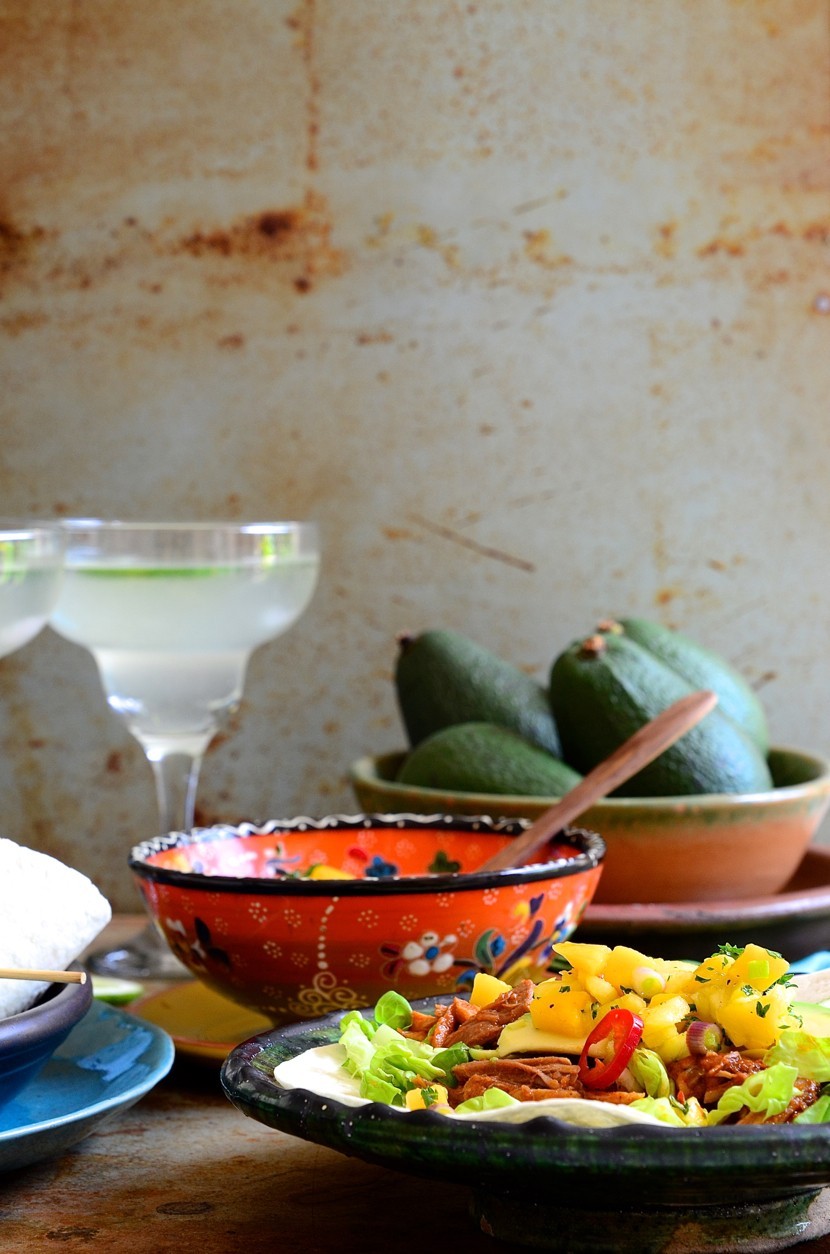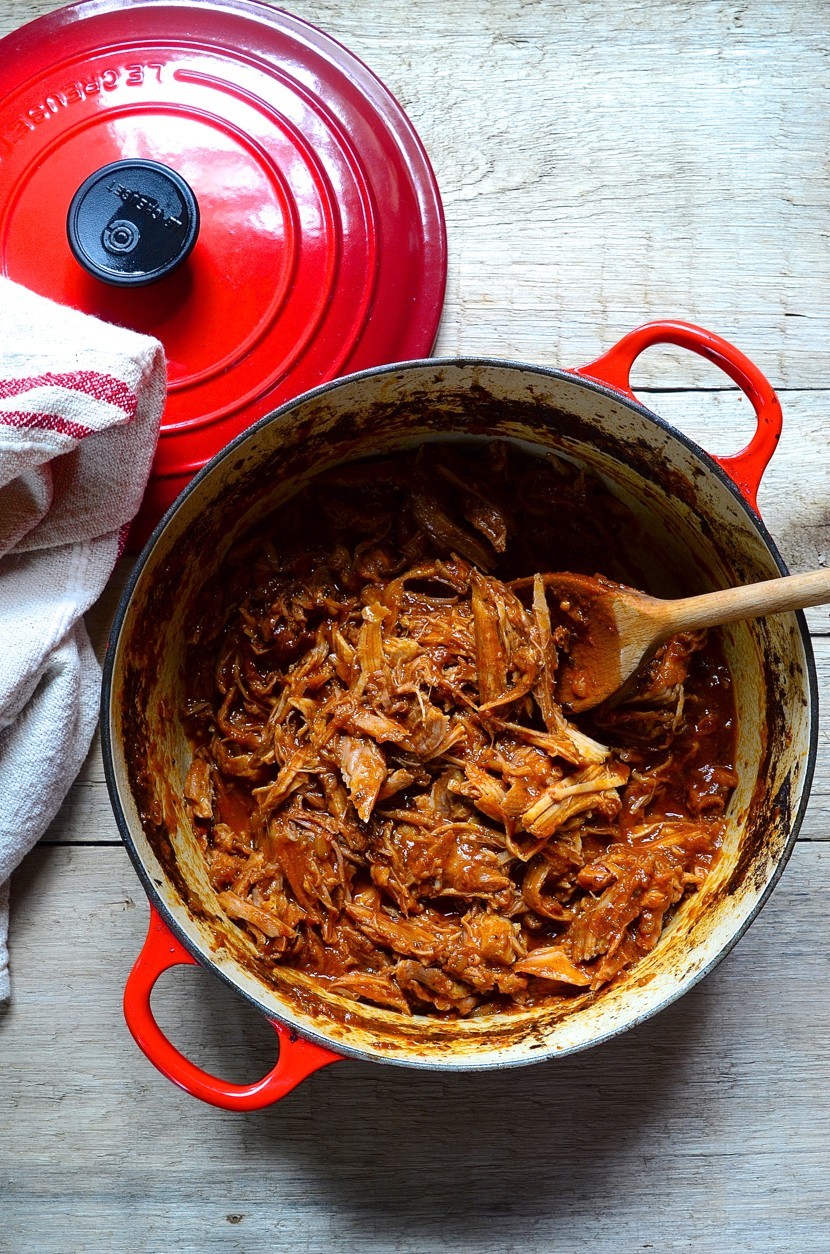 The skin protects the meat while roasting. Removed before pulling.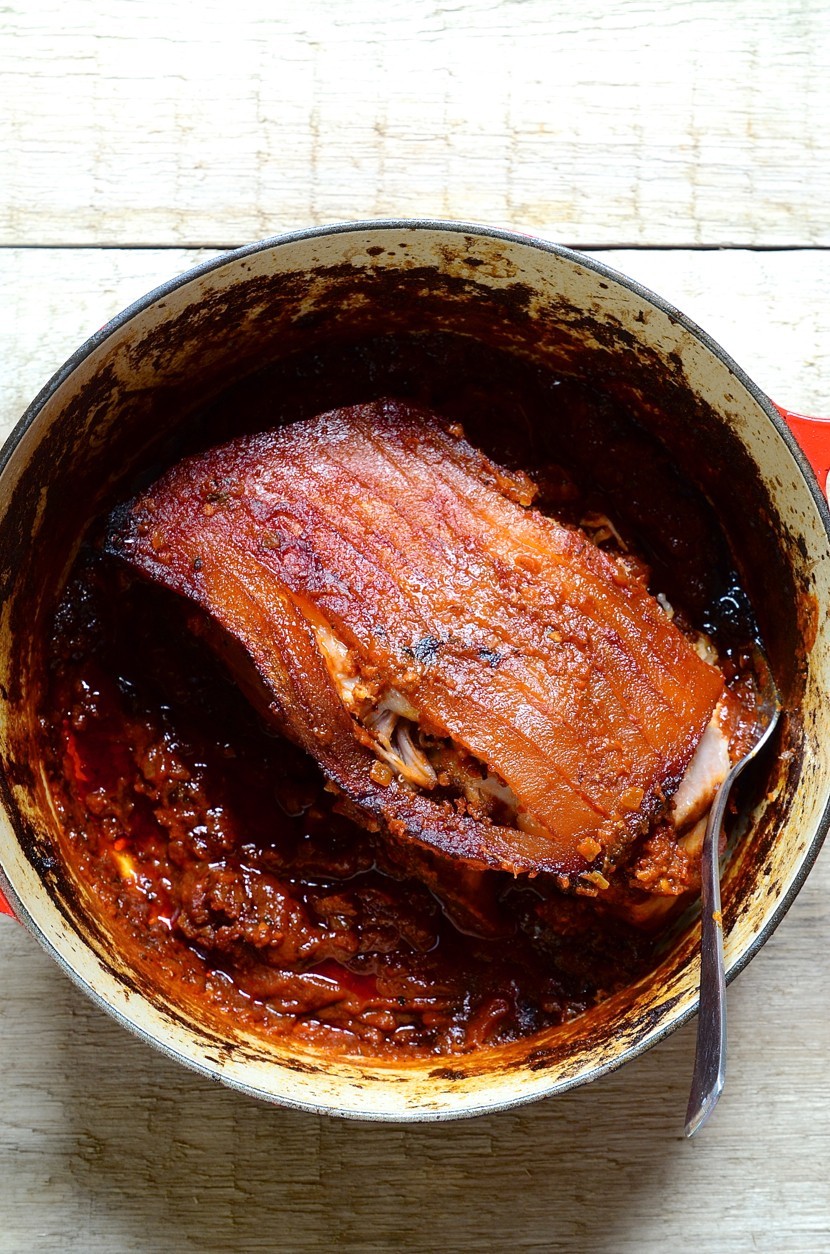 Cajun spiced pulled pork tacos with pineapple and mango salsa
Serves 8-10
2 tablespoons olive oil
1 red onion, finely diced
1 clove garlic, crushed
1 1/2 kg pork shoulder
1 teaspoon dried red chilli flakes
1 teaspoon of each ground coriander, cumin and oregano
1 1/2 teaspoons paprika
2 teaspoons freshly grated ginger
2 tablespoon tomato paste
2 tablespoons tomato sauce
zest and juice of 1 orange
1 tablespoon brown sugar
2 tablespoons soy sauce
400g tinned tomatoes, mulched
1 cup water
salt and black pepper
Preheat the oven to 180º C. In a large dutch oven pan, heat 1 tablespoon olive oil. Season the pork shoulder generously with salt and black pepper. Place the pork in the hot pan and brown on all sides. Remove from the pan and set aside. Add a drop more oil and sauté the onion until soft. Add the garlic and cook for 2 more minutes. Stir in all the remaining ingredients and bring up to the boil. Ensure that the sauce is well seasoned as this will permeate and flavour the meat. Add the pork back into the pan with the fat side facing upwards. This will prevent the meat from drying out. Cover with the lid and roast in the preheated oven for 3 1/2 hours.
Turn the pork over after 2 1/2 hours, spoon some of the sauce over the meat and continue cooking for the remaining hour. When the cooking time is up, allow the meat to rest for about 30 minutes. Remove the top fatty layer and discard. Using 2 forks, shred the meat and place back into sauce. Check the seasoning and adjust if necessary.
Pineapple and mango salsa
1 slightly firm mango, peeled and diced
1 small pineapple, inner core removed and diced
a handful of flat leaf parsley and coriander, finely chopped
2 purple scallions, diced
1 red chilli, diced (optional)
a squeeze of fresh lemon juice
pinch of castor sugar
1 tablespoon extra virgin olive oil
pinch sea salt
To serve
2 ripe avocados
flour tortillas
shredded cos or romaine lettuce
grated mature cheddar cheese
sour cream (optional)
For the salsa, place all the ingredients in a bowl and mix to combine. To a assemble, lay a bed of shredded lettuce down the centre of the tortilla. Top with warm pulled pork, slices of fresh avocado and fruit salsa. If you like, add some grated cheddar and sour cream to your tacos for extra flavours. Wrap and roll and tuck in!