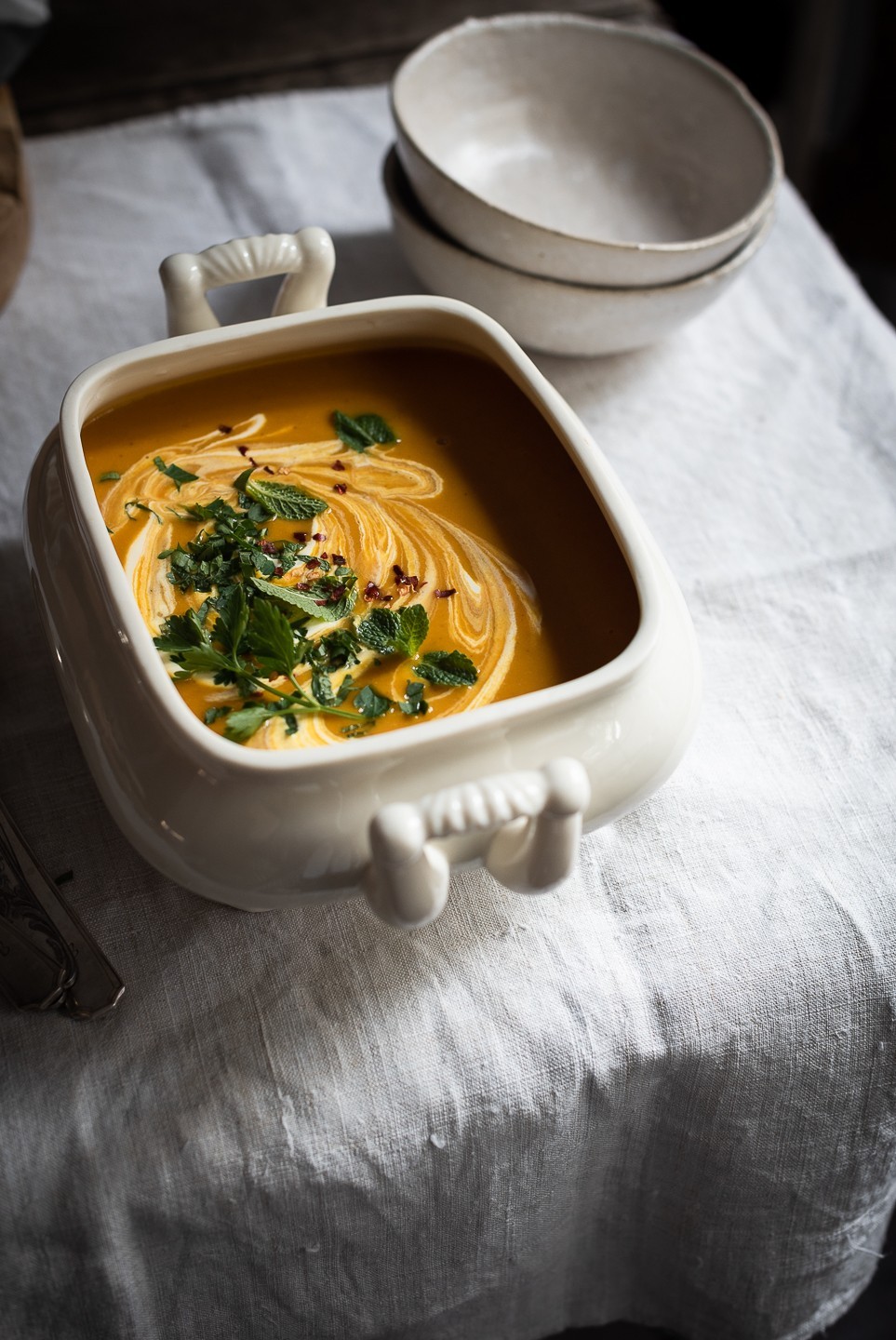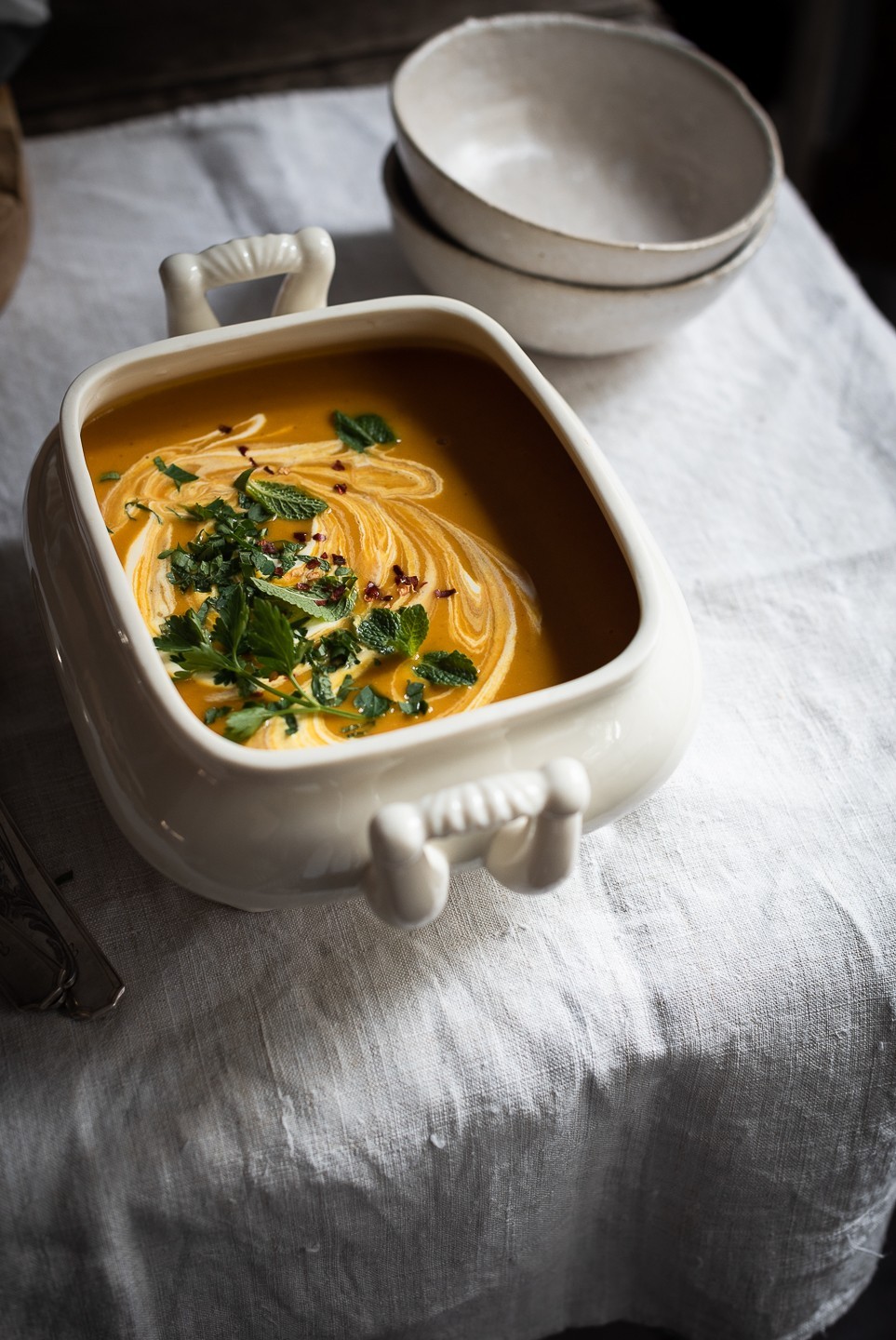 Following on from last week's Ten chicken recipes series, here are my top Ten soup recipes for staying in. Judging from the response, I take it that most of you, like me, are spending more time in the kitchen than ever before. Over the past week, I've gather together all my pantry staples and here is what I have plenty of – beans in every colour and shape, chickpeas, lentils, chopped tomatoes, coconut milk and tuna. I know, tuna seems a little out of its depth amidst all the beans, but we're going to make it work. Over the coming weeks, 21 days to be exact, we'll be looking at how to get creative with these store cupboard Cinderellas. The first recipe is on its way shortly. In the meantime, let's do it right. Stay Home. Stay safe. Save Lives. Follow Lockdown protocol.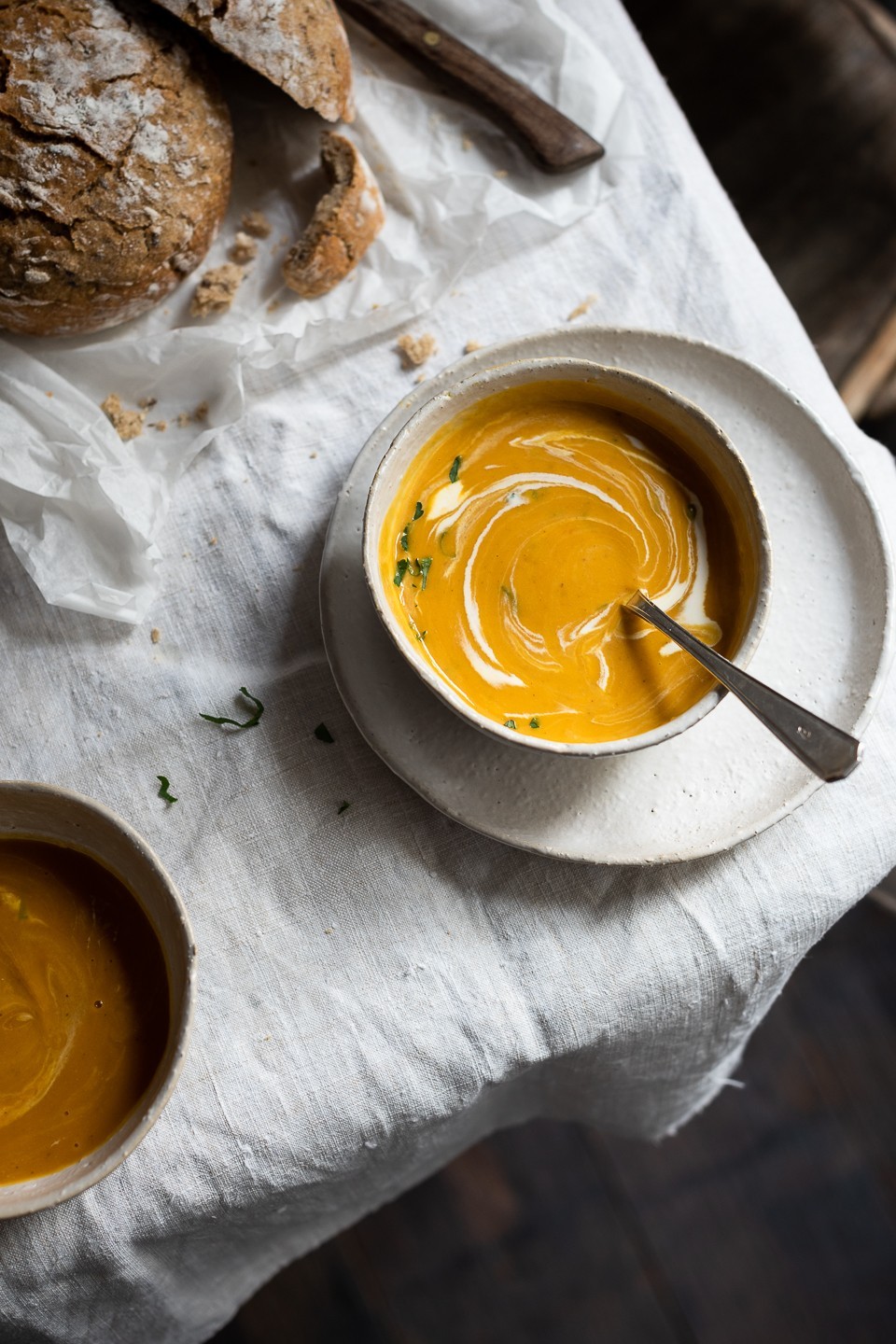 Roast butternut soup with chickpeas and leeks
There are more butternut soup recipes than you can swing a stick at. And yet, it remains one of the most loved soup  recipes. I've lost count of how many versions I've made. This roast butternut soup with chickpeas and leeks is the latest. It has heaps of personality with sweet caramelised leeks and onions. At the last minute I added some chickpeas too. We can't get enough of it!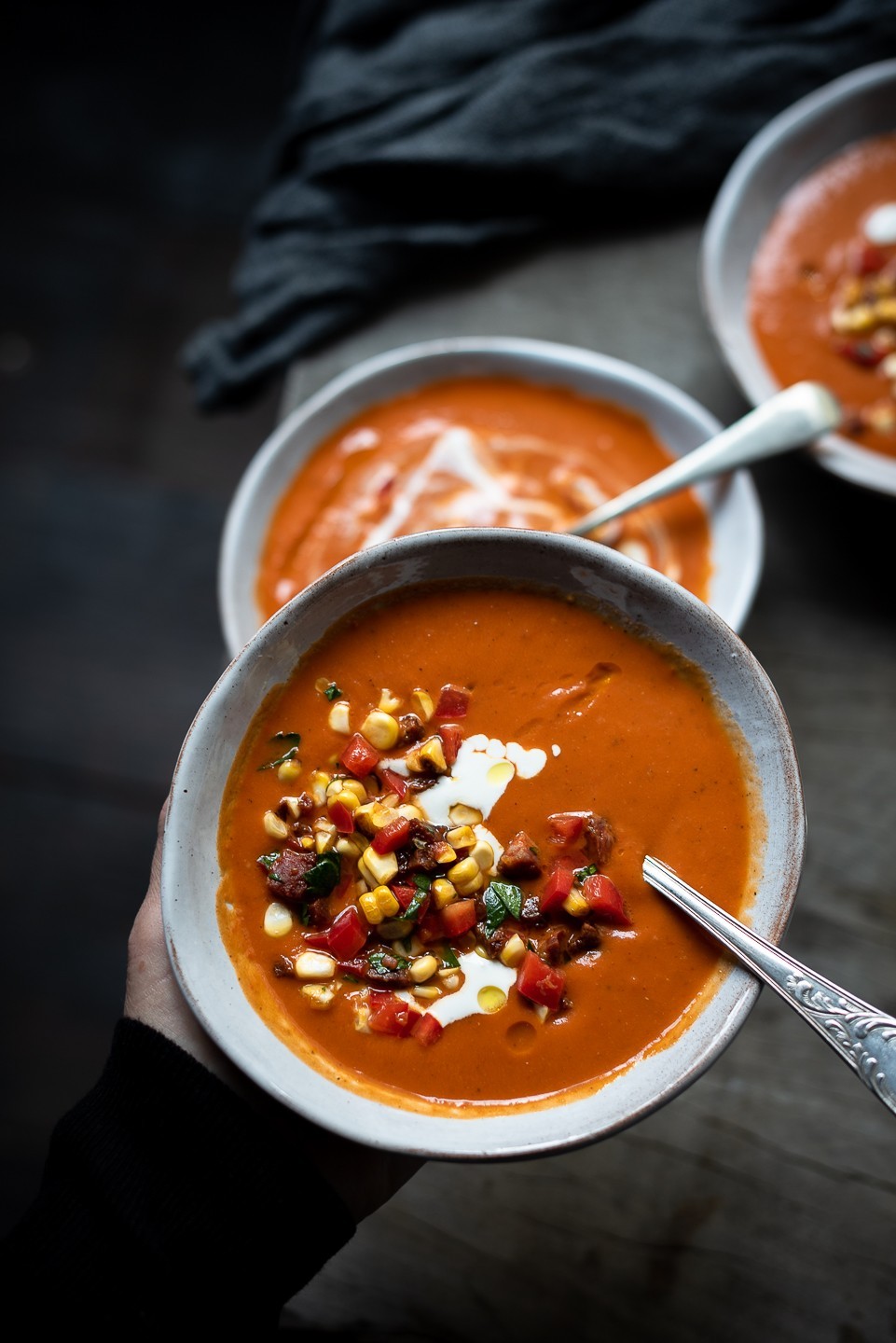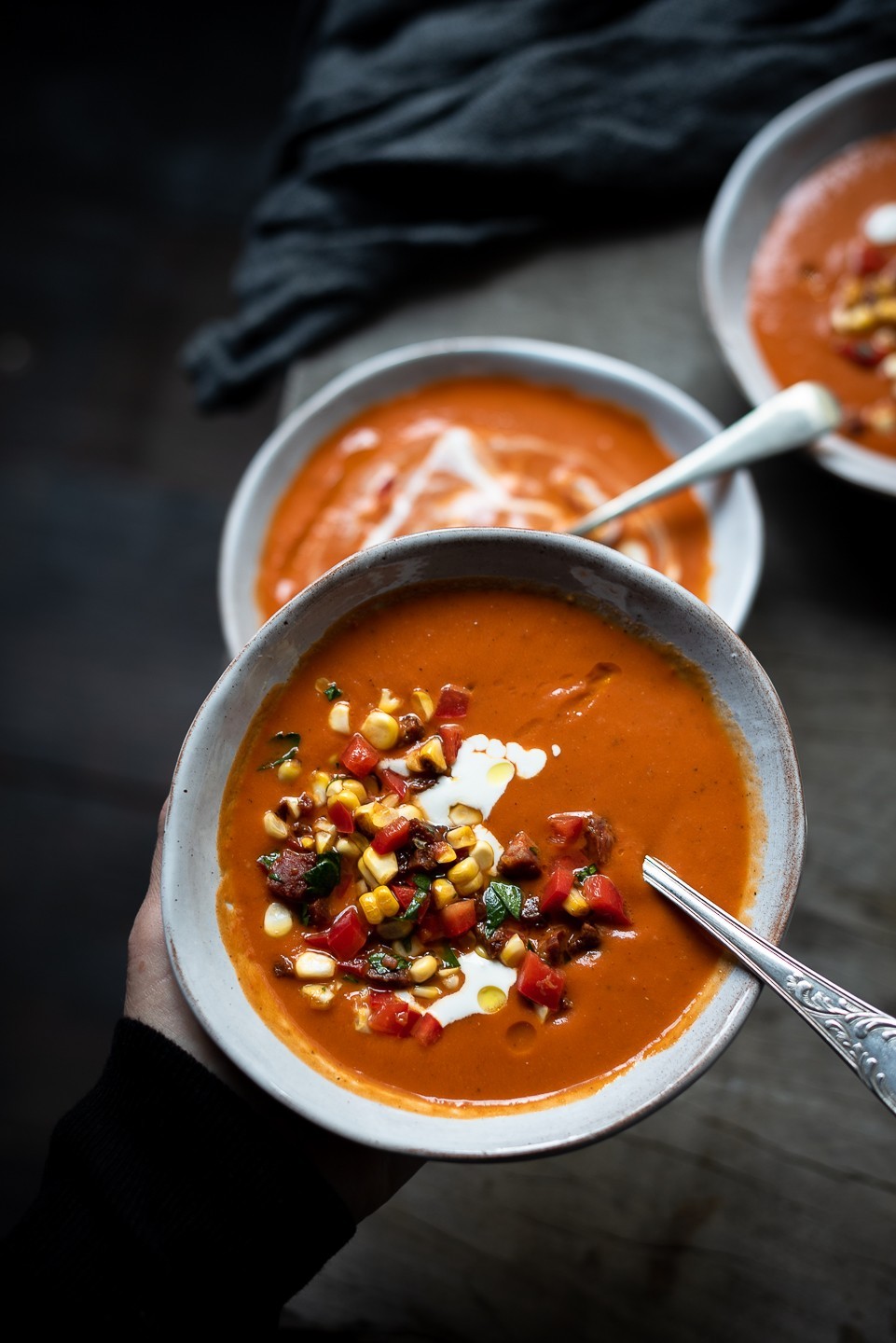 Roast sweet pepper soup with corn salsa
The soup is perfectly good just as it is, but the sweet-salty salsa makes it memorable. For the salsa, I mimic the red peppers in the soup. Uncooked though, they're juicy and crisp. If you're making it vegetarian or vegan, replace the chicken stock with vegetable stock and omit the chorizo from the salsa.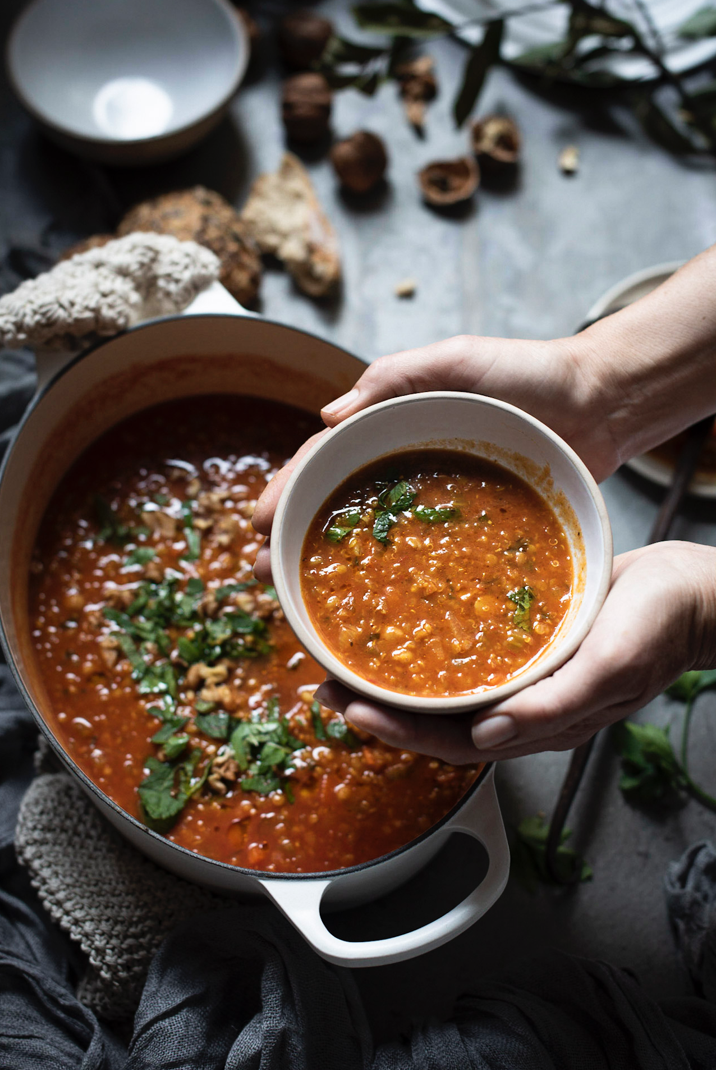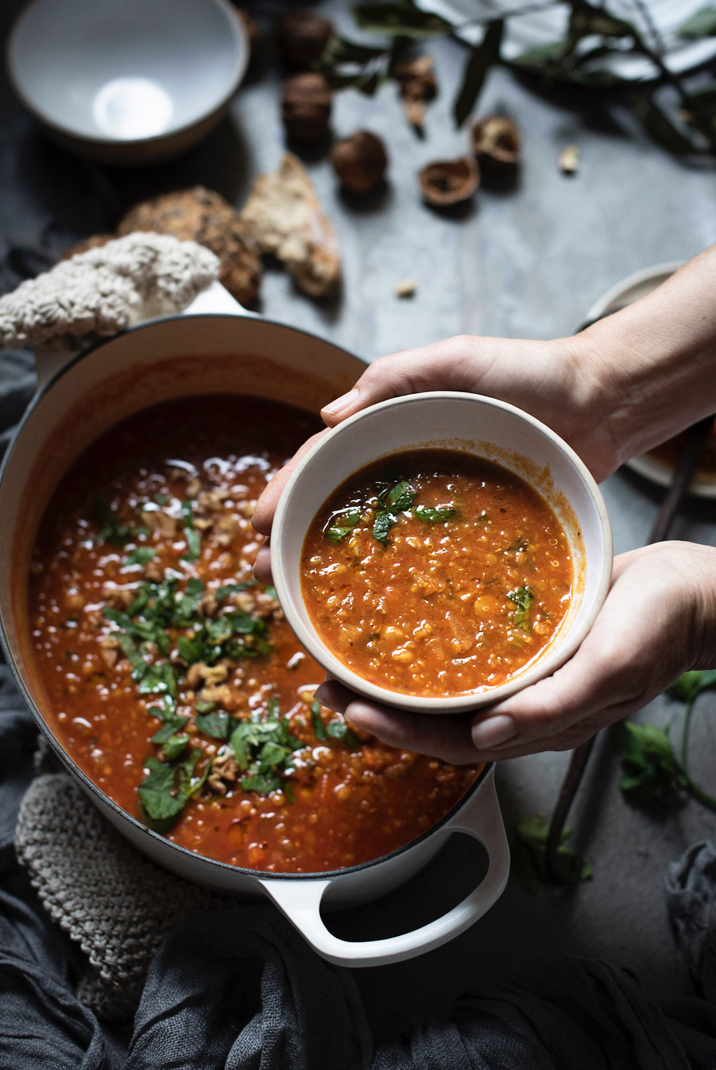 Harira vegetable soup with barley and quinoa
Soup speaks of cozy comfort, a kind of food respite that nods at casual suppers and informal gatherings. And when nothing other than hearty warmth will do, this Harira vegetable soup is sure to quell a wintery hunger. Although traditionally made with lamb and eaten during Ramadan, to break the fast, I've given it a vegan make-over by packing it full of plant-based protein, barley and quinoa. It's everything I hoped for and perhaps, a little more.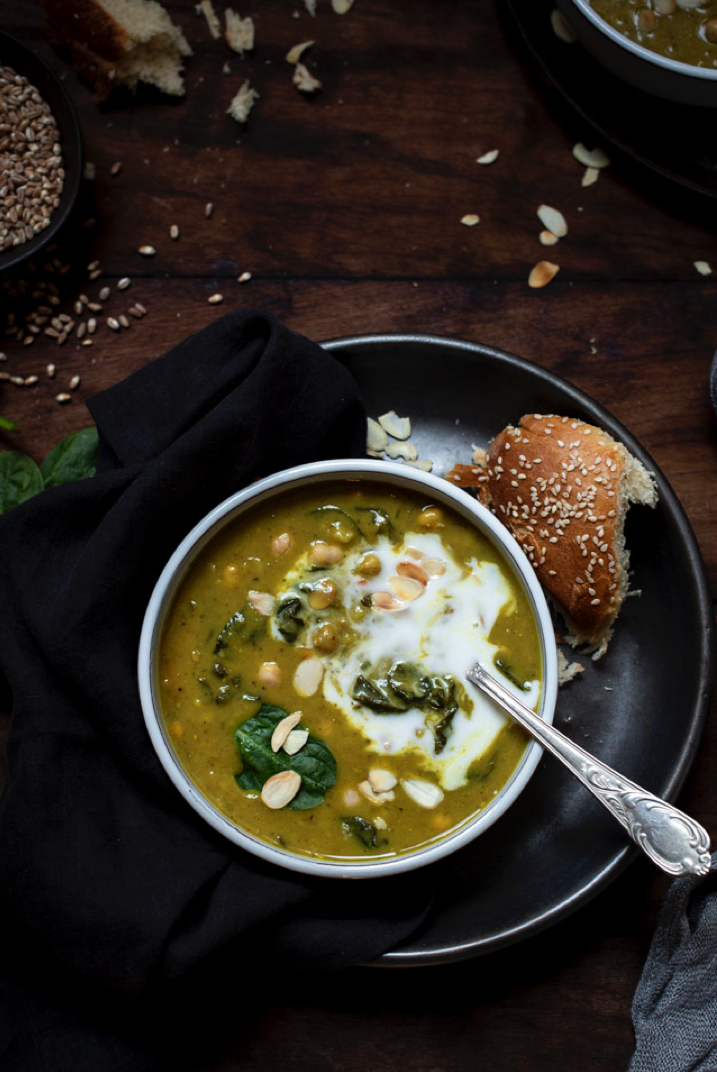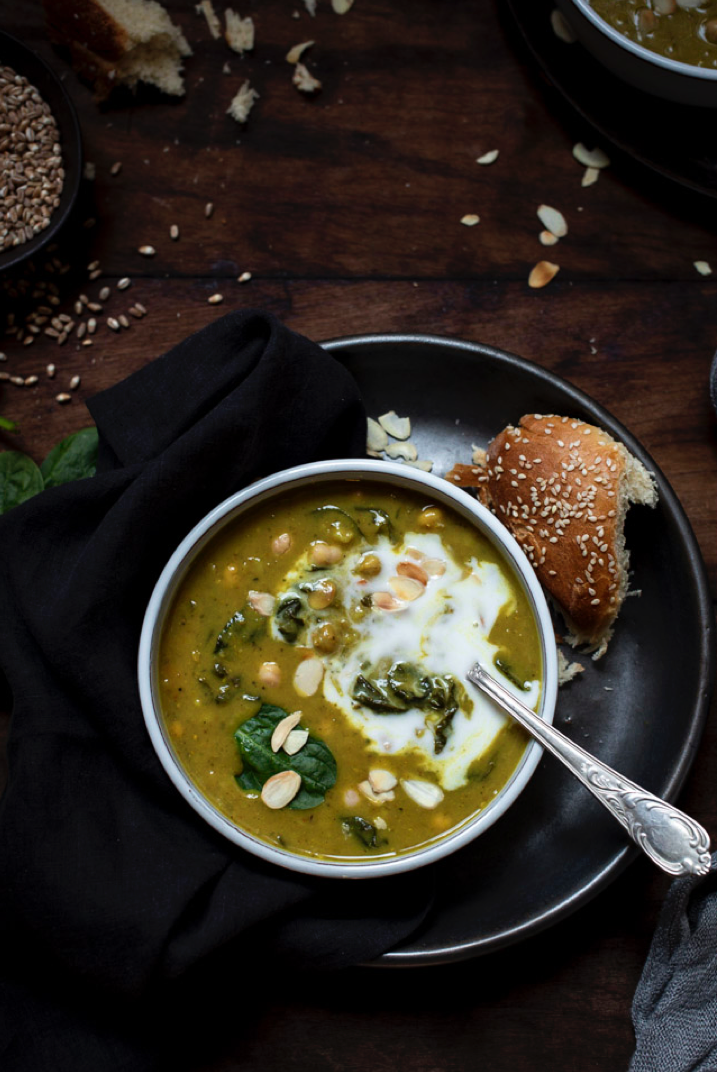 There are a couple of pantry cupboard staples that I'm never without, chickpeas being one. For any hummus lover, tinned chickpeas are essential. I also have dried chickpeas on hand, but for a quick fix, tinned is the way to go. This form the basis of today's soup. Other core ingredients are barley, coconut milk, spices and vegetable stock. I guess you could say this soup recipe is a store cupboard special. I love that a couple of basic ingredients can be turned into a wholesome and satisfying meal.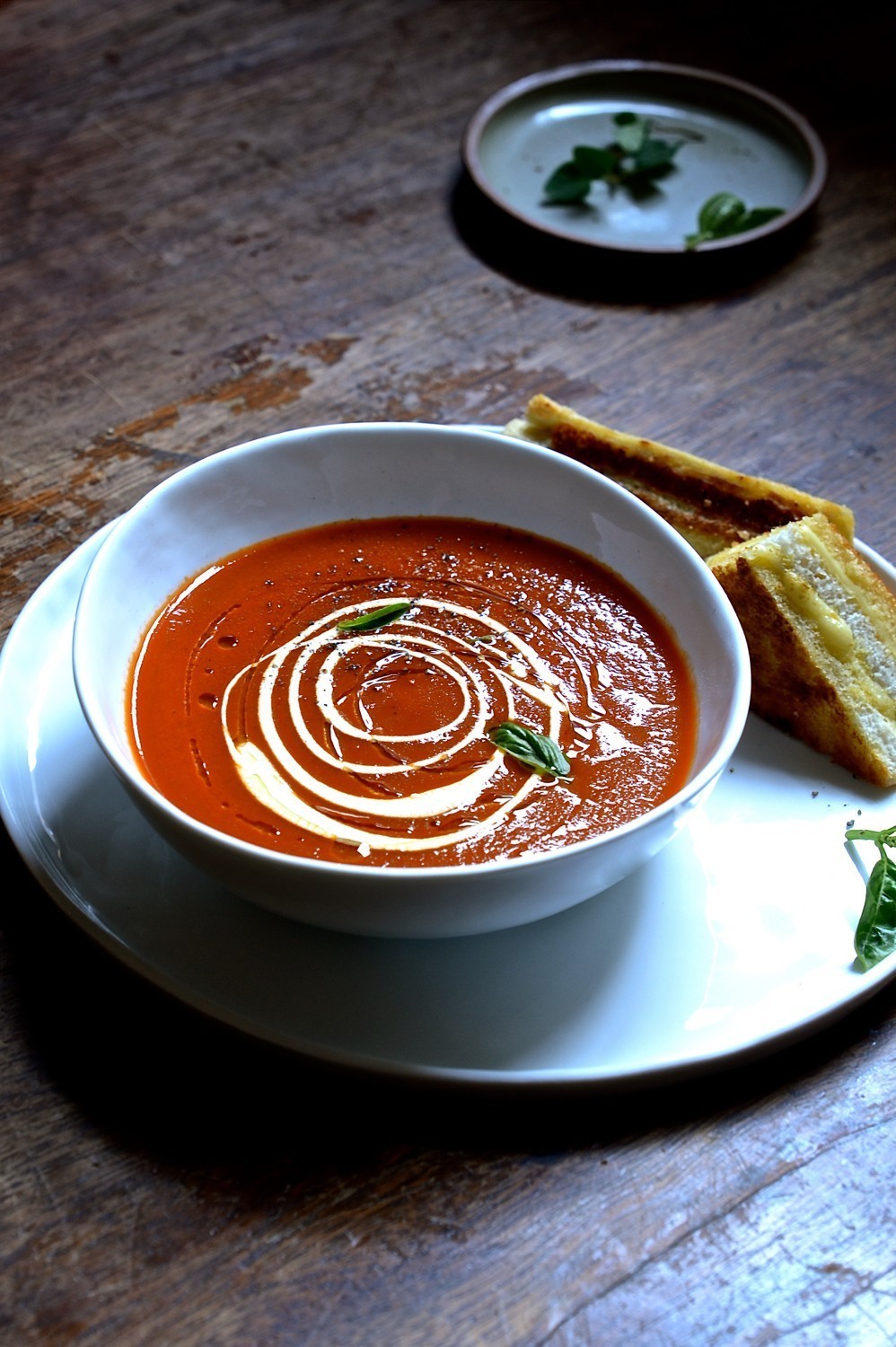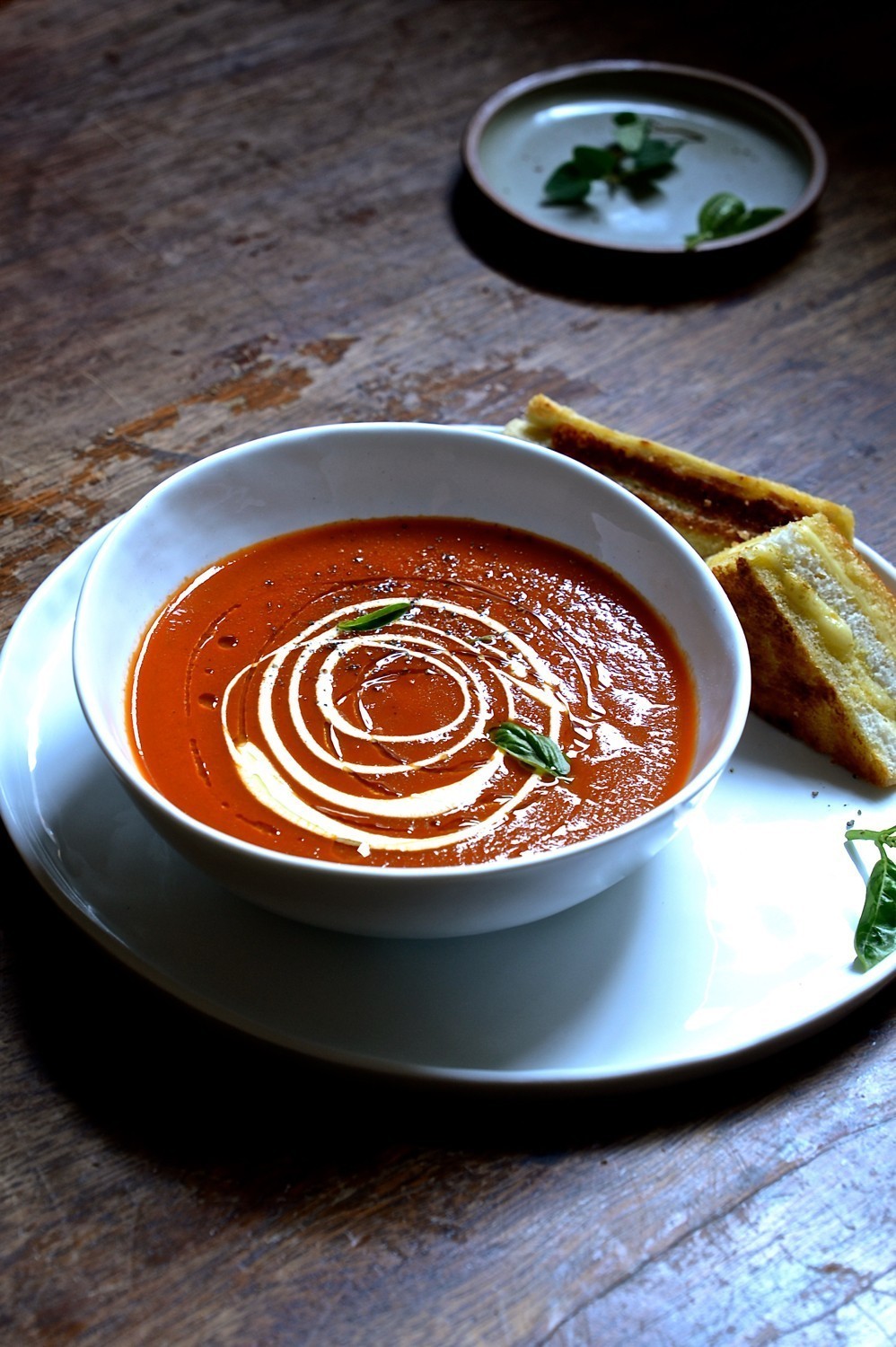 Autumn remains my favourite time of year. I'm easily drawn to the warmth of our kitchen, pulling chairs in closer to huddle around the hearth with steaming bowls of soup. Easing us into soup season, I've made this simple sundried tomato soup. It's uncomplicated and clean. It tastes of vine ripened tomatoes – slightly tart with flavours that sing red. To add depth of flavour, I've included sun-dried tomatoes.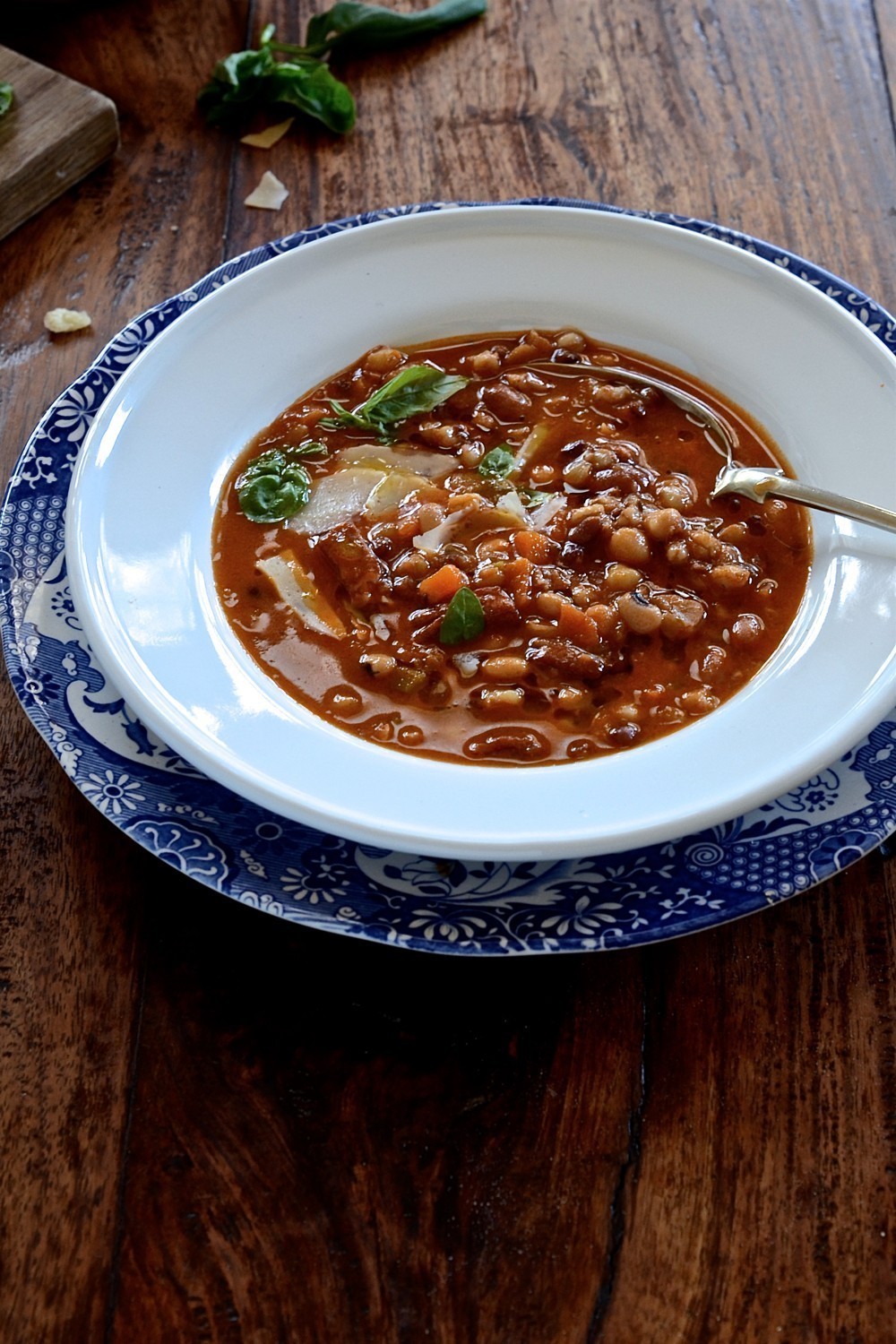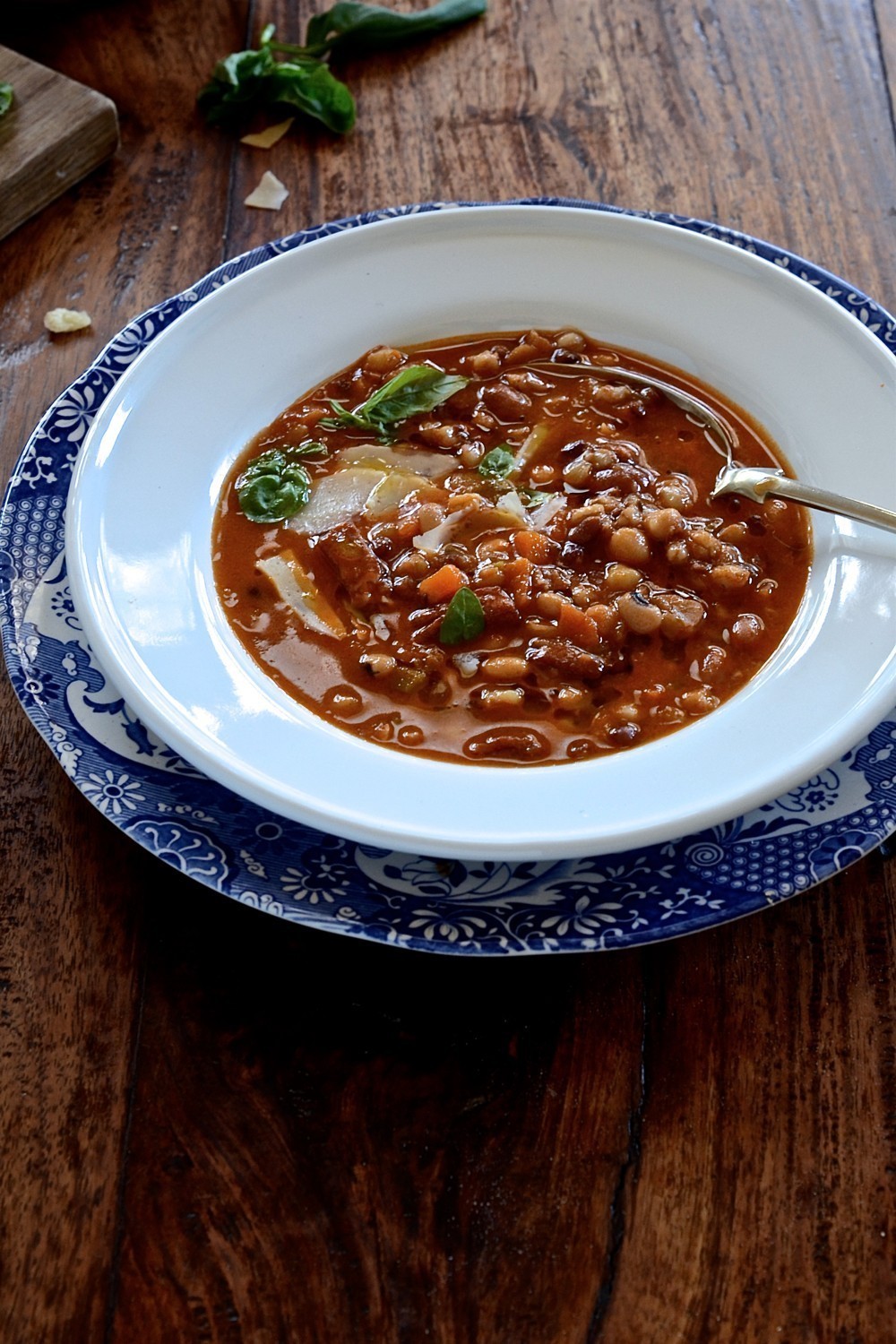 Tuscan Farro bean soup with pancetta
Bean soups are particularly popular in the Tuscany. It's a thrifty way of using pantry staples to make a delicious and satisfying supper. Farro is one of my favourite grains to cook with. It's similar to spelt with a chewy texture and nutty flavour. If you can't find farro, barley is a good alternative. In Italian cooking, nothing is wasted, especially parmesan rind. These get added to soups and stews to bolster the flavour. The taste is subtle but cheesy. I love it. Remember to remove the rind before ladling up.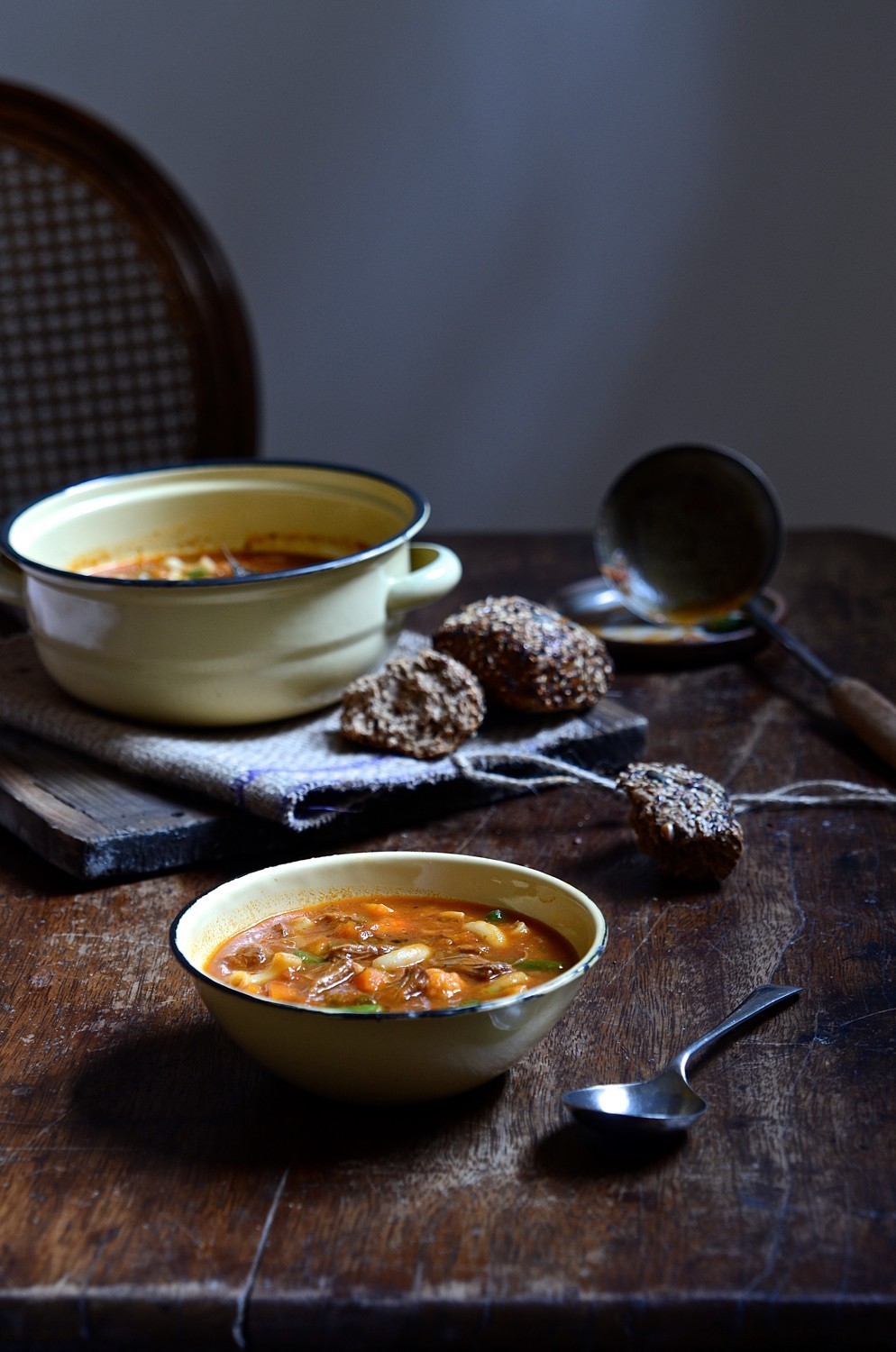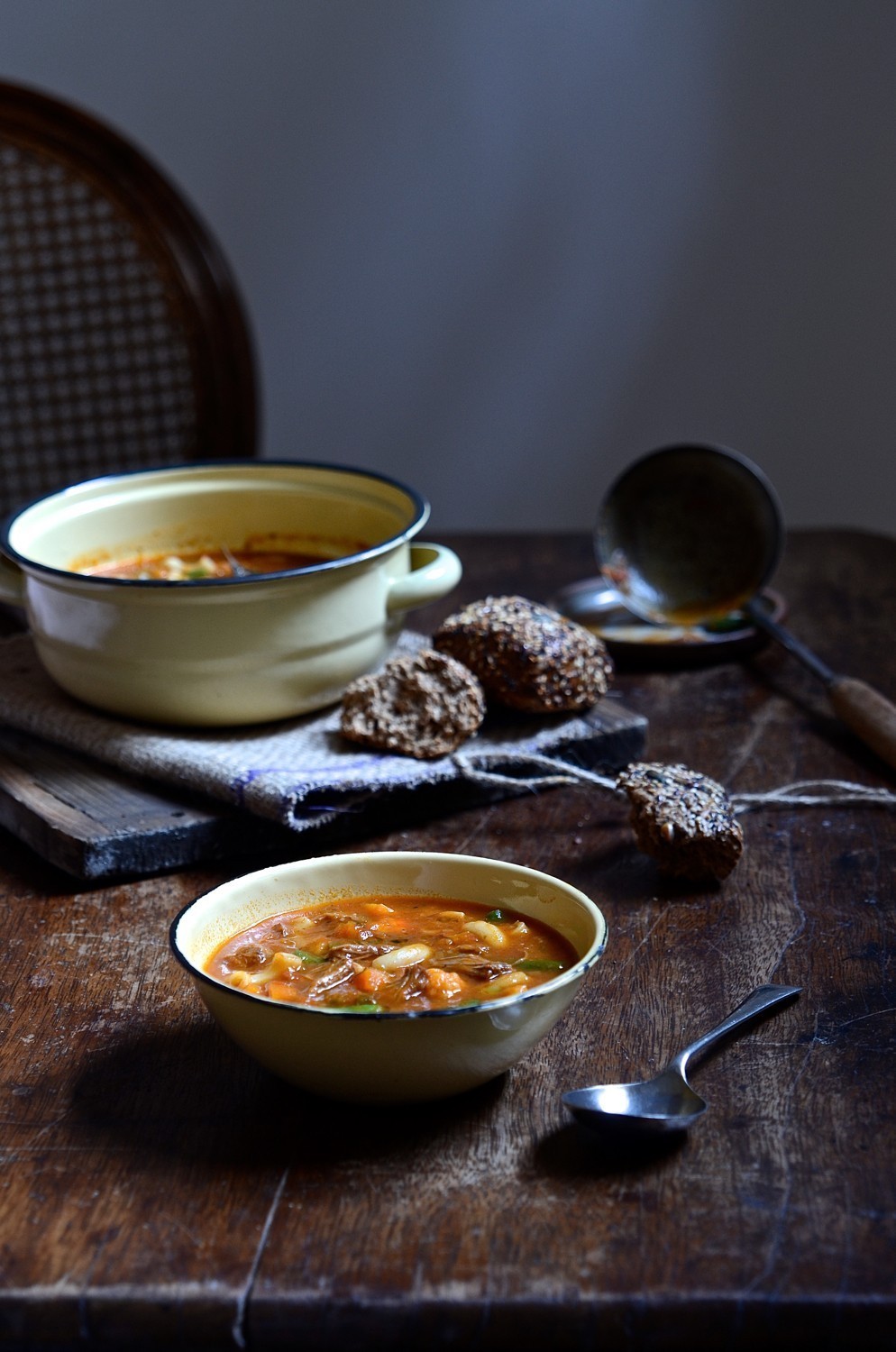 Our kitchen is the most used room in the house and never more so than during the long winter months. It's also my food office. A busy space where recipes are tested and meals are shared around the table. On the far side of the kitchen is the fireplace. Keeping the fire going throughout the day is the job of anyone passing by, which happens to be me. The cold brings with it a certain charm. For us this means cosy evenings in with soulful food that's comforting and casual, like this wintery oxtail noodle soup. It needs little else other than a rustic bread for warmth to be restored.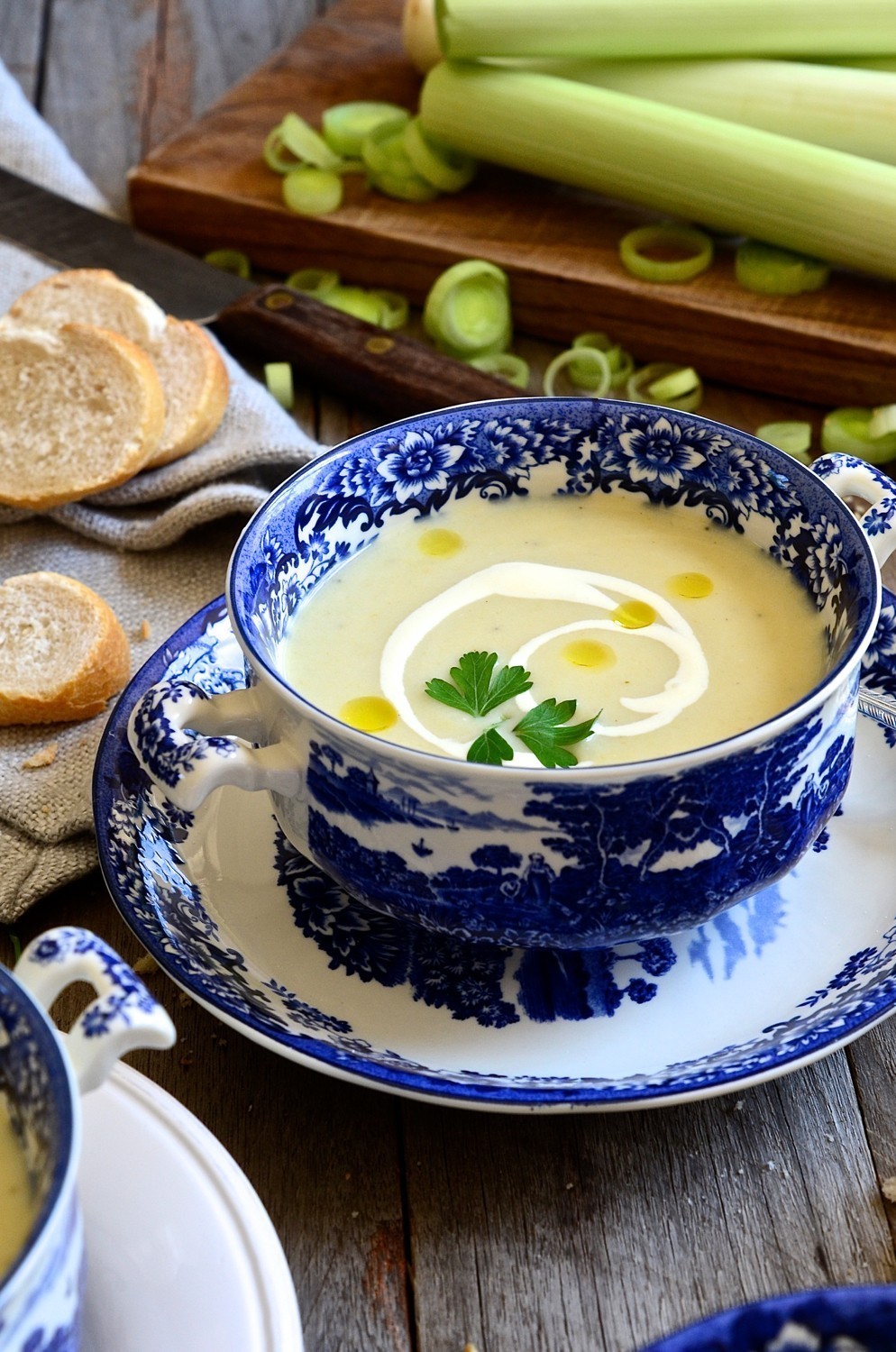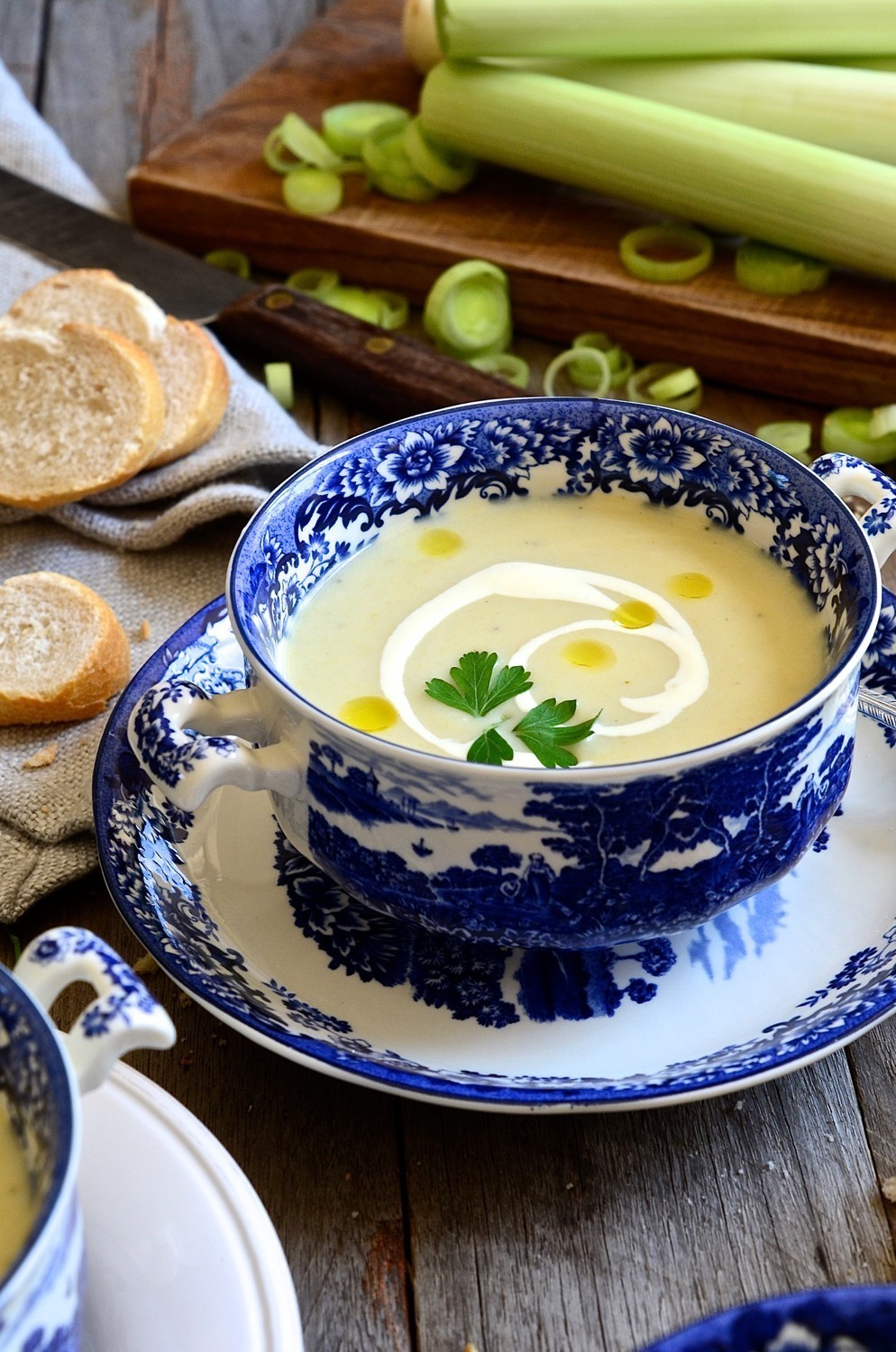 South African winters are relatively mild, but as the mornings become chillier, pears start making their appearance at the market and then I start thinking about cozy recipes. I've combined the pears with brie cheese, a pairing that lifts this soup from ordinary to special. Adding a splash of white wine means we're well on our way to a cheese and wine course, in soup form. I like to finish the soup with a swirl of cream and a drizzle of olive oil.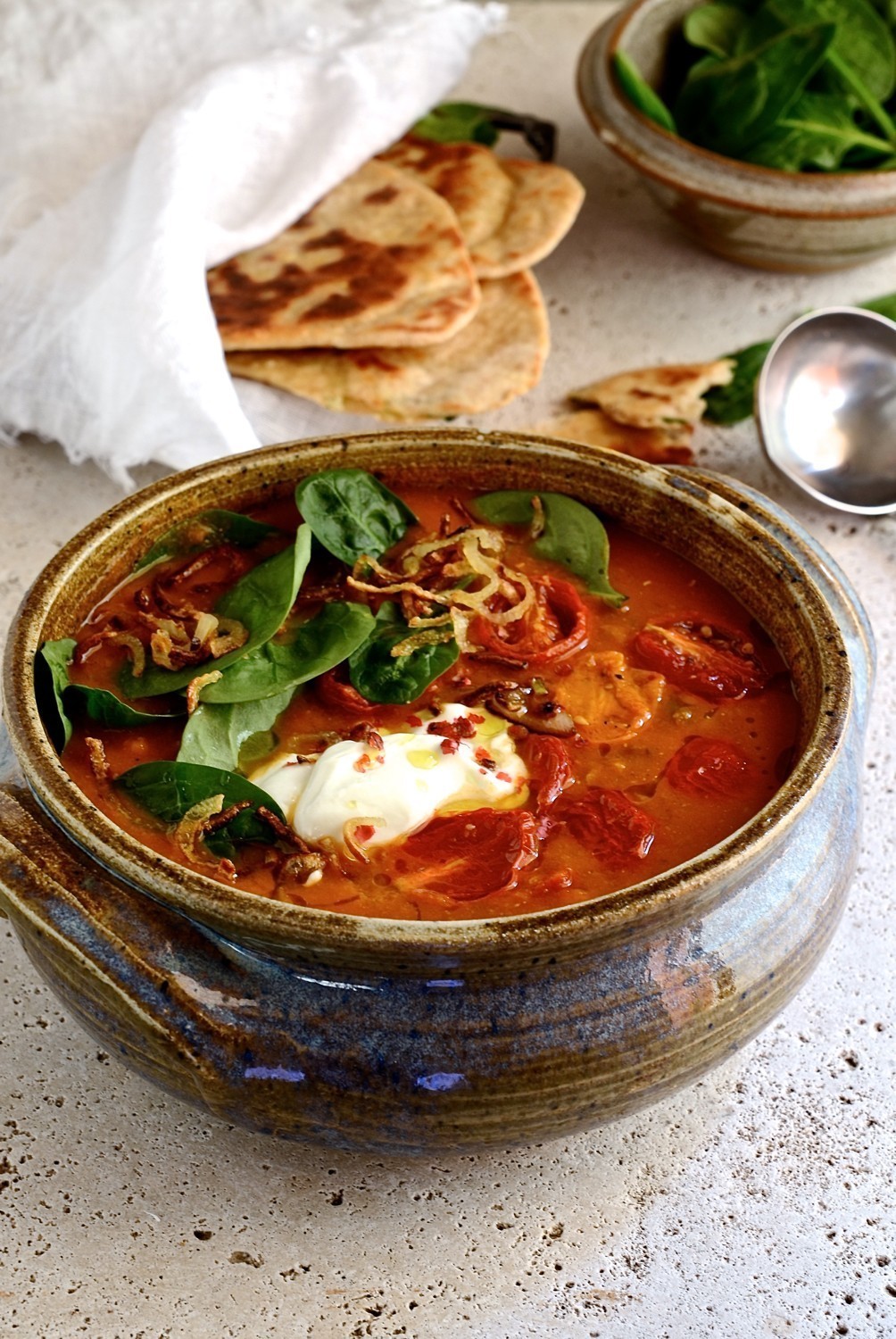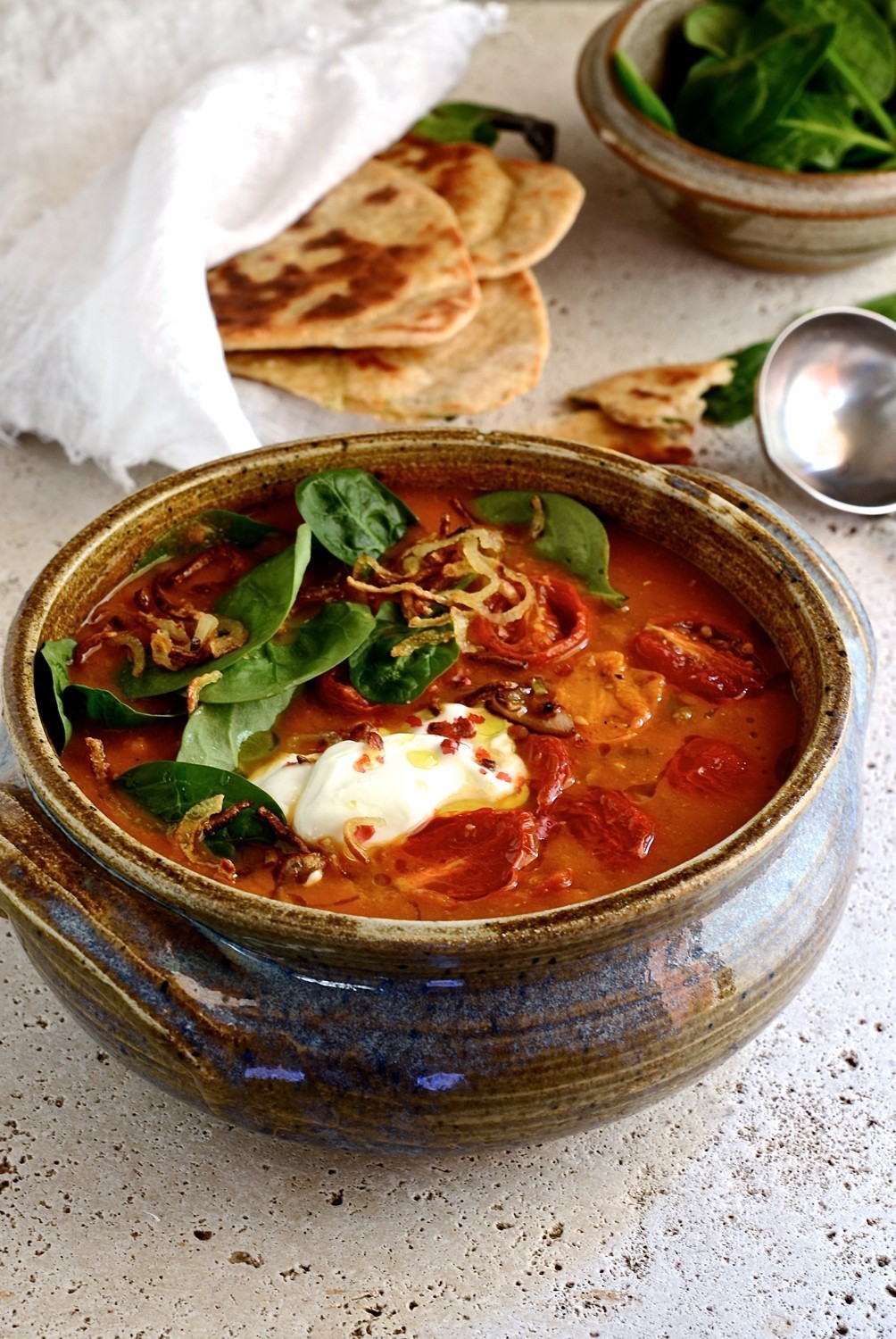 Spiced lentil and vegetable soup|halloumi flatbreads
This spiced lentil and vegetable soup is especially hearty, almost like a vegetable dahl. The garam masala, ginger and chilli lends contribute to the soup's earthy warmth. Lentils are an excellent source of plant based protein and cholesterol lowering fibre. It's also a smart, pocket friendly store cupboard choice. I've used red and brown lentils. The red lentils are soft and creamy, while the brown lentils give it toothsomeness and texture.
The everything-in vegetable soup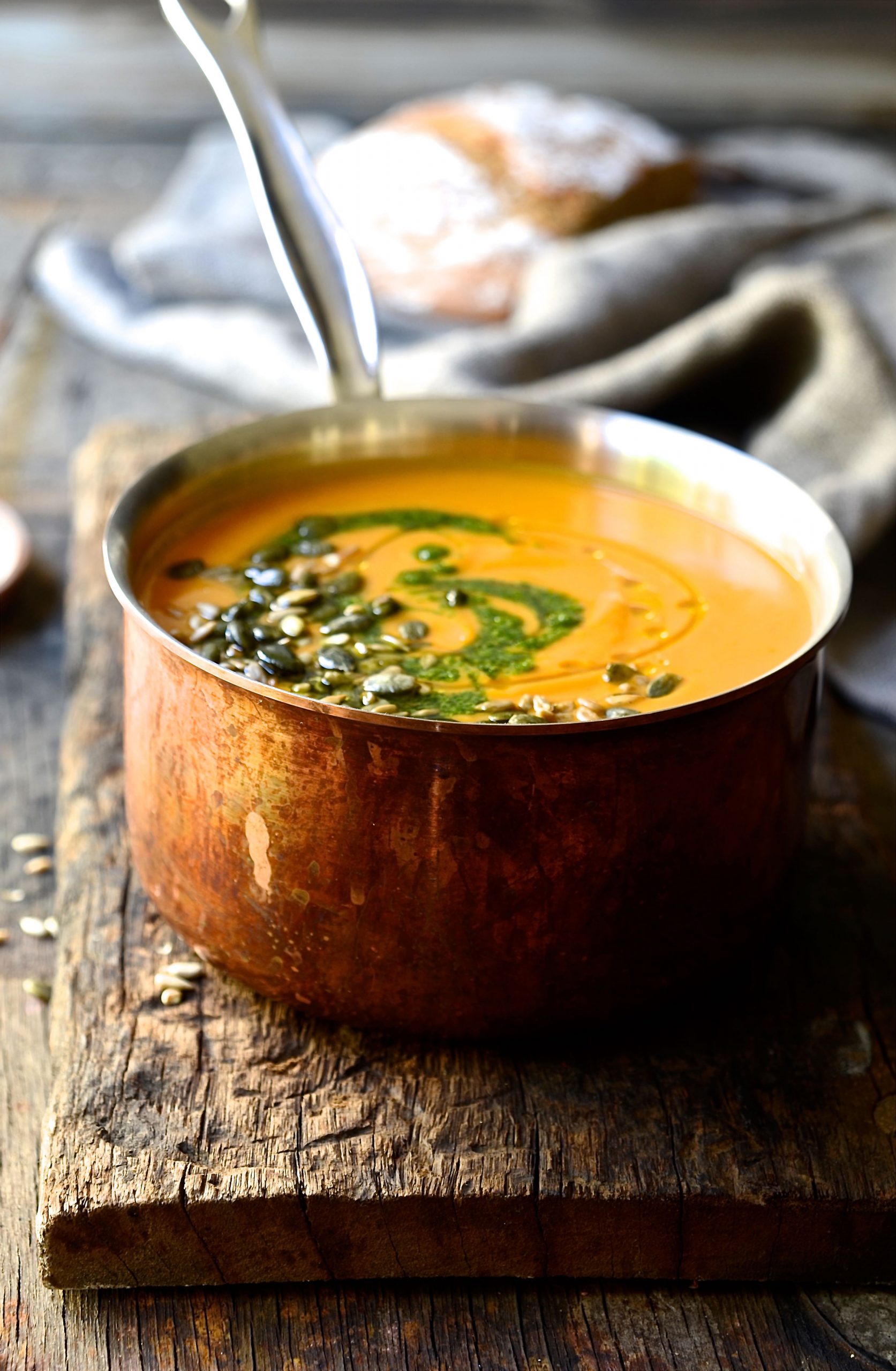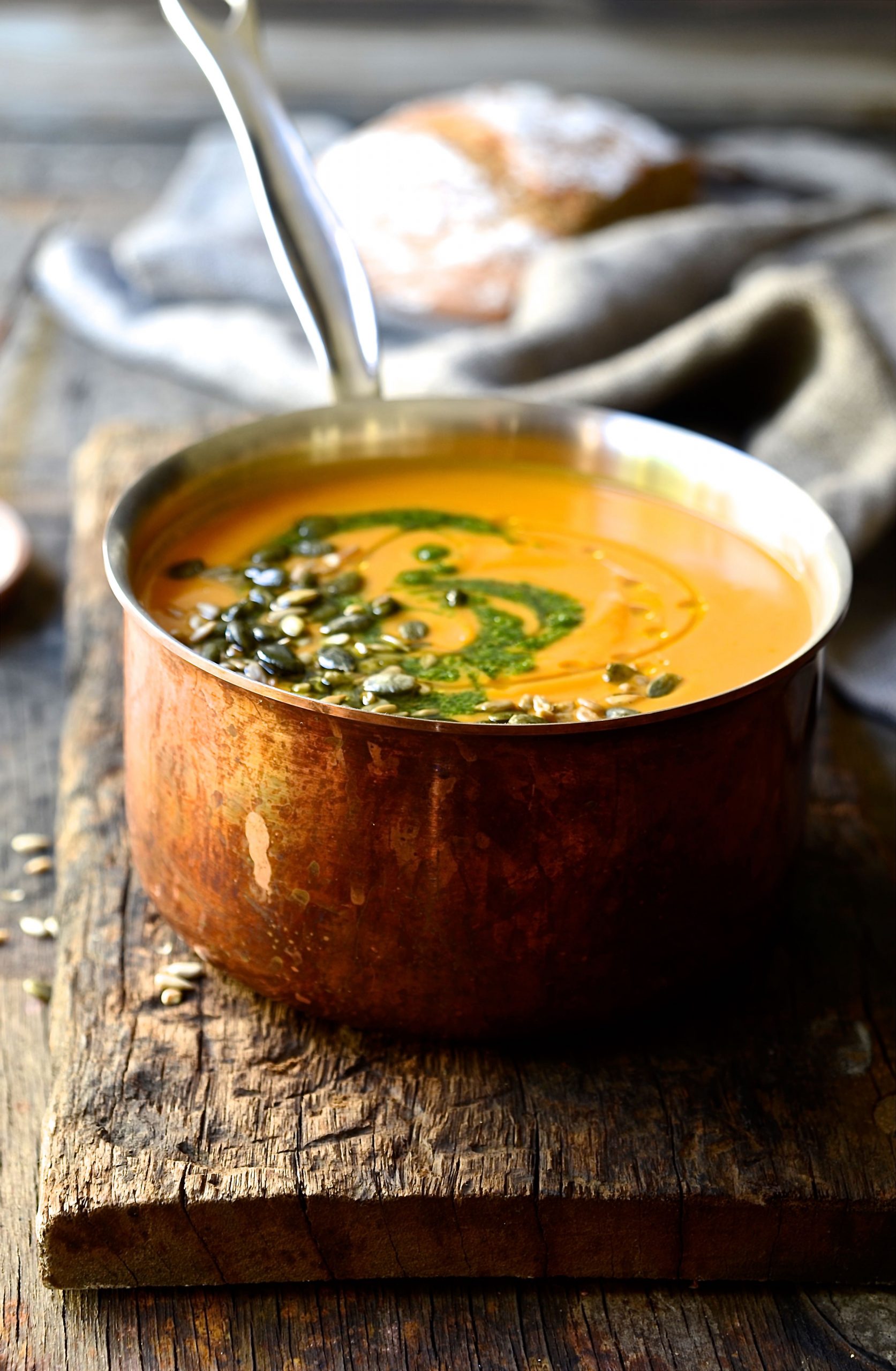 With no less than 10 vegetables, it rates as the ultimate fridge clear out and the best all-in-one winter immune booster. And because flavour is king, we're going to finish it with a peppery rocket pesto and toasted seeds. This soup is a joy. It will have you ladling-up seconds.
Now that the soup is sorted, here are a couple of bread recipes that you may like to try:
Overnight Ciabatta from Bibby's Kitchen Cookbook