Wholemeal Irish soda bread with walnuts and oats + Ruby-red Muscadel grape preserve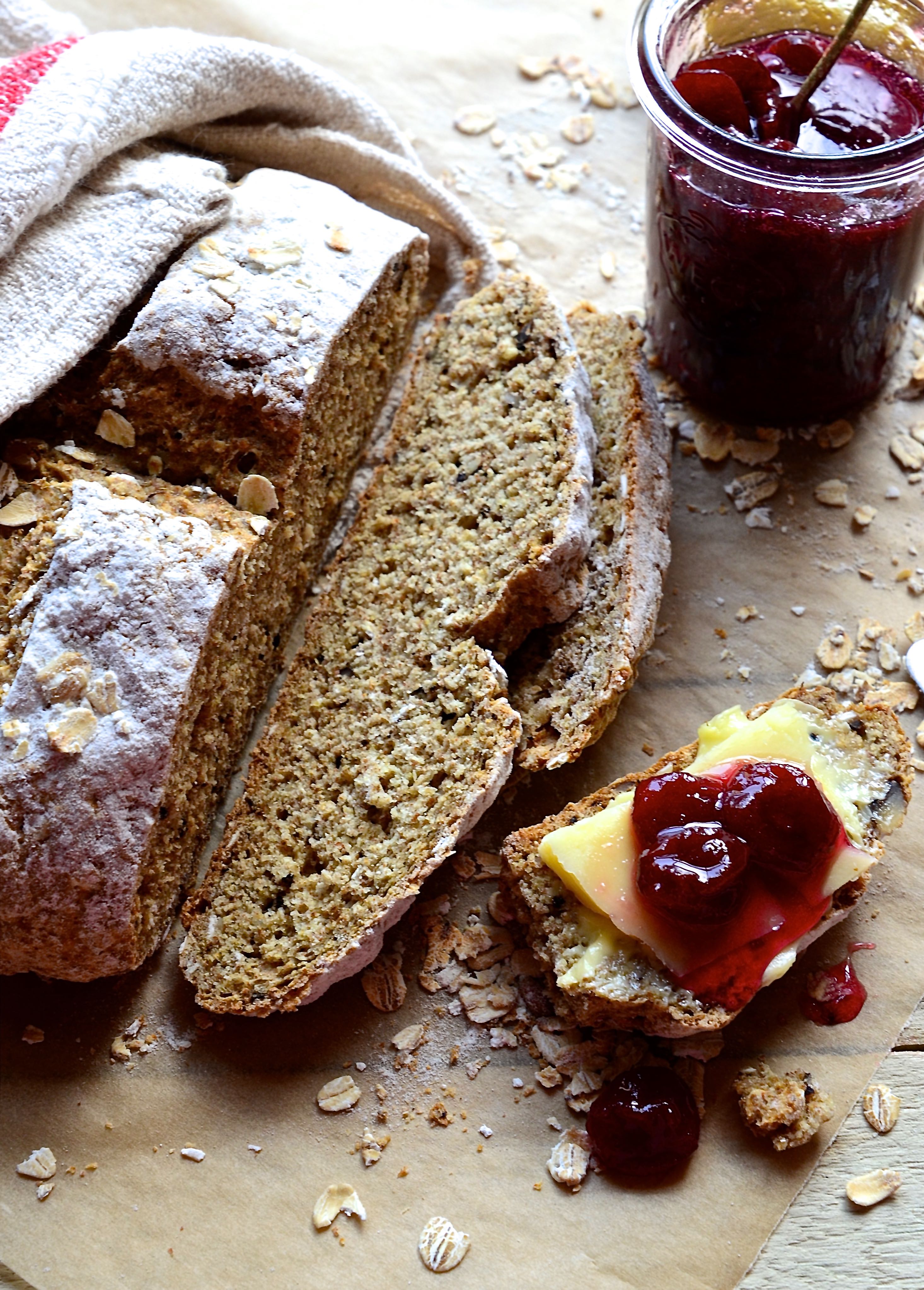 You don't need to be Irish to appreciate a good pint of Guinness OR this wholemeal soda bread with walnuts and oats. I've given it a South African farm-style twist and served it up with ruby-red Muscadel grape preserve and nutty cheddar cheese. However, if Paddy and the blokes are stopping by for a bite, you might want to try it with crème fraîche, smoked salmon ribbons, freshly ground black pepper and a sprtiz of lemon.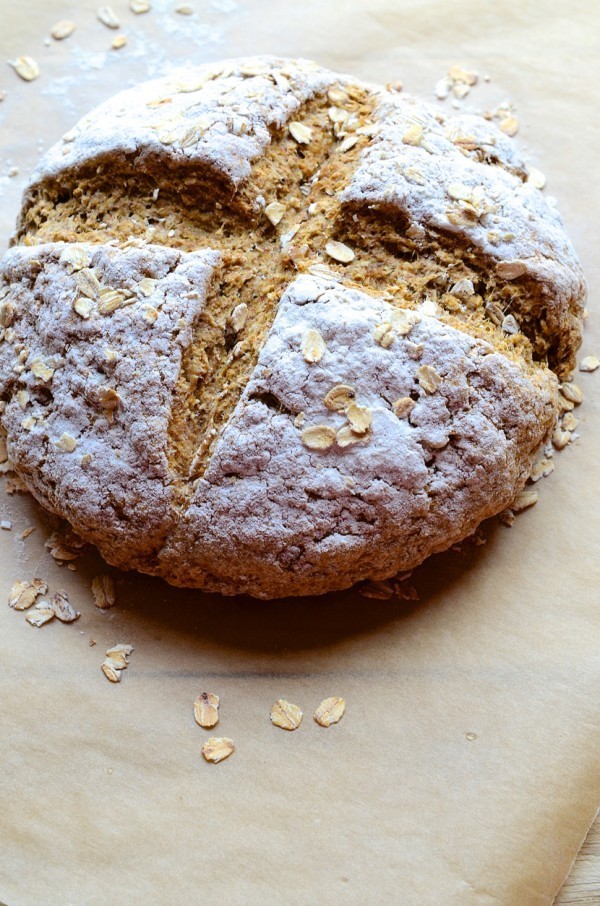 The 17th March is Saint Patrick's Day and no, I'm not Irish but having recently visited the lush, green pastures of Ireland, I'd love to share a couple of my favourite Irish classics, but with a contemporary or local tweak. Soda bread is an Irish staple and as usual, everyone has their own secret recipe. Traditionally made with plain white flour, I've opted for a combination of plain and wholemeal flour, added a handful of whole rolled oats and finely chopped walnuts. It's rustic and earthy, with a nutty texture and toothsome bite. As it's a yeast-free bread, there's no proving and thus super quick and simple to make. Soda bread is best eaten on the day of baking, but it does make the most scrumptious toast for scrambled eggs the next day.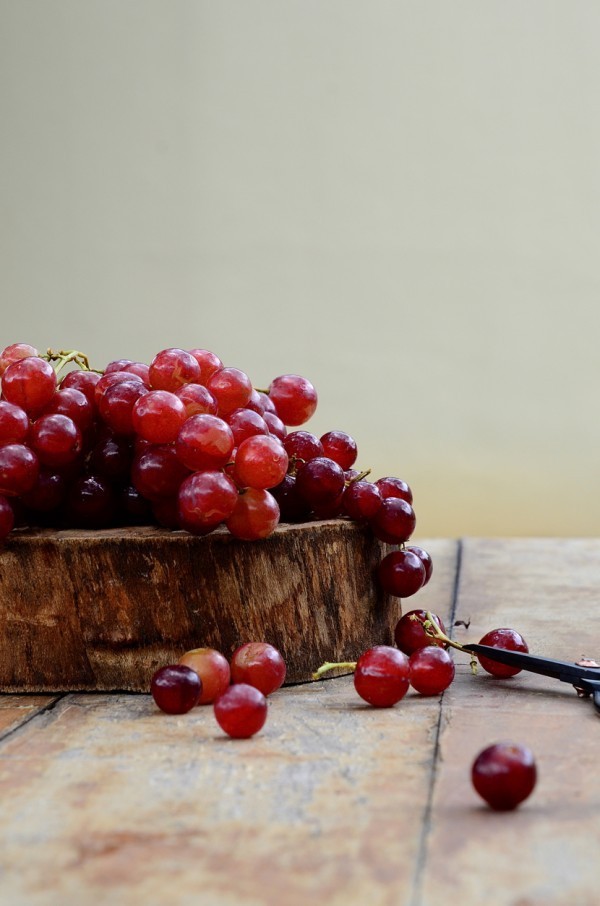 Now let's talk about the grape preserve or sticky jam, if you prefer. Growing up we spent many a weekend on my Ouma Martha's farm. It was here that I first encountered the dreaded jam and cheese combo! I never quite understood how savoury and sweet could occupy the same space on a slice of bread, a merger that only the grown-ups seemed to relish. My Ouma's kitchen was a hive of activity, especially on Saturdays when farm-fresh eggs where collected, butter was churned and chilled, ready to be served with a 'handsome' wedge of  boerebrood and sticky peach jam. I loved this sticky jam which was homemade, of course, using the cling peaches that grew next to the house. Isn't it strange that nostalgic details such as these can remain so vividly clear and become increasingly important as we mature and age? I now appreciate those long-trek to the farm weekends and especially the ritualistic Saturday breakfasts that took up the best part of the morning. Lingering around the kitchen table with mugs of condensed milk sweetened coffee, the 'conference' would continue as lunch menus and the all-important issue of rain was debated until noon and beyond. I'm happy to say that now, I cannot think of a better combination than home baked bread, a slice of farmhouse cheddar and YES, dollops of deliciously sweet fruit preserve spooned on top!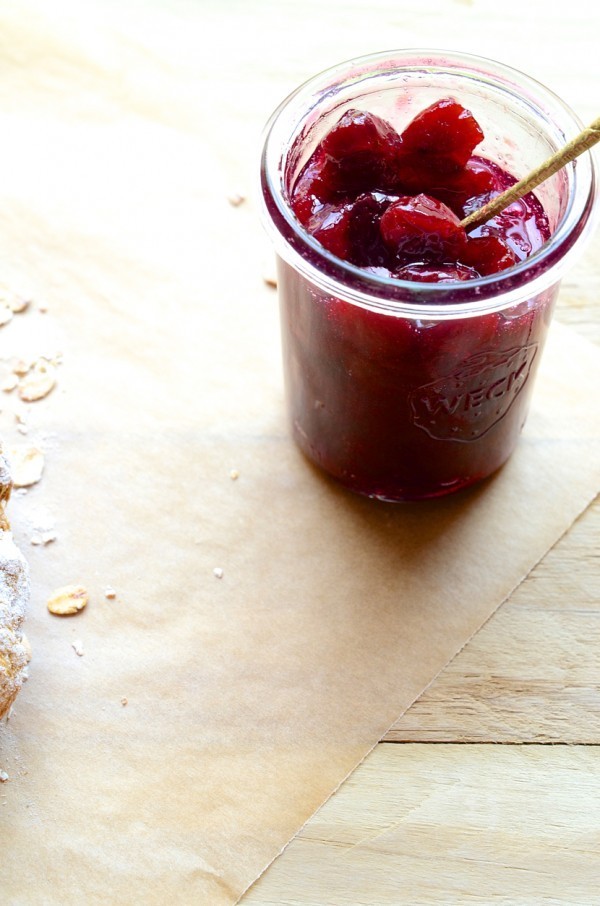 Wholemeal Irish soda bread
Makes 1 round loaf (serves 6)
1 cup self raising flour
1 cup fine wholemeal flour
3/4 teaspoon salt
1 teaspoon baking soda
1/4 cup finely chopped walnuts
3 tablespoons whole, rolled oats
275ml buttermilk
1 teaspoon molasses or honey
flour for dusting
a handful of oats, to finish
Preheat the oven to 180º C. Line a baking sheet with parchment paper. In a large mixing bowl, sift together the self raising flour, wholemeal flour, salt and baking soda. Add any remaining sifted husks to the bowl. Stir in the walnuts and oats. Make a well in the centre of the flour and pour in the buttermilk and molasses. Stir the mixture thoroughly until the the dough comes together. Turn out onto a well floured board and shape into a round.
Place the round onto the lined baking sheet, scatter over a handful of oats and dust lightly with all-purpose flour. Slash the top with a sharp, smooth bladed knife. Bake for 40 minutes until nicely browned on top and the base is crusty and hollow sounding when tapped. Cool on a wire rack to prevent the base from sweating.
Muscadel grape preserve
Makes 250ml
400g red, seedless grapes
100g granulated sugar
2-3 tablespoons lemon juice
45ml muscadel (substitute with sherry or port)
pinch of salt
Rinse the grapes thoroughly and drain off any excess water. Place in a saucepan with the sugar and bring slowly up to the boil. Once the sugar has dissolved, add the lemon juice and simmer on a medium high heat for 15-20 minutes until the liquid is reduced and syrupy. Add the muscadel and a tiny pinch of salt. Boil for another 5 minutes on high, stirring all the while to prevent catching and sticking to the bottom. Pour into a sterilised jar and seal while still hot. Once opened, store in the refrigerator.