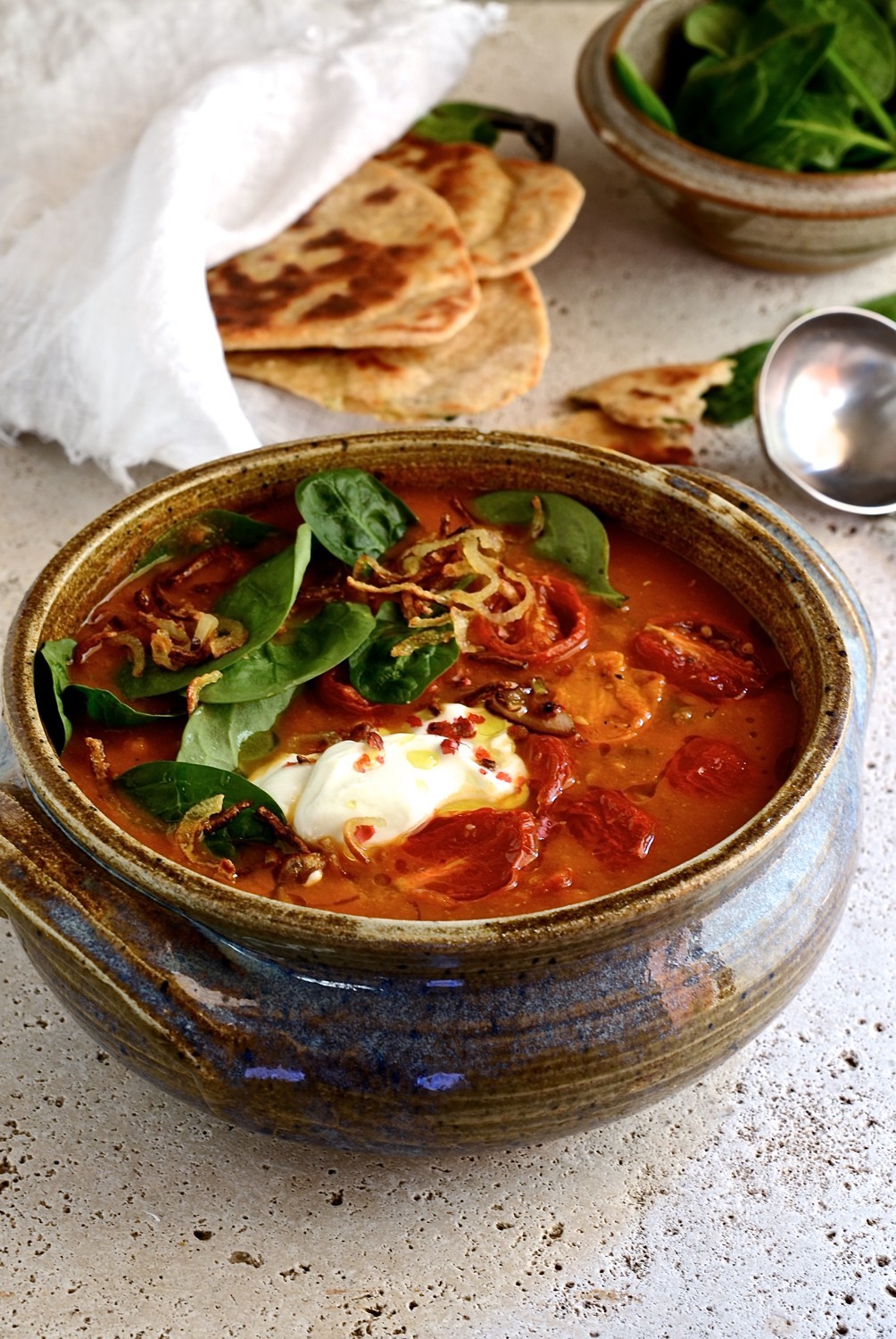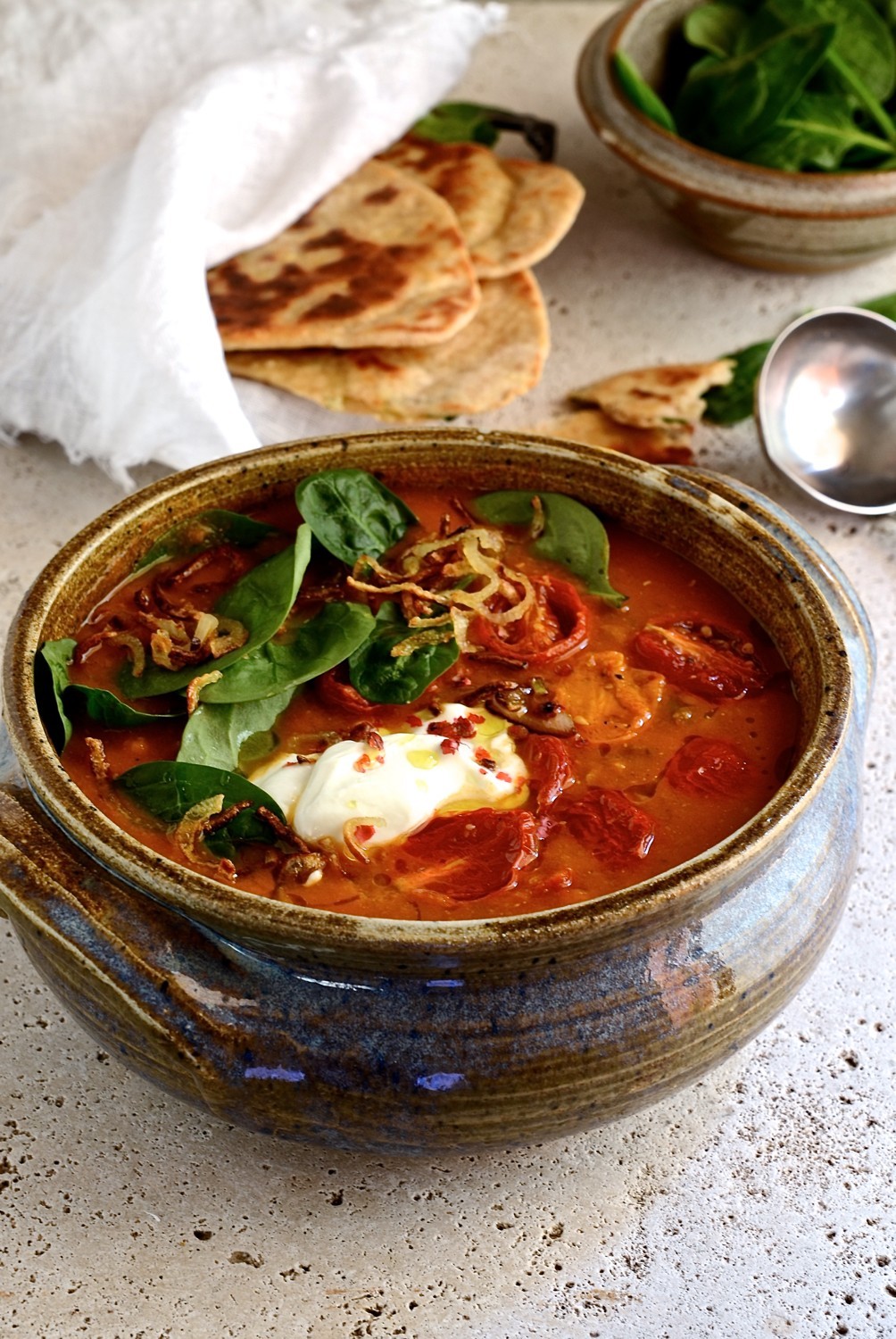 As winter draws to an end, I'm making as many soups possible. Not that we don't eat soup in summer, but somehow soup feels wintery. This spiced lentil and vegetable soup is especially hearty, almost like a vegetable dahl. The garam masala, ginger and chilli lends contribute to the soup's earthy warmth. Lentils are an excellent source of plant based protein and cholesterol lowering fibre. It's also a smart, pocket friendly store cupboard choice. I've used red and brown lentils. The red lentils are soft and creamy, while the brown lentils give it toothsomeness  and texture.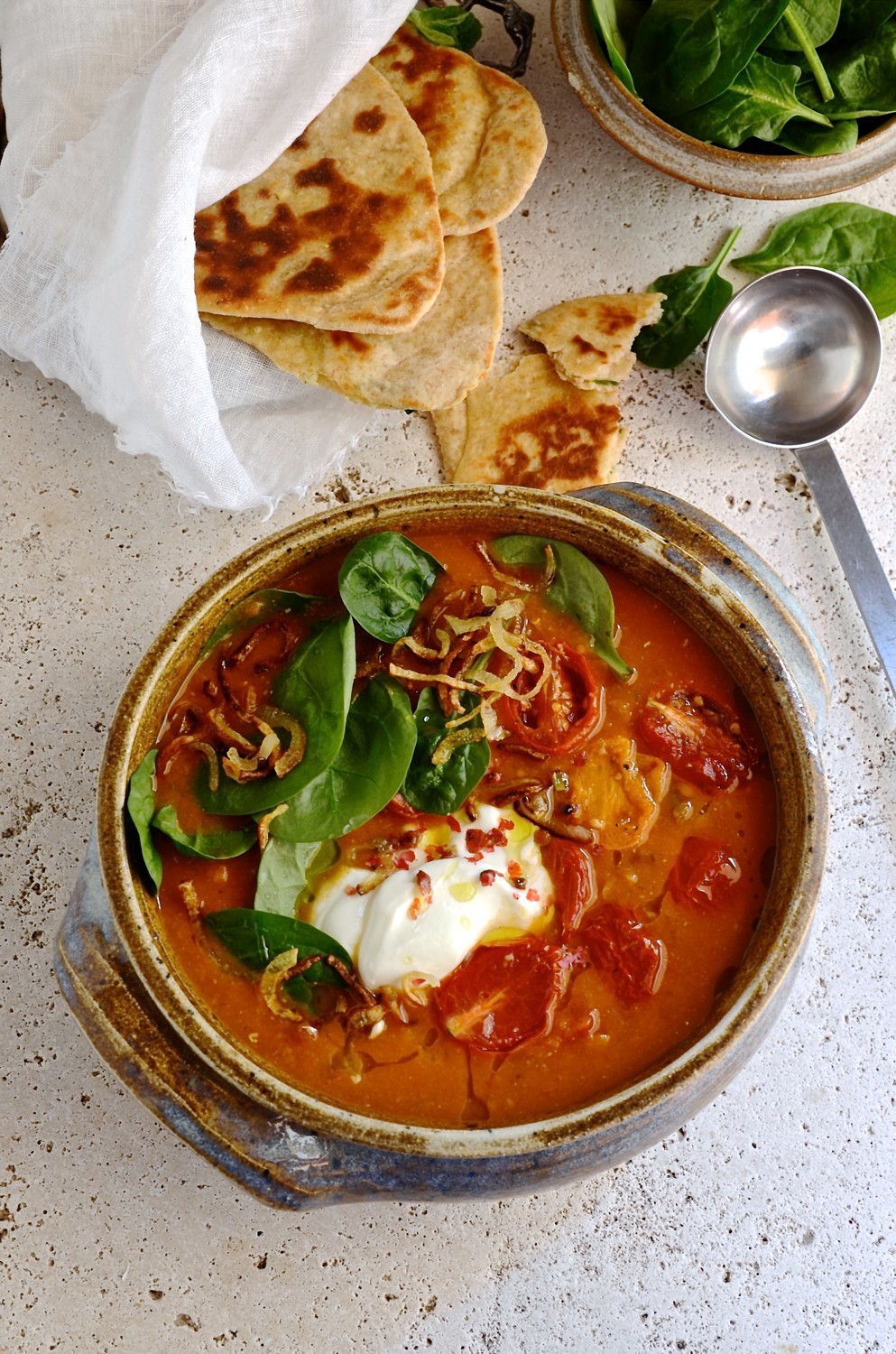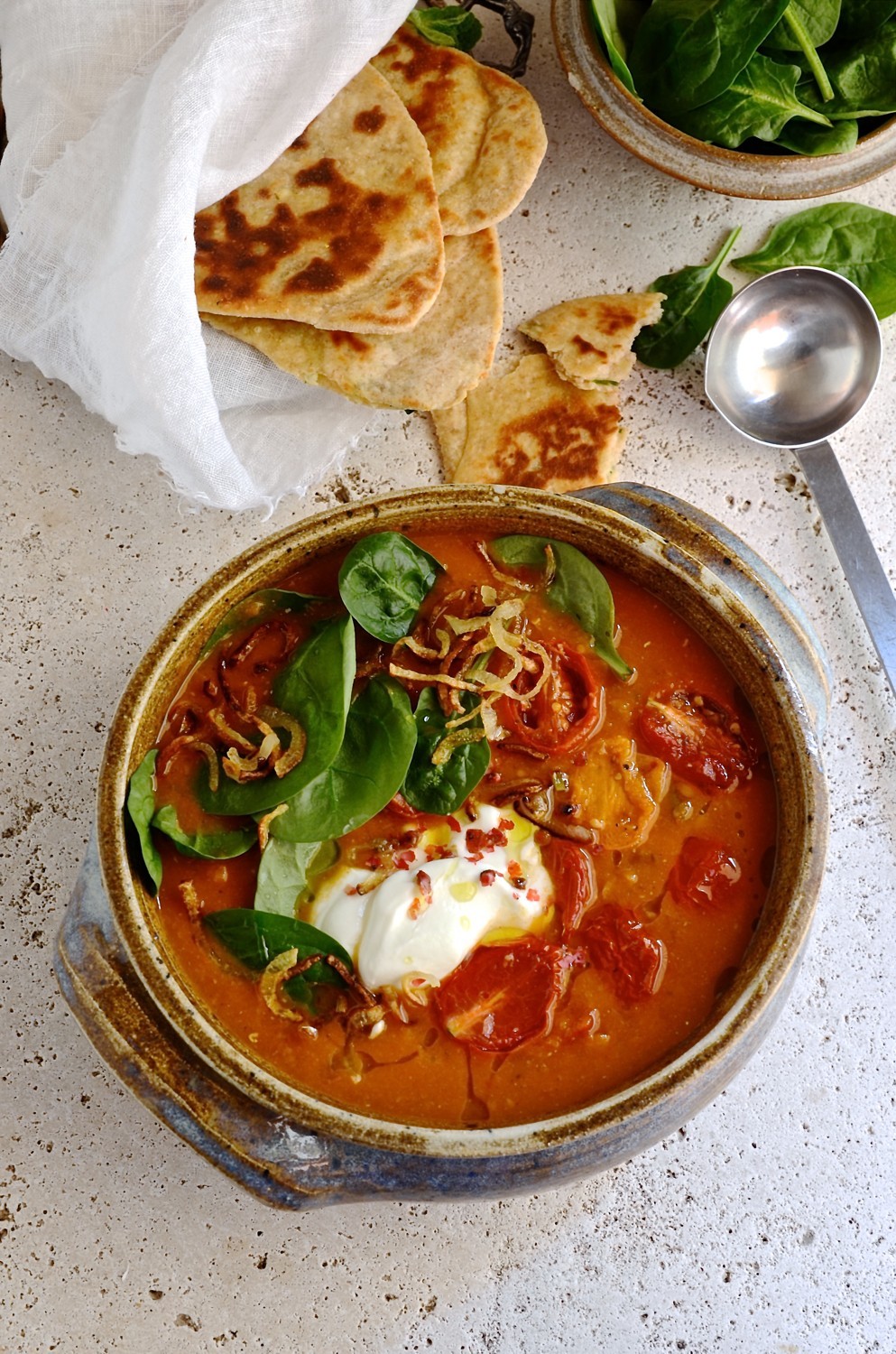 To go with my spiced Indian vegetable soup, I made halloumi filled flatbreads. For the flatbreads, I've used a combination of wholemeal and coconut flour. Toppings are everything, even with soups. This one gets roasted cherry tomatoes, baby spinach, caramelised onions and Greek yoghurt. It's also happens to be Freezer Friendly, so make double and freeze one for those busy weeknights.
Spiced lentil and vegetable soup
Serves 6
2 tablespoons vegetable oil
1 red onion, finely diced
1 garlic clove, minced
3 stems celery, chopped
2 large carrots, diced
2 teaspoons garam masala
1 teaspoon ground cumin
1/2 teaspoon turmeric
1/2 teaspoon red chilli flakes
1/2 cup red lentils, rinsed and drained
1/2 cup brown lentils, rinsed and drained
1 cup tomato passata
1.2 litres vegetable stock
salt and freshly ground black pepper
2 tablespoons lemon juice
To finish
250g roasted cherry tomatoes See HERE on How-To
Greek yoghurt
large handful (about 40g), baby spinach
1 brown onion, sliced into rounds and caramelised or store-bought crispy onion sprinkles (Woolworths)
crushed pink peppercorns
Flatbreads
Makes 6
150g all-purpose flour
50g wholemeal or atta flour
50g coconut flour
1/2 teaspoon salt
1 teaspoon instant yeast
90-100ml tepid water
80ml (1/3 cup) natural yoghurt
1 tablespoon vegetable oil
For the halloumi filling
generous handful mint leaves, chopped
zest of half a lemon
1 cup finely grated halloumi cheese
pinch sea salt flakes
1/4 cup toasted sunflower and pumpkin seeds
Heat the oil in a deep saucepan and sauté the onion until soft. Add the garlic, celery and carrots to the onions and cook for several more minutes. Season the vegetables lightly before adding the garam masala, cumin, turmeric and chilli. Toss to coat the vegetables in the spices and toast for a minute to intensify the flavours, but be careful not to burn the spices. Now add the rinsed lentils, tomato passata and vegetable stock. Cover with a lid and simmer for 35-40 minutes or until the brown lentils are tender. Check the seasoning and add a spritz of lemon juice to brighten the flavours. Remove 1 cup of the soup and place in a blender. Add half the roasted tomatoes to the blender and blitz together until smooth. Pour the purée back into pot and heat through.
For the flatbreads, sift the all-purpose flour, wholemeal, coconut flour and salt into a bowl. Mix in the yeast. Make a well in the centre and pour in the water, yoghurt and vegetable oil. Mix with a fork until the dough comes together. Turn out onto a floured worktop and knead for 3 minutes. Cover with cling film and set aside to prove for 1 hour.
Combine all the ingredients for the halloumi filling. Divide the dough into 6 equal portions. Roll each portion out into a round of about 15cm. Place roughly 2 tablespoons of the cheese filling on one half of the round, sprinkle over some seeds and fold over. Press the edges together to seal. Roll out into an oblong shape about 3mm in thickness.
Heat 2 teaspoons olive oil and a knob of butter in a frying pan. Cook the flatbreads in the hot pan for about 3-4 minutes per side, until golden brown and cooked through. Wrap in a tea towel to keep warm while you cook the remaining flatbreads. Remember to add oil and butter to the pan each time before continuing with the next batch.
To serve, fold the baby spinach through the hot soup and top with the remaining roasted tomatoes, Greek yoghurt, caramelised onions and crushed peppercorns. Brush the warm halloumi flatbreads with melted butter just before serving.
If you love lentils and beans, here are several vegetarian recipes that I make often:
Tarka Dahl with roasted cauliflower and poppadoms
Fennel and cannellini bean stew
Roast butternut and lentil bobotie