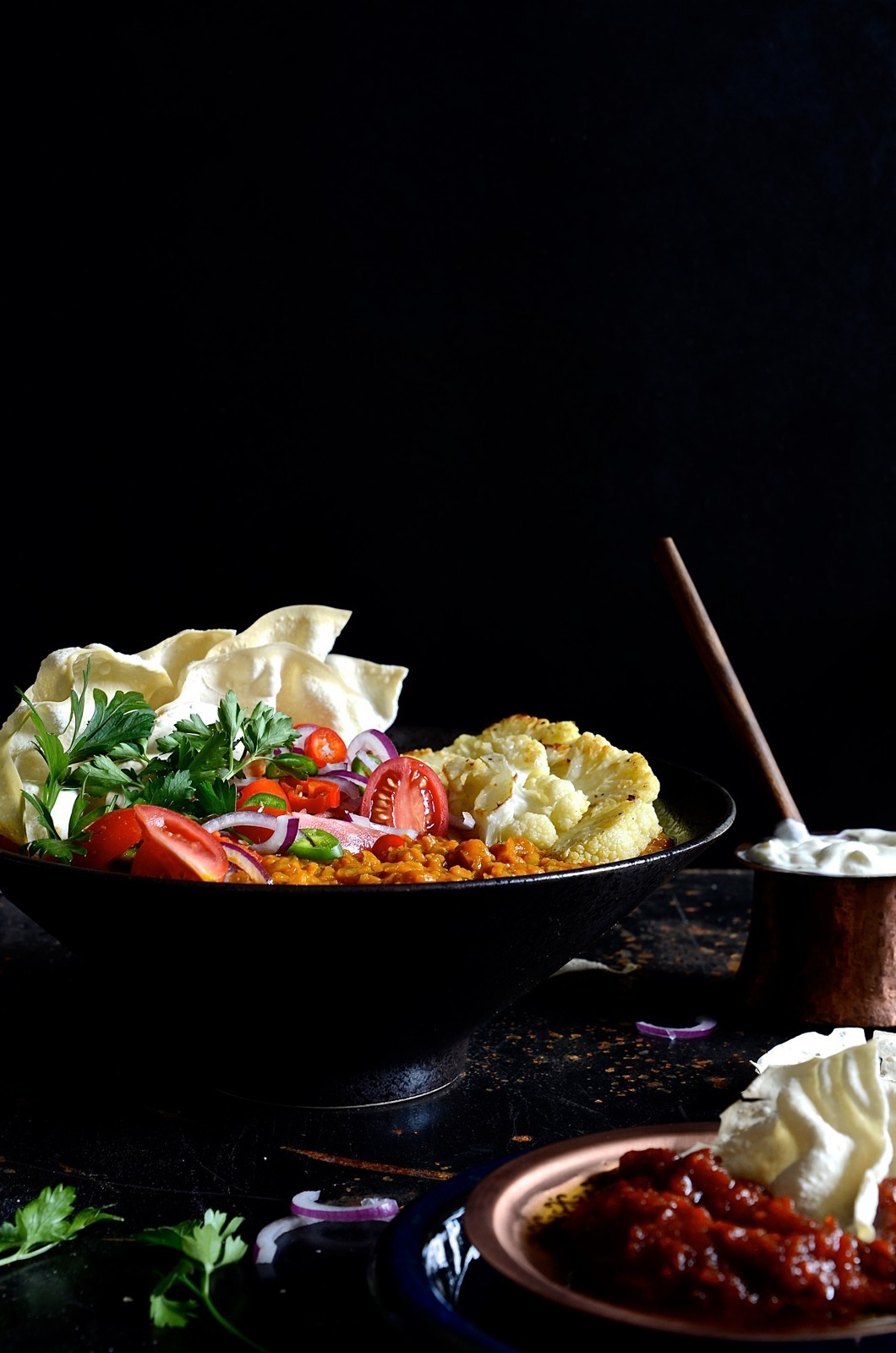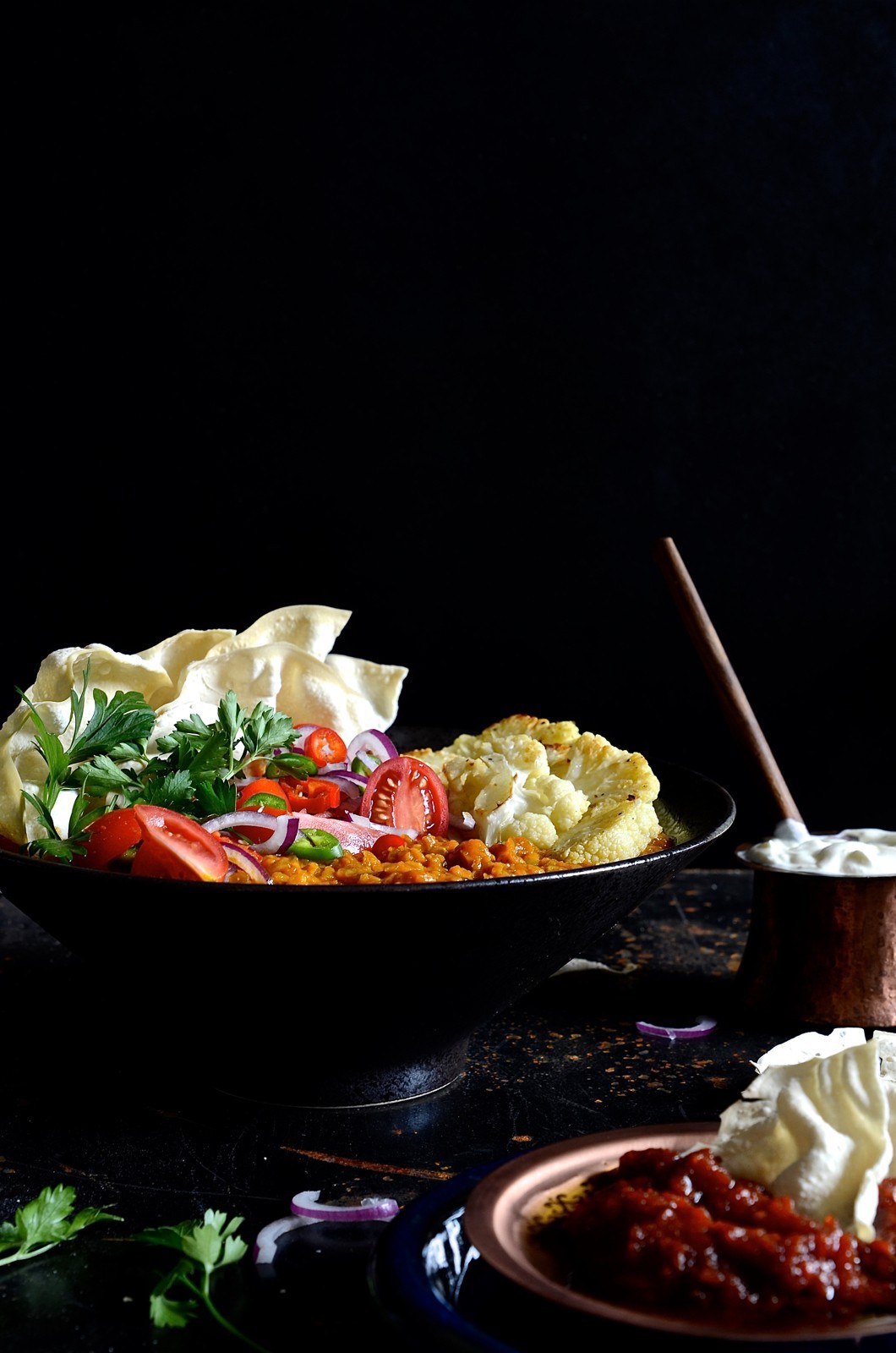 This is my take on a simple Tarka dahl. For this recipe, I use red lentils. They soften quickly which does away with overnight soaking. Feel free to use a combination of different coloured and textured dahl, but remember to lengthen the cooking time according to the dahl you've chosen.
Tarka is the technique used when adding raw spices to very hot oil. The seeds pop and sizzle, releasing their pungent aromatics into the oil. Usually, the hot spicy oil is added to the dish just before serving. Occasionally, tempering the spices at the start is also acceptable, adding aromatic depth to curries.
The dahl is delicious as is, but if you feel it needs something more, I've included roasted cauliflower steaks. Serve with warm naan bread or poppadoms and a pomegranate raita.

Tarka Dahl with roasted cauliflower and poppadoms
Serves  4
2 tablespoons vegetable oil
1 large brown onion, finely diced
1 garlic clove, minced
1 1/2 teaspoon cumin seeds
2 1/2 teaspoons ground coriander
1 1/2 teaspoons turmeric
1/2 teaspoon dried red chilli flakes, more if you like some heat!
240g red lentils, rinsed and drained
400g tinned tomatoes, mulched
1 tablespoon tomato paste
1 teaspoon sugar
800 ml weak vegetable stock
salt and pepper, to taste
a spritz of fresh lemon juice
2 tablespoons olive oil
1 large cauliflower
salt and freshly ground black pepper
Heat the oil in a saucepan. Add the cumin seeds and toast for 2 minutes until fragrant. Add the onion and sauté for about over a low heat until softened, about 6 minutes. Add the garlic and cook for a further minute. Stir in the coriander, turmeric and chilli flakes. Add the lentils, tomatoes, tomato paste, sugar and vegetable stock.  Season lightly with salt and pepper. Simmer for around 40 minutes or until the liquid has been absorbed.
Stir the dahl several times during the cooking time. Check the seasoning and adjust if necessary. Add a squeeze of fresh lemon or lime juice to lift the flavour.
While the dahl is cooking, preheat the oven to 200º C. Line a baking tray with parchment paper. Cut the cauliflower into 1.5cm thick steaks. Lay on the tray and drizzle with olive oil. Season with salt and pepper and roast for 15-18 minutes until tender, but not completely soft. You still want the cauliflower to have a little bite to it.
Serve the dahl with warm flatbreads or poppadoms, fresh tomato salad and roast cauliflower.
More plant-based easy suppers
Harira vegetable soup with barley and quinoa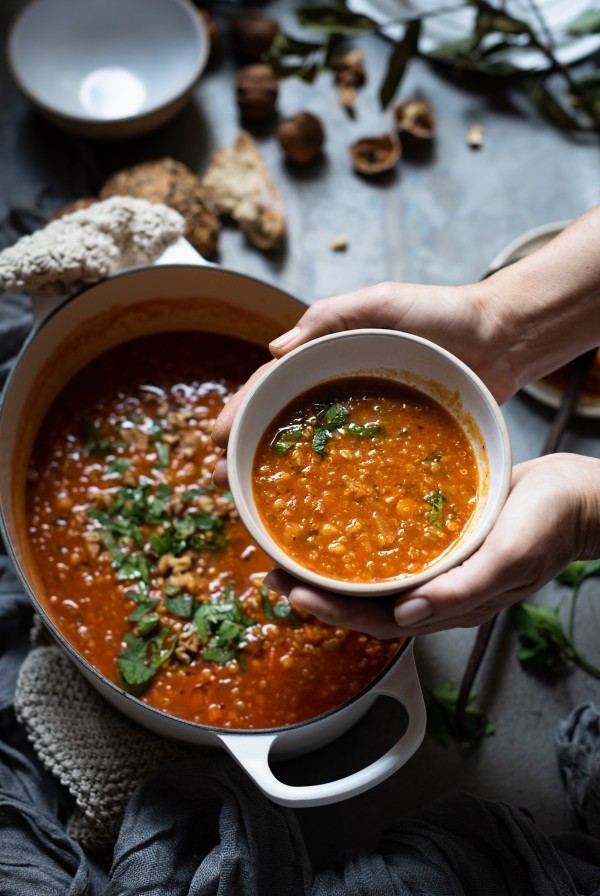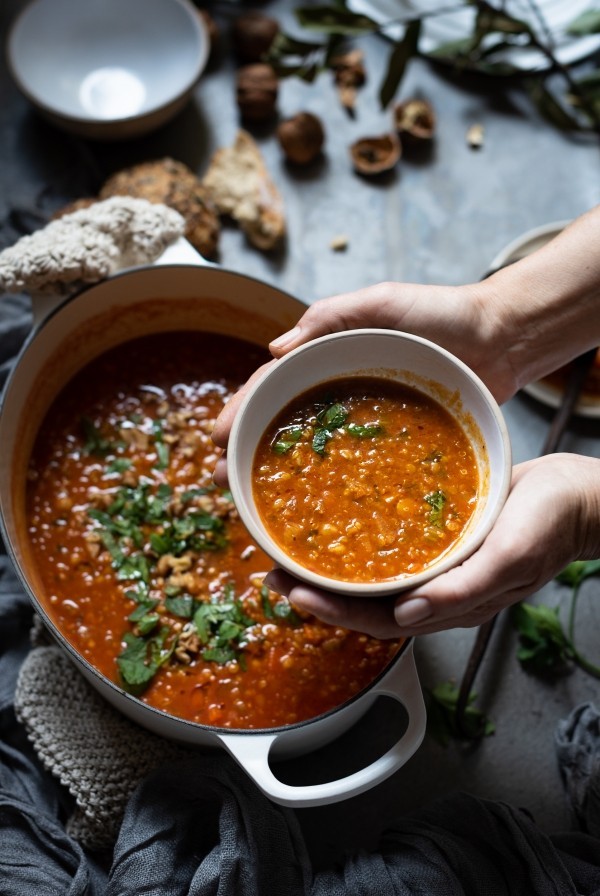 Roast butternut crustless quiche with feta and pine nuts