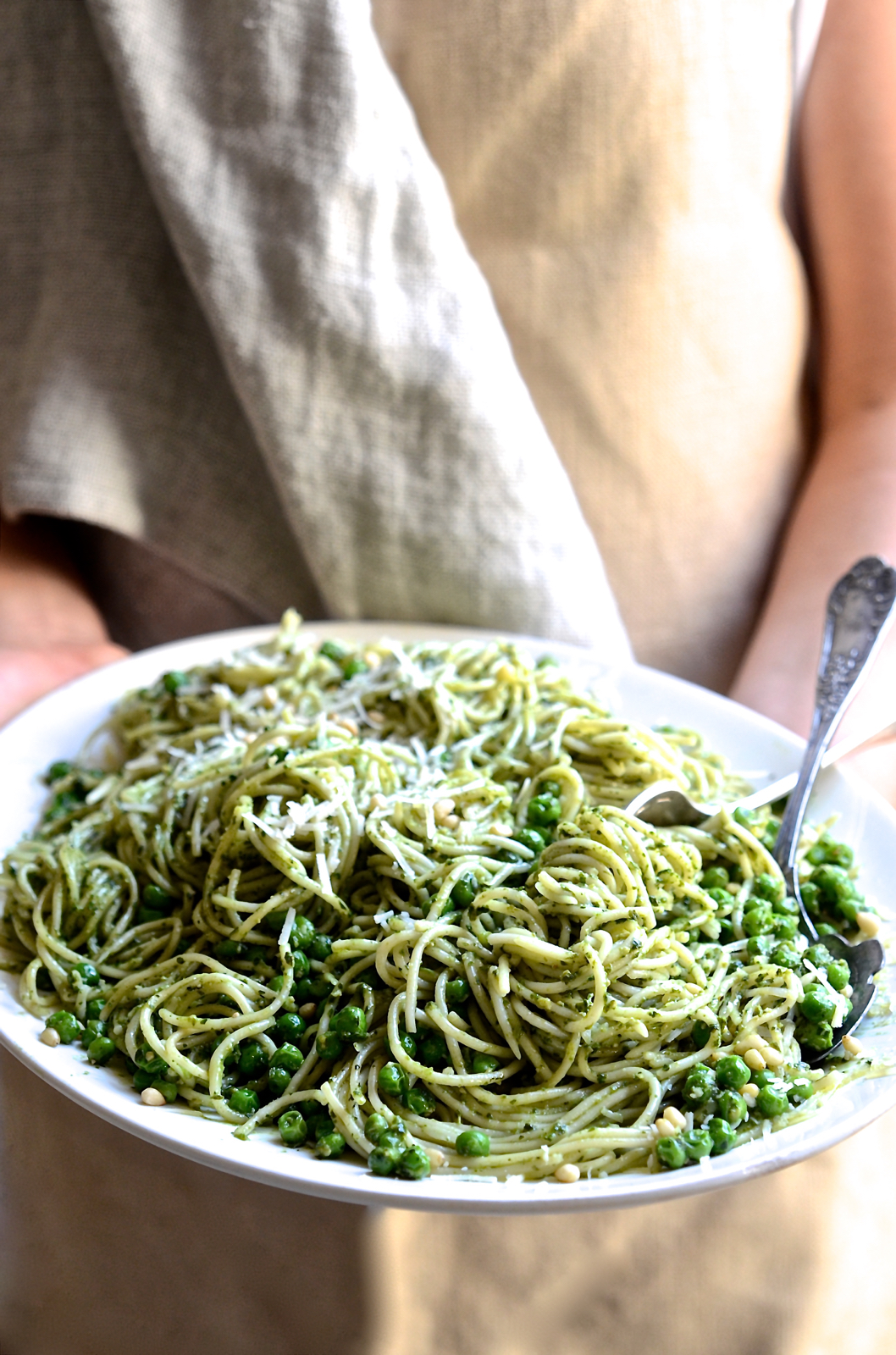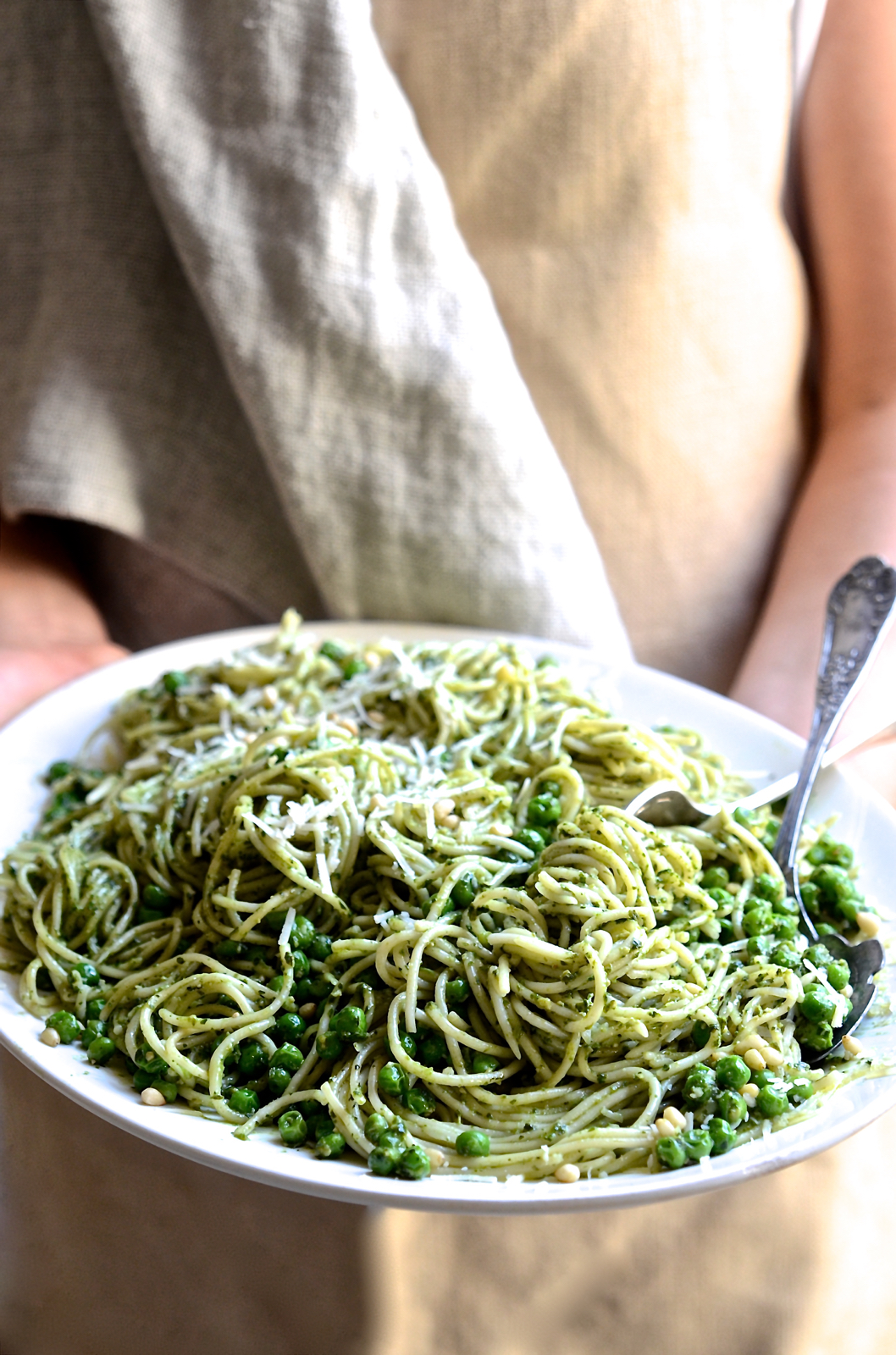 Yesterday was World Pasta Day. To celebrate the glorious life of slippery noodles and cheese, I've bundled together fifteen World Pasta Day recipes. From easy 10 minute stove top pastas to cheesy oven bakes, the recipes are pure Italian-style comfort food.
For my Green Pesto Pasta I add fresh garden peas, courgette spaghetti and roast cherry tomatoes. The tomatoes aren't essential, but if you have time, I'd include them. Here's how I make the candied tomatoes. This pasta dish lends itself to sneaking in loads of veggies. It's a complete 5-a-day recipe. Not bad for a bowl of pasta.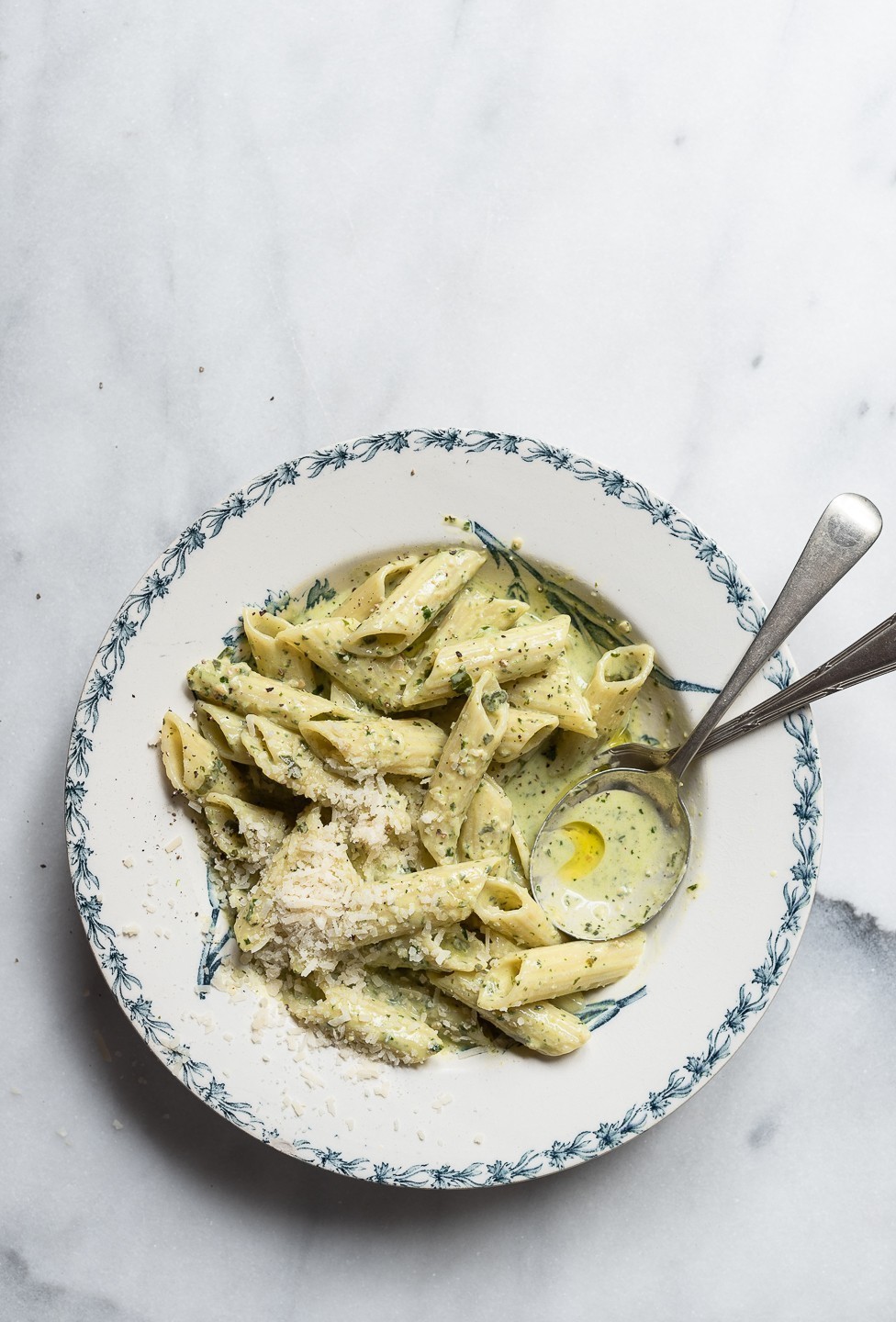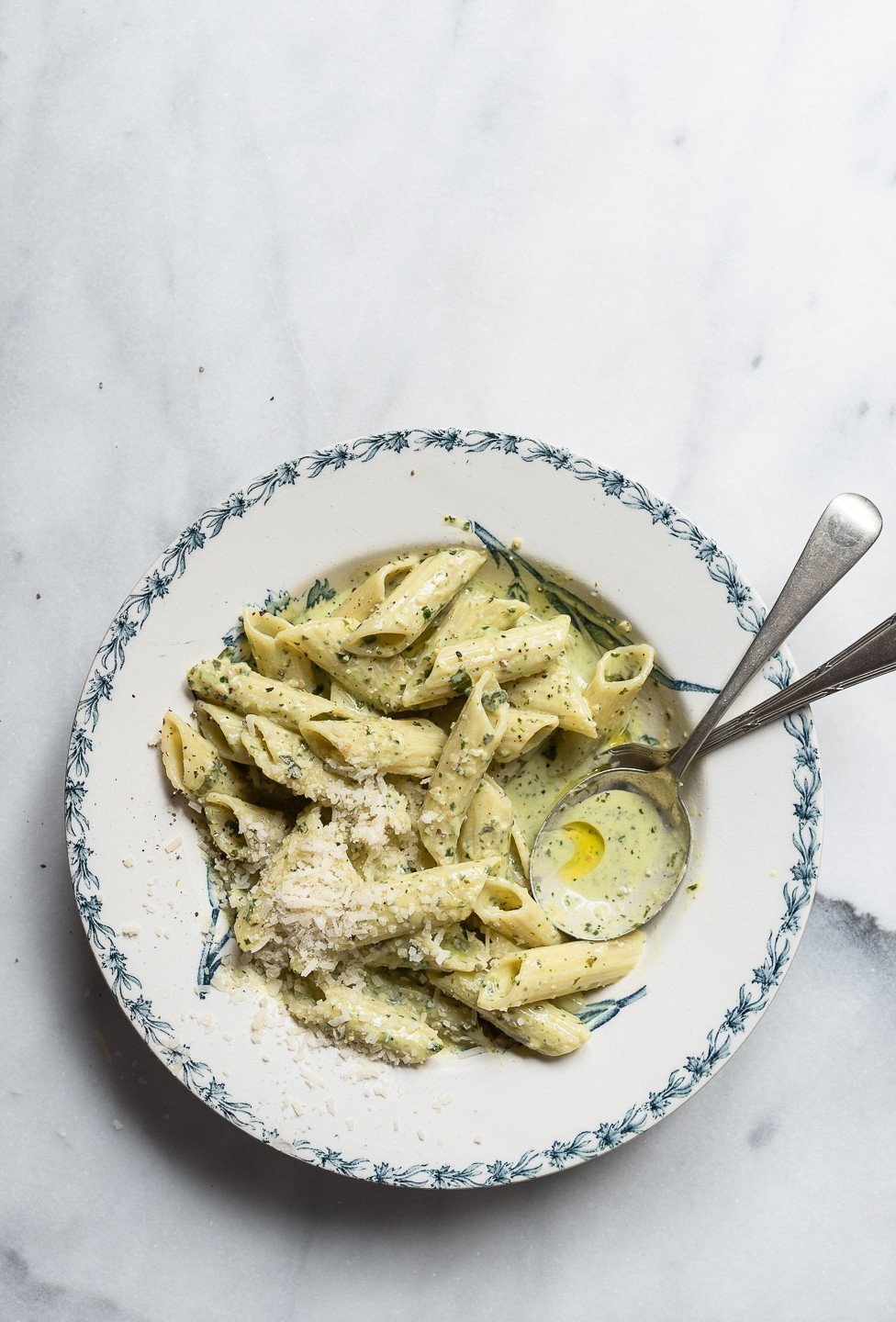 Of all the pasta recipes I make, simple pesto pasta remains a house favourite. It relies on ridged pasta for the sauce to cling to, a gusty green pesto and generous handfuls of grated Parmesan. A slick of peppery olive oil is always a good idea.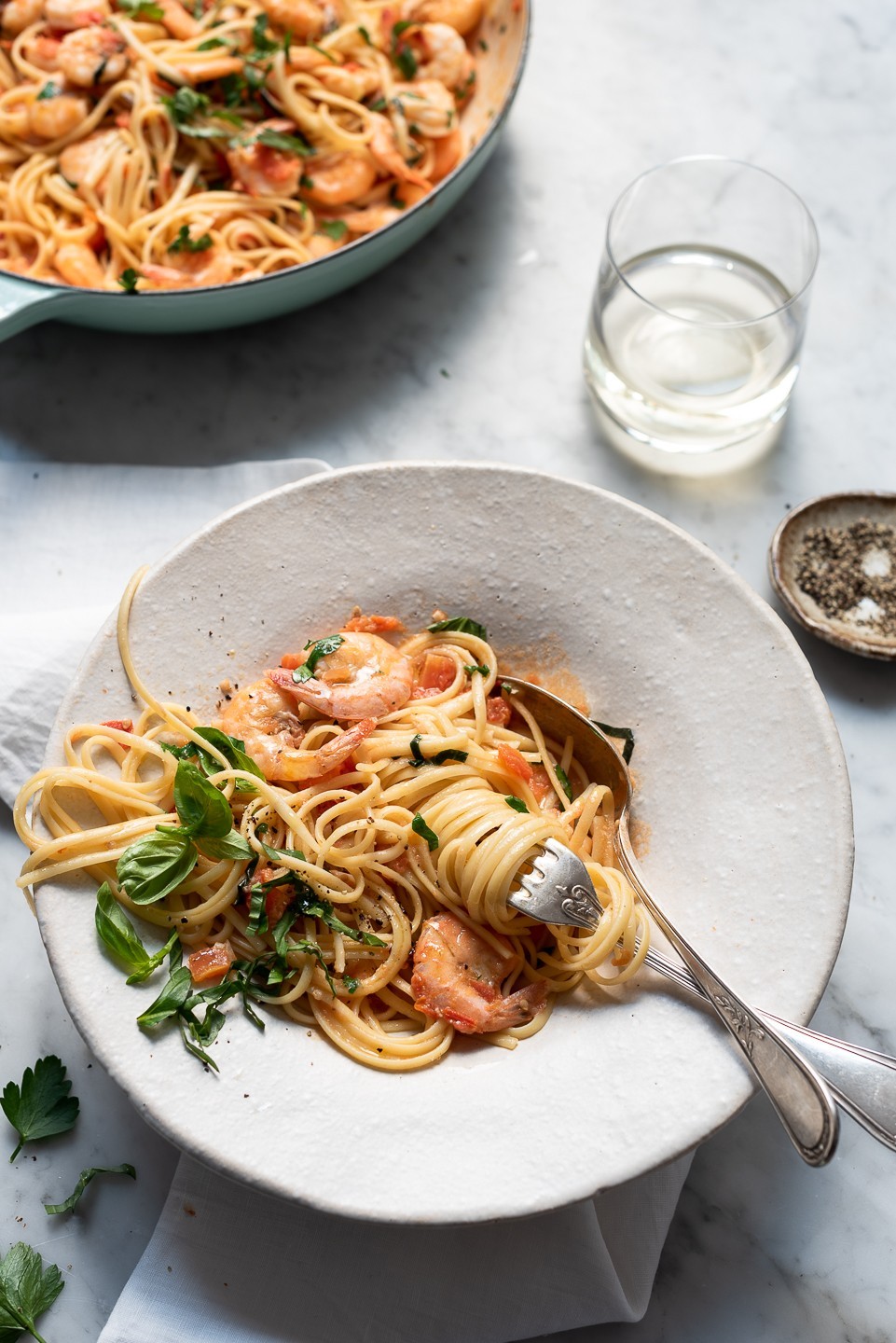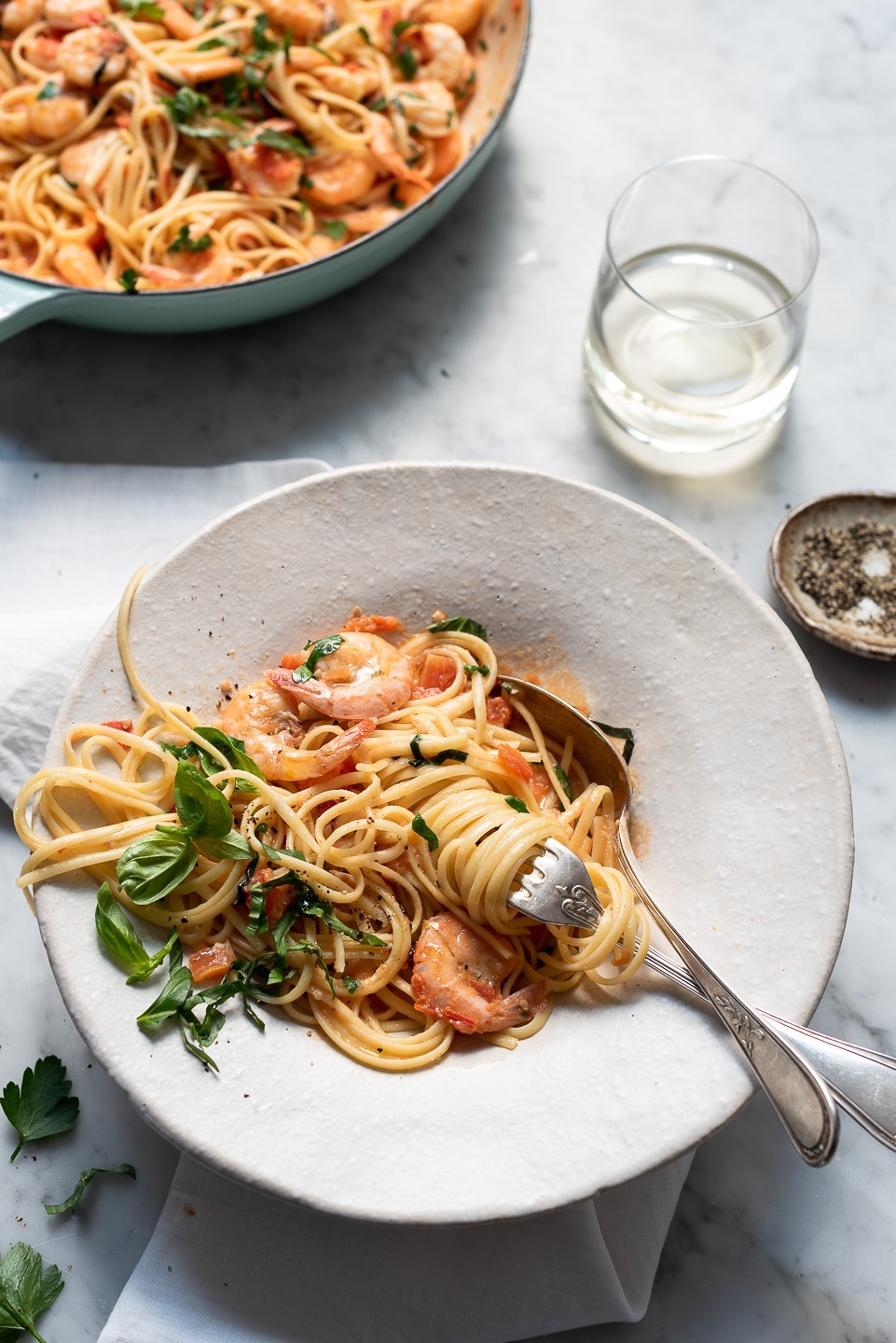 The Italians are masters at simple cooking. With throw-together ingredients, they create extraordinary recipes that are impossibly good. This linguine with shrimp and fresh tomato sauce is testament to how clean flavours can sing without much coercing.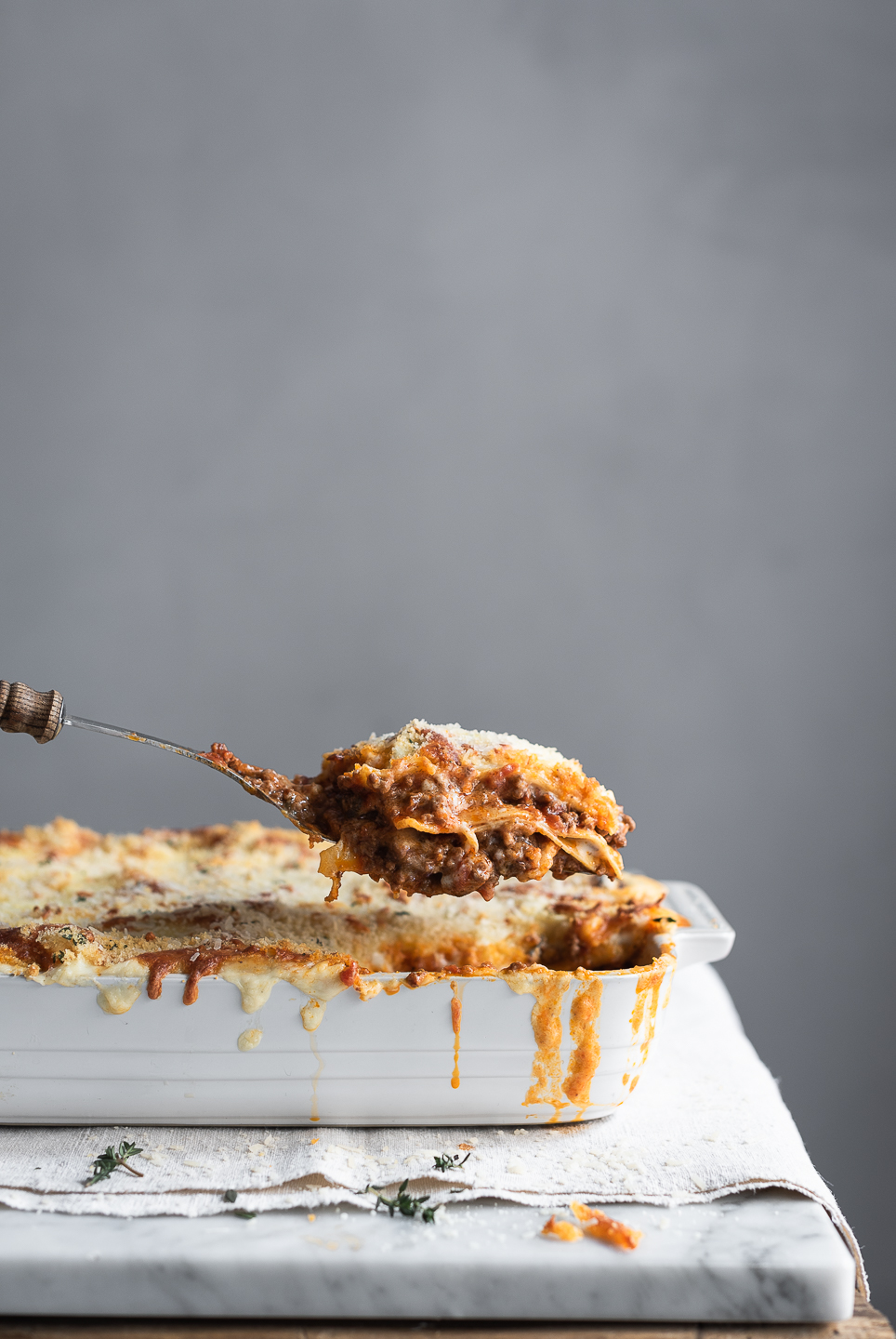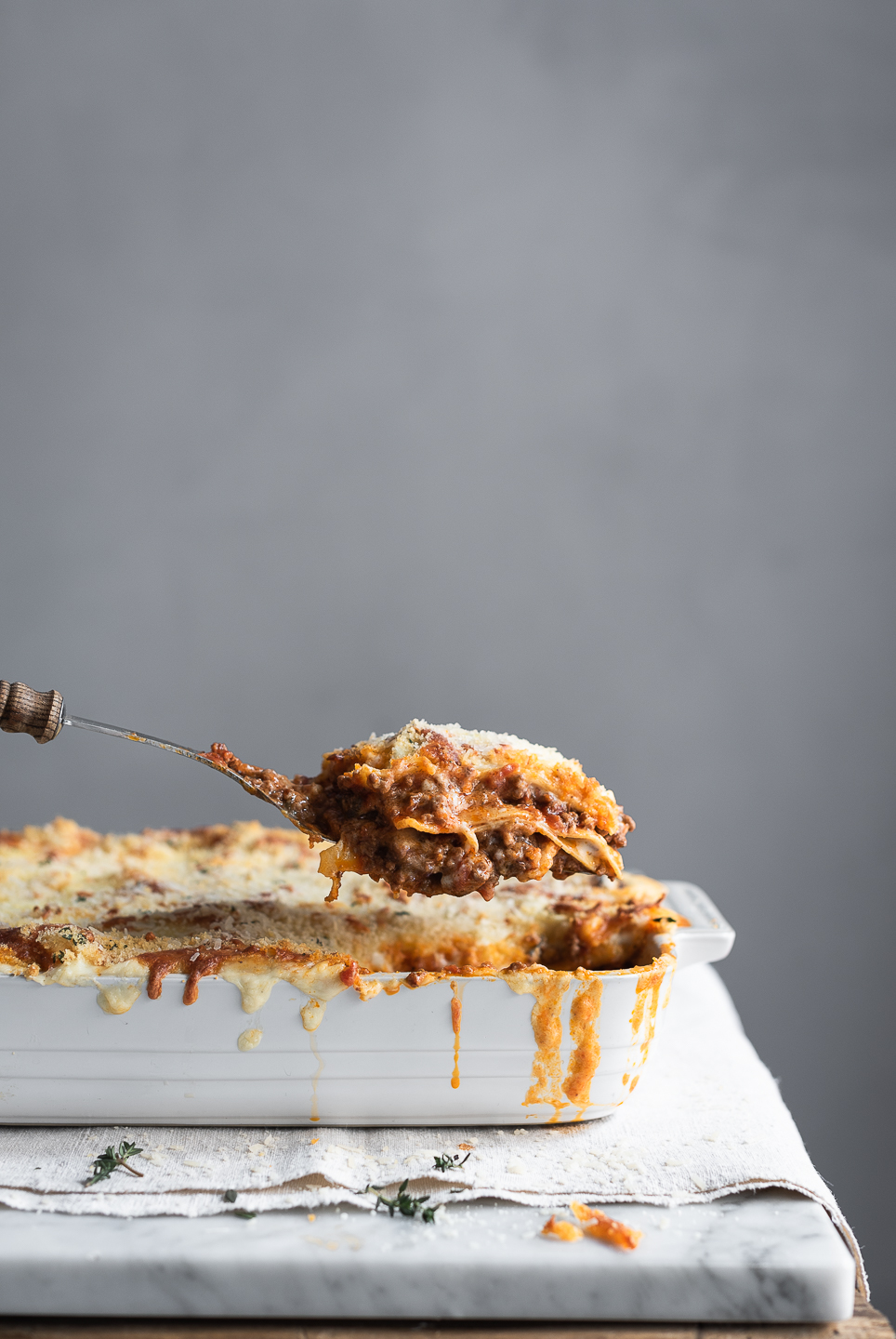 Lasagna is all about the sauce, that meaty filling that's at the centre of heated debates as to its authenticity. I know my version deviates from tradition but that's the charm of food, interpreting flavours in new and creative ways that make delicious sense to you. Several years ago, my husband and I visited Bologna for the first time. This terracotta hued city is Italy's unsung food gem, the nucleus of what makes Italian food great. Never have I eaten pasta so soft and silky, with a Bolognese sauce, rich and characterful. So good in fact, you throw caution to the wind, eating your way through the menu as if your life depended on it.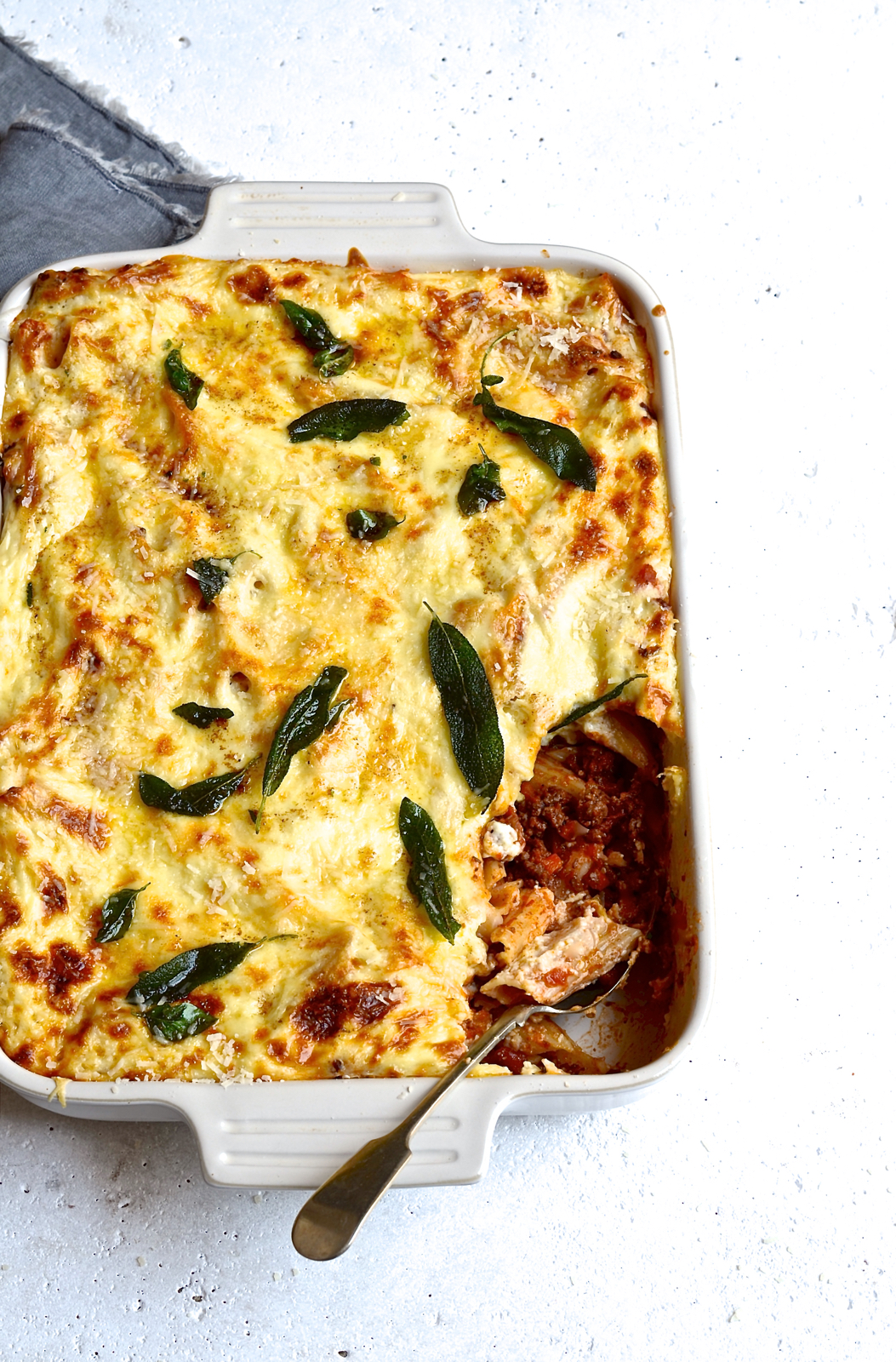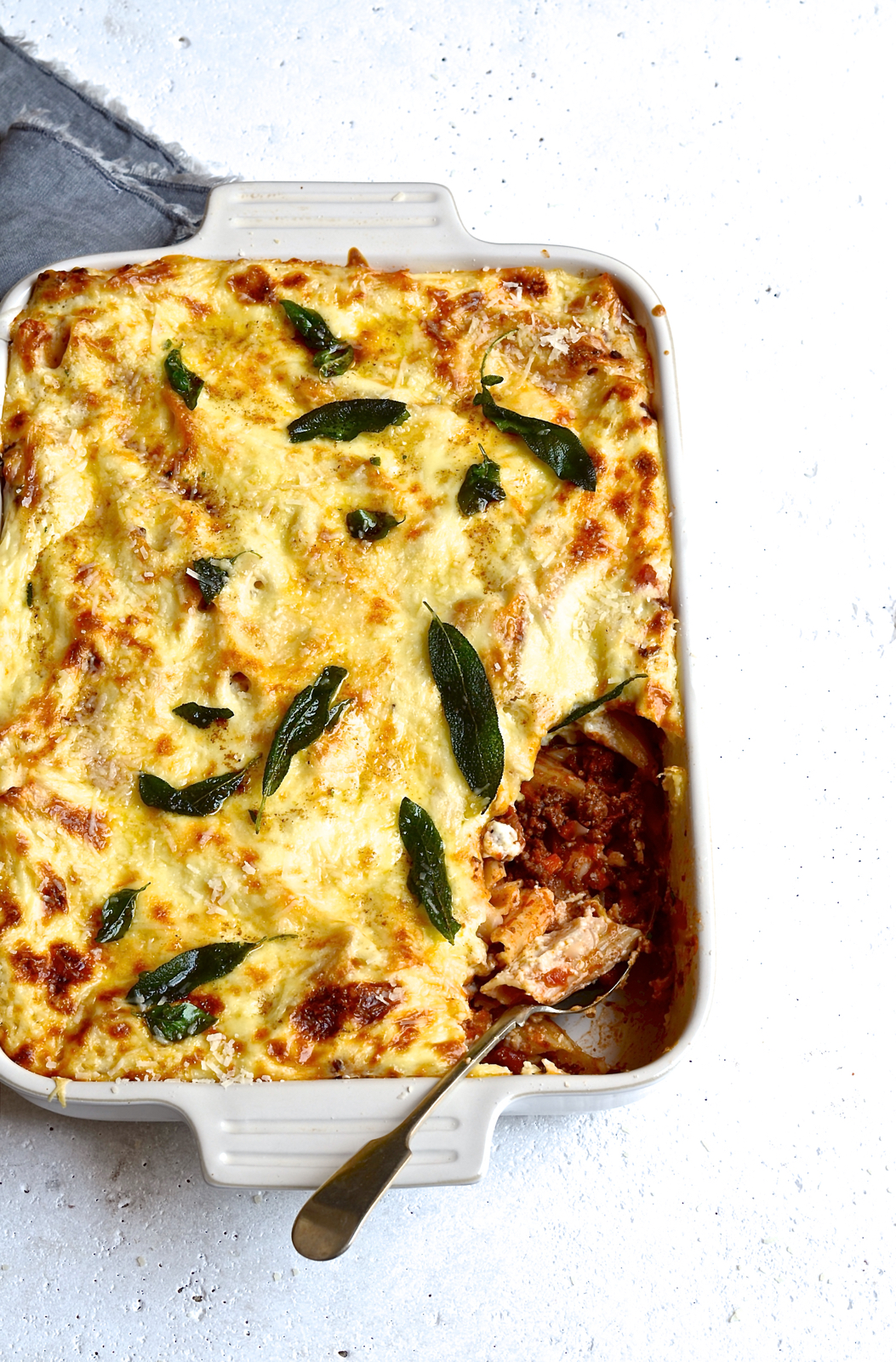 Baked pasta dishes speak of comfort and homeliness and a cheesy baked pastitsio  is testament to both. Ever since I first made Rick Stein's version from his book, Mediterranean Escapes, this Greek pasta bake has been a firm favourite at our table. I suppose you could say pastitsio is the Greek version of the more well known Italian classic, lasagne. A rich meat sauce tossed with pasta, smothered in béchamel and baked until golden. That's comfort food, right there. Although unconventional I suppose, I've drizzled a hot basil and sage butter over the top and it was sensational.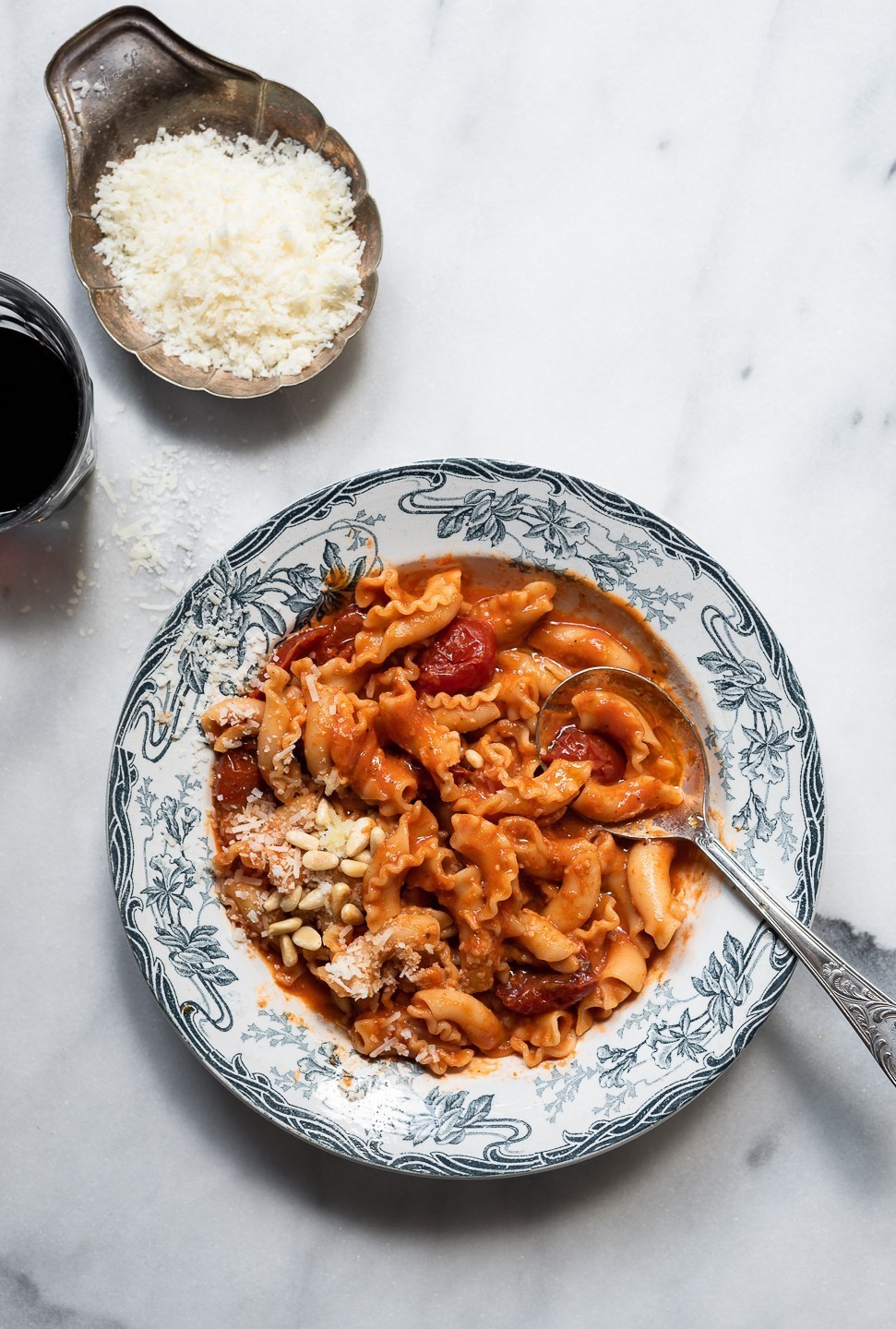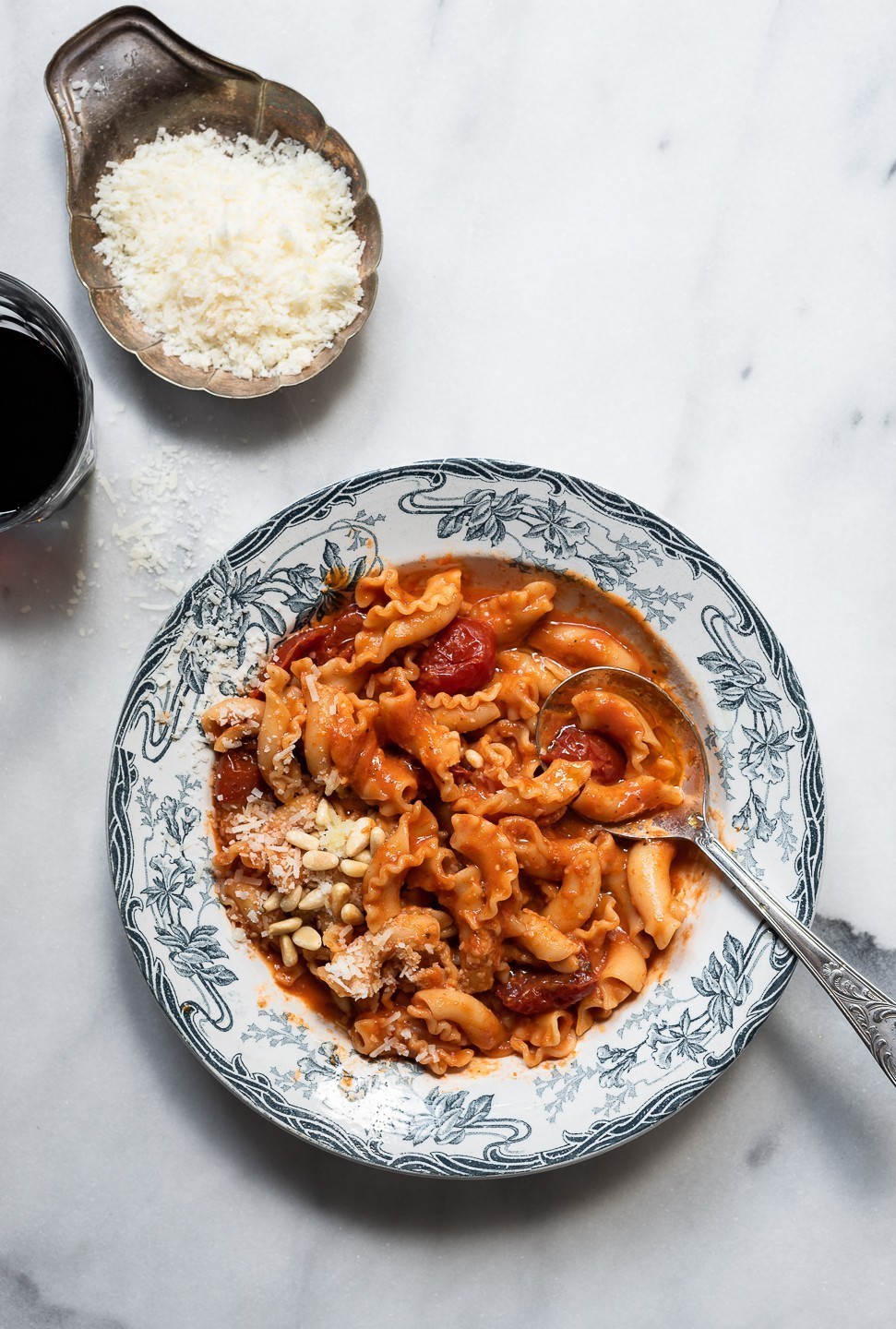 About the Roast Tomato Napoletana. It riffs on the famous Italian tomato sauce. If you are a sauce purist, remember, these are unprecedented times which means latitude to improvise. Also, roasting the tomatoes renders a candied sweetness that is certain and bold. Before a quick blitz in the processor, I remove a portion on the roast cherry tomatoes to toss through just before serving. It adds sweet pockets of flavour. All in all, not too shabby for a casual weeknight supper.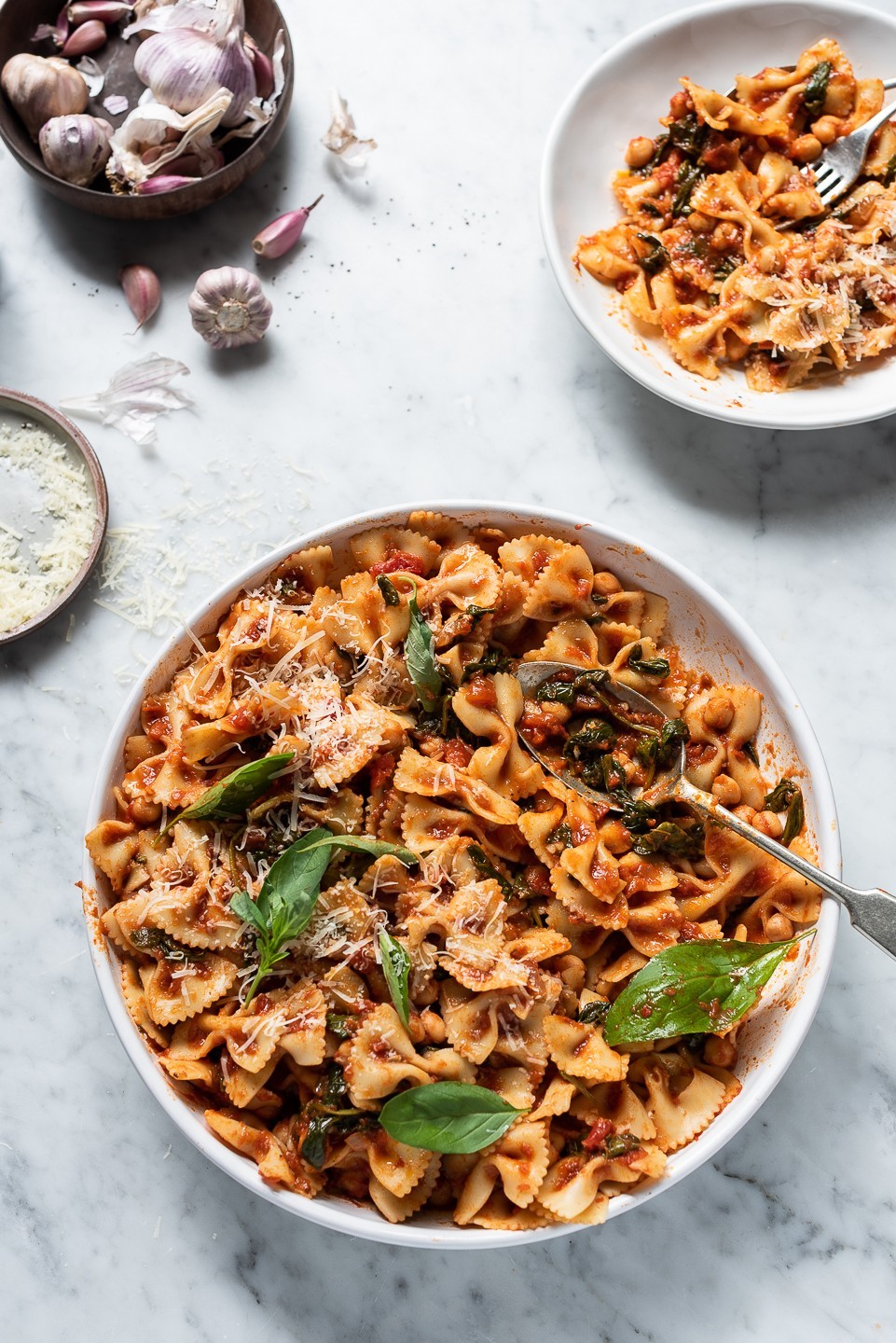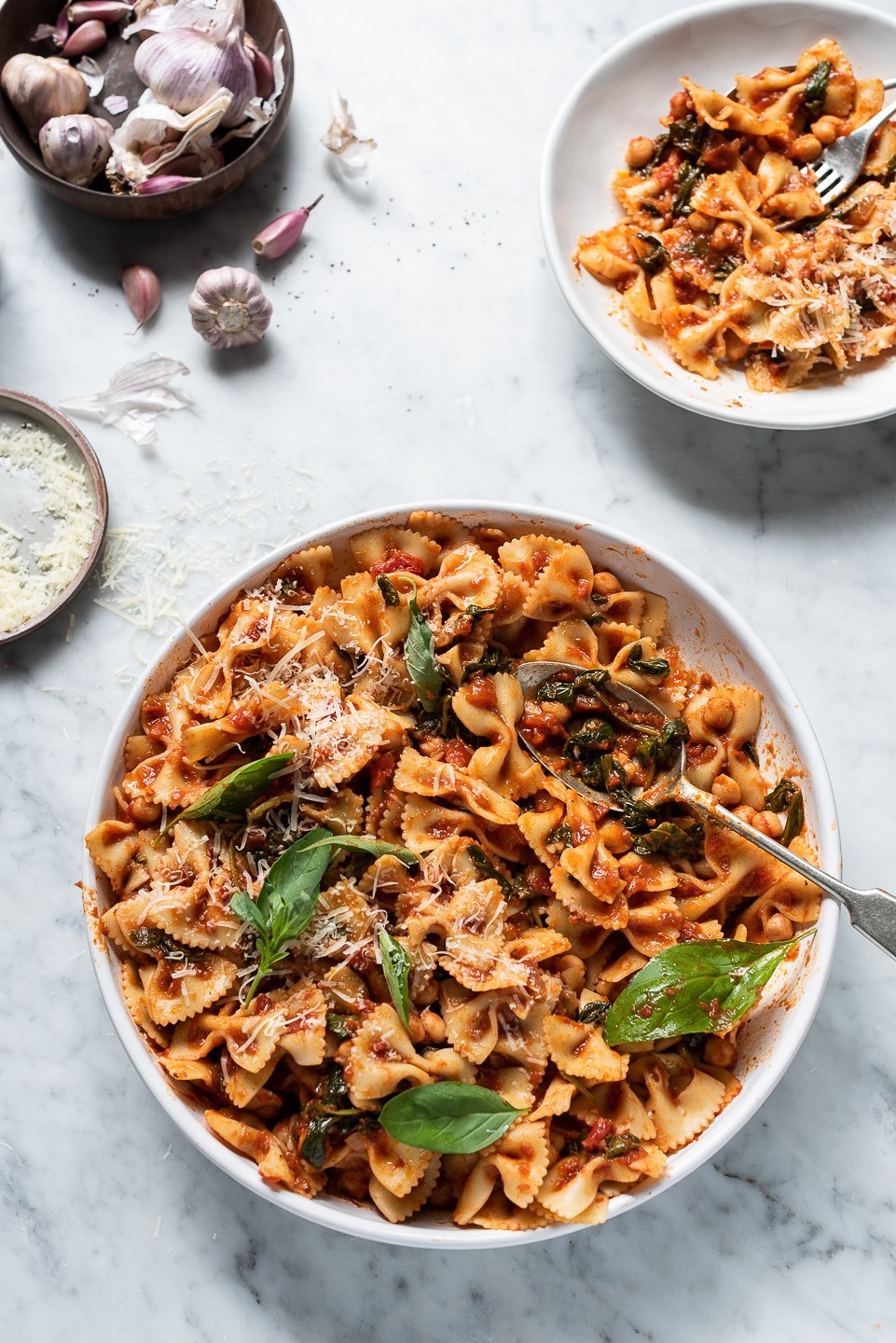 The lack of meat in this Spinach and chickpea pasta is compensated by a deeply flavourful sauce. To bolster the flavour, I add a splash of balsamic vinegar and sundried tomato pesto. It's untraditional but very good. When cooking pasta, the general quota rule is 75-100g dry weight pasta per person. I used 400g here and it made ample, enough for at least 6 generous servings. Farfalle (bow-tie pasta) keeps its shape well when cooked so any leftovers can tag along to work for a desk lunch. It's best reheated. If you feel life would be better with meat, add strips of roast chicken or scrunched up pieces of panfried salami.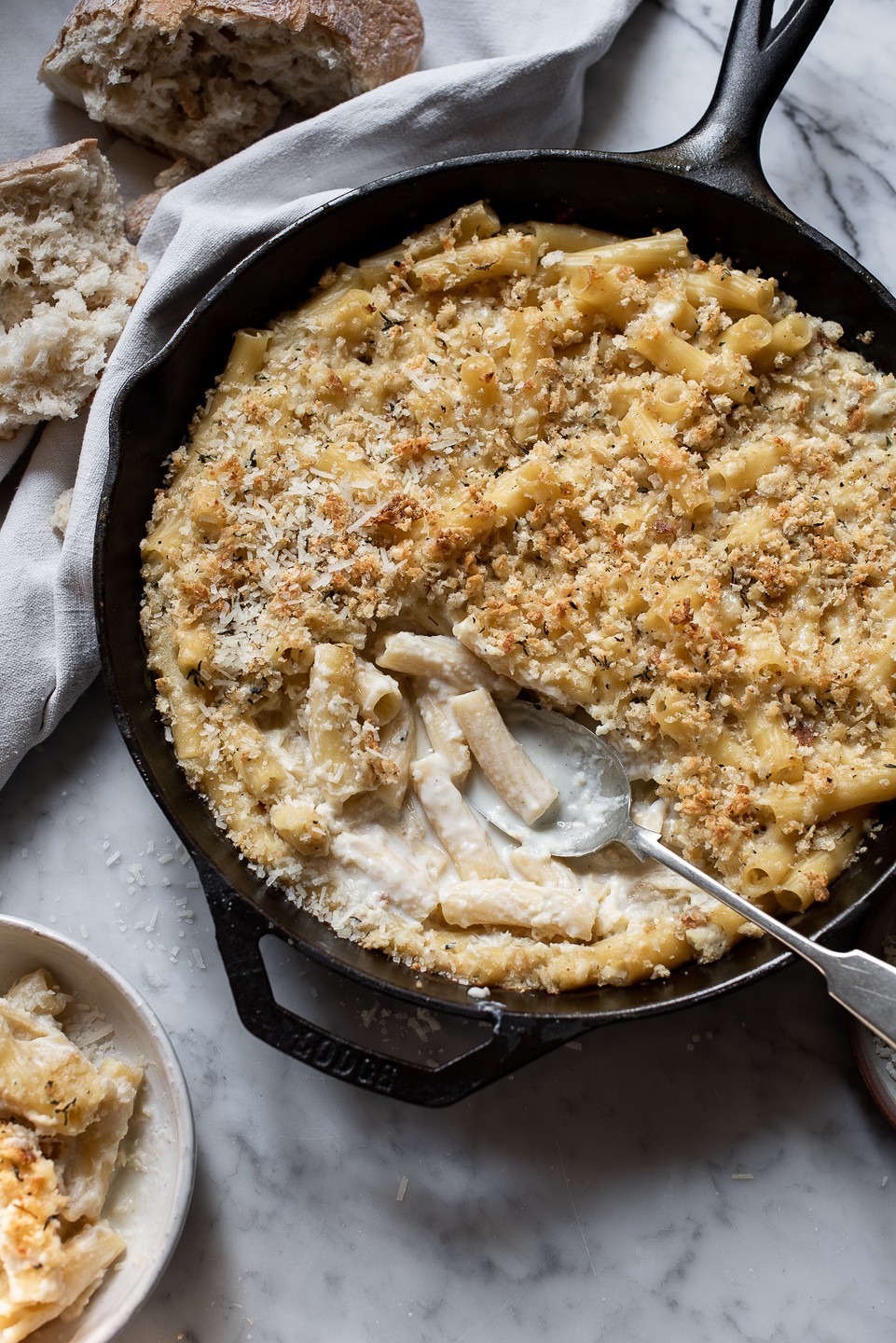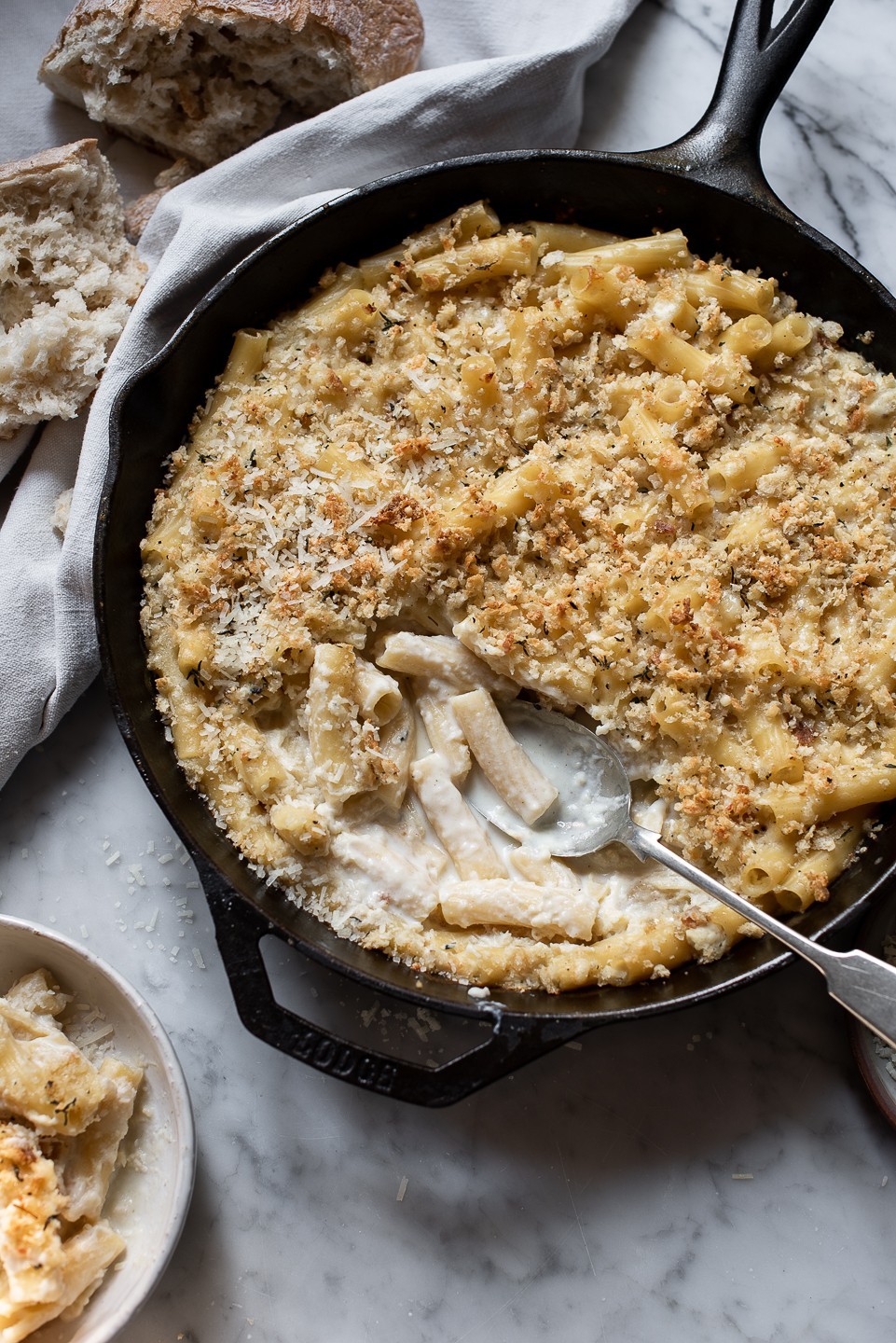 A simple head of cauliflower turned into a creamy cauliflower Creamy Mac and Cheese. If this sounds like your kind of easy, chances are you're going to love this vegetarian pasta bake.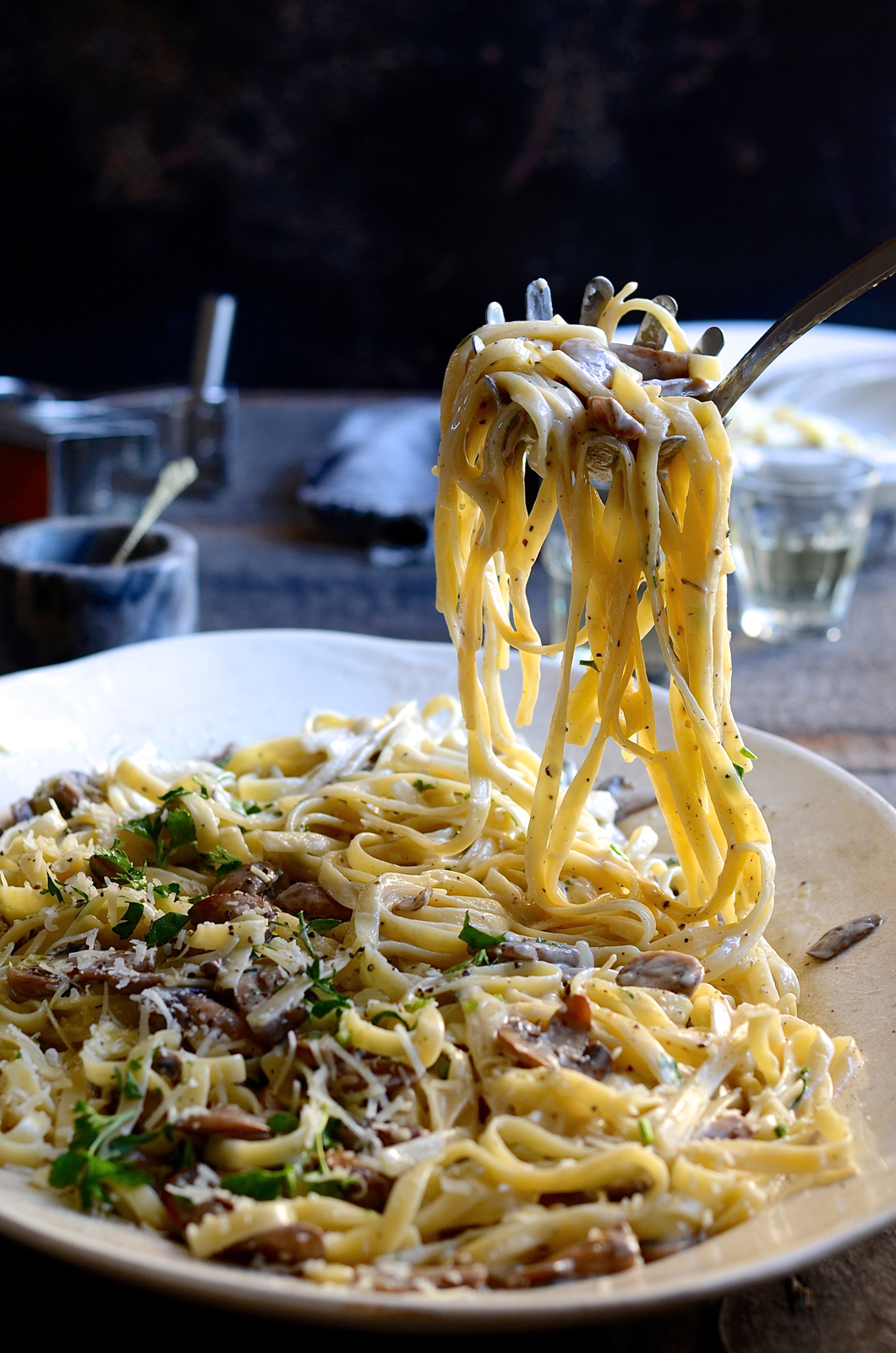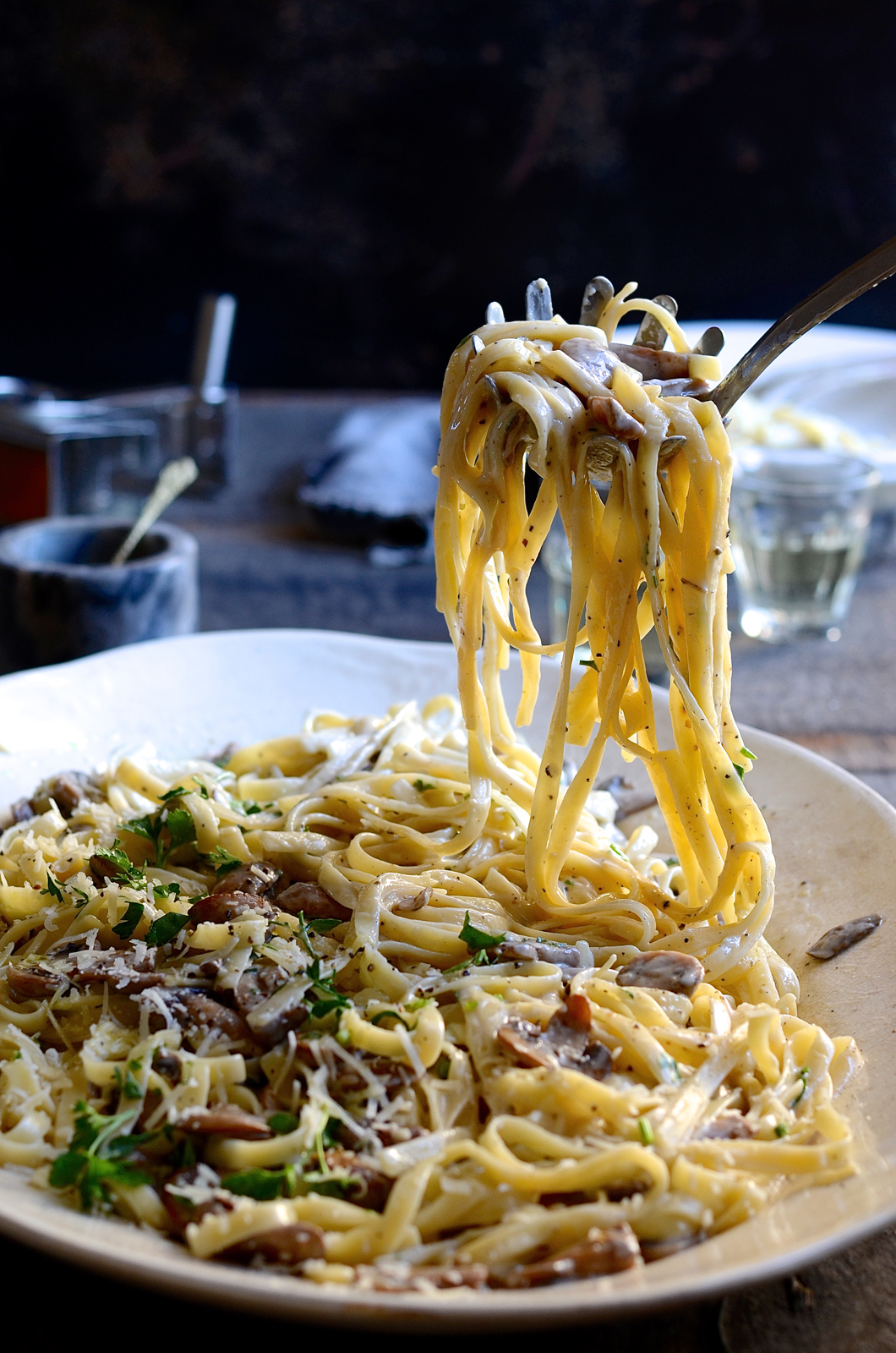 There's nothing quite as comforting as ribbons of pasta dripping with sauce. Toss through some meaty mushrooms sautéed in white wine with woody herbs, and dinner is sorted. It's my simple yet very satisfying Lemon cream mushroom tagliatelle pasta. Hearty food for easy midweek suppers.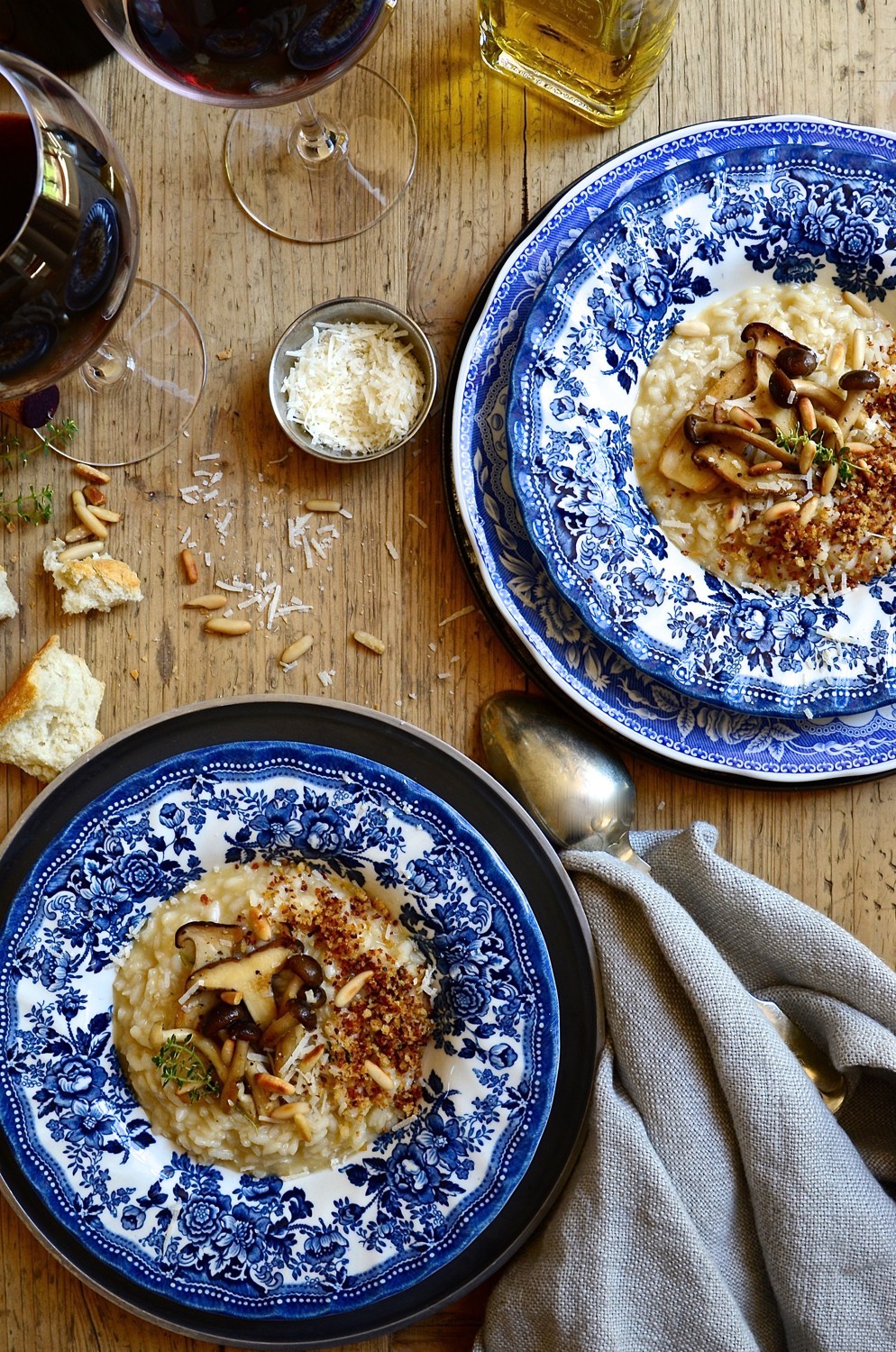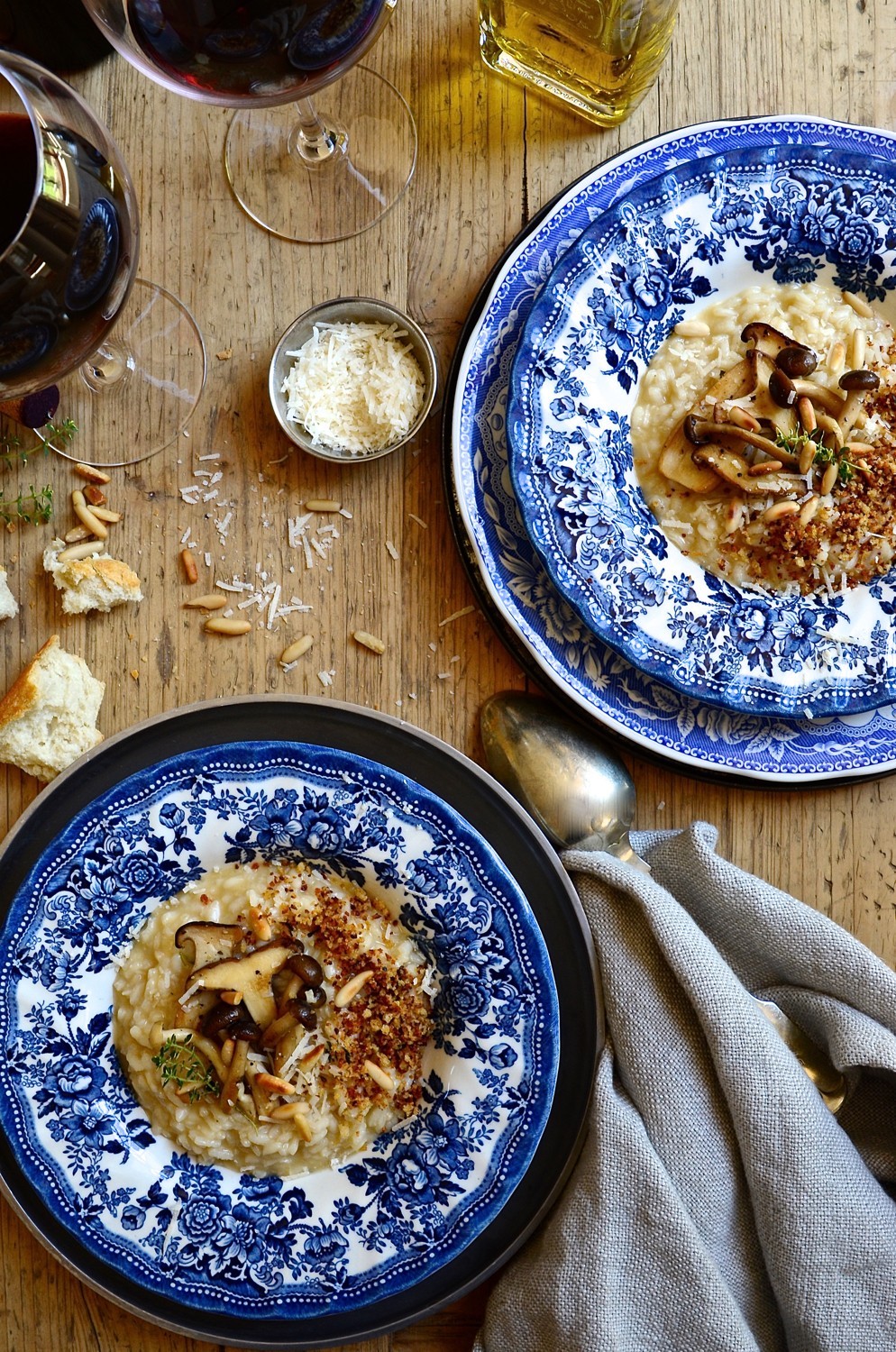 Risotto isn't difficult but requires a certain level of commitment. Constant stirring is key to a creamy risotto. Arborio and carnaroli are short grained, starchy rice and therefore best suited to risotto. Stirring agitates the outer starchy layer, which gives the risotto its signature creaminess. As any Italian will attest to, an authentic risotto does not require additional cream. If you love meaty mushrooms, this Brown butter Risotto is will not disappoint.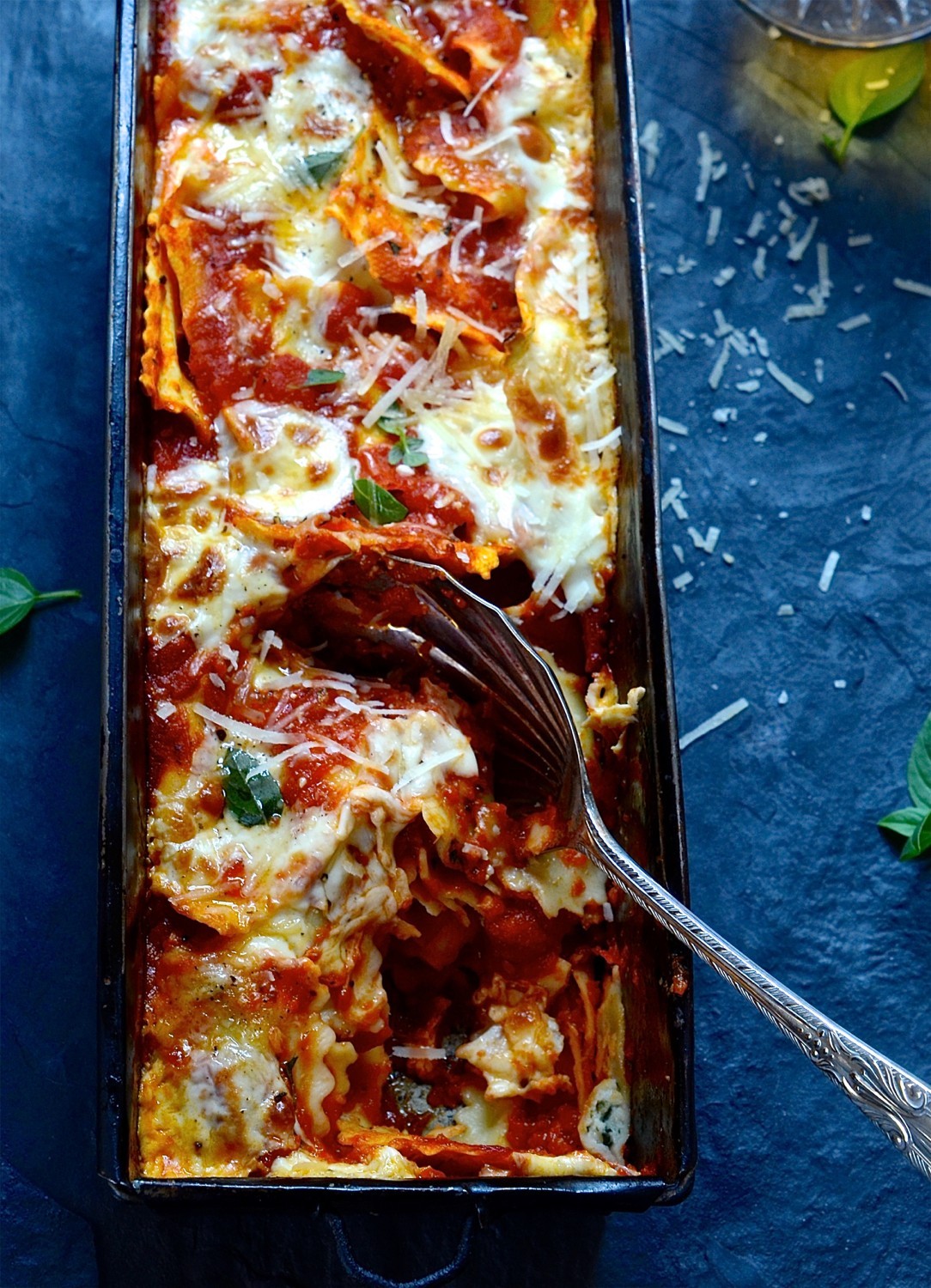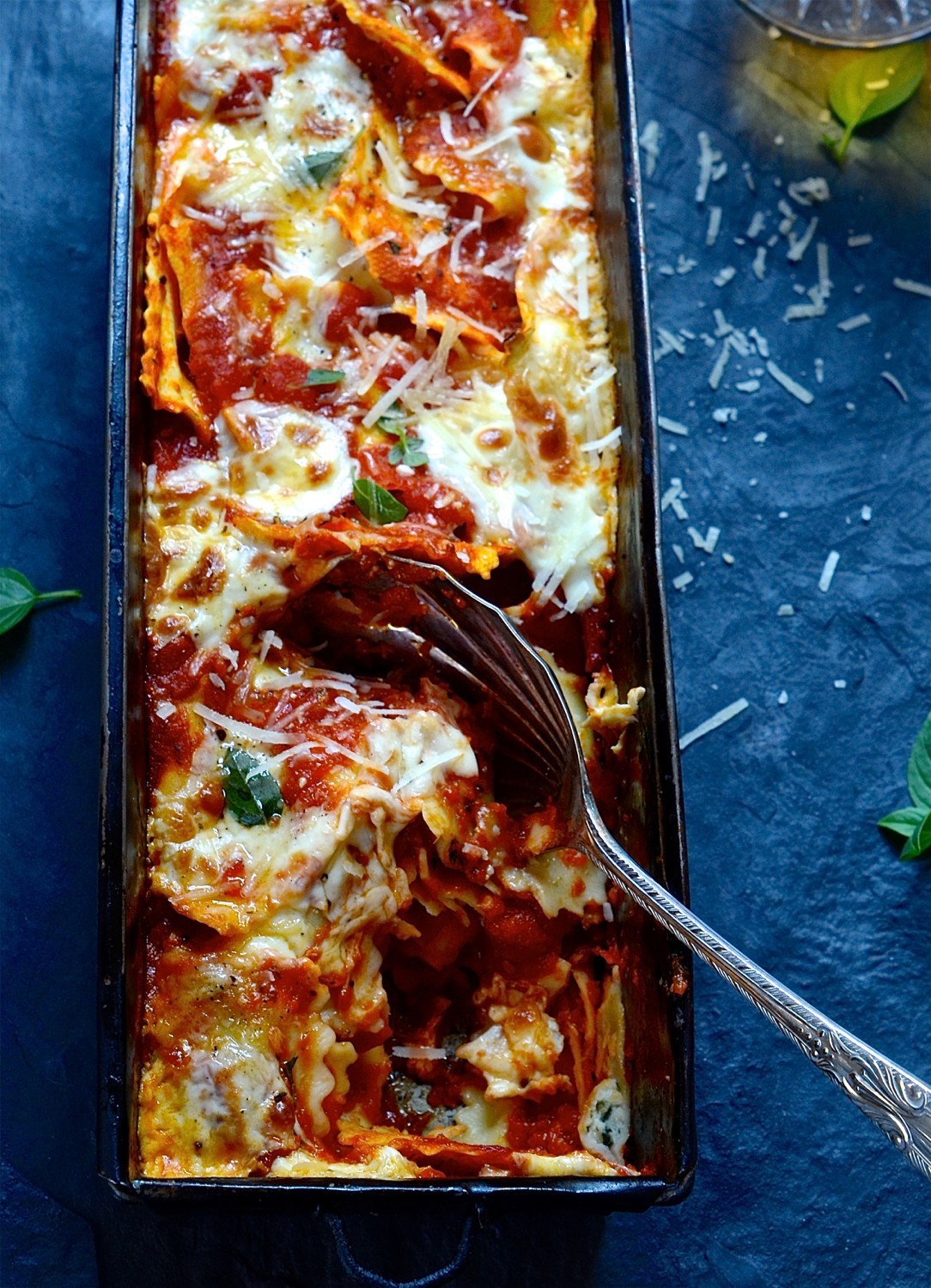 Arrabbiata Napoletana ravioli pasta bake is comfort food all the way. Pillowy soft spinach and ricotta ravioli smothered in a spicy tomato sauce. Arrabbiata, meaning angry in Italian, is given a kick of heat with the addition of dried red chilli flakes.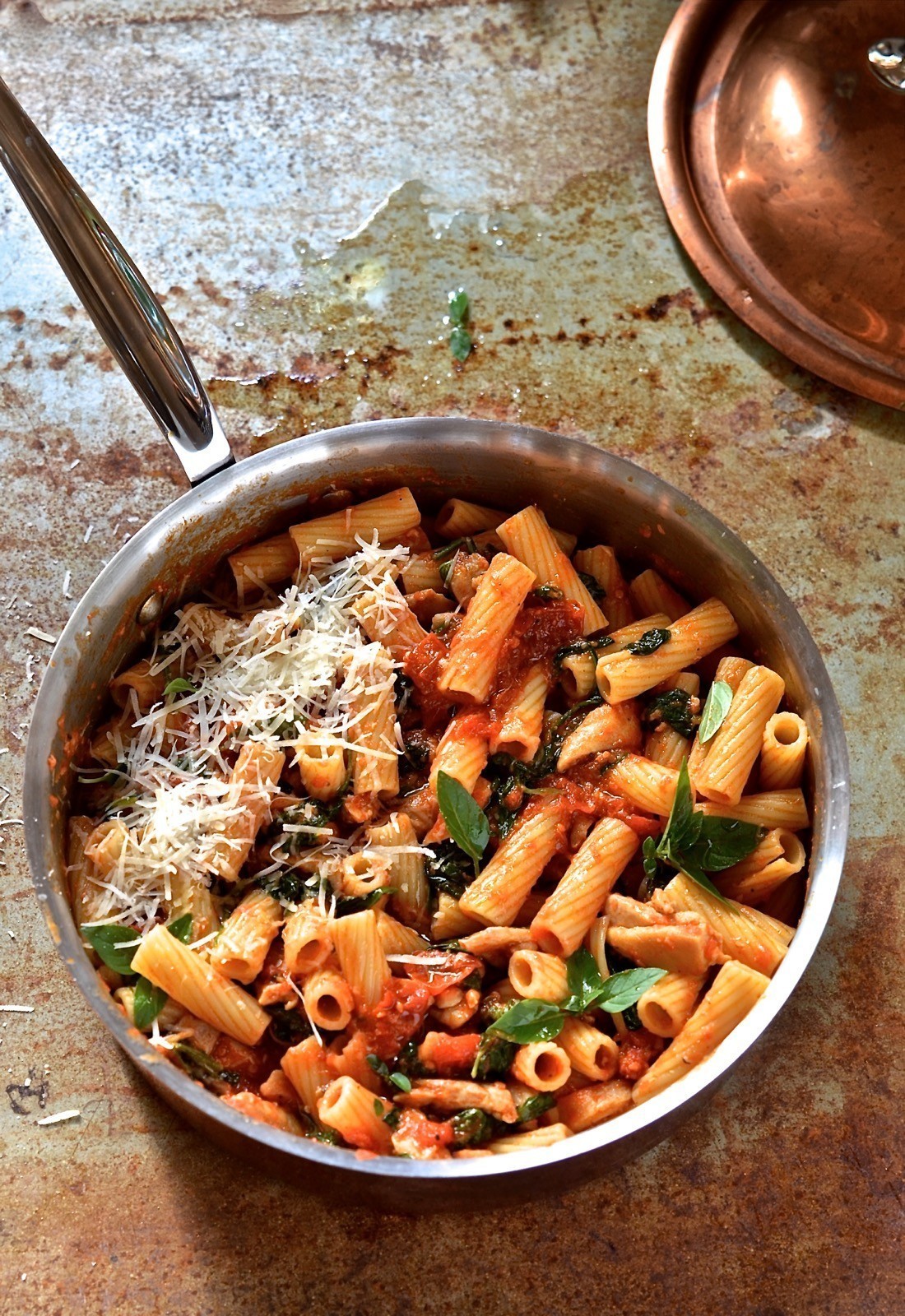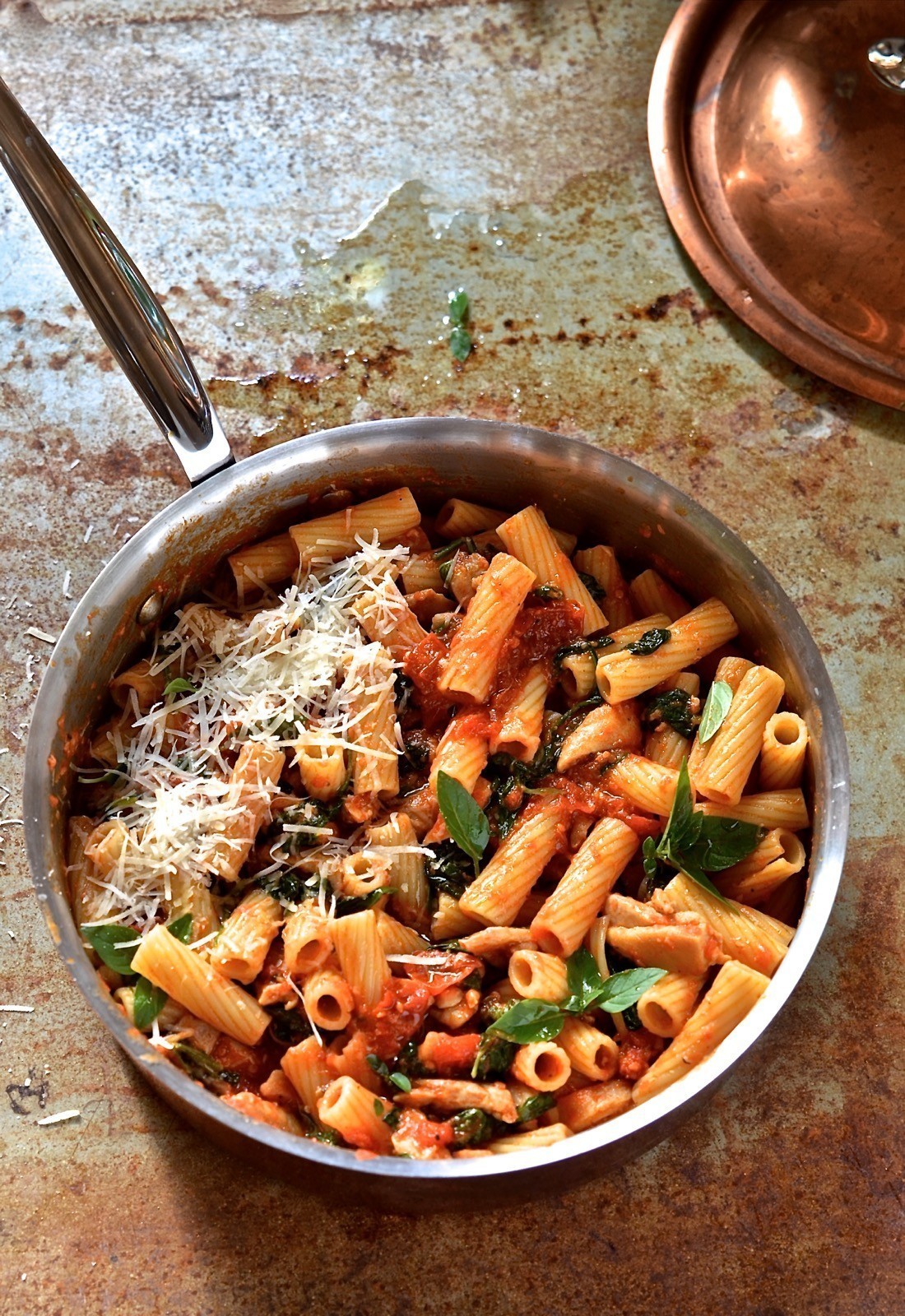 When you have hungry mouths to feed and little time, a 20 minute chicken and spinach pasta recipe is the way to go. The sauce comes together in minutes.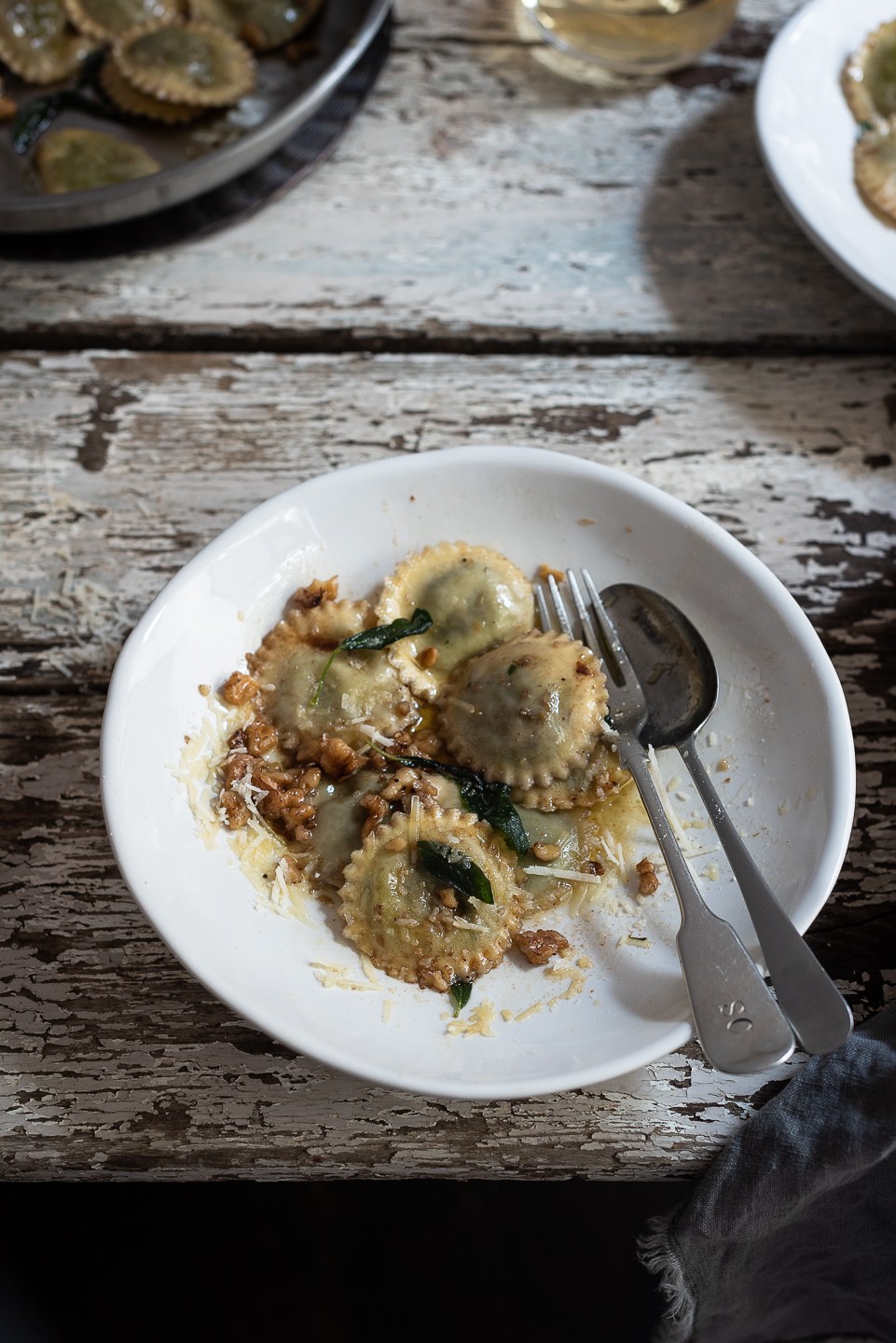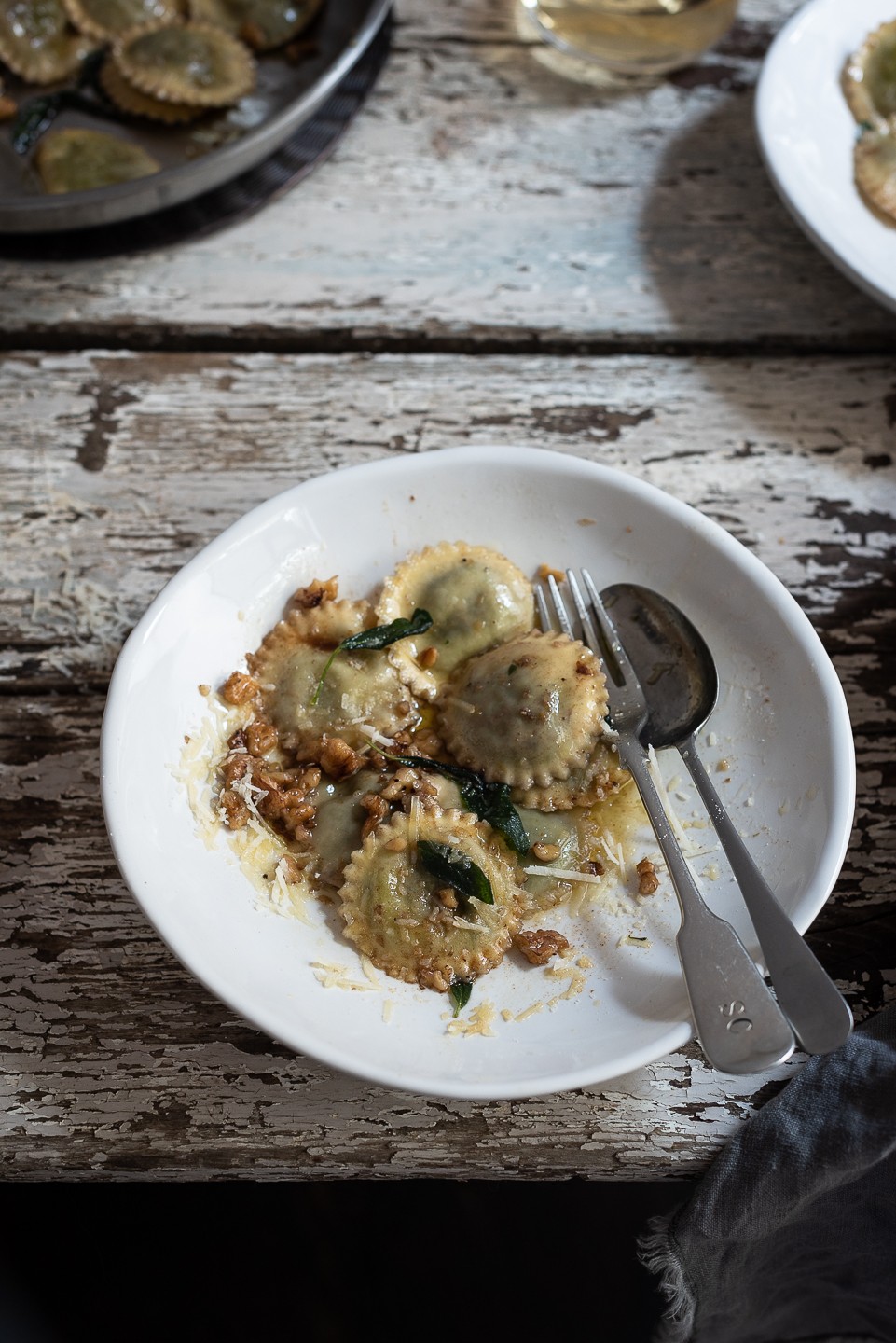 Pillowy soft ravioli, brown butter, sage and parmesan. This walnut and sage ravioli is easy comfort food. From start to finish, you're in it for 10 minutes.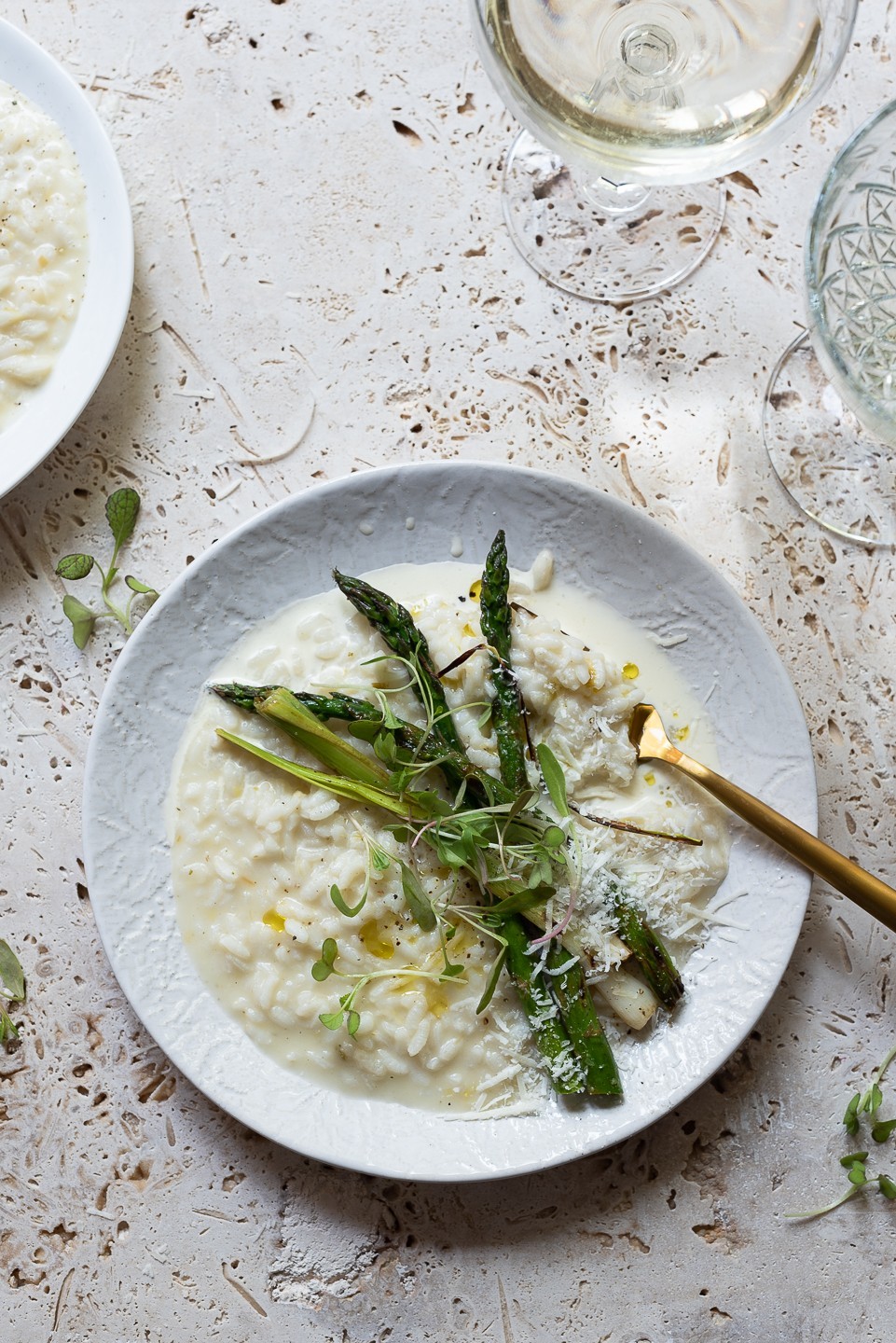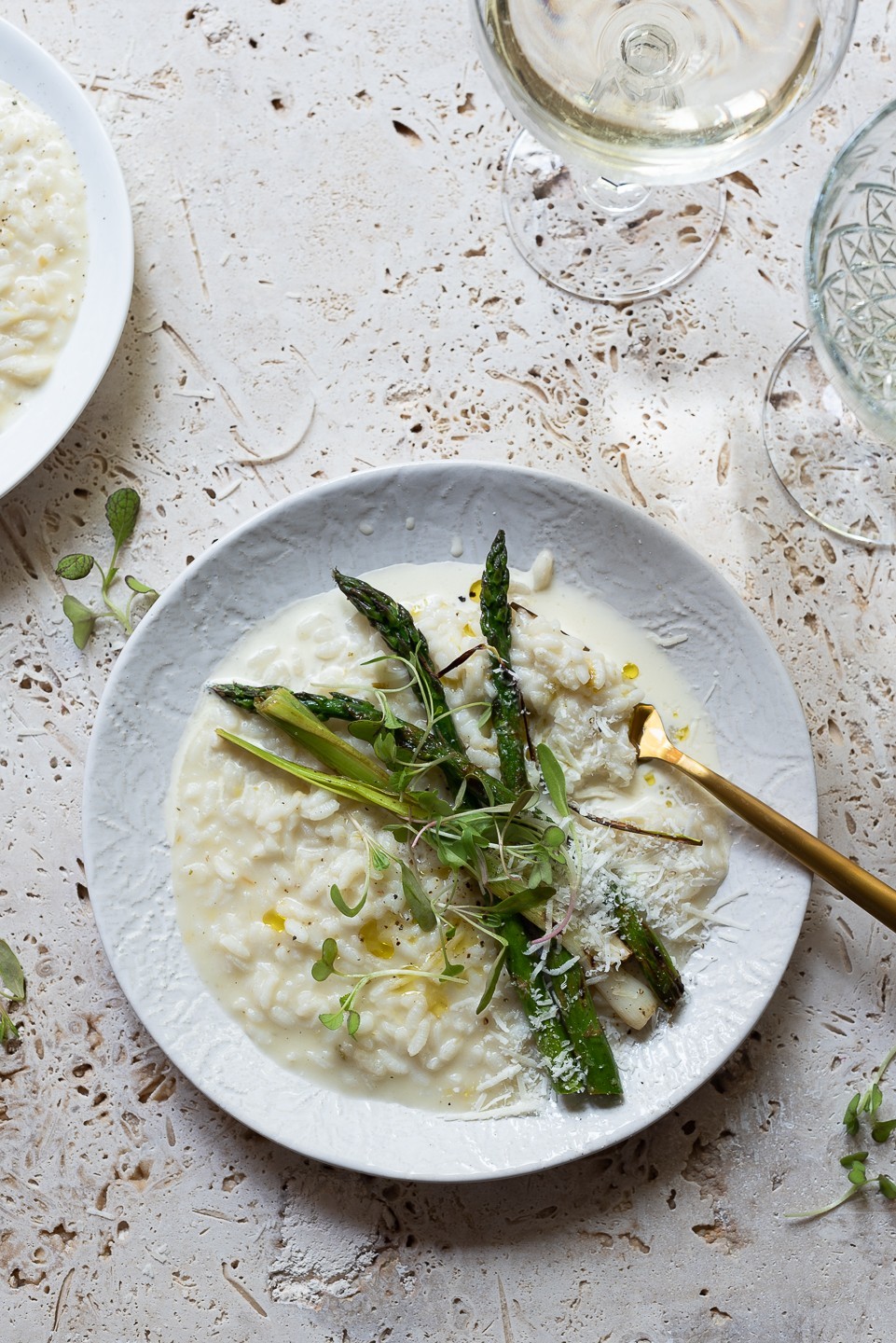 When you need a hands-free creamy risotto, this is the recipe to make. Like all well-behaved food, it looks after itself. Ten minutes in the Instant Pot and you'll be gliding out the kitchen with perfectly cooked charred leek and asparagus risotto. Here's how to do it….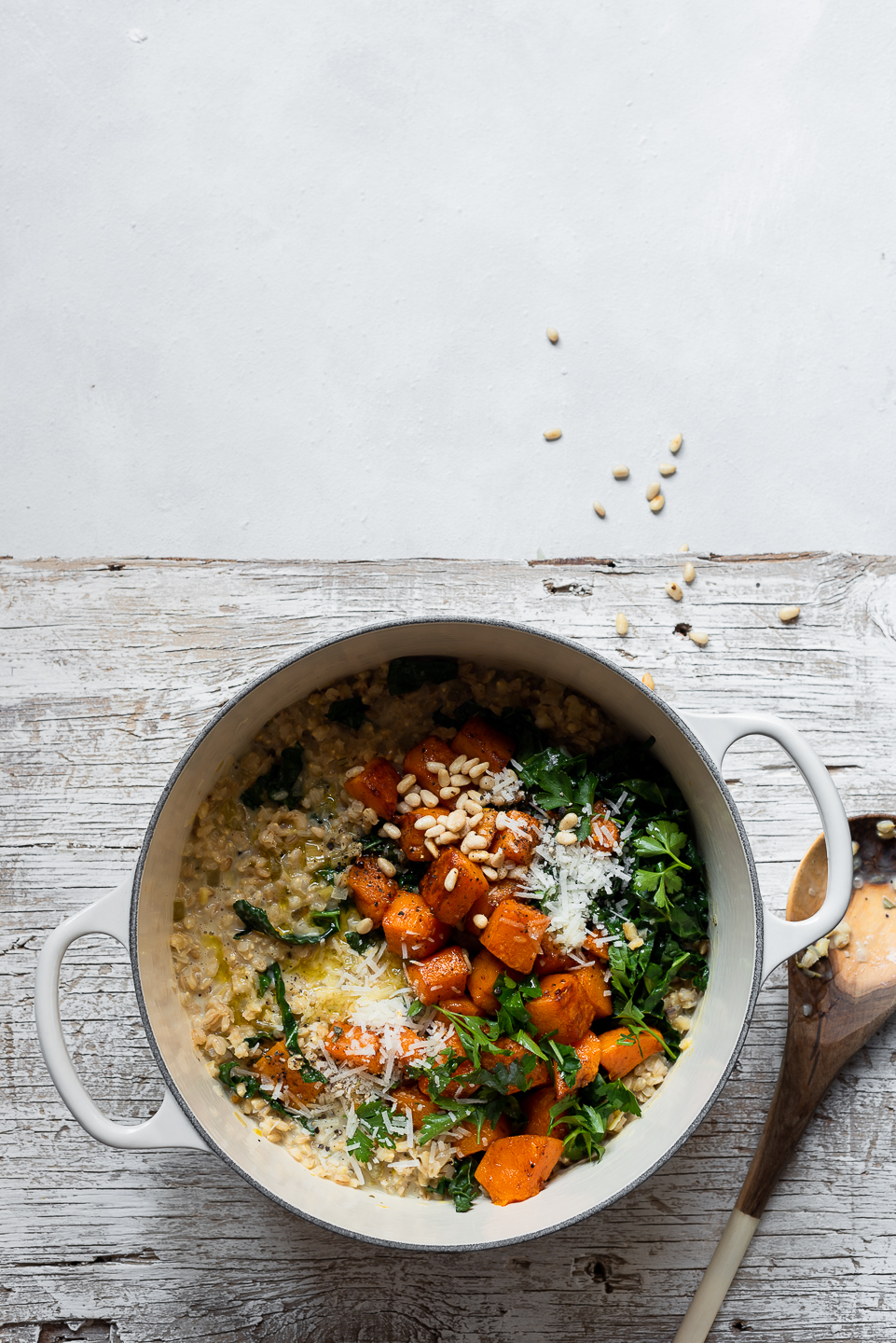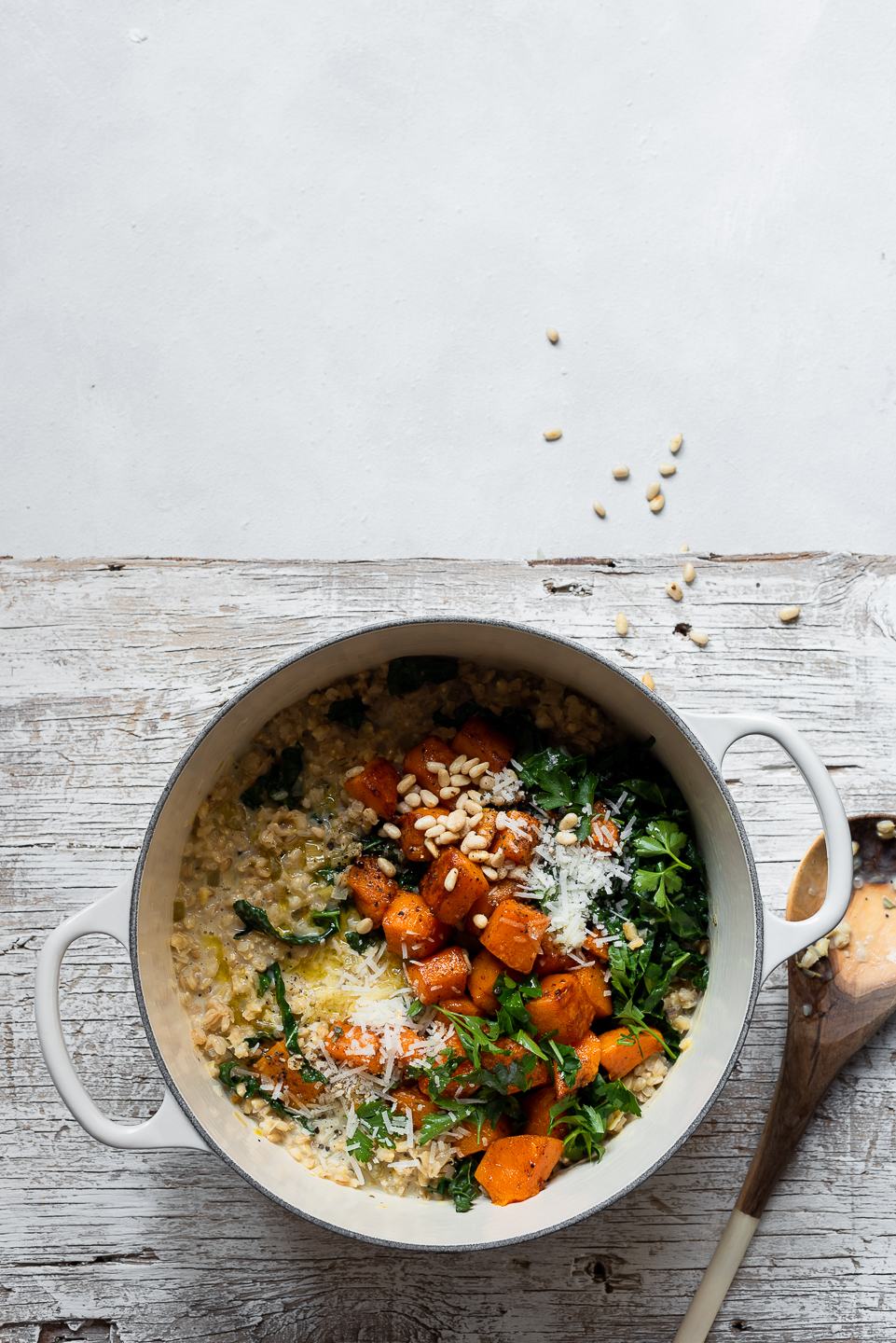 For this roast butternut risotto I've replaced traditional carnaroli or arborio rice with barley. Pearled barley has a slightly chewy texture and nutty flavour making it the ideal grain in this deliciously wholesome, barley risotto. While a proper risotto requires continual stirring, this recipe is the low maintenance cousin. For my vegetable-rich barley Risotto, I've added leeks, kale and roast butternut. Kale adds a slightly bitter edge, countering the caramelised butternut and creaminess of the barley perfectly.