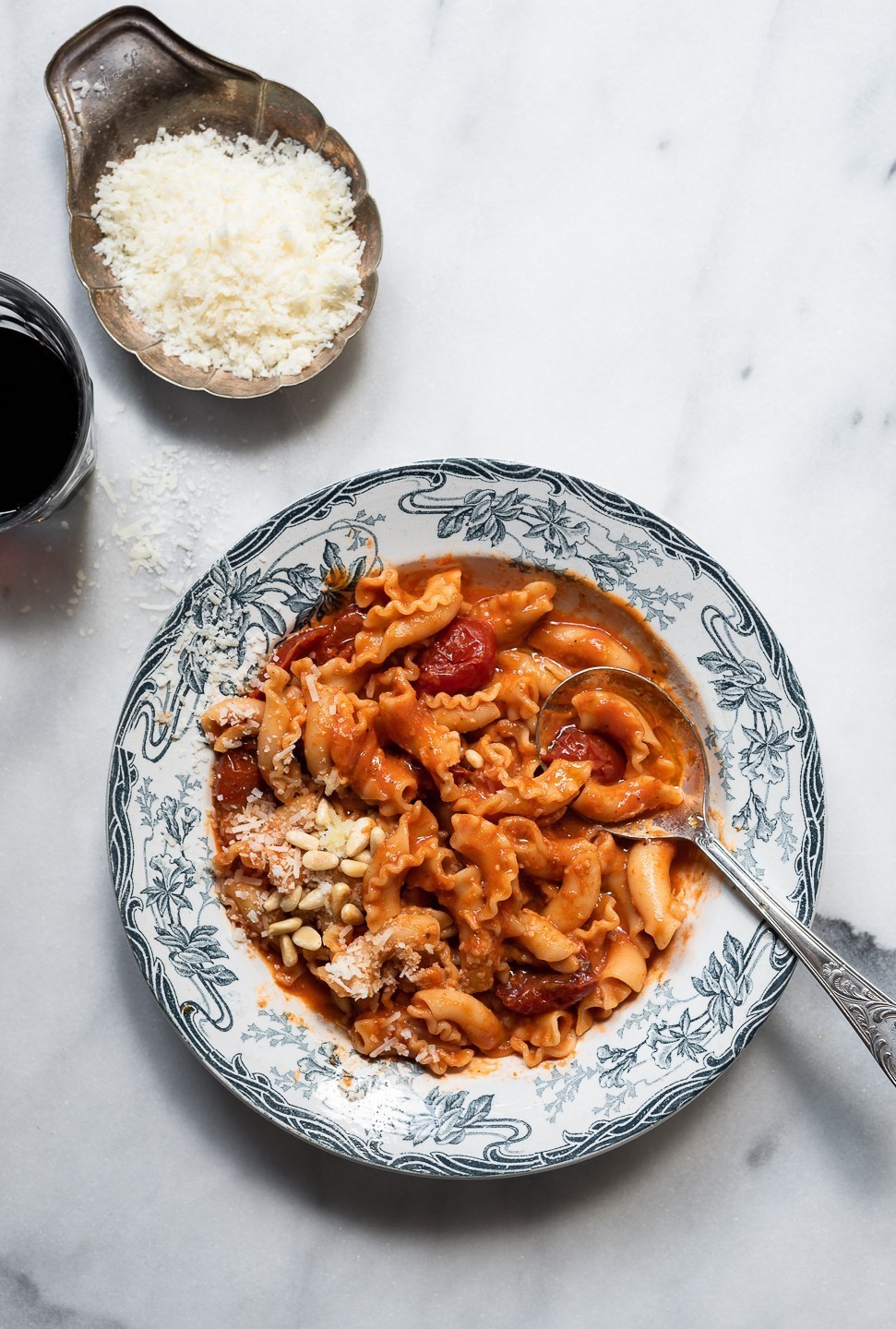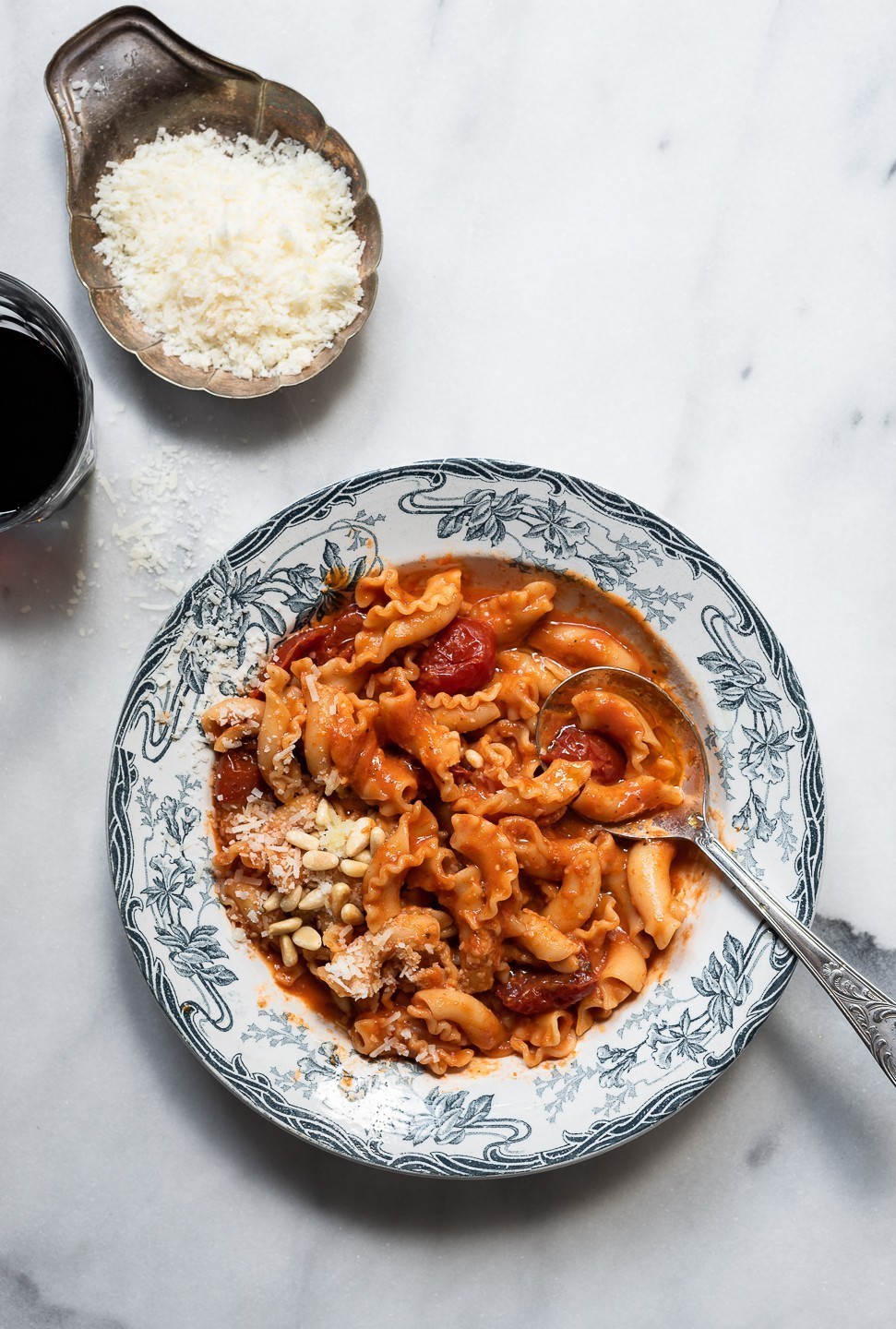 As lockdown becomes increasingly challenging and the stack of dishes the best exhibit of organic growth, easy food becomes more and more attractive. I made this Simple roast Napoletana Pasta a couple of weeks ago, near the beginning of our stay at home season. I think it might be in the top three best isolation meals. It's pasta, after all. Besides tasting like Italy from afar, it's escapism through food and possibly the most delicious way to travel. It's also semi hands-free cooking using Pantry Staples and a couple of bits and bobs from the fridge, in this instance, parmesan. That said, bear in mind that cooking protocol in lockdown is subjective and thus open for improvisation and random swaps with anything that looks available or idle. Use what you have and make it up as you go. If anything, we've come to realise that food rules are out the window and a new era of – cook what you can – is the dish of the day. No parmesan? Use that day old ciabatta to make a rustic pangrattato, the thrifty cucina povera way of mimicking the rubbly saltiness of parmesan. To finish, I added a handful of toasted pine nuts. Failing that, walnuts fit the profile too. When it comes to anything nutty, always toast them in a dry pan to ensure the flavours are intensely wooded.
About the Roast Tomato Napoletana. It riffs on the famous Italian tomato sauce. If you're purist about your sauce recipe remember, these are unprecedented times which means latitude to improvise. Also, roasting the tomatoes renders a candied sweetness that is certain and gutsy. Before a quick blitz in the processor, I remove a portion on the roast cherry tomatoes to toss through just before serving. It adds wonderful sweet pockets of flavour. All in all, not too shabby for a casual weeknight supper.
Simple roast Napoletana Pasta
Serves 4
olive oil, for roasting plus extra to serve
700 – 800g cherry tomatoes, halved
2.5ml (1/2 teaspoon) red chilli flakes
5ml (1 teaspoon) dried oregano
several sprigs, fresh thyme
1 garlic clove, skin on, wrapped in foil
250ml (1 cup) vegetable stock
parmesan cheese, grated
toasted pine nuts, to serve (optional)
salt and freshly ground black pepper
400g pasta
Preheat the oven to 200º C. Arrange the tomatoes on a large baking sheet. Drizzle generously with olive oil. Scatter over the chilli and oregano, then season with salt and black pepper. Add the thyme and toss together to coat. Tuck the thyme under the tomatoes to prevent catching. Add the wrapped garlic to the tray and roast for 40-50 minutes. Toss the tomatoes half way through to ensure even cooking.
Remove a quarter of the tomatoes and set aside. Pick out the hard thyme stems and press the garlic out of the skin. Transfer the remaining tomatoes and pan juices to a blender. Blitz together until smooth. Add 3/4 to one cup of warm stock to thin the sauce.
Cook the pasta in well salted water until al dente. Reserve one cup of cooking water, then drain. Scrape the tomato sauce into the same pot and heat through. Tip in the pasta and toss together. Add as much of the reserved cooking water as you think necessary. Add the reserved tomatoes and adjust seasoning to taste.
Serve immediately with the plenty parmesan and toasted pine nuts.
Here is the link to the cheeky pangratatto crumbs. I've also added several of the most popular simple pasta recipes you may love to try:
Brown butter risotto with exotic mushrooms
20 Minute chicken and spinach pasta