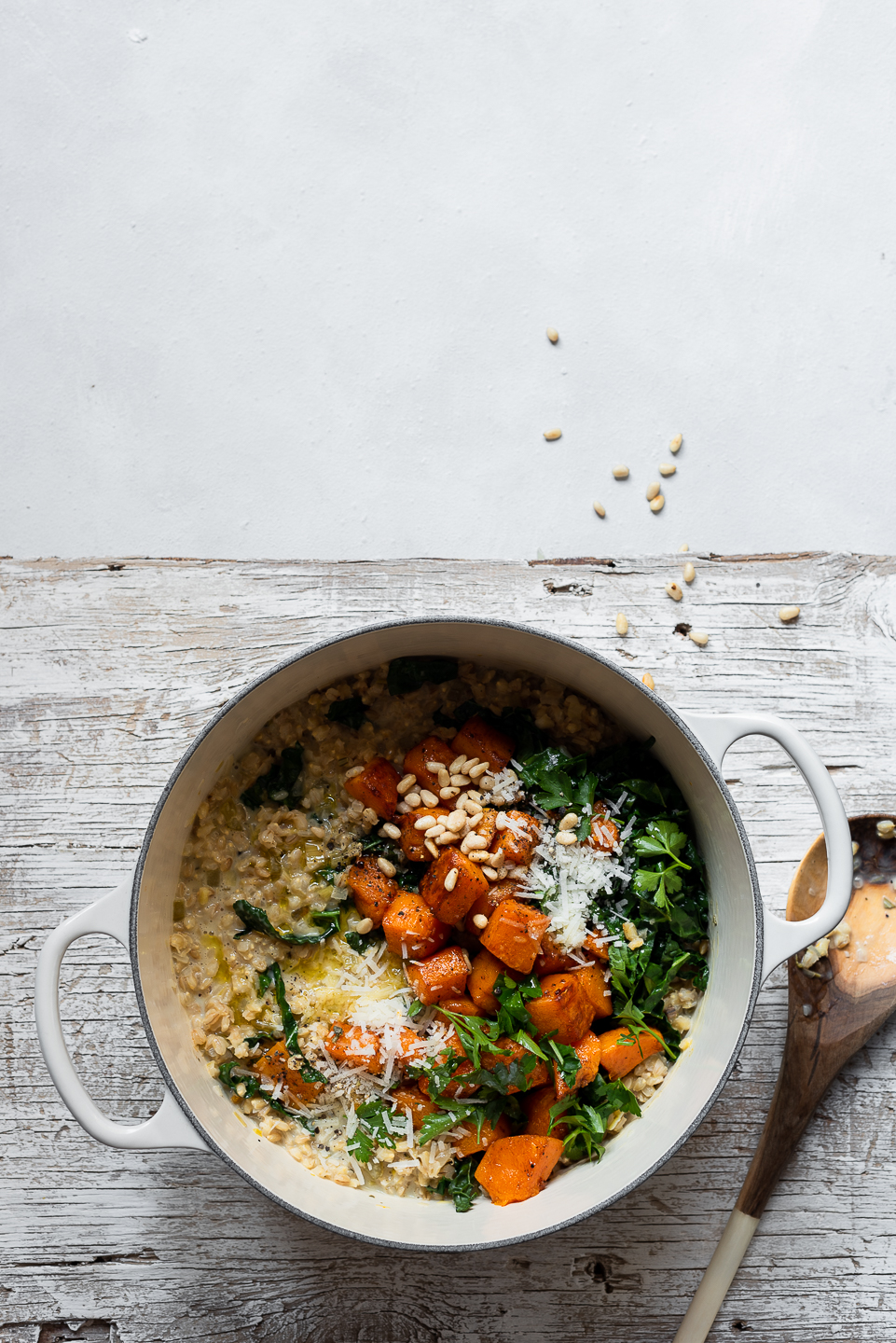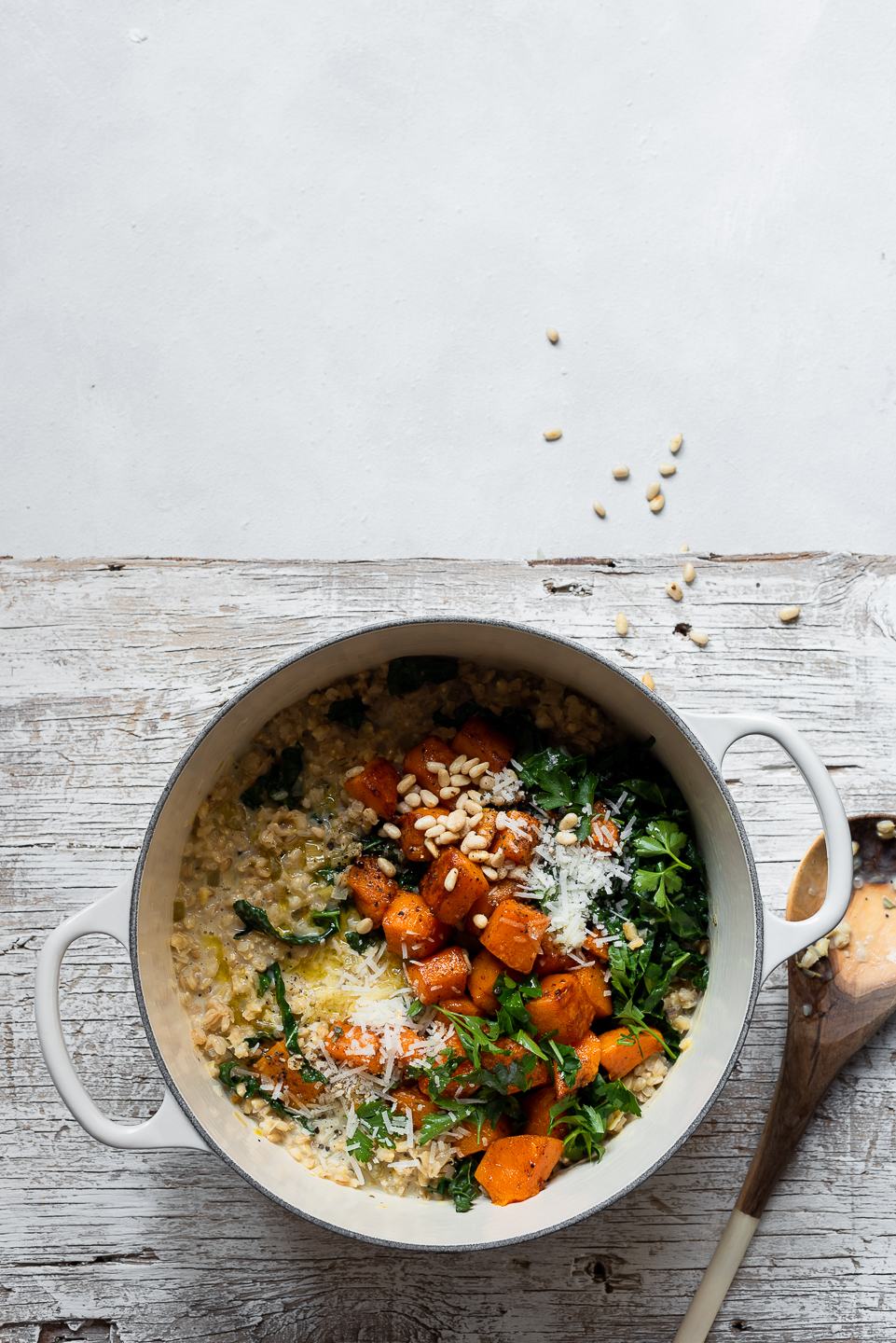 While not difficult at all, a classic risotto requires a watchful eye and constant attention. The reward? A pearly-grained bowl of Milanese comfort. The dish itself is simple but with a soft buttery texture that ripples gently when done well. Here, I've replaced traditional carnaroli or arborio rice with barley. Pearled barley has a slightly chewy texture and nutty flavour making it the ideal grain in this deliciously wholesome, barley risotto. While a proper risotto requires continual stirring, this recipe is the low maintenance cousin. For my vegetable-rich barley Risotto, I've added leeks, kale and roast butternut. Kale adds a slightly bitter edge, countering the caramelised butternut and creaminess of the barley perfectly.
A few words on substitutions
Kale: Curly kale, Swiss chard and baby spinach will work. Baby spinach needs only a gentle wilting, so omit the flash frying step.
Crème fraîche : Authentic white-riced risotto does not require cream. Because barley lacks a starchy outer layer, adding a creamy element is essential. Fresh cream, reduced fat cream or crème fraîche will do.
White wine: Not essential but definitely best with wine. If you're savouring your last bottle of Chenin, replace with additional stock.
Side Note:
With the launch of my new Ebook, Beautiful Home Food, there were unfortunately a few technical issues with the online shop. We apologise for any inconvenience it may have caused. The checkout process has since been rectified for efficiency and ease, so we're good to go. I've loved seeing what you've been cooking and baking from the book over the weekend. It seems the Coconut and Sunflower seed Rusks are already a favourite!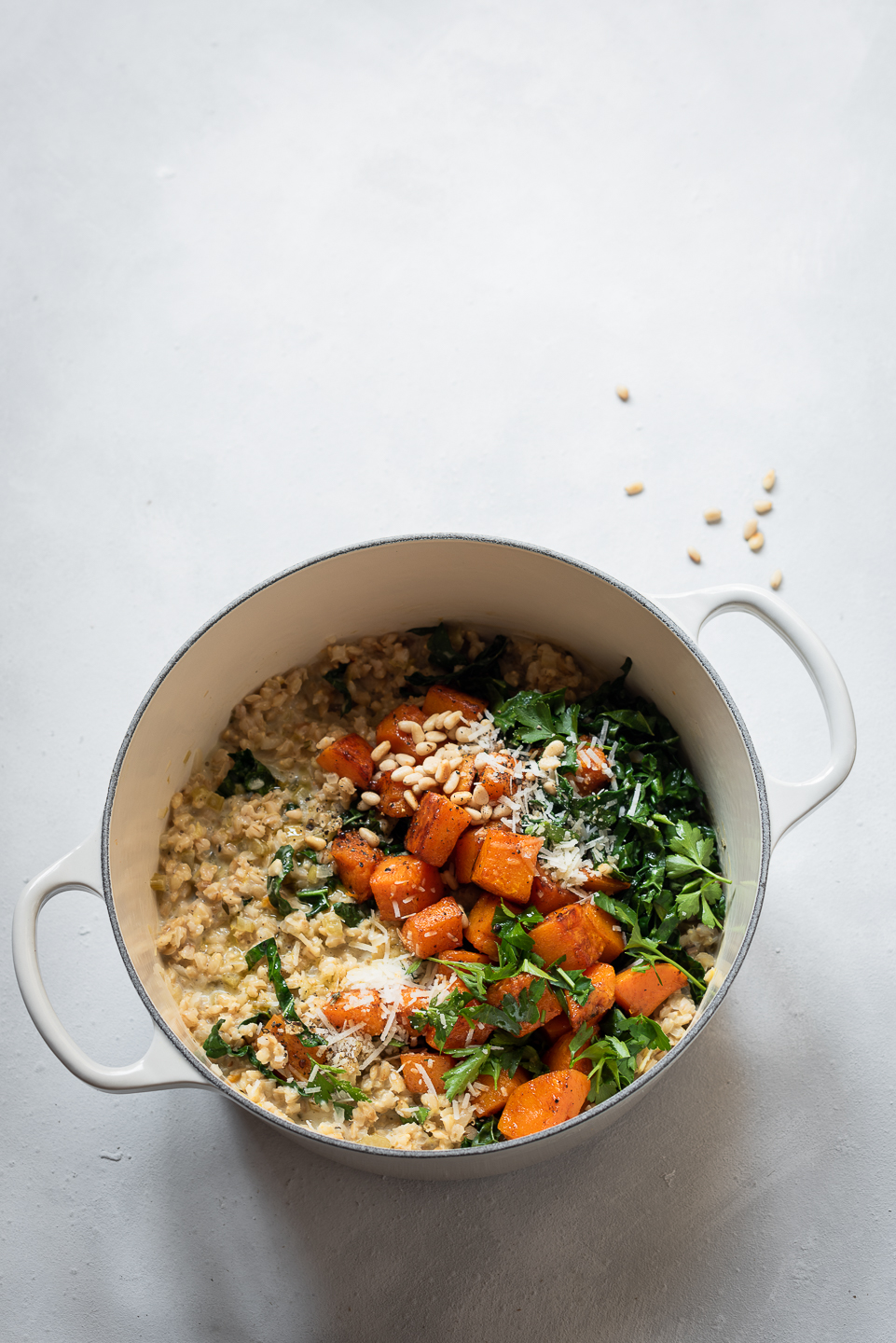 Barley Risotto with Kale and Butternut
Serves 6
olive oil, for cooking and roasting
1 tablespoon butter
500g butternut, peeled and roughly chopped
5ml (1 teaspoon) dried oregano
2 med-sized leeks, rinsed and thinly sliced
1 small white onion or shallot, finely diced
2 stems celery, finely diced
1 clove garlic, minced
1 sprig rosemary, finely chopped
zest of 1 lemon, plus 1 tablespoon juice
1  1/3 cup barley, rinsed and drained
80ml (1/3 cup) white wine
3 – 3 1/2 cups hot vegetable stock
1/2 cup Parmesan, grated, plus extra to serve
125ml crème fraîche or cream (reduced fat will also work)
about 200g kale, centre rib removed and shred-cut
1/4 cup pine nuts, toasted
basil and flat leaf parsley, roughly chopped, to finish
Preheat the oven to 200º C.
Arrange the butternut on a roasting sheet and drizzle with olive oil. Season with oregano, salt and black pepper. Roast for about 45 minutes until cooked through and slightly charred.
For the risotto, heat the butter and 1 tablespoon olive oil together in a heavy-based pan. Add the leeks, onion and celery and sauté over a medium heat until softened, about 6-8 minutes. Add the garlic, rosemary and lemon zest and cook for another minute or two.
Add the barley and cook for several minutes until the excess liquid is absorbed. Deglaze with the wine, if using, and reduce by half. Add 2 1/2 cups of stock and bring up to the boil. Cover partially with a lid and simmer over a medium high heat for 35-40 minutes, or until the barley is tender. Stir through the parmesan and crème fraîche and heat through. Add the lemon juice and a little more of the reserved stock to loosen, if needed.
In a separate pan, heat 2 teaspoons olive oil. Flash-fry the kale for several minutes. Season lightly with salt and black pepper.
Gently fold half the roast butternut and kale through the risotto, serving the remainder on top. Scatter over the pine nuts and parmesan. Drizzle with extra virgin olive oil and finish with the chopped herbs.
For more Meatless Monday recipe inspiration, here are a few blog favourites:
Roast butternut crustless quiche with feta and pine nuts
Tomato galette with ricotta and basil oil
Arrabbiata Napoletana ravioli pasta bake
To shop the new Ebook, click Here