Triple chocolate banana muffins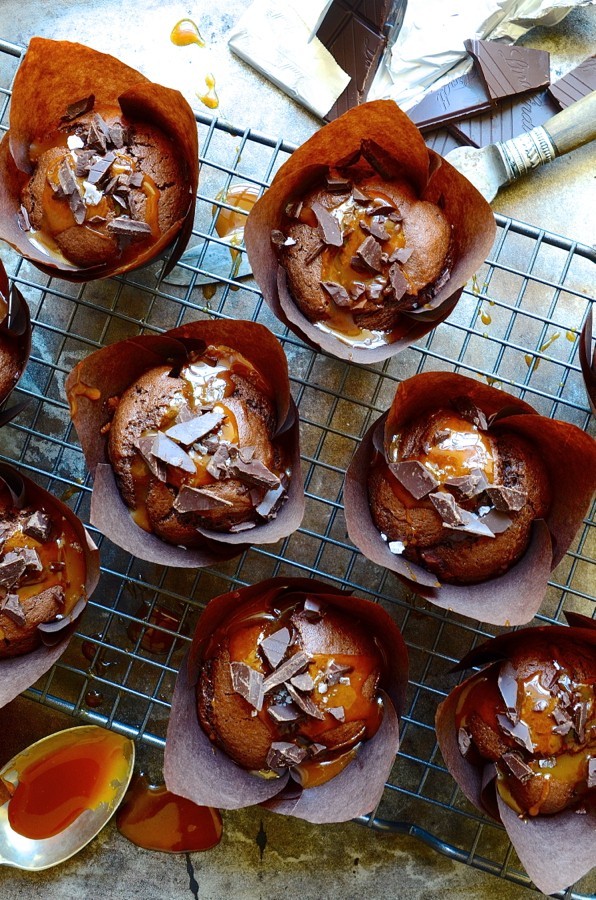 Tomorrow is Cake Friday, so muffin cakes it shall be. There's a lot been said about indulgences and pleasures. In hushed tones, I hear, 'Oh, it's my guilty little pleasure.'  Might I just add that never ever, like NEVER, have I heard these words uttered from a man? No guilt there ladies! Baffling to me is how are happy endorphins meant to co-exists with guilt, a word rooted negativity?
I have a friend who has the most wonderful way with words. There's a phrase that she uses to describe life in all it's brilliance and darkness, highlighting both the best and worst of circumstances.  I find this helpful. She calls it shine and shadow! These muffins are guaranteed to bring a shine to your shadow. Clearly they're not meant for everyday 'scoffing' and certainly don't have the potential to change the world, but when mix up a batch of these triple chocolate banana muffins drizzled with salted caramel sauce, gloom will possibly lift for a moment of welcome respite.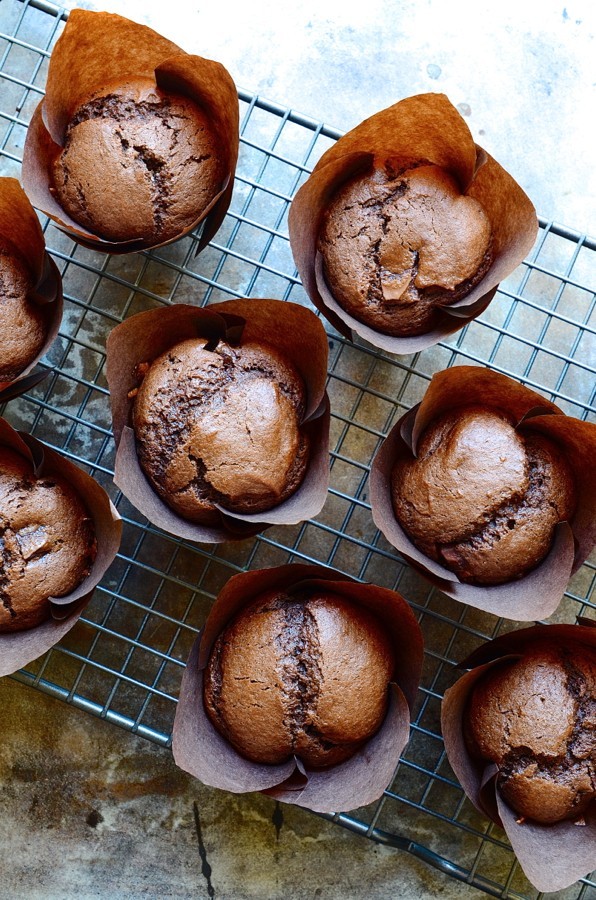 Exhibit A (above pic) is still rather modest, ranking at about 9 on the scale of muffin-liciousness. Exhibit B (below pic) is glossy and on it's way up on the yum barometer. Scattered with 70% dark chocolate shards and a pinch of sea salt and we're out the park! If you made the brown butter banana bread,  you'll know about the potential-power of two dejected bananas. Once again, we have 2 ripe bananas in the mix, which adds flavour and great texture to these indulgent muffins. The muffin batter is a simple blend and mix story. Nothing challenging there.
As with everything in life, there are rules. If you're a seasoned muffin-er, you'll know that there are steps to ultimate muffin success.
No 1 The best muffins are eaten on day ONE. (I'm sure no one will have a problem with this rule?)
No 2 If the muffin contains chocolate, it should be eaten warm for that all important ooze-factor.
No 3 Star muffins have toppings, drizzles and streusels!
No 4 Although challenging, wait just long enough for the muffins to form a crunchy, muffin-top lid. Muffin tops are where it's at.
And that's the inside scoop on muffins. Here's to a guilt-free weekend treat! See you on Meatless Monday and we'll endeavour to balance the scales!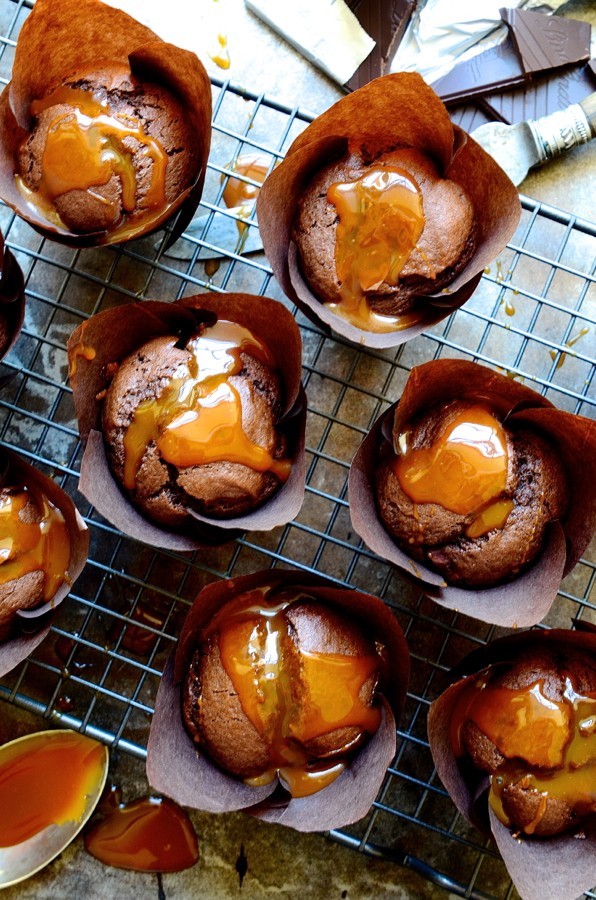 Triple chocolate banana muffins
Prep time:
Cook time:
Total time:
Ingredients
Triple Chocolate banana muffins
[br
180g all-purpose cake flour
1 teaspoon baking powder
1/2 teaspoon bicarbonate of soda
pinch of salt
120g sugar
30g cocoa
125ml vegetable oil
1 egg (xl)
1/4 cup (60ml) buttermilk
2 ripe bananas
100g milk chocolate, roughly chopped
50g Lindt 70% dark chocolate, broken into shards
For the caramel sauce, see here
Instructions
Preheat the oven to 180º C. Line a 12 hole muffin tin with paper cases. Sift together the flour, baking powder, bicarbonate of soda and cocoa. Place the sugar, vegetable oil, egg, buttermilk and bananas in a blender. Blitz until smooth. Pour the wet mixture into the dry ingredients and fold in until just combined. Add the milk chocolate chunks and fold in lightly. Spoon the batter into the muffin cases. Bake for 20-22 minutes.
Cool the muffins on a wire rack. If you're going to serve with toffee caramel sauce, waite until the muffins are cool before spooning over the sauce. Scatter with dark chocolate shards and a sprinkling of sea salt. The muffins are equally good without the toffee sauce, in which case I'd tuck in while they're still warm, with liquid chocolate pools inside!