Blueberry coconut crumble muffins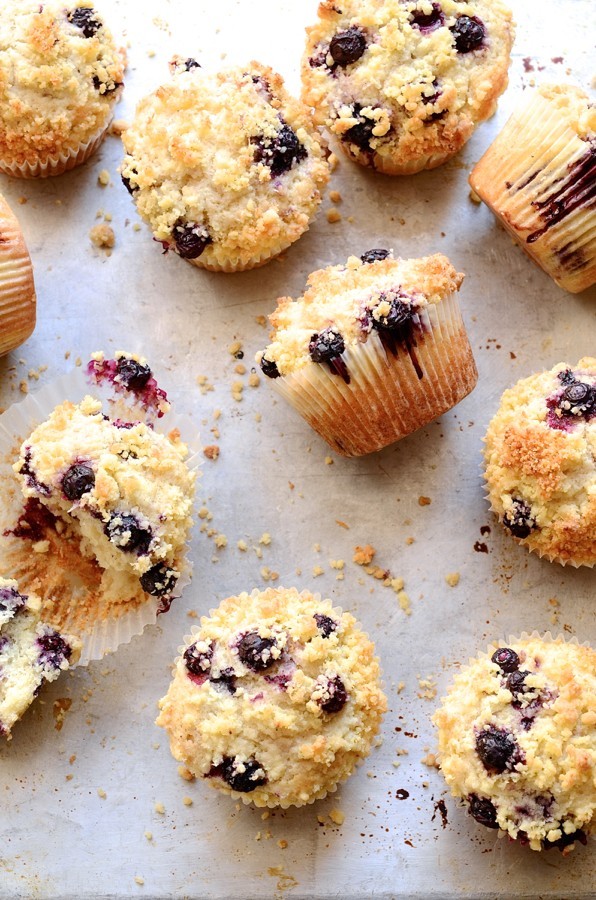 At the risk of swimming upstream and ignoring the 'Monday diethood', I'm happily kicking off the week with an explosive muffin mania celebration. Speaking of which, why has Monday been branded that day of the week when most unwelcome regimes commence? I've never heard of a diet starting on a Wednesday. It always has to be a Monday. Realistically, how does your body know what day of the week it is? Although I'm sure it understands the concept of feasting (happy weekend food), followed swiftly by the likelihood of an impending famine. No wonder it's called Blue Monday.
Good news people…… The only thing vaguely blue about around here, are these blueberry coconut crumble muffins. They're light and fruity with built-in mood boosters. Feathery vanilla cake with pops of squishy purple fruit and a crisp coconut crumble topping. Here's to my new series. It's called Take that Monday!!!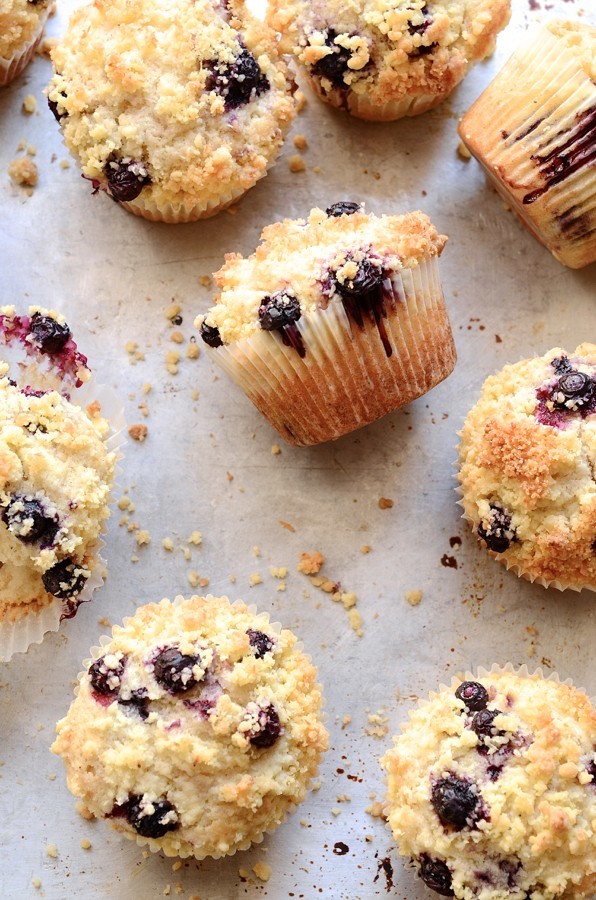 What is it about a muffin that has us so charmed? Let's be honest. It is in fact a mini cake without the frosted frills. Whatever your stance on the matter, muffins have nestled their way onto every breakfast/brunch menu worth its salt. For years, my go to breakfast muffin has been these wholemeal apple muffins with carrots, bananas, nuts and raisins. Consider it a 'fruit-saladed' muffin. Everything's in there! The other advantage of this recipe is the super handy mix and store batter. It'll keep for at least a week in the fridge which means you can have fresh bakery-style muffins everyday. With a quick look back I see a definite muffin trend happening. These banana muffin cupcakes with peanut butter and coconut cream frosting are rather special. For complete OTT satisfaction, triple chocolate banana muffins with salted caramel are the only way to go.
Here's the secret for making the best muffins. Don't overmix! Slightly lumpy batter is good. It makes for an extra light crumb. Great flavouring is also really important, so be generous with added fruit – fresh or dried, ground spices and nuts. A naked muffin is out so go big on the toppings. The more crumble you can pile on, the better. Adopt the more is more policy here. Less can be for later…… A great tasting muffin is a brave little sole needing neither butter nor jam. It stands alone and says, eat me as I am!
A good muffin requires nothing more than a steaming cup of coffee, a muffin-loving friend and some girly gossip. Sounds good to me.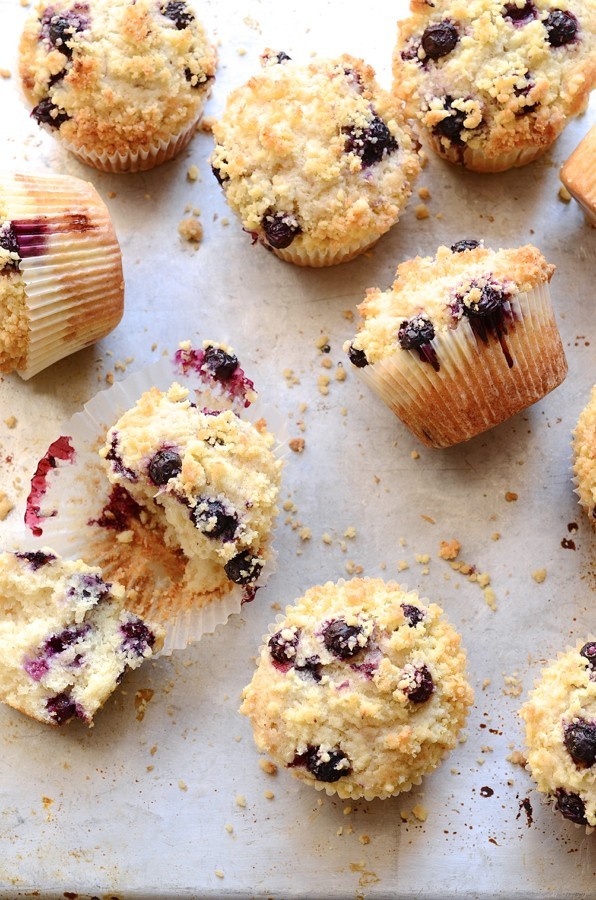 Blueberry coconut crumble muffins
Ingredients
250g plain flour
1 1/2 teaspoons baking powder
1/4 teaspoon salt
170g castor sugar
2 xl eggs
125ml vegetabel oil
1 teaspoon vanilla extract
2/3 (160ml) cup buttermilk
1/3 (80ml) cup milk
200g blueberries, fresh or frozen
Crumble topping
100g plain flour
40g castor sugar
70g cold butter, cubed
1/3 cup desiccated coconut
Instructions
Preheat the oven to 200º C. Line a 12-hole muffin tin with cupcake liners.
Sift together the flour, baking powder, salt and castor sugar.
In a jug, whisk together the eggs, vanilla, buttermilk and milk.
Pour the wet ingredients into the dry and mix lightly to combine. Fold through three quarters of the blueberries.
Spoon the batter into the prepared muffin tin.
To make the crumble topping, place the flour, castor sugar and butter in a bowl. Rub the butter into the flour until bread-crumb like texture. Add the coconut and combine.
Pile the crumble on top of the batter and stud with the remaining blueberries. Bake for about 25 minutes until cooked through and golden on top.
Cool for several minutes in the tin before transferring to a wire rack.