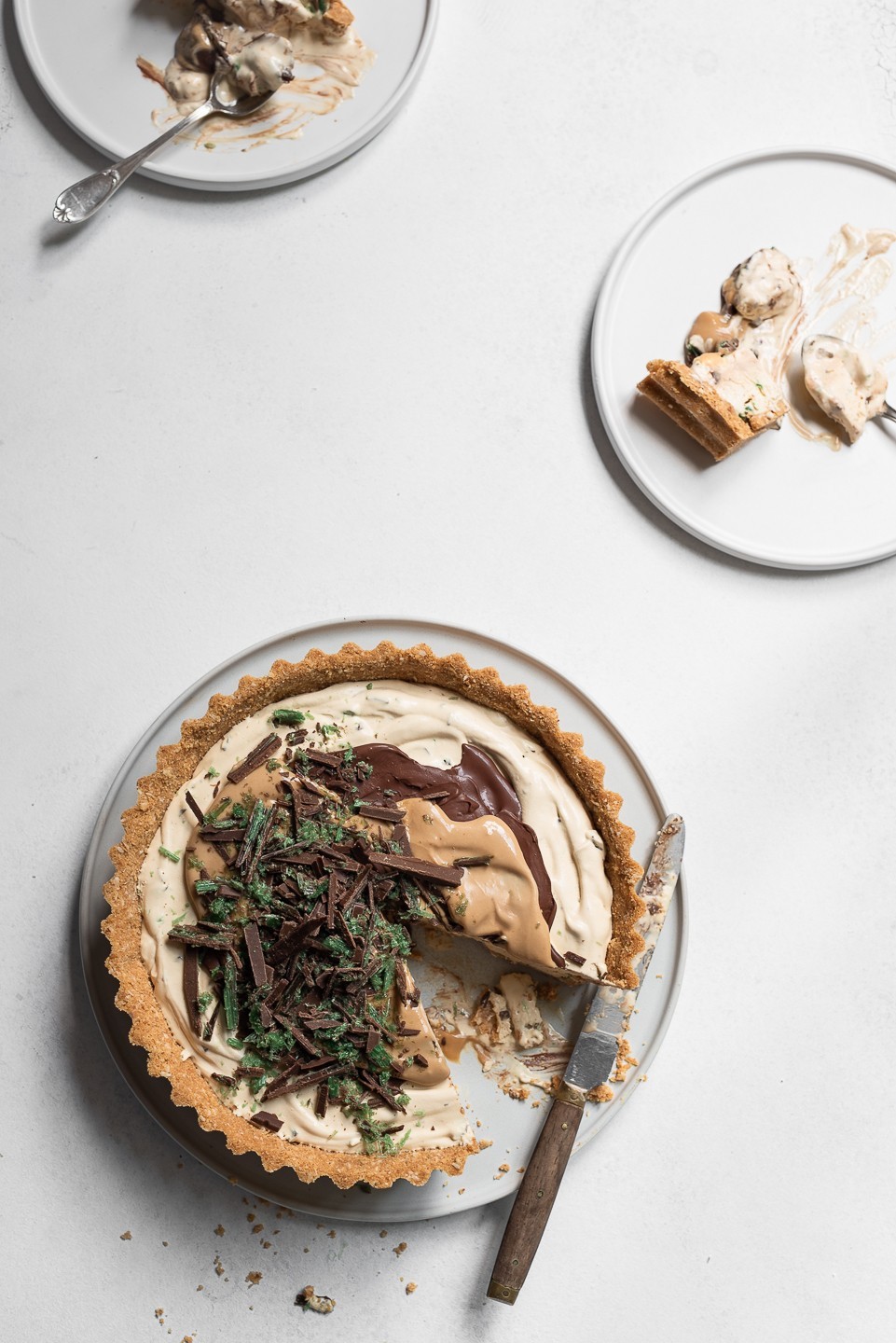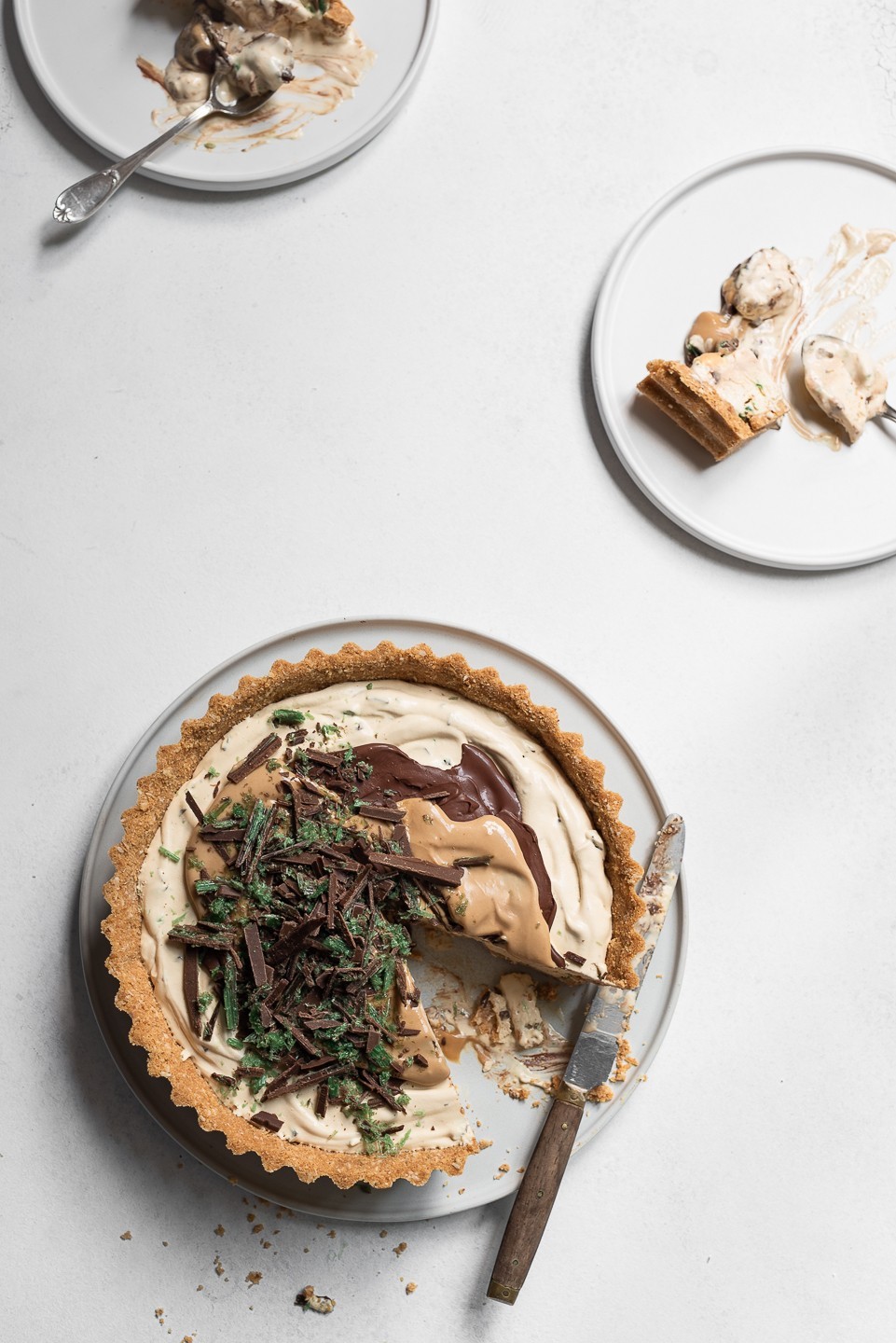 There are three rules to a successful holiday pudding. It needs to be simple, convincingly sweet and graced with a splurge of excessiveness. I think this Peppermint crisp pudding pie fits the bill effortlessly. It's a make-ahead dessert that takes no time at all to throw together but will no doubt, rouse delight.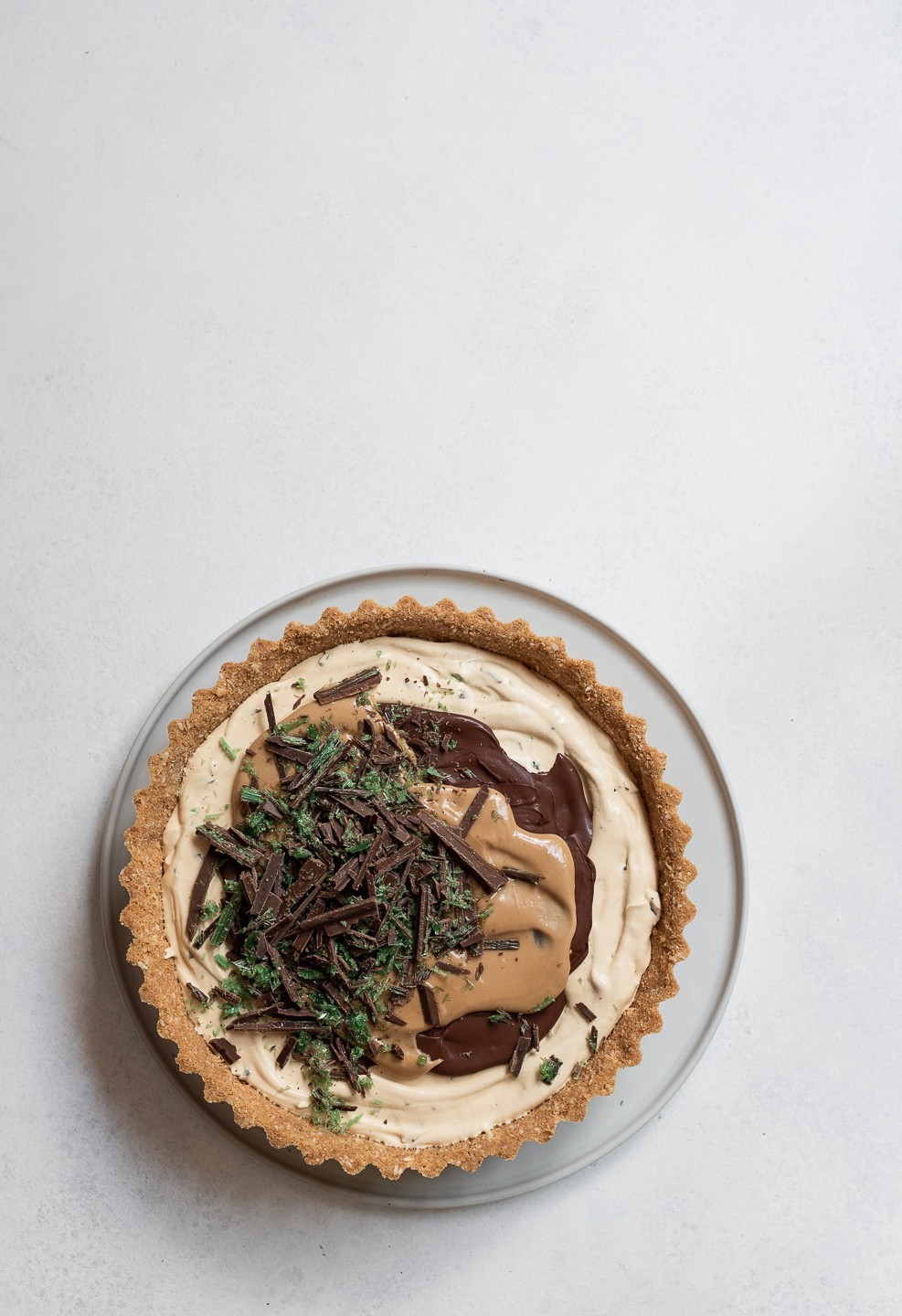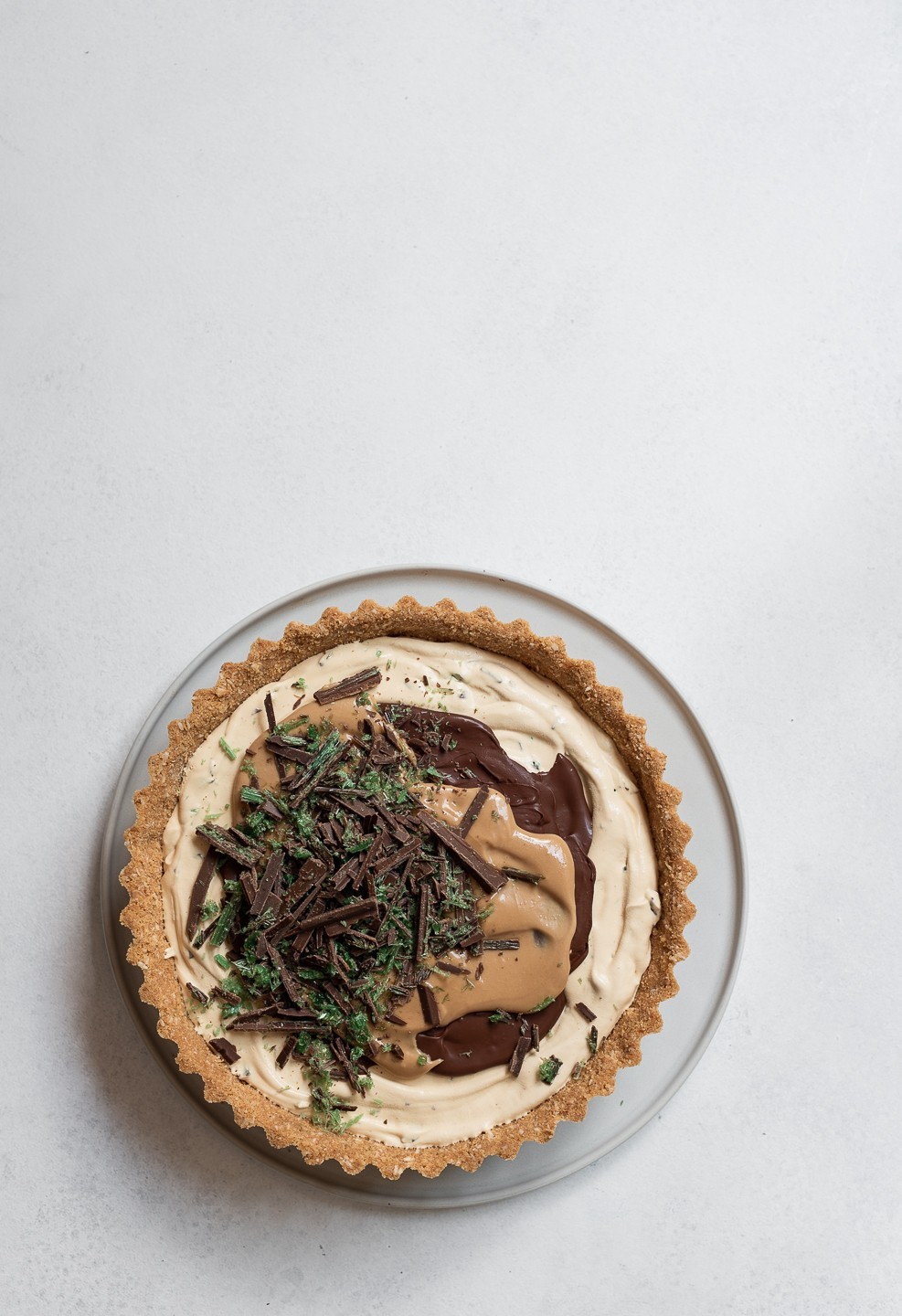 It's the kind of pudding you want to take along to family gatherings and potluck dinners – casual and un-intimidating. It can hang around for hours or even days, frozen that is, until you're ready to serve. That said, there's a 100% chance it'll be gone before you can blink.
Traditionally, a peppermint crisp pudding is made in a pie dish, round or rectangular, alternating layers of biscuit and caramel cream with shards of minted chocolate. The ingredient list is as brief as the method. Here I've chosen to make a pie crust, filling it with whipped caramel cream, then sliding the whole affair into the freezer. Almost like a semi-freddo, only slightly firmer. As you can imagine, it is extravagantly rich but worth the extra miles required to redeem oneself. In January, when sensibility returns, we'll be talking food trends for 2020 and the colour green. Until then, may the New Year be wonderously beautiful and filled with everything you hope for. Much love Di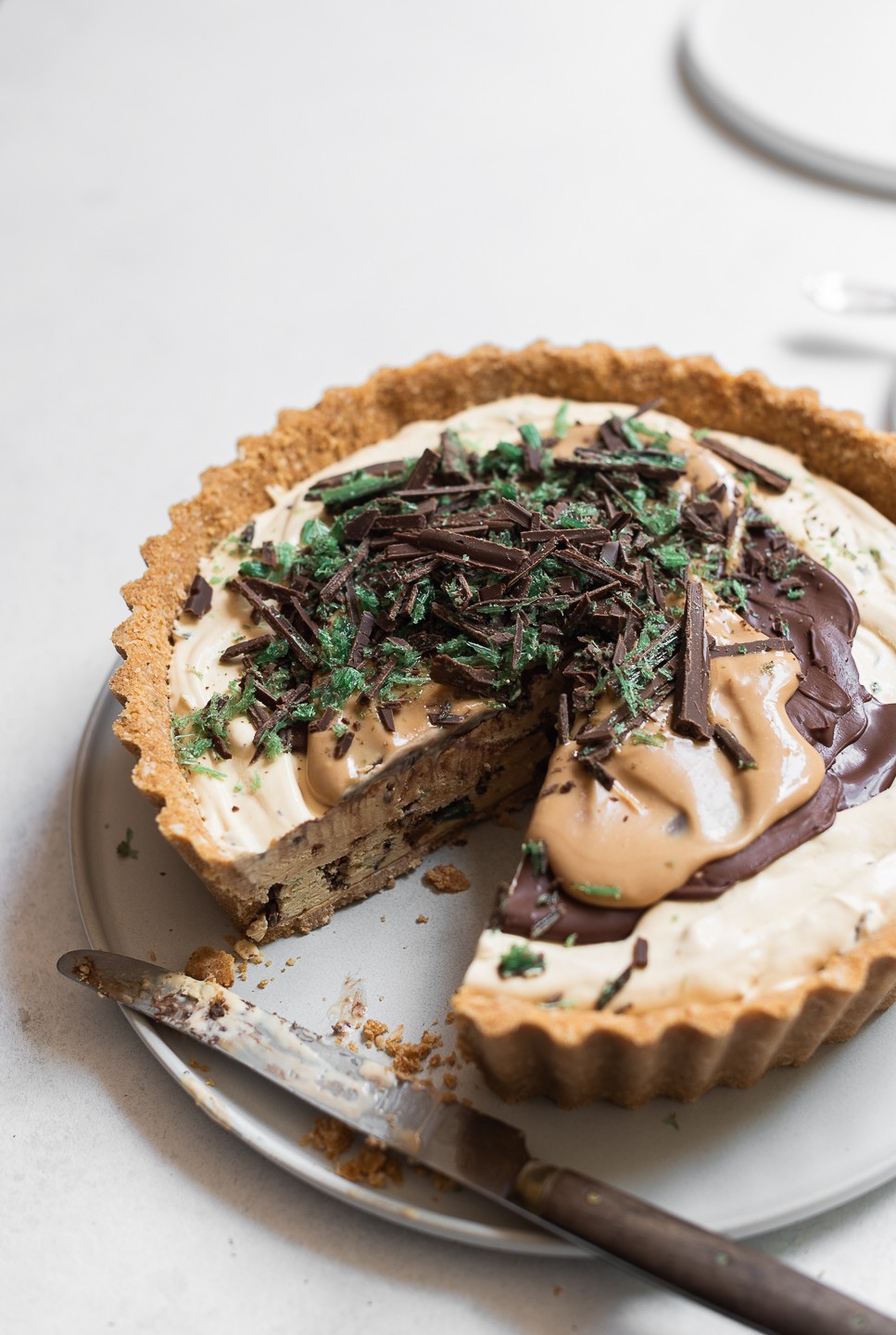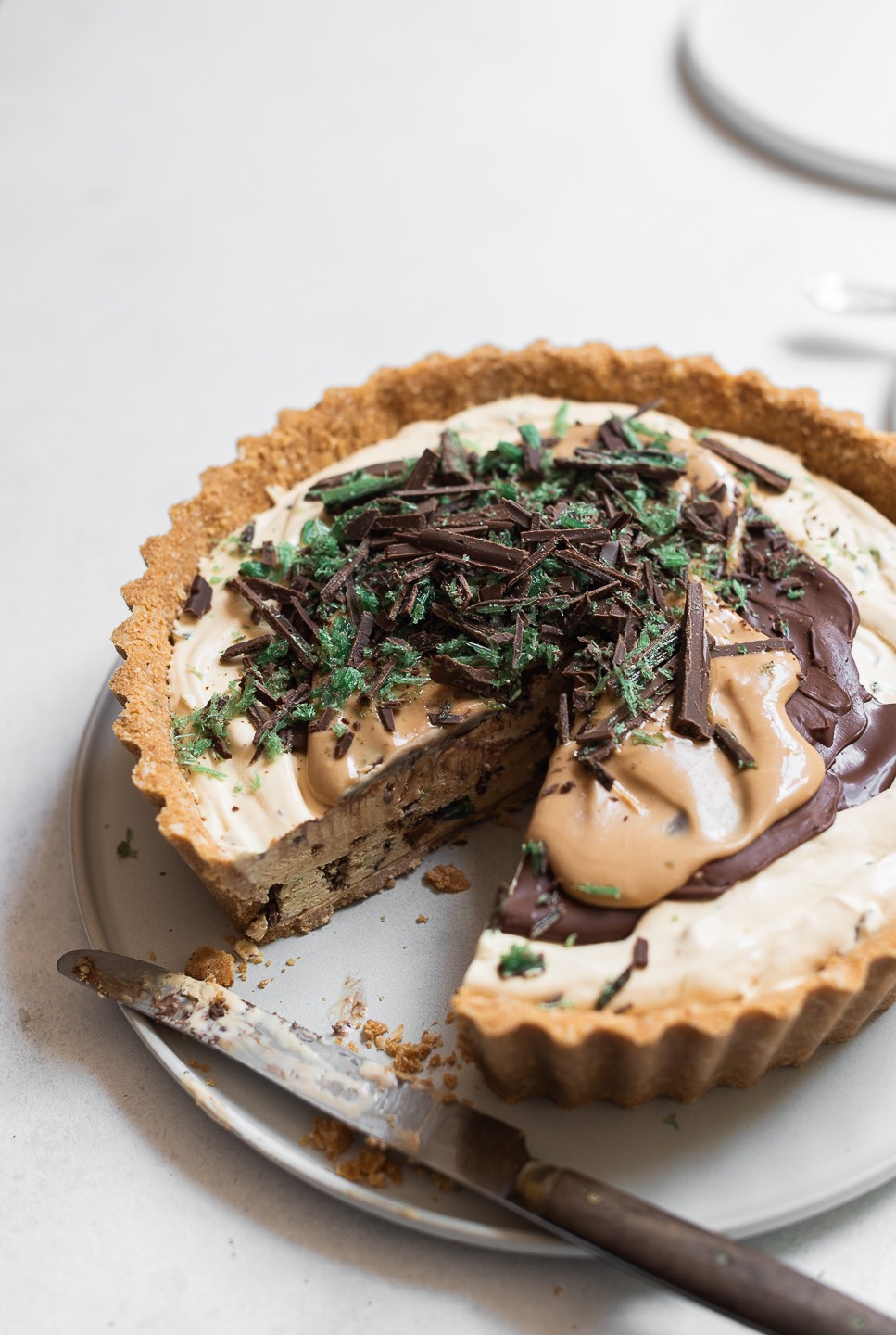 Peppermint crisp pudding pie
Serves 12
Base
300g Tennis biscuits or coconut cookies, broken up
75g (3/4 cup) desiccated coconut, toasted
120g (1 stick) butter, melted and cooled
Filling
250g Nestle caramel treat
5ml vanilla extract
500ml fresh cream
5ml ( tsp) caramel essence
150g Peppermint crisp chocolate, roughly chopped
Caramel cream
60ml (1/4 cup) full cream milk
110g Nestle caramel treat
Chocolate ganache
50g dark chocolate, roughly chopped
45ml (3 tablespoons) full cream milk
Place the biscuits and coconut in a processor. Blitz until fine. Add the butter and pulse to combine. Tip the crumb mixture into a 23 x 4cm deep pie dish or a loose-bottomed tart tin. Chill for 30 minutes.
In the bowl of an electric mixer, whisk the caramel until smooth. Add the vanilla and cream and whisk until light and fluffy. Add half the chopped chocolate and fold through. Scrape the cream mixture into the pie shell and freeze overnight.
For the caramel cream, heat the caramel and milk together and whisk until smooth. Do the same for the chocolate ganache. Set aside to cool.
Remove the pie from the freezer and leave on the counter for about 5 minutes before un-moulding. Transfer the pie to a serving plate. Drizzle over the chocolate ganache and swirl over, then repeat with the caramel cream. Finish with chocolate shards.
For more sweet inspiration, here are a bundle of quick recipes that are quick and easy:
Condensed milk coffee ice cream
Nectarine tart with thyme and honey butter drizzle
No-bake caramel walnut chocolate tart
6  Ingredient Summer berry tart
Lemon curd yoghurt creams with syrupy summer berries