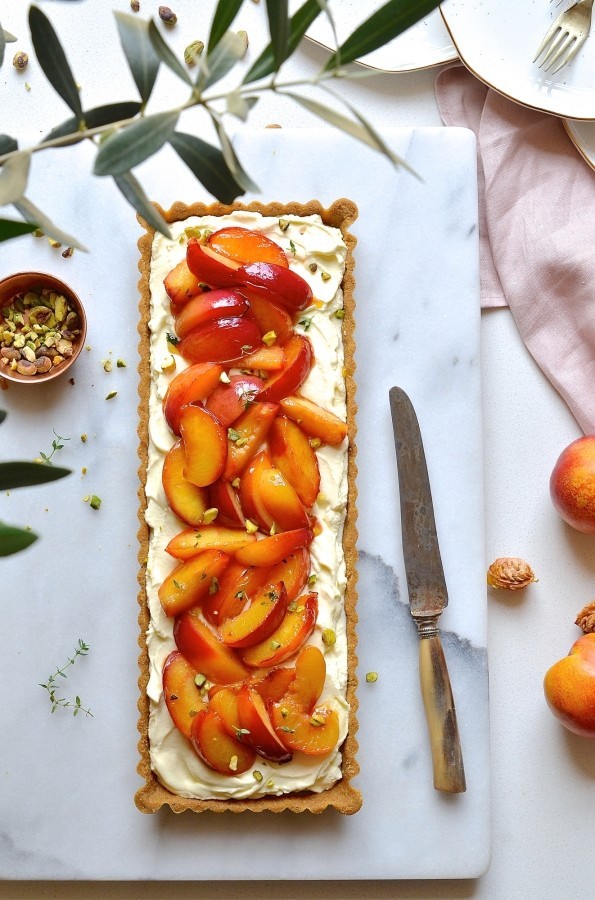 When it's too hot to turn on the oven, a no-bake recipe is the simplest route to a delectable summer dessert. And what could be better than sweet nectarines with white chocolate custard creme? Piled into a pistachio and cardamom biscuit base and drizzled with honey butter, there's plenty of reason to get excited. It's a celebration of peaches and cream with seasonality at its core.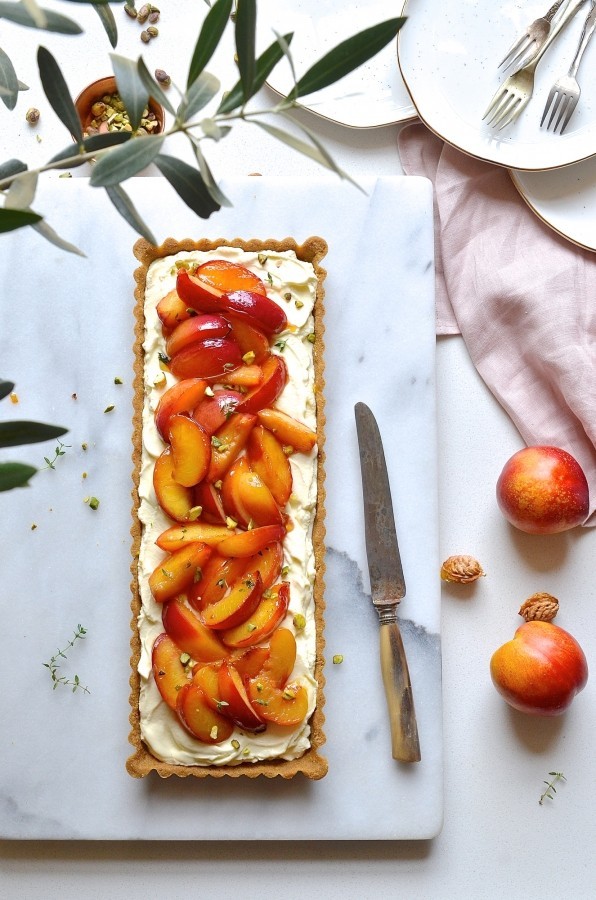 If last week's post on cake disasters put a dampener on your baking endeavours, this recipe is for you. The room for error here is practically nil. It's more of an assembly job, really. Taking my cue from the team over at BBC Lifestyle, the brief was to create an uncomplicated dessert that can be served after a lazy summer lunch. For me, this means less time in the kitchen. A savvy hostess knows when to turn up the ante and when to keep it simple. At the end of a busy year, I'm all for low-fuss options.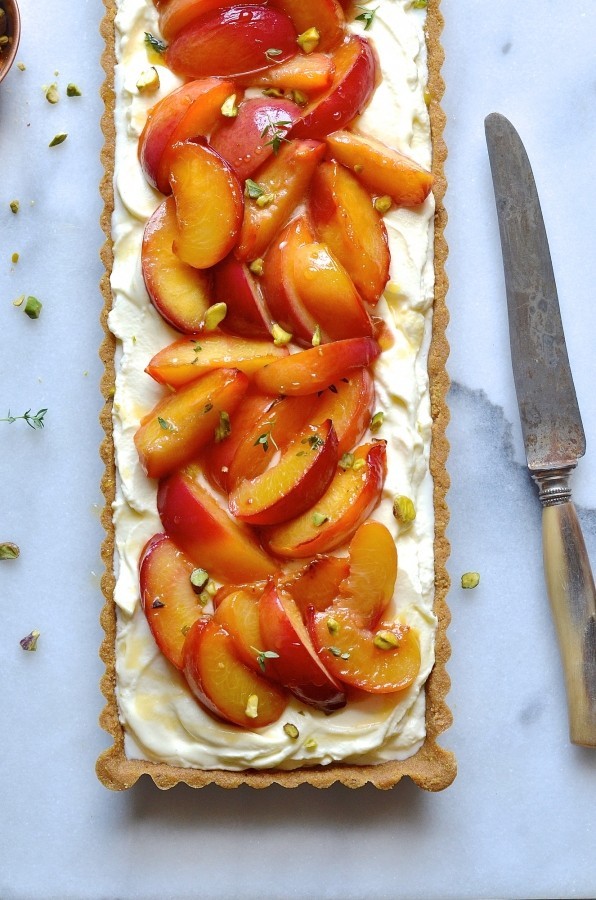 I make the base for this nectarine tart in much the same way as a classic cheesecake crust. The addition of pistachio and cardamom hints at Middle Eastern flavours. It's subtle but just enough to peak the palate. I love combining what would usually be a savoury element, with something sweet. The peaches are pan-roasted in honey, butter and fresh thyme. It's herbaceously sticky and absolutely, lovely. Roasting the fruit is more about caramelisation than cooking it soft. The flavours are fresh and bright. They literally sing, each mouthful tasting like a kiss of summer. Dessert is the lingering taste after a memorable meal and should then by all accounts be, one you'd like to remember.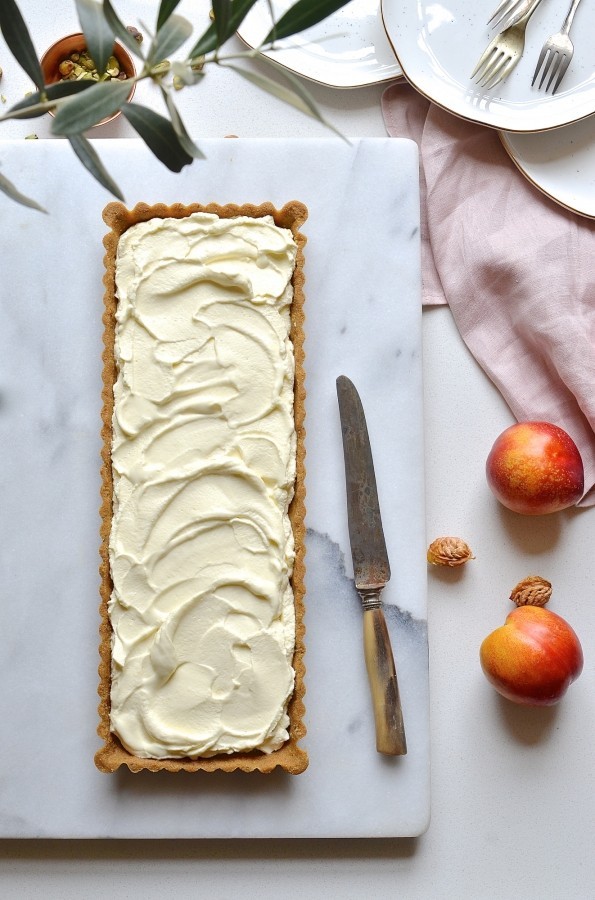 Remember to catch the next episode of The Great South African Bake Off on BBC Lifestyle Channel, Tuesday 20h00.
This post has been sponsored by BBC Lifestyle 
Nectarine tart with thyme and honey butter drizzle
Biscuit Base
160g coconut biscuits
1/4 cup pistachio nuts, toasted
5 cardamom seeds, finely crushed
2 tablespoons castor sugar
90g butter, melted
White chocolate custard creme
250ml custard, at room temperature
100g white chocolate, melted and cooled
250ml double cream
2 tablespoons icing sugar, sifted
1 teaspoon vanilla extract
Pan roasted nectarines
8 nectarines, halved, pitted and sliced into segments
45ml (3 tablespoons) butter
3 tablespoons honey
2 stems thyme, de-stalked
To finish
1 tablespoon pistachios, roasted and roughly chopped
For the base, place the biscuits, pistachios and cardamom in a processor and pulse until fine.
Add the castor sugar and butter and blitz to combine.
Press the biscuit mixture into a 10 x 35 cm loose-bottom tart tin. Chill until firm.
For the nectarines, melt the butter and honey together in a large based pan.
Place the nectarines segments in the honey butter and caramelised on both sides. Scatter with thyme and set aside to cool.
For the creme, combine the custard and the melted chocolate.
Whip the cream, vanilla and icing sugar together until soft peak stage.
Gently fold through the custard and chocolate mixture.
To assemble the tart, un-mould the base. Spoon the custard creme into the base and smooth over. Chill for 30 minutes.
Pile the fruit over the creme and drizzle with remaining honey butter.
Scatter with pistachios and serve.