Here's a mathematical food equation. What's the product of Biscuits + butter + sugar + cream + chocolate + vanilla? This no-bake salted chocolate tart. With only 6 ingredients, it's a winner. I was asked by Nina Timm from My easy cooking, to come up with a simple recipe for her Thursday food slot on RSG. Here, all things food are discussed and shared. Nina's reputable skills and food knowledge has resulted in her blog being one of the most read in South Africa, with trusted and simple recipes being key elements.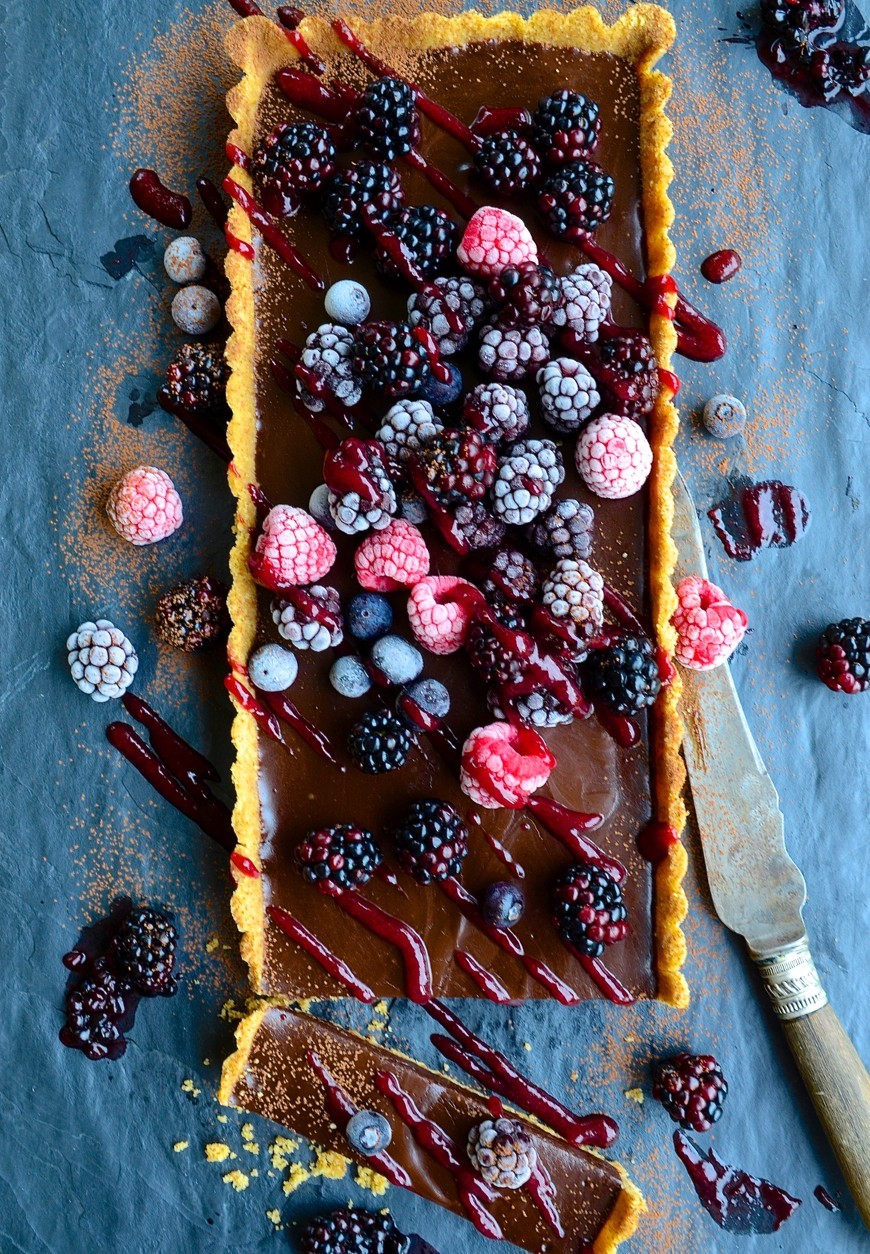 There are several pointers to follow when using few ingredients. Choose the best quality ingredients as the flavours can't be masked under fluff or fancy. I'd recommend salted butter, best quality dark chocolate (min 70% cocoa solids) and no 'skinny' cream, which prevents the chocolate from setting properly. To give the chocolate ganache filling a caramel-toffee like flavour, I use muscovado sugar. Demerera or dark brown sugar will also work.
For this recipe, I place the berries on a small baking sheet and pop them in the freezer for several hours to firm up. Once you pile them onto the tart, they'll turn pale and frosty. If you're going to use the frosted fruits, bear in mind that the fruit defrosts relatively quickly so serve straight after you've added the berries. Alternatively, use fresh berries as they'll keep longer and refrigerate well. For a tangy contrast, I like to serve this tart with a berry coulis or a strained compote.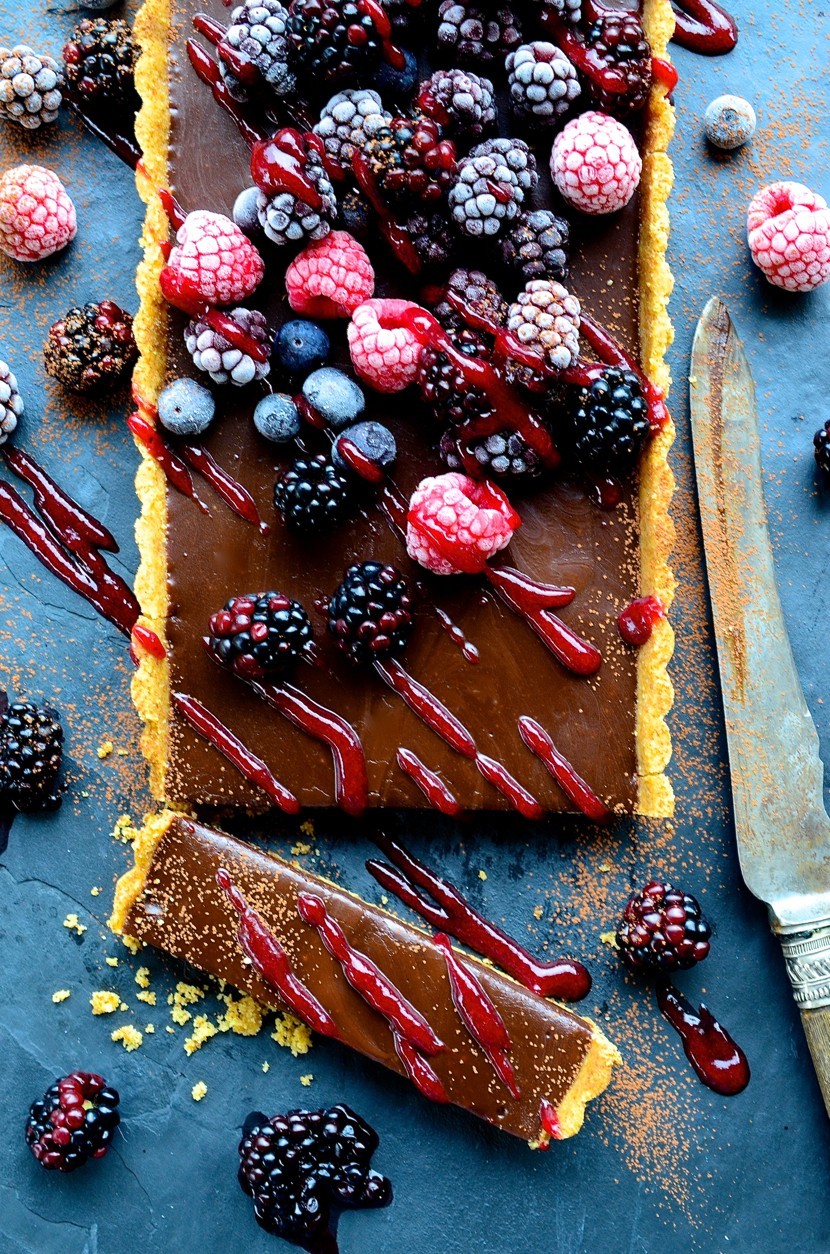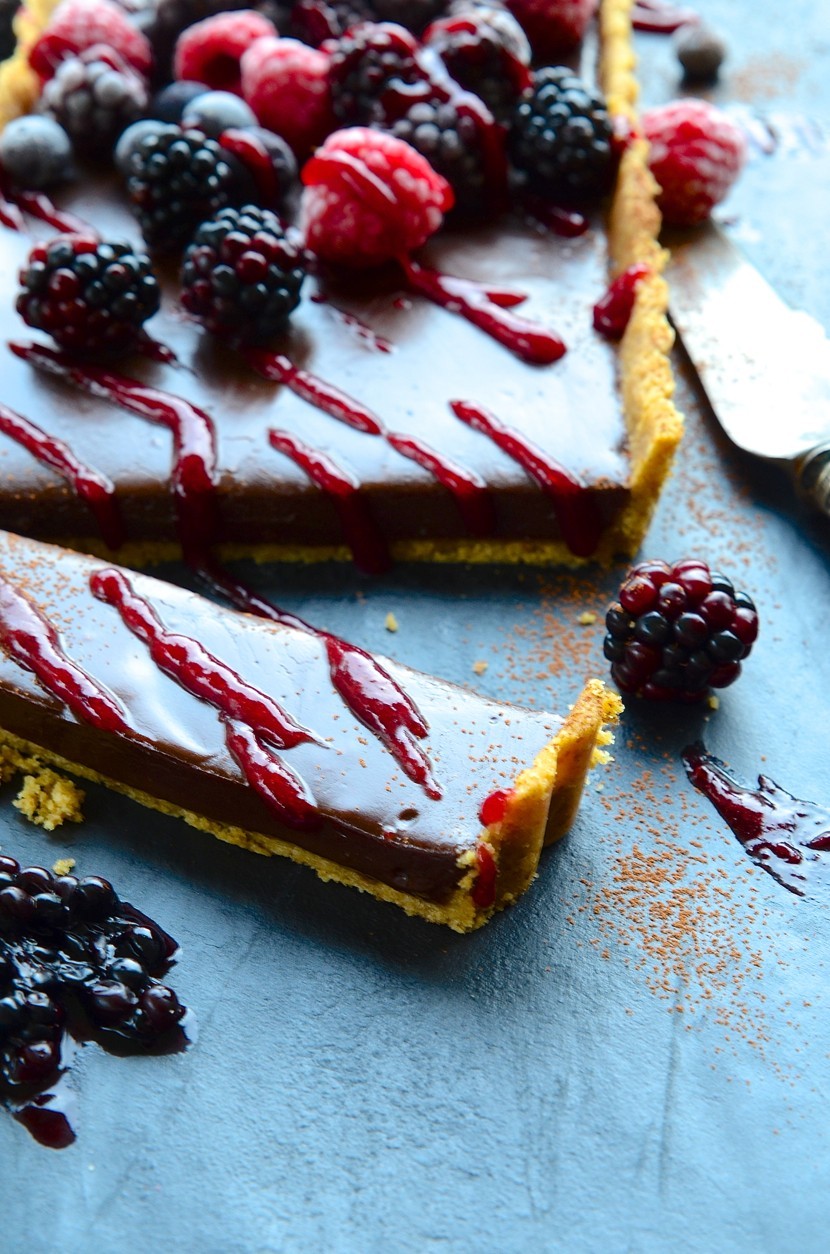 No-bake salted chocolate tart with frosted berries
Serves 10-12
250 g shortbread or digestive biscuits (Bakers tennis or Eat Sum More)
80g butter, melted
70g muscovado sugar
3/4 cup single cream
300g dark Lindt chocolate, chopped (70% )
1 teaspoon vanilla paste or extract
a generous pinch Maldon sea salt flakes (salt isn't really an ingredient, so we'll call it free)
200g frosted berries (fresh will also be perfectly fine)
Place the biscuits in a food processor and blitz until fine. Add the melted butter and pulse again to combine. Empty the crumbs into a 32cm length rectangular, loose bottom tart case. Press the crumbs firmly into the tin with the back of a spoon and smooth over evenly. Refrigerate to firm up.
For the filling, place the muscovado sugar and cream in a small saucepan. Bring the cream slowly up to the boil, whisking all the while to ensure the sugar crystals dissolve completely. Remove from the heat and stir in the vanilla paste. Pour the cream over the chopped chocolate and whisk thoroughly until the chocolate is silky smooth. Fill the chilled tart case with the chocolate mixture and refrigerate for several hours until firm.
Un-mould the tart and place on a long serving board. Scatter with the sea salt if you love a salty-sweet combo and pile on the frosted fruit.
BK Handy hint : The chocolate tart filling also makes the most luxurious truffles. Pour the warm ganache into a bowl, cool, cover with cling and refrigerate until set. Roll into tiny truffles, dust with cocoa and allow to firm up. Serve with after dinner coffees or package as a hostess gift.
PS On the hunt for a rich, dark healthy truffle? These coconut cream chocolate truffles are h.e.a.v.e.n.l.y (only 3 ingredients here!)