Coconut cream chocolate truffles
8 December 2015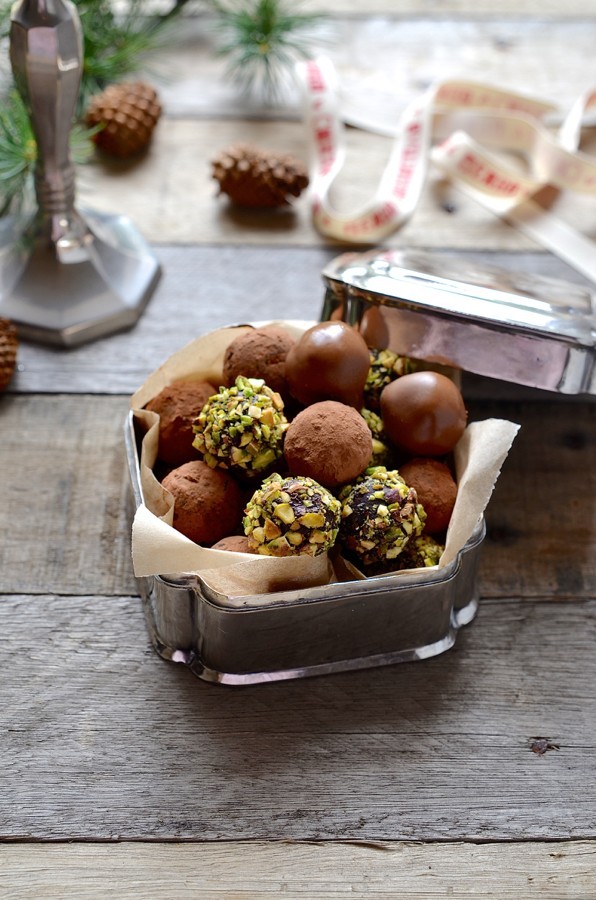 I love the word truffle. It's short yet weighty, not in mass but with the promise of intense luxury. Let's say it again then. Truffle. At the root of repetition is subliminal advertising and that's exactly what's happening here. Without arrogance, I consider myself somewhat of a truffle expert based solely on the volume of truffles eaten, all in the name of research, of course. A good chocolate truffle, like its earthy fungi counterparts are rare, expensive but absolutely worth the fuss and foraging. Today I'm the bearer of good news. These chocolate truffles are perhaps the most heavenly I've encountered since… well, since forever. AND wait for it… they're legal in Banting county! Make dozens. You're going to need it.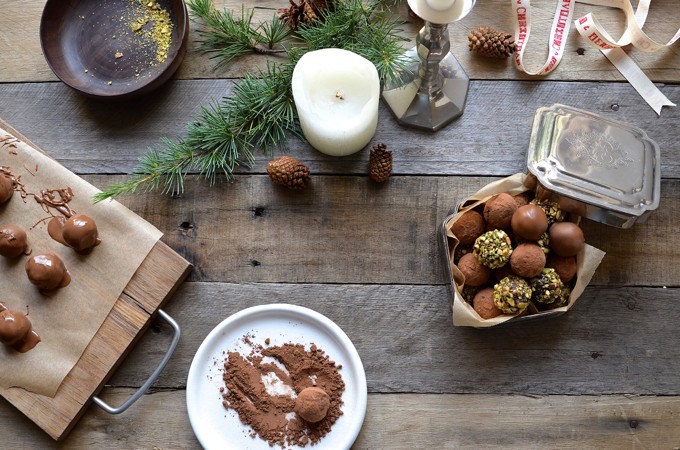 Christmas in my childhood home was marked with a tin of Quality Street chocolates. Every other week of the year, a slab of Cadbury chocolate was a very satisfactory alternative and reserved mostly for weekend movie nights. Christmas however was extra special and thus required the recognisable purple-tinned chocolates to herald the beginning of festivites. Once the tin was opened, all manner of decency disappeared as everyone grappled to lay hands on the purple one. A quenelle shaped dome, filled with oozing caramel and a hidden nut. This was the outright winner. I could never understand why there were so few purple chocolates yet so many orange and yellow toffees? Surely an even distribution of colours would've levelled the playing field? Hopefully the recipe for my homemade Coconut cream chocolate truffles will eliminate Christmas casualties and satisfy even the most ardent chocolate truffle-lover.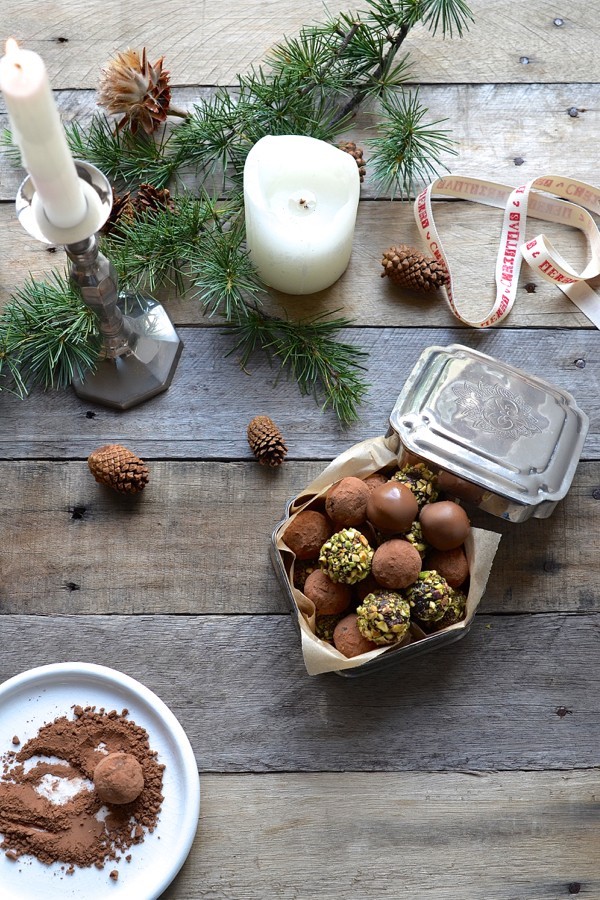 The texture of these truffles are fudge-like with a dark roasted cocoa bean flavour. As mentioned before, when making any recipe that requires only a few key ingredients, it's worth buying the best you can afford. The truffle mixture is really easy, but can go south if overheated. It's best to melt the chocolate over a double boiler, but if you must, heat in the microwave for 20 second bursts on a medium heat. To compliment the coconut cream and chocolate, I've added a little vanilla paste. It's subtle but well worth it. I'm really big on edible gifts and if you can muster the generosity, chocolate truffles are meant to be shared. Box and ribbon these decadent morsels to spoil someone special.
To be honest, truffling is a 'dark' job. Be warned. When rolling truffles, cold hands are best. I usually rinse my hands under cold water in between rolling as sheer excitement and body heat tend to melt the coconut cream. If the weather is humid or hot, store the truffles in the refrigerator, preferably right at the back behind a path-blockingly huge bottle of mayo! Stray hands seem to wind their way into the chill box with compulsive determination. Serve the truffles as part of your dessert table offering or with after-dinner coffees. Red wine or port will also be ridiculously good. The options are endless…….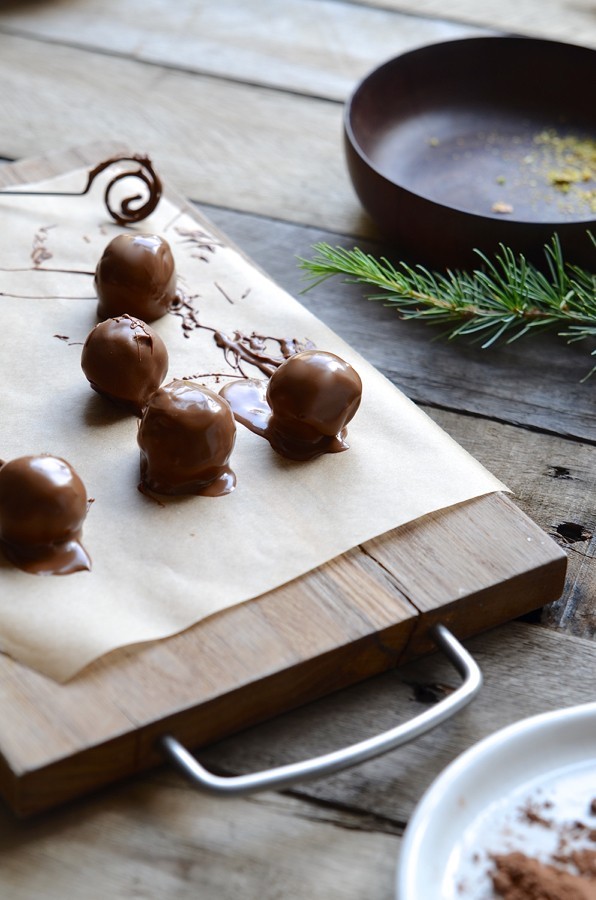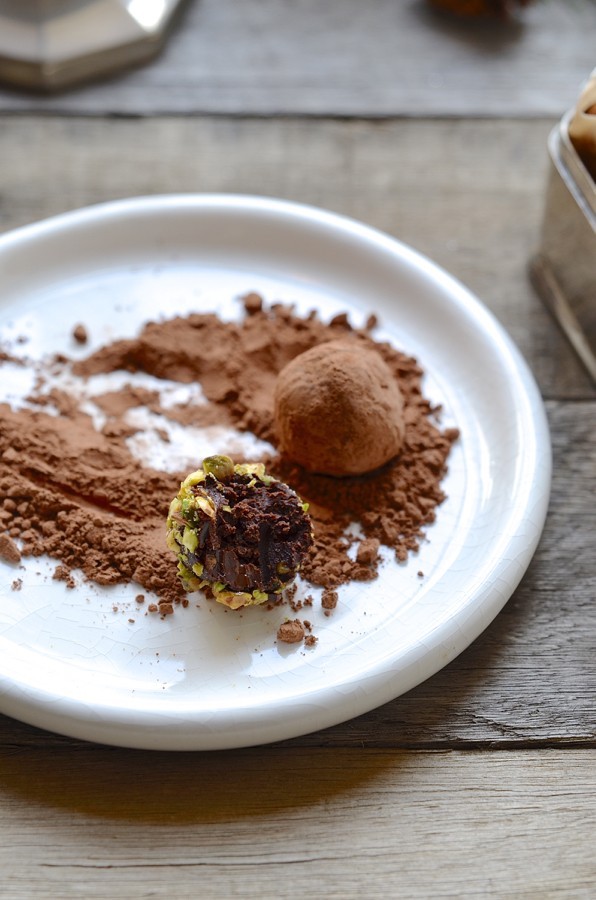 Coconut cream chocolate truffles
Makes about 16
200g dark chocolate, 70% or 50% if you prefer slightly sweeter taste
1/3 cup coconut cream
1/2 teaspoon vanilla paste
cocoa and pistachio nuts, roasted and finely chopped, for coating
100g milk chocolate, melted for dipping (optional)
Chop the chocolate into small pieces. Place in a heatproof bowl with the coconut cream and vanilla paste. Set the bowl over a saucepan with simmering water (double boiler) and melt over a low heat with the water just simmering. Mix until smooth and glossy. Be careful not to overheat. Set aside to cool and then place in the fridge for several hours to firm up.
For finishing, place each of the coatings in small, deep bowls. Roll teaspoon amounts of the set chocolate into balls and swirl around in the toppings. Set the truffles gently onto a lined baking sheet and chill until firm. Store covered. The truffles will taste best eaten at room temperature.