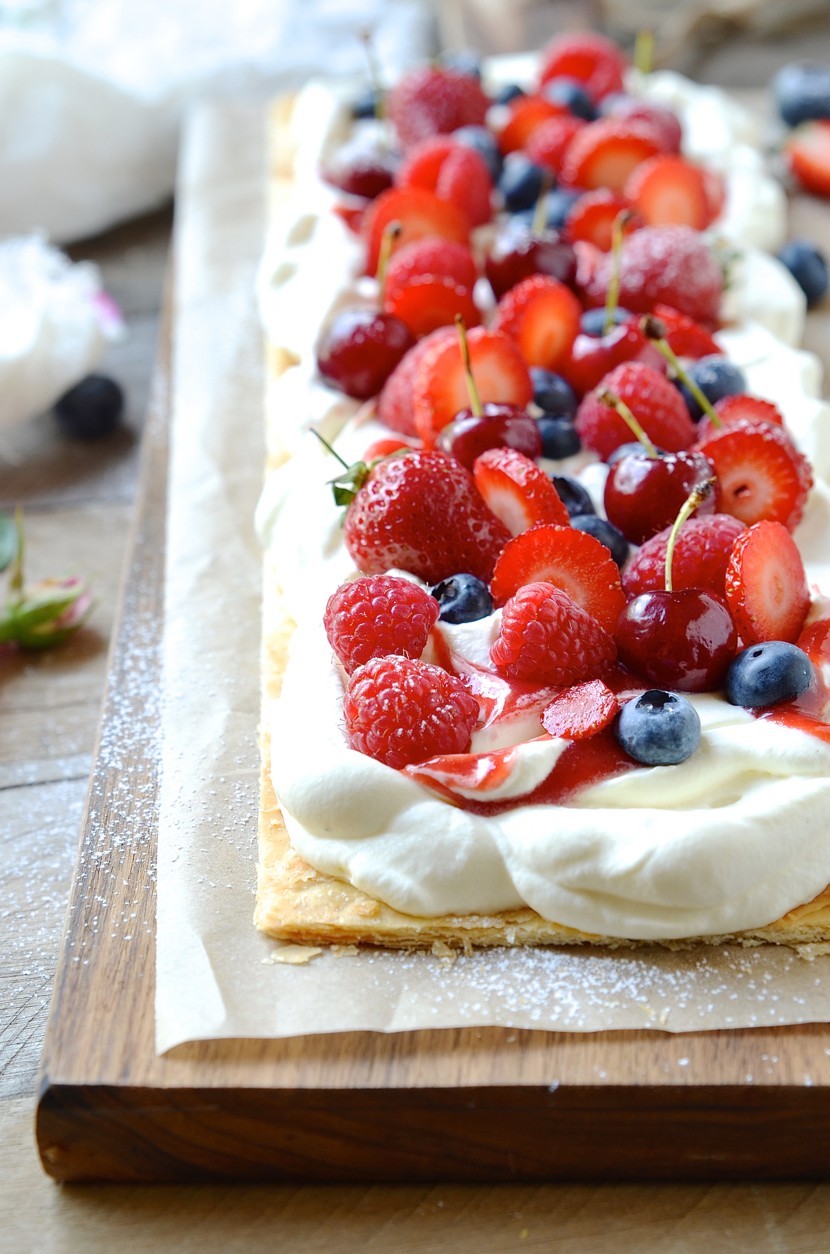 The six ingredient fix
Strawberries and cream
What's all the fuss about Puff?
Keep it simple
The berry best of summer!
Berries – crimson, scarlet and blue, pillowy lemon curd cream and buttery puff. The quintessential 6-Ingredient summer berry tart. Essential for relaxed al fresco feasting, it doesn't get much simpler than this.
Several weeks ago the team at Taste of Today sent over a hamper of interesting ingredients, along with a brief to create a deliciously tempting dessert. The selection basket looked like this – strawberries, mascarpone, puff pastry and chocolate cookies. The first three ingredients registered positively but the fourth was rather challenging. After 3 failed attempts at incorporating blackened cocoa crumbs, I abandoned the cookie route and returned to the harmonious marriage of a classic. Strawberries and cream with buttery puff.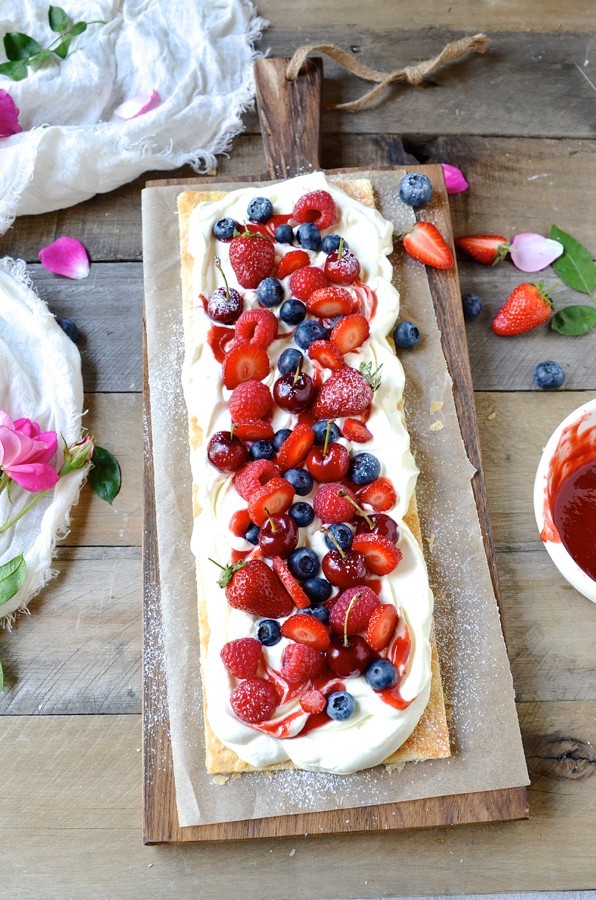 Softly whipped mascarpone cream combined with tangy lemon curd creates the perfect contrast to a buttery puff pastry crust. For this festive summery tart I used my trusty 4 minute lemon curd recipe, a fail-safe microwave version with a silky-smooth texture. You can get the recipe HERE . Alternatively, a good store-bought curd will do just fine.
The key to achieving success with only a few key ingredients is to use good quality produce and to maximise the potential of each. I sweetened the pastry slightly and baked it between two trays for a crisp biscuit-like texture. Delicious! Incorporating the mascarpone with whipped cream lightens the consistency and lends a softness to the cream without compromising on the taste. For zesty attitude, a generous heaping of tart lemon curd provides just enough contrast to the richness of the cream. Shining as beacons of summery bliss, a handful of cherries, raspberries and blueberries beckon to join the strawberries for a colourful fest. A final drizzle of strawberry coulis will crown this glorious union for a sumptuous end to a summer lunch under the trees.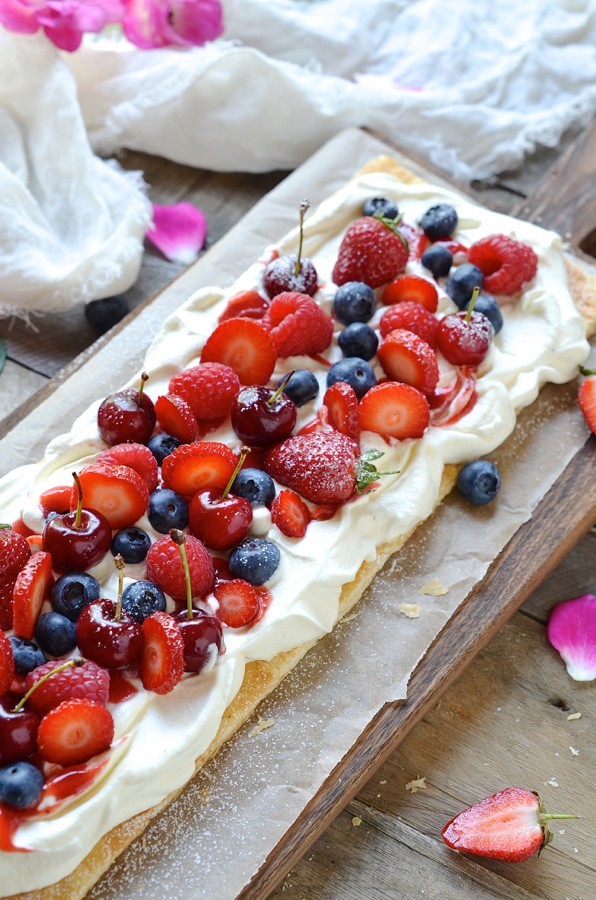 6 – Ingredient Summer berry tart
400g Today puff pastry
3 tablespoons confectioner's sugar
250ml whipping cream, cold
1/2 cup lemon curd, chilled
250g mascarpone cream, at room temperature
2 cups mixed summer berries
Preheat the oven to 180º C. Line a baking tray with parchment paper. Place the puff pastry on a well-floured surface and sift over two tablespoons confectioner's sugar. Fold the pastry in half lengthways so that you have a rectangle that measure about 35 x 16 cm. Roll out slightly applying some pressure to seal the pastry together.
Trim the edges neatly with a smooth bladed knife and transfer the pastry to the baking tray. Cover with another sheet of baking paper and place a second baking tray on top of the first. This will prevent the pastry from rising and result in a thinner, but crisp pastry. Bake for about 30 minutes. Check to ensure it's golden brown and cooked through. If the outer edges are slightly too dark, trim with a sharp knife while the pastry is still warm. Set aside to cool completely.
Place the cold cream and remaining tablespoon confectioner's sugar in a bowl and whisk until soft peak stage. Mix the lemon curd into the mascarpone. Now add the mascarpone mixture to the whipped cream and fold through gently until combined. Be careful not to over-mix as the mascarpone will turn buttery and the cream will spilt.
Spread the lemon curd cream over the pastry and top with fresh berries. If you like, drizzle with berry coulis and serve.
BK Handy tip: For a quick and fresh strawberry coulis, blitz together 250g strawberries, 2 tablespoons confectioner's sugar and 1 tablespoon lemon juice. Store any leftover coulis in the refrigerator or add to your morning smoothie.