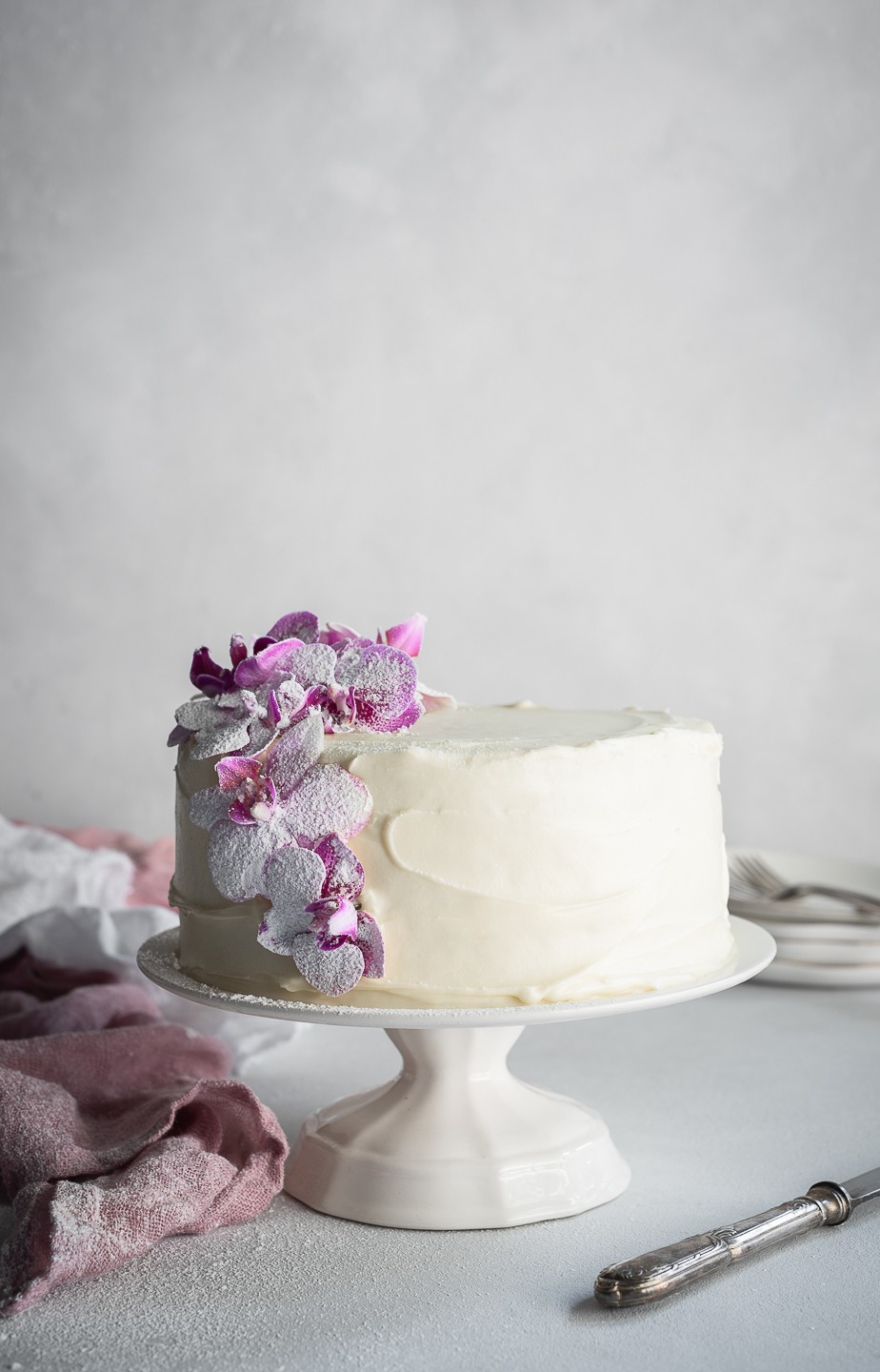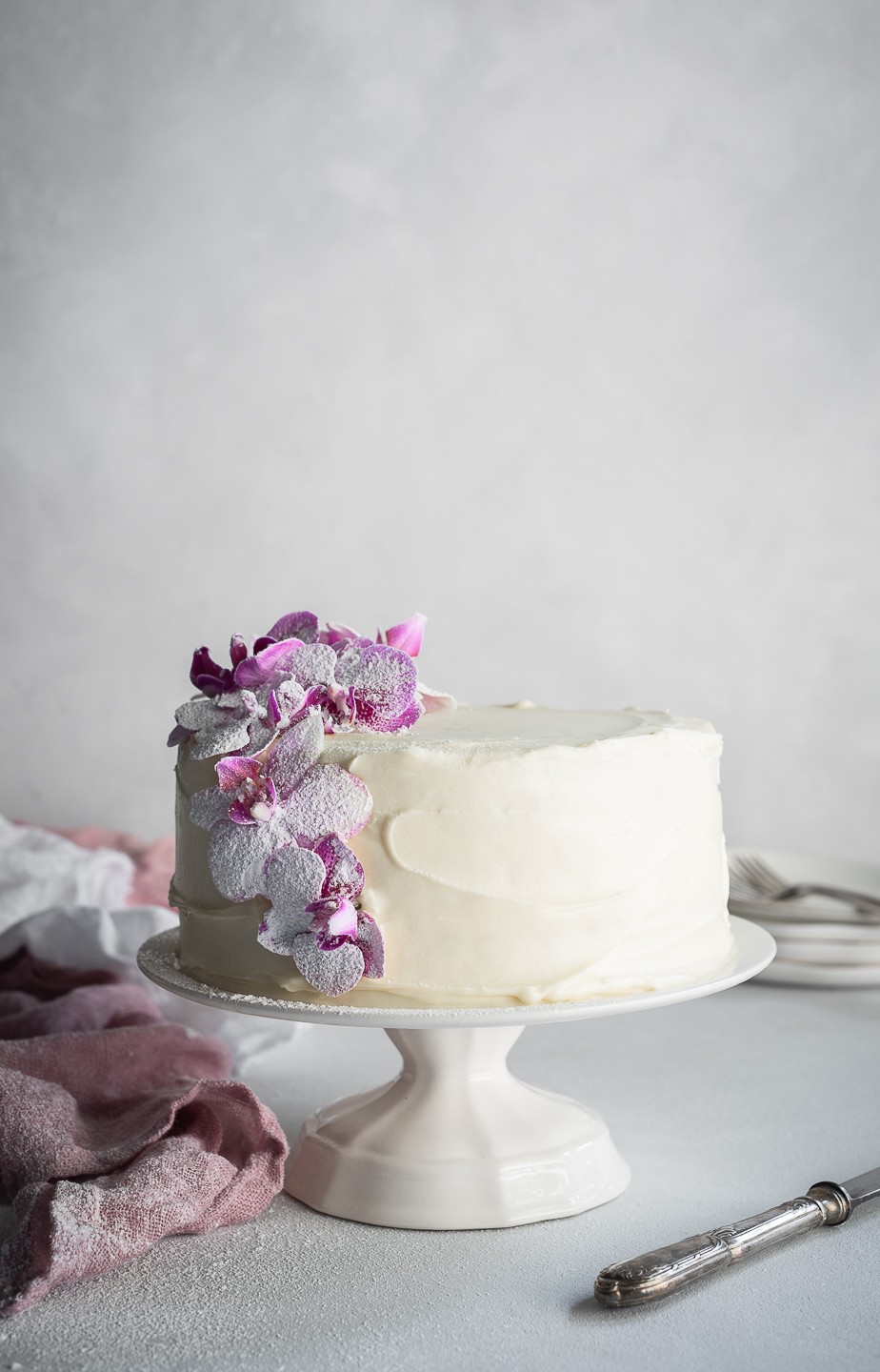 The recipe for this Classic carrot cake is from Astrid Field's debut cookbook, High Tea at Home. It's a sprawlingly pretty baking book filled with sweet indulgences for every occasion, each recipe reflective of Astrid's impeccable skill and artistry as a baker extraordinaire. I wrestled with which recipe to bake first. I'm naturally biased toward fruit and vegetable cakes, almost as mush as chocolate derailment. The conclusive winner though, was a Classic carrot. It's everything home bakers and bake shops around the world love about carrot cake – gently spiced and carroty, with a whipped cream cheese frosting that is proper sweet seduction. The recipe is as you'd want. Reliable, uncomplicated and very doable.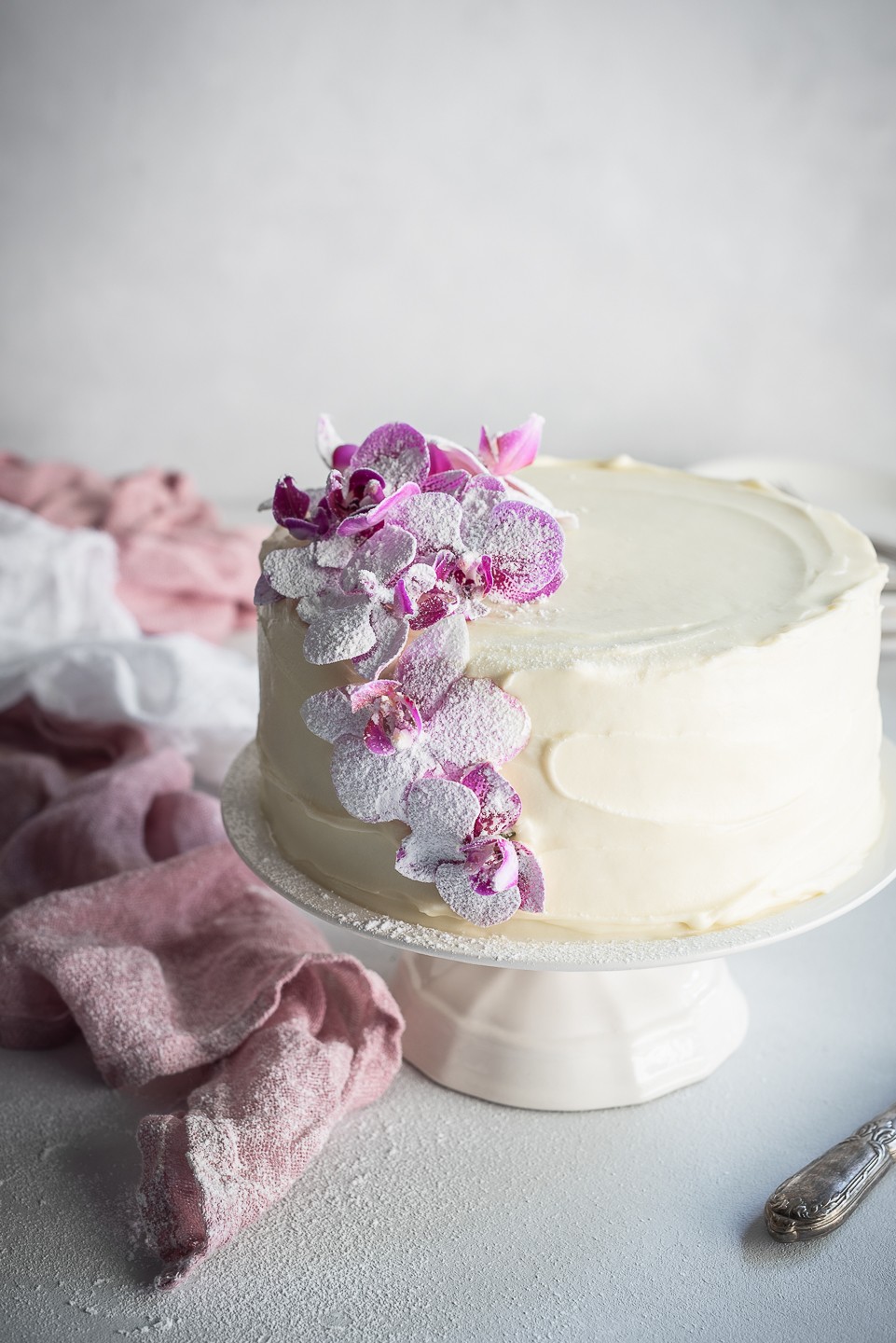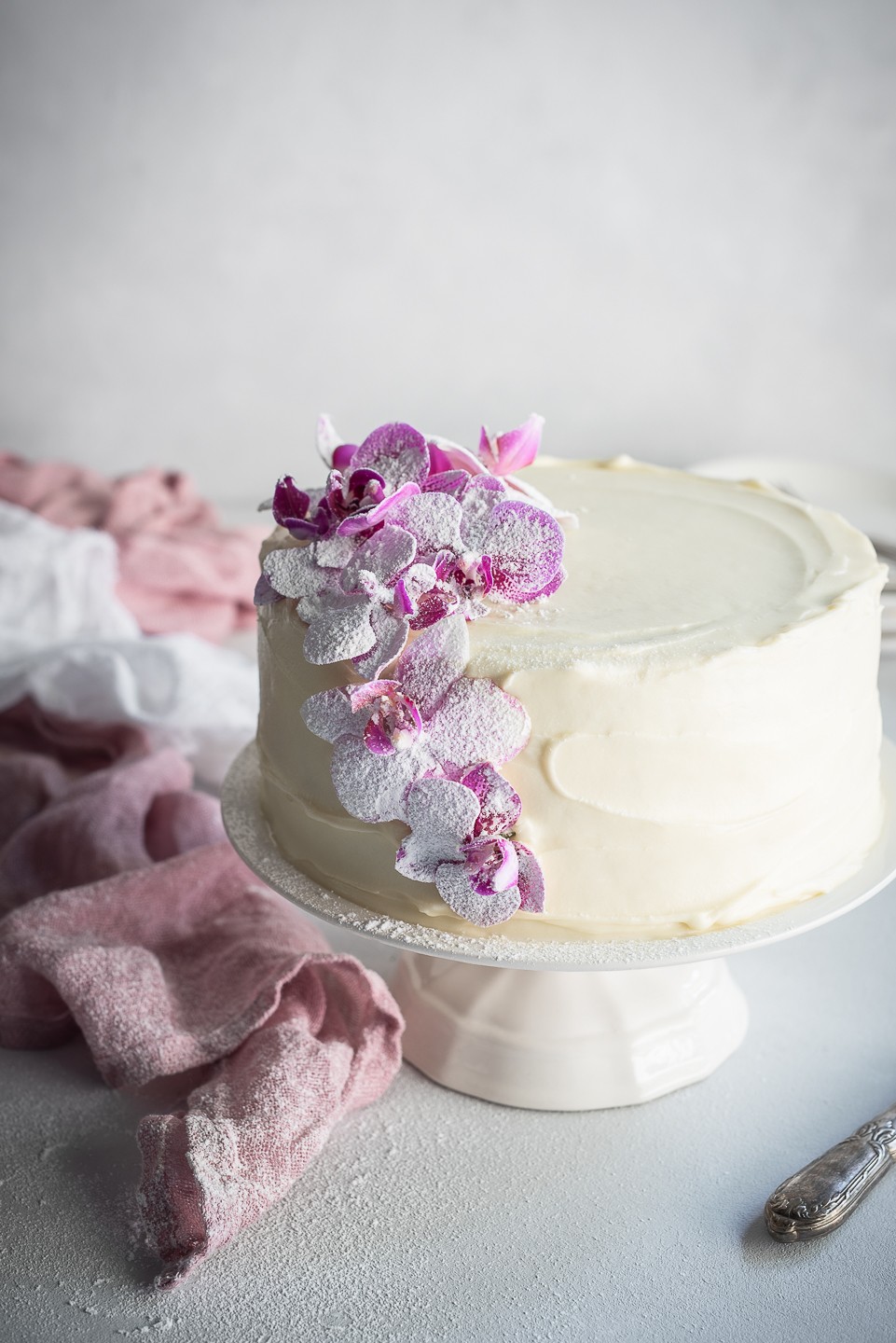 Every baker needs a couple of go-to cake recipes that are faithful but impressively delicious. Bundled together in the collection one would expect an eyebrow puckering lemon meringue pie, rich chocolate cake, baked cheesecake and of course, a classic carrot cake. The book covers all of these and more. From familiar tea time favourites made modern with creative twists and clever combinations to downright swoon-worthy masterpieces. If you're looking to conquer your fear of the mighty macaron, there's any entire chapter dedicated to this intimidating French dainty that hopefully, will dispel the irrational fear. The Salted caramel macarons are where I'm headed next.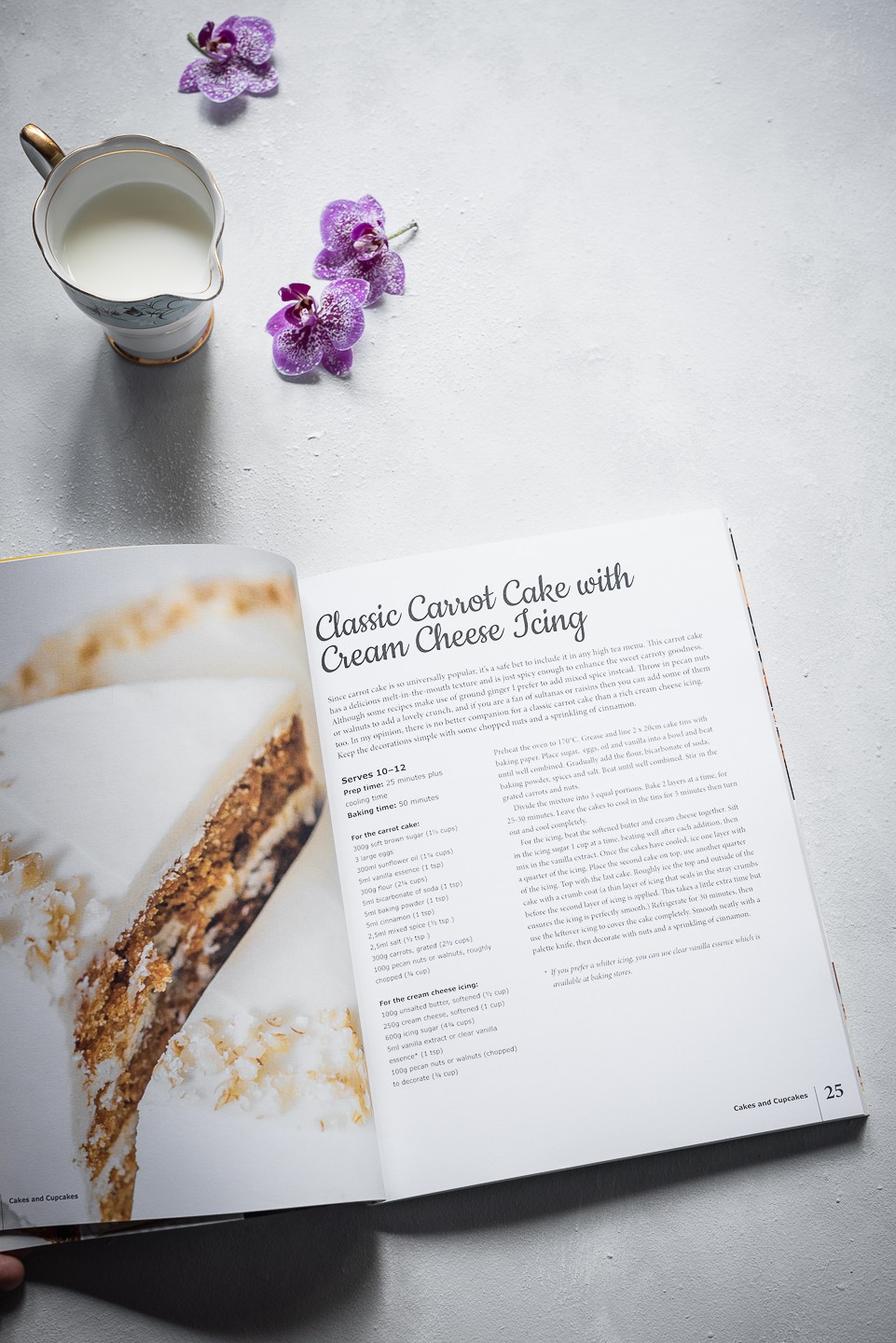 If you've been following this food blog for a while, I'm sure you're familiar with the Bibby's Kitchen Cake Friday tradition. This Baking category is testament to my love for all things sweet and baked. Surprisingly though, there's not carrot cake recipe in sight. Very disappointing. After nearly 6 years of blogging, this oversight has been set straight.
As a recipe developer and food stylist, I find it almost impossible not to meddle with set recipes. Usually, I look at the picture, scan through the ingredients then set off in the general direction, hoping for the best. For Astrid's carrot cake, I decided to stick to the script. Letter by letter, ingredient by ingredient. And? It delivered and behaved exactly as promised. It's a keeper. Having been nominated in the prestigious Saveur Blog Awards in 2018 in the category for Best Baking Blog, Astrid's recipes are as reliable as they are special, each one given to precision and reliability. And that, essentially, is what makes a good baking book, great. High Tea at Home is available to purchase on her blog, The Sweet Rebellion.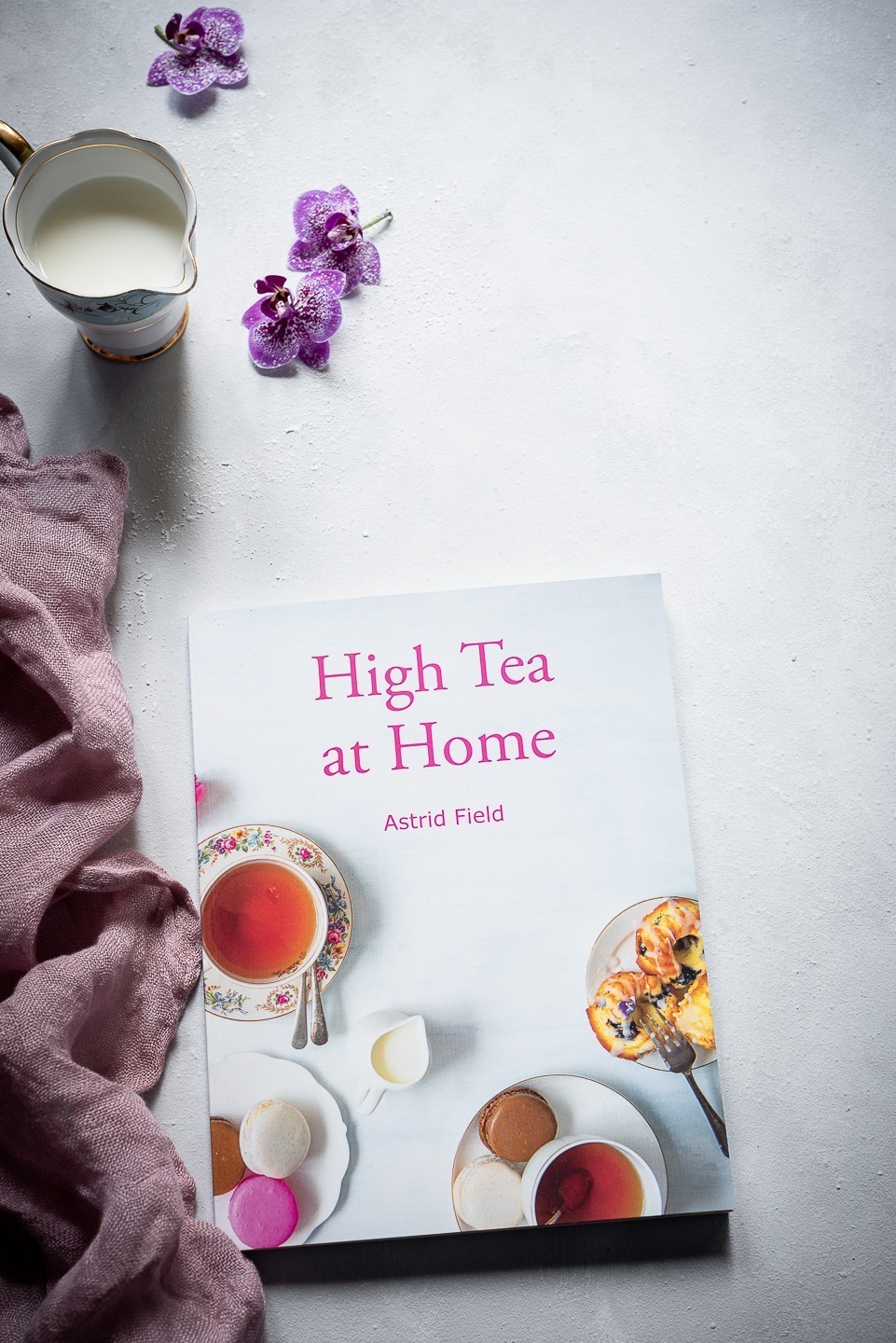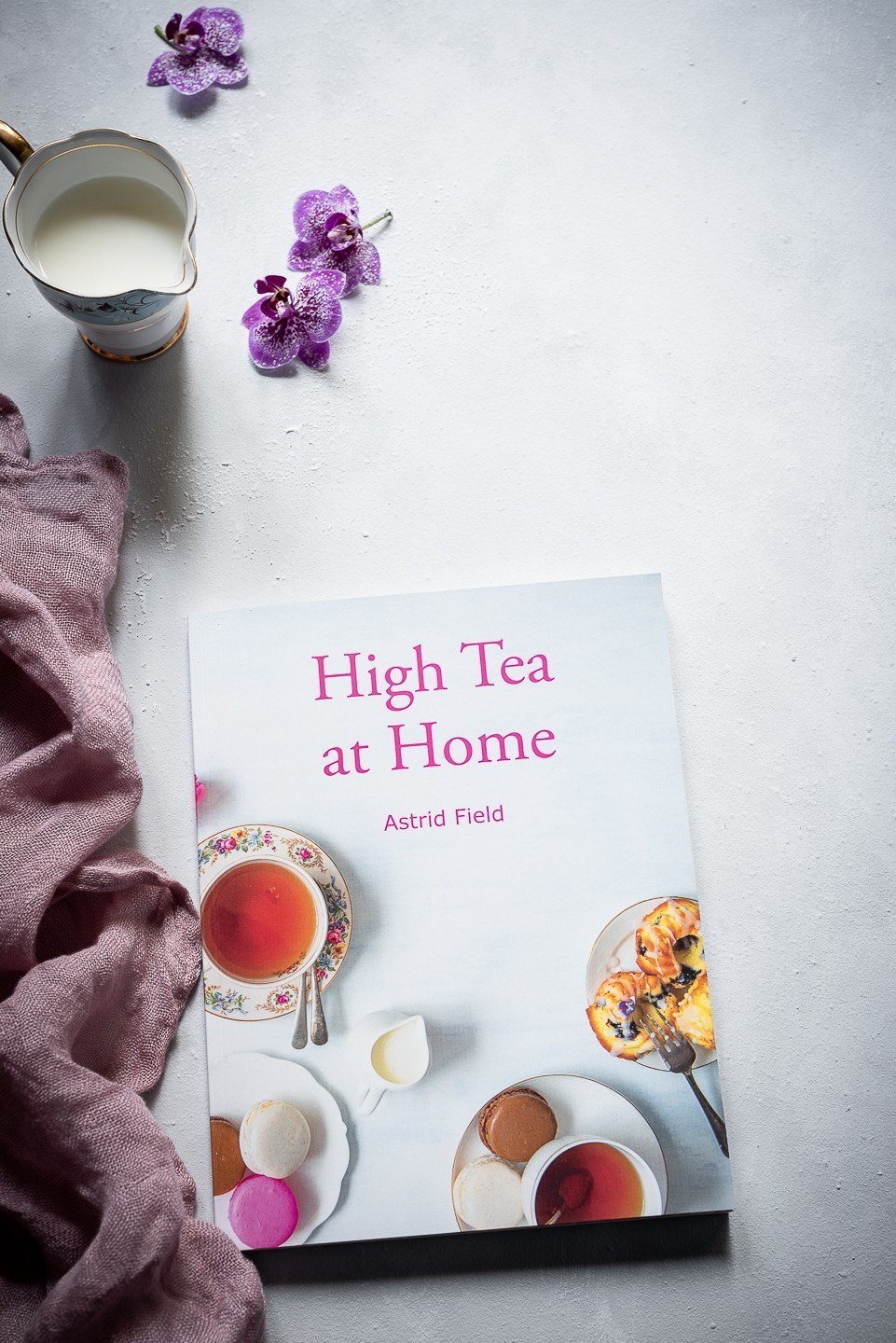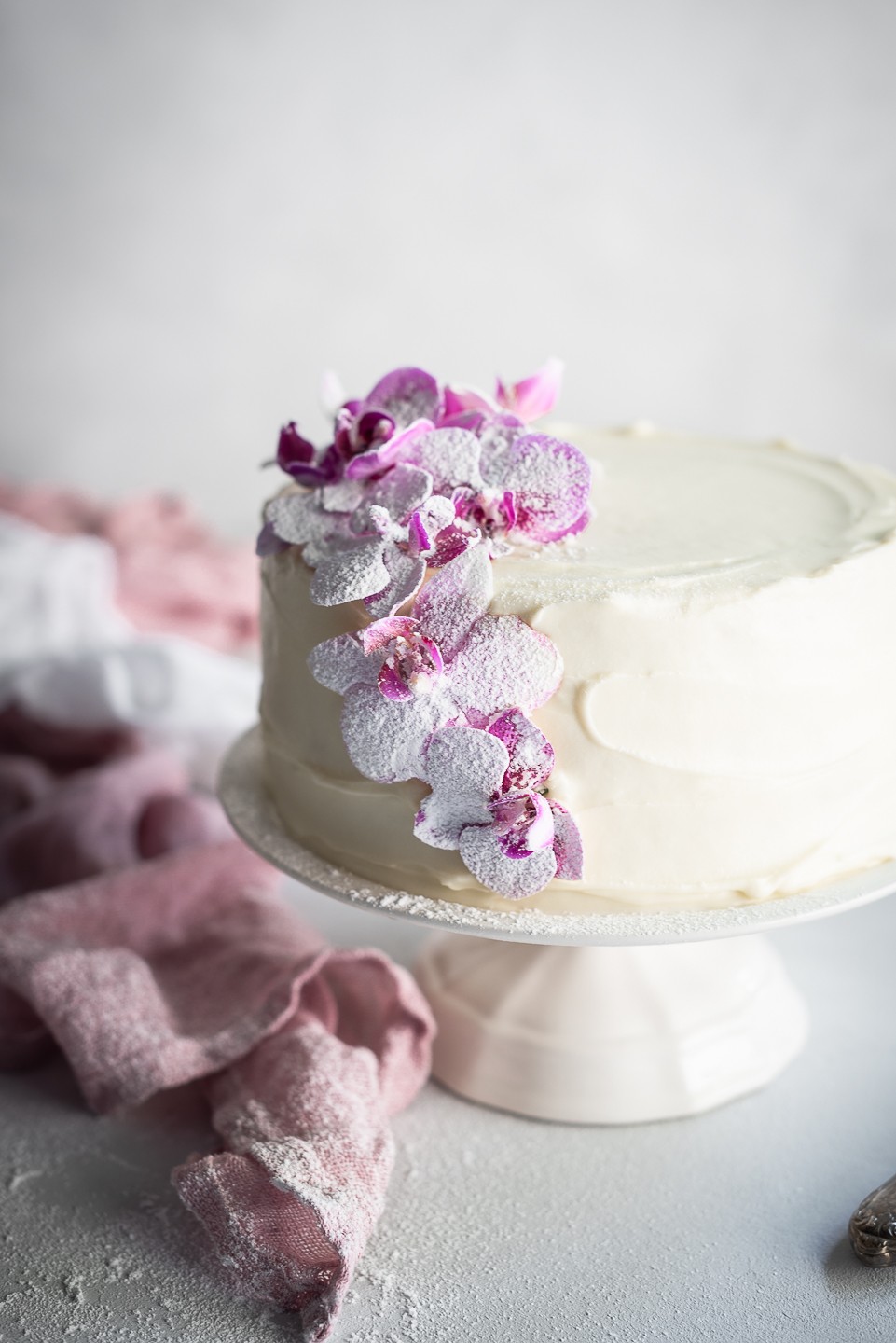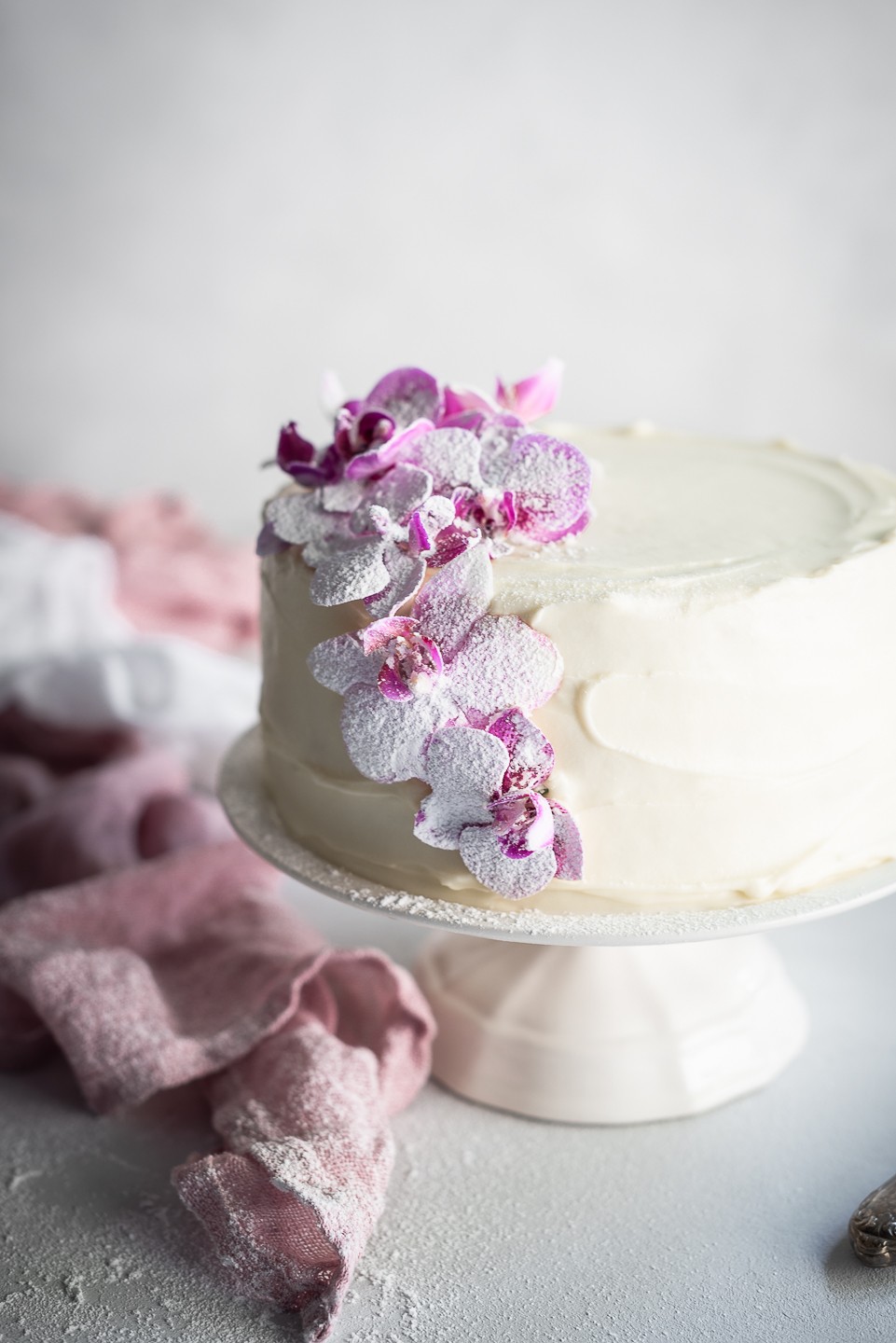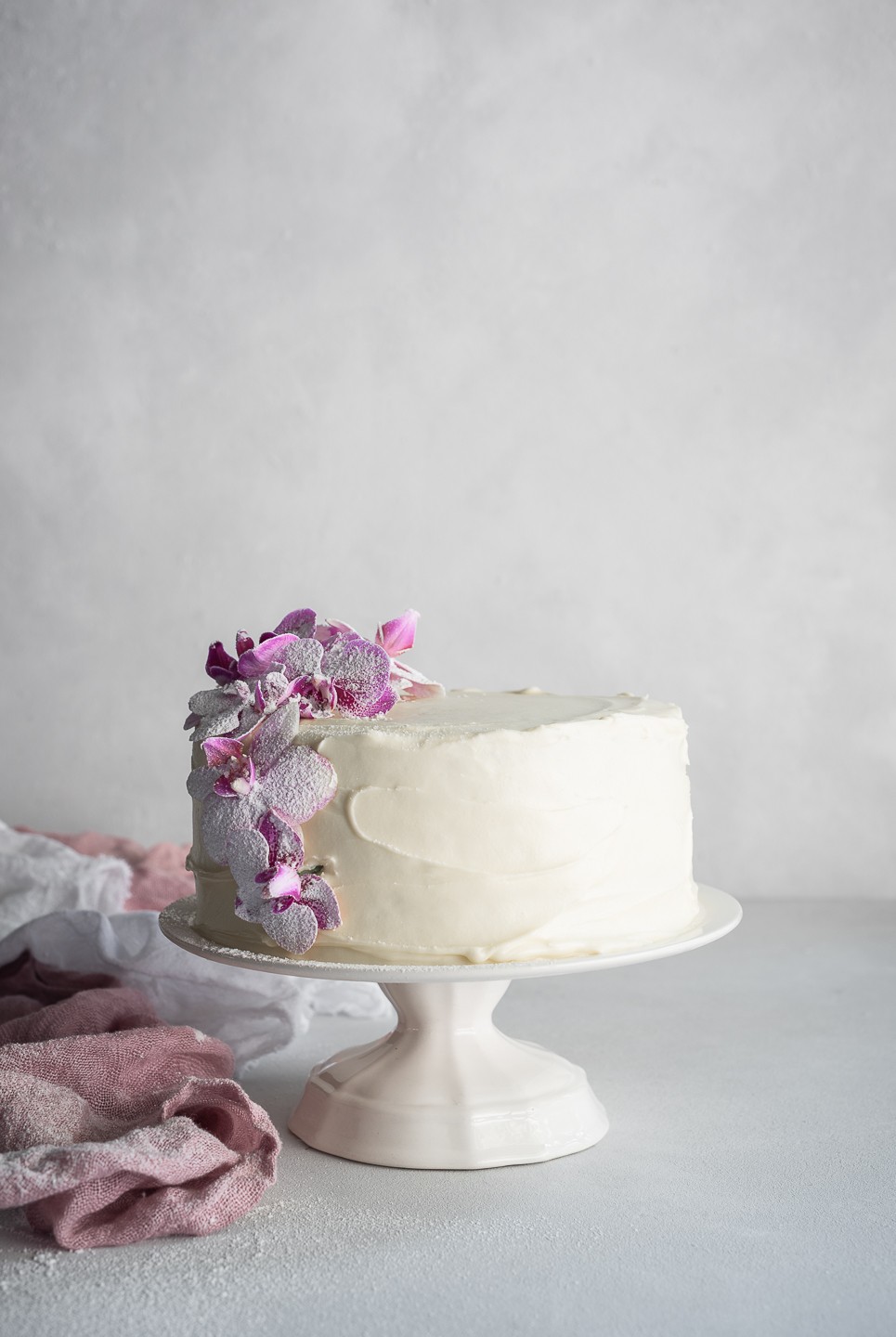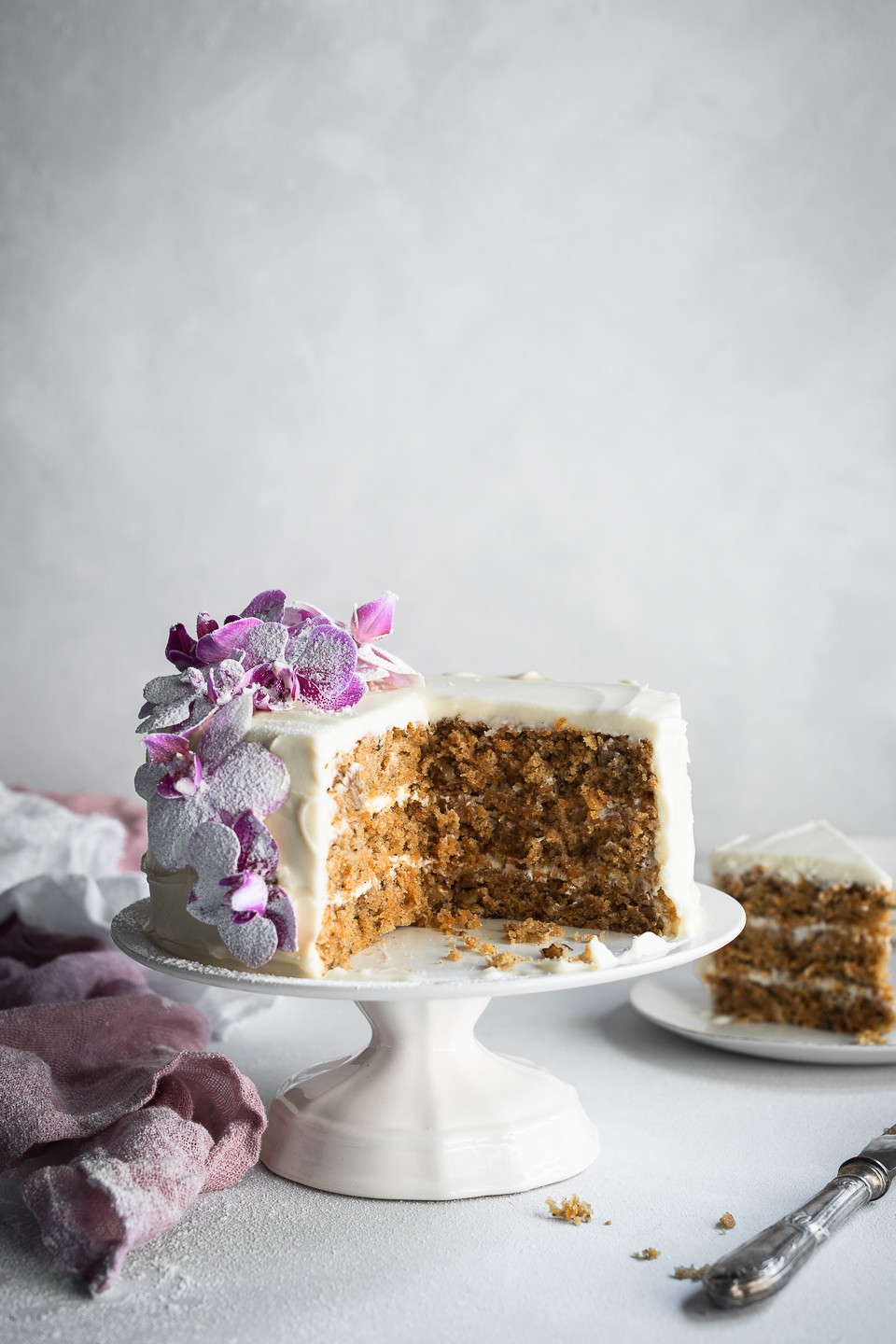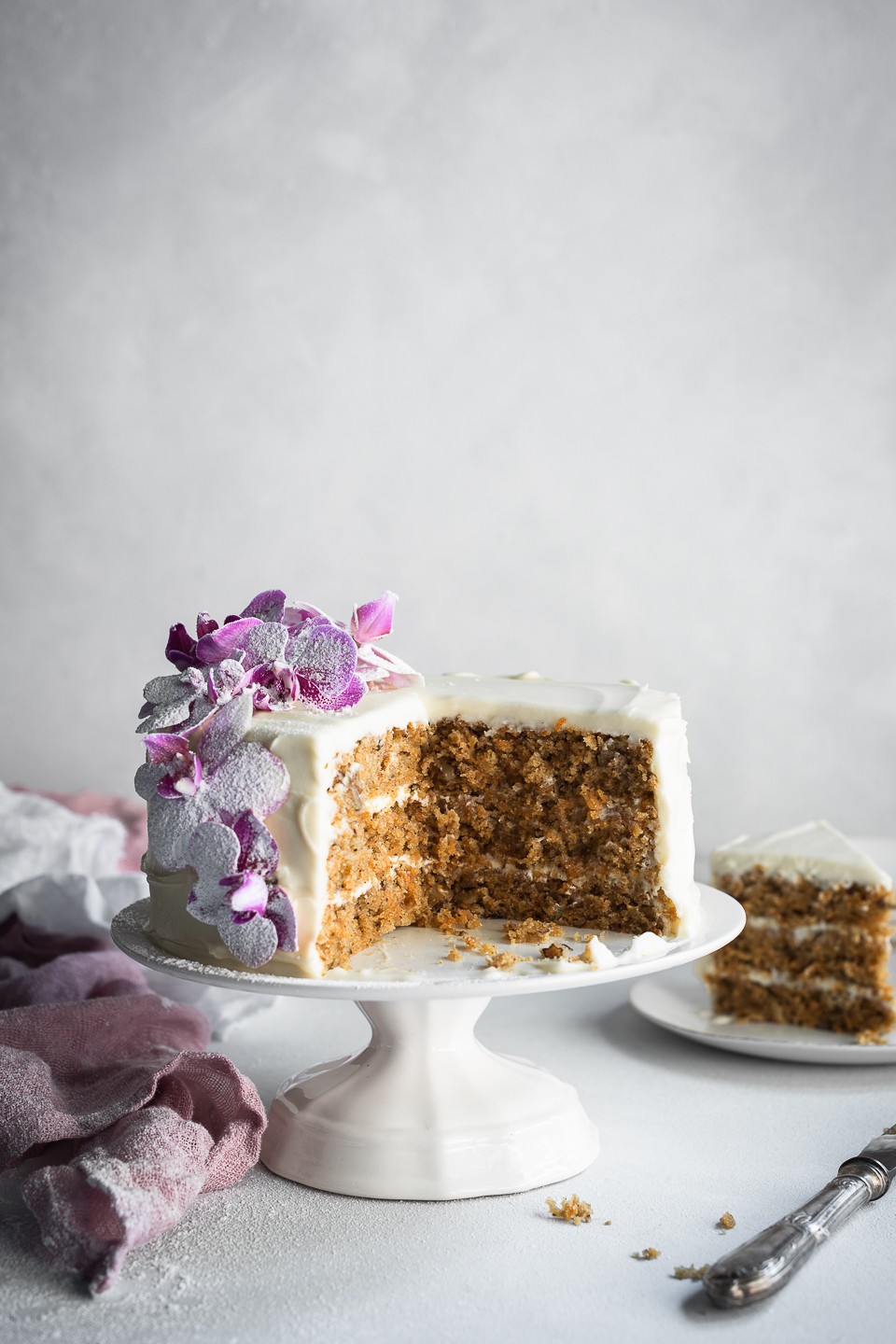 Classic carrot cake
Serves 12
300g l(1 1/3 cup) Natura Sugars Soft Light Brown sugar
3 eggs (xl)
300ml (1 1/4 cup) flavourless vegetable oil
5ml (1 teaspoon) vanilla extract
300g (2 1/4 ) cake wheat flour (all-purpose)
5ml (1 teaspoon) baking powder
5ml (1 teaspoon) bicarbonate of soda
1/4 teaspoon fine salt
5ml (1 teaspoon) ground cinnamon
2.5ml (1/2 teaspoon) mixed spice
300g (2 1/2 cups) finely grated carrots
100g (1 cup) walnuts, roughly chopped
Cream cheese frosting
120 g (1 stick) salted butter, softened
250g (1 cup) Lancewood Medium Fat Cream Cheese, softened
5ml (1 teaspoon) vanilla extract
pinch of fine salt
15ml (1 tablespoon) lemon juice
600g (4 3/4 cup) icing sugar, sifted
Preheat the oven to 170º C. Line 3 x 20cm round baking tins with parchment paper.
Place the sugar, oil, eggs and vanilla in the bowl of an electric mixer. Whisk until well combined and slightly aerated and emulsified.
Sift together the flour, raising agents, salt, cinnamon and mixed spice, then add to the egg mixture. Whisk on a low speed until the flour is well incorporated and smooth. Add the carrots and walnuts and mix in by hand.
Divide the batter equally between the baking tins. Bake for 25-30 minutes. Rest in the tins for 10 minutes before turning out onto a wire rack. Cool completely before frosting.
For the cream cheese frosting, whisk the butter well until pale and creamy. Add the cream cheese, vanilla, salt and lemon juice. Whisk to combine, then add the icing sugar. Whisk on high speed for until the frosting is pale and fluffy, about 3-4 minutes.
Place the first cake layer on a cake stand. Spread about 2 tablespoons icing onto the first layer. Place the second cake layer on top and cover with icing. Repeat with the third layer. Cover the sides and top with a scant layer of frosting. This forms the crumb coat. Chill the cake for at least an hour.
Cover the entire cake with the remaining frosting.
For more special occasion cakes, you may like to browse past here:
Honey Pannacotta cake with Rosé Jelly
Vanilla and orange cake with grapefruit curd
Brazilian carrot cake from Genius Desserts
Red wine and olive oil chocolate cake