Vanilla and orange cake with grapefruit curd
7 May 2019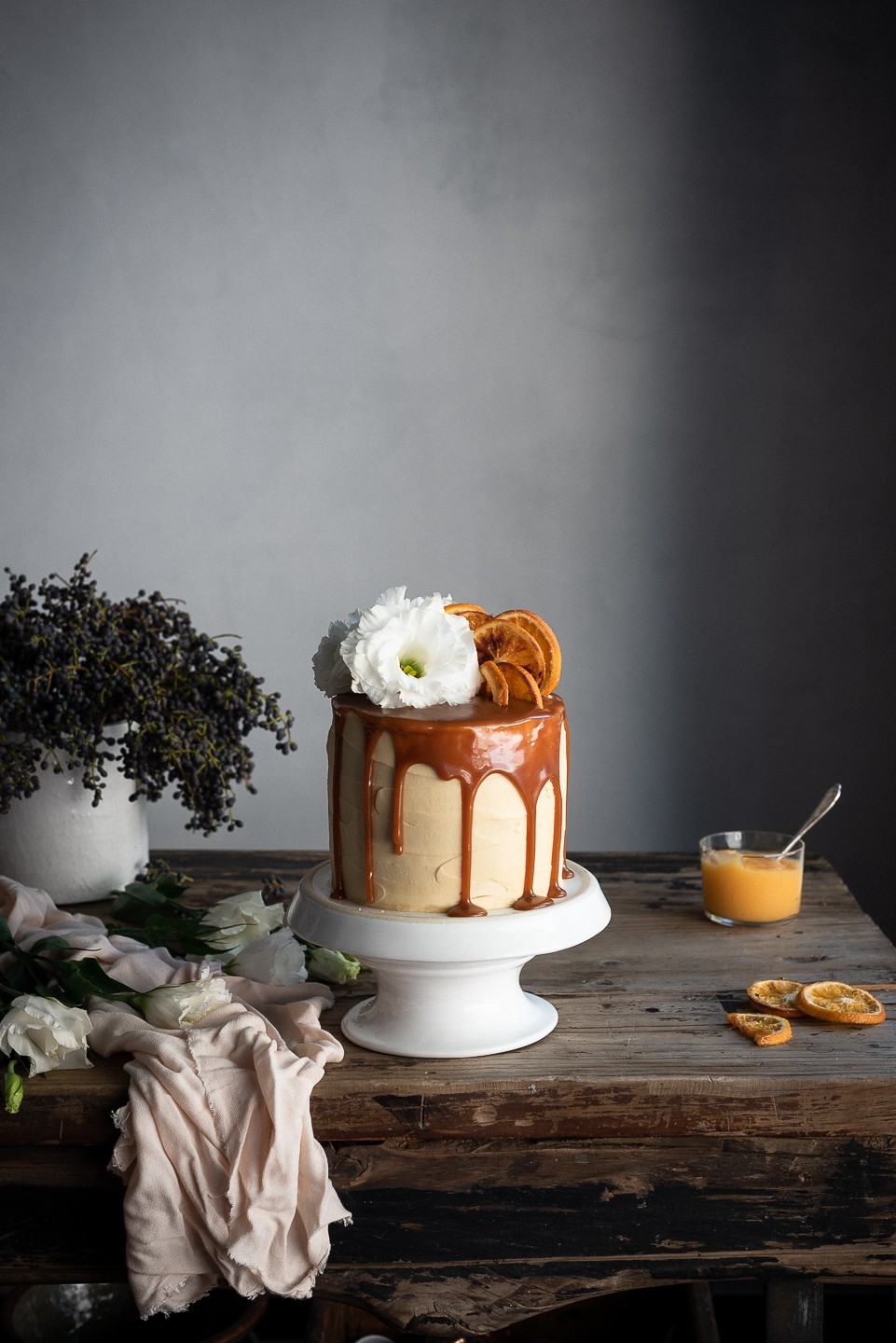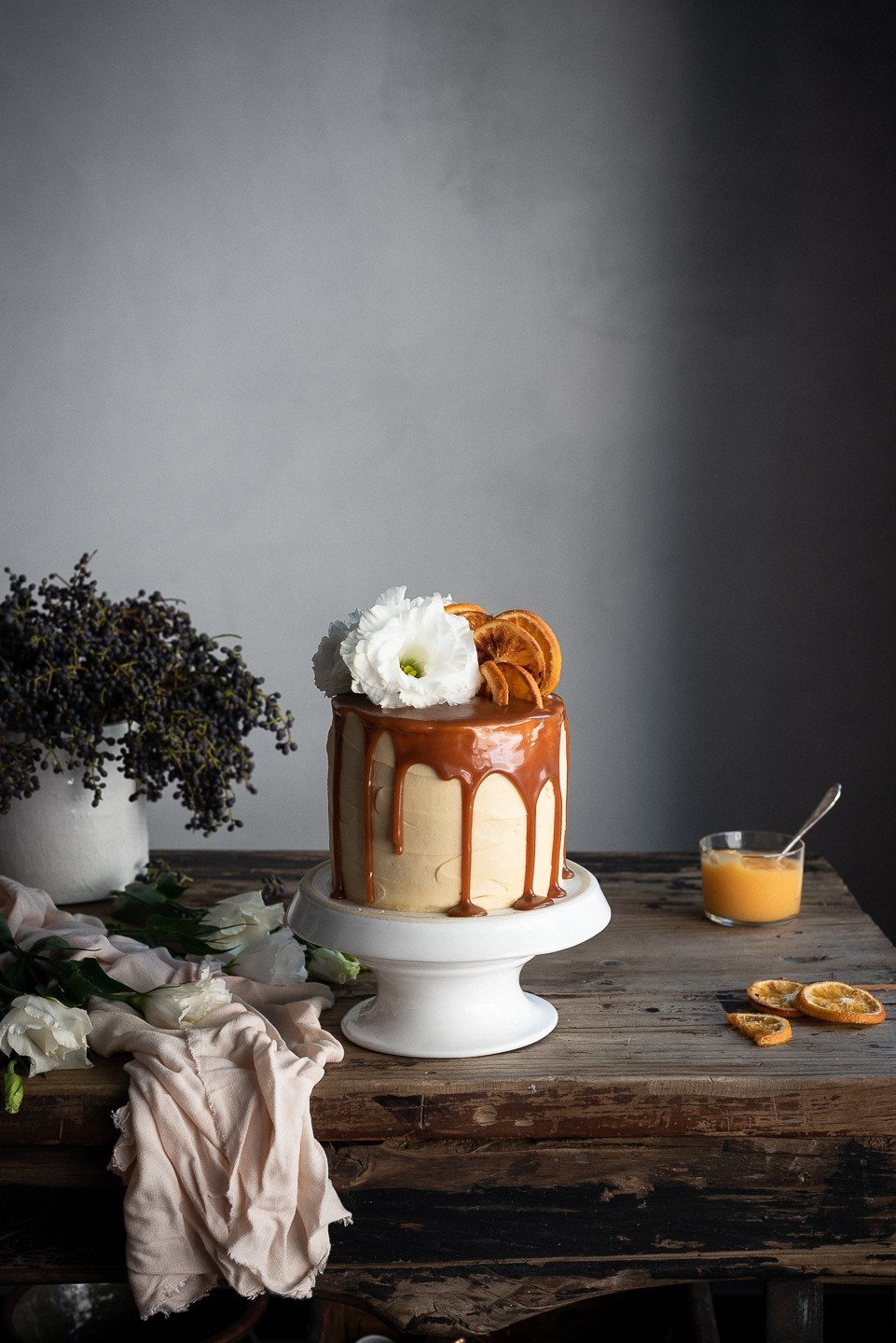 As with most special occasions, we celebrate with cake. There's something magical that happens when the cake arrives. To be honest, there's always cake in our house. Most often it's a homely loaf, like say a simple banana bread. For birthdays and Mother's Day though, a cake that stirs a flicker of excitement, is requisite.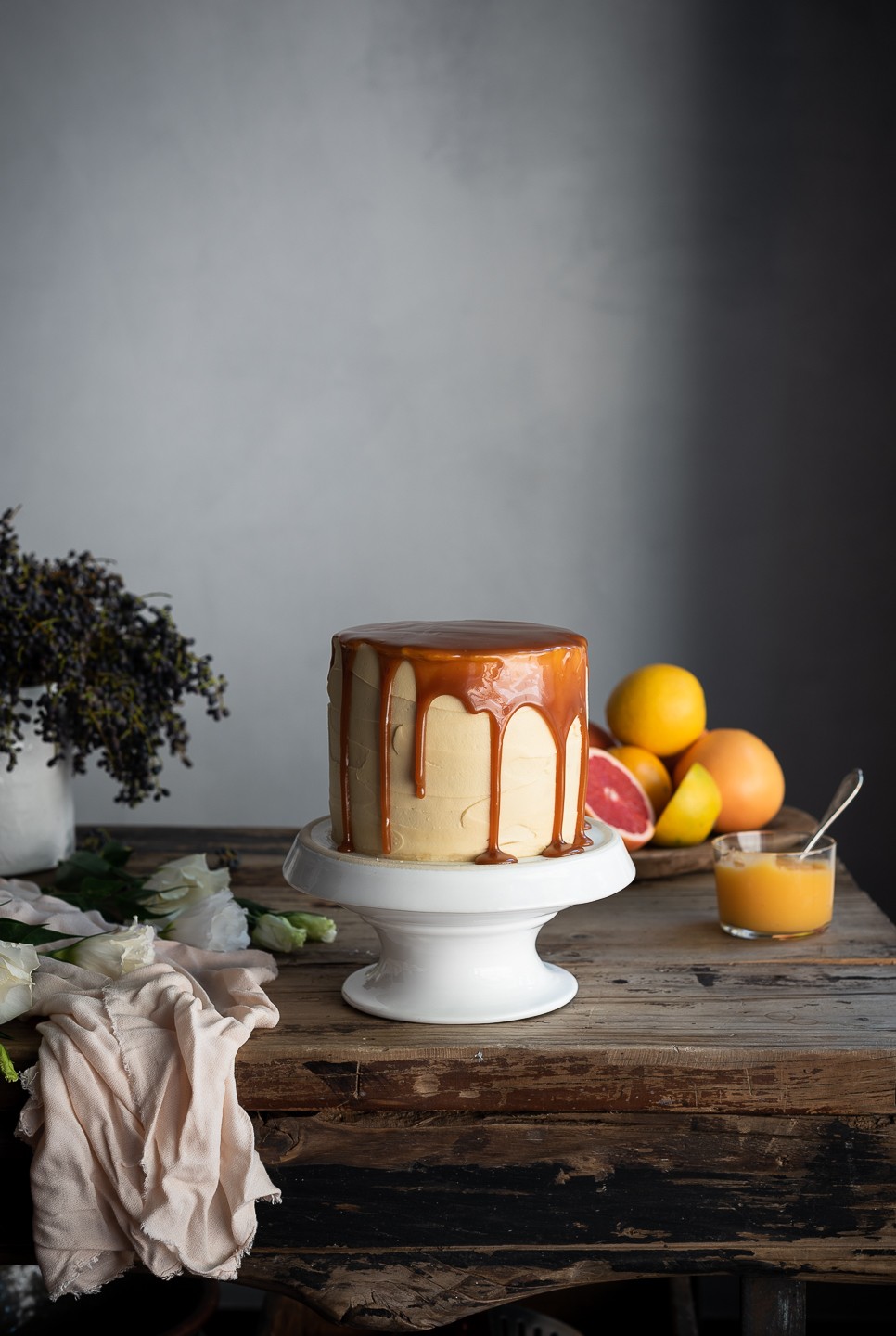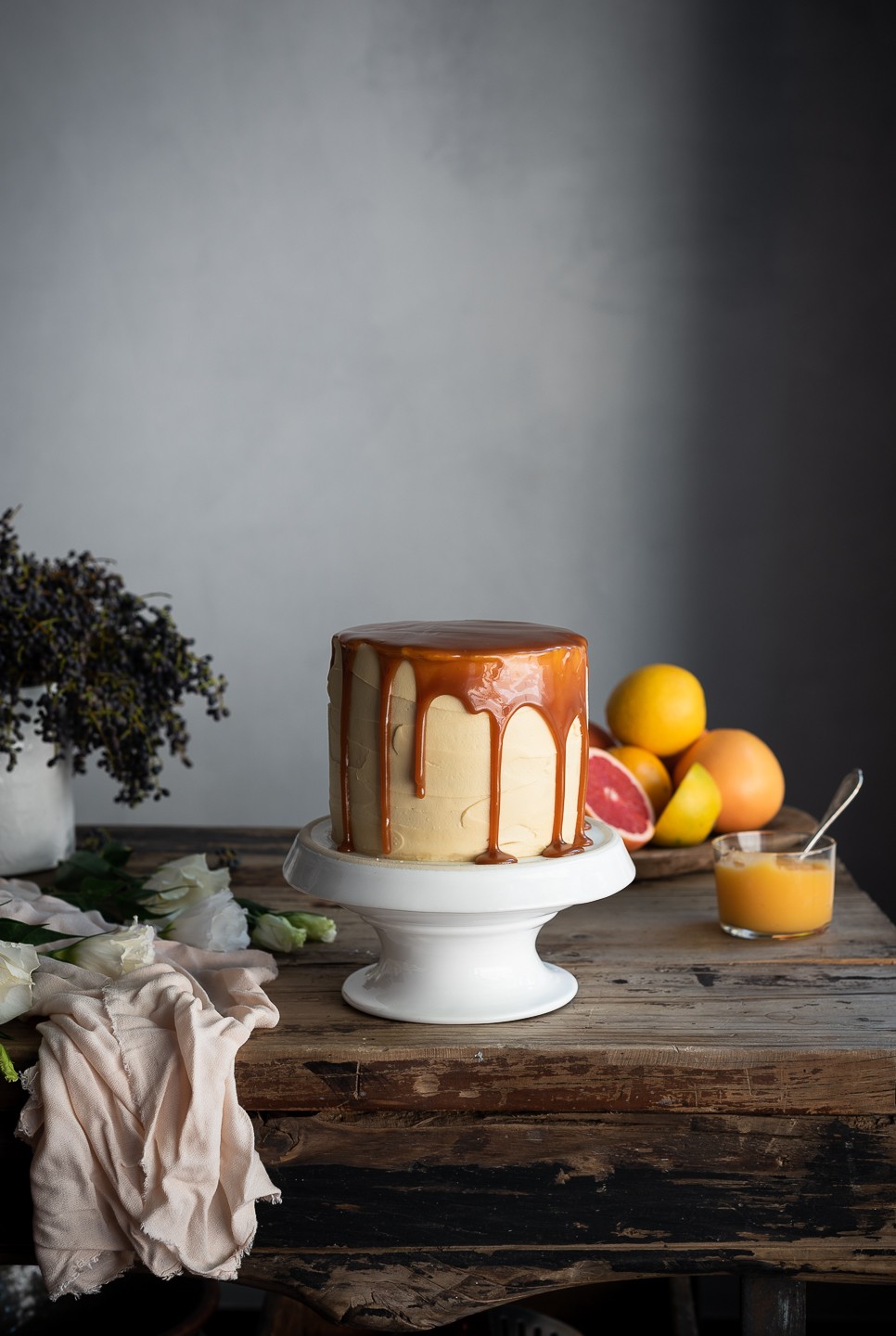 A good vanilla cake, while not wild or fanciful, is essential to any baker's repertoire. It plays host to any number of flavourful fillings and frostings. For this special Mother's Day cake, I've woven the brightness of winter citrus into each element.
With intent, I've kept the method doable and easy. Although there are several steps to making this cake, none are difficult or time consuming. Often, when a recipe calls for several steps, I do as much as possible the day before. In this instance, I prepared the curd and caramel the day before, leaving the baking of the sponges and frosting to the following day.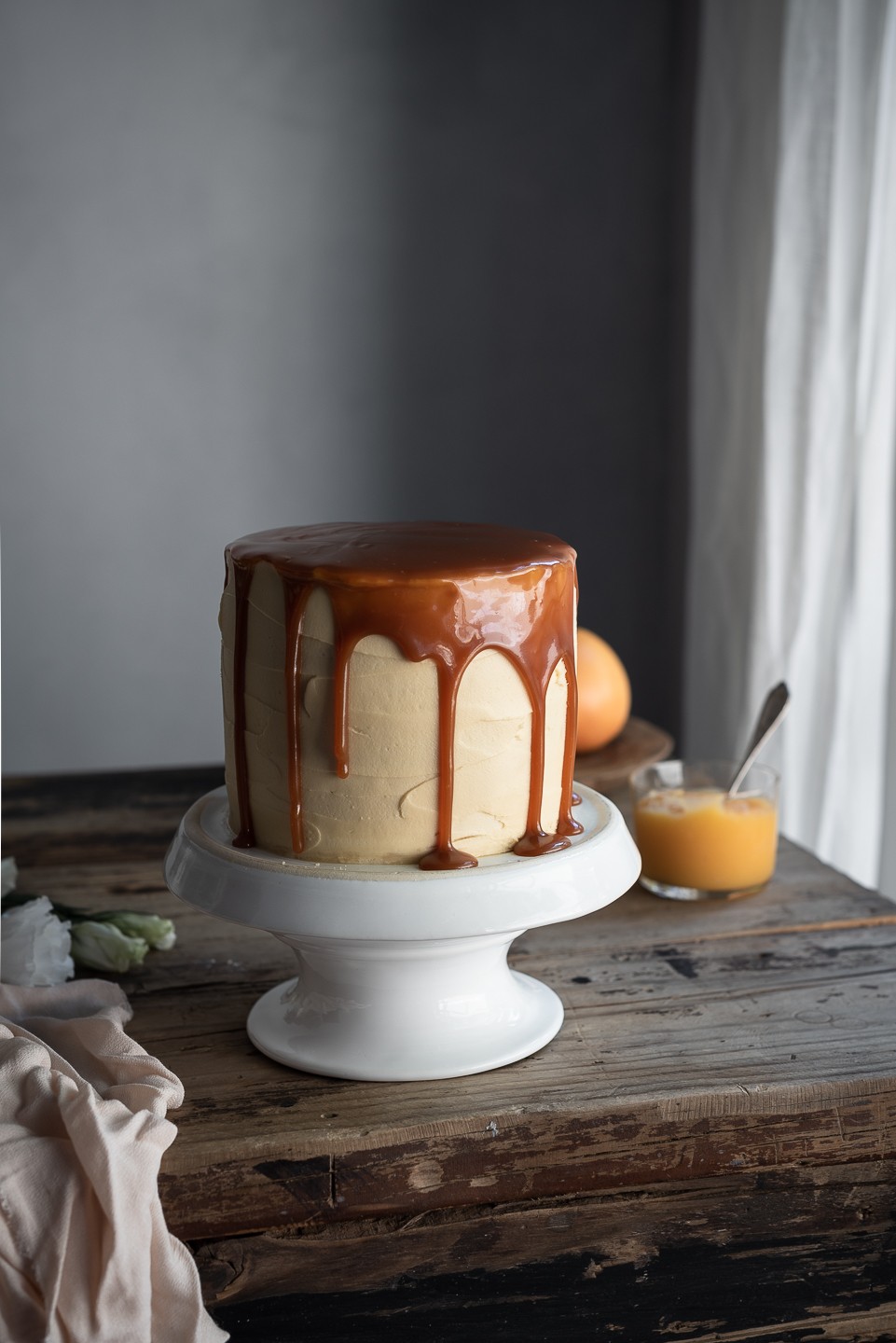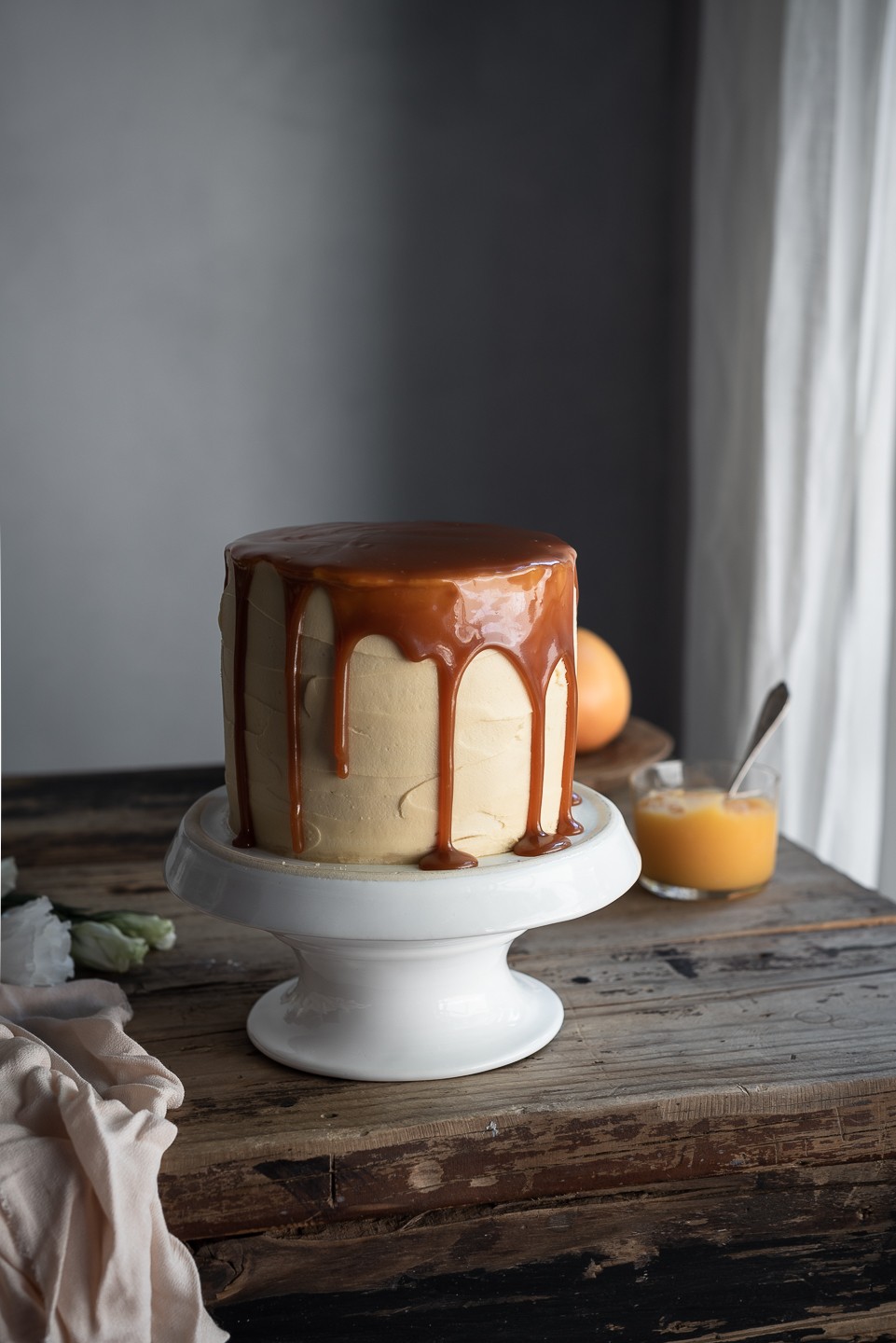 The cake layers are sandwiched together with a tart ruby grapefruit curd and orange infused caramel. A cream cheese frosting provides a soothing creaminess that contrasts beautifully with the tartness of citrus. While not essential, I like to cover the cake with a crumb coat first before the final frosting. It fills in any imperfections and provides a smooth foundation for the final coat. The frosting is creamy but not too buttery or rich.
Sponge cakes are usually best eaten on the day they're baked. That said, if you're making it to serve for a Mother's Day dessert or tea, it'll keep perfectly well if you bake it the day before, in which case, chill overnight and bring to room temperature before serving. PS It's day 3 and I've just gone in for another spoonful. I'm pleased to say, the cake is as tender and soft as day 1.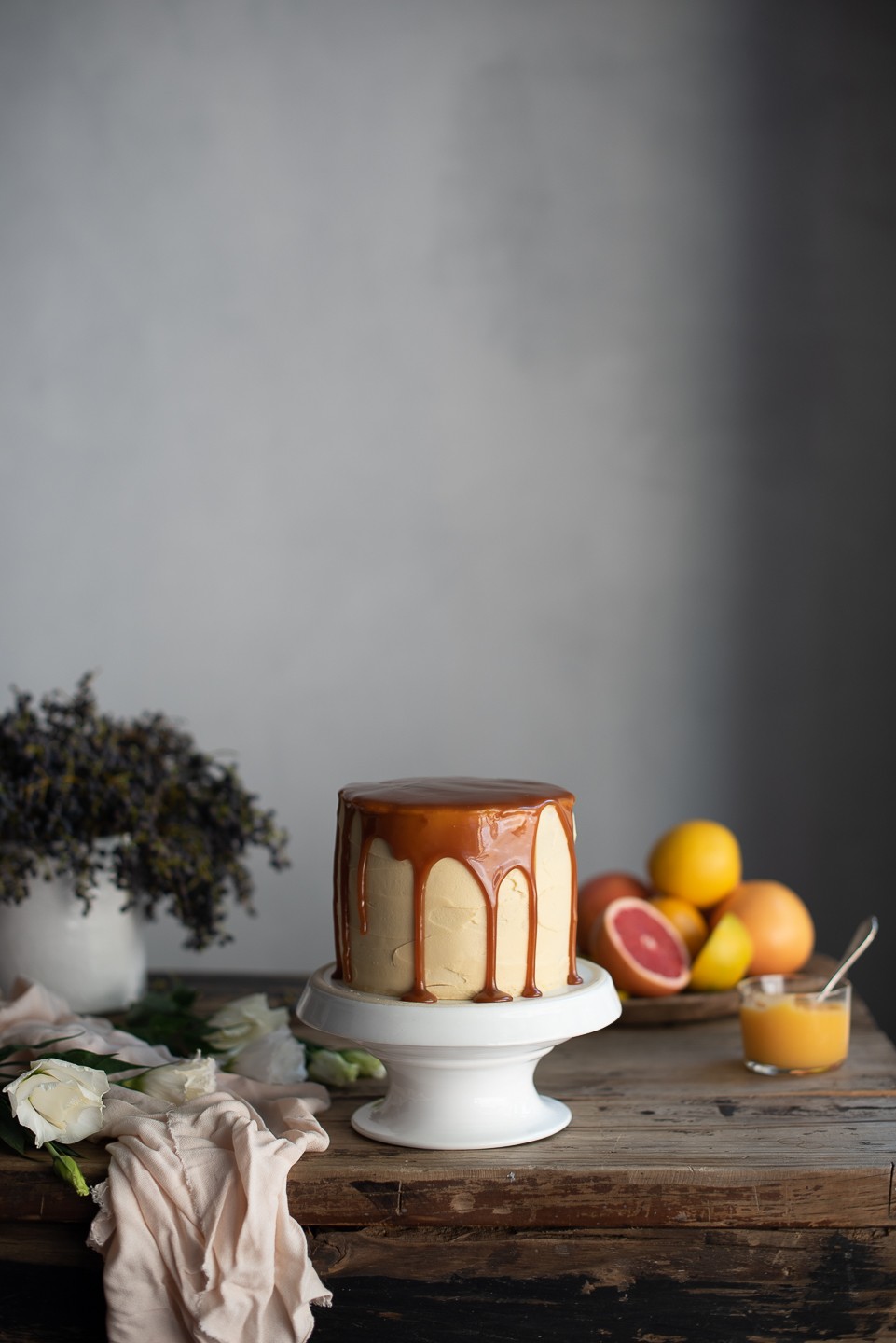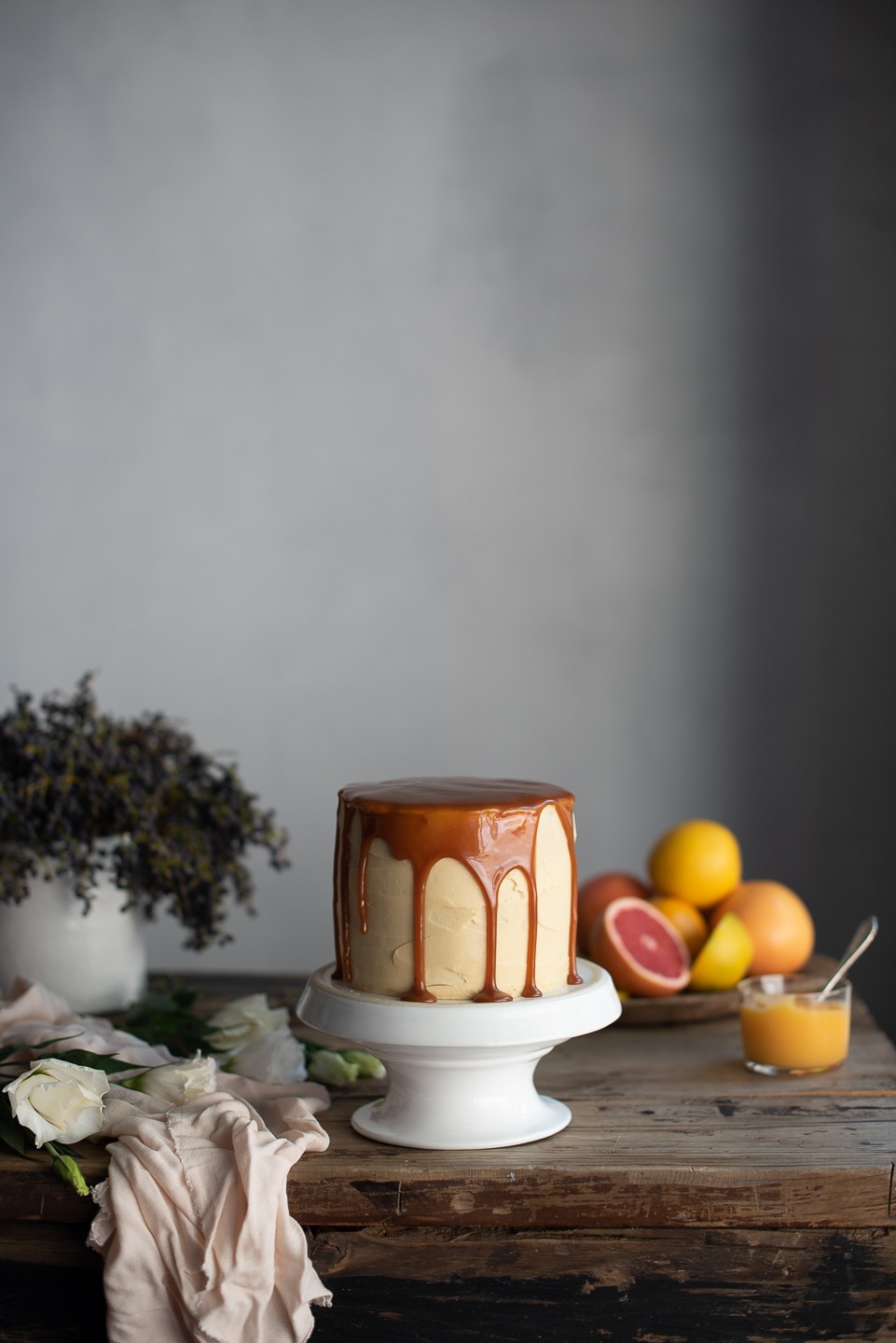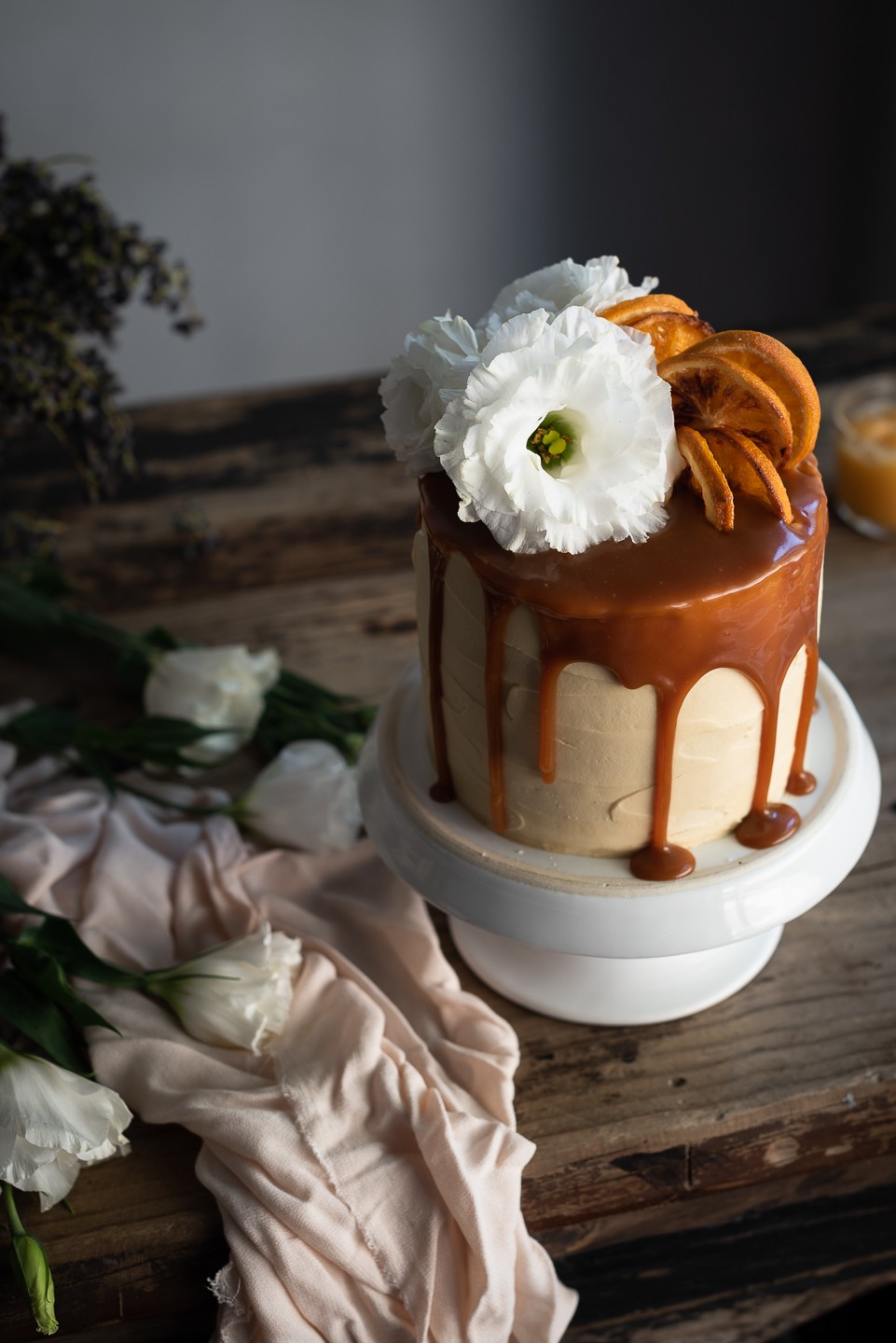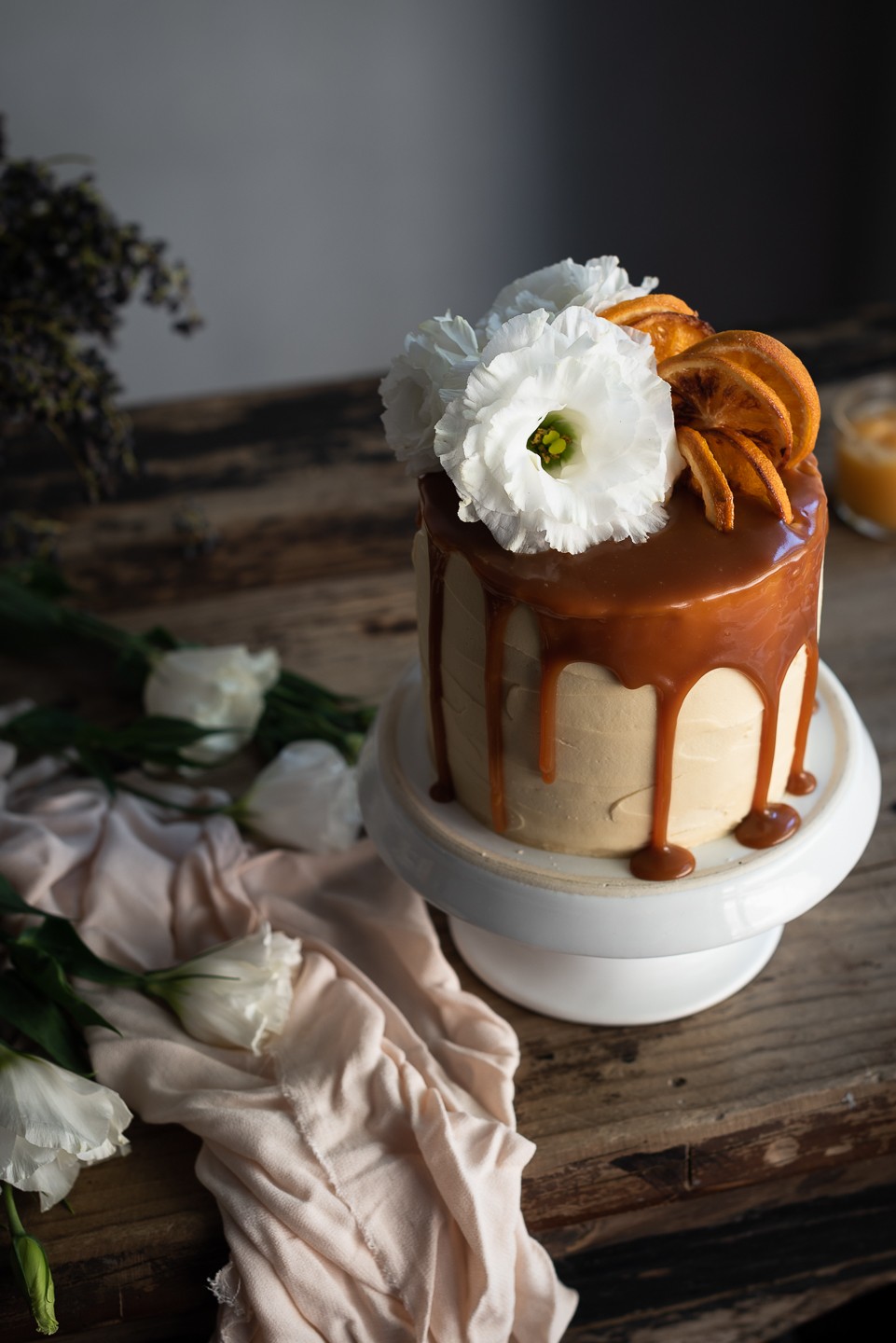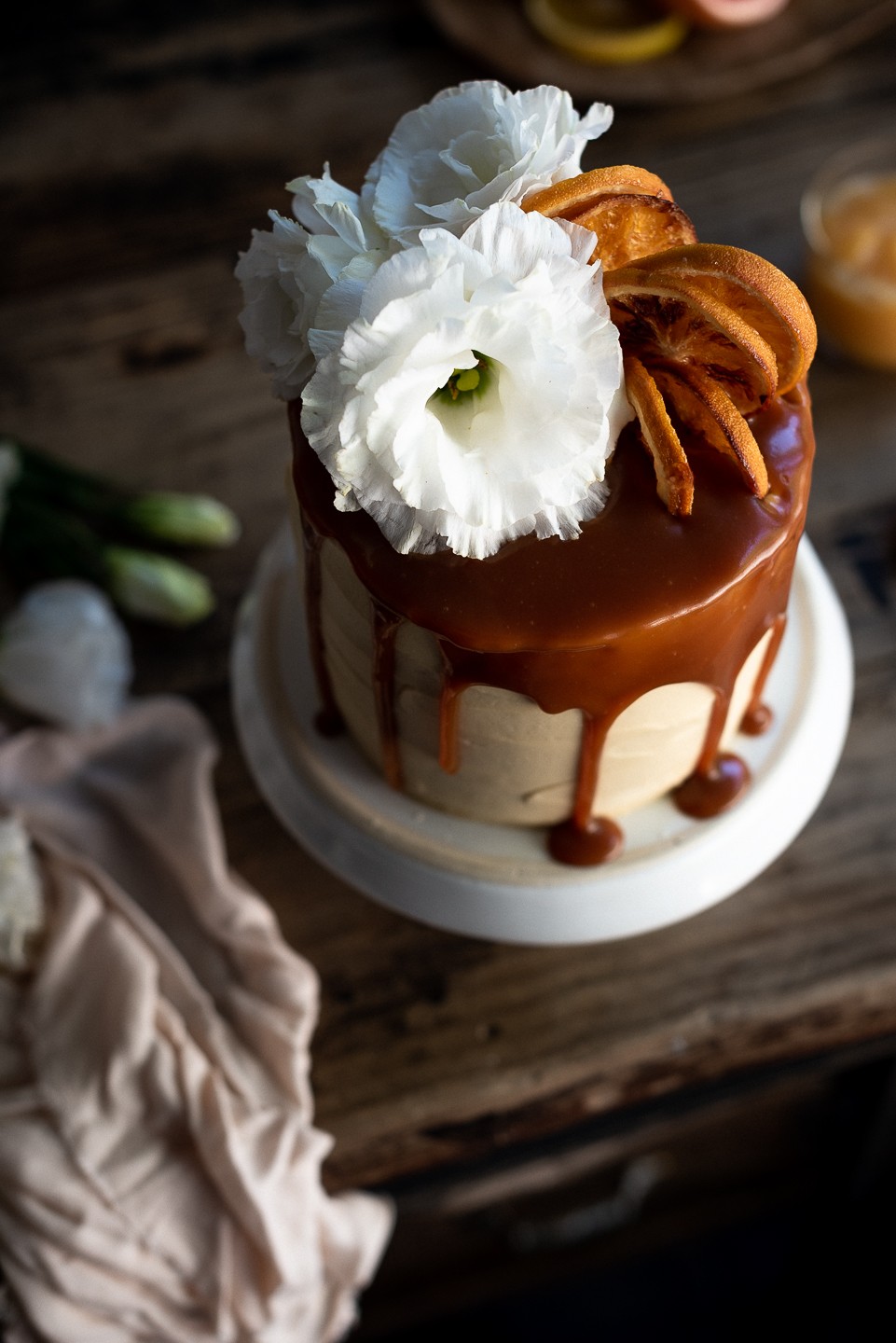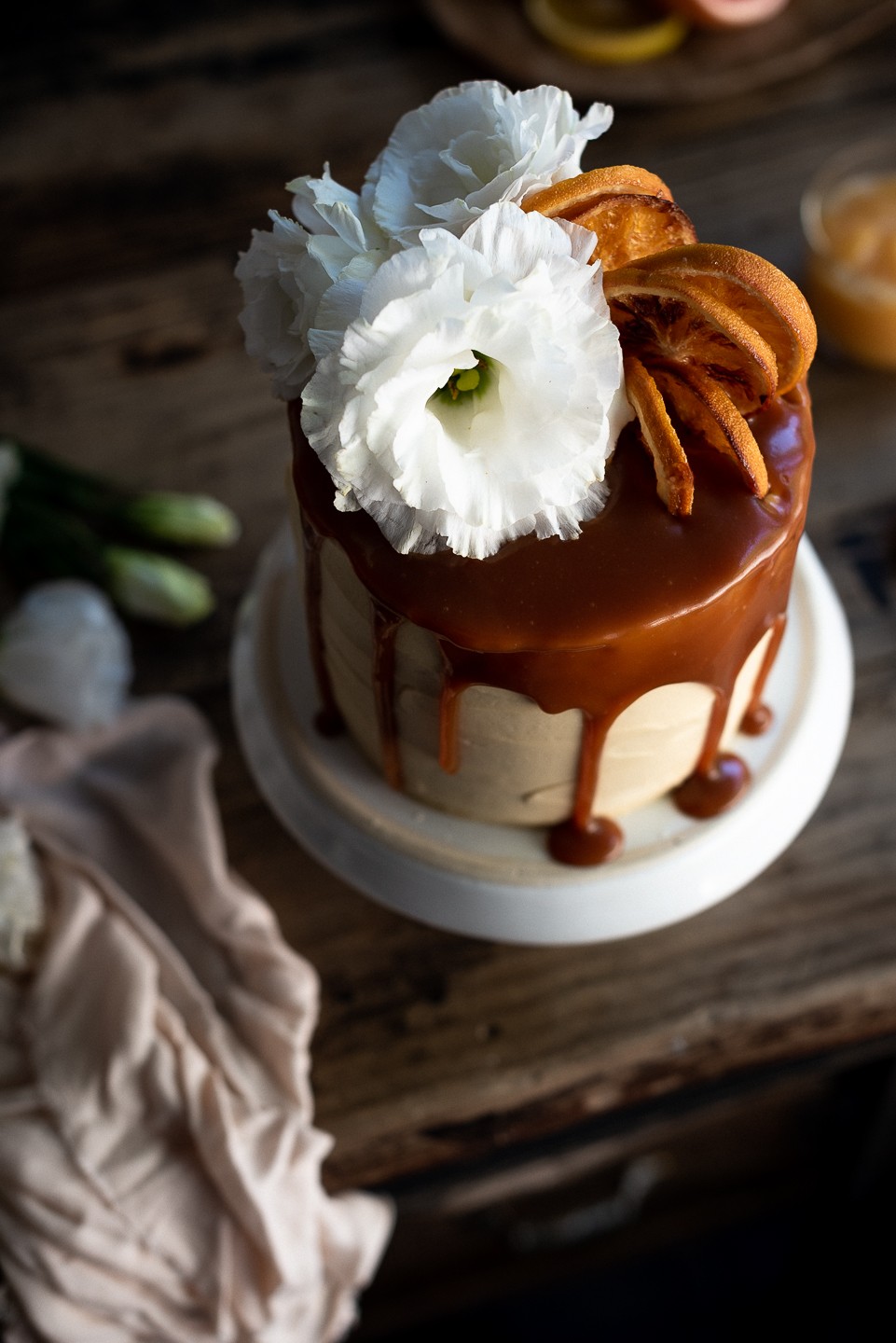 For this special Mother's Day bake I've partnered with Natura Sugars, using their superior unrefined Golden castor sugar. I've always struggled to find golden castor sugar, so this is a win for avid bakers. It adds a gentle caramel-y flavour and supports a fine textured crumb. For sponges and biscuits in particular, this is my go-to baking ingredient. While it's an all butter cake, similar to pound cake, I like to add buttermilk to the batter for a lighter sponge. There are several points to keep in mind for the best results. Here are my top five.
Ensure the butter, eggs and buttermilk are at room temperature when mixing the batter.
Add eggs one at a time, incorporating each one well, before adding the next.
Sifting the dry ingredients – flour, salt and raising agents – incorporates air and yields a light bake.
Over mixing the batter once the flour has been added develops the gluten in flour and will make the cake crumb tight and tough.
Always test for doneness before removing from the oven. Add extra time in increments of about 3-4 minutes until a cake tester comes out clean.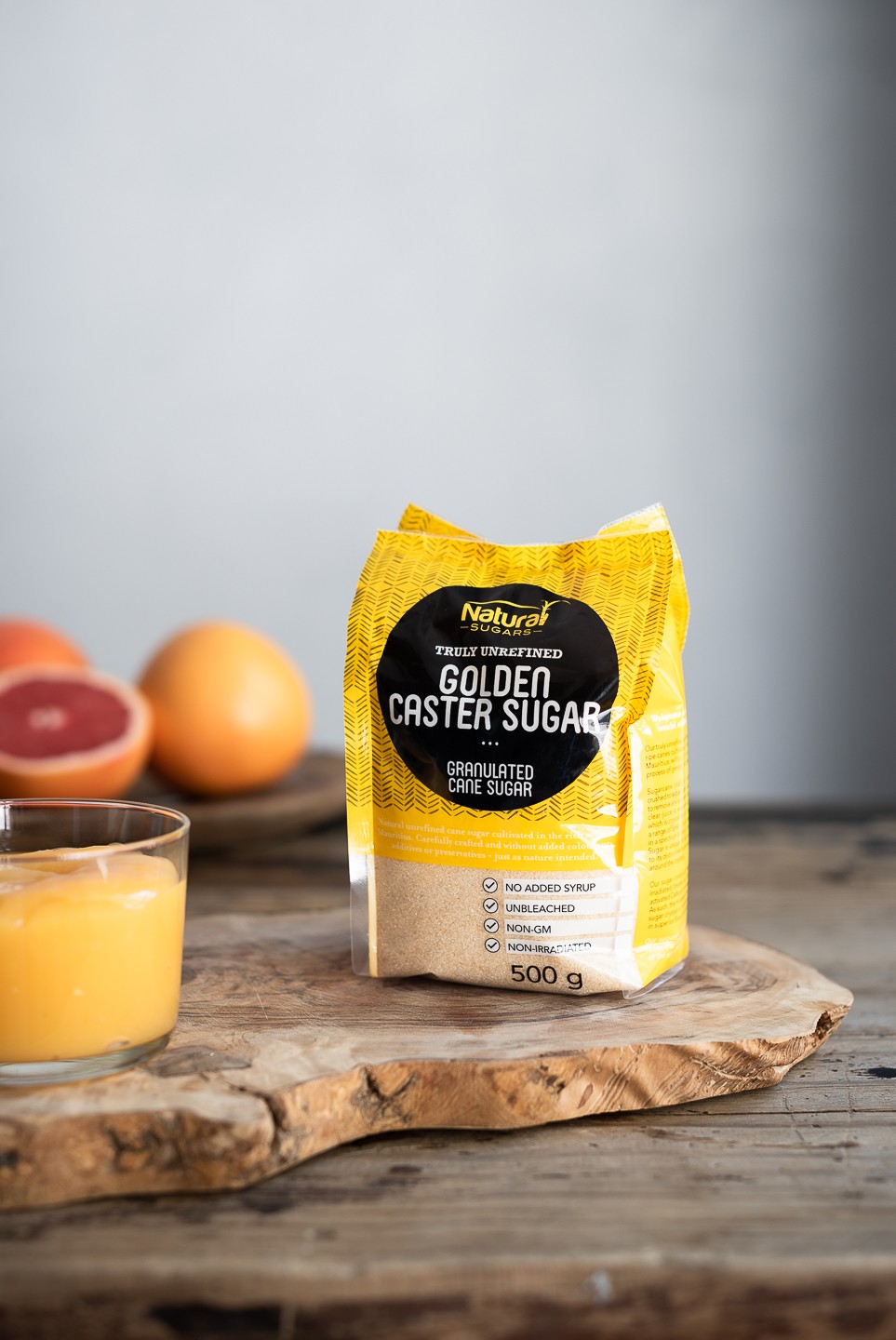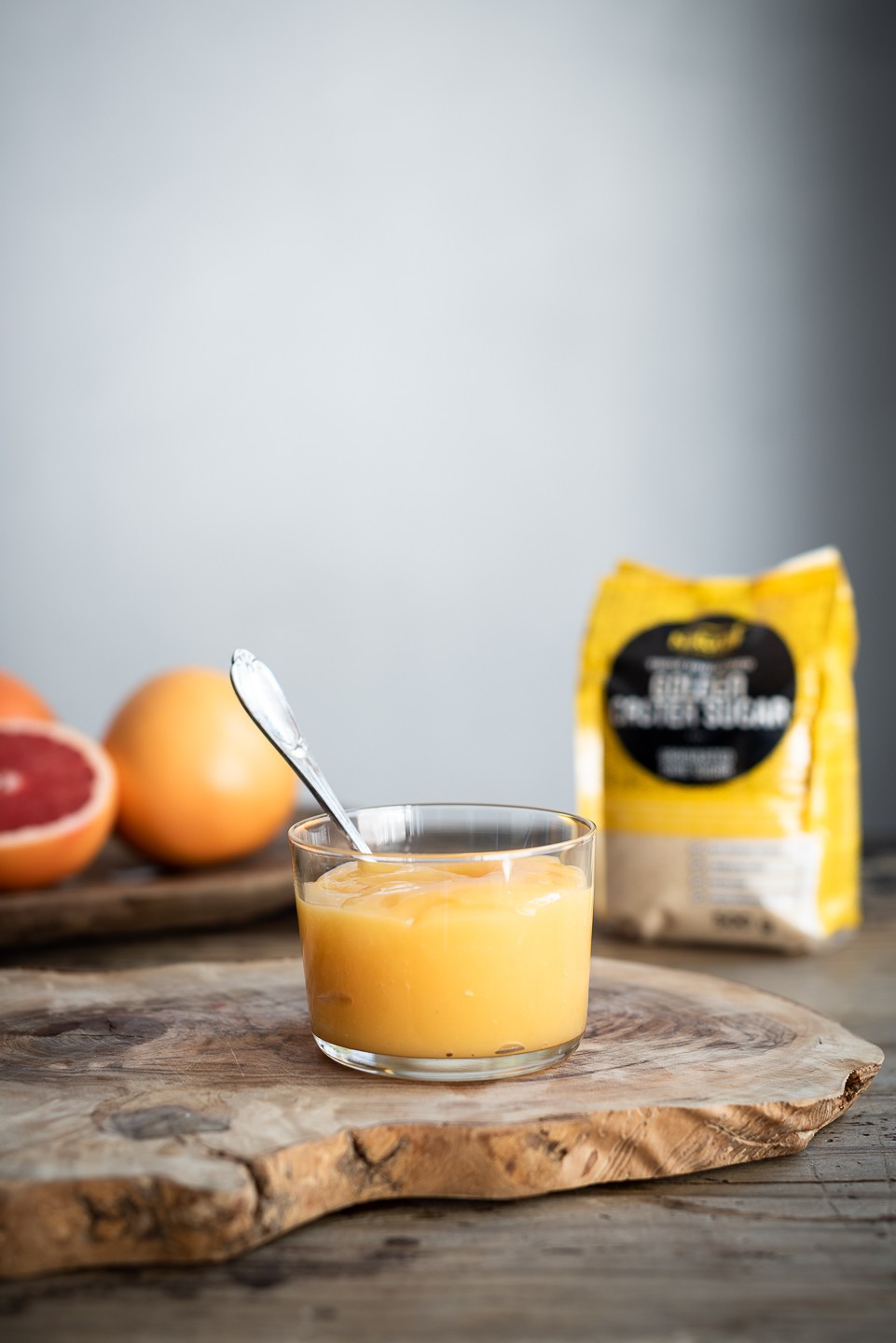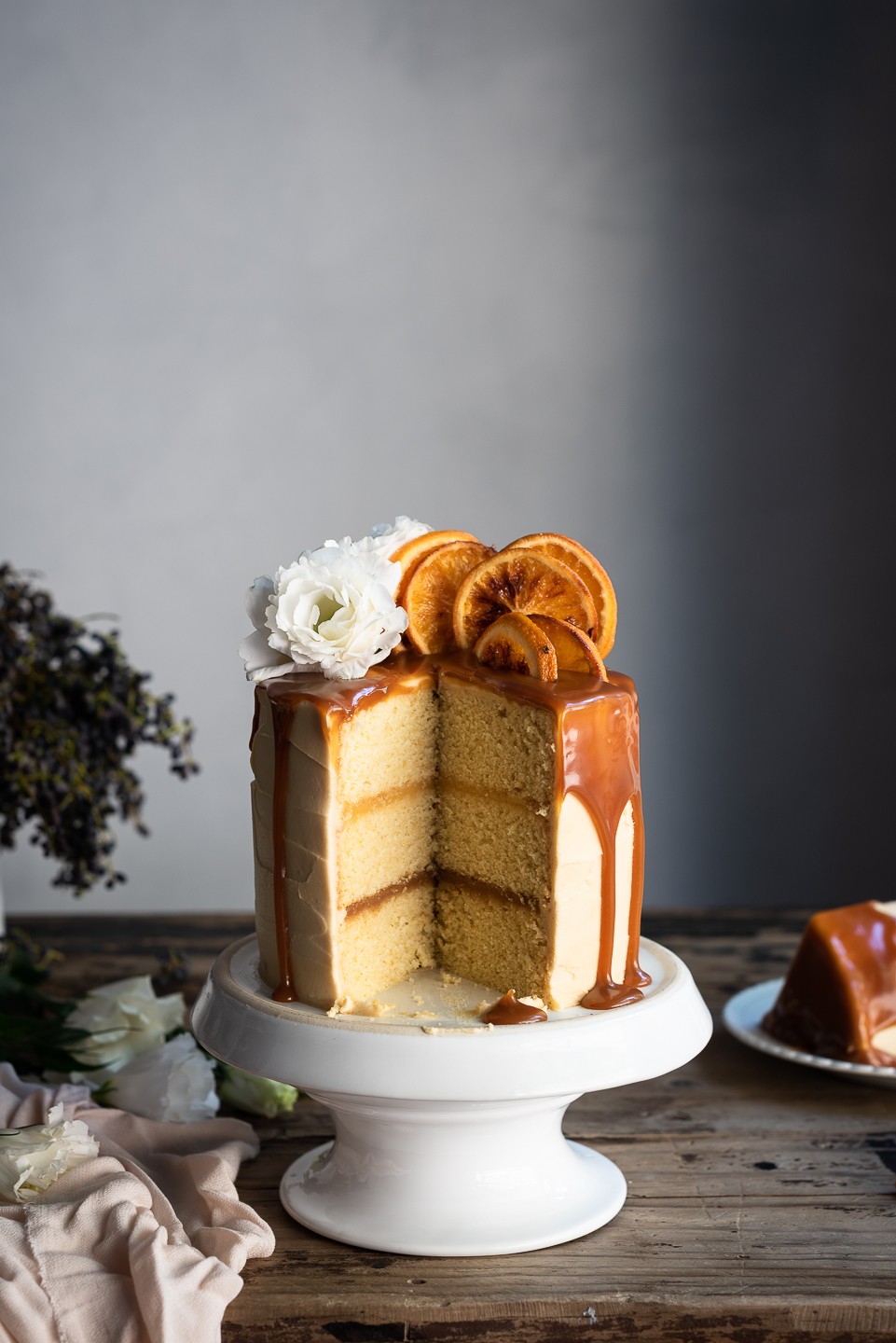 Vanilla and orange cake with grapefruit curd
Serves 10 -12
180g butter, at room temperature
150g Natura Sugars Golden Castor Sugar
4 eggs, at room temperature
10ml (2 tsp) vanilla extract
zest of 1 orange
160ml (2/3) cup buttermilk
250g (1  2/3 cup) self-raising flour
2,5ml (1/2 tsp) baking powder
1/4 teaspoon fine salt
Caramel
100g Natura Sugars Golden Castor Sugar
250ml (1 cup) fresh cream
45ml (3 tbls) butter
1/2 teaspoon sea salt flakes
Frosting
125g butter, at room temperature
250g Full fat cream cheese
5ml (1 tsp) vanilla extract
180g Natura Sugars Icing Sugar
For finishing
100ml grapefruit curd or store bought citrus curd
fresh flowers, to decorate
Preheat the oven to 180º C. Grease and line 3 x 15cm cake tins with baking paper.
Cream the butter and sugar together until light and fluffy, about 3 minutes. Add the eggs, one at a time, beating well between each addition. Add the vanilla and orange zest and mix to incorporate.
Sift together the flour, baking powder and salt. With the mixer running, add 1/3 cup buttermilk. At this point, the mixture will look slightly curdled. Add half the sifted flour to the egg mixture and beat on a low speed, just until the flour is combined. Add the remaining buttermilk and mix once more. Tip the rest of the flour in and mix on a low speed to incorporate.
Divide the batter between the tins and smooth over. Tap lightly to remove air bubbles. Bake for 27-30 minutes. Test for doneness before removing from the oven. Rest the cakes in the tins for 15 minutes before turning out. Cool completely on a wire rack before frosting.
For the caramel, place the castor sugar in a small saucepan over a medium high heat. Without stirring, swirl the pan from time to time until the sugar is melted and a deep amber colour. Add the cream and boil hard until any hard caramel bits are dissolved and the sauce is thickened. Whisk in the butter and salt. Pour half the caramel into a bowl and chill for 1 hour or until set.
To make the frosting, whisk the butter until pale and creamy. Add the cream cheese and vanilla and beat well to combine. Sift in the icing sugar and beat until pale and fluffy, about 3 minutes.
Before assembling the cake, trim the top of the sponges to even out. Place the first cake layer on a cake stand. Spread with the set caramel, then top with the second cake layer. Spread with the curd, then top with the final cake layer.
Cover the sides and top of the cake with a thin layer of frosting. This is the crumb coat. Chill for at least 1 hour. Using an off-set spatula, spread the remaining frosting over the cake. Drizzle the remaining caramel over the top of the cake, encouraging drips down the sides. (You might need to warm the caramel slightly if it has thickened) Decorate with fresh flowers and candied orange slices, if you like.
This post was sponsored by Natura Sugars. As always, opinions remain my own. 
Here's the recipe for my quick and simple Ruby grapefruit curd