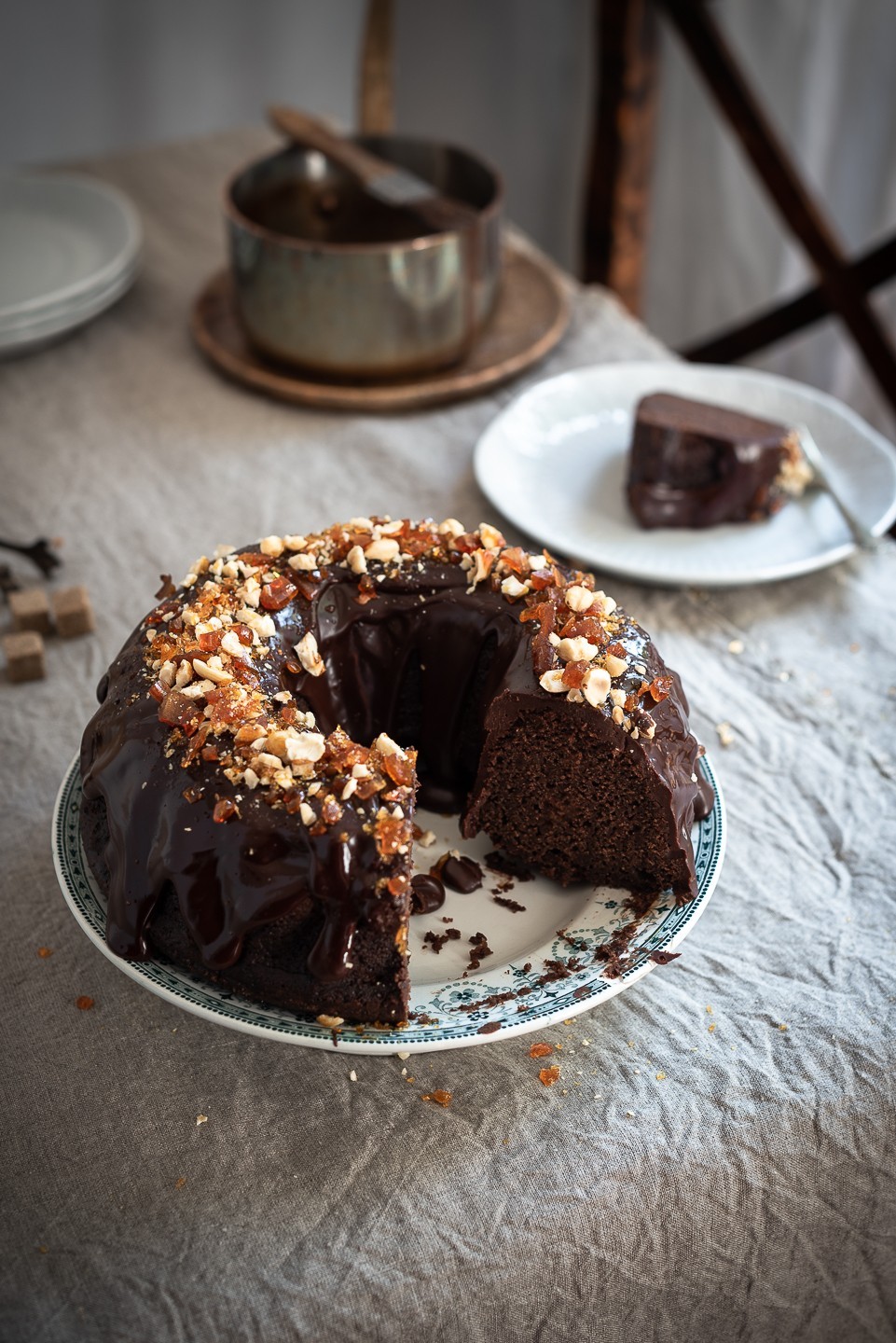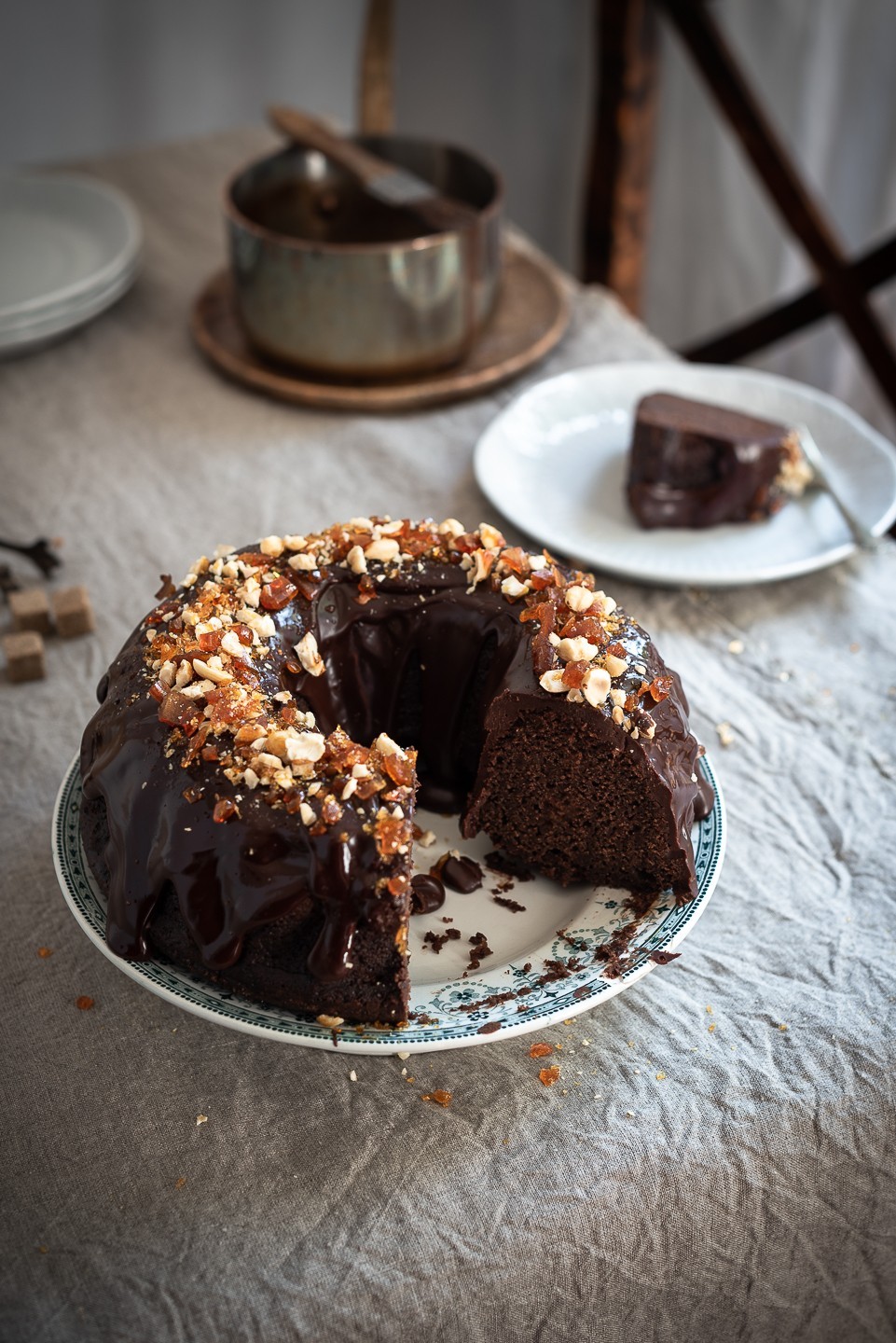 If you're looking for a chocolate cake that's spiked with character and a little unusual, this red wine and olive oil chocolate cake is stellar. I've made it four different ways, each time tweaking the recipe until the results were convincingly good. The ganache is opulent and rich, its darkness relieved by a nearly burnt hazelnut praline. All in all, not too shabby for a casual little bundt.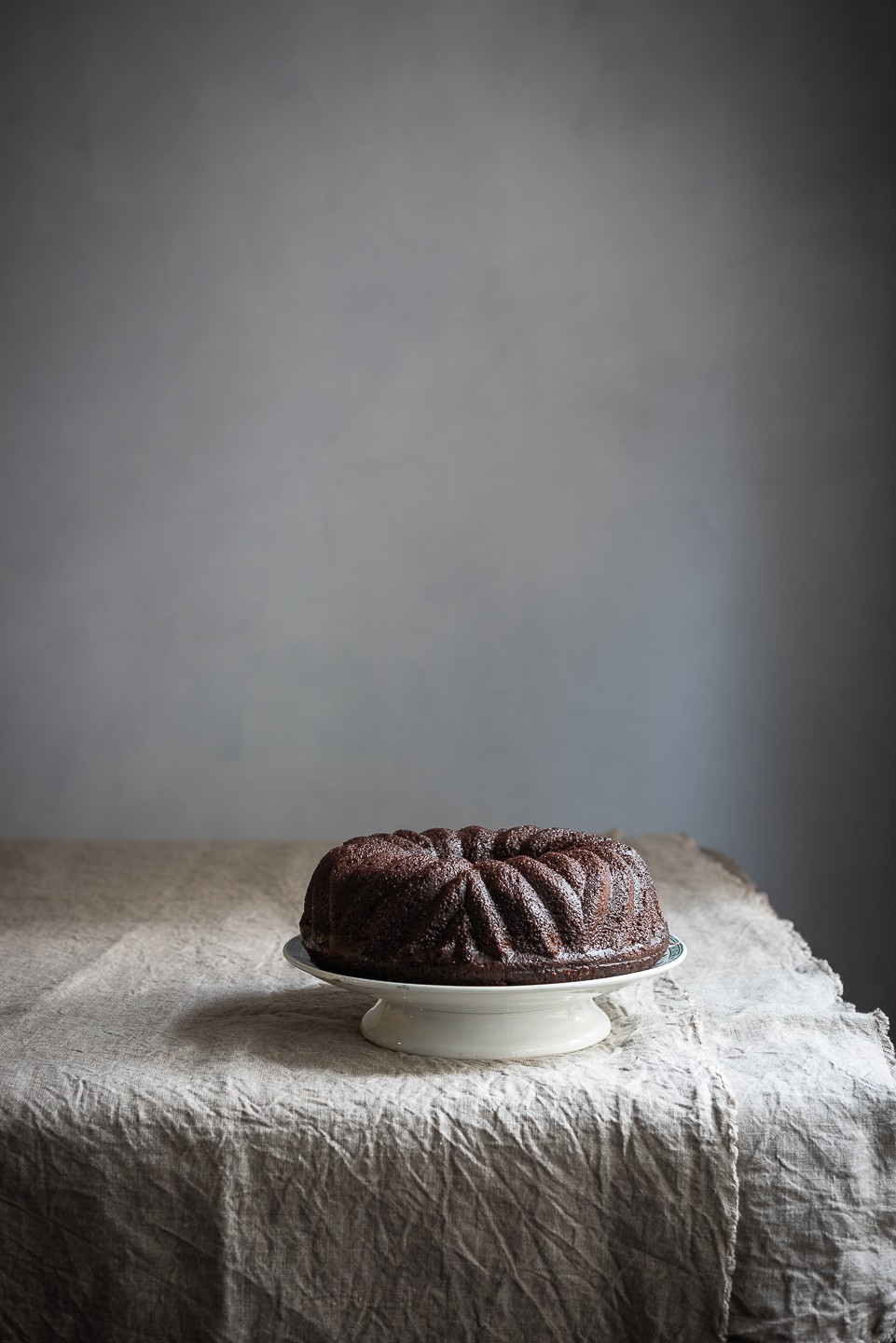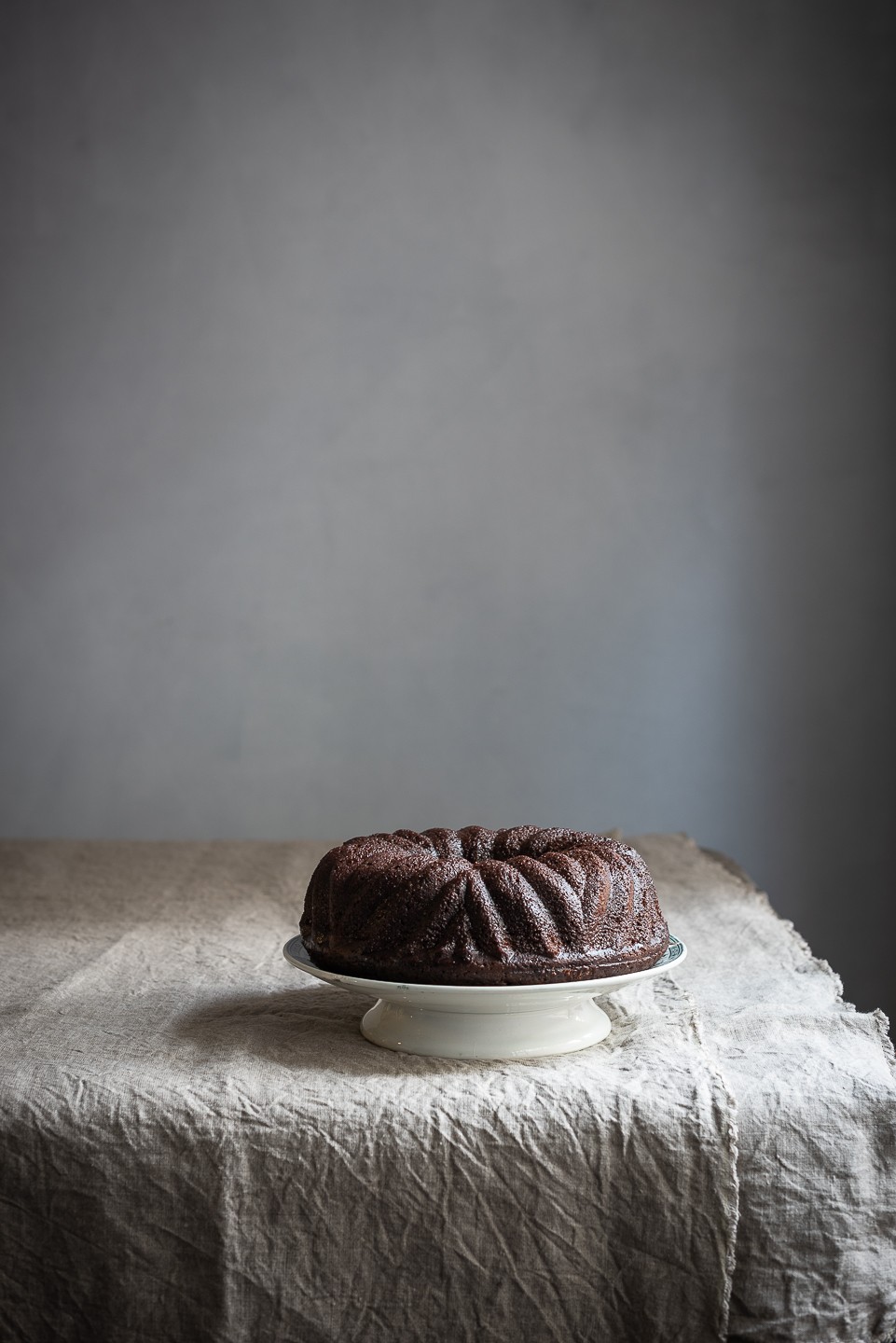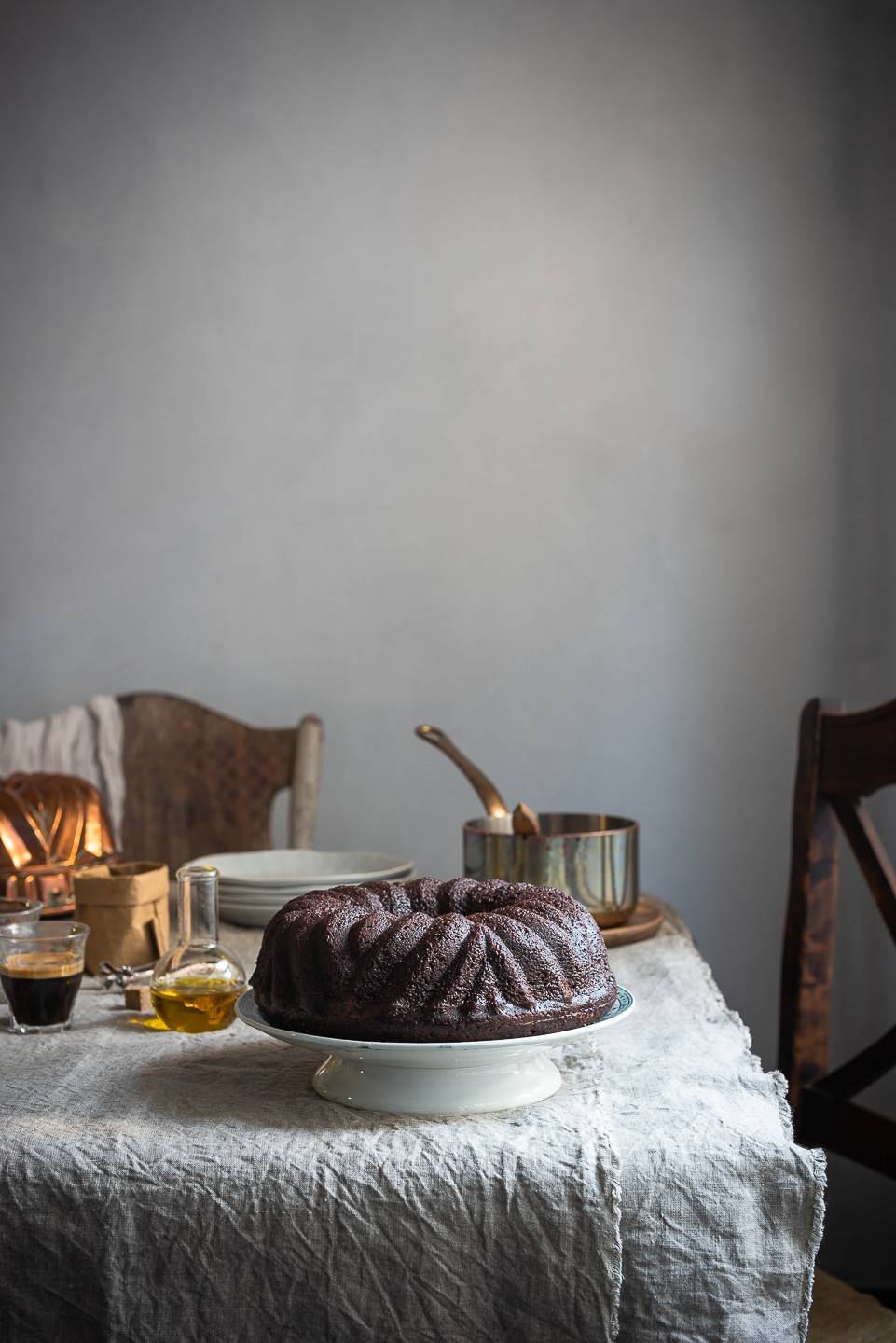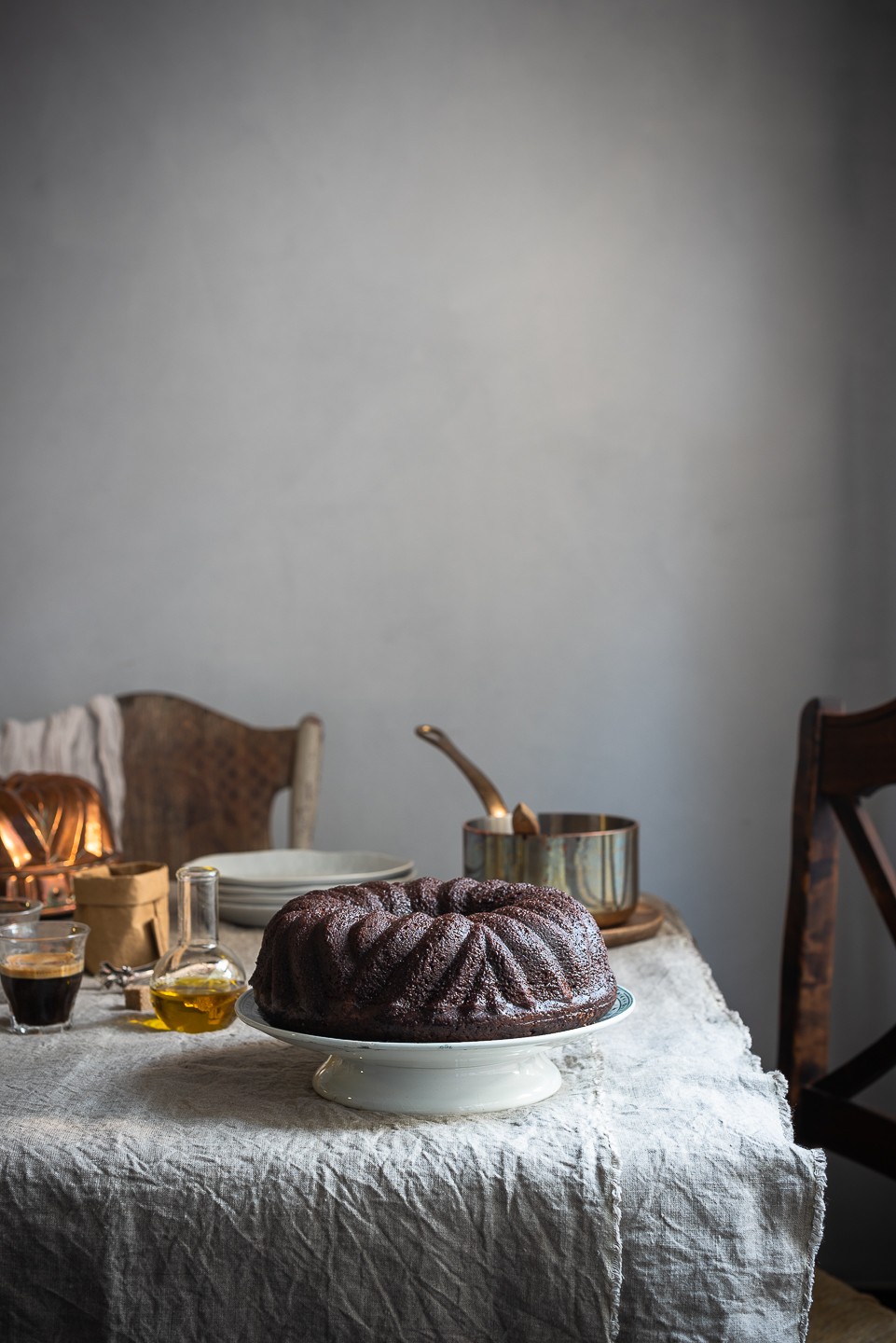 Having finally signed off on my Cookbook, I couldn't wait to get back into the kitchen to test new recipes. I'm not entirely sure where the idea for a red wine cake was sparked, but I've been keen to make it for some time now. When testing the recipe, olive oil seemed like an obvious choice when cooking or in this case, baking with wine. They're harmonious companions actually, one with a deep ruby taste, the other imparting a peppery brightness that underpins the earthiness of both vineyards and vines. While there's a distinctively different taste to the crumb, it is mellow and not overpowering at all. Should you need or want, the wine can be replaced with freshly brewed coffee. The overall flavour won't be quite the same, but it's lovely, nonetheless.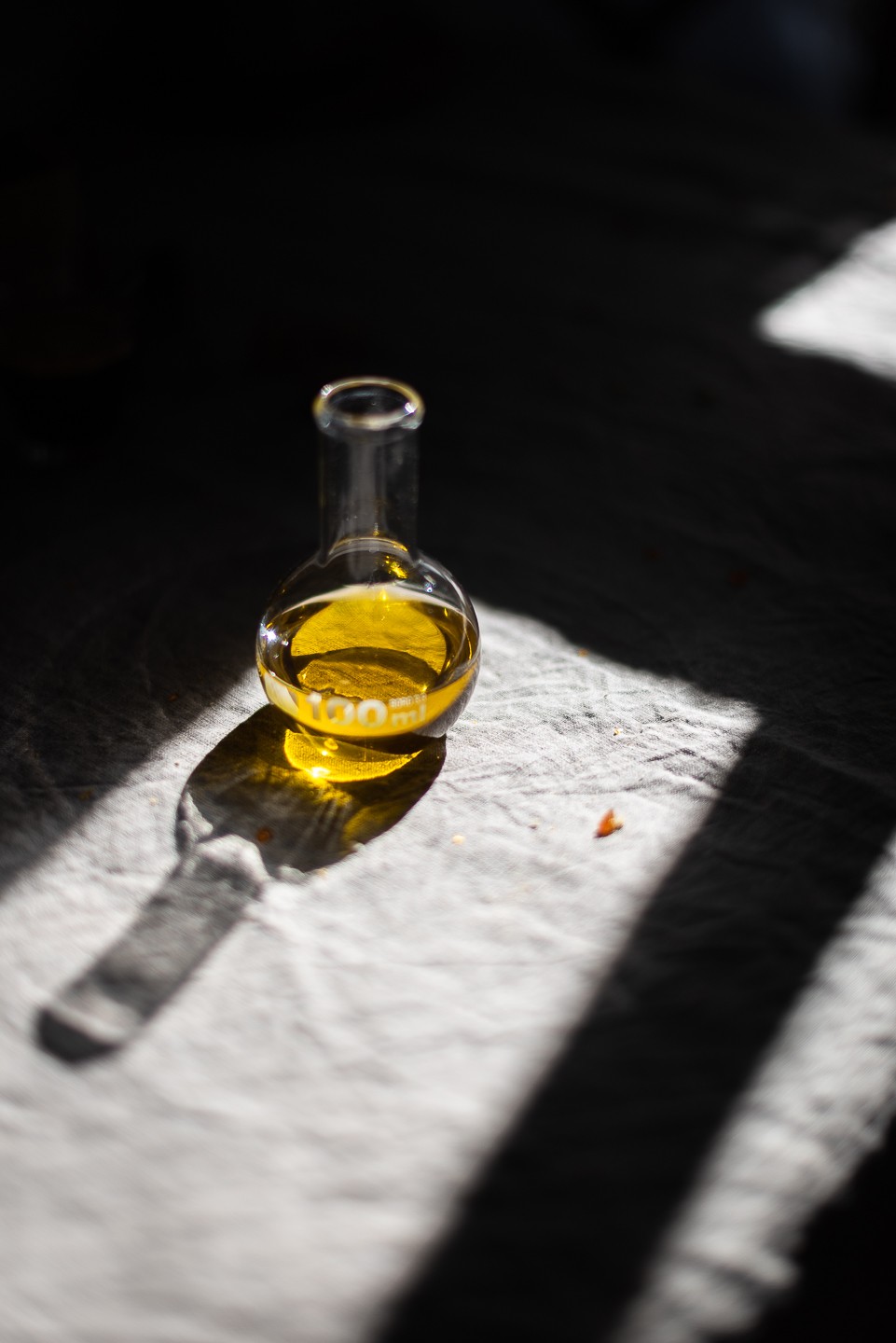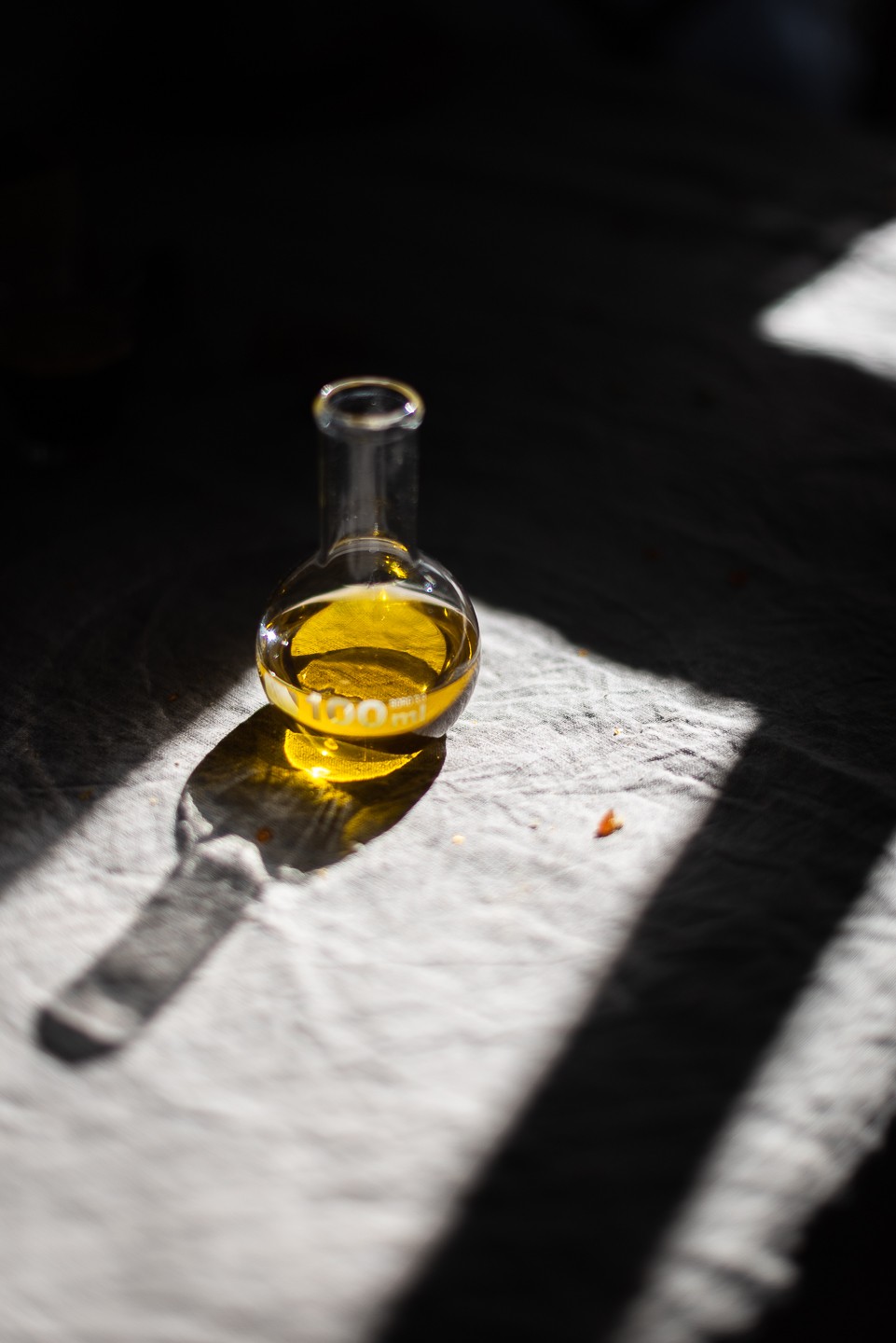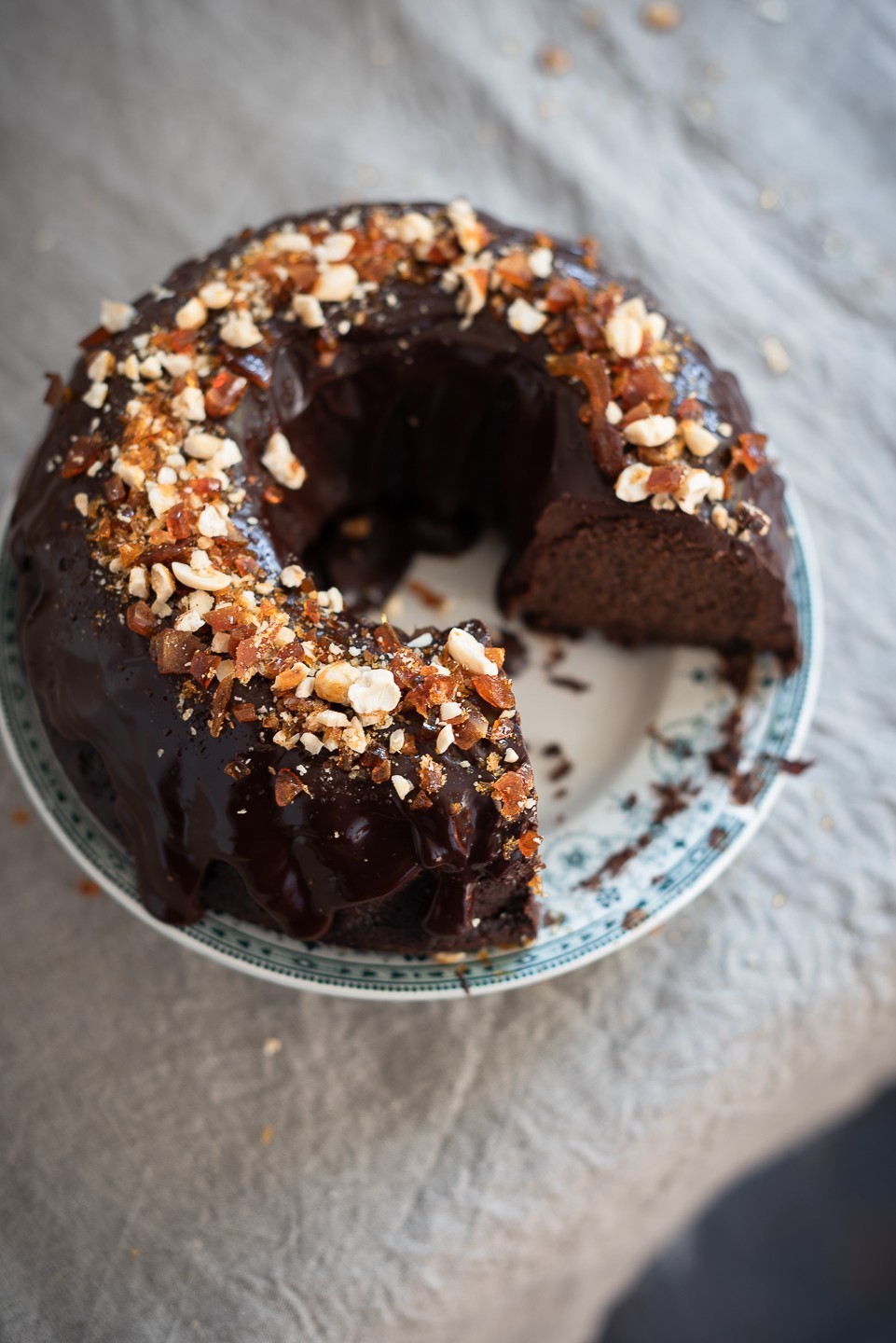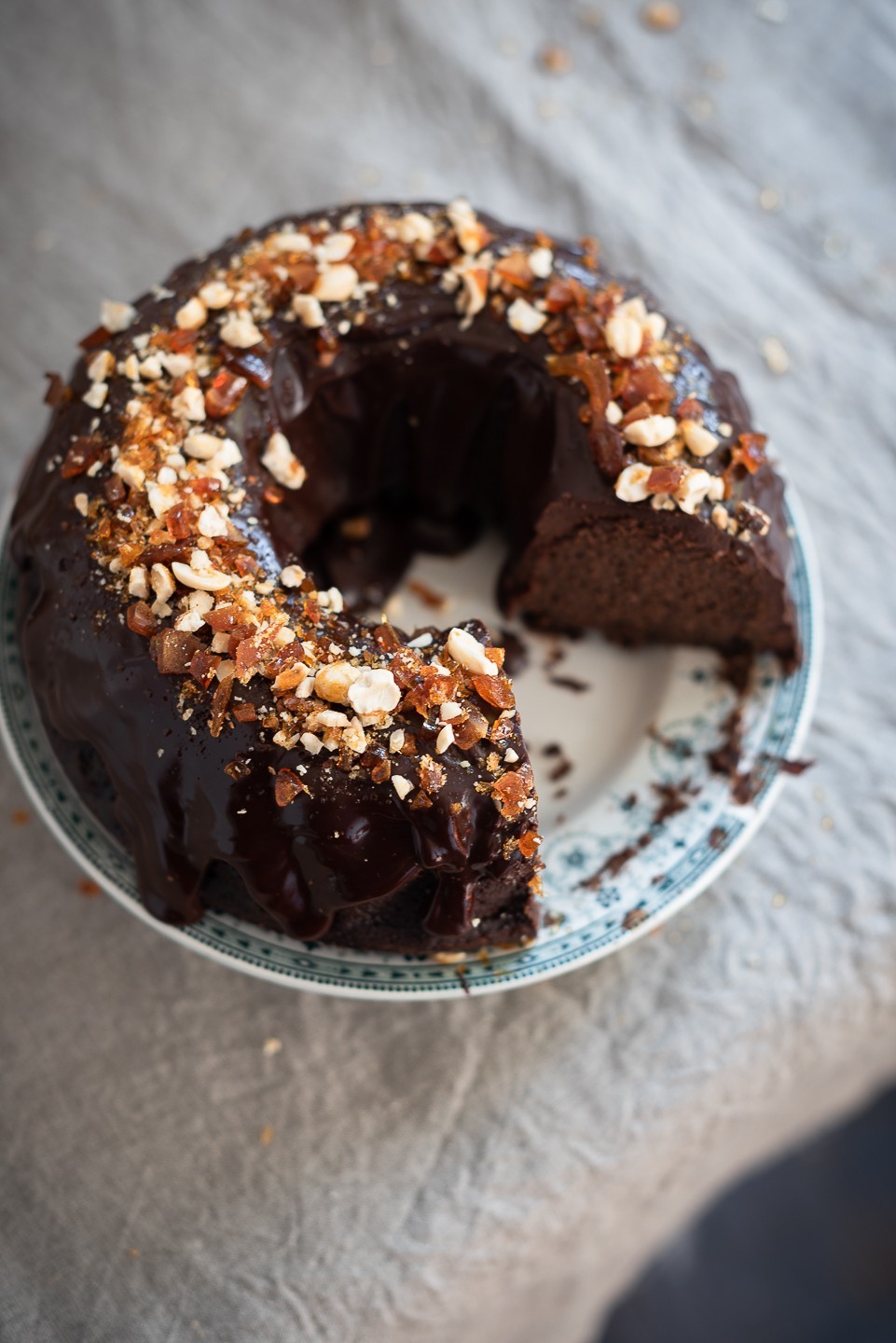 Adding sour cream to the batter enriches the cake and makes the crumb irresistibly tender. It also contributes to the longevity of the cake, keeping well for several days. For the oil component, I've used both butter and extra virgin olive oil – butter for a nutty richness and the oil pairing well with both wine and chocolate. To finish, I strew the top generously with a homemade praline. I love textural contrast, so I suggest trying the praline. If you find it too much of a fad, a good store-bought nut brittle will do just fine. I like my chocolate cake on the dark side, served plain, alongside strong coffee. You can of course serve it with pillowy whipped cream, if you like.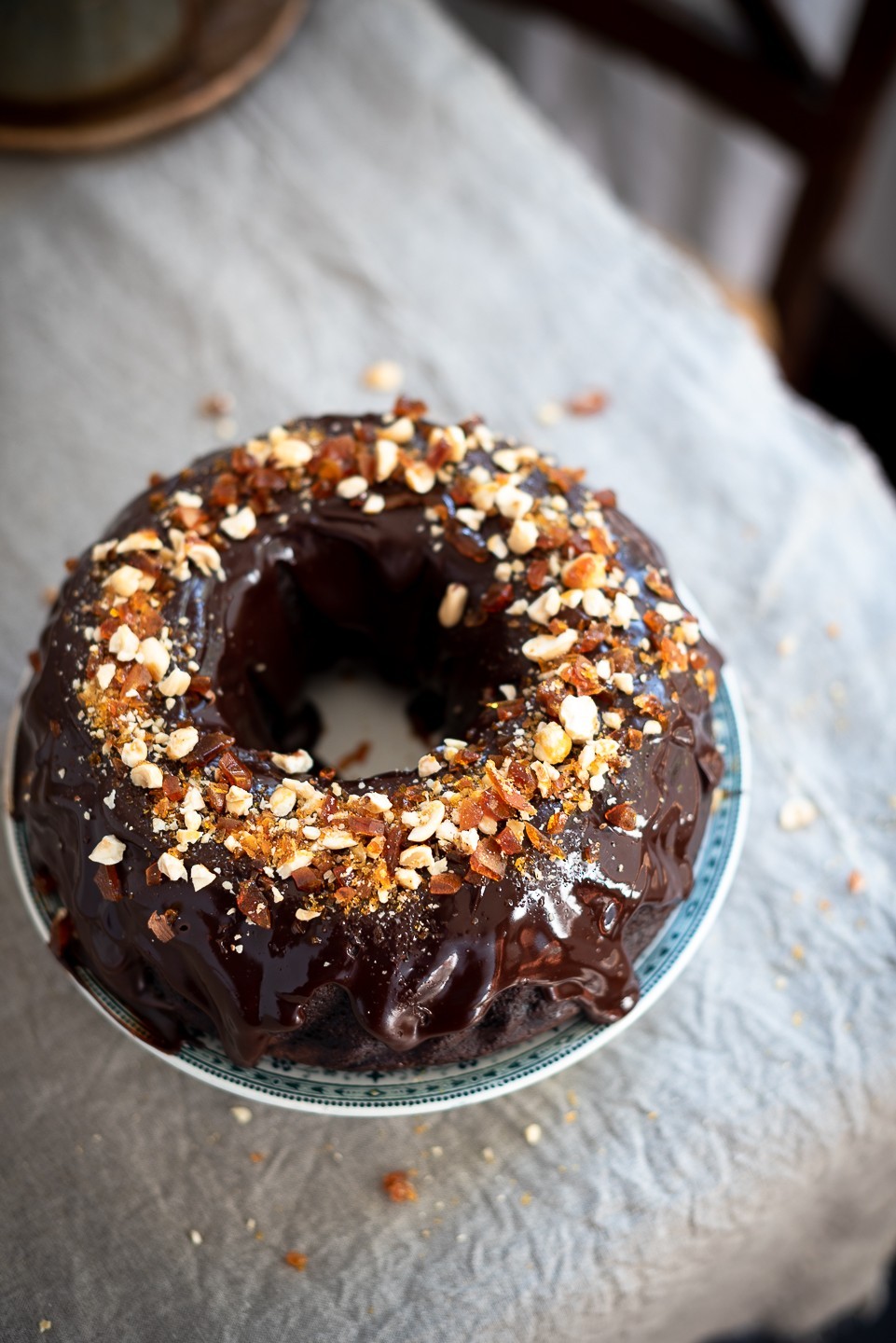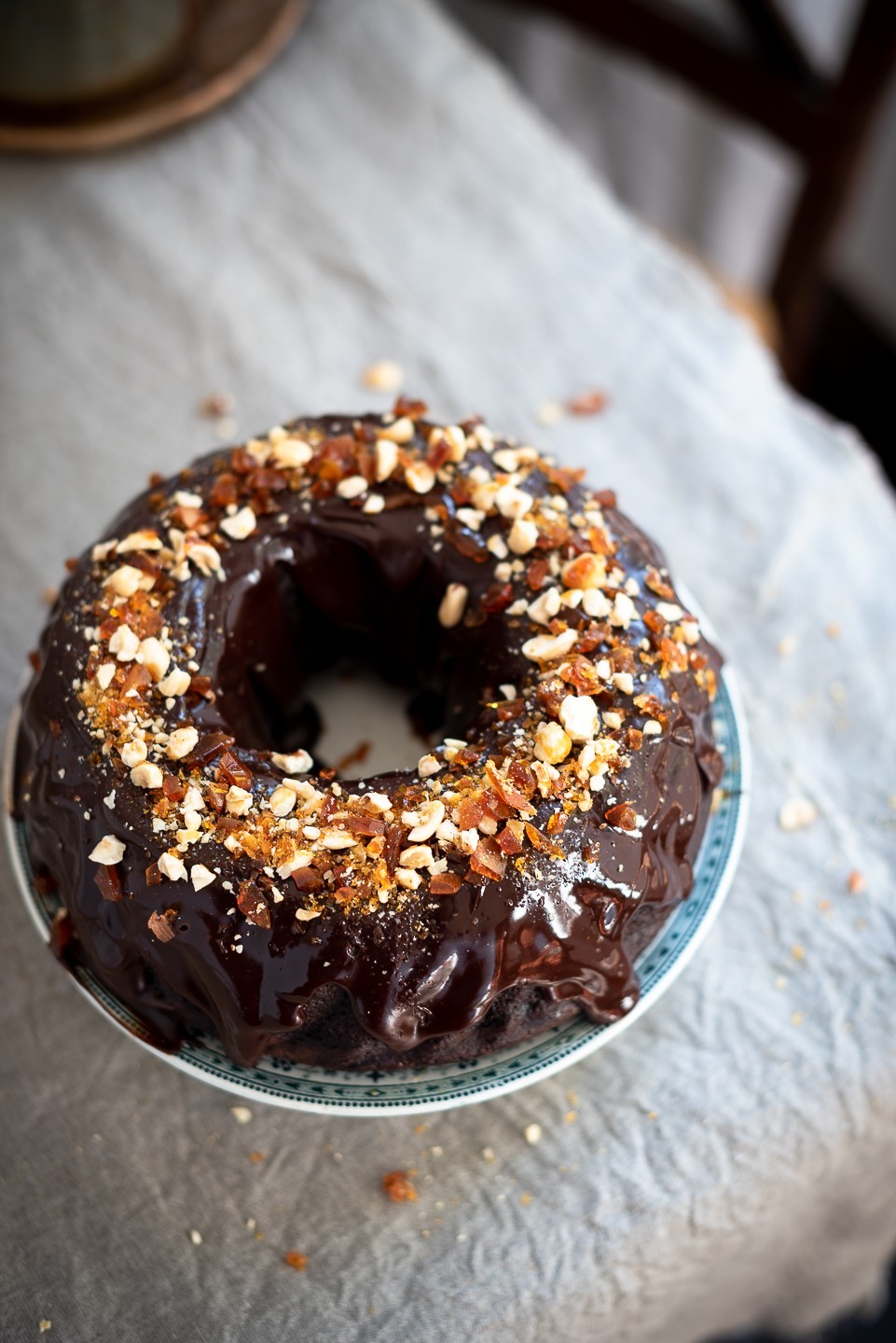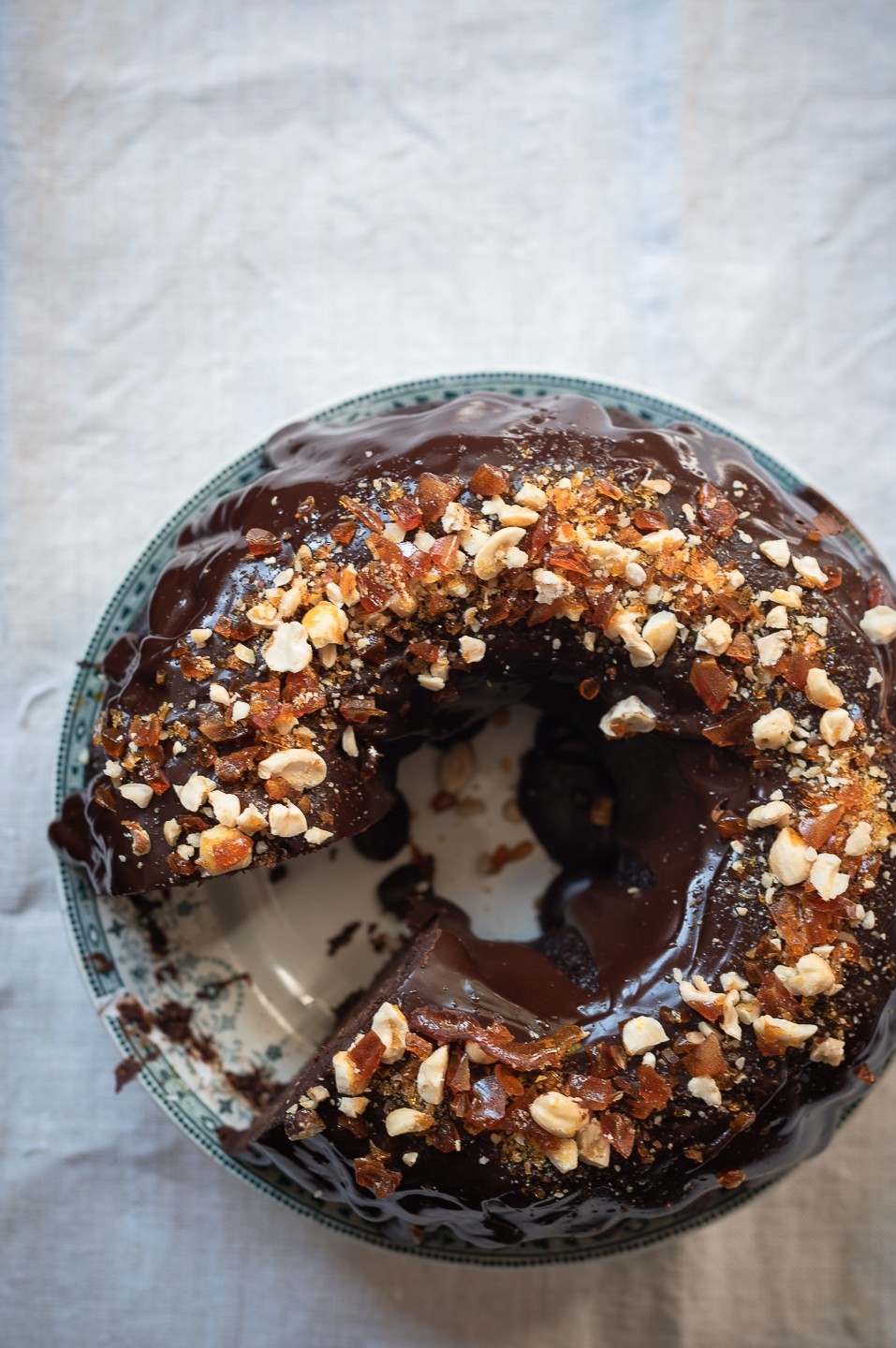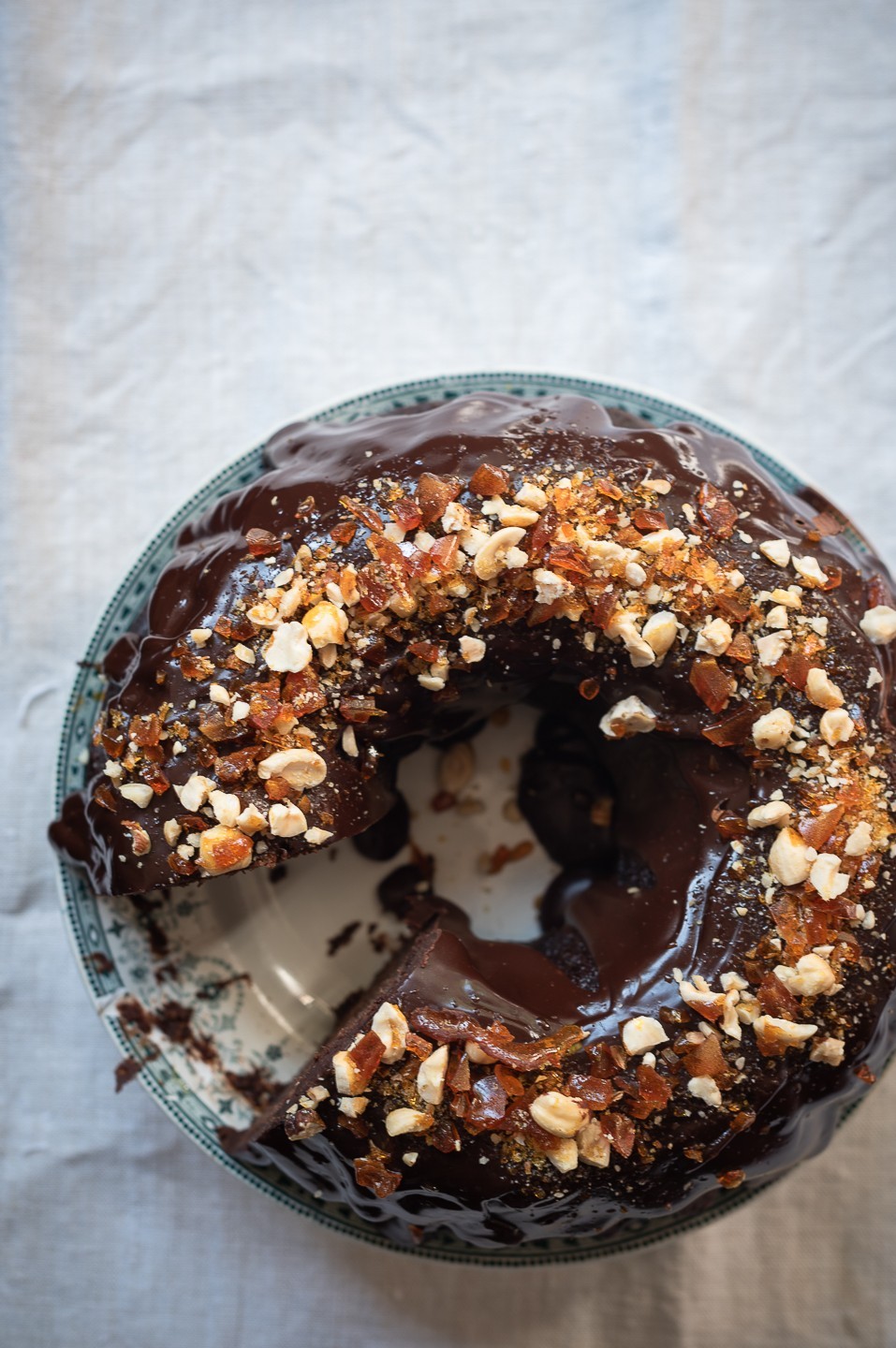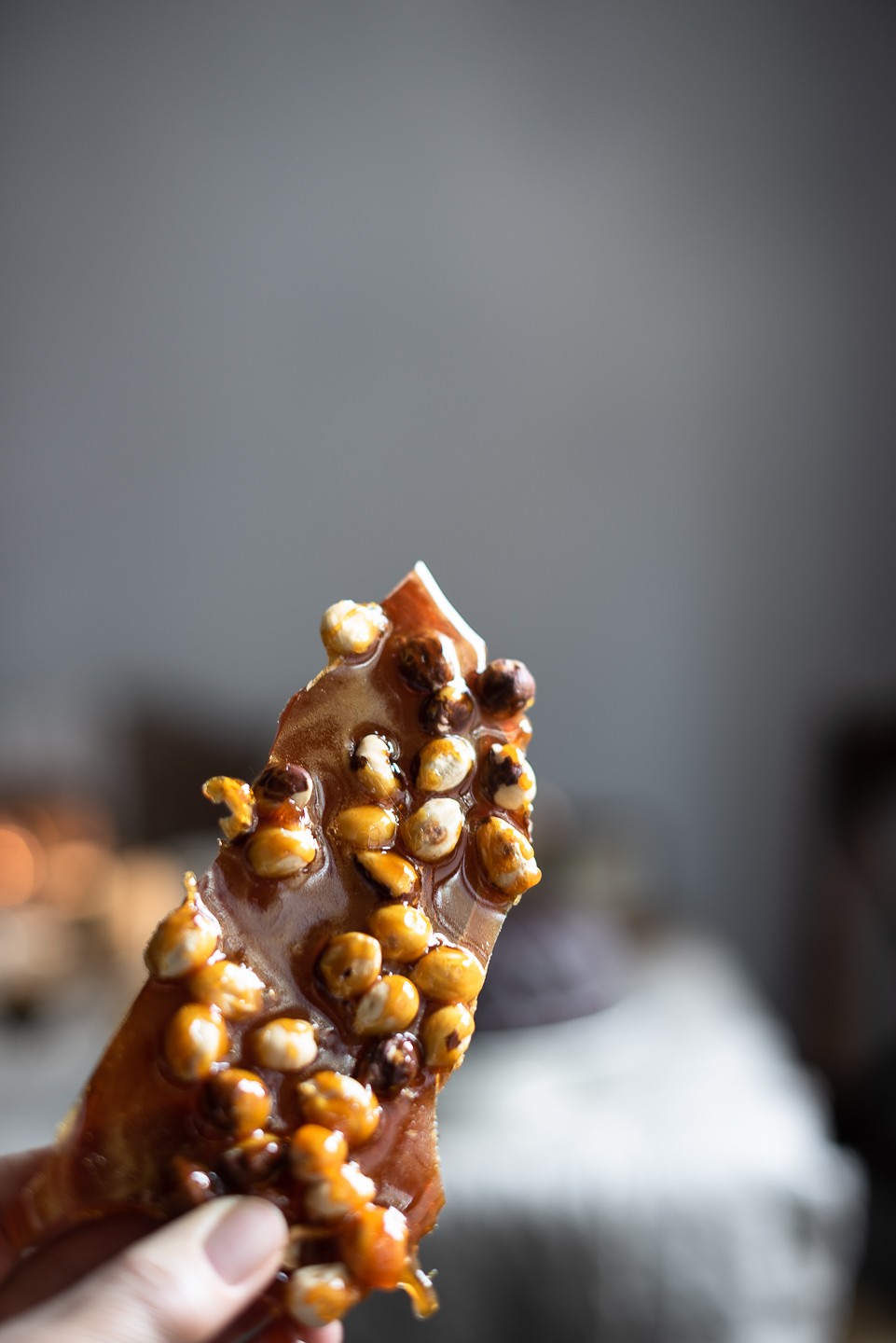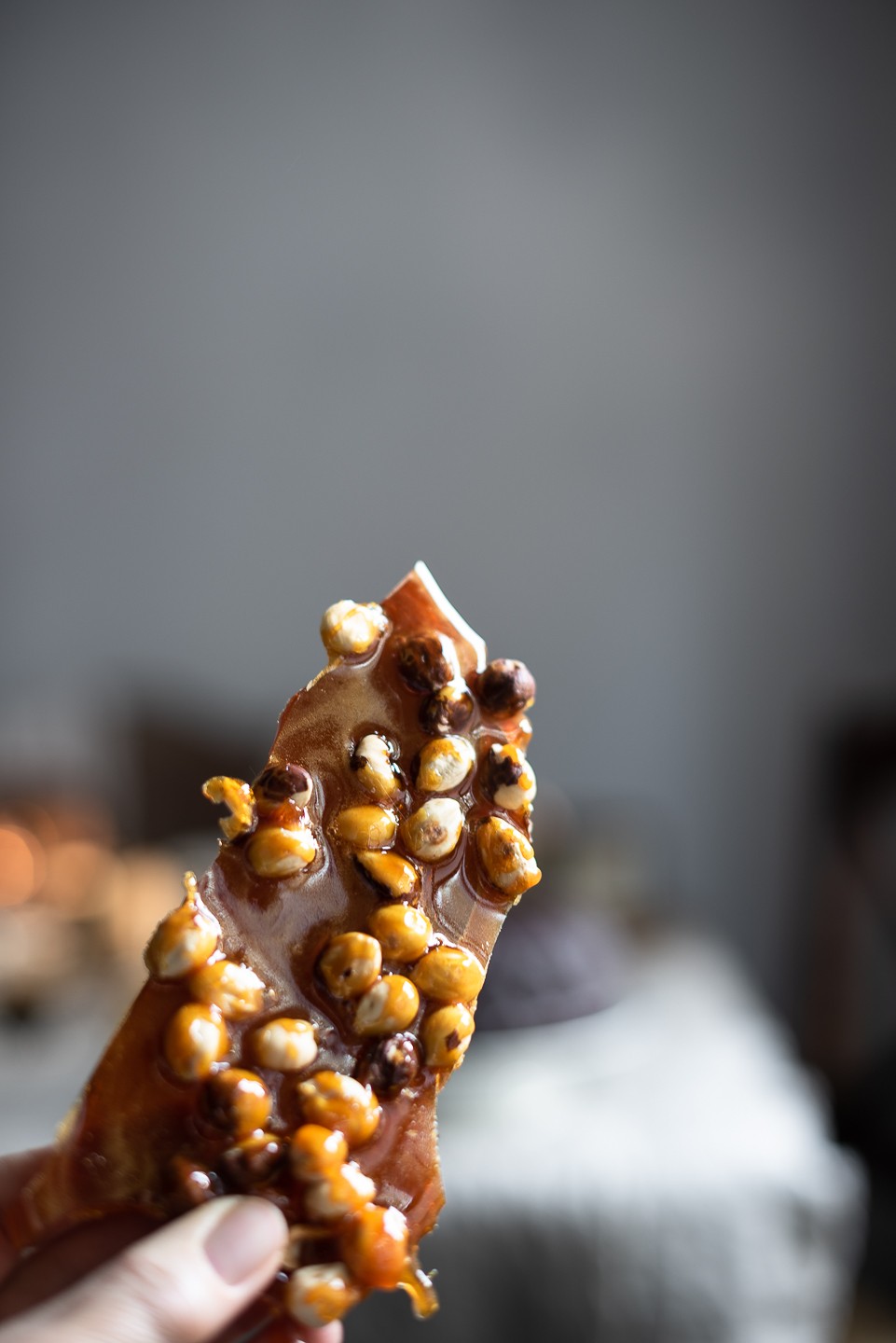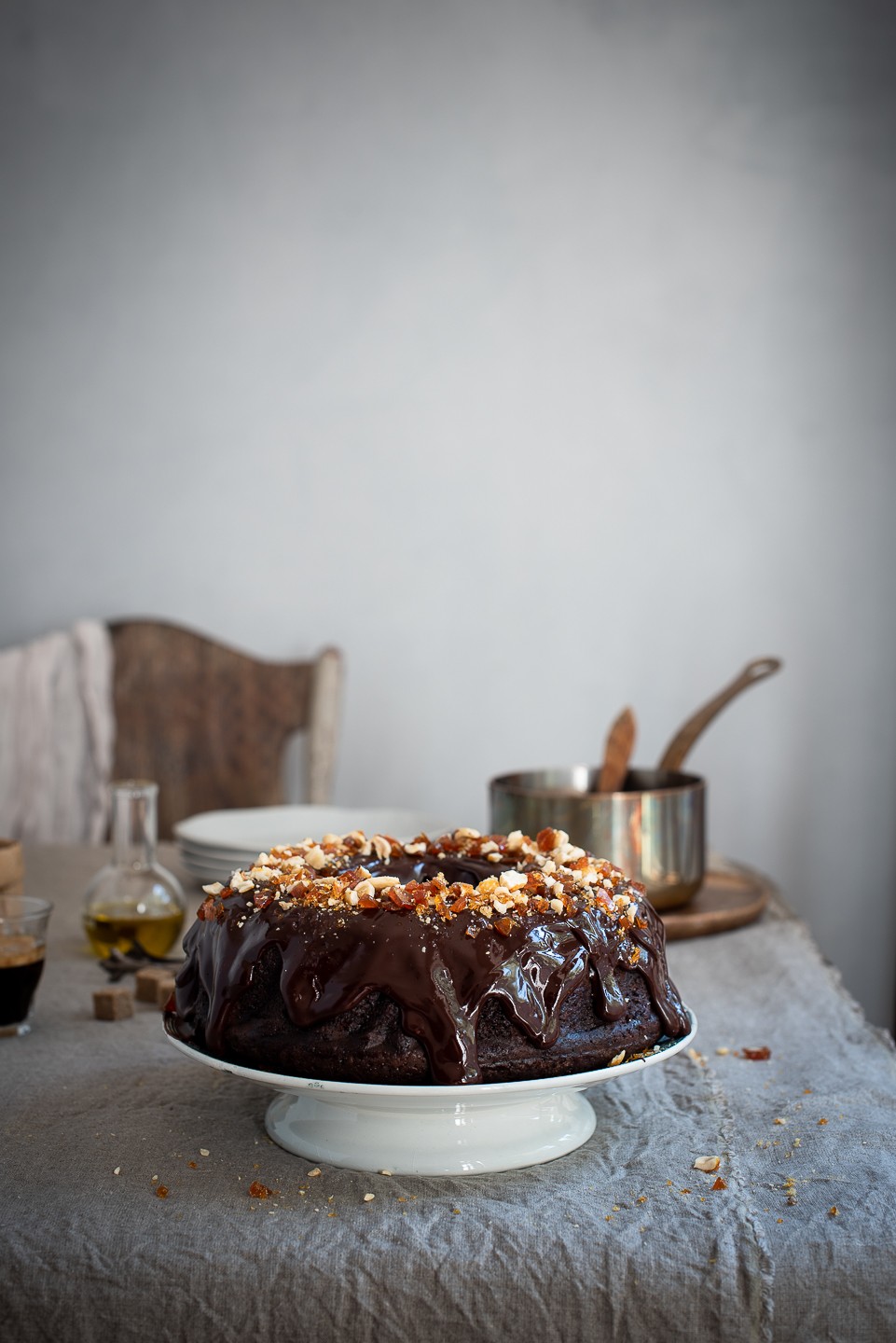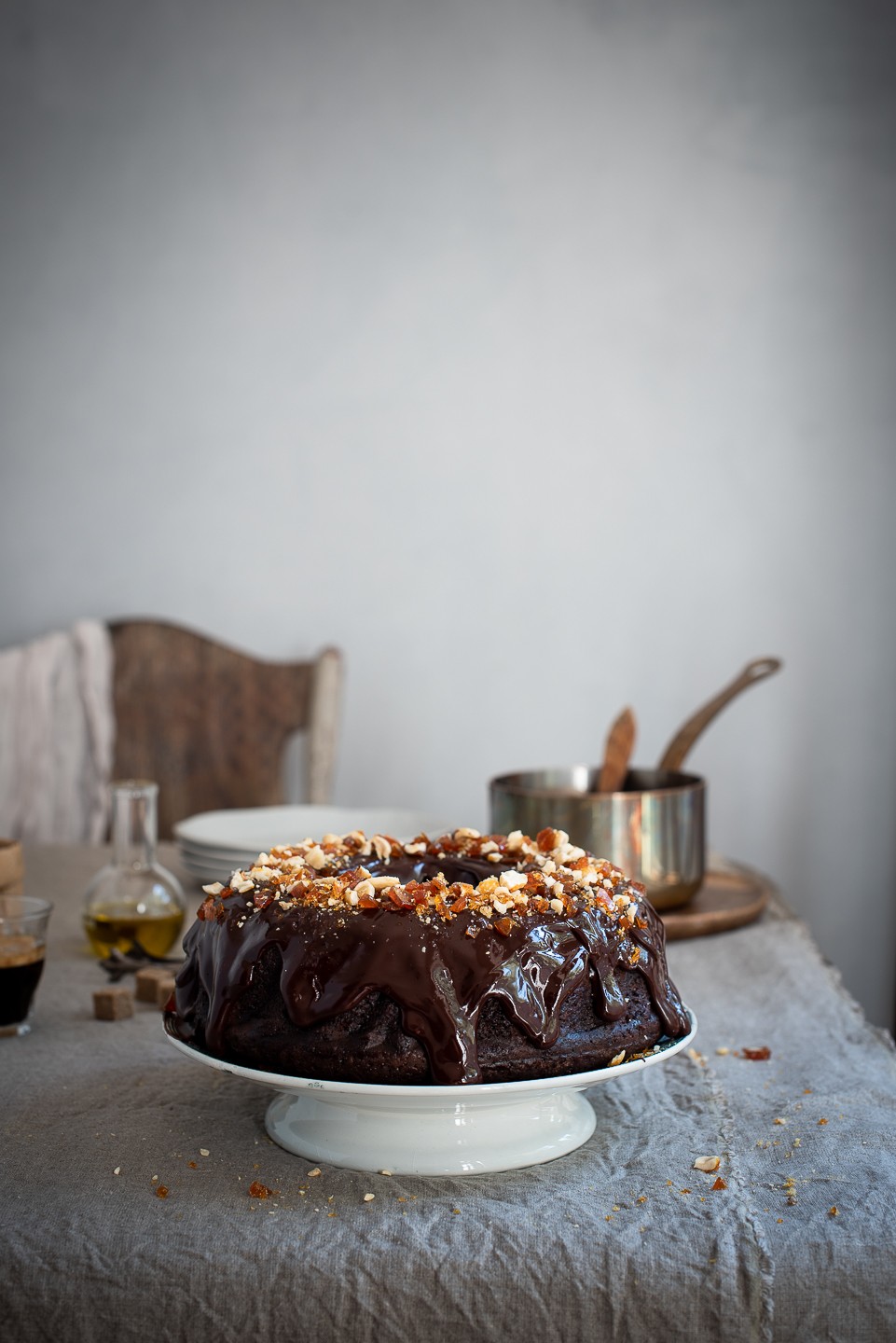 Red wine and olive oil chocolate cake
Serves 12 – 14
Cake batter
125g (1 stick) butter
180ml (3/4 cup) red wine – Merlot
80ml (1/3 cup) extra virgin olive oil
220g (1 cup) castor sugar
110g (1/2 cup) brown sugar
3 eggs
10ml (2 tsp) vanilla extract
250ml (1 cup) sour cream
300g (2 cups) cake wheat flour
75g (1/2 cup) cocoa powder
1  1/4 teaspoon baking powder
1/2 teaspoon fine salt
Chocolate ganache glaze
150g dark chocolate (70%)
80ml (1/3 cup) full cream milk
30ml (2 tablespoons) extra virgin olive oil
Praline
110g (1/2 cup) castor sugar
50g (1/2 cup) toasted hazelnuts, roughly chopped
Preheat the oven to 180º C. Grease a 2-litre bundt pan.
In a saucepan, heat the butter and red wine together, just until the butter is melted. Set aside to cool.
Place the olive oil, castor sugar, brown sugar and eggs in the bowl of an electric mixer. Beat until well combined, about 2-3 minutes. Add the vanilla and sour cream and mix to combine. Pour the cooled wine in and whisk slowly to incorporate. The mixture will look curdled at this point but will correct once the dry ingredients are added.
Sift together the flour, cocoa, baking powder and salt. Add the dry ingredients to the wet and beat on a low speed just until the flour is incorporated. Scrape the batter into the tin and tap lightly to remove air pockets. Bake for 60-70 minutes. Check for doneness with a skewer after 1 hour, extending the baking time by 10 minutes if necessary. Cool in the tin for at least 30 minutes before turning out. Cool completely on a wire rack before glazing.
For the ganache, place the chocolate, milk and olive oil in a heat proof bowl set over a pan of simmering water. Stir gently until melted and smooth. Drizzle over the bundt, encouraging drips down the side.
To make the praline, heat the sugar in a saucepan over a medium-high heat until completely melted. Arrange the hazelnuts on a greased baking sheet and pour the hot caramel over. Allow to cool before crushing into splinters. Scatter the praline over the warm chocolate drizzle.
There's no shortage of chocolate cake recipes on the blog. You might like these too.
S'mores Chocolate cake with mascarpone caramel frosting
Flour-less chocolate cake with glossy ganache
Milk-soaked chocolate sheet cake
The ultimate layered chocolate cake with glossy ganache