The ultimate layered chocolate cake with glossy ganache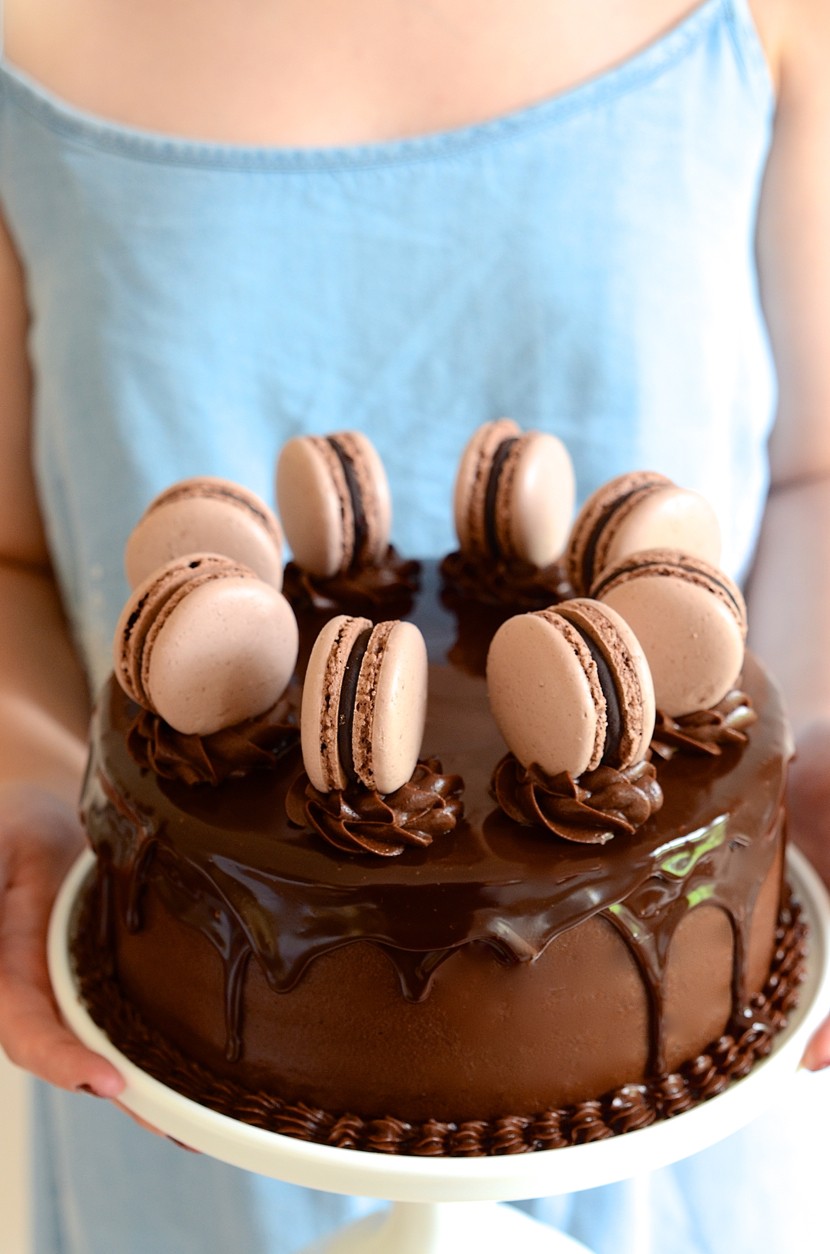 It's cake Friday!  This week we're celebrating 16 years of life with my beautiful daughter, Skylar. Birthdays are always special but a sweet sixteen is just that much more special. To celebrate, she chose this layered chocolate cake. Layered with vanilla cream and swathed in glossy ganache, it's most definitely swoon worthy and befitting of occasion.
"There is a time when you have to explain to your children why they're born, and it's a marvellous thing if you know the reason."  – Hazel Scot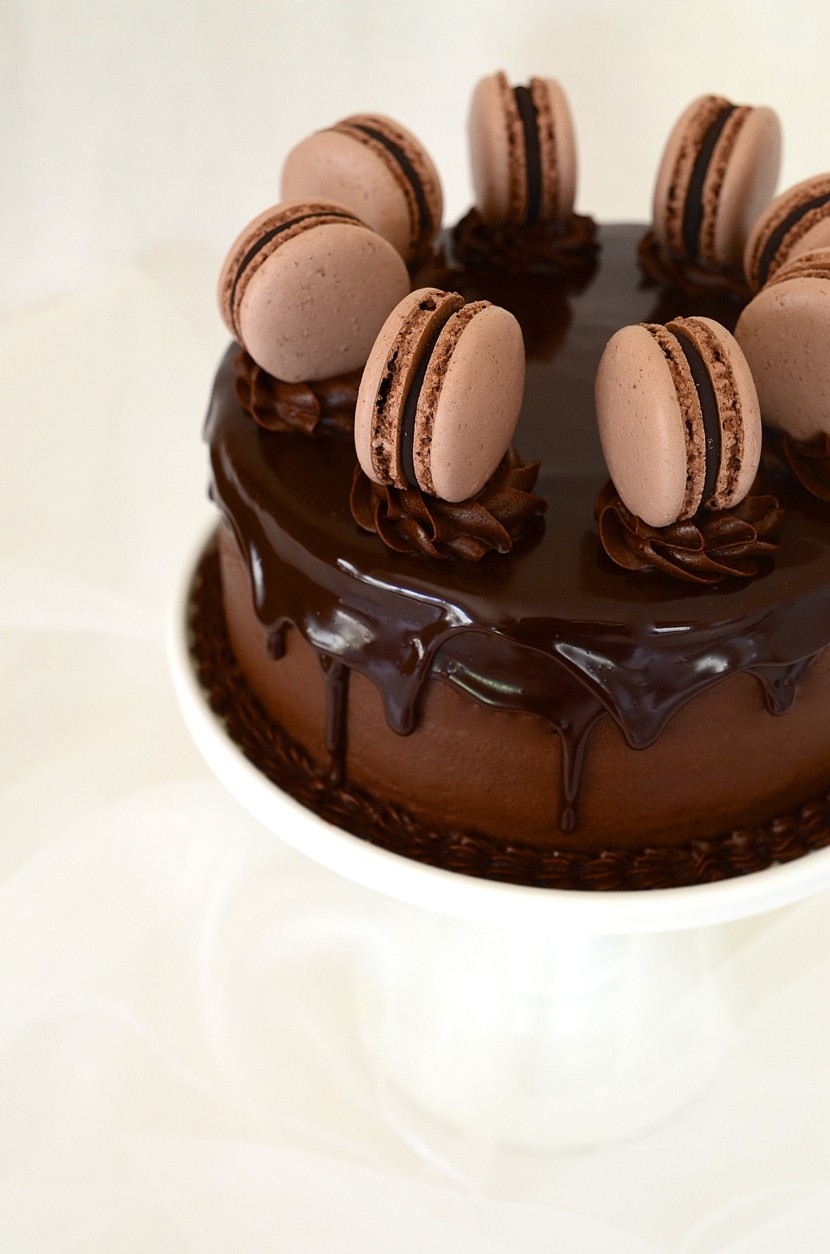 Now for the cake. There are quite a few steps involved in making this cake, but one that'll elicit a few ooh's and aah's. The texture of the crumb is probably closer to that of devil's food cake. Each layer is separated alternately with whipped vanilla cream and chocolate cream cheese frosting. The addition of cream cheese lightens the frosting and is slightly less rich than a traditional buttercream. I've decorated the top with delicate French macaroons that beg to be snatched up by those first in line for a slice. This layered chocolate cake has multiple nuances that make it my ultimate celebratory cake.
I haven't included the recipe for the macaroons as I'm sure that after you've completed all the other stages, you would either have run out of clean kitchen equipment, counter space or steam! As our summers are hot and humid, it's best to keep the chocolate cake in the fridge. Always bring up to room temperature before serving as the cold will mask the flavour. It will keep well for several days.
If all this talk of layers is too much to contend with, there's still hope for a quick and decadent chocolate fix. This No-bake muscovado cream and salted chocolate tart with frosted berries is one of my favourite no-fuss desserts that doesn't require a mixer or an oven. With just 6 ingredients, it couldn't be simpler.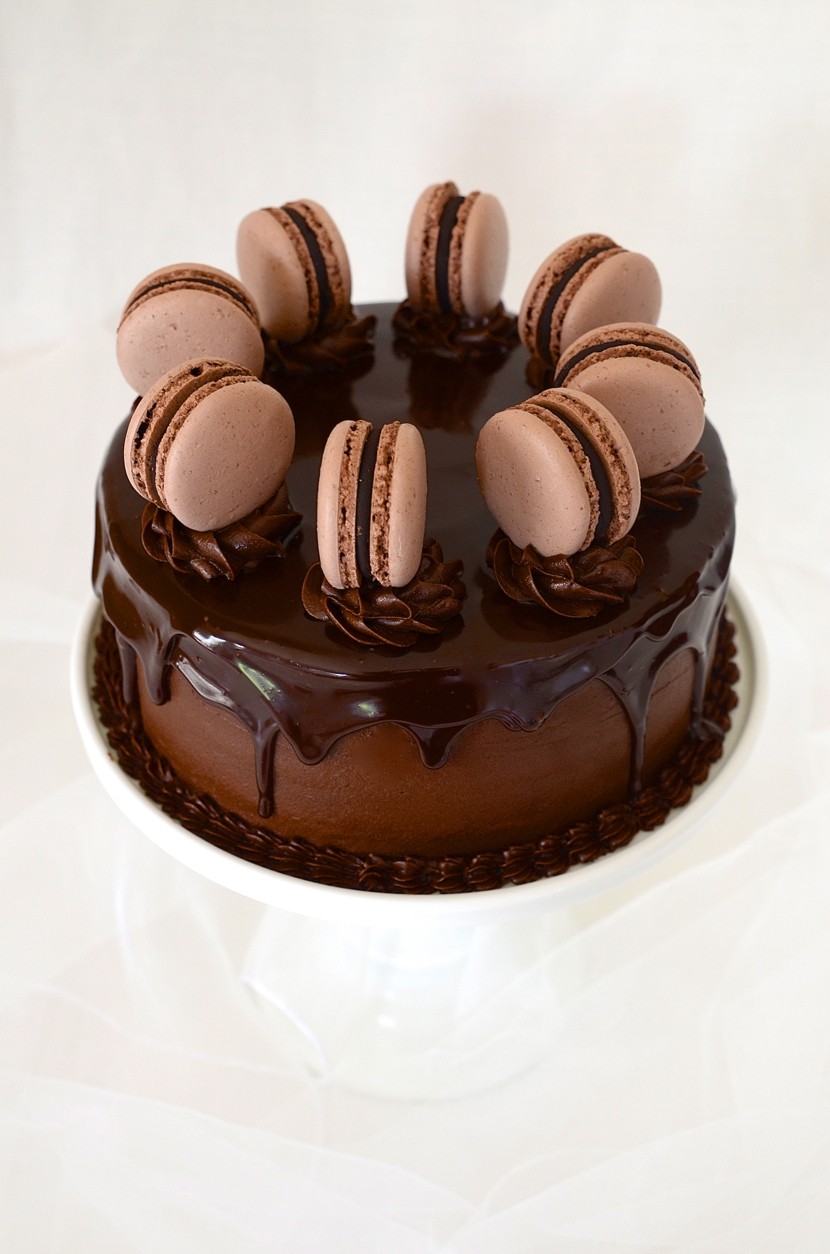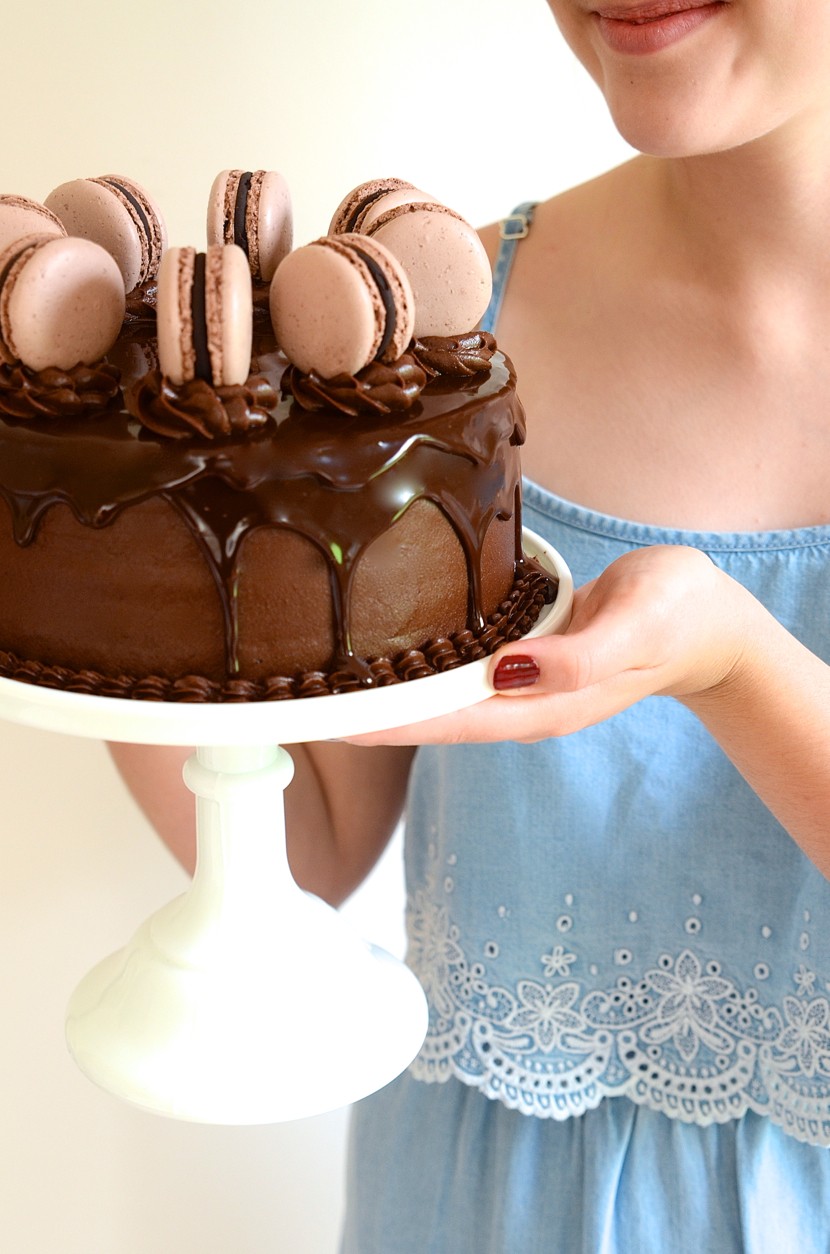 The ultimate layered chocolate cake with glossy ganache
Serves 12
1 cup (250ml) filter coffee
40g cocoa powder
140g butter
1 teaspoon vanilla extract
125ml sour cream
2 eggs
1 3/4 cups castor sugar
2 cups all purpose cake flour
1 teaspoon bicarbonate of soda
1/2 teaspoon baking powder
1/4 teaspoon salt
Chocolate cream cheese frosting
125g butter, at room temperature
125g full fat cream cheese, at room temperature
400g confectioner's sugar, sifted,
80ml (1/3 cup) cocoa powder
a pinch of salt
100g dark chocolate, melted and cooled
Glossy ganache
100g Lindt 70% dark chocolate
60ml single cream
1 tablespoon glucose
Vanilla cream
250ml double cream
1 teaspoon vanilla paste
1 tablespoon confectioner's sugar
For finishing
8 chocolate macaroons
Start by making the chocolate sponges.
Preheat the oven to 160º C. Grease and line 2 x 20cm deep sided cake tins with parchment paper. In a small saucepan, heat the coffee, cocoa powder and butter. Once the butter is melted and the cocoa powder has dissolved, remove from the heat and add the vanilla extract. In a separate jug, whisk the sour cream and eggs until just combined. Add the castor sugar to the coffee mixture and whisk in with a balloon whisk. Stir the sour cream mixture into the coffee and mix well. The mixture will tend to split slightly but will be corrected once the flour is added.
Sift the flour, bicarbonate of soda, baking powder and salt. Add the dry ingredients to the cocoa mixture and fold in until well combined. Divide the batter into the baking tins and smooth over with the back of a spoon. Give the tins a good tap to get rid of any air pockets. Bake for 35-40 minutes. Allow the cakes to rest for at least 10 minutes in the pan before turning out to cool on a wire rack.
Once the cakes are completely cool, wrap in cling film and refrigerate either overnight or for an hour to firm up. With a serrated knife, gently cut the 'domed' part of the cakes off to even out. Slice each cake in half horizontally so that you have four layers.
For the frosting, beat the butter and cream cheese until well combined and smooth. Add the confectioner's sugar, cocoa powder and salt. Whisk until light and fluffy. Add the melted chocolate and beat again. Scrape down the sides and give the frosting a final whisk.
To make the glaze, place all the ingredients in a small bowl and microwave on high for 30 seconds. Whisk until the chocolate is smooth and glossy.
For the vanilla cream, whisk the double cream, vanilla paste and confectioner's sugar together gently. It's best to do it by hand to avoid over-beating the cream as it will turn buttery and split.
Place the first cake layer on a cake stand and spread with half the vanilla cream. Place a second layer on top and spread with a generous amount of chocolate frosting. Top with another cake layer and spread with the remaining vanilla cream. Place the last cake layer on top and press down gently.
Starting from the bottom and working upwards, cover the sides and then the top of the cake with a thin layer of chocolate frosting. This is your crumb coat, so it doesn't need to be perfect. Refrigerate the cake for at least 30-40 minutes. Repeat with a second, slightly thicker layer of frosting. Using a palette knife, smooth the sides and top of the cake. Chill for 30 minutes.
Pour the glossy ganache over the top of the chocolate cake and ease the chocolate over the sides to create a downward drip. Chill once again to set the ganache. Spoon the remaining chocolate frosting into a piping bag and finish off around the base with a piping style of your choice. Pipe 8 large rosettes on top of the cake and gently press a macaroon into each. Chill until you are ready to serve.