Chocolate cheesecake with salted caramel and frosted berries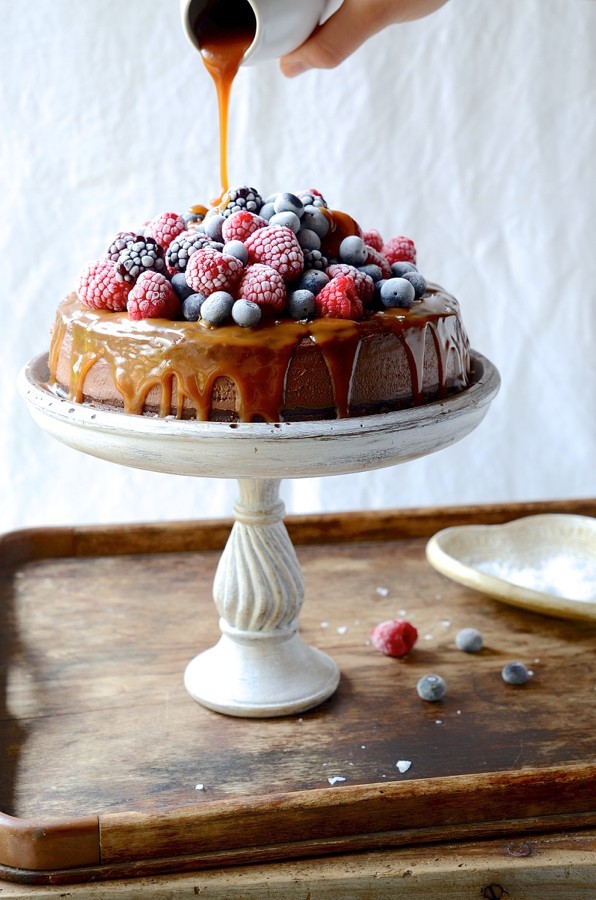 The story of chocolate dates back thousands of years to the Maya people where the cultivation of cocoa first began. Following a fermentation process, the cocoa beans were roasted and ground to form a bitter paste which was then combined with spices, chilli and frothy milk to make a potent energy boosting drink. Rich in antioxidants, vitamins and minerals, cocoa was prized for its restorative properties and nutritional value. It's dark sultry fame has since spread with rampant success across the globe, now enriched with sugar, cream and a myriad of other creative flavours.
Admittedly, there's more than a few, okay, a lot of chocolate posts on this blog that call for chocolate in one form or another. Some healthy and others…. not so much. I'm not quite sure when this chocolate-tainted relationship started, but surely it's a genetic condition? Apparently my grandmother had a devilishly sweet tooth. My father too can easily shame Willy Wonker and his band of Oompa Loompas. The mere rustle of a silver-foiled chocolate wrapper is enough to induce a dopamine rush to the brain! So, for all those who can relate to this sort of sweet madness, my New York style baked chocolate cheesecake with frosted berries is for you. AND me of course. The fact that we had to eat not one, but three of these chocolate cheesecakes while perfecting the recipe, is a price I'm willing to pay!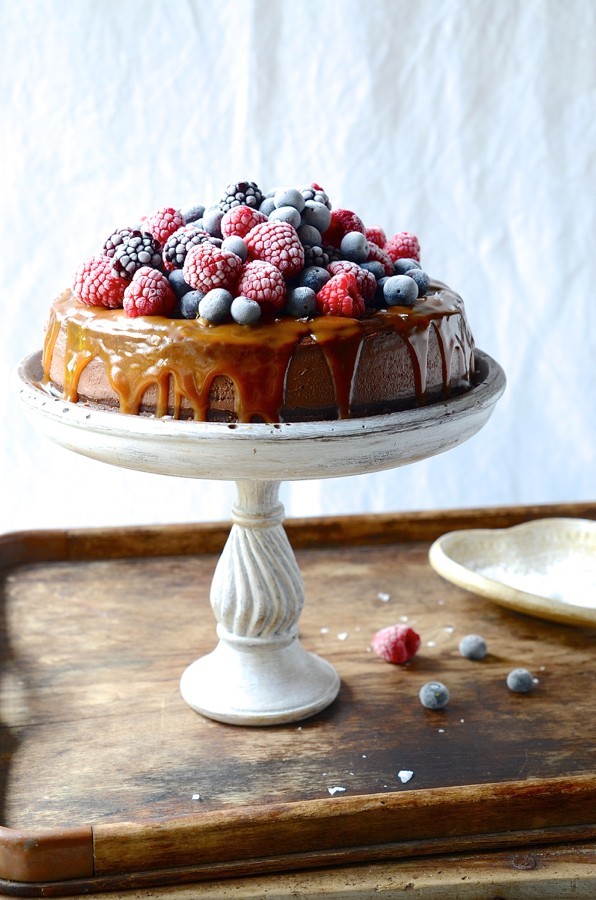 Believe it or not, even food bloggers can run out of descriptives. When this happens, I turn to the voice of reason, my daughter Sabrina. I love how children can simplify the complicated. Exasperated I asked her, 'How do I describe this cheesecake B ?' Without wavering she replied, 'Sit in front of your computer, take a mouthful and tell them what you taste'. Simple as that.
From the bottom up:
Hazelnut-crumbled buttery biscuit base
Smooth and sinfully-rich chocolate cheesecake filling with a subtle tangy edge and traces of creamy Nutella chocolate
Salted caramel butterscotch drizzle (This is my go to caramel sauce)
A final cascade of plump, tart frosted berries (like with this no-bake salted chocolate tart)
Four contrasting textures and flavours juxtaposed for a sensational taste explosion, just as any dessert worth it's salt should.
Note. As the frozen fruit defrosts, it releases liquid. I'd recommend you serve the cheesecake as soon as possible. Alternatively, use any other fresh seasonal fruit that you prefer. It's also good with just the salted caramel sauce, although I like the fresh tart notes of the fruit against the richness of the chocolate. The cheesecake itself isn't too sweet and can therefore easily tolerate the luxuriously rich caramel sauce.
Lancewood recently held a national cake-off to discover yet more indulgent ways to get your cheesecake on. The winner was this superb summer berry swirl cheesecake with baby figs.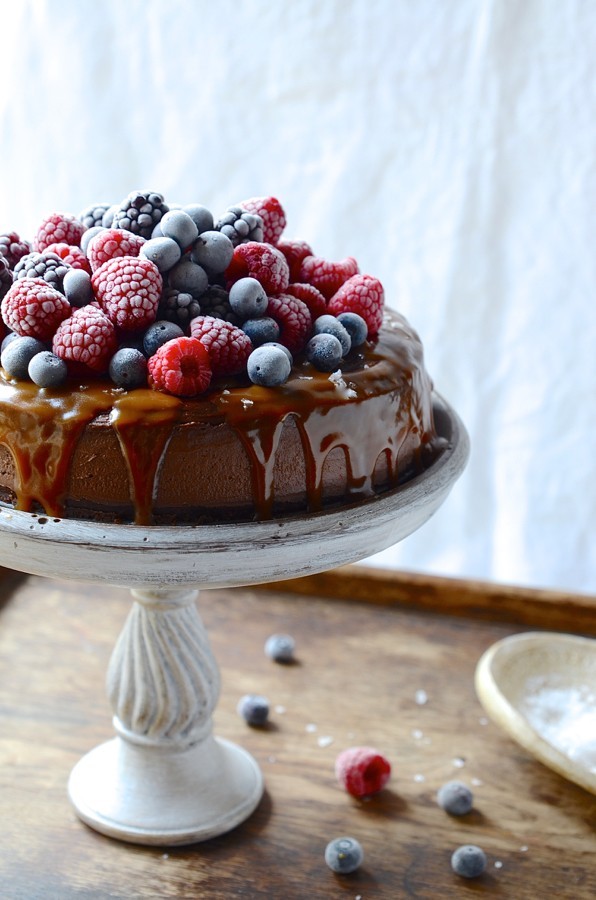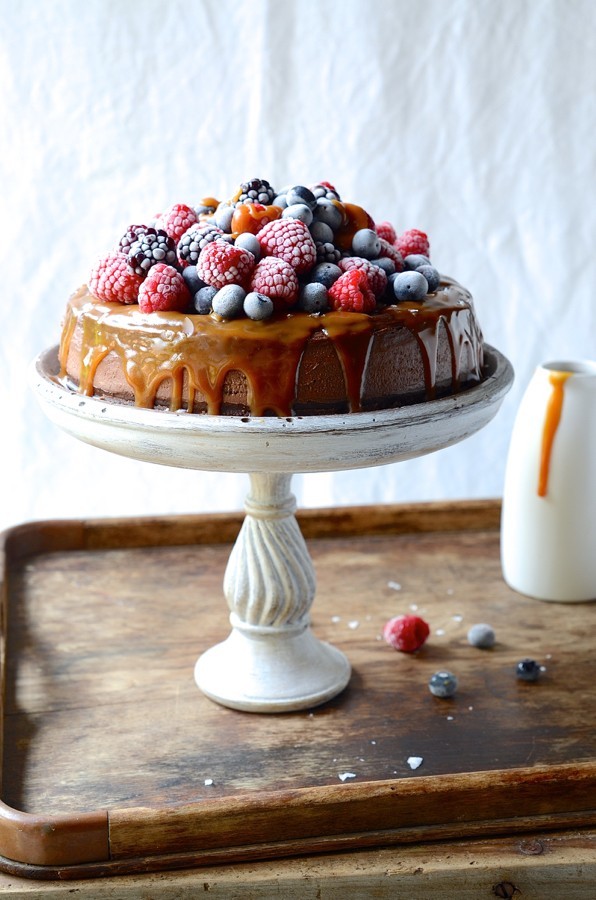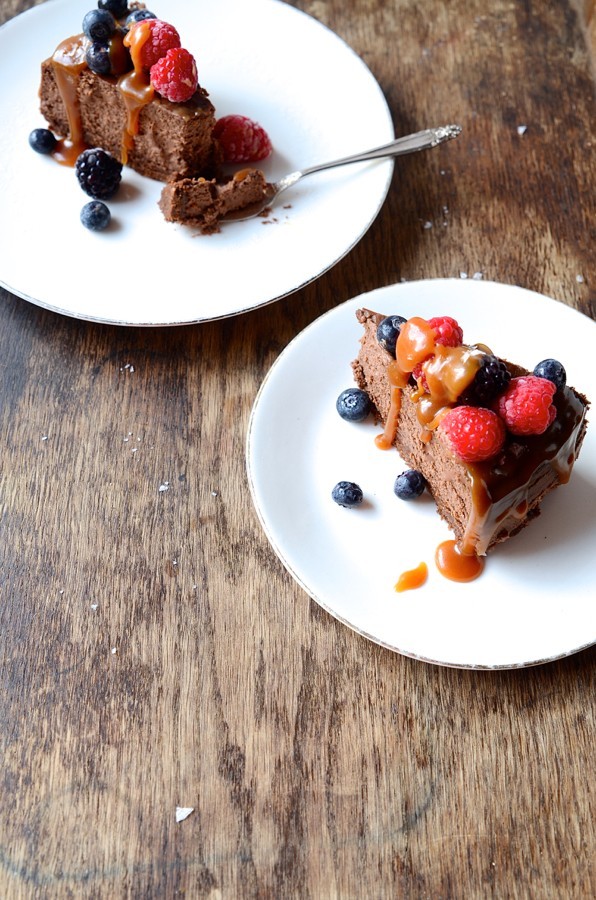 Chocolate cheesecake with salted caramel
Chocolate cheesecake with salted caramel and frosted berries
Ingredients
For the base
200g coconut biscuits
50g hazelnuts
2 tablespoons cocoa powder
2 tablespoons icing sugar
90g melted butter
Cheese cake filling
2 tablespoons cocoa powder
2 tablespoons lukewarm water
150g dark chocolate, melted and cooled
80g (1/3 cup) Nutella chocolate spread
230g x 2 tubs full fat cream cheese
250g crème fraîche
160g castor sugar
1 teaspoon vanilla extract
4 eggs
400g mixed frozen blueberries, raspberries and blackberries.
Kalahari desert sea salt flakes, to serve
Instructions
Preheat the oven to 160º C.
Starting with the base, place the biscuits, hazelnuts, cocoa powder and icing sugar in a processor. Blitz until fine breadcrumb texture.
Add the butter and process until combined.
Press the biscuit mixture into a greased and lined 22cm round springform cake tin. Wrap the base of the tin with clingfilm and then with a sheet of tinfoil. Chill while you prepare the filling.
Combine the cocoa and water to form a paste.
Add the cooled chocolate and Nutella to the cocoa paste and whisk together.
Place the cream cheese in large mixing bowl and beat until softened.
Add the crème fraîche and whisk until incorporated.
Add the castor sugar and vanilla to the cream cheese, beating again to combine.
With the mixer on low, add the eggs and whisk until incorporated.
Finally add the chocolate mixture and whisk until smooth. Pour the filling over the base.
Place the cheesecake in a large roasting tin and top up with boiling water until the level is halfway up the side of the cake tin.
Bake for about 1 hour, 20 minutes until the top is just set.
Cool in the oven for an hour with the door ajar.
Remove from the oven, peel away the foil and allow to cool completely before chilling overnight.
Un-mould the cheesecake and place on a cake stand. Pour over half the caramel.
Pile the frozen fruit on top and drizzle with remaining caramel.
Scatter over a the sea salt flakes and serve.