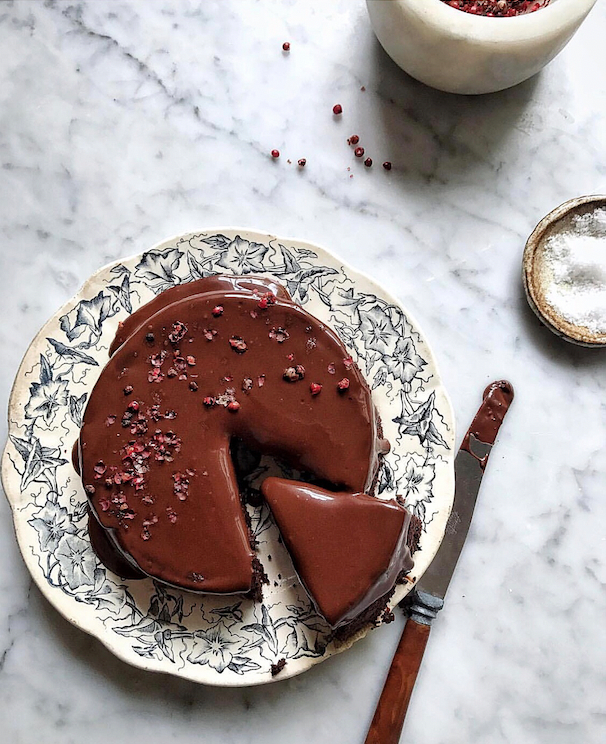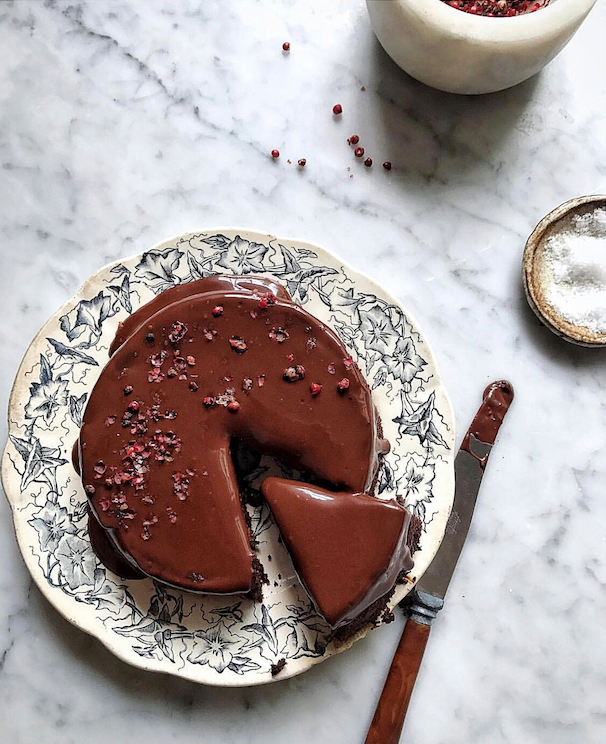 It's tiny but very adequate, feeding four, maybe six at best. A slither would do but a slice is definitely better. When I need a quick 30 minute cake, this flourless chocolate cake is where I head. It's surprisingly simple to make, dark and fudgy. You can finished the cake in one of two ways. Above, with glossy ganache and pink peppercorns or with seasonal berries. This stellar little chocolate cake is featured on The Feedfeed Chocolate along with a whole bunch of chocolate centred recipes that will see you through the Easter and beyond.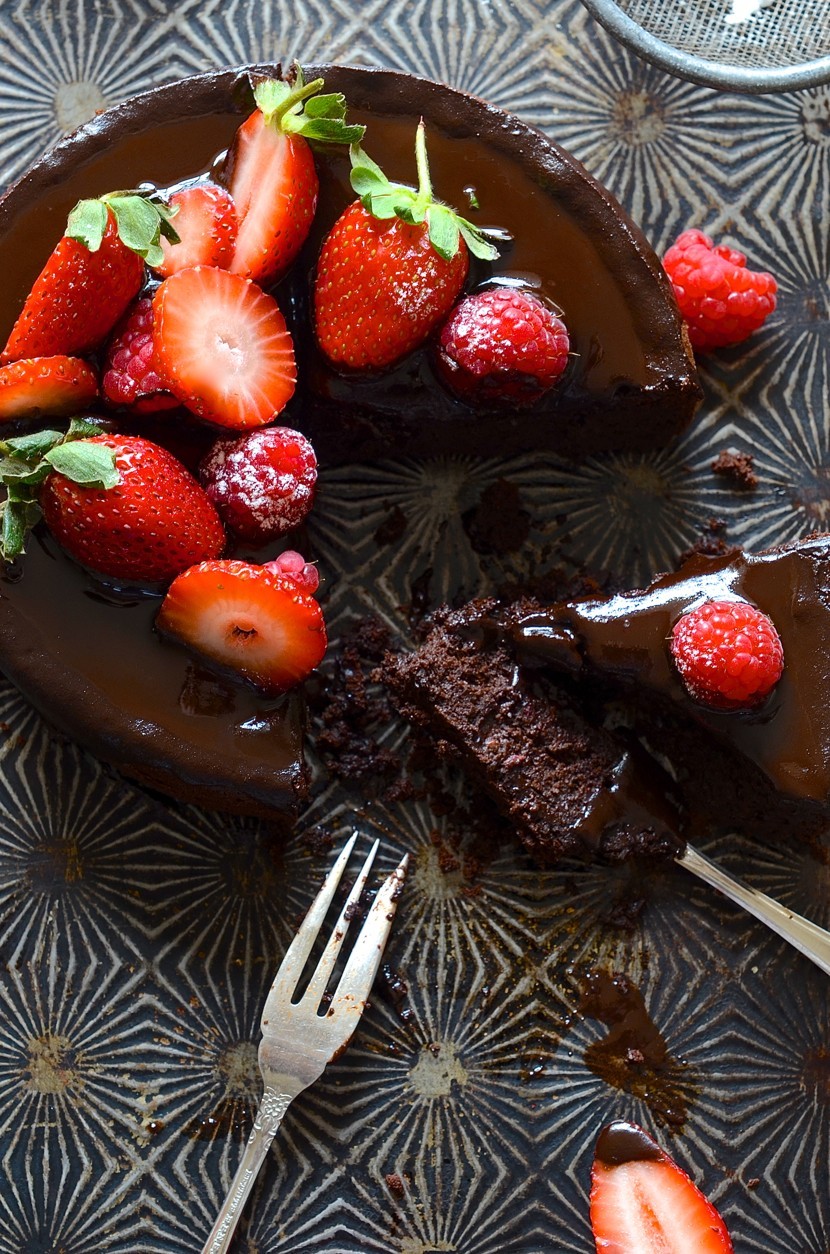 With only a handful of ingredients, it's near impossible to botch this recipe. Apart from whisky the egg whites, you really only need one bowl to put it together. If useful calories are important food considerations for you, then this cake could become a favourite. Made with coconut oil, 70% dark chocolate and almond meal, it's a healthier route to get a chocolate fix. For an in-depth look at the benefits of including coconut oil in your diet, this article written by Helen from Well-Being Secrets is helpful.
The cake is perfectly good as is, but I do love a good drizzle. I like to serve it with seasonal berries or a sprinkling of sea salt. If you find it needs something creamy to off-set the richness, a scoop of vanilla ice cream or whipped coconut cream will do nicely.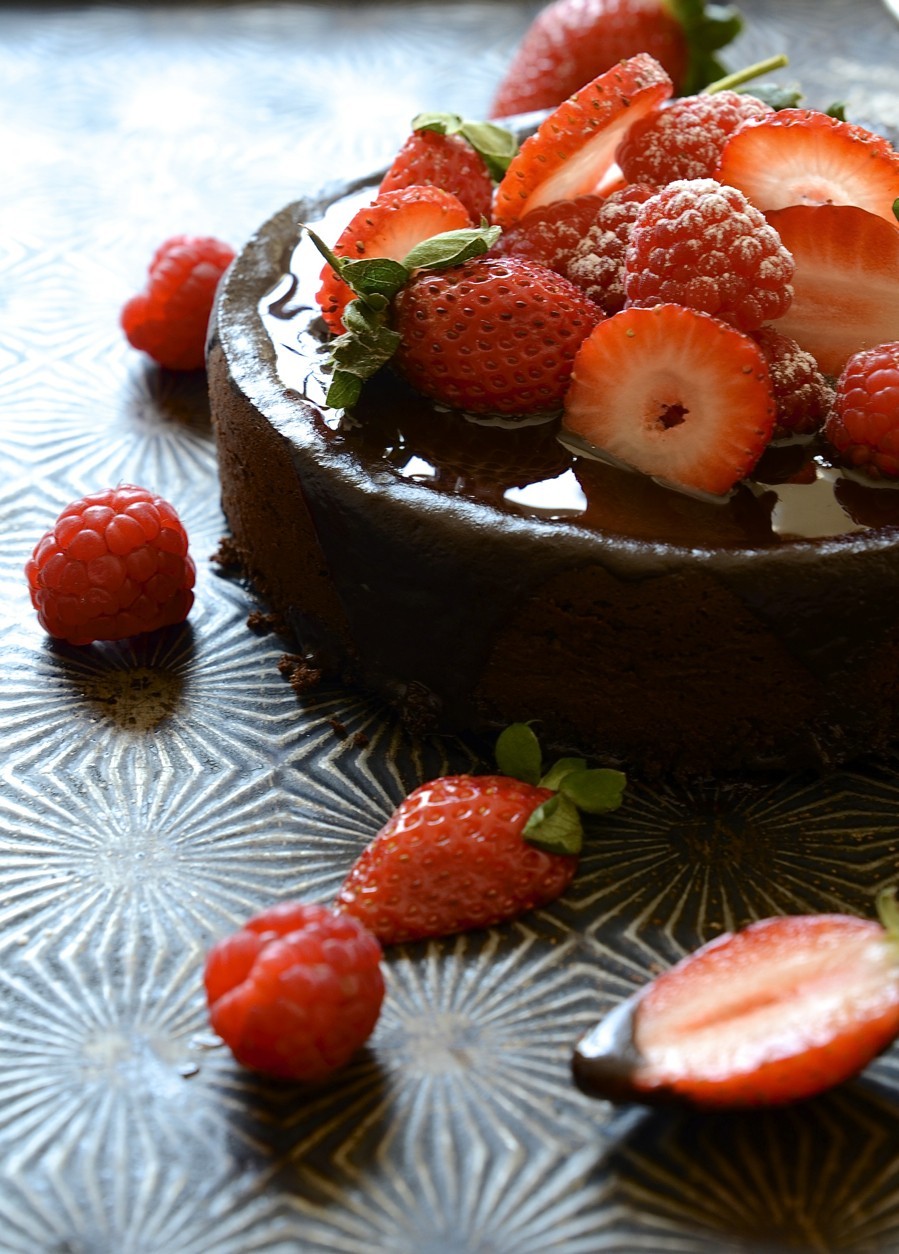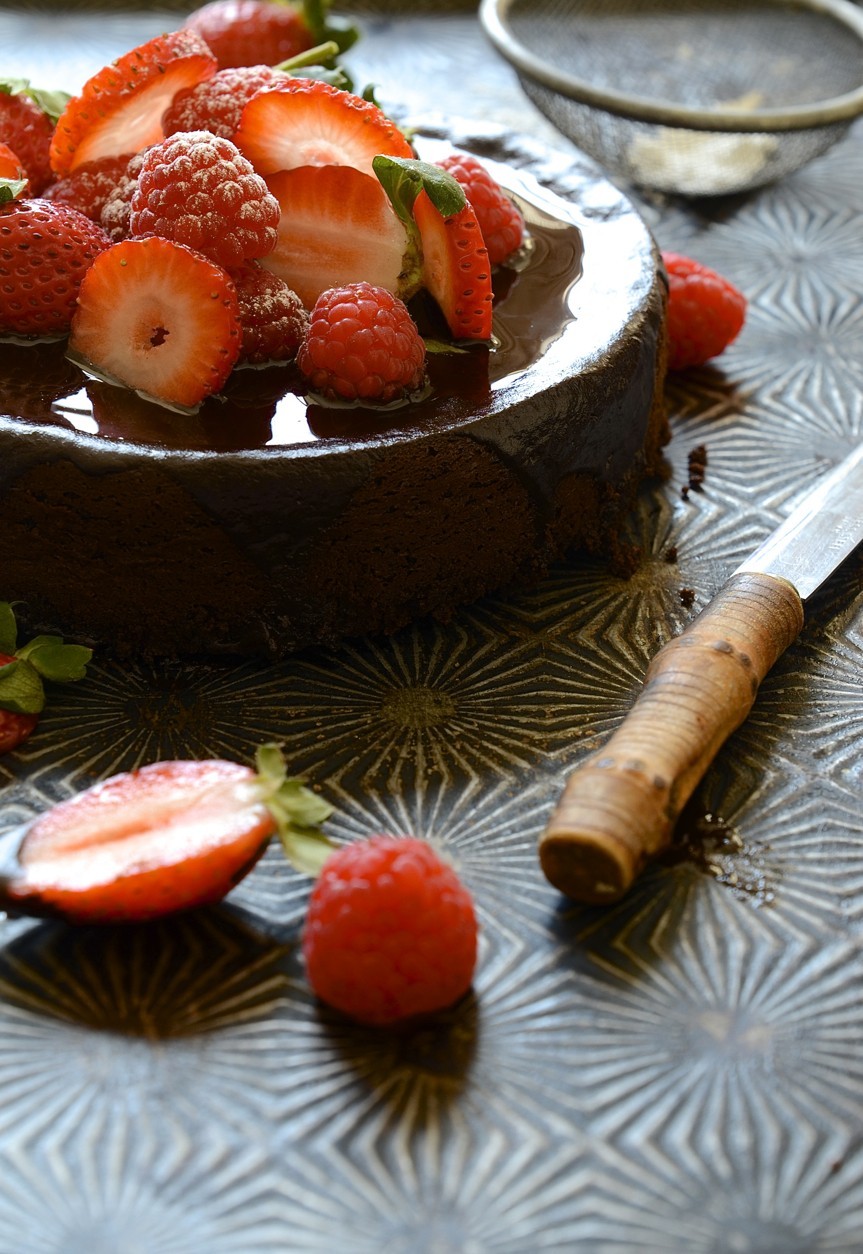 Flourless chocolate cake
2 tablespoons cocoa
1/4 cup boiling water
100g dark chocolate, roughly chopped
1/4 cup (60g) coconut oil
1/2 teaspoon vanilla extract
2 eggs, separated
1/4 cup honey or maple syrup
1/4 cup almond meal
pinch of salt
Glossy chocolate ganache
3 tablespoons coconut milk
50g dark chocolate (70%)
1 tablespoon coconut oil
Preheat the oven to 180º C. Grease and line a 15cm cake tin with baking paper. If you have a small springform tin, this would be preferable, but not essential. Place the cocoa in a heatproof bowl. Add the boiling water and mix to a smooth paste. Add the chopped chocolate and coconut oil. Heat in the microwave until melted, then whisk until smooth. Stir in the vanilla extract and set aside to cool.
Whisk the egg yolks into the cooled chocolate mixture, then add the honey. Fold in the almond meal. In a separate bowl whisk the egg whites with a pinch of salt until fluffy and meringue-like. Fold a third of the whites into the chocolate mixture to loosen the batter, then fold the remainder in lightly.
Pour the batter into the tin and tap lightly. Bake for 30 minutes. When testing with a skewer for doneness, remember it will be fudgy. Set aside to cool completely in the tin before turning out. Try to turn it out into the palm of your hand and place directly onto its base.
For the ganache, heat all the ingredients together in a small bowl and whisk until smooth. Pour over the cooled cake and top with fresh berries. Once cooled, the ganache will set and thicken.
For more gluten-free baking, you might want to take a look in here:
Gluten free zucchini and basil pesto seed bread
Gluten-free puffed rice honey granola