Flour-less chocolate cake with glossy ganache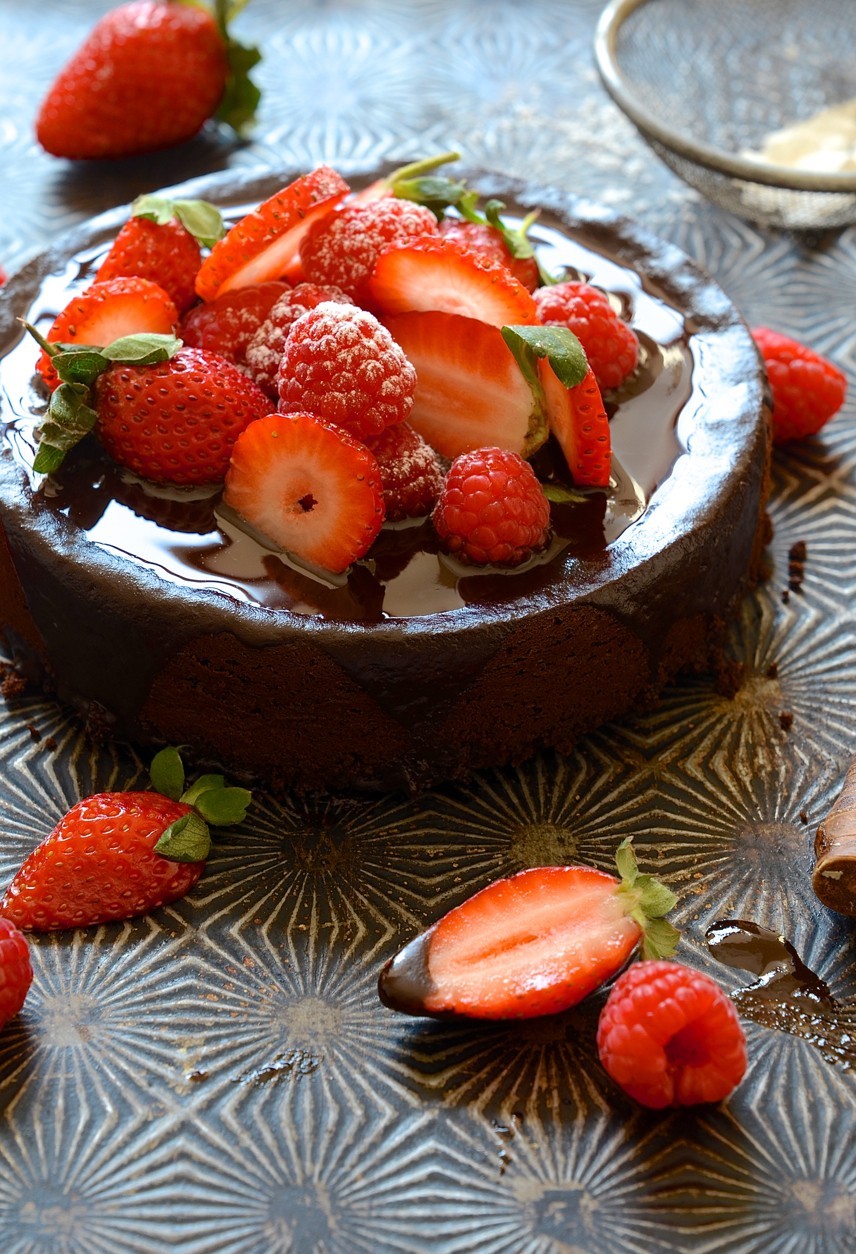 I love surprises, especially when they include chocolate. This petite flour-less chocolate cake with glossy ganache is surprisingly simple to make yet completely delicious. I predict an on-going friendship happening here. Dark, fudgy cake veiled in a coconut cream chocolate ganache, this cake is serendipitously good for you! I know, the unlikely odds of cake being good?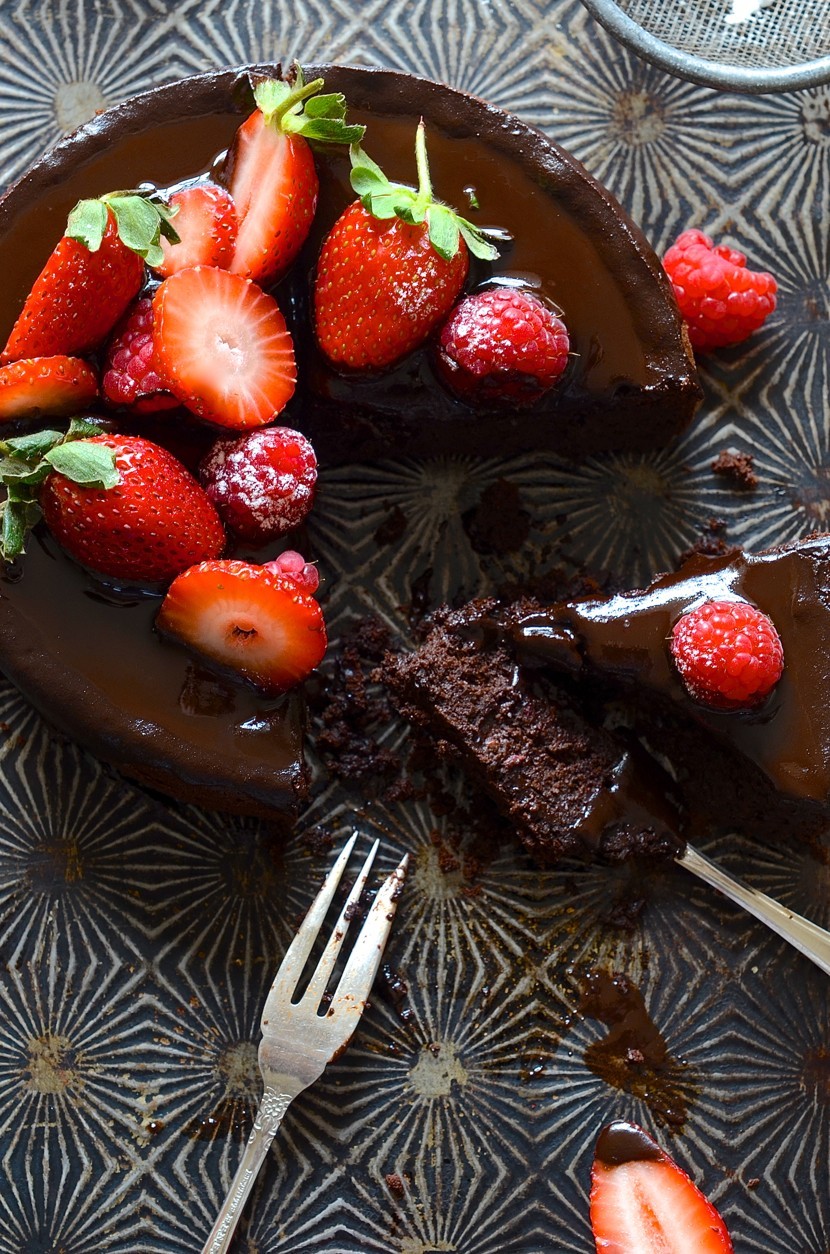 Baking can be rather challenging with all the pressure of exact measuring, methods and timing. Let's face it, hanging up your apron for good and turning to nearest bakery can  be somewhat appealing. When I made this mini cake and managed to get it to work on the first try, I thought it would be a great recipe to share for wanna-be bakers stepping into the dreaded baker's zone. It's the best healthy chocolate cake for anyone seeking simple pleasures, minus the stress and gluten, of course. With only a handful of ingredients, it's near impossible to botch.
If nutrient dense calories are important food considerations for you, then this recipe packed is sure to become a favourite. I find it reassuring to know that the more I eat, the better I'm going to feel! Containing coconut oil, 70% Lindt dark chocolate, almond meal and xylitol, it's a really good deal! These alternative baking substitutes are now available at Clicks, Woolworths and Pick n Pay, so there's no need for special destination stores. For an in-depth look at the benefits of including coconut oil in your diet, this article written by Helen from Well-Being Secrets will help unpack all the facts and stats of why you should include more of this miracle oil in your diet.
The cake is perfectly good as is, but if you like, finish with a glossy pool of chocolate ganache. For a fuss-free dinner party dessert, I like to serve it with fresh, seasonal berries. It makes for a decadently good Banting dessert. If you find it needs something creamy, a scoop of vanilla ice cream or whipped coconut cream will also do nicely. As chocolate and peanut butter are the best of friends, this peanut butter mousse would be my next port of call. It's dainty, indulgent and just the right size for 6 adequate slices or 4 generous wedges.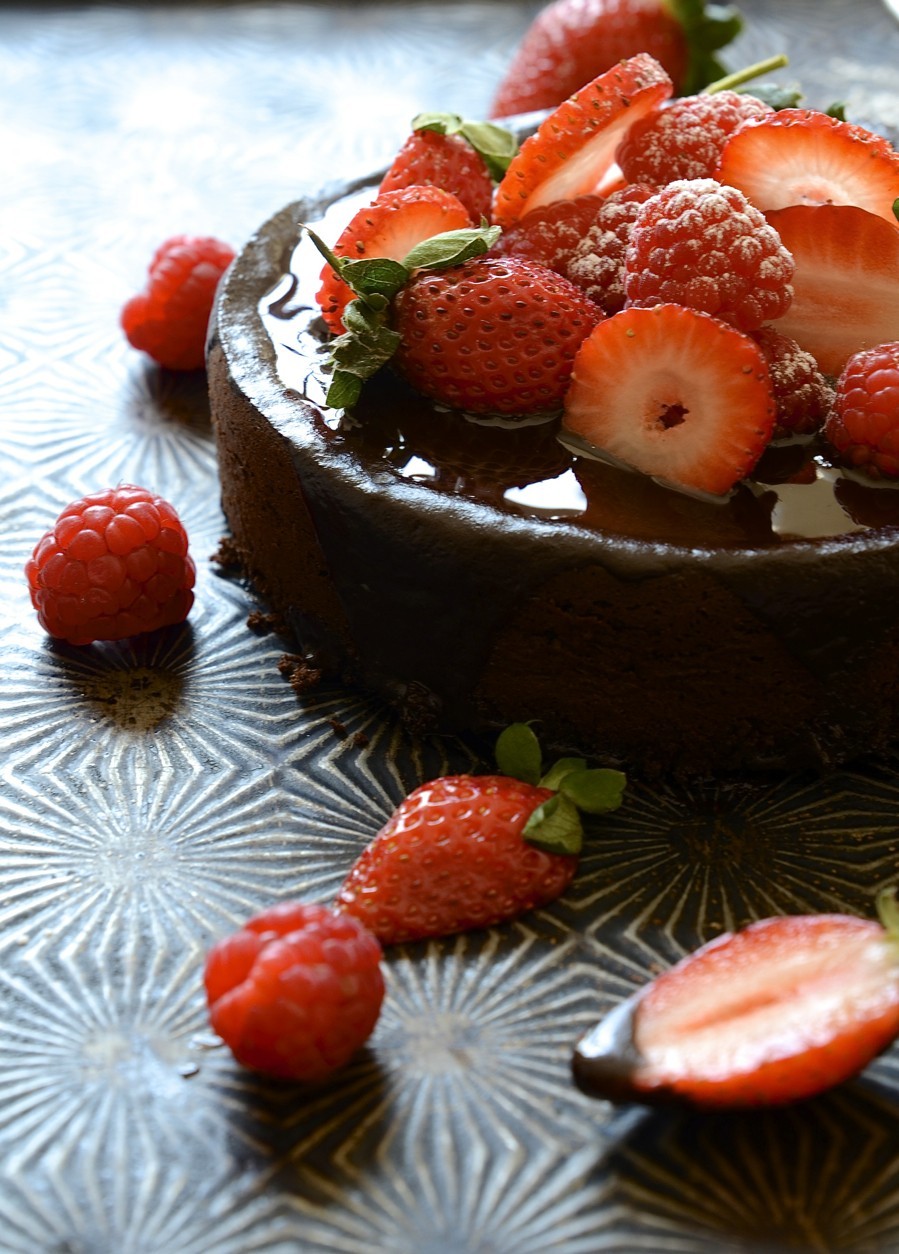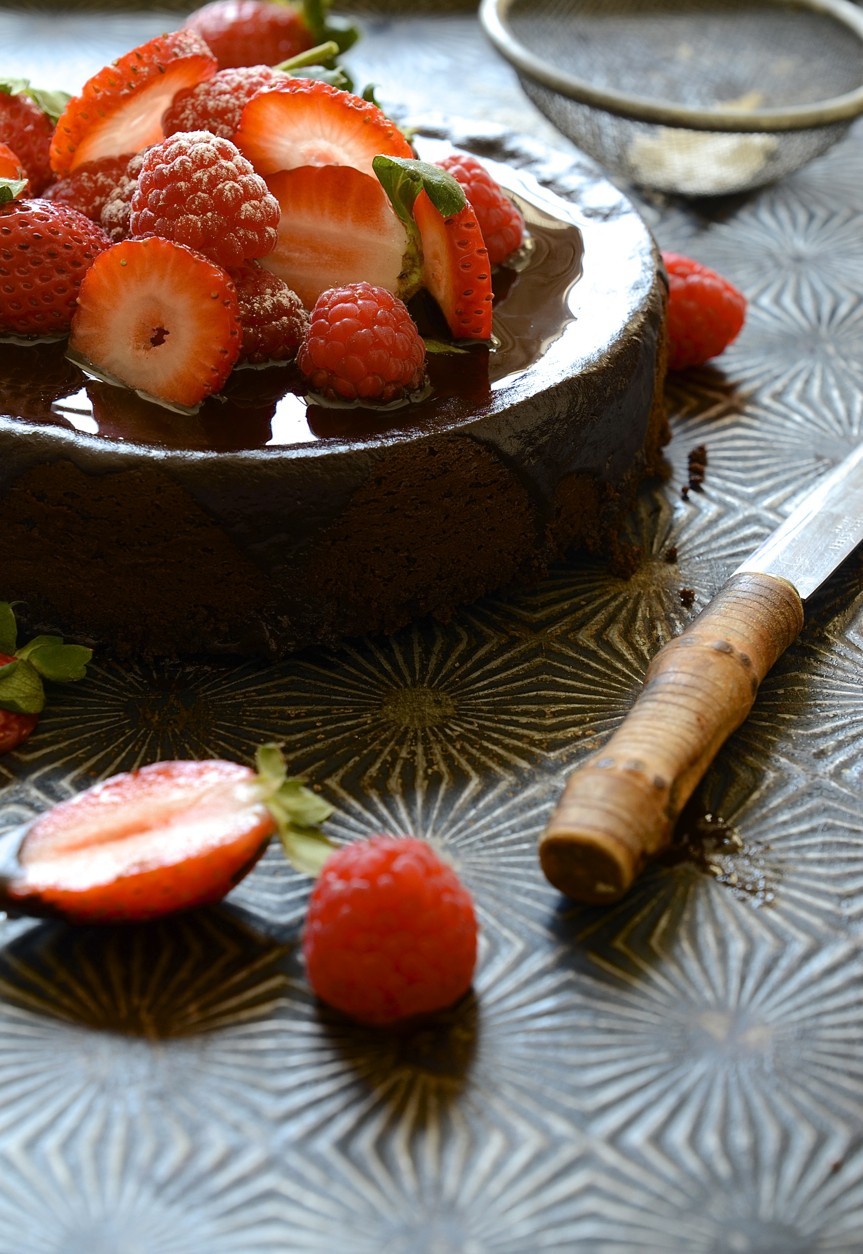 Flour-less chocolate cake with glossy ganache
Prep time:
Cook time:
Total time:
Ingredients
Flour-less chocolate cake with glossy ganache
2 tablespoons cocoa
1/4 cup boiling water
100g dark chocolate (Lindt 70%), roughly chopped
1/4 cup (60g) coconut oil
1/2 teaspoon vanilla extract
2 eggs, separated
1/3 cup xylitol
1/4 cup almond meal
pinch of salt
Glossy chocolate ganache
3 tablespoons coconut milk
50g dark chocolate (70%)
1 tablespoon coconut oil
Instructions
Preheat the oven to 180º C. Grease and line a 15cm cake tin with baking paper. If you have a small springform tin, this would be preferable, but not essential. Place the cocoa in a medium sized heatproof bowl. Add the boiling water and mix to a smooth paste. Add the chopped chocolate and coconut oil. Heat in the microwave until the chocolate is melted. Whisk until smooth and glossy. Stir in the vanilla extract and set aside to cool.
Whisk the egg yolks into the cooled chocolate mixture. Fold in the almond meal. In a separate bowl whisk the egg whites with a pinch of salt until frothy. Add the xylitol a spoonful at a time until the whites are stiff and meringue-like. Fold a third of the whites into the chocolate mixture to loosen up the batter. Follow with the remaining whites and fold through lightly.
Pour the batter into the tin and tap lightly. Bake for 30 minutes. When testing with a skewer for doneness, remember it will be fudgy. Set aside to cool completely in the tin before turning out. Try to turn it out into the palm of your hand and place directly onto its base.
For the ganache, heat all the ingredients together in a small bowl. Mix thoroughly to form a smooth ganache. Pour over the cooled cake and decorate with fresh berries. Once cooled, the ganache will set and thicken.