Gluten free zucchini and basil pesto seed bread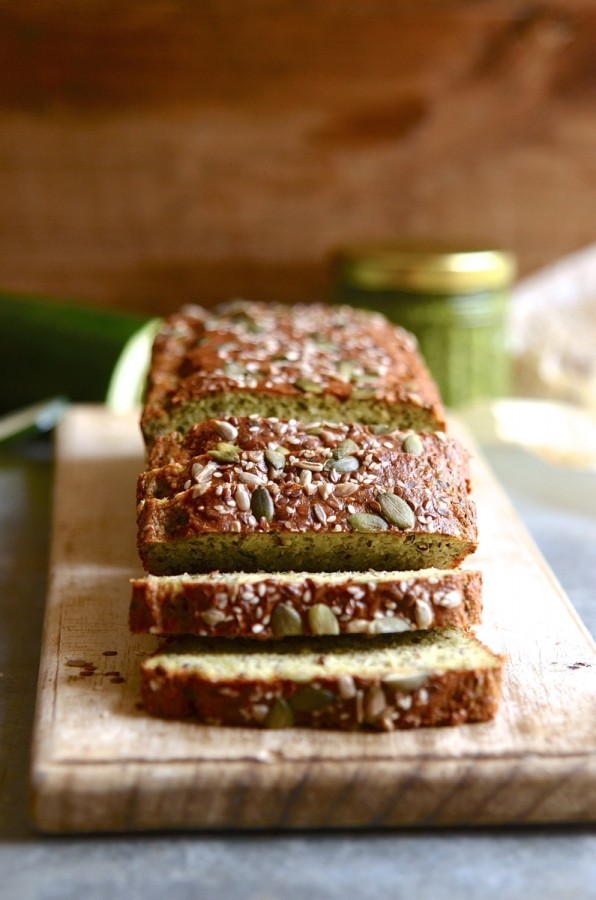 5 Compelling reasons why you need to bake this Gluten free zucchini and basil pesto seed bread:
Bread with hidden vegetables? Yes!
A flourless bread packed with protein and omega-rich seeds? Yip. We're ticking the healthy and delicious box here.
Even if you're not gluten intolerant, you'll want to eat this bread!
Who can resist basil pesto bread?
It's quick, simple and freezer friendly.
Makes great low-carb toast for scrambled eggs and cheesy melts.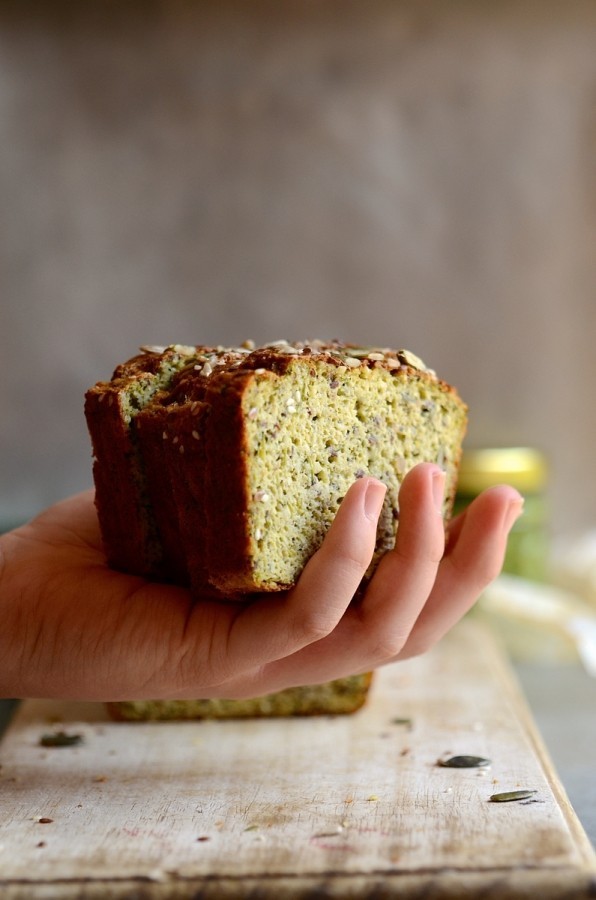 Food has to be one of the most exciting industries to be in. AND better still, there are no rules. Restrictive walls are down and 'colouring' outside the lines is not only encouraged but welcomed in food circles. Take bread for example. Back in the day (sounding all mature-like), there were two options – white or brown. That's it! Today, supermarket shelves, artisanal bakers and dining establishments from Michelin star restaurants to casual eateries are are offering spruced-up, trendy breads. Allergens and dietary requirements have also bolstered the need to seek out baking alternatives, other than conventional wheat flours. With the vast variety of gluten free and ground nut flours now available, baking your own bread has never been easier. Thankfully, bread is back in vogue and tasting better then ever.
I first saw this recipe on Bailey's beautiful blog, Vanilla Blonde. To be honest, reading through the ingredients I knew it would be healthy, but was rather sceptical about the flavour. It turned out surprisingly well and since then, this recipe has become one of our favourite grain-free seed breads. I've adapted the original recipe and made an Italian inspired zucchini bread using my super green basil pesto with sautéed zucchini and parmesan cheese. As it bakes, the aroma of pizza wafts through the kitchen and you just know waiting for it to cool before tucking into the first slice will be impossible! If you missed the recipe for the 'Shrek' pesto, you can find it here. Summer wouldn't be the same without this fragrant herb condiment.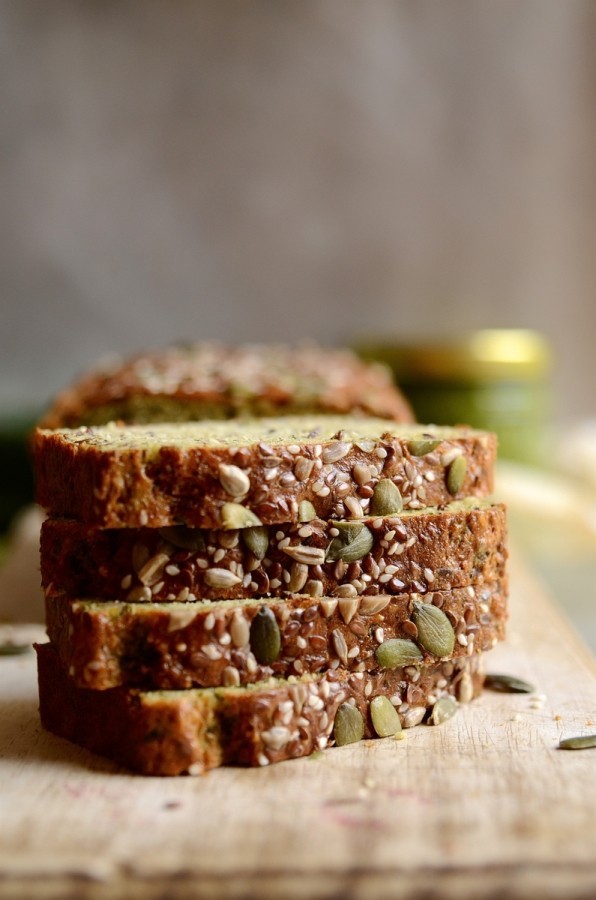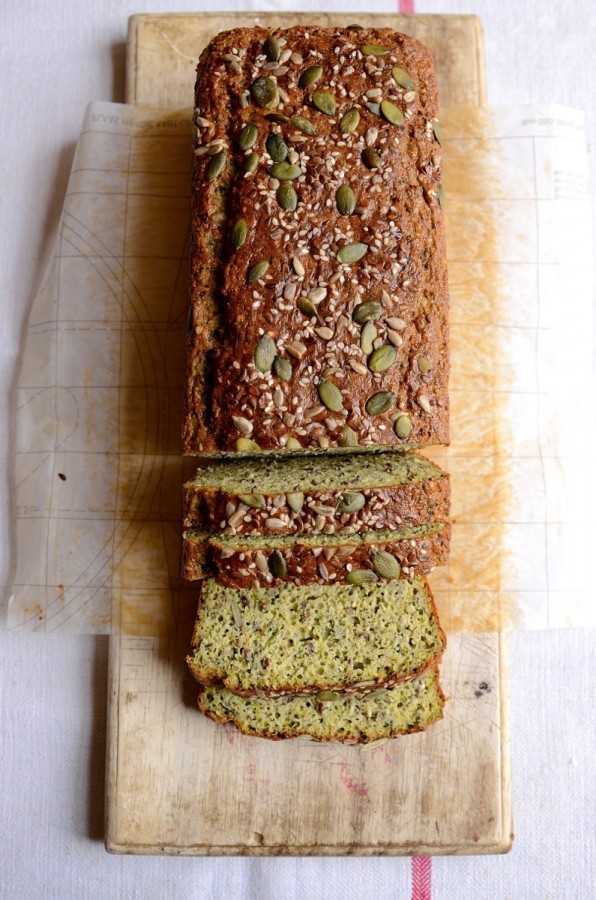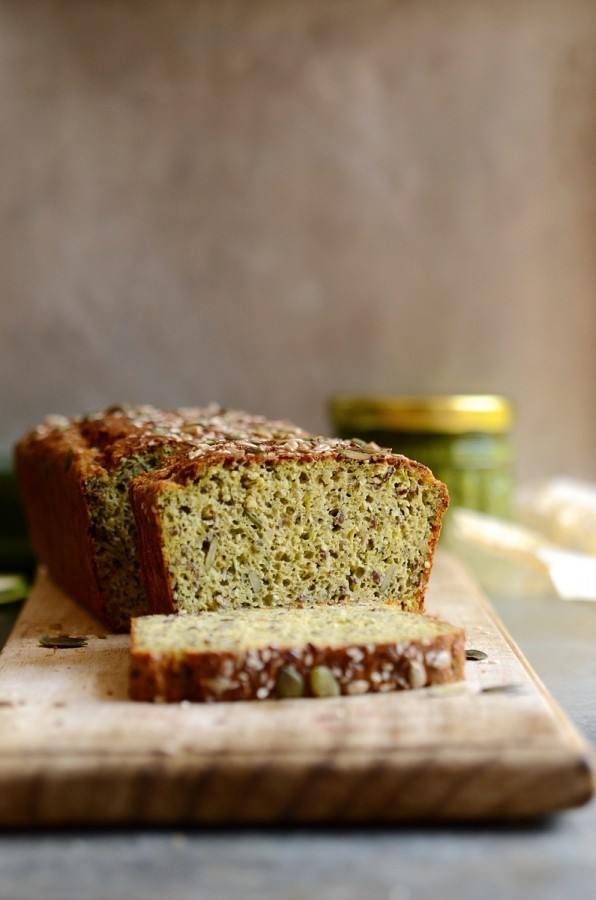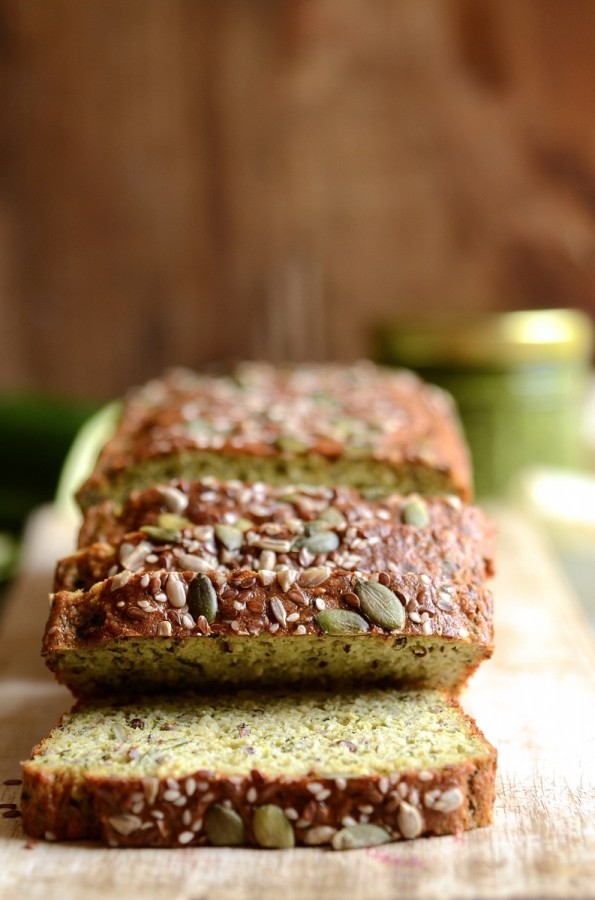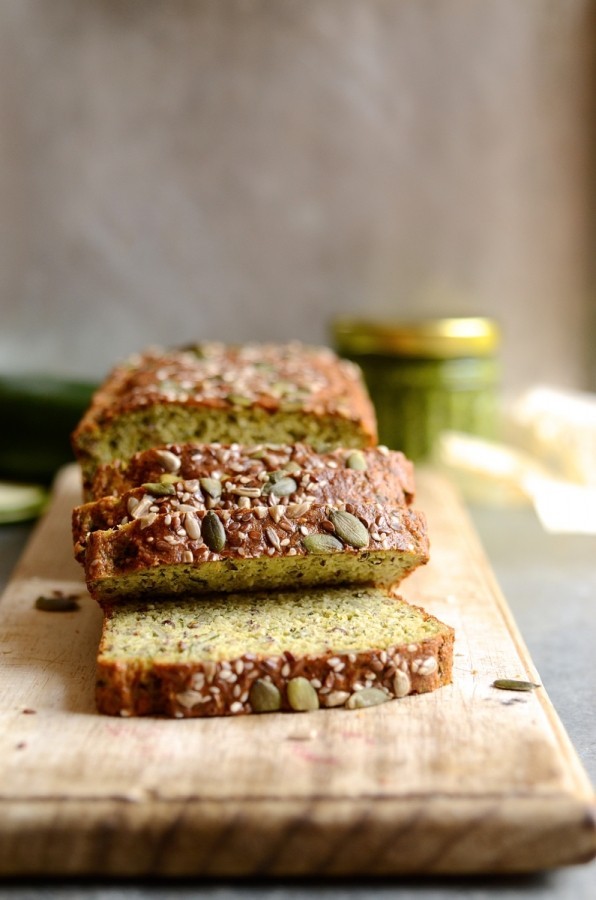 Gluten free zucchini and basil pesto seed bread
Ingredients
1 tablespoon olive oil
300g (about 2 cups), zucchini, grated
1/2 teaspoon dried oregano
3 tablespoons super green basil pesto [url href="https://www.bibbyskitchenat36.com/the-ultimate-green-basil-pesto-pasta/" target="_blank"](I use this recipe)[/url]
1 cup almond flour (ground almonds)
60ml psyllium husk
1/2 cup mixed seeds, (pumpkin, flax seeds, sunflower and sesame), whole
1/2 cup mixed seeds, ground in a processor until fine
10ml baking powder
5ml salt
1/4 cup parmesan cheese, finely grated
6 eggs
3/4 cup Greek Yoghurt
freshly ground black pepper
2 tablespoons mixed seeds, for finishing
Preheat the oven to 180 º C. Grease and line a 28cm bread pan with baking paper.
Heat the olive oil in a pan and sauté the zucchini until all the water has evaporated. Season with salt, pepper and oregano.
Stir through the basil pesto and set aside to cool.
In a large mixing bowl, combine the almond flour, husk, whole and ground seeds, baking powder, salt and parmesan.
Add the eggs and Greek yoghurt to the dry ingredients and mix to combine.
Lastly, add the cooled zucchini and stir through.
Spoon the mixture into the prepared tin, top with a handful of seeds and bake for 55 -60 minutes until golden and cooked through.