Gluten free zucchini and basil pesto seed bread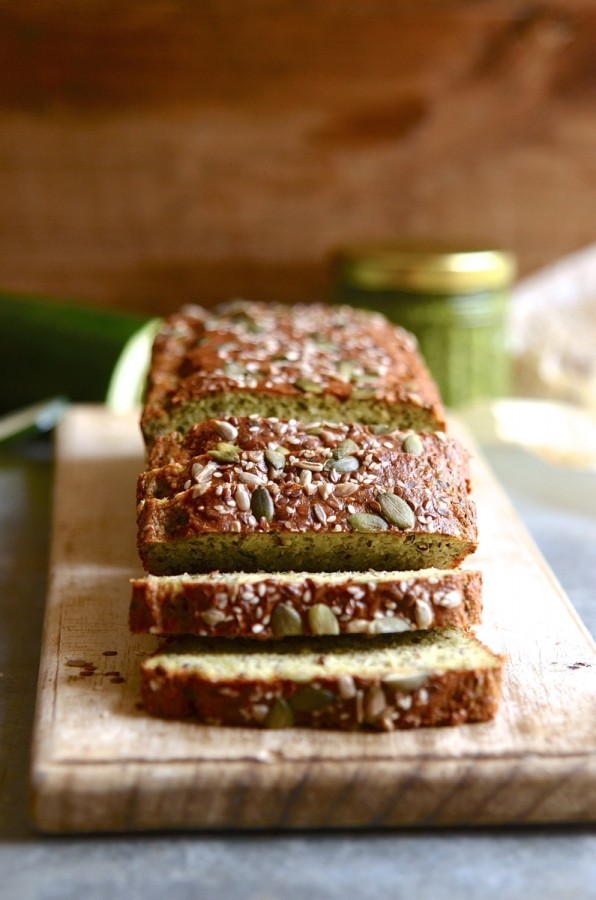 5 Compelling reasons why you need to bake this Gluten free zucchini and basil pesto seed bread:
Bread with hidden vegetables? Yes!
A flourless bread packed with protein and omega-rich seeds?
It's quick, simple and freezer friendly.
Makes great low-carb toast for scrambled eggs and cheesy melts.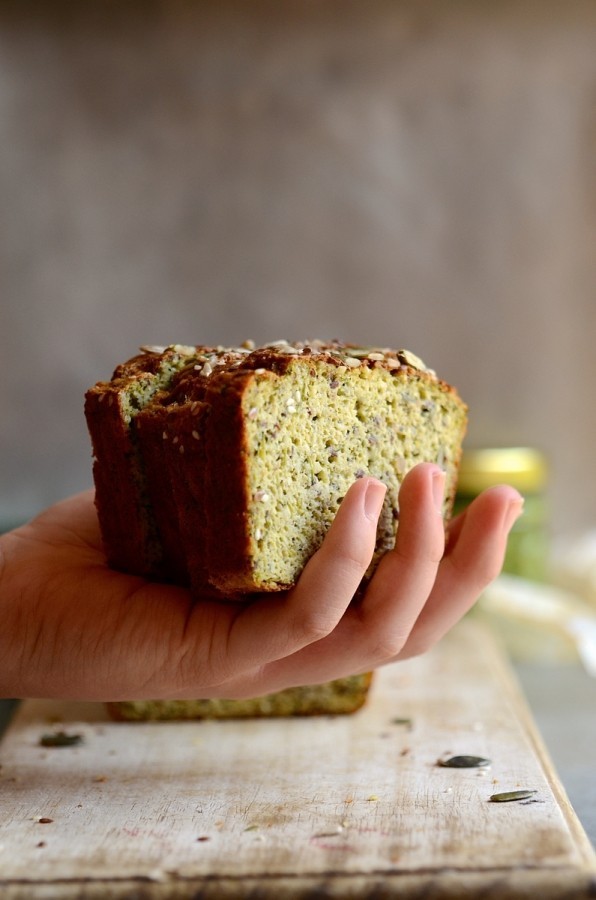 Food rules are out the window. Take bread for example. In the past, there were two options – white or brown. That's it. Today, supermarket shelves and bakeries making spruced-up breads, trendy. Allergens and dietary requirements have also pushed the need to seek alternatives, other than conventional wheat flours. With the wide variety of gluten free flours and nut flours available, baking your own bread has never been easier.
I first saw this recipe on Bailey's beautiful blog, Vanilla Blonde. To be honest, I was a bit sceptical about the flavour. It turned out surprisingly well and since then, this recipe has become one of our favourite grain-free seed breads. I've adapted the original recipe and made an Italian inspired zucchini bread using my super green basil pesto. You can find the pesto recipe here.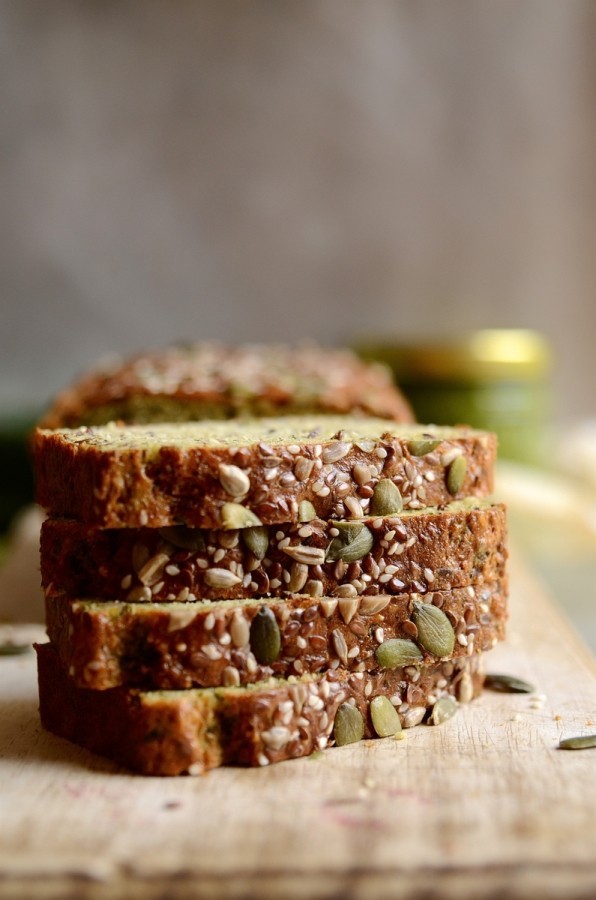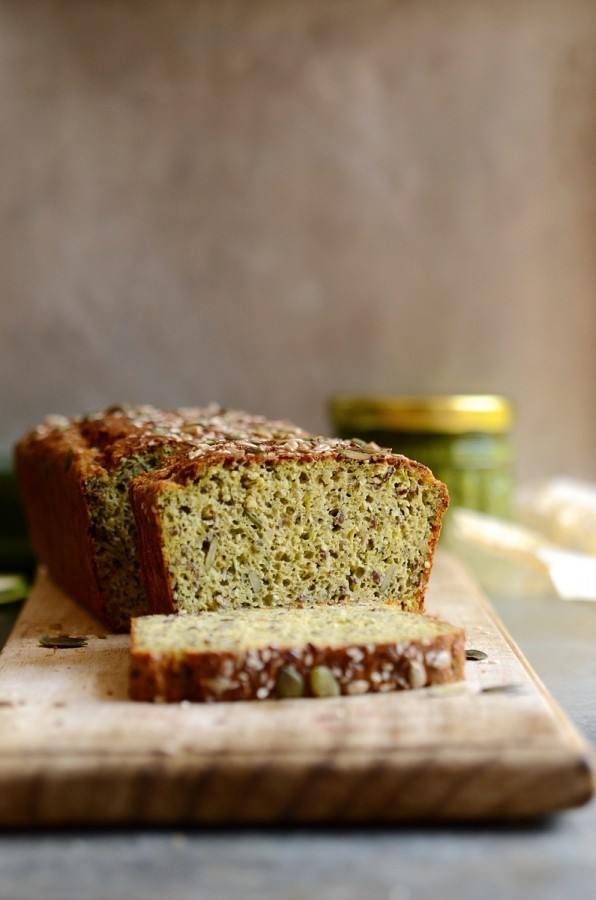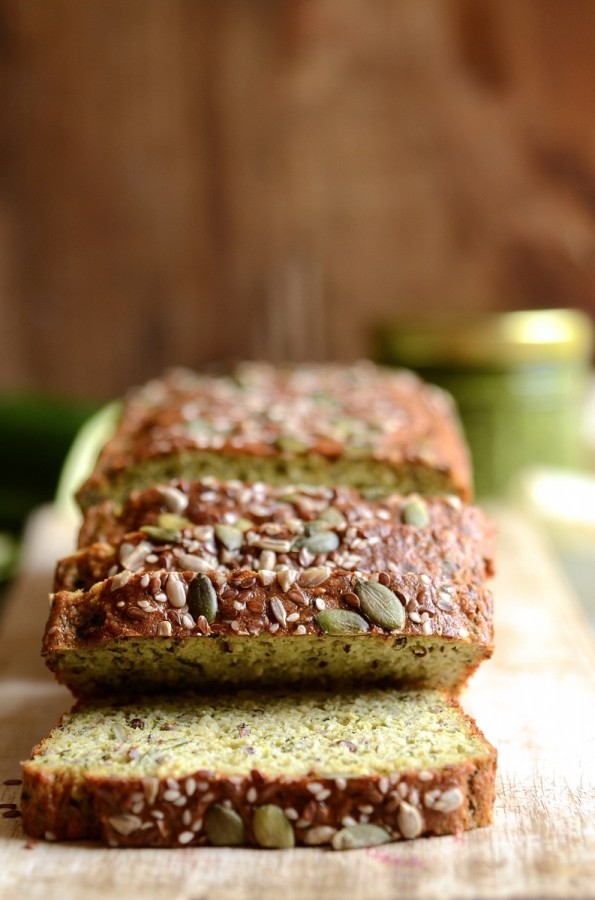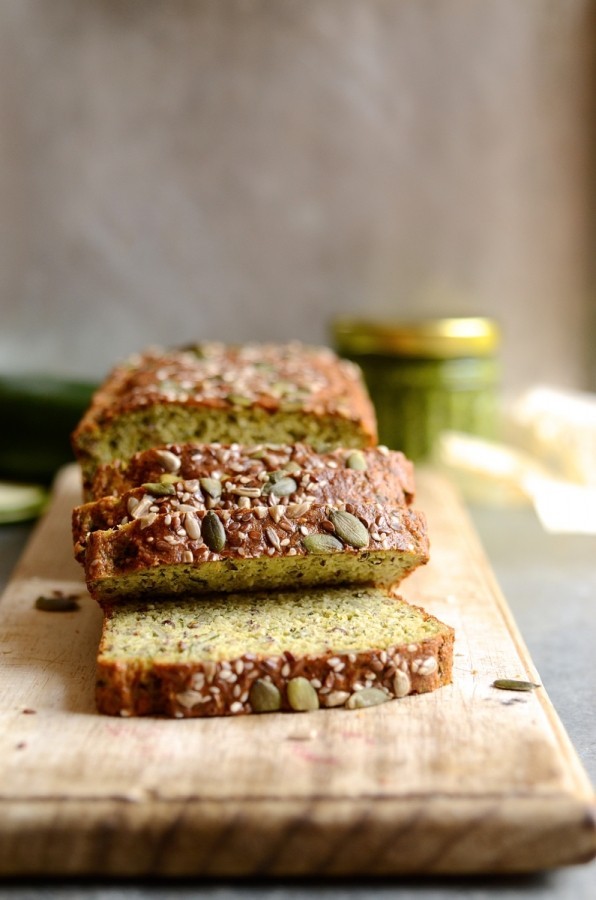 Gluten free zucchini and basil pesto seed bread
1 tablespoon olive oil
300g (about 2 cups), zucchini, grated
1/2 teaspoon dried oregano
3 tablespoons super green basil pesto [url href="https://www.bibbyskitchenat36.com/the-ultimate-green-basil-pesto-pasta/" target="_blank"](I use this recipe)[/url]
1 cup almond flour (ground almonds)
60ml psyllium husk
1/2 cup mixed seeds, (pumpkin, flax seeds, sunflower and sesame), whole
1/2 cup mixed seeds, ground in a processor until fine
10ml baking powder
5ml salt
1/4 cup parmesan cheese, finely grated
6 eggs
3/4 cup Greek Yoghurt
freshly ground black pepper
2 tablespoons mixed seeds, for finishing
Preheat the oven to 180 º C. Grease and line a 28cm bread pan with baking paper.
Heat the olive oil in a pan and sauté the zucchini until all the water has evaporated. Season with salt, pepper and oregano.
Stir through the basil pesto and set aside to cool.
In a large mixing bowl, combine the almond flour, husk, whole and ground seeds, baking powder, salt and parmesan.
Add the eggs and Greek yoghurt to the dry ingredients and mix to combine.
Lastly, add the cooled zucchini and stir through.
Spoon the mixture into the prepared tin, top with a handful of seeds and bake for 55 -60 minutes until golden and cooked through.