Gluten free cashew nut brownies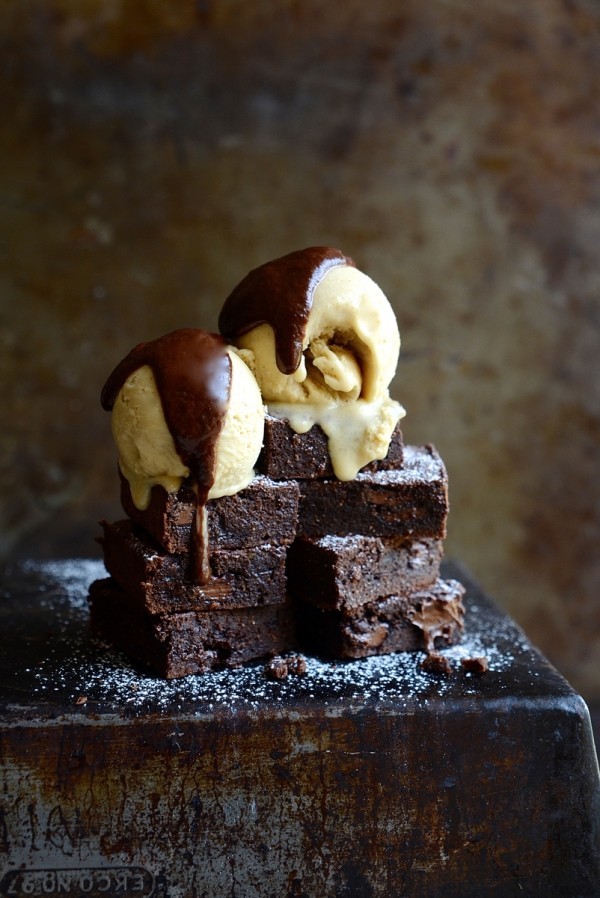 Who doesn't love a mystery box, right? Masterchef Australia has done a first-class job of defining mystery boxes, the contents of which we understand to be food. It usually contains a couple of familiar ingredients and one or two 'wild cards' which are intended to up creativity and cause kitchen consternation. Flaunting a mystery box in front of a food blogger is like red-flagging a bull. We just give it horns and climb in! So what's happening here today? Last week a hemp-coloured mystery box arrived at my kitchen door, courtesy of Food 24. Lifting the lid disclosed 3 Woolworths ingredients – chickpea flour, vanilla extract and cashew nuts. No chocolate??? Gutted! Never mind, I'll make a plan.
My first thoughts veered towards socca, an Italian type of flatbread made with chickpea flour, water and oil. It doesn't sound very impressive, but trust me when I say, it's addictively good. I recently encountered this speciality on my food and travel adventure to Italy and I've been making versions of it ever since. A classic socca recipe would require only the chickpea flour, but what to do with the vanilla and cashews? Surely using all three ingredients would make better food sense?
With this savoury option eliminated, the pendulum swung in completely the opposite direction and landed on a sweet spot, a place that felt just right for my mystery box trio. Well hello there…. towering temptress of Gluten free cashew nut brownies topped with creamy vegan peanut butter nice cream. And smashing it overboard, pools of caramel date chocolate sauce. And there we have it. Healthy meets delicious and it's looking pretty hot from here.
If you're in it for good health, look no further than these dense chocolate brownies with chunks of dark chocolate larva. With wholesome thoughts floating around in my head, the aim was to include as many unrefined ingredients possible. For natural sweetness I opted for medjool dates (my all-time fav everyday snack) and runny honey in place of sugar. The cashew nuts and dates are first softened in hot water which helps add the necessary fudge-factor. And because we're all busier than bees this time of year, the recipe is a blitz and blend method that's simple enough to do, even for midweek baking. Brownies are brave. They can fly solo, although scoops of dripping peanut butter nice cream and glooping chocolate sauce is clearly is even better. Here's to happy, healthy baking.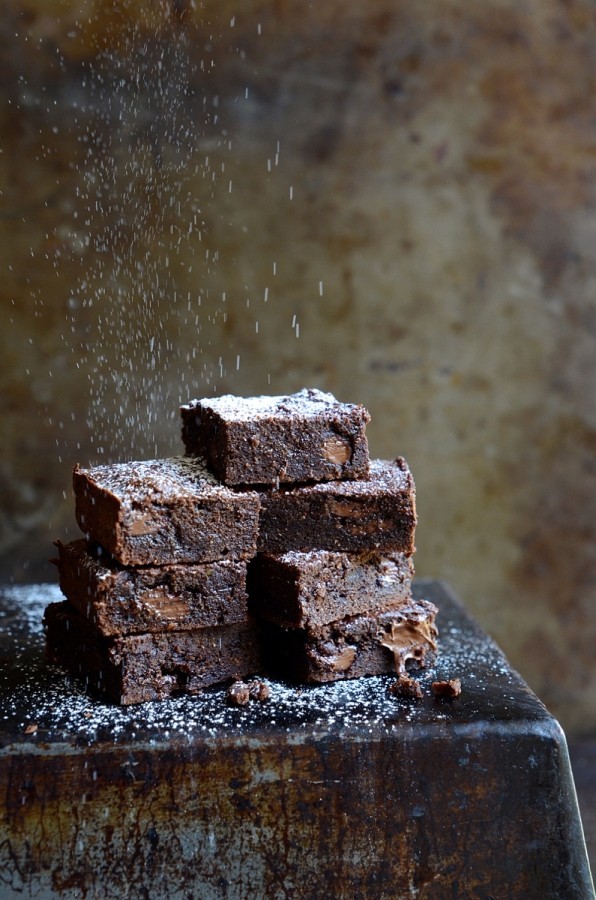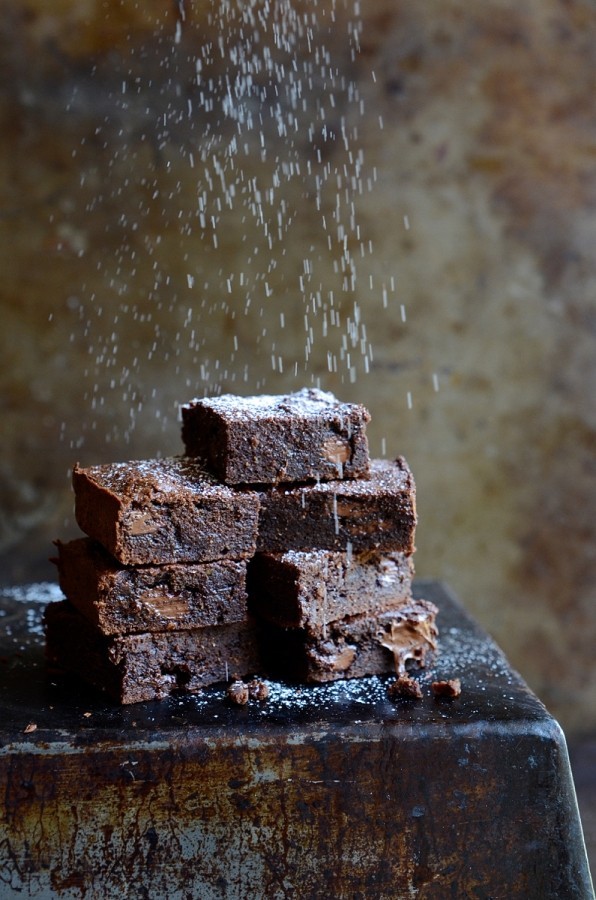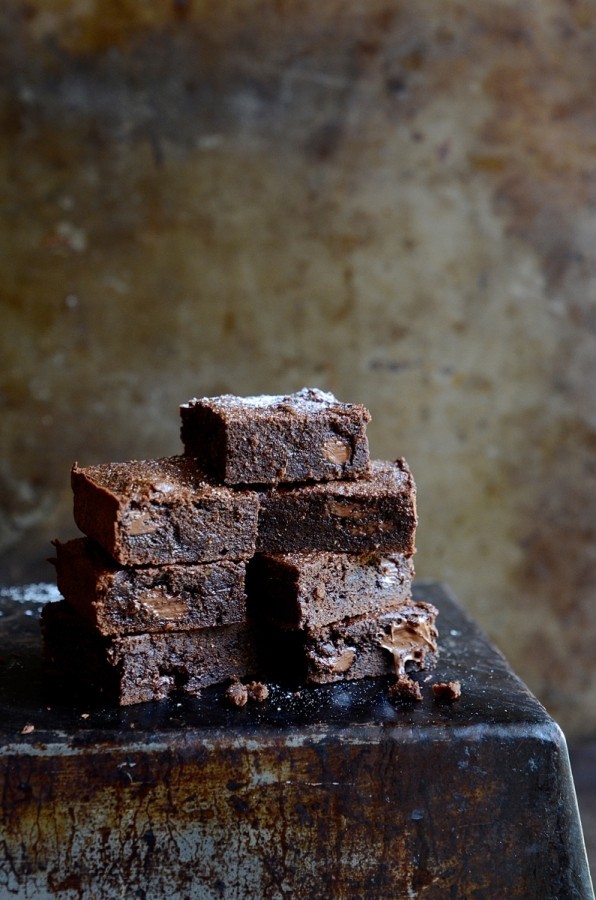 Gluten free cashew nut brownies
150g medjool dates, pitted
100g Woolworths raw cashew nuts
100ml (1/3 cup plus 1 tbls) coconut oil (in liquid form)
60ml (1/4 cup) honey
2 eggs (x-large)
1 teaspoon Woolworths vanilla extract
60ml (1/4 cup) Woolworths chickpea flour
30g (1/3 cup) cocoa powder
pinch of salt
100g 70% dark chocolate, roughly chopped (optional)
Preheat the oven to 180º C.
Grease and line a 18cm square cake tin with baking paper.
Soak the dates and cashew nuts in boiling water for 1 hour. Drain thoroughly.
Place the dates, nuts, coconut oil and honey in a processor and and blitz until the mixture is completely smooth.
Scrape down the sides, add the eggs and vanilla extract and blitz once more.
Sift the chickpea flour, cocoa and salt together. Add the dry ingredients to the date mixture and pulse briefly to incorporate.
Fold through the dark chocolate pieces if using and transfer the batter to the baking tin. Smooth over with the back of a spoon.
Bake for 18-20 minutes.
Set aside to cool in the tin before slicing into squares.
Serve as is or with peanut butter nice-cream or vanilla bean ice cream and chocolate sauce, if you wish.