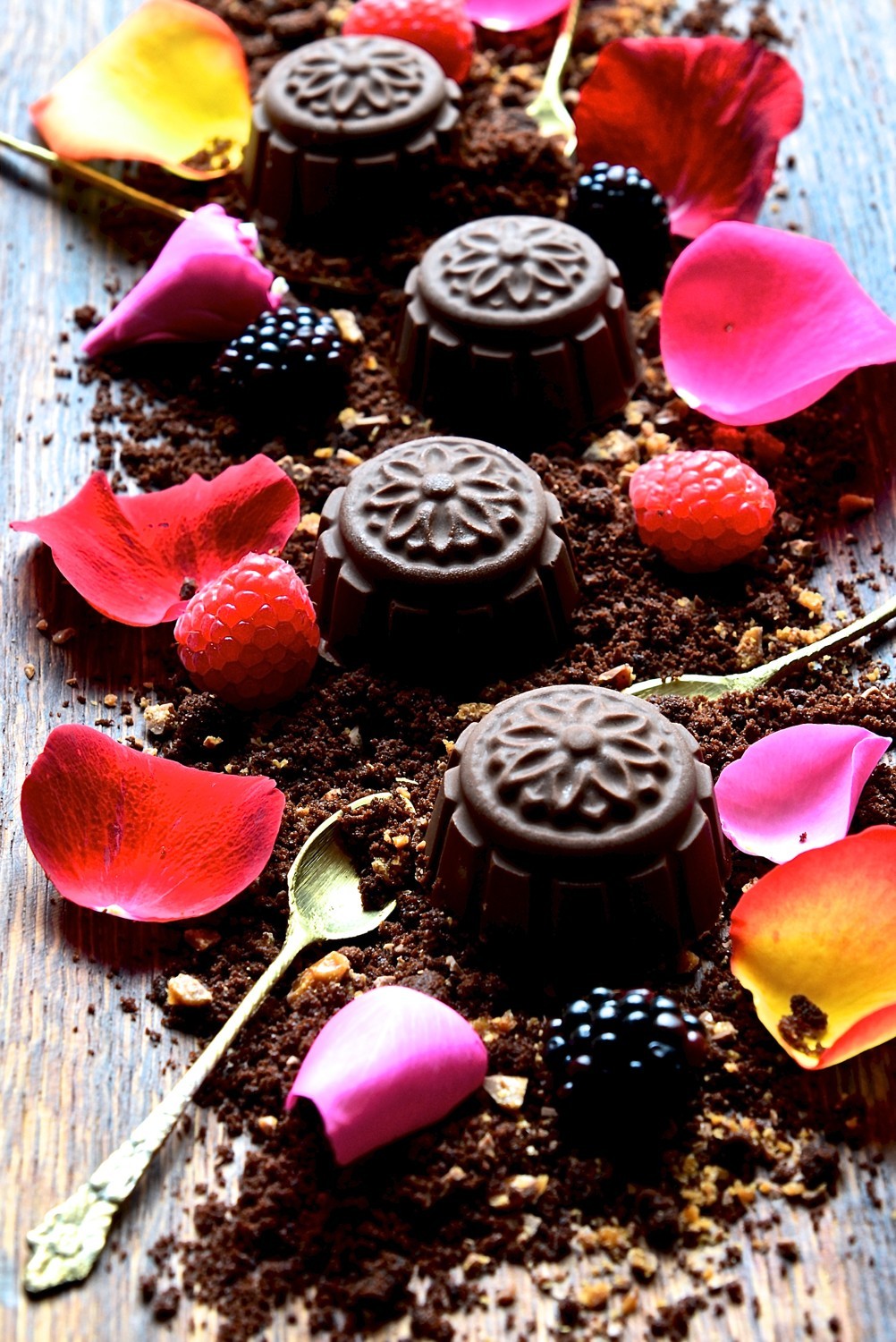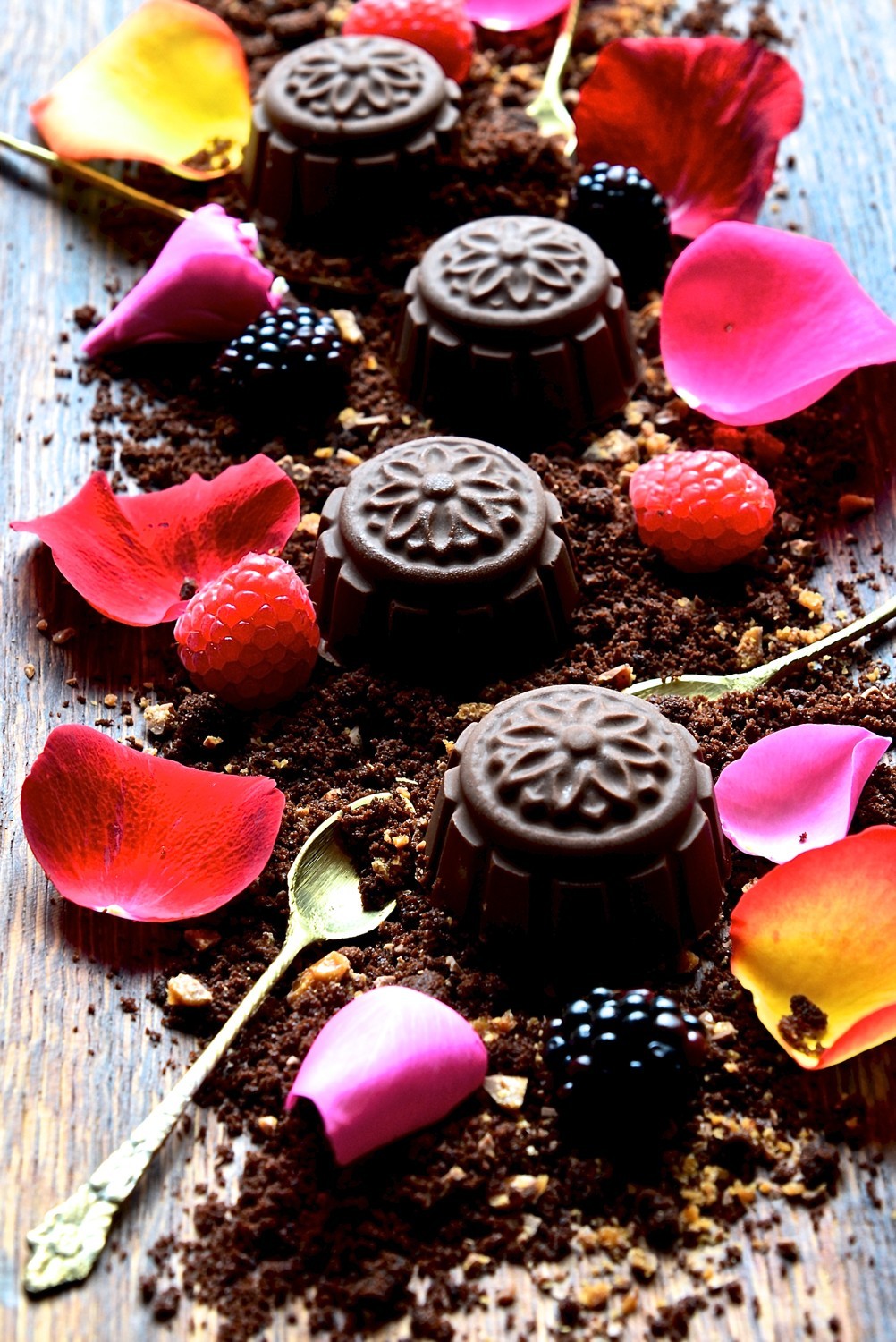 Caramel cocoa crumbs with ice cream kisses sound like the dreamiest summer dessert. I like to serve them with dark blackberries and a handful of tart raspberries.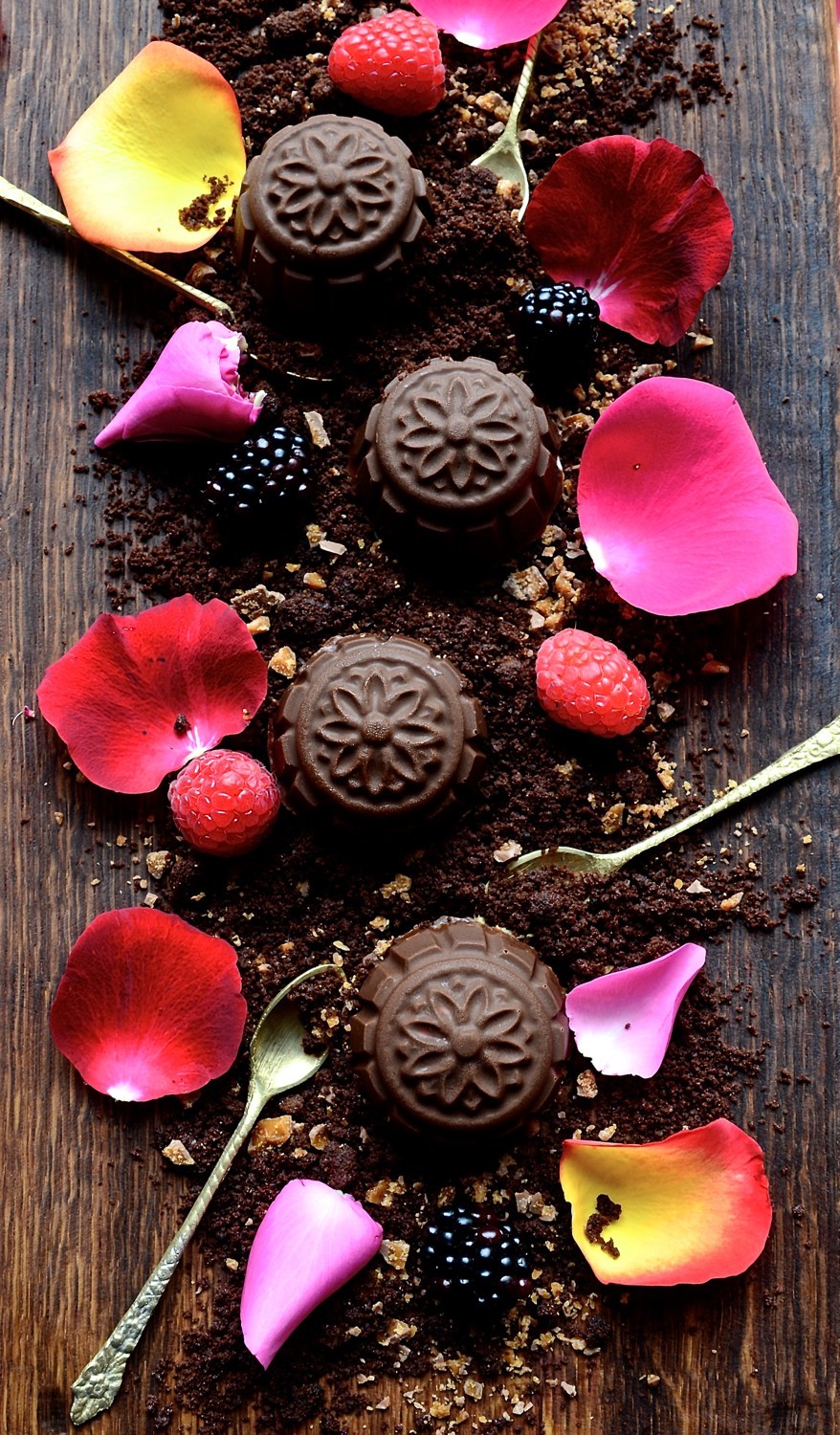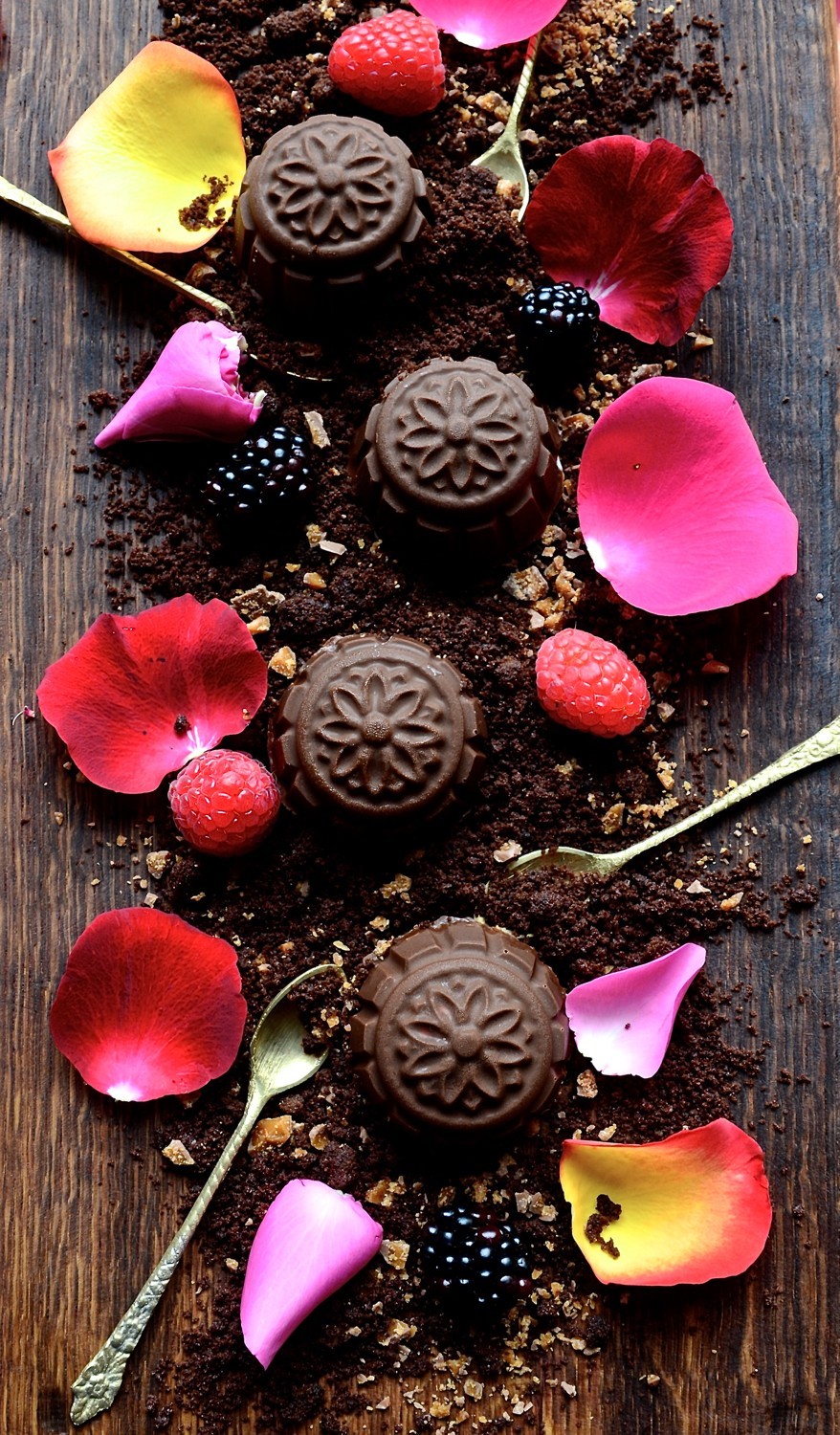 To make the chocolate crumb gravel, store bought chocolate muffins will do just fine. My gravel was originally a cake experiment that went awry in the worst possible way. Thankfully, there are always creative ways to salvage disaster. I realise that not everyone has the time, far less the inclination to bake a cake just for the sake of this recipe, in which case, store-bought chocolate muffins will do. You'll need two muffins for the gravel. For the chocolate gravel, I've used a bar of Daim caramel candy. It's basically hardened caramel covered in dark chocolate. To make the gravel, I combine the toasted muffin crumbs and crushed Daim caramel candy. It's deceptively and rather impressive. For the ice cream kisses, opt for a good store bought vanilla bean ice cream. As far as the chocolate moulds are concerned, milk chocolate is preferable over a darker, 70%. It melts more easily and a good match for the dark crumbs. When it comes to summer dinner parties, a make ahead dessert, like ice cream, is a stress-free way to entertain.

Caramel splintered cocoa crumb gravel with Ice cream kisses and blackberries
Serves 2
Italian kisses
80g dark chocolate (min 50%)
rich and creamy vanilla bean ice cream
chocolate mould of your choice
Gravel
2 chocolate cup cakes (un-iced) or chocolate muffins
1 Daim chocolate bar
fresh raspberries and blackberries, to serve
rose petals
Place the chocolate in glass bowl over a pan of simmering water and stir gently until melted and smooth. You can also melt the chocolate in the microwave, but be careful not to overheat. Spoon about a teaspoon amount of chocolate into each mould cavity and swirl to coat evenly. Turn the mould over and place on a drip tray to allow excess chocolate to drain off. Chill for about 10 minutes and then repeat the process with a second layer of chocolate. Chill until fully set. Fill with softened vanilla ice cream and place in the freezer. Once the ice cream is completely frozen, cover the bases with chocolate and freeze until needed.
Preheat the oven to 180º C. For the gravel, place the cupcakes or chocolate muffins in a processor and pulse until fine bread-crumb texture. Spread the crumbs onto a baking sheet and bake for 20 minutes. Turn the crumbs over several times during the drying out process to ensure even roasting. Set aside to cool. Chill the Daim chocolate bar for 10 minutes. This will ensure that the chocolate is firm when splintered. Chop into fine splinters with a smooth bladed knife. Mix the chocolate caramel shards and crumbs together.
To serve, scatter the gravel onto a large board or serving plate. Turn the ice cream kisses out and place on top. Dot with raspberries, blackberries and rose petals.
You may also like:
Condensed milk coffee ice cream
Oreo & peppermint crisp ice cream
Black sesame and liquorice ice cream
Gin and strawberry swirl ice cream