Caramel cocoa crumbs with ice cream kisses and blackberries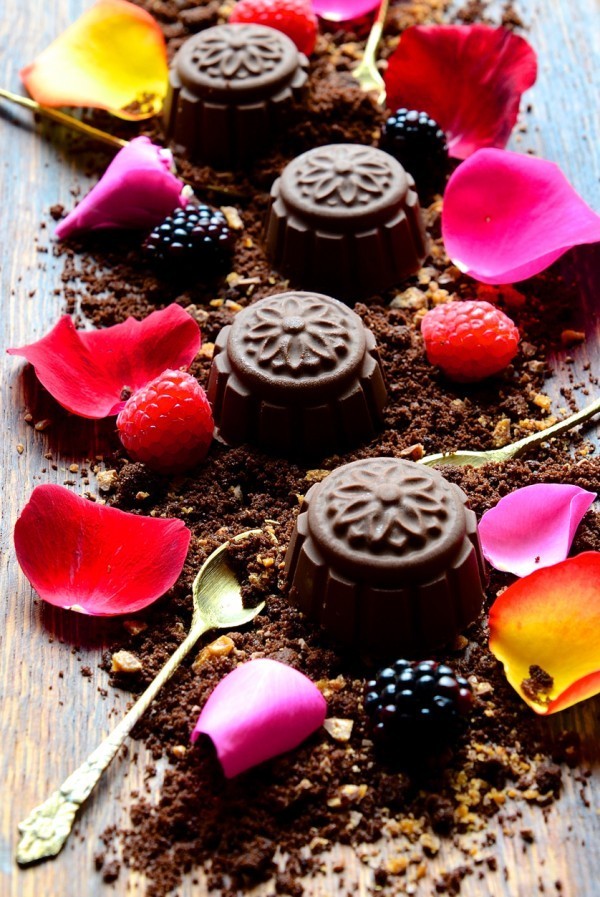 A day, or rather the day, that is set aside exclusively for love and celebrated with customary exchanges of cards, flowers and gifts. Alternatively, you could just share this lethal (death by chocolate), plated feast with the 'one'. Strewn caramel-splintered cocoa crumbs with chocolate smothered ice cream globes and plump blackberries. Lavished with reckless colour, sublime textures and sealed with irresistible Italian ice cream kisses……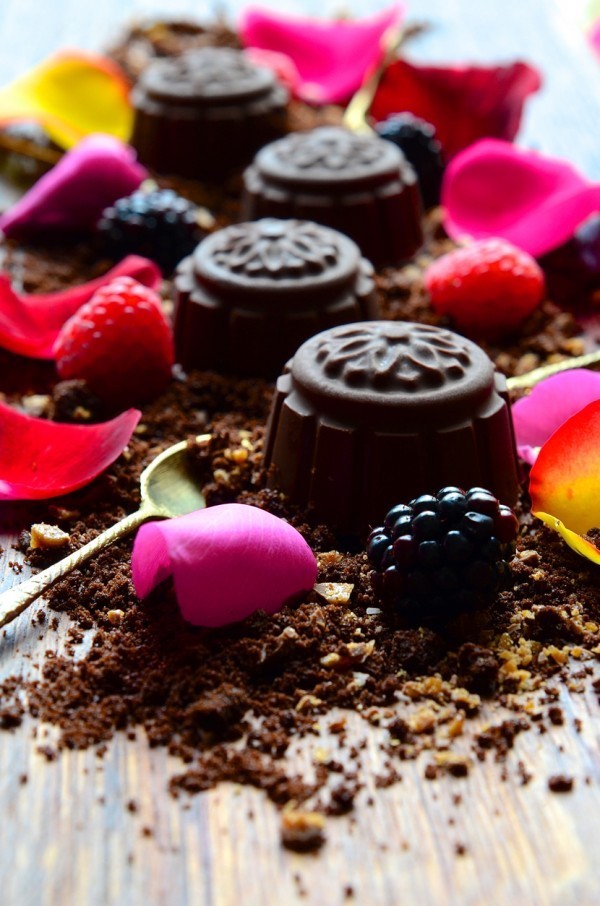 This Valentine's dessert is more of an assembly than a structured recipe and will hopefully tempt and impress your dinner partner. Surprisingly, it requires zero baking skills and minimal effort. Yes! The trump card here is the no-bake short cut method for effort averse cooks. Yes, I know this is what most of you prefer!  Saying that, as I have enough gadgets, moulds and unidentifiable tools to open up my own kitchen store, I felt obliged to make use of these quaint chocolate moulds. It is however completely unnecessary, as you can just as easily sneak out and buy ready made, pristinely packed Italian kisses from the supermarket, but they won't have 'handmade with looooove' written all over them. Just saying.
To make the chocolate crumb gravel, store bought chocolate muffins will do just fine. My gravel was originally a cake experiment that went south in the worst possible way and thankfully morphed itself into this scrummy caramel-sharded gravel. I realise that not everyone has the time, far less the inclination to follow suit, so be not like me and follow the sign to the bakery and buy yourself a six-pack (no guys, not beer), of the best quality chocolate muffins. You'll need two muffins for the gravel and the other four could be lunch.
Necessity proves once again, that it truly is the mother of invention. The caramel-chocolate gravel 'thang' is the result of crazy-impulsive, duty-free shopping. You know the kind, where super sized bags of Daim chocolates just keep coming at you! In fact, I'm discovering unimaginable uses for these chocolates, some of which I'll be posting here shortly. In the meanwhile, take a walk on the dark side and indulge in this deceptively simple dessert, made with love, for pleasure.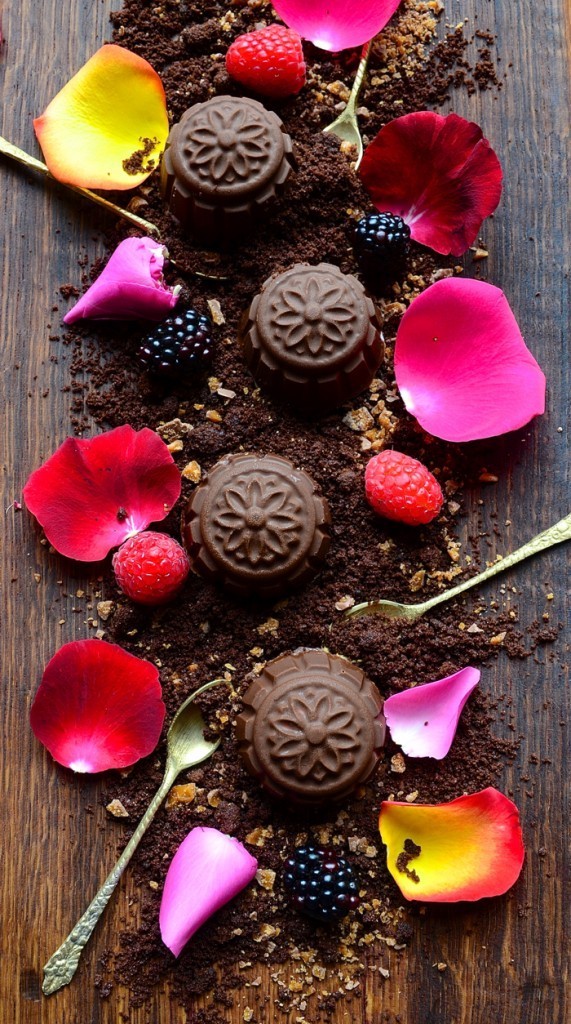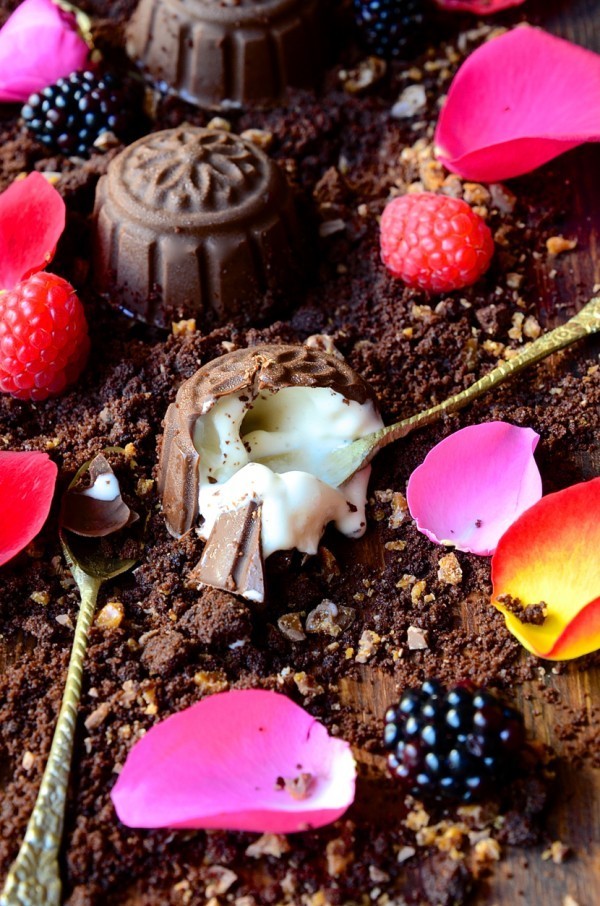 Caramel splintered cocoa crumb gravel with Ice cream kisses and blackberries
Serves 2
Italian kisses
80g dark chocolate (min 50%)
rich and creamy vanilla bean ice cream
chocolate mould of your choice
Gravel
2 chocolate cup cakes (un-iced) or chocolate muffins
1 Daim chocolate bar
fresh raspberries and blackberries, to serve
rose petals
Place the chocolate in glass bowl over a pan of simmering water and stir gently until melted and smooth. You can also melt the chocolate in the microwave, but be careful not to overheat. Spoon about a teaspoon amount of chocolate into each mould cavity and swirl to coat evenly. Turn the mould over and place on a drip tray to allow excess chocolate to drain off. Chill for about 10 minutes and then repeat the process with a second layer of chocolate. Chill until fully set. Fill with softened vanilla ice cream and place in the freezer. Once the ice cream is completely frozen, cover the bases with chocolate and freeze until needed.
Preheat the oven to 180º C. For the gravel, place the cupcakes or chocolate muffins in a processor and pulse until fine bread-crumb texture. Spread the crumbs onto a baking sheet and bake for 20 minutes. Turn the crumbs over several times during the drying out process to ensure even roasting. Set aside to cool. Chill the Daim chocolate bar for 10 minutes. This will ensure that the chocolate is firm when splintered. Chop into fine splinters with a smooth bladed knife. Mix the chocolate caramel shards and crumbs together.
To serve, scatter the gravel onto a large board or serving plate. Turn the ice cream kisses out and place on top. Dot with raspberries, blackberries and rose petals. Serve and indulge.