Gin and strawberry swirl ice cream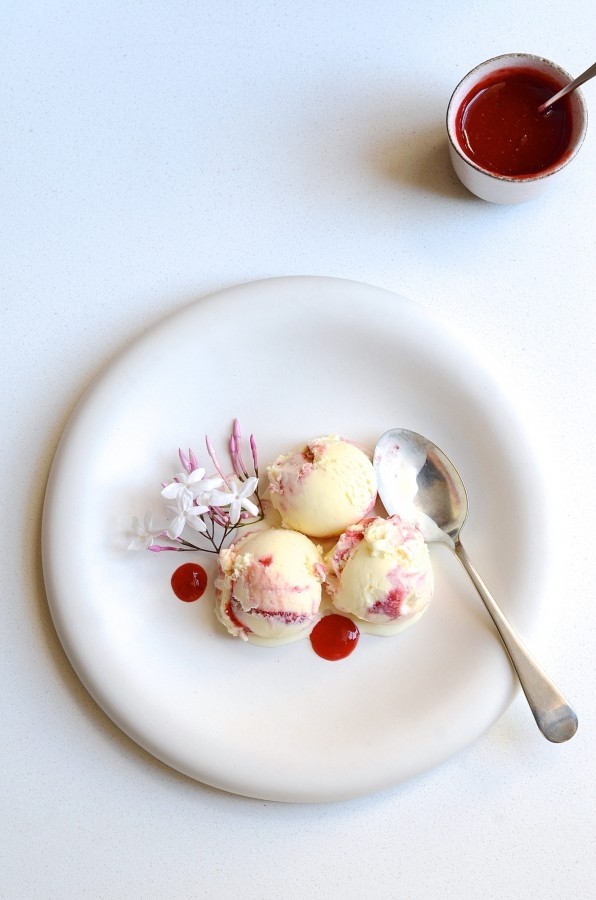 It's Strawberries and cream cocktails for dessert. If you're a fan of gin, ice cream or strawberries, this strawberry swirl ice cream is for you. It tastes like summer holidays. Inspired by my recent trip to Italy where there as many gelateria as there are coffee shops, scoops of drippy ice cream is by far the best way to keep your cool. There's no shortage of flavours either. Think peach bellini, avocado and pea or fruity pink watermelon, not forgetting the new uber chic, charcoal black. It's a no-rules flavour game.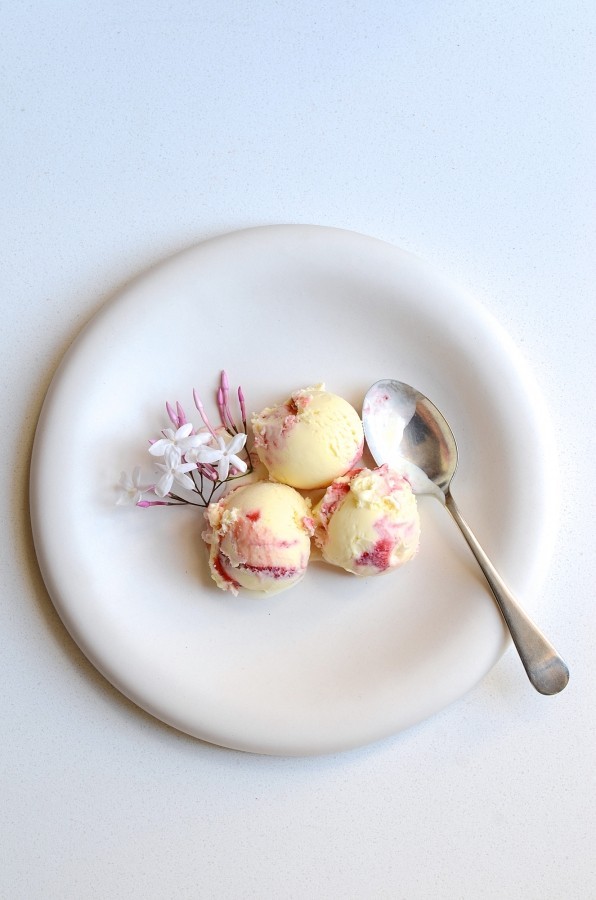 In the past, I've shared several no-churn ice cream recipes on the blog, the most popular being this Peppermint crisp ice cream pudding cake. For my strawberry swirl ice cream you'll need an ice cream maker. The base is a rich vanilla bean ice cream made the traditional way with milk, cream and egg yolks. The result – a pale ivory-yellow ice cream that melts in the mouth. I use this recipe as a base for all sorts of flavour variants and mix it up with whatever fruits are in season. Cherry bourbon, Mocha chocolate, Tiramisu or Limoncello curd are some of our favourites.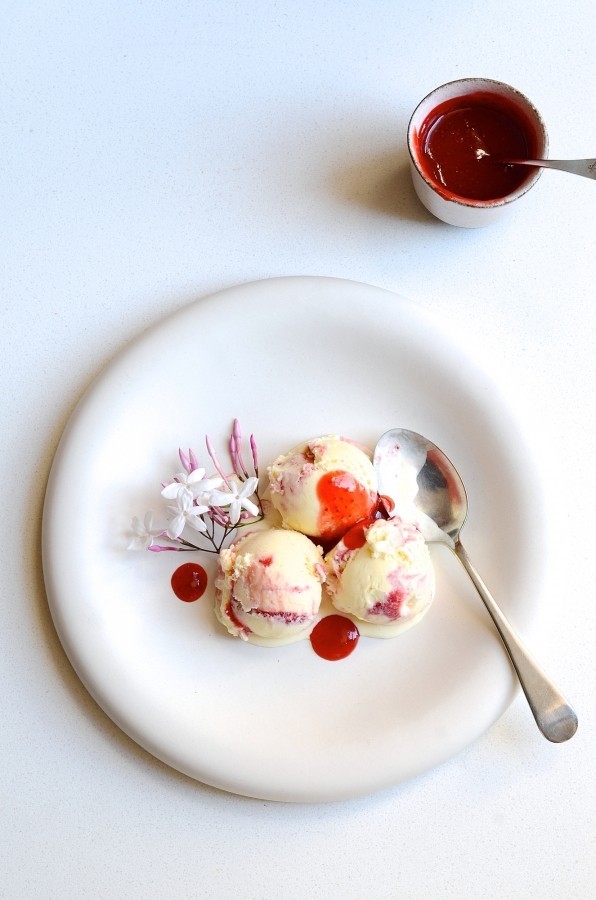 Gin has found its way from the cocktail trolley onto fashionable food tables and eateries everywhere. Lending itself easily to both savoury and sweet combinations, it pairs particularly well with fresh fruit. I've used strawberries here but in the late summer months, I ring the changes with deliciously tart blackberries. If you're making this ice cream for children, omit the gin and continue with the recipe as stated. For the flavours to develop fully, the custard mixture needs to chill for at least six hours or overnight. It will also ensure that the ice cream is smooth and light in texture.


Gin and strawberry swirl ice cream
Vanilla ice cream
1 cup full cream milk
2 cups cream
1 vanilla pod, seeds scraped
1/2 cup castor sugar
5 egg yollks
Strawberry gin coulis
2 cups strawberries, washed, hulled and quartered
1/3 cup (80ml) castor sugar
2 tablespoons lemon juice
1/4 cup (60ml) gin
Place the strawberries, castor sugar and lemon juice in a saucepan.
Bring up to a boil and simmer on medium high for about 7 minutes.
Blitz with an emersion blender until smooth. Stir through the gin and set aside to cool.
To make the ice cream, pour the milk and cream into a saucepan. Add a quarter cup of sugar, vanilla pod and seeds.
Bring the mixture up to a simmer, stirring to dissolve the sugar. Remove from the heat and discard the pod.
Place the egg yolks and the remaining sugar in a bowl and whisk until pale and thick.
Slowly add the warm cream to the yolks before pouring the mixture back into the saucepan.
Cook over a medium heat, stirring all the while, until the cream is thick enough to coat the back of a spoon.
Strain the custard into a bowl and cool for 30 minutes. Cover with cling film and chill overnight.
Churn in an ice cream maker until firm.
Spoon half the ice cream into a container. Drizzle with a third of the strawberry coulis.
Repeat the layering once more then swirl through with a skewer.
Cover and freeze for several hours.
Serve with the remaining coulis on the side.