Ultra Smooth Hummus with harissa pine nut oil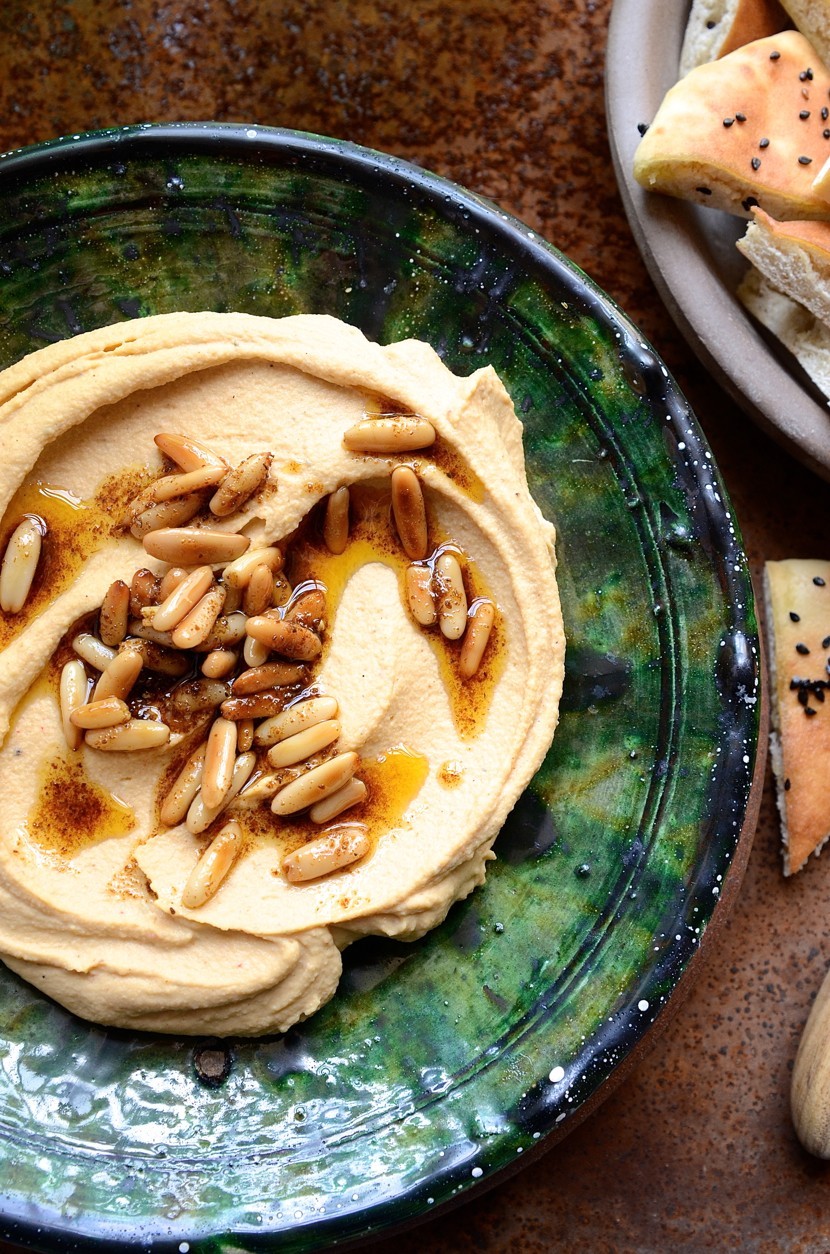 Life is full of firsts. Surprisingly, I can still recall my first day of school, a first love and undoubtedly, the excitement and nervous anticipation of my first born. And then, of course, there's the first time I encountered hummus. Admittedly, not quite on the same scale as giving birth, but rather fantastic nonetheless for an uninitiated palate, such as mine was. Yotam Ottolenghi, whom I regard as the authority on all things Middle Eastern, especially if it involves a chickpea, claims there's an on-going hummus war that rages in the Middle East. Hotly disputed is, who can lay claim to the best version, correct consistency and ideal texture. This is not Ottolenghi's recipe, but my take on how I'd make it if I worked at a falafel stand. It is as the title suggests, Ultra smooth hummus, which is how I love it!
This is a brief lengthy account of my hummus history. If I remember correctly, 1989 was not a particularly peaceful period in the Middle East. Neighbouring countries were fraught with unrest and possible threats of war. Despite this, armed with youthful ignorance and optimism, I decided it would be the perfect time for a kibbutz experience. Barring the military bus trip to conflict-ridden Hebron and the odd rock throwing incidents in Jerusalem, I came home physically unscathed, but saturated with extraordinary experiences and insights. For me, Israel remains starkly beautiful and richly peppered with cultural and spiritual significance. It has left an indelible impression on me and a deep appreciation for this ancient land.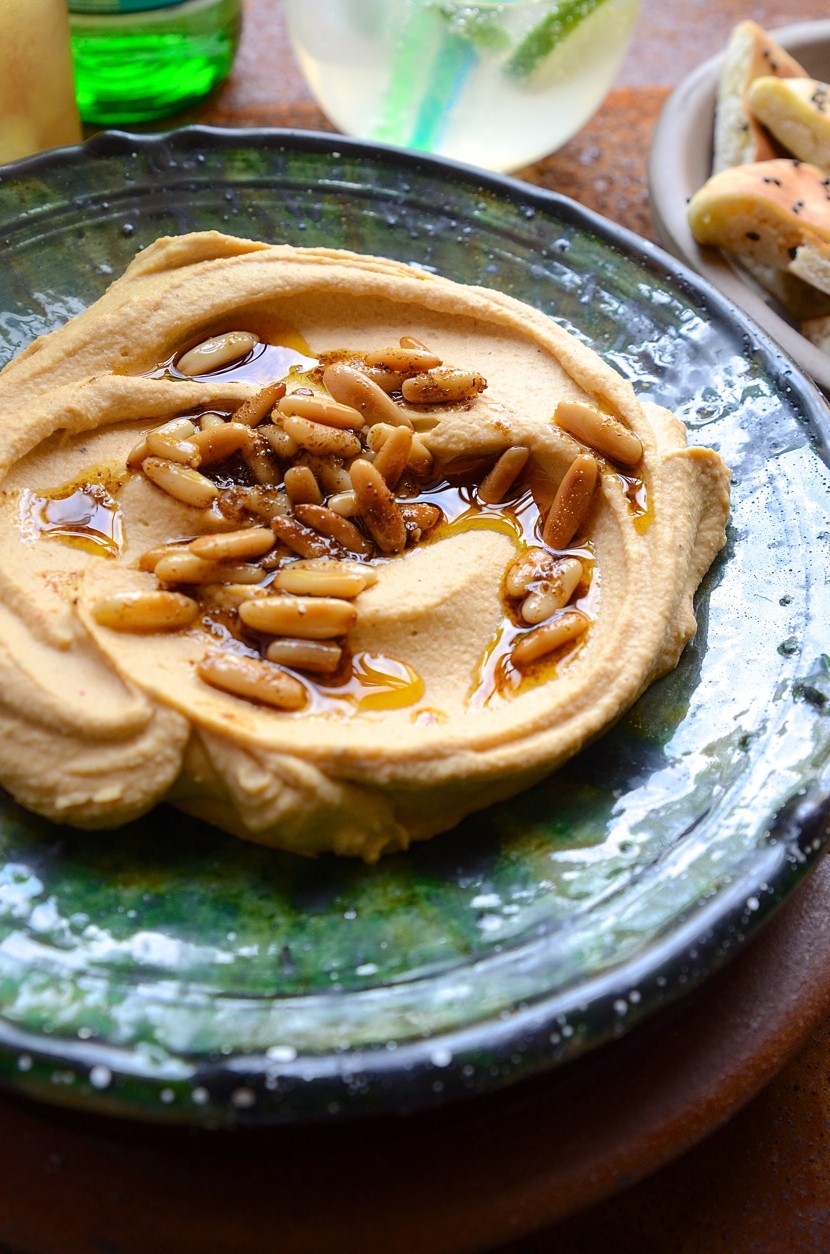 Kibbutz life was simple and honest, without modern interruptions or distractions. An oasis, where life slowed down to a breathable pace and the heat of the day dictated your activities. The food on the kibbutz was vastly different from western offerings. Breakfast was notably challenging for me to decipher, with cucumber, tomatoes and natural yoghurts resembling more of a lunchtime salad bar than my standard cereal selection. Clearly, granola wasn't going to feature any time soon. This was then the forerunner to a barrage of new and exciting flavours that would cement my love for this vibrant and diverse Middle Eastern food culture.
On the cobbled streets of Old Jerusalem, I ate my first falafel. Crispy deep-fried chickpea balls, served in a warm pita bread, stuffed with hummus, a drizzle of tahini and a fresh cucumber and tomato salad. A heavenly delight that became a daily ritual. This was authentic street food for only 1 shekel, a welcome salvation for a cash-strapped, ravenous backpacker. This was where my hummus journey started and now continues, with the addition of some unorthodox flavour combinations that I'll be adding to the blog over time.
The key to making an ultra smooth hummus is to get rid of the outer shell that sits snugly around the chickpea. If you think life is too short to peel a pea, this might be a bit of a stretch for you. However, reserve your judgement until you've sampled the goods. Remember, U.L.T.R.A smooooooth, because it's worth it! The spicy North African flavoured harissa oil with toasted pine nuts is optional but will push this hummus over the wall into blissville! Serve the hummus with warm pita breads or this easy yoghurt flatbread. Enough waffling then, just make it and let me know if it's worth peeling a chickpea?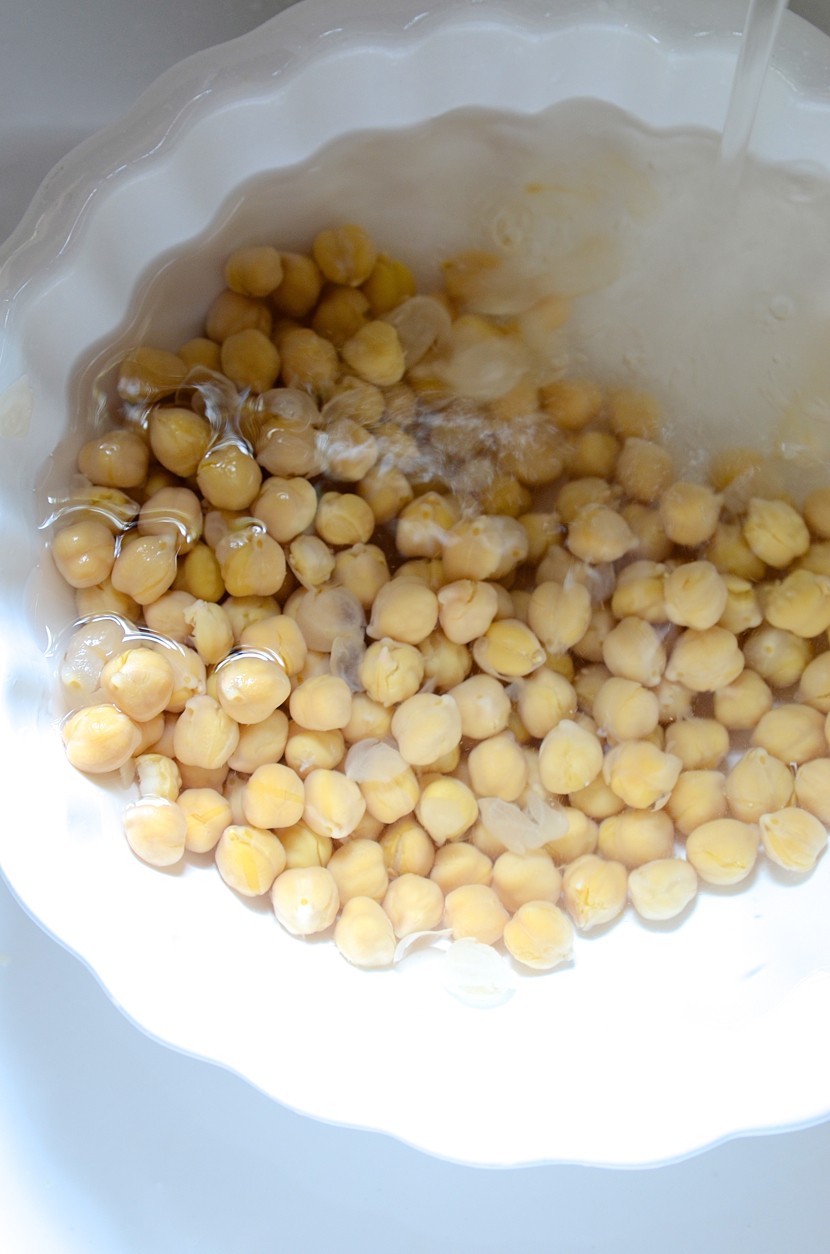 Ultra Smooth Hummus with harissa pine nut oil
Prep time:
Cook time:
Total time:
Ingredients
Ultra Smooth hummus with harissa pine nut oil
400g tin chickpeas
1 clove garlic
3 tablespoons tahini
2 tablespoons olive oil
1/2 teaspoon coriander
1/4 teaspoon paprika
1 – 2 tablespoons lemon juice
2 tablespoons, ice cold water
salt and pepper, to taste
Harissa pine nut oil
generous handful pine nuts
1 heaped teaspoon harissa paste
2 tablespoons extra virgin olive oil
sea salt flakes
freshly ground black pepper
Instructions
For the hummus, rinse and drain the chickpeas under cold, running water until all the tinned juices have been thoroughly drained off. Transfer the chickpeas to a large bowl and cover with cold water. Rub the chickpeas between the palms of your hands, almost as if you were rubbing butter into flour. This will dislodge the outer chickpea shell. Drain off the loose skins and repeat until most of the membrane shells are off.
Place all the hummus ingredients into a blender, except the ice water and pulse. Scrape down the sides and blitz again. Add the water and pulse again until the hummus lightens in colour and is super smooth. Taste and adjust with either a little more lemon juice or a touch of salt. Spoon into a serving bowl and swirl with the back of a spoon.
In a small pan, dry-toast the pine nuts until they start to colour and you can smell a nutty aroma. Add in the harissa paste and olive oil. Stir until the harissa paste is incorporated into the oil. Season with salt and pepper. Pour the hot oil over the hummus and serve with warm pita breads or pita bread chips.