Salted dark chocolate crinkle cookies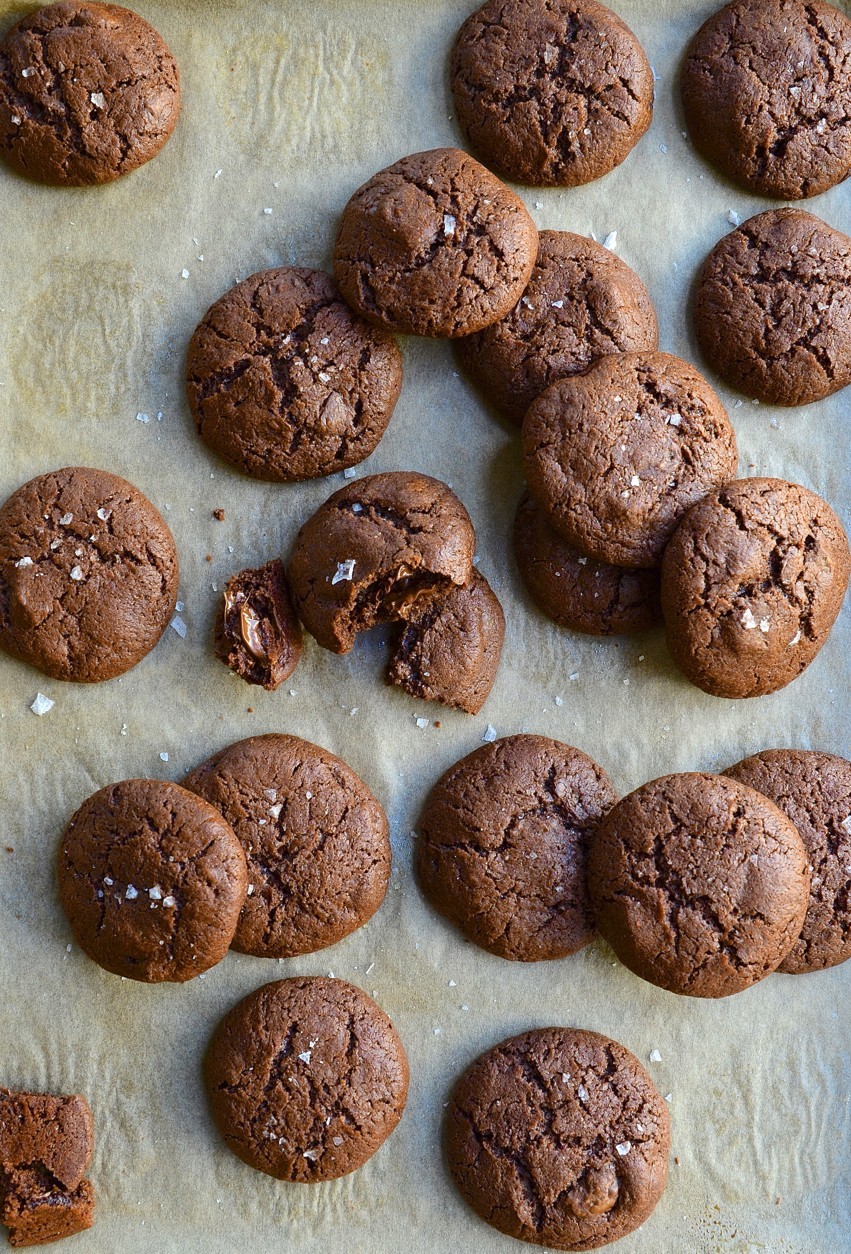 You learn something new everyday. I'm not ashamed to admit that until recently, I clearly had no idea that there was a significant difference between a cookie and a biscuit. Assuming that a cookie was the American equivalent of a posh English biscuit, I've discovered otherwise and am thus enlightened. Before you dismiss this as trivia, let me expound on my findings.
In 2013 I visited New York for the first time. Stimulation overload! The Big Apple was indeed BIG and remains one of the most extraordinary places I've had the pleasure of visiting. You can never tire of this pulsating city but you can most definitely reach a point where you're just too bone-weary to place one foot in front of another. Fortunately when this feeling overwhelms you, there are bakeries and coffee shops dotted liberally along each block, from the Upper East Side to Soho and back. You gotta love this place!
Our days commenced with robustly strong coffees and ended with frothy decaf cappuccinos, sipped slowly and reflectively after an eventful day of New york bustle. It was during one of our stops for liquid refuelling at a quaint little bakery with mint coloured walls, that the cookie-penny finally dropped.
Here then is my very scientific explanation…….There's absolutely no difference between a cookie and a biscuit, except, the baking time. The ingredients and quantities are exactly the same. A cookie is baked for 5-7 minutes less than a biscuit, which results in a crisp outer crust and a soft chewy centre. A biscuit is crisp and crunchy throughout which makes it highly dunkable, an unthinkable thought for the baker who has spent extra time and effort getting it crisp?! Really? I can see some of you shaking your heads disdainfully thinking, 'Bah, I knew this all along. This girl can't be very bright.' Well some of us are a little slow on the uptake, as my aunt would say, but at least we now have the facts.
However you choose to bake these salted dark chocolate cookies, they are everything the title suggests – dark and salted with a crisp outer crunch, soft cookie dough-like centres and studded with chunks of molten dark chocolate. If your head is still spinning from this mind-blowing information session, pour yourself a glass of…….milk (no, not scotch!), and pull the cookie tray real close.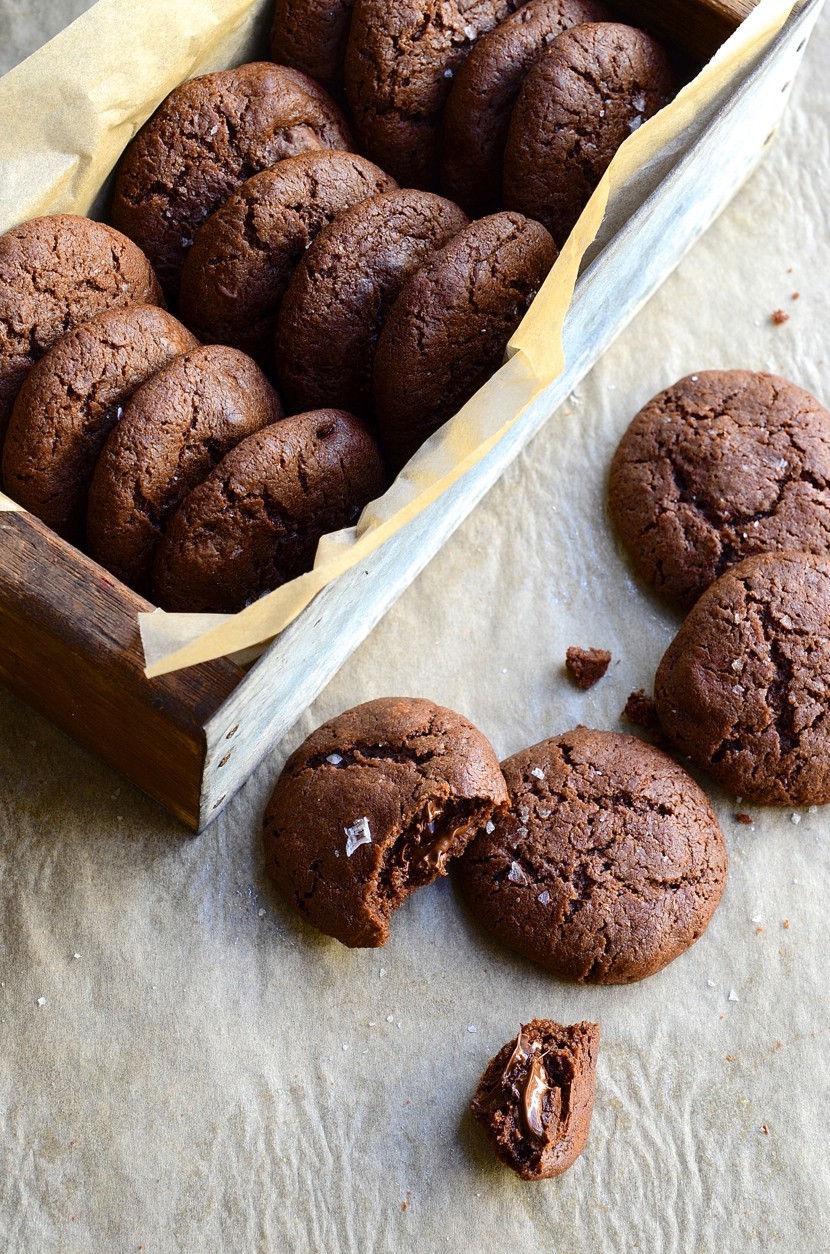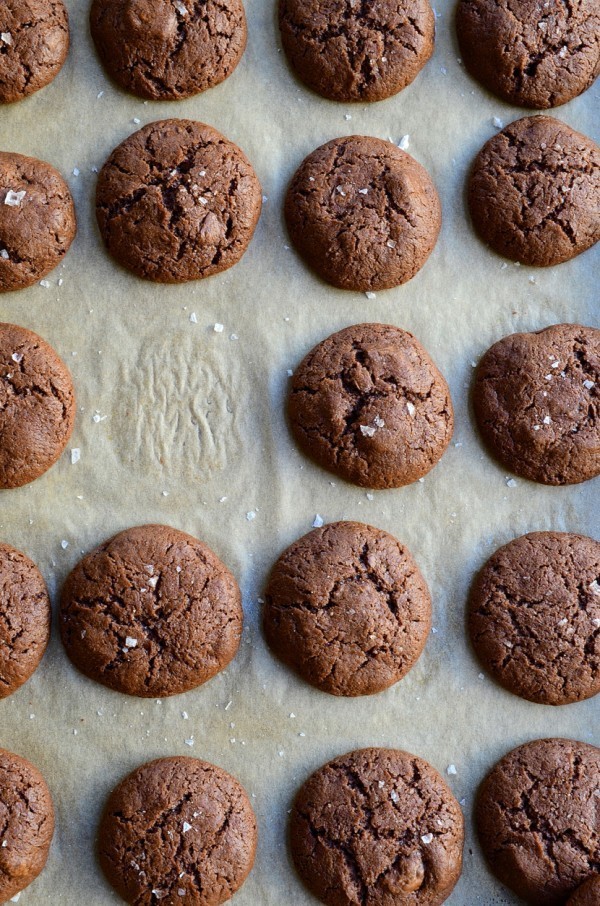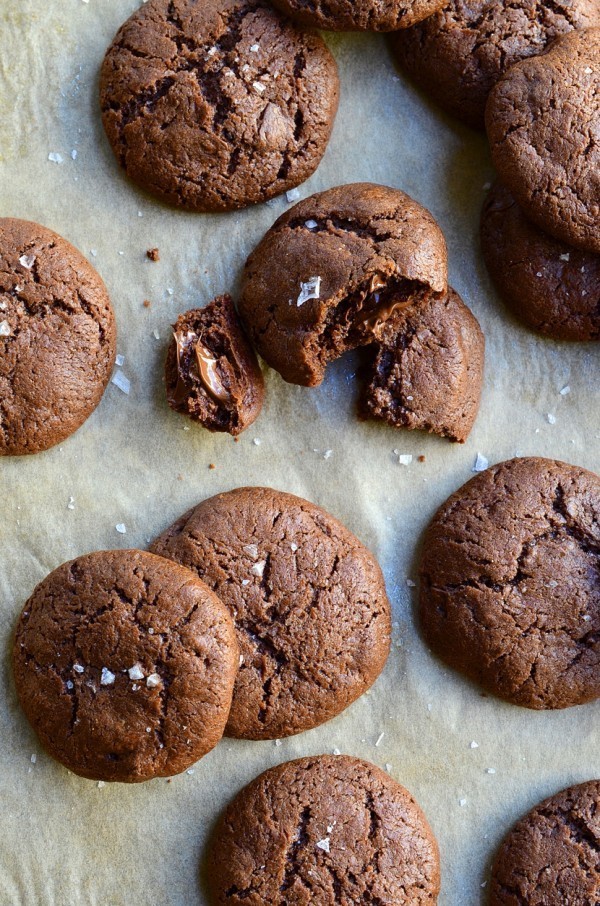 Salted dark chocolate crinkle cookies
Ingredients
90g butter, softened
70g muscovado sugar
60g castor sugar
1 egg
1 teaspoon vanilla extract
300g self raising flour
20g cocoa powder
pinch of salt
150g dark chocolate, roughly chopped
sea salt for finishing
Instructions
Preheat the oven to 180º C. Line a large baking sheet with parchment paper. In a mixing bowl, beat the butter, muscovado and castor sugar until well creamed. Add the egg and vanilla extract and whisk until combined.
Sift the flour, cocoa and salt into the butter mixture and mix until combined. Add the chopped chocolate and fold through by hand. Roll into 20 evenly sized balls and place on the tray, with enough space for spreading. Press down slightly with the back of a measuring cup, scatter over some sea salt flakes and bake for 12-15 minutes for cookies. If you're after biscuits, bake for 18-20 minutes.
Rest on the baking tray for several minutes before transferring to a wire rack to cool completely. Store in an airtight container.