Salted chocolate toffee apple bars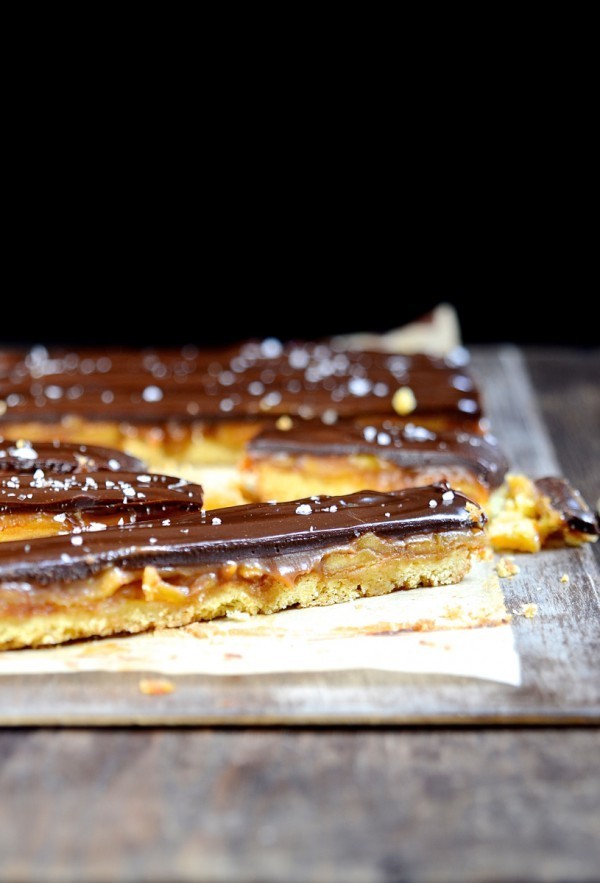 Today I have a  sweet surprise for three lucky readers. Keep going and you'll soon discover what it is….
I love apples. I also love chocolate, caramel and buttery biscuits, so combining all four seemed the logical thing to do. What's the question? Never mind. Salted chocolate toffee apple bars are the answer. For me, sensational food encompasses taste, flavour and texture. These toffee apple bars have all three. They're rich and gooey and obviously a little OTT. But hey, there are apples, right? I'm sure you're all familiar with Nigella's girdlebuster pie. I think these toffee apple bars might be in the same camp.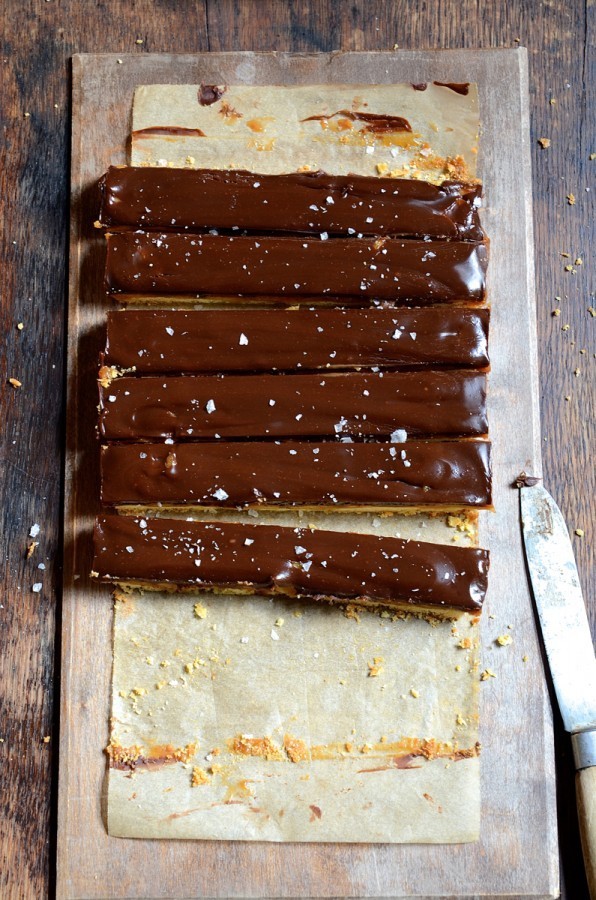 While not wildly exciting like say, dragon fruit or gooseberries, apples remain one of the most versatile fruits, especially when it comes to baking. It also pairs well with slow roast pork belly or sausage and sage meat pies. Speaking of distinctive bakes, the French laid claim to the world's most famous apple tart – that upside down affair, the Tarte Tatin (my personal favourite). The English are more partial to a traditional apple pie, made with shortcrust pastry and taken with cream or custard. America also has a finger in the pie so to speak, with their fall favourite of deep-dish apple crisps. Fortunately not all bakes with apples are calorific. I like to add grated apple to my creamy overnight Bircher muesli or mix it into the batter of these healthy spelt morning muffins.
Back to the chocolate bars. The base is very similar to shortbread with a crisp texture and buttery crumb. Then comes a layer of caramelised apples, gooey caramel and finally a coat of chocolate ganache. To provide savoury contrast to the sweetness of the caramel, I finish with a scattering of Maldon sea salt. Unbelievably decadent. That's it. I'm off. Toffee bars should never be left unsupervised!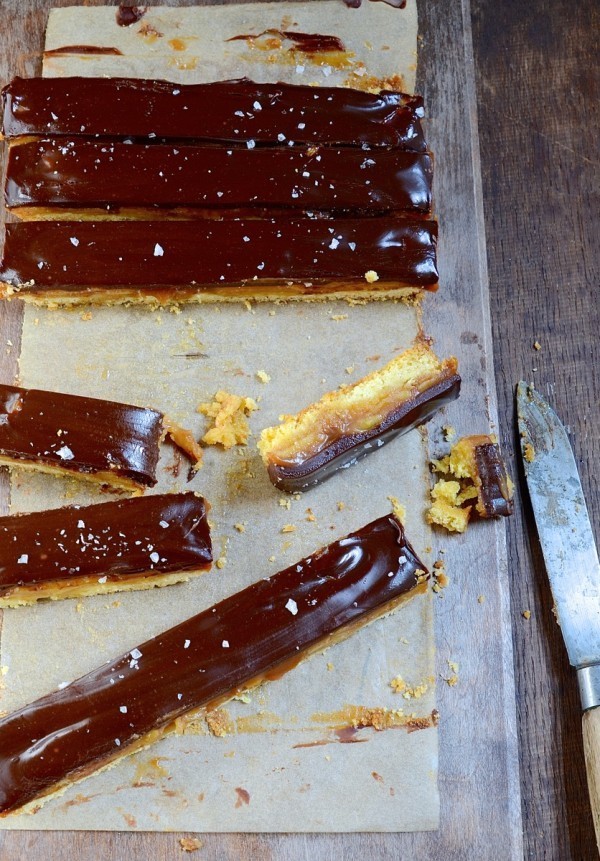 Now for the surprise…. It's time for a Giveaway that'll save you having to bake anything at all.
Clearly South Africa is ahead of the curve. We celebrate Women's Day. Yes, it's happening this Tuesday 9th August and we're having a Giveaway here at the Bibbyskitchen. Want to know what's up for grabs? Sure you do. I'll give you a hint. What do most women want? No, it's not diamonds. Sorry. It's cake and flowers! To help spoil someone deserving or yourself, I've partnered with NetFlorist and together we're giving away 3 x R500.00 gift vouchers. The NetFlorist bakery is open for delivery to Gauteng and the surrounds, so if you're further afield you'll possibly need to select the flower option. Here's a look in through the bakery window to see what's on the menu.
Rules to enter are as follows:
Subscribe to the Bibbyskitchen blog and share this post with a friend/s
Leave a comment below telling us who you intend to spoil and why, even if it is yourself. Maybe you deserve a box of  brownies more than anyone else!
This offer is open to local (South African) residents and those abroad who'd love to surprise someone back home.
The competition closes next week Monday 8th, so there's only a couple of days to get your entry in. Good luck.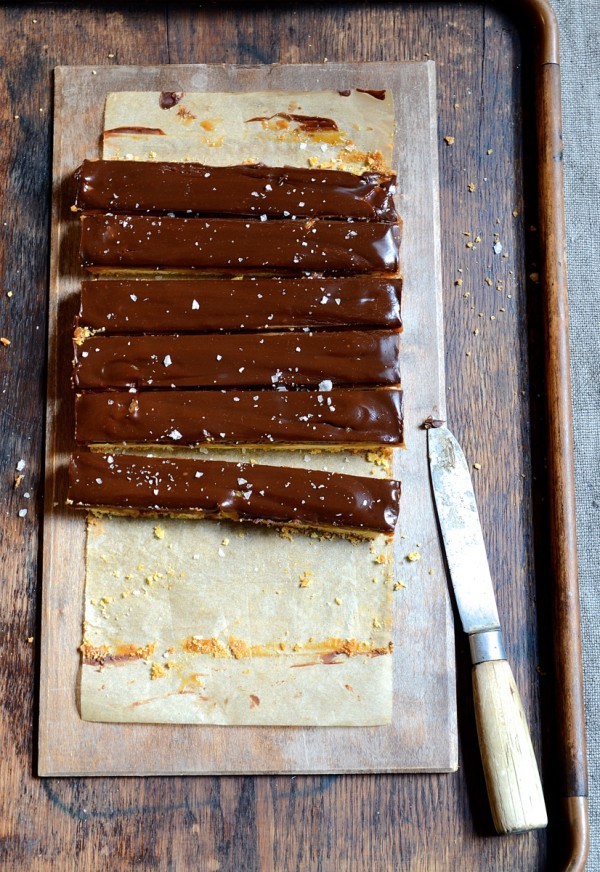 Salted chocolate toffee apple bars
Prep time:
Cook time:
Total time:
Ingredients
Salted chocolate toffee apple bars
125g (1 stick) butter, softened
70g (1/3 cup) golden castor sugar
1 egg yolk
150g (1 cup) all-purpose cake flour
pinch of salt
1/2 teaspoon baking powder
5 apples, peeled and cut into pieces
3/4 cup water
2 tablespoons butter
1 tablespoon demerara sugar
150g golden castor sugar
3 tablespoons butter
125ml cream
Chocolate Ganache topping
200g 70% dark chocolate
1/3 cup cream
Maldon sea salt, to finish
Instructions
Preheat the oven to 180ºC. Grease and line a 20cm square baking tin with parchment paper, extending the paper over the sides to form handles.
Cream the butter and castor sugar together until light. Add the egg yolk and beat again to combine.
Sift together the flour, salt and baking powder. Add the flour to the butter mixture and combine to form a soft dough.
Press the dough into the base of the baking tin and smooth over with the back of a spoon. Bake for about 30 minutes until golden and cooked through. Set aside to cool.
To make the apple filling, place the apples and water in a wide based pan. Simmer for about 15 minutes until soft with no water remaining. Add the butter and sugar, turn up the heat and cook until the apples are slightly caramelised.
Set aside to cool before spreading over the shortbread biscuit base.
For the caramel, place the sugar in a heavy based saucepan on a medium-high heat. Do not stir. Swirl the pan from time to time until all the sugar has melted and is a deep caramel colour. Add the butter and then the cream. Allow to bubble away until the caramel is smooth and glossy.
Pour the hot caramel over the apples and smooth over. Place the baking tin in the fridge until the caramel is set and cool.
Finally, make the ganache by gently melting together the chocolate and cream. Whisk until completely smooth. Pour the ganache over the apples and spread with an off-set spatula to cover the caramel. Scatter with sea salt flakes. Chill until the chocolate sets completely.
Remove the entire bake from the tin by lifting the extended paper handles. Cut into bars or squares. Store covered in the fridge.