Strawberry apple cake with honey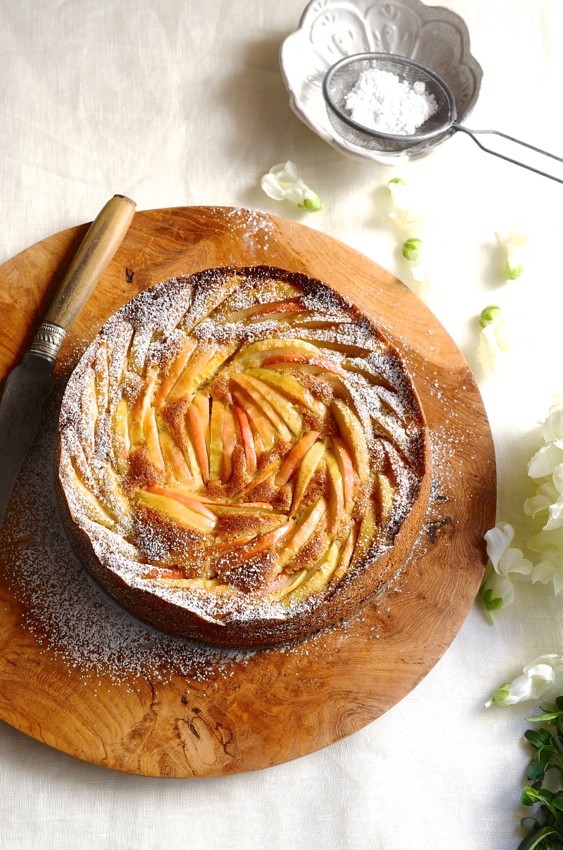 The smell of honeyed apples baking in the oven fills the air, creating a feeling of calm nostalgia that's so very reminiscent of my grandmother's kitchen. She was the Queen of stewed apples! Her heavy cast iron pot sat passively on the far corner of the old Aga stove to simmer away with cloves and cinnamon. The softened apples would then be eaten with warm runny custard for a pared-down simple dessert. Apples have been there for the picking since the days of Eve and while not exotic or fanciful, they've clearly stood the test of time! A convenient and healthy snack food, it's rumoured to keep the doctor away by munching one a day?  Whether you prefer it fresh or baked in an irresistible crumble, the versatility of apples make them ideal partners to savoury dishes and sweet bakes.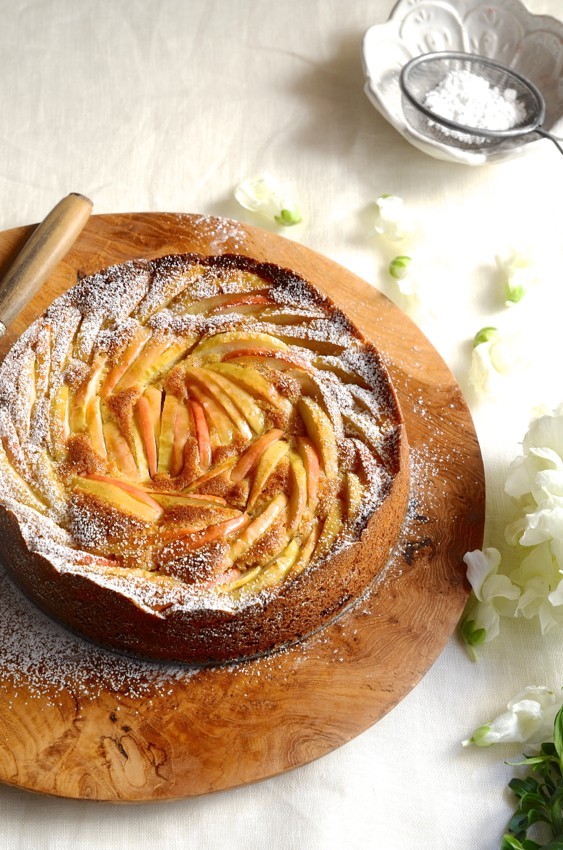 Given the opportunity, I add fruit and if possible, vegetables, to almost all my cakes and loaves. Apart from providing natural sweetness and flavour, they also act as healthy 'fillers' reducing the amount of refined flour and sugars. This Strawberry apple cake with honey is currently one of my favourites. The combination is a real joy. Slightly tart and not overly sweet.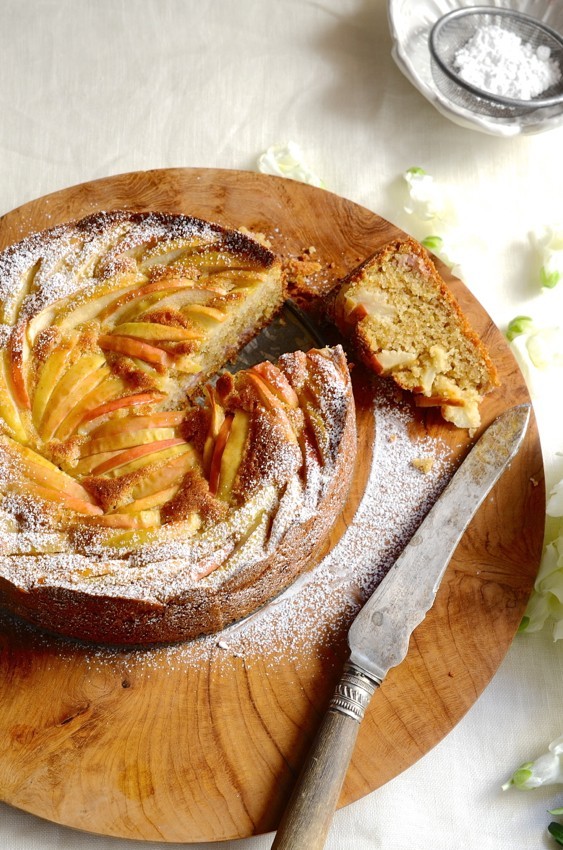 I've used a couple of alternative ingredients in this cake that'll boost the taste and the nutritional value. Spelt is one of my go to flours. It makes for the best crusty wholemeal hamburger buns and my favourite bakery style apple and carrot morning muffins. Although relatively new to the South african market, it's been around since Ancient Roman times. Commonly used whole with a similar texture to barley or farro, when finely ground is a great alternative to ordinary flours. With a wholesome nutty taste, it's relatively well tolerated by those who are gluten sensitive, but remember, spelt is not gluten-free. Making the cake healthier without compromising on flavour, I've used a combination of brown sugar and honey for sweetness and coconut oil and butter for the fat content. The addition of Greek yoghurt reduces the amount of oils required and keeps the cake moist and delicious for days.
Brushed with honey butter glaze and a light dusting of icing sugar, this apple cake is exceptionally good served slightly warm with either a spoon of Greek yoghurt or softly whipped cream. An elegant addition for a Sunday afternoon tea or as a dessert. Either way, the simplicity of baked apples makes this a seasonal delight.
Note: Slicing the cake is somewhat of an art, requiring a slow and steady carving action with a sharp serrated knife. Once you're through the apple skin, it's plain sailing and happy eating….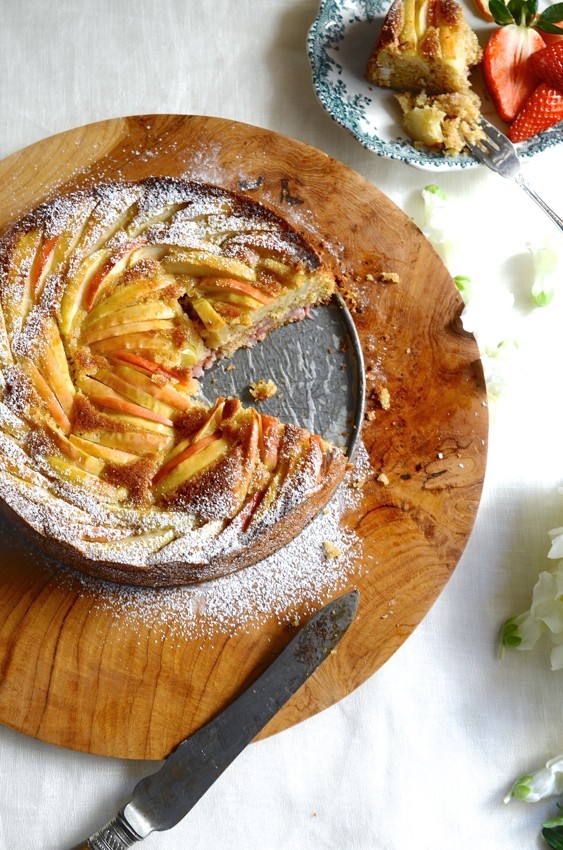 Strawberry apple cake with honey
Prep time:
Cook time:
Total time:
Ingredients
Strawberry apple cake with honey
Serves 12
3 apples, preferably pink or red skinned (I used Woolworths honey crunch apples)
juice of half a lemon
70g butter, room temperature
60ml coconut oil
1/4 cup honey
1/4 cup brown sugar
2 eggs
1/3 cup Greek yoghurt
zest of 1 small lemon
1/2 cup whole meal spelt flour
1/2 cup all-purpose cake flour or gluten-free flour
1 teaspoon baking powder
1/2 teaspoon bicarbonate of soda
pinch of salt
150g strawberries, hulled and diced
1 tablespoon honey + 2 tablespoons melted butter (glaze)
Instructions
Preheat the oven to 180º C. Grease and line a 20cm cake tin with baking paper. Core the apples (skin on), halve and slice into thin wedges. Place the apples in a bowl and spritz over the lemon juice to prevent discolouration.
Whisk together the butter, coconut oil, honey and brown sugar until light and creamy. Add the eggs, one at a time, beating well after each addition. Fold through the Greek yoghurt and lemon zest. Sift in the flours, baking powder, baking soda and salt. Beat on a low speed until just combined. Fold through the strawberries. Spread the batter out evenly into the baking tin.
Press the apples wedges gently into the batter, starting from the outer edge, working your way towards the centre. Bake for 45-50 minutes until golden and cooked through. Brush the hot cake with the melted honey and butter glaze. Place back into the oven under the grill for 2 minutes to darken and caramelise the apples. Leave to cool in the tin for 10 minutes before un-moulding. Dust with confectioner's sugar to finish.