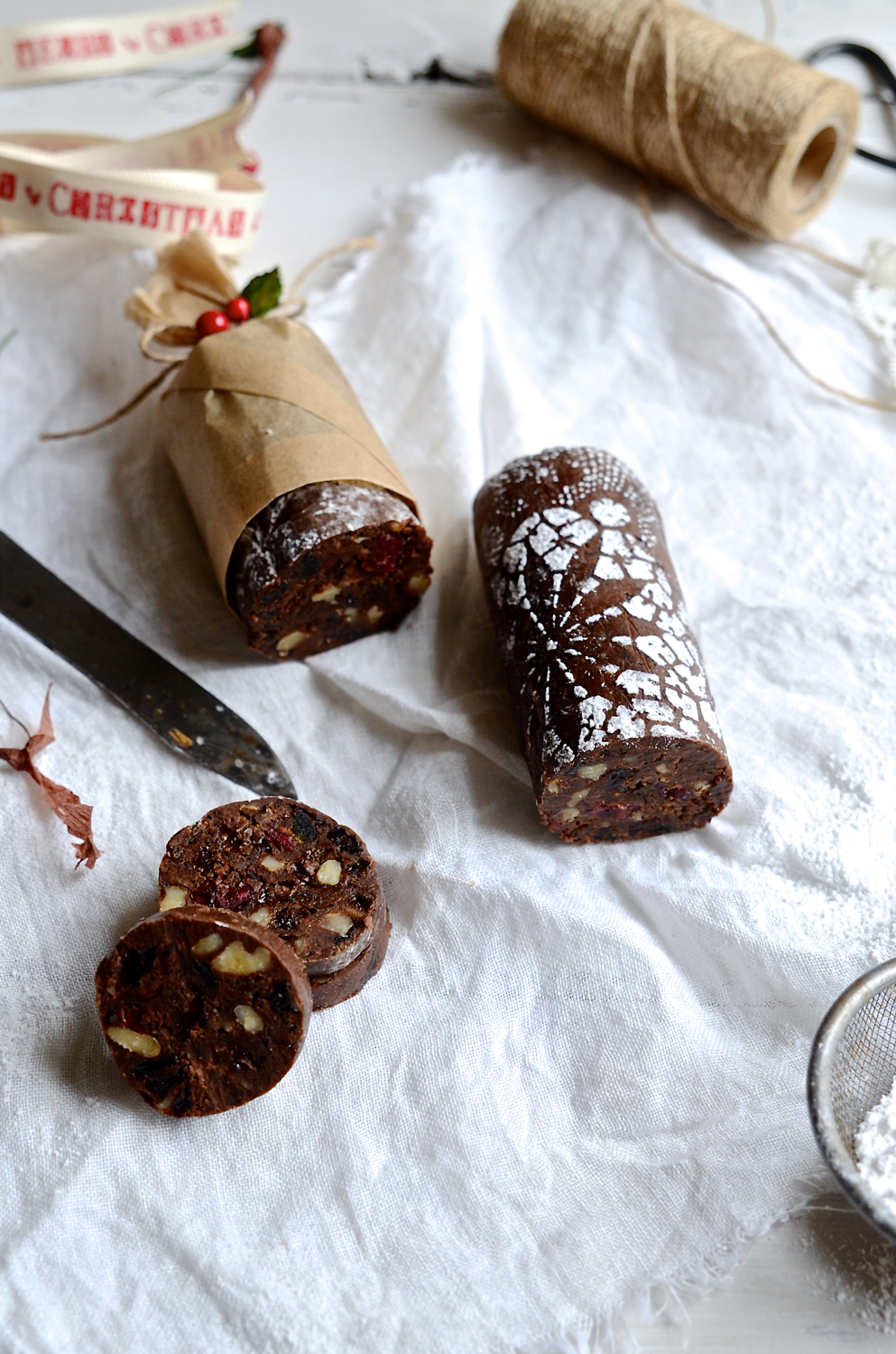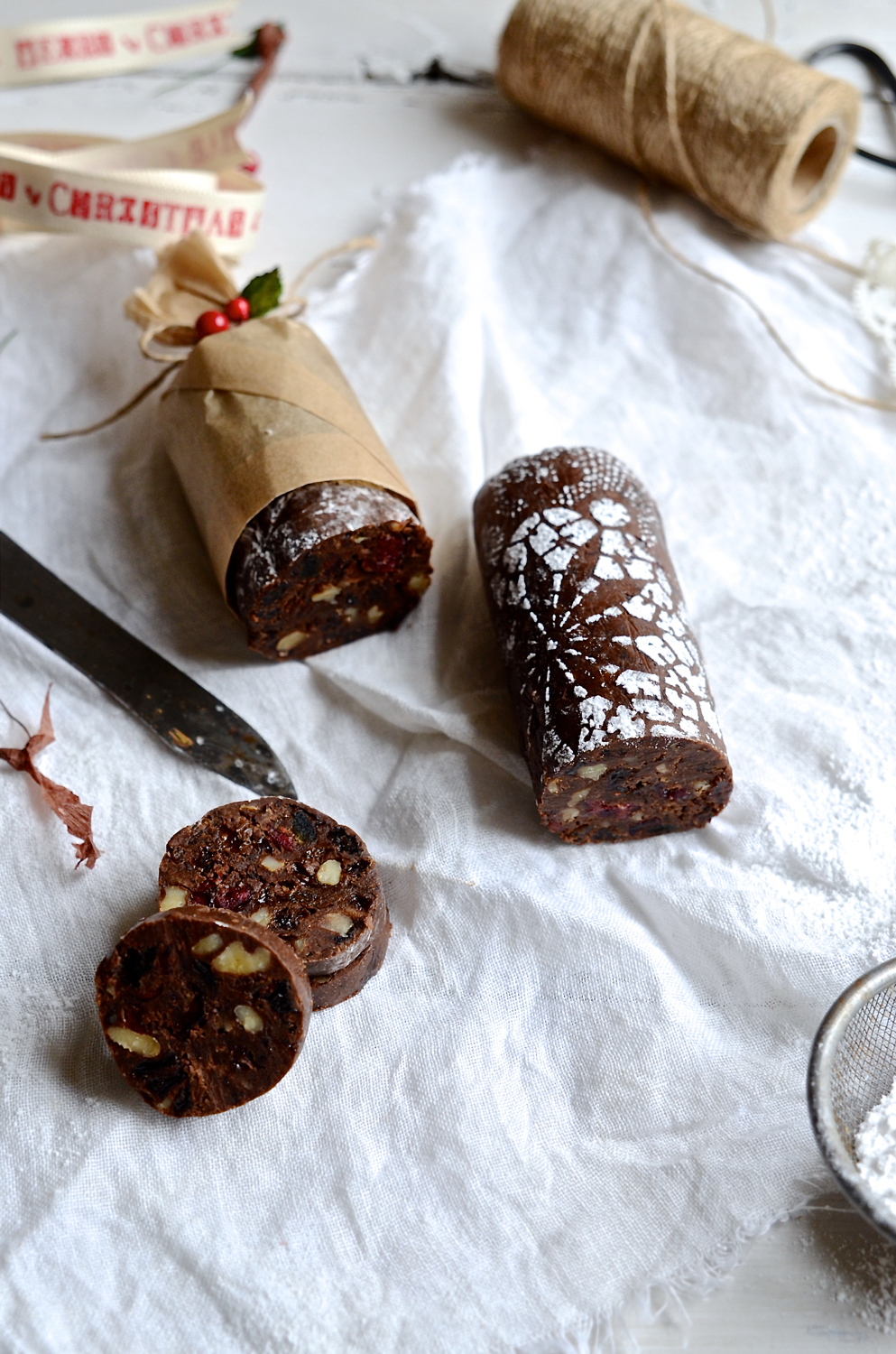 If you love chocolate, rum and raisin ice cream and uncomplicated recipes, this rum and raisin chocolate salami is for you! Made with leftover fruit cake and free measures of nuts and dried fruit, it's a doddle to throw together and the perfect cook's gift to share with food-loving friends.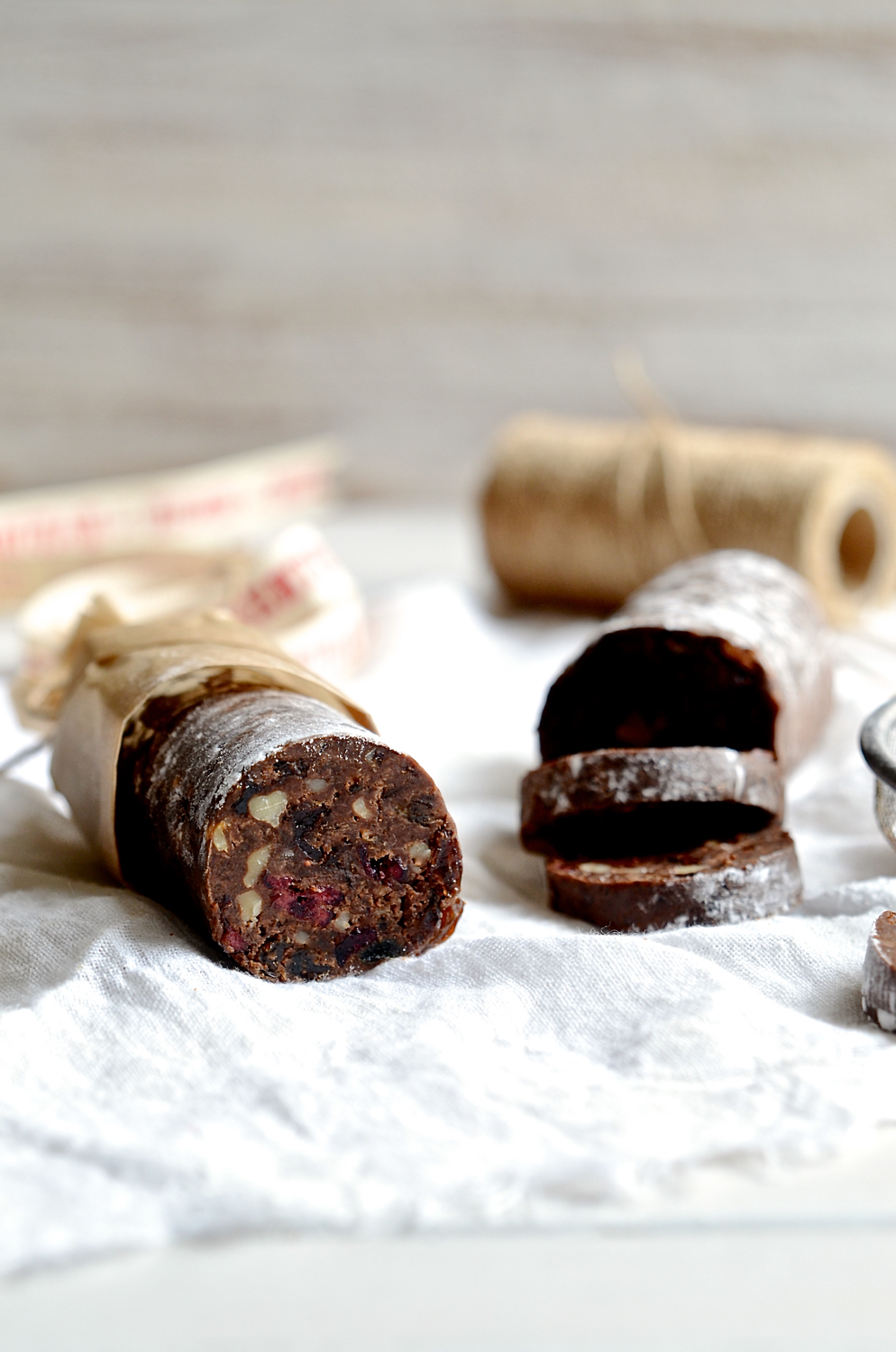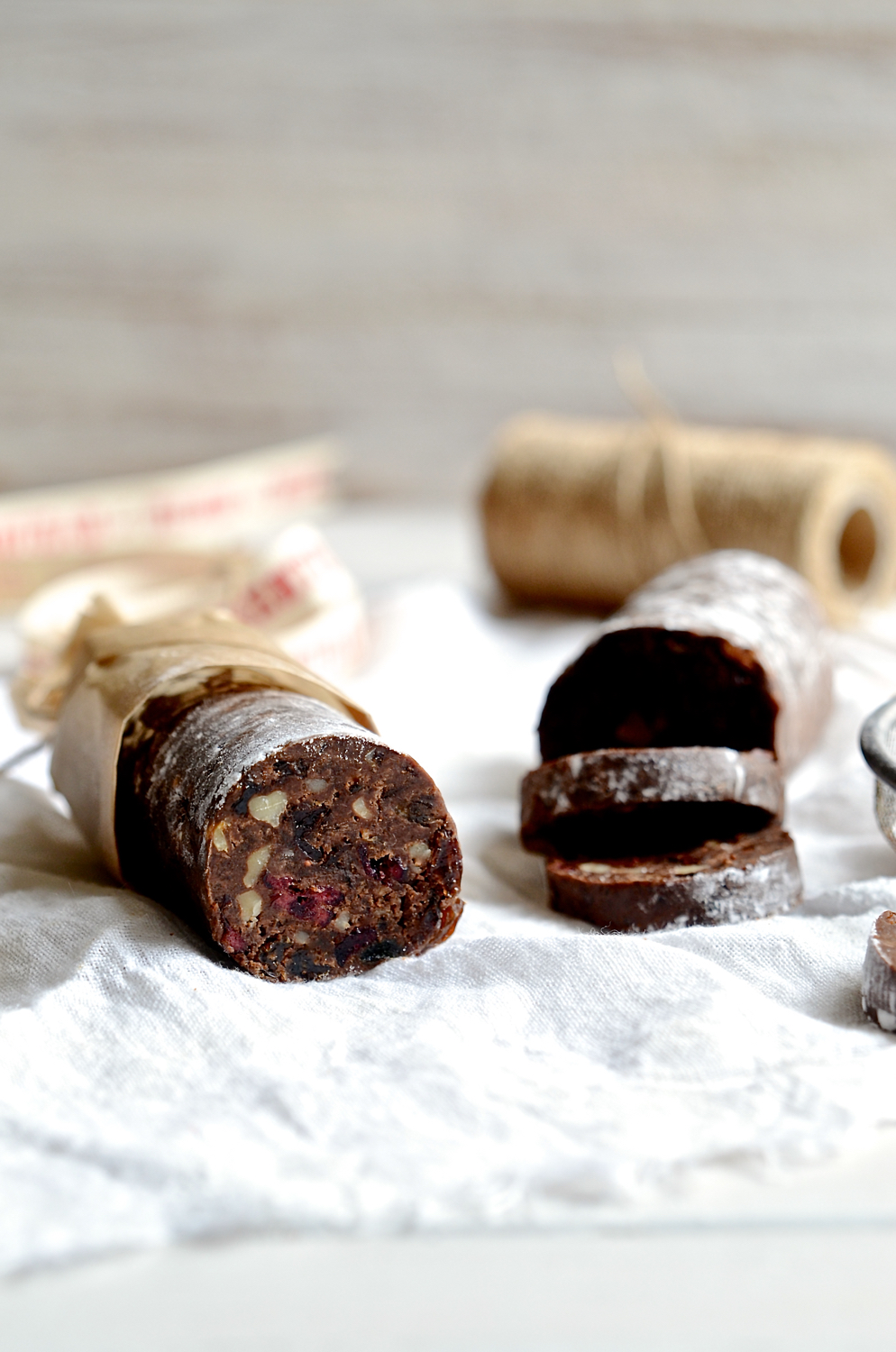 From the outside it looks similar to cured Italian sausage. Once sliced into penny rounds, the dusted exterior gives way to rum-soaked fruit and warming spiced. Here's what to do. Buy a ready-made, un-iced fruit cake and crumble into a bowl. Soak some raisins in rum or orange juice if you prefer. Add chopped nuts, cranberries and melted dark chocolate. Scrape the mixture into cling film and roll up. Chill until firm, then dust with powered sugar. Easier it cannot be. Excellent with an espresso or for those less inclined to big desserts.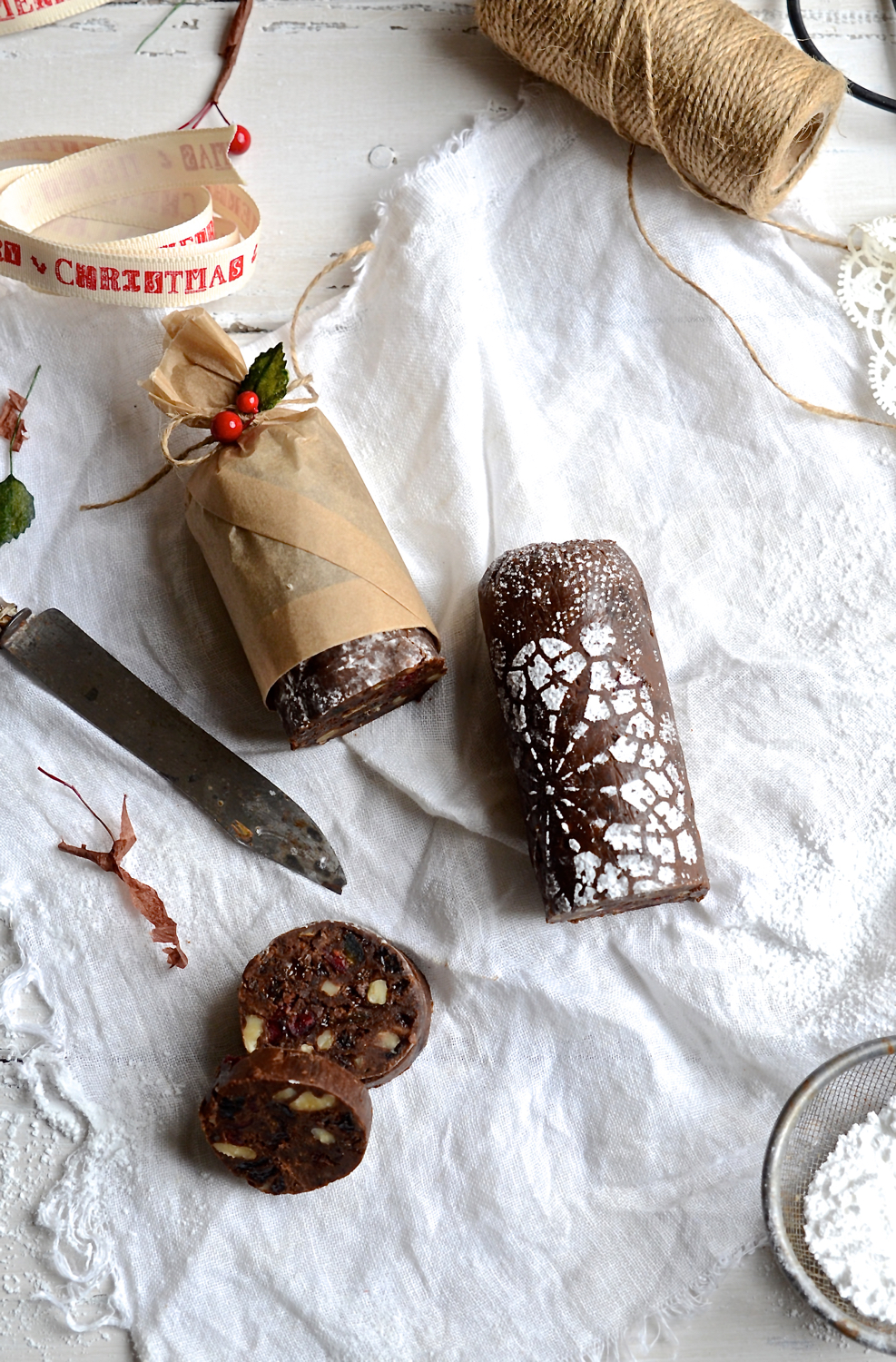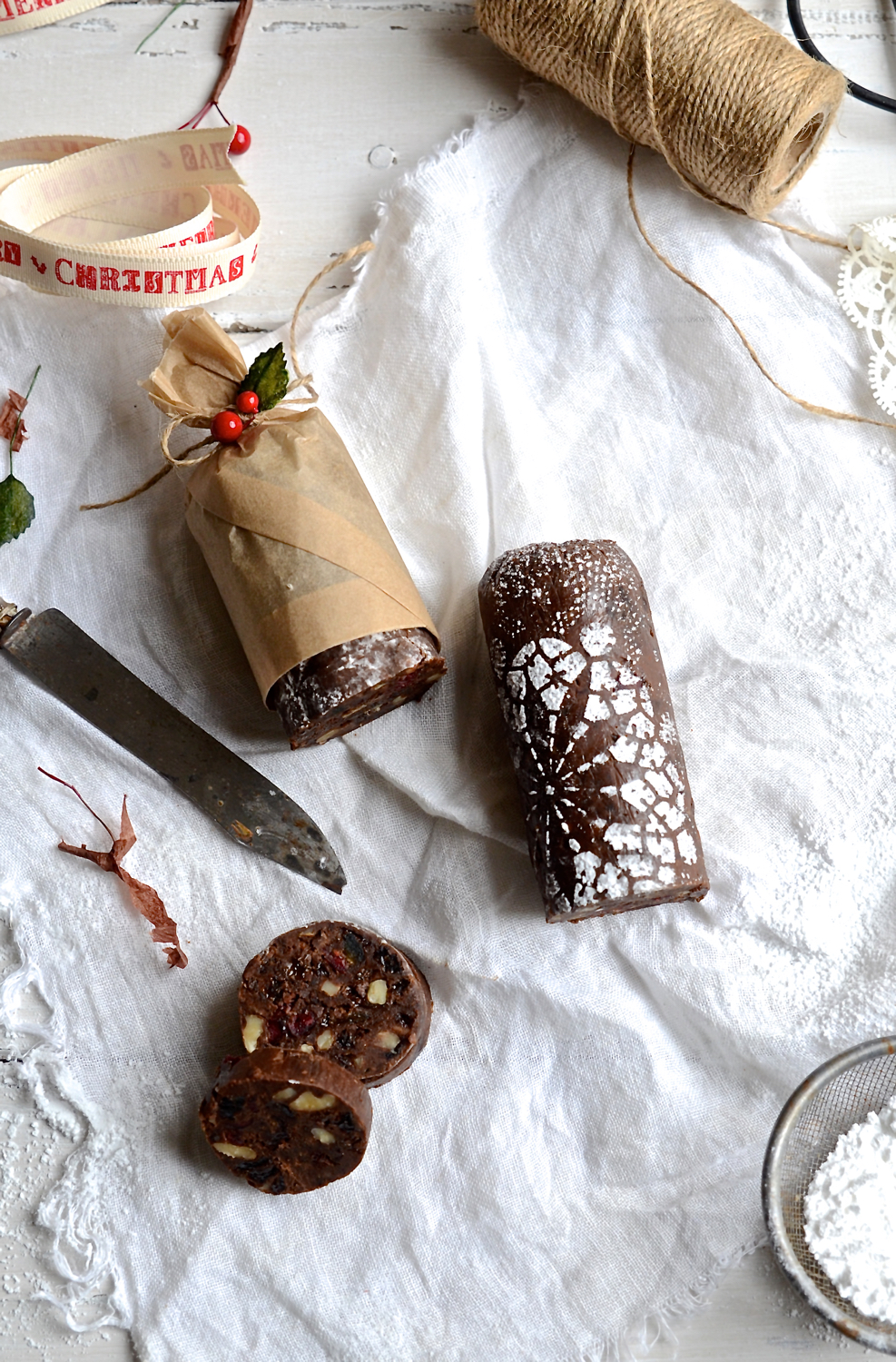 Rum and Raisin chocolate salami
Makes 2
2 cups ready made fruit cake, crumbled
3 tablespoons raisins
2 tablespoons dried cranberries
3 tablespoons rum
1/4 cup toasted walnuts, roughly chopped
150g dark chocolate
2 tablespoons butter
icing sugar, for dusting
Place the raisins, cranberries and rum in a heat-proof bowl. Microwave on high for 40 seconds. The heat will help to absorb the alcohol flavour and plump up the fruit.
In a large bowl, combine the crumbled fruit cake, rum and raisin fruits, plus resting juices and chopped walnuts.
Melt the chocolate and butter together. Add the melted chocolate to the fruit cake and mix to combine.
Divide the mixture in half and transfer each portion onto separate piece of cling film. Roll up like a sausage and twist the ends to tighten.
Roll gently on the counter into a cylinder shape.
Refrigerate until firm. Unroll the chocolate salami and dust with icing sugar. Wrap in wax paper and tie either end with kitchen twine or a decorative ribbon.
Here are several more delightfully sweet and easy recipe for the holiday season. I think you might find some new favourites.
Coconut cream chocolate truffles
Chocolate-date truffles with coconut and cranberries
African Amarula gilded chocolate truffles