Rum and raisin chocolate salami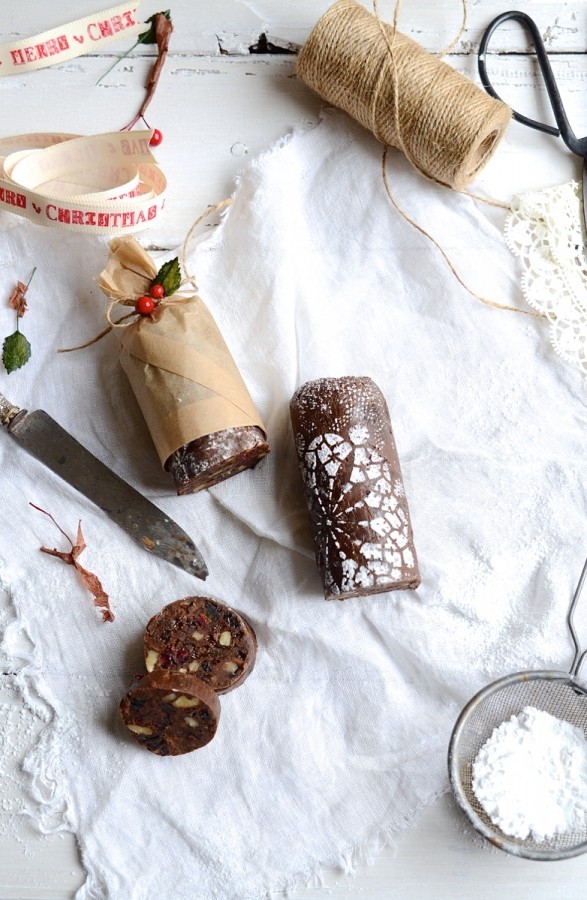 If you fall into any one of the following camps, this rum and raisin chocolate salami recipe is for you!
Rum and raisin ice cream fan
No raisins, just Rum – neat or with Coke (you know who you are!)
Self-confessed, no shame-faced serious chocolate eaters
Last minute.com Christmas gift shoppers
Salami people
Low-effort bakers who get wildly excited when they see recipes with the words No-Bake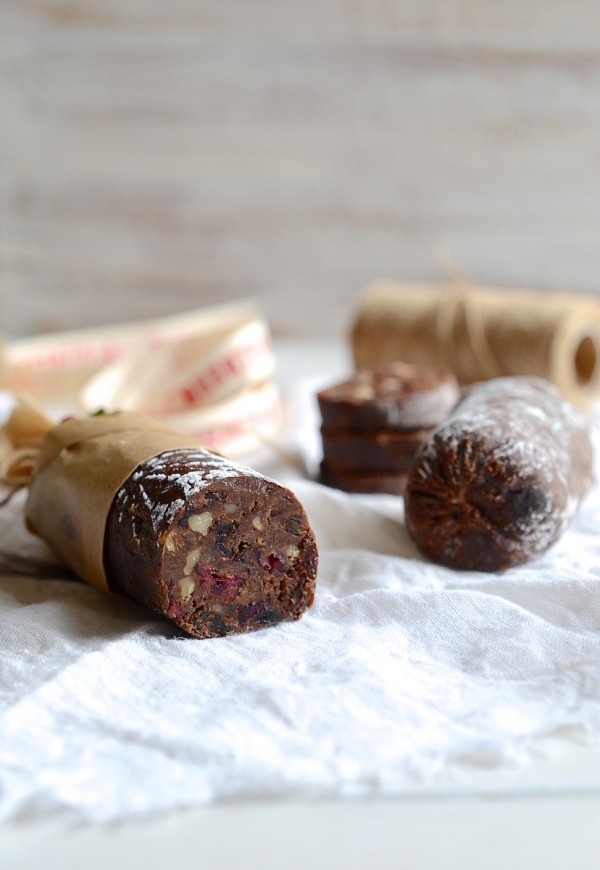 Whoever came up with the first chocolate salami recipe is a genius. From the outside it looks very similar to a traditional cured Italian sausage, albeit slighter darker and more aged, if you will. Sliced into double-thick penny rounds, the mouldy exterior gives way to wafts of rum-soaked fruit, sweet spices and chocolate enriched Christmas cake. Could there be anything more perfect? The fact that there's no oven involved in this story, makes it an instant best seller!
For more easy to make edible gift recipes, these coconut cream truffles are not overly sweet and healthy to boot. On a biscuity note, my oat and ginger shortbread is a scrumptious alternative to traditional Scottish shortbread, with a toothsome nutty taste and rich buttery crumb.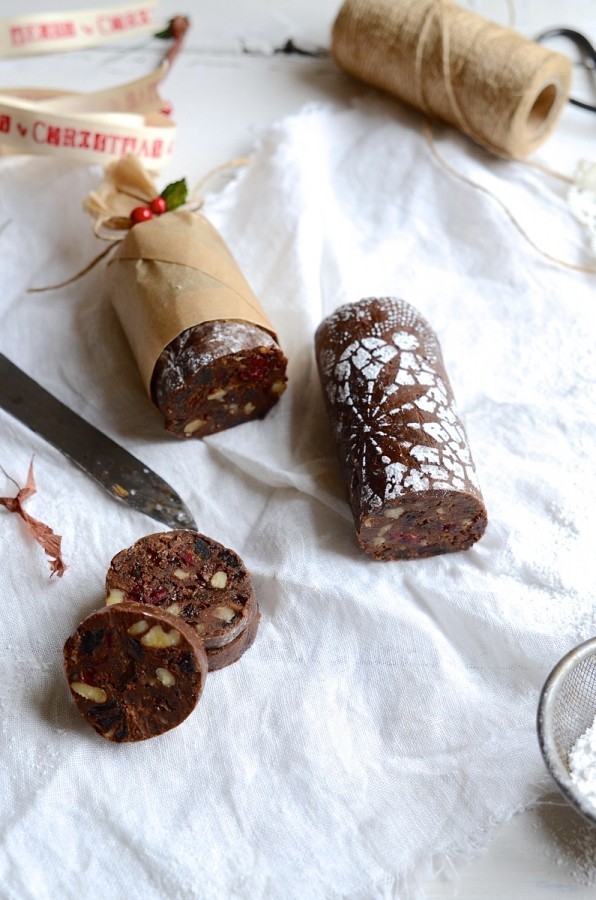 Here's what we're going to do. Buy a ready-made, un-iced fruit cake and crumble it into a bowl. Soak a couple handfuls of raisins in some lots of rum and pour yourself one while you're at it. Add chopped nuts, cranberries and a jug of glossy melted chocolate. Mix like mad, licking your fingers like no one's watching, or even cares at this point. Plonk (not a very proper word at all!!), the devilishly delicious sticky mixture onto some cling film and roll that sucker up. In the fridge. Job done. What more can I say? Superbly good with after-dinner coffees and a great personalised cook's gift.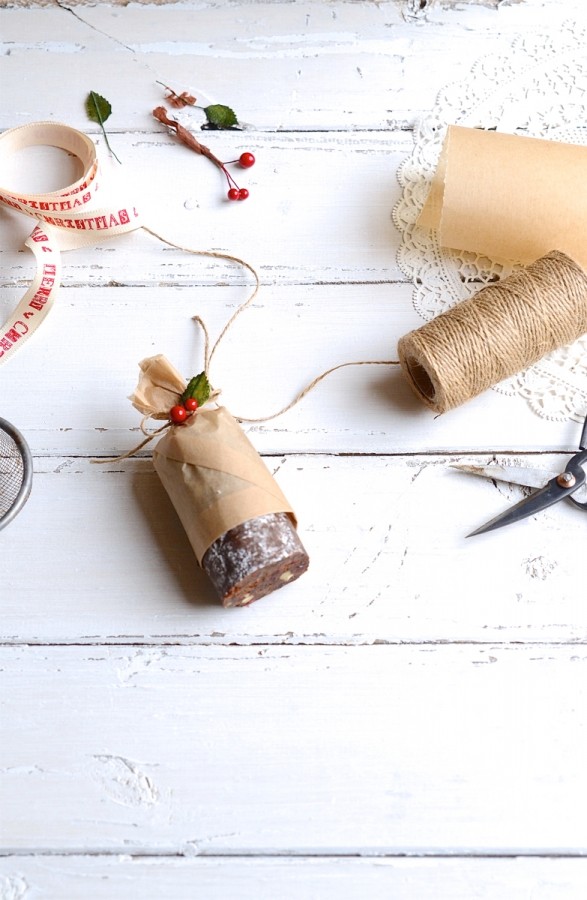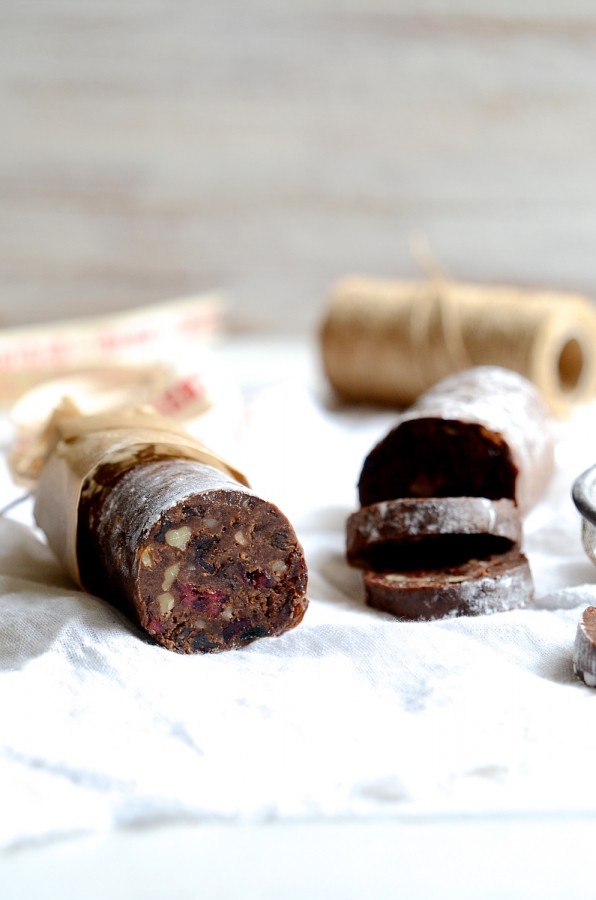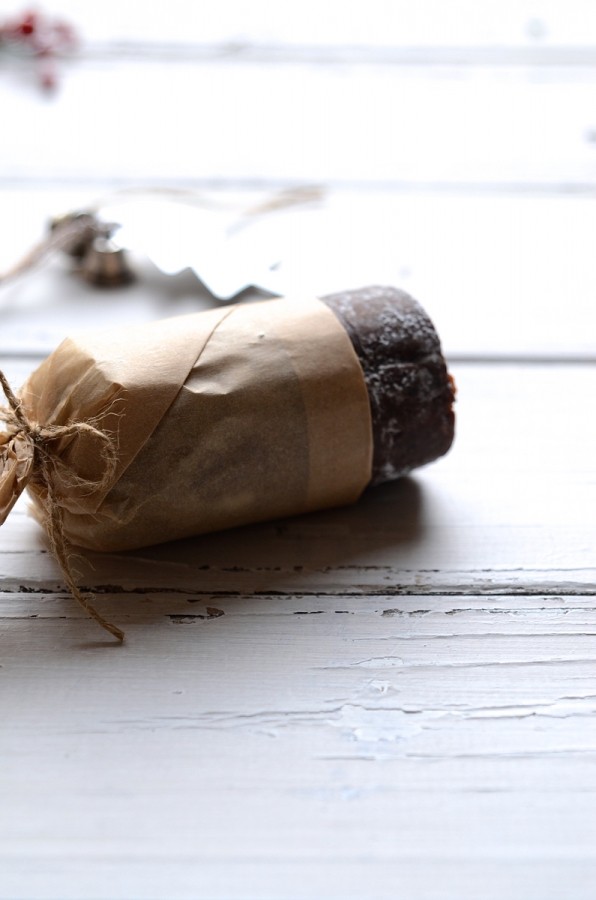 Rum and Raisin chocolate salami
Serves:
2 med-sized salami
2 cups ready made fruit cake, crumbled
3 tablespoons raisins
2 tablespoons dried cranberries
3 tablespoons rum
1/4 cup toasted walnuts, roughly chopped
150g dark chocolate
2 tablespoons butter
icing sugar, for dusting
Instructions
Place the raisins, cranberries and rum in a heat-proof bowl. Microwave on high for 40 seconds. The heat will help to absorb the alcohol flavour and plump up the fruit.
In a large bowl, combine the crumbled fruit cake, rum and raisin fruits, plus resting juices and chopped walnuts.
Melt the chocolate and butter together. Add the melted chocolate to the fruit cake and mix to combine.
Divide the mixture in half and transfer each portion onto separate piece of cling film. Roll up like a sausage and twist the ends to tighten.
Roll gently on the counter into a cylinder shape.
Refrigerate until firm. Unroll the chocolate salami and dust with icing sugar. Wrap in wax paper and tie either end with kitchen twine or a decorative ribbon.