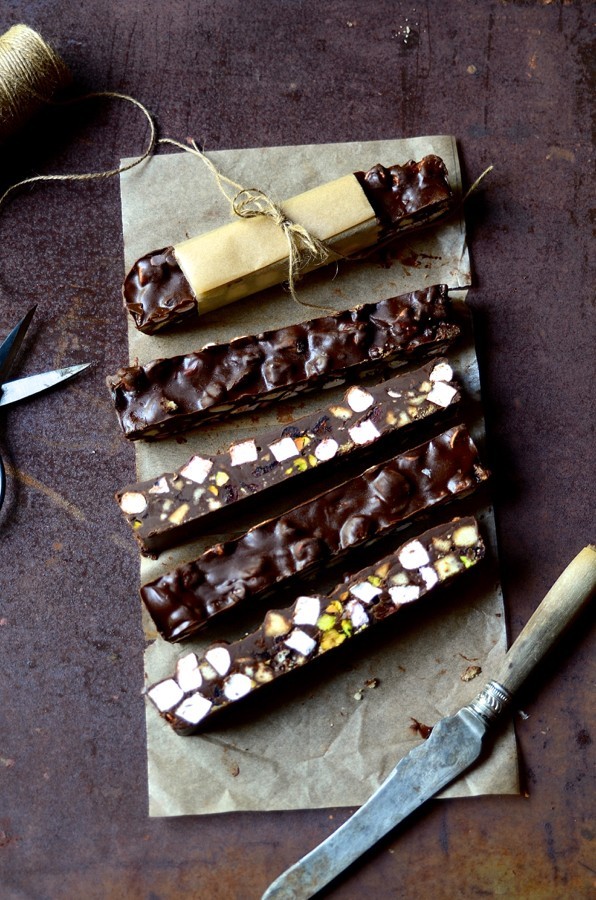 A knobble-topped rocky road to crumble resistances and weaken the knees. You don't see this amount of sweet temptation everyday, but then again it is the season to be jolly and this is ridiculously jovial. It's caution to the wind and full steam ahead with sultry dark chocolate, itsy-bitsy teenie-weenie marshmallows puffs, tea biscuits, cranberries and pistachios. Phew! What more could one want? Oh yes, I almost forgot to mention. They're so simple you could whip them up blind folded with one arm tied behind your back. A doddle to make and even easier to demolish. Being the eternal optimist I've managed to extract some nutritional facts from these glistening bars of temptation.
Cranberries are a fruit and therefore form part of your 5 – a day count. Christmas without nuts or going nuts is unheard of, so pistachios are compulsory. I strongly suggest large quotas of dark chocolate to encourage pleasant behaviour amongst men in support of world peace. They're also packed with antioxidants which'll help keep free-radicals at bay – more good news there! Chocolate is very clever. It instinctively knows how to release dopamine, our natural happy endorphins and happy campers are definitely what's required after an extremely tremulous month in our South African economy. So even if there've been annoying rocks in your road this year, pour yourself a glass of ……. (fill in the blank), crank up the carols and knock out a tray of these majestically dark chocolate slices. Alternatively, you could roll a couple of these decadent coconut chocolate truffles and add them to your to dessert offering. They're lusciously smooth and loaded with chocolatey goodness.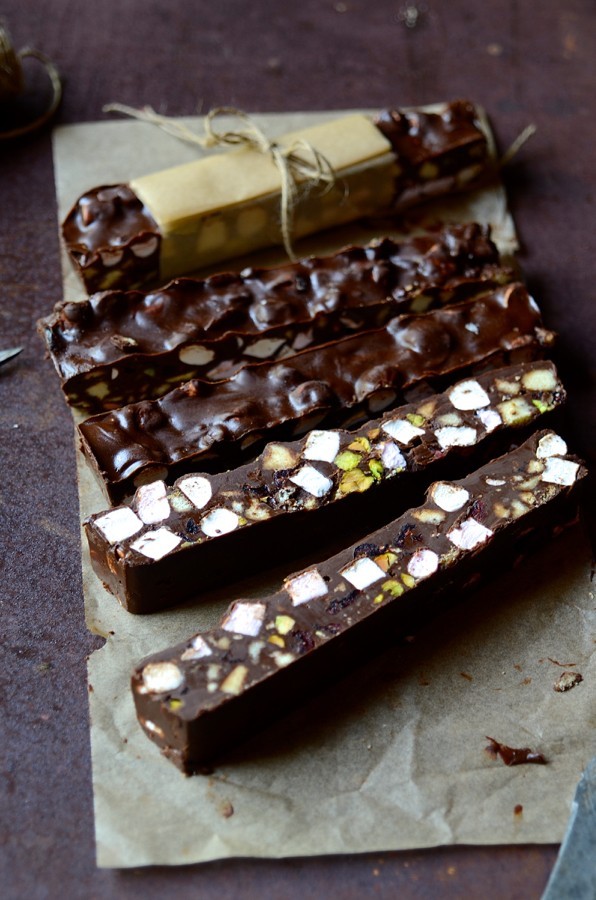 Gilding the lily is the old school way of saying …too much!! I'm sure you'll agree that restraint at this point is completely useless so I've taken it to the next level. Why not? Apart from the tart cranberries and lumo-green pistachio nuts, here's why this rocky road is kind of special – that glossy coat of fudgy chocolate ganache. Once you've mixed all your tasty morsels into the pool of melted chocolate and piled it into the tin, the whole caboodle gets smothered in a final layer of darkness.
Make them, share them, or not, but here's wishing you and yours a very blessed Christmas, filled with joy, peace and the richness of family and friends. Until next year.  ♥ Di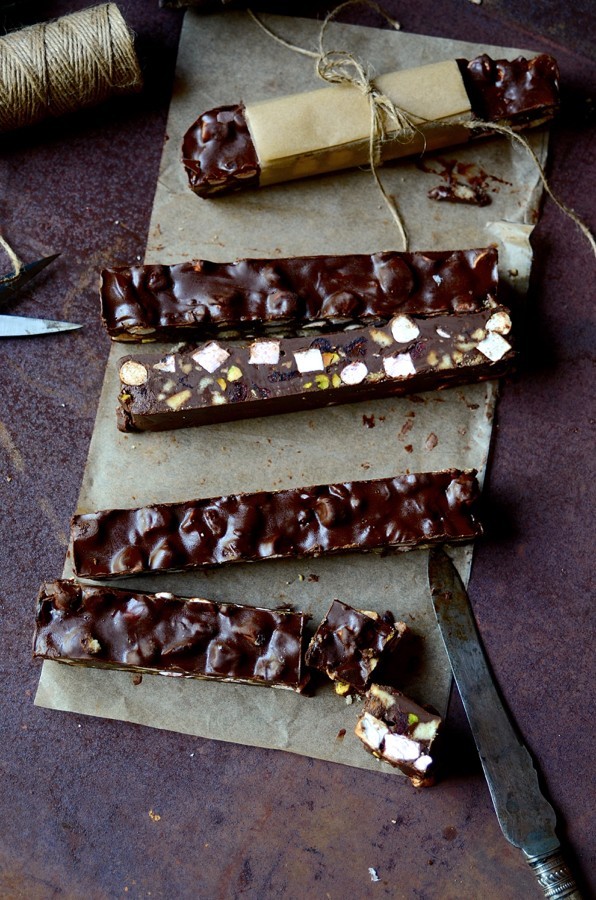 Knobbly Fudged Rocky Road
Makes 1 x 20cm square tray
300g dark chocolate( 70%)
90g butter
3 tablespoons honey
150g tea biscuits or shortbreads, roughly chopped (Bakers tennis or eet sum mores)
75g mini pink and white marshmallows (I use the pillowy soft ones from Woolworths)
50g roasted pistachio nuts, roughly chopped
3 tablespoons cranberries
Chocolate fugdy layer
120g dark chocolate (50%)
2 tablespoons butter
3 tablespoons double thick cream
Line a 20cm square cake tin with parchment paper. Place the 300g dark chocolate, butter and honey in a heatproof bowl. Microwave on medium heat at 40 second intervals until the chocolate is melted. Stir until glossy and smooth.
In a large mixing bowl, combine the biscuits, marshmallows, nuts and cranberries. Pour the melted chocolate over and mix to combine. Transfer the mixture to the lined tin and press down gently to even the top.
For the fudgy layer, place all the ingredients in a bowl and melt following the same method as above. Pour the warm chocolate fudgy ganache over the biscuit layer and spread quickly to smooth the surface. Chill in the fridge until set. Slice into squares or bars. Keep stored in the fridge until serving.