Luxuriously African Amarula gilded chocolate truffles, flavoured with Africa's very own cream liqueur and embellished with edible gold leaf. A rustic,locally inspired truffle with an earthy exterior that belies a meltingly smooth centre.
Create your own bespoke truffles using the basics of this recipe. Add your favourite coffee liqueur, or crème de cassis, for a tart berry-sweetness. Herbs, spices and chilli are exciting additions for those with more adventurous palettes. If you chose to use these dried flavourings, remember to infuse the cream over a medium heat with either herbs or chilli. Set the cream aside to allow the flavours to develop, strain and then continue as per the recipe method.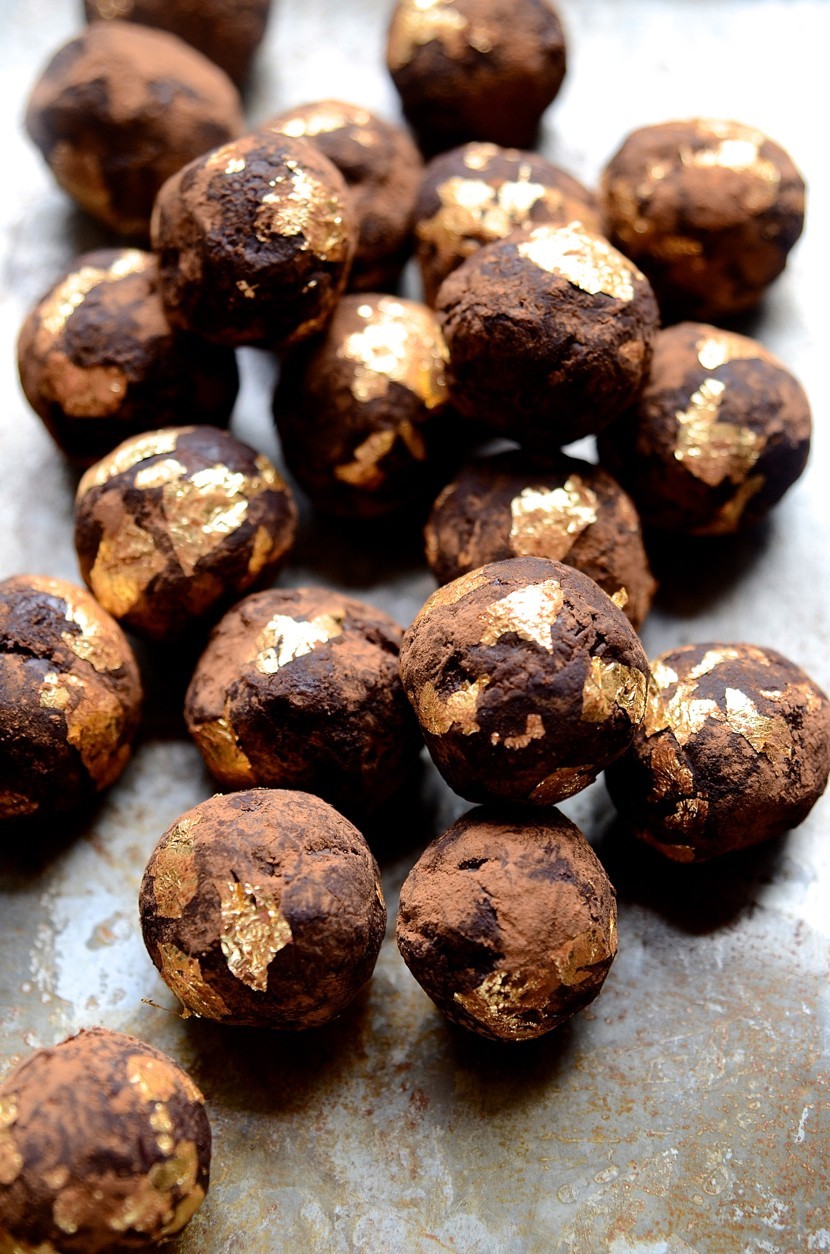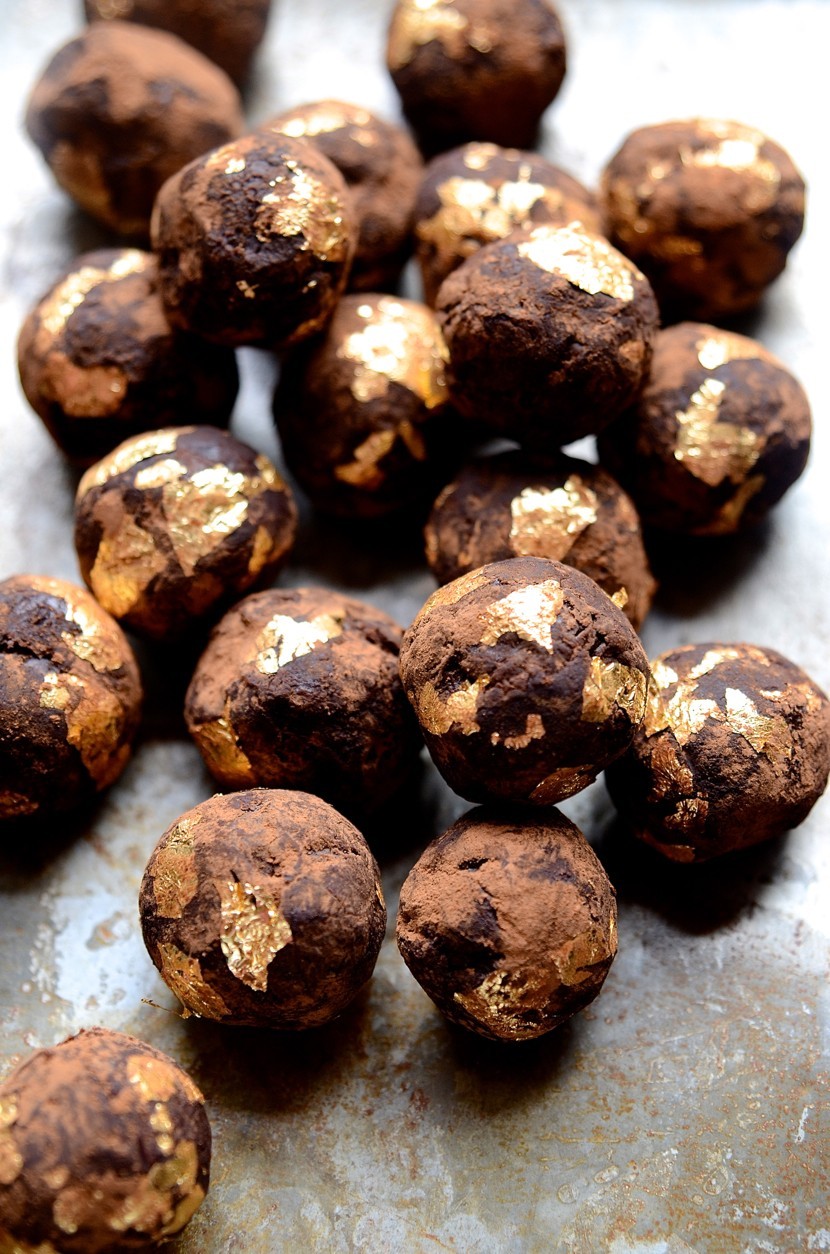 Chocolate has a myriad of different flavour profiles including spicy, floral and nutty. The market is flooded with artisan chocolate bars, all with varying cocoa percentages. It's important to remember that the finer the quality of chocolate you use, the better the end product will be. A truffle is essentially all about the chocolate so use the best you can afford. It's impossible to mask inferior quality. A minimum of 50% is good, but if you're a serious chocolate enthusiast, 70% is best. It contains less sugar and has a higher cocoa content with more antioxidants, which is all good!
Chocolate truffles are really simple to make, but can be a rather messy business. These are quite fiddly when it comes to applying the gold leaf. If you've worked with edible gold leaf before, you'll know that it's flimsy and sticks to almost anything. So a word of warning. If you've had a stressful week, or year and feel like you could snap at any moment, step away from the gilding. Just roll the chocolate truffles in cocoa or finely chopped pistachio nuts and you're done. A superb finish to a stylish dinner party or a special gift for someone you like, a lot.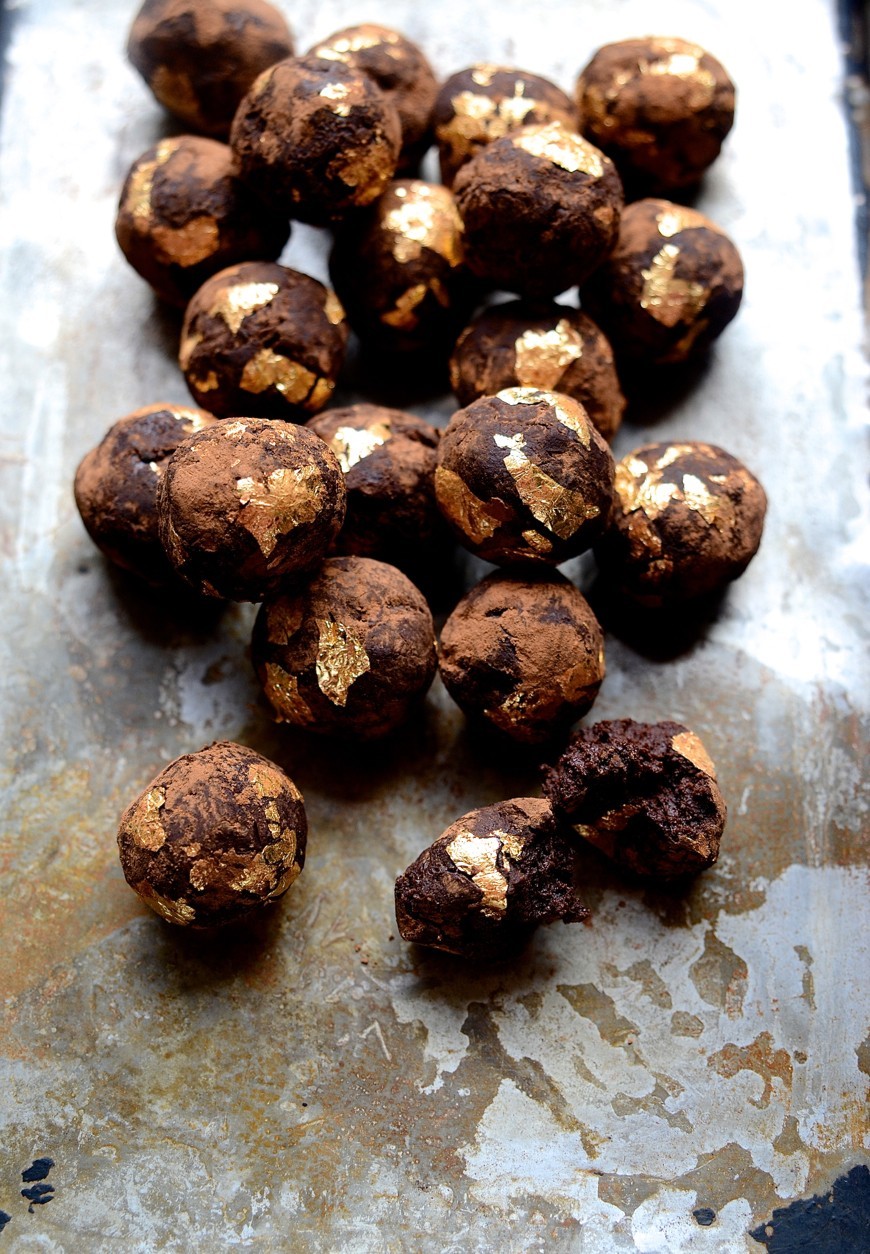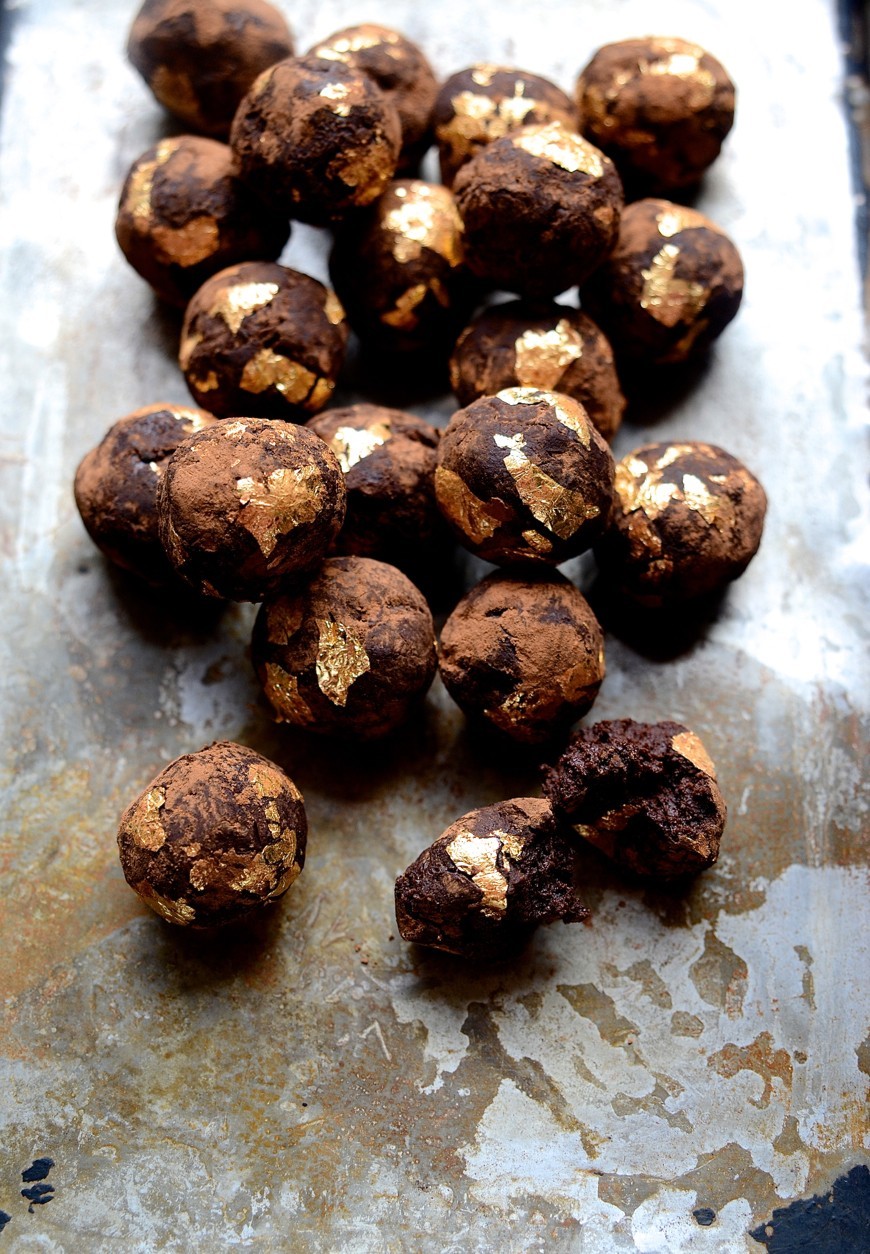 African Amarula gilded chocolate truffles
200g dark Lindt chocolate, at least 50% cocoa solids
80ml single cream
40g butter
30ml Amarula cream liqueur
1 tablespoon cocoa powder, for dusting
1 sheet gold leaf paper
Chop the chocolate into chunks and place in a heatproof bowl together with the cream. Microwave for exactly 1 minute. Do no overheat as the residual heat of the bowl will be sufficient to melt any bits of chocolate.
Whisk until the chocolate is melted and completely smooth. Chop the butter into small pieces and add to the warm chocolate. Whisk once again until the butter is melted and incorporated into the chocolate. Stir in the Amarula liqueur.
Once the chocolate is cool, cover with cling film and chill for several hours until firm.
When you are ready to roll the truffles, sift the cocoa powder onto a side plate. On a second plate, break the gold leaf into rough, irregular pieces.
With a teaspoon or melon baller, scoop small nuggets of the chocolate mixture and working quickly, shape into truffle shaped balls.
Dab lightly into the cocoa, leaving open areas on the actual truffle. Press lightly onto the golf leaf paper to create leopard-like markings. Place the balls on a lined sheet and set aside to firm up. If the weather is African-style hot, store covered in the refrigerator.
These truffles taste best if they are left at room temperature for about 30 minutes before serving.
More truffling to get excited about:
Coconut cream chocolate truffles
Chocolate-date truffles with coconut and cranberries