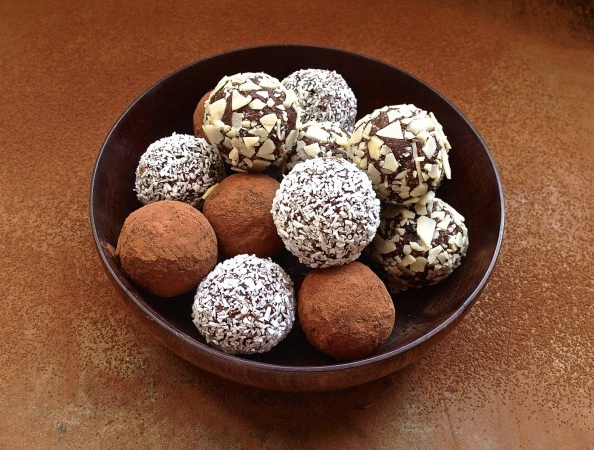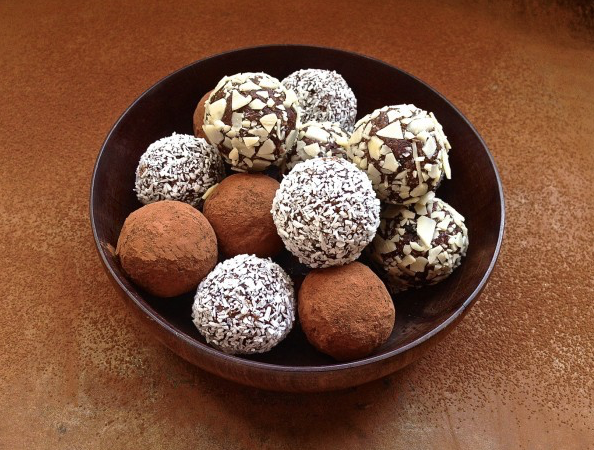 Mondays don't usually look like this. To truffle at the start of a new week might seem a little indulgent, but these healthy chocolate date truffles with coconut and cranberries will have you rolling repeatedly. Sweetened with sticky medjool dates and maple syrup, healthy and delicious meld into a guilt-free treat. For a chewy tartness, I've added dried cranberries, but feel free to swap it out with whatever dried fruits you prefer.
Use a good quality dark vegan chocolate with at least 70% cocoa solids. Dark chocolate is loaded with antioxidants and is a natural mood enhancer. Sounds like a winning combination.
The truffles keep well for up to a week, stored in the refrigerator. Truthfully, they don't last much longer than a respectable two days in our home. Let's face it, when a late night sweet craving hits, these chocolate truffles hit the spot. They're also a favourite lunch box treat for my girls and the perfect sweet finish to serve with after-supper coffees.
Chocolate date truffles
Makes 20
150g medjool dates, pitted and roughly chopped
50g desiccated coconut
50g ground almonds
40g dried cranberries
2 tablespoons cocoa powder
1 tablespoon maple syrup
15ml (1 tablespoon) cold water
50g dark chocolate, melted and cooled
extra cocoa, shredded coconut and chopped almonds, to coat
Place the dates, coconut, ground almonds, cranberries, cocoa, and maple syrup in a processor. Pulse for a few seconds, scrape down the the sides and pulse again. Repeat until all the ingredients are fine and well incorporated. Add the water and blitz to combine. Add the chocolate and give the mixture a final blitz.
Place the extra cocoa, coconut and chopped almonds into three separate bowls. Roll the date mixture into walnut sized balls and coat in the toppings of your choice. Chill for an hour or two to firm up. Store in an air tight container in the refrigerator.
For more chocolatey sweet treats, these coconut chocolate truffles are sure to impress.