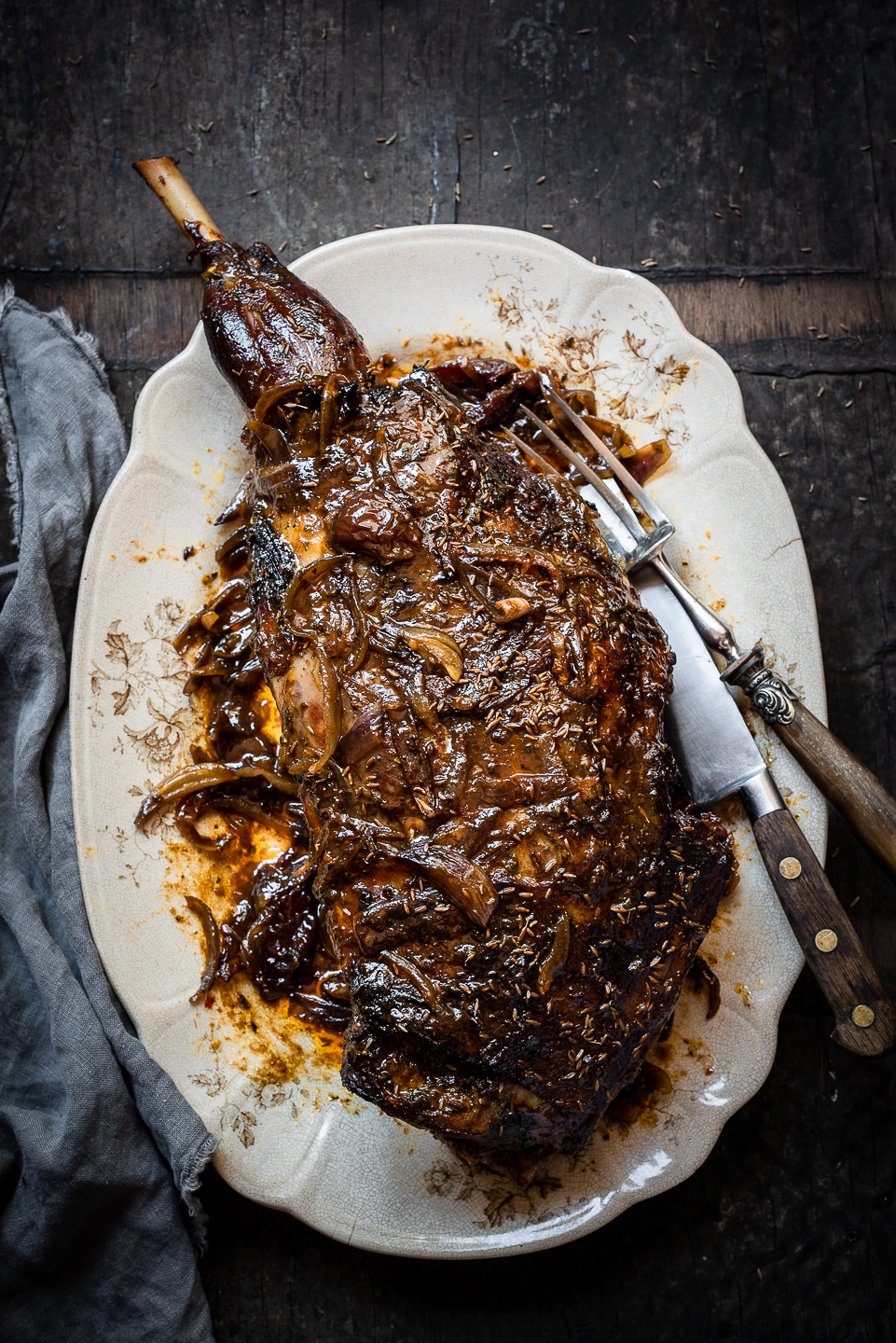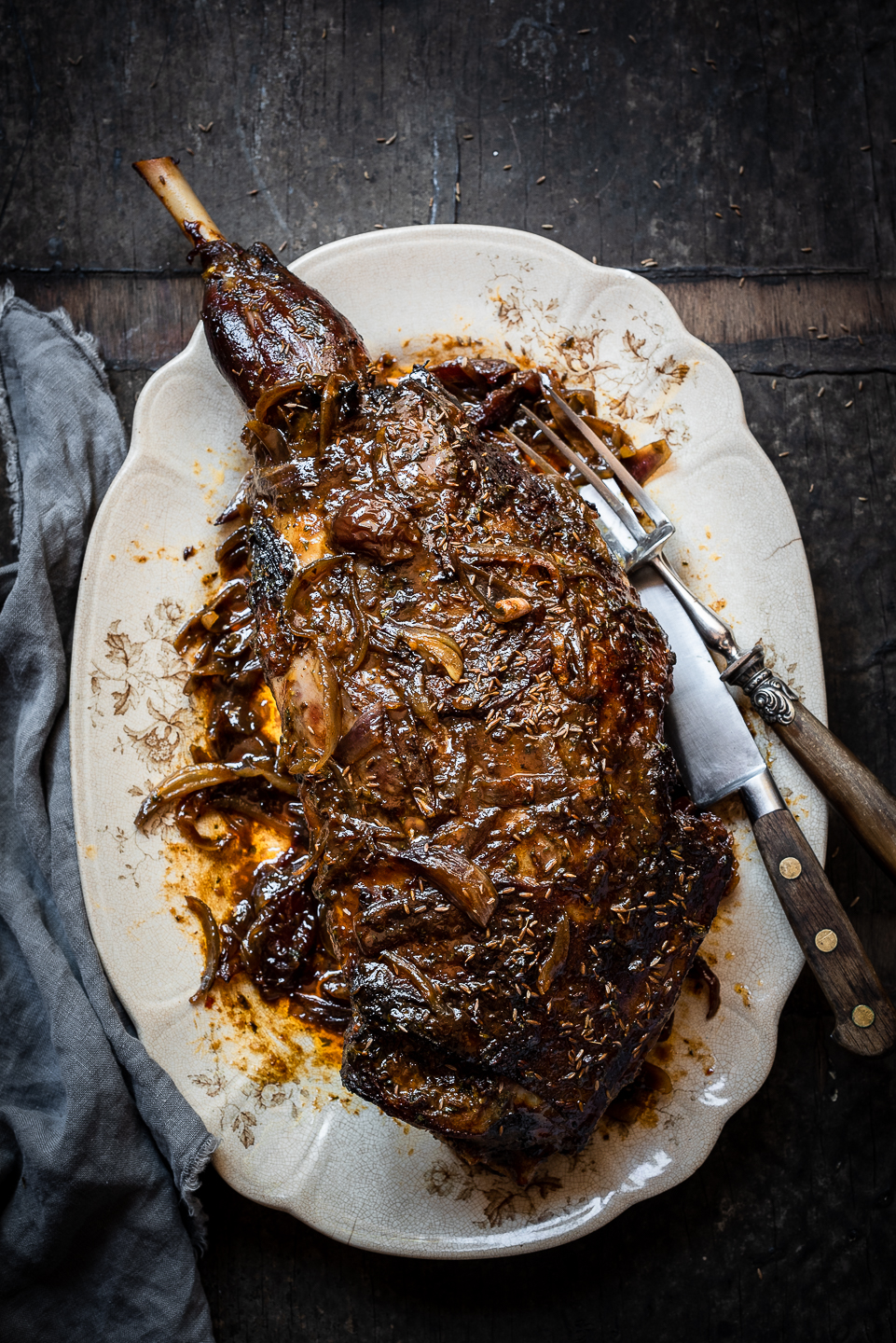 There's a regal-ness to lamb that speaks of tradition and lavish celebration. It signifies generosity and extends open-handed hospitality. Although our festivities might be smaller and more intimate this year, roast lamb uphold its glorious reputation as the feasting table's centrepiece. Because of my great love-affair with Middle Eastern food, I'll be making Roast lamb with saffron honey.
While slow roasting requires time and patience, the preparation is hardly any effort at all. After the initial overnight marination, it's into the oven for a few slow hours under a lazy eye. The reward? Meltingly tender meat that you can cut with a spoon. Because slow roasted lamb yields willingly, I prefer to pull the meat into uneven chunks rather than neatly carved slices. It's not the kind of food that requires precision or exactness. I then swoosh the meat in the glossy gravy, making sure every mouthful sings with sweetly scented saffron honey sauce. The flavourings are earthy and deep, imbued with desert warmth and soulful spices. Helpful here, is a bread of some sort, maybe warm Turkish milk bread or fluffy flatbreads, to mop up golden-hued oil slicks.
60ml (1/4 cup) olive oil
45ml (3 tablespoon) honey
60ml (1/4 cup) lemon juice
zest of 1 lemon
1 clove garlic, finely minced
10ml (2 teaspoons)  cumin seeds, toasted
1/2 teaspoon fennel seeds, toasted
1 1/2 teaspoons ground coriander
1/2 – 1 teaspoon dried red chilli flakes
a pinch of saffron threads, steeped in 1 tablespoon hot water
1 ½ teaspoons sea salt flakes
freshly ground black pepper
olive oil, for roasting
2.5 -3kg free-range leg of lamb
3 red onions, peeled and sliced into wedges
1 garlic bulb, halved
3 bay leaves
125ml (1/2 cup) chicken stock
salt and cracked black pepper
For the marinade, place all the ingredients in a small mixing bowl and stir to combine.
Rub the marinade into the lamb making sure the entire surface is covered. Place the lamb in a non-metallic dish,  cover tightly and chill overnight.
Before roasting, bring the meat up to room temperature.
Preheat the oven to 180º C.
Place the onions, garlic and bay leaves in a large roasting tin. Drizzle with about 2 tablespoons olive oil and season lightly with salt and pepper. Flake a little more salt over the lamb and place on top of the onions,  fatty side facing down.
Add the stock to the roasting tin, cover loosely with foil and roast for about 2 1/2 hours.
Remove the foil and carefully turn the lamb over with the fatty side facing up. Roast for 50-60 minutes uncovered. To render the fat and caramelise the top, increase the oven temperature to  220º C and roast for a 15-20 minutes until deeply golden.
Remove the lamb from the roasting tin and cover with foil. Rest the meat while finishing the gravy.
Place the roasting tin on the hob. Reduce the pan juices over a high heat until desired consistency. Or, for a thicker gravy, add a cornflour slurry and simmer until glossy and thickened.
Taste and adjust seasoning with either a smattering of salt or a squeeze of lemon to brighten the flavours. Return the lamb to the roasting tin and heat through gently.
Cook's Note: To make the cornflour slurry, combine 1 1/2 teaspoons cornflour with 45ml cold water.
If you need a quick and easy flatbread to serve alongside, you may want to try this recipe:
For those who have the Bibby's Kitchen cookbook, the Turkish Milk-Bread on Pg 66 is incomparable. Alternately, the Chickpea and Cumin Flatbreads on Pg 68 are excellent too.