Nectarine galette with blueberries and wholemeal pastry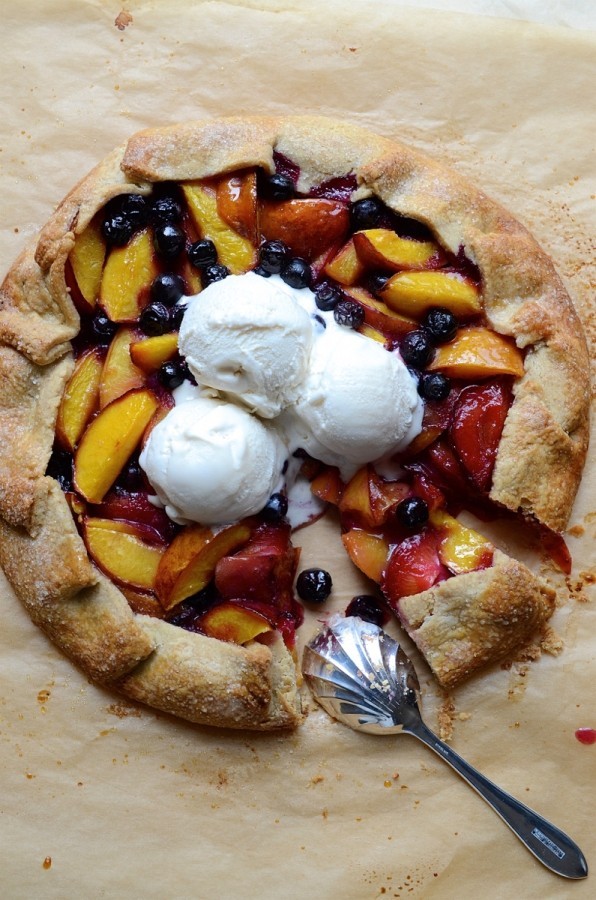 Today we're making this nectarine galette with blueberries. It remains my favourite summer dessert. The perfect partnership of fresh seasonal fruit with a buttery pastry remains a classic combination that never fails to impress. While there's a glut of summer fruit about, this is definitely the dessert to bake.
I'm sure you've heard this question before? 'What would you like to eat if it were your last meal?' Bearing in mind that this will be the lingering flavour as you depart, is a lot of pressure! I'd choose this as a starter, main and dessert. Yes, a nectarine galette with blueberries with a rustic sugar-crusted flaky pastry. All three courses covered in one dish. Done. It's that good!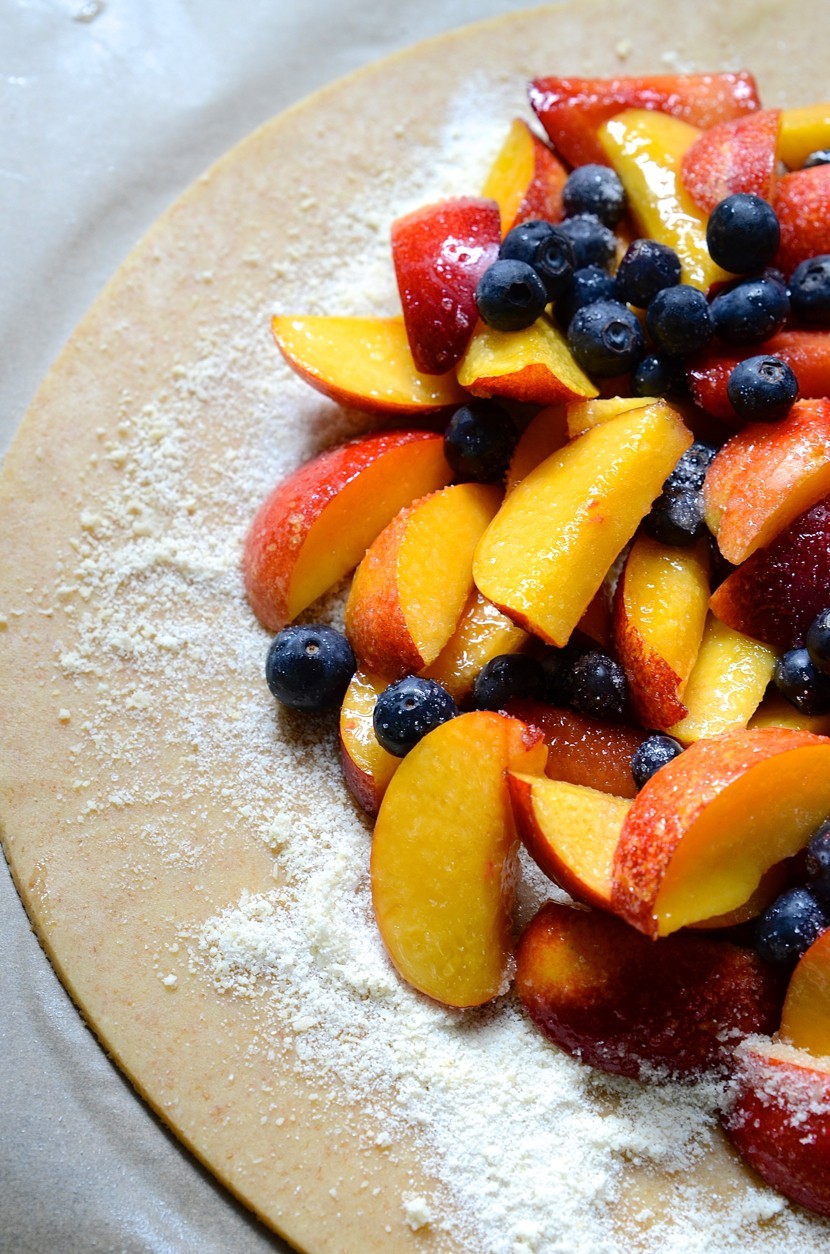 So let's look at the advantages of eating pie. Just to be clear, this is not really a pie in the traditional sense, but a galette, which is the French equivalent. It could be either savoury or sweet. A free-form pie eliminates the need for blind baking, which could easily divert you from loving pie. The word rustic could also be interpreted as a 'come as you are' affair with margins for error or creative flair. Haphazardly-shaped will be also be perfectly acceptable and appreciated.
In contrast to a pastry topped pie, a galette shows off lusciously sticky fruit. The summers in South Africa are long with blissful weather and incredible produce, so making this galette is easy as pie.
The pastry is a combination of plain and wholemeal flour which delivers it a toothsome bite. I like to serve the galette warm while the pastry is still crisp. It requires a little patience to wait for the galette to cool but as the fruit cools, the juices thicken. Serve with clotted cream or vanilla bean ice cream
I demonstrated this galette on Expresso, SABC 3's feel good breakfast show. Here's the link for the easy how-to.


Nectarine galette with blueberries and wholemeal pastry
170g cold butter, cubed
160g all purpose cake flour
80g wholemeal flour
1/4 teaspoon salt
2 tablespoons castor sugar
3 – 4 tablespoons cold water
Fruit filling
8 -10 nectarines, pitted and sliced into segments
2 dark skinned plums, pitted and cut into segments
125g blueberries
3 – 4 heaped tablespoons granulated sugar (depending on the sweetness of the fruit)
2 tablespoons almond flour
1 tablespoon all purpose cake flour
1 heaped tablespoon semolina
egg wash (1 whole egg, whisked with a tablespoon water)
granulated sugar for finishing
vanilla bean ice cream, for servin
To make the pastry, place the cake flour, wholemeal flour, salt and castor sugar in the bowl of an electric mixer, fitted with the paddle attachment. Add the butter and pulse until fine breadcrumb stage. Add the water and mix just until the dough comes together. Do not over-mix at this point or the pastry will toughen and loose its light, flaky texture. Wrap in cling film and refrigerate for an hour.
Preheat the oven to 200º C. Line a baking sheet with parchment paper. Roll the pastry out on a well floured board to measure approximately 40cm in diameter.
Transfer the pastry round to the baking sheet. Scatter the almond flour, cake flour and semolina over the base, leaving a 3cm boarder and mix to combine. Place the fruit in a bowl and toss together with the 3 tablespoons sugar.
Pile the fruit into the centre of the pastry, leaving a 3cm border all around.
Fold the edges of the pastry inward, overlapping as you go. Press down quite firmly to secure the pastry in place. Brush the pastry liberally with egg wash and sprinkle with granulated sugar. Bake for 45-50 minutes.