Apple galette with walnut frangipane & caramel
7 May 2018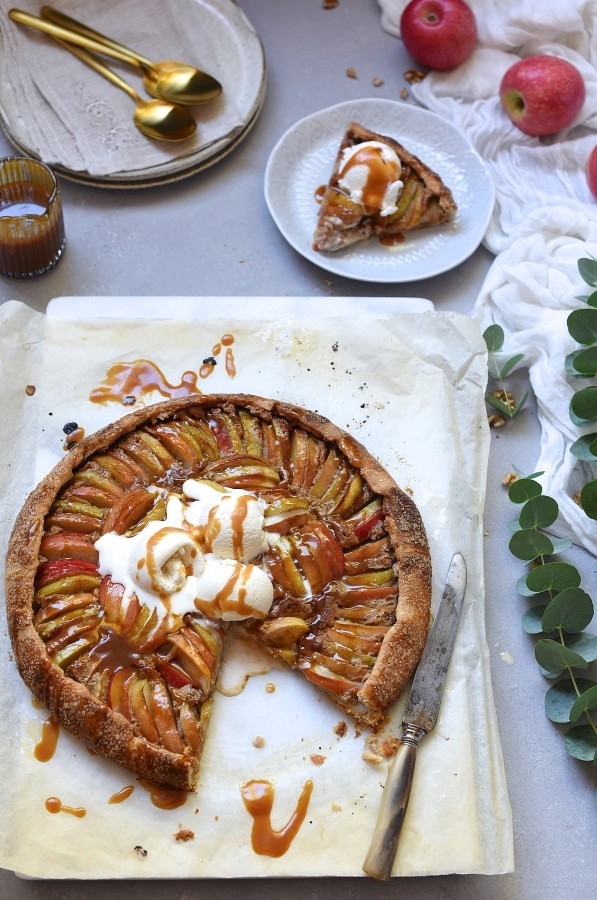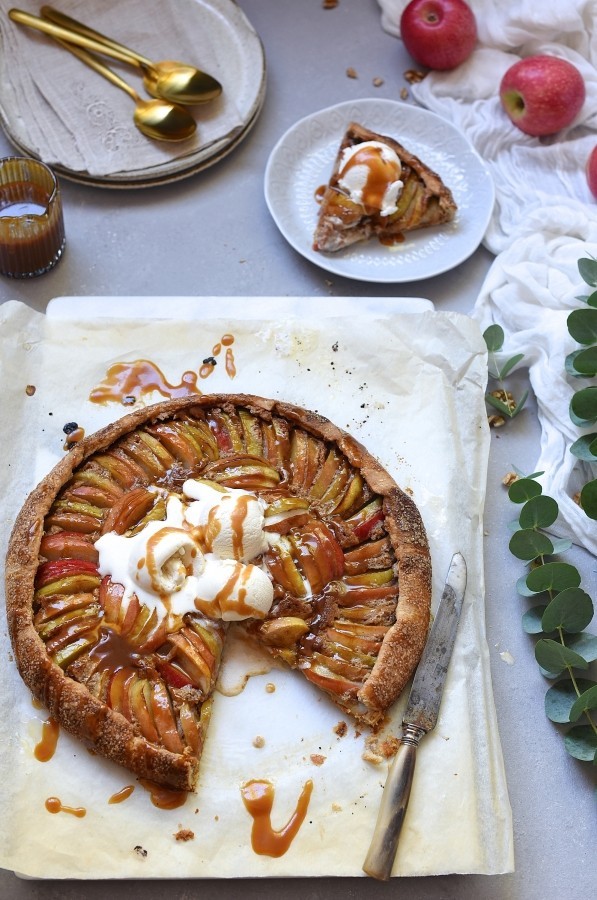 If you close your eyes what do you taste? How's does it feel? Is it smoother, richer, creamier and infinitely more buttery? If your answer on all scores is a definite yes, then chances are you're doing a Lurpak butter taste test. And what better way to celebrate this Danish butter than with an apple galette doused in salted caramel?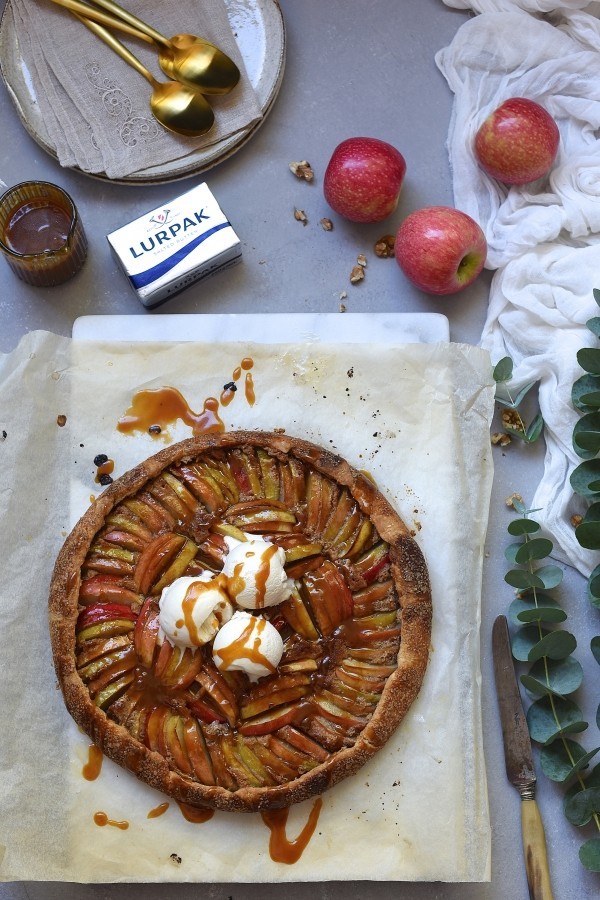 Of all the desserts, a warm fruited one with a buttery crust, salted caramel and vanilla ice cream is my outright favourite. Rustically charming and sort of homely with a smattering of nostalgia, the perfect dessert for Mother's Day lunch. Slices of sweet apple nestled in walnut frangipane, all snugly wrapped up in crisp wholemeal spelt pastry. The combination is classic and I think, hard to beat.
A word on butter. I always use salted butter. There are instances when recipes call for unsalted, but in sponge cake baking especially, this is more for appearance than a taste issue. Using salted butter will result in the outer crumb taking on a more golden-brown colour, whereas unsalted versions yield a pale sponge. For me, it's about flavour, so I'm firm 'salted' supporter. I've used spelt flour for the crust but if you can't find this ancient grain flour, buy all means substitute with a good wholewheat flour. Nature's choice and Eureka are both excellent.
* Win with Lurpak*
For Mother's Day, I've partnered with Lurpak butter to bring you this swoon-able dessert recipe and the chance to Win a Lurpak Hamper, stocked with cook's essentials and of course, the best Danish Butter.
To enter, all you have to do is follow the Lurpak Instagram page. Then, head over to my Instagram page, tag a couple of butter lovers and leave a comment on this galette post telling us what dessert you think will win your Mum's heart this Mother's Day. Good luck. See you on Insta tomorrow.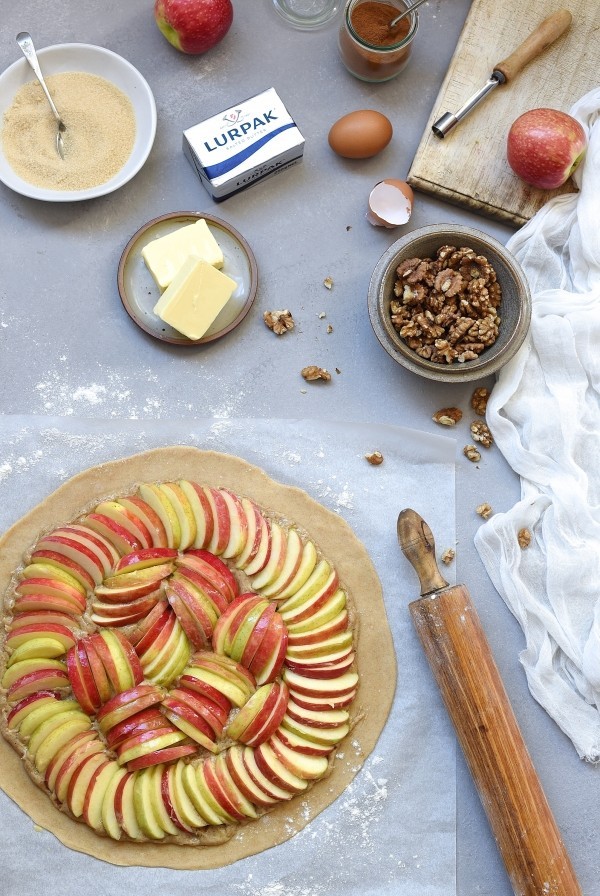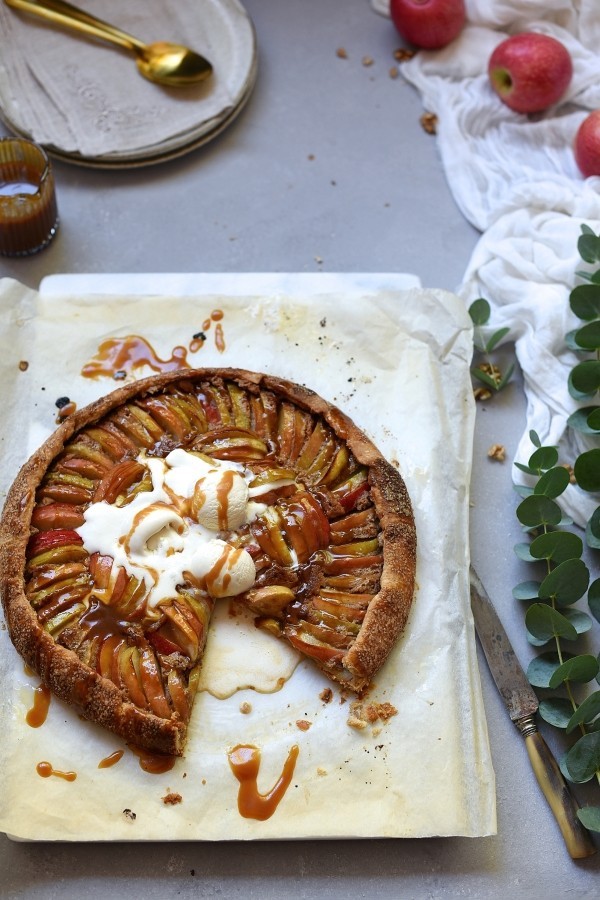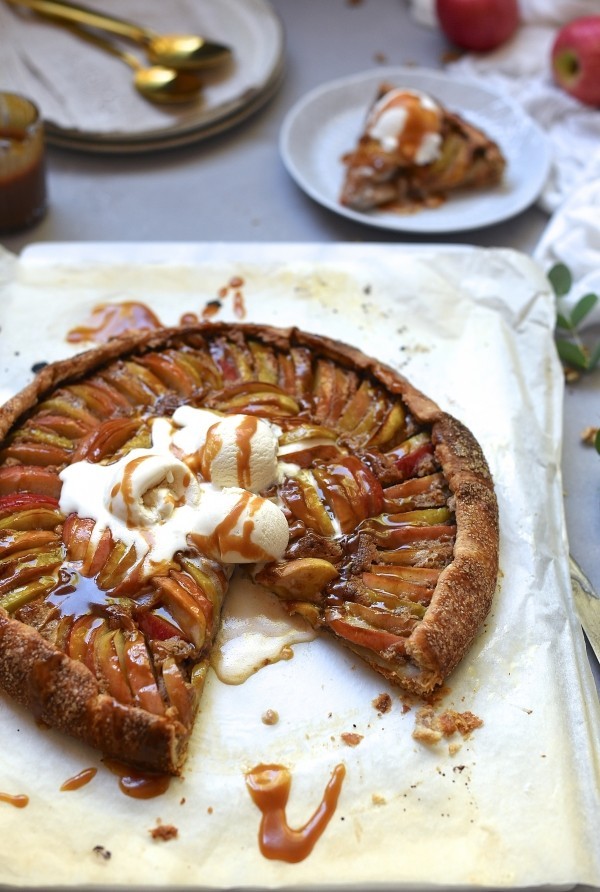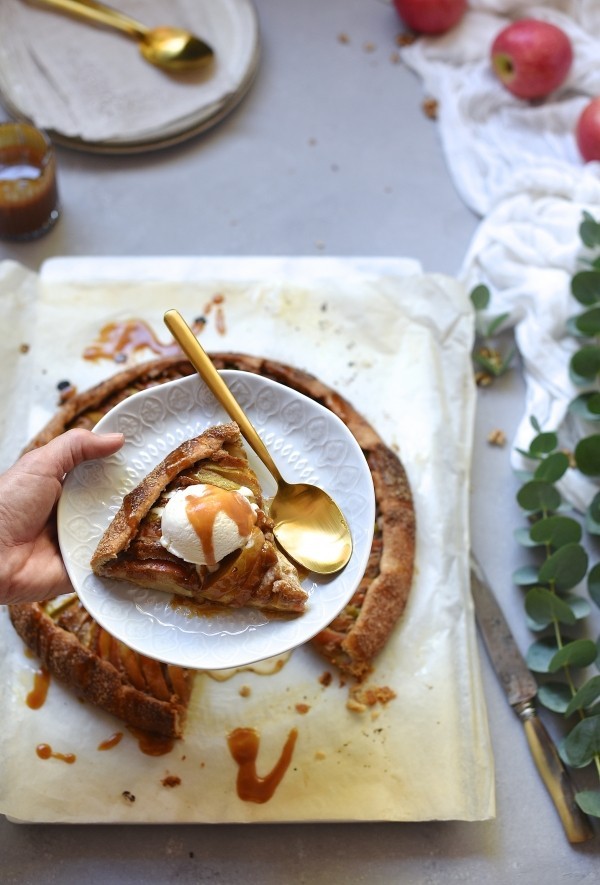 Apple galette with walnut frangipane and caramel
Serves 12
160g cake wheat flour
90g whole meal spelt flour
1/4 teaspoon salt
30ml (2 tbls) icing sugar
180g Lurpak salted butter
3-4 tablespoons ice water
   Walnut frangipane
1 cup( 100g) walnuts, toasted
100g Lurpak butter
90g castor sugar
30ml (2 tablespoons) cake flour
2 free range eggs
5ml (1tsp) ground cinnamon
7-8 apples, cored and cut into wedges
2 tablespoons Lurpak butter, melted
egg wash (whisk 1 egg with 1 tablespoon water)
15ml (1 tablespoon) demerara sugar
2 tablespoons Lurpak butter, melted with 2 tablespoons honey
 Salted caramel sauce
200g (1/2 cup) castor sugar
250ml (1 cup) fresh cream
60g Lurpak butter
a generous pinch of sea salt flakes
Place the cake and spelt flours, salt and icing sugar in a processor.
Add the Lurpak butter and pulse to combine. Add the water a little at a time, just until the dough combines. Wrap in clingfilm and chill for 1 hour.
For the frangipane, place the walnuts in a processor and blitz until fine. Add the Lurpak butter and the remaining ingredients and pulse to form a smooth paste.
To make the caramel sauce, place the castor sugar in a saucepan. As it heats, swirl the pan until all the sugar is melted and the caramel, amber coloured.
Add the cream and boil hard until the sauce is thickened and any hard caramel bits dissolved. Add the Lurpak butter and salt and whisk to incorporate.
Preheat the oven to 200º C. On a well-floured surface, roll the pastry out into a round of 40cm across. Spread the frangipane over the base, leaving a 4cm boarder.
Toss the apples in the melted butter and arrange on top of the frangipane.
Fold the edges over, overlapping and pressing together lightly to secure. Brush the edges with egg wash and scatter with demerara sugar.
Bake for 40-45 minutes.
Brush the apples with honey butter and drizzle over half the caramel sauce. Serve with vanilla bean ice cream and extra caramel sauce on the side.
Another favourite galette? This nectarine and blueberry recipe.
Nectarine galette with blueberries and wholemeal pastry