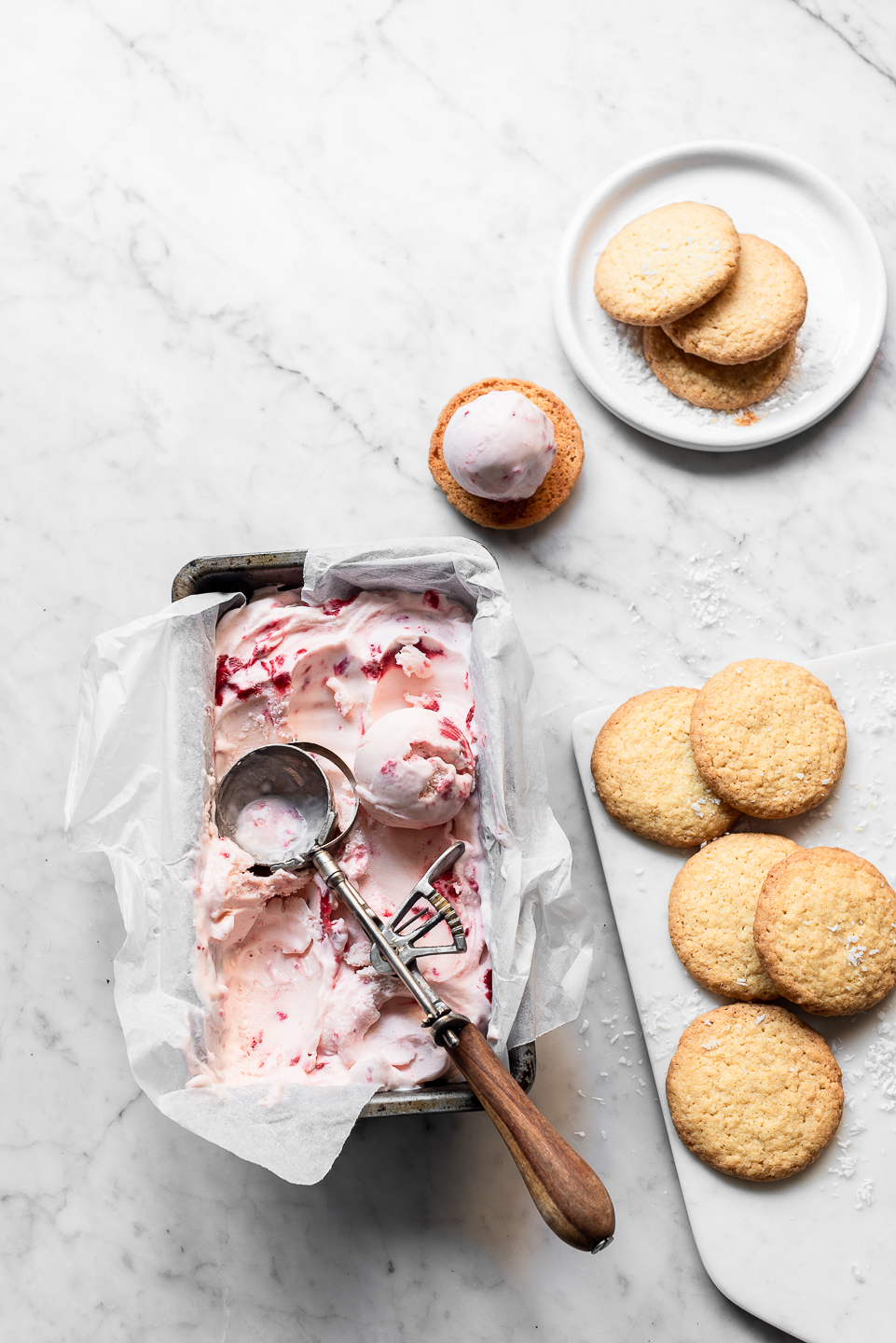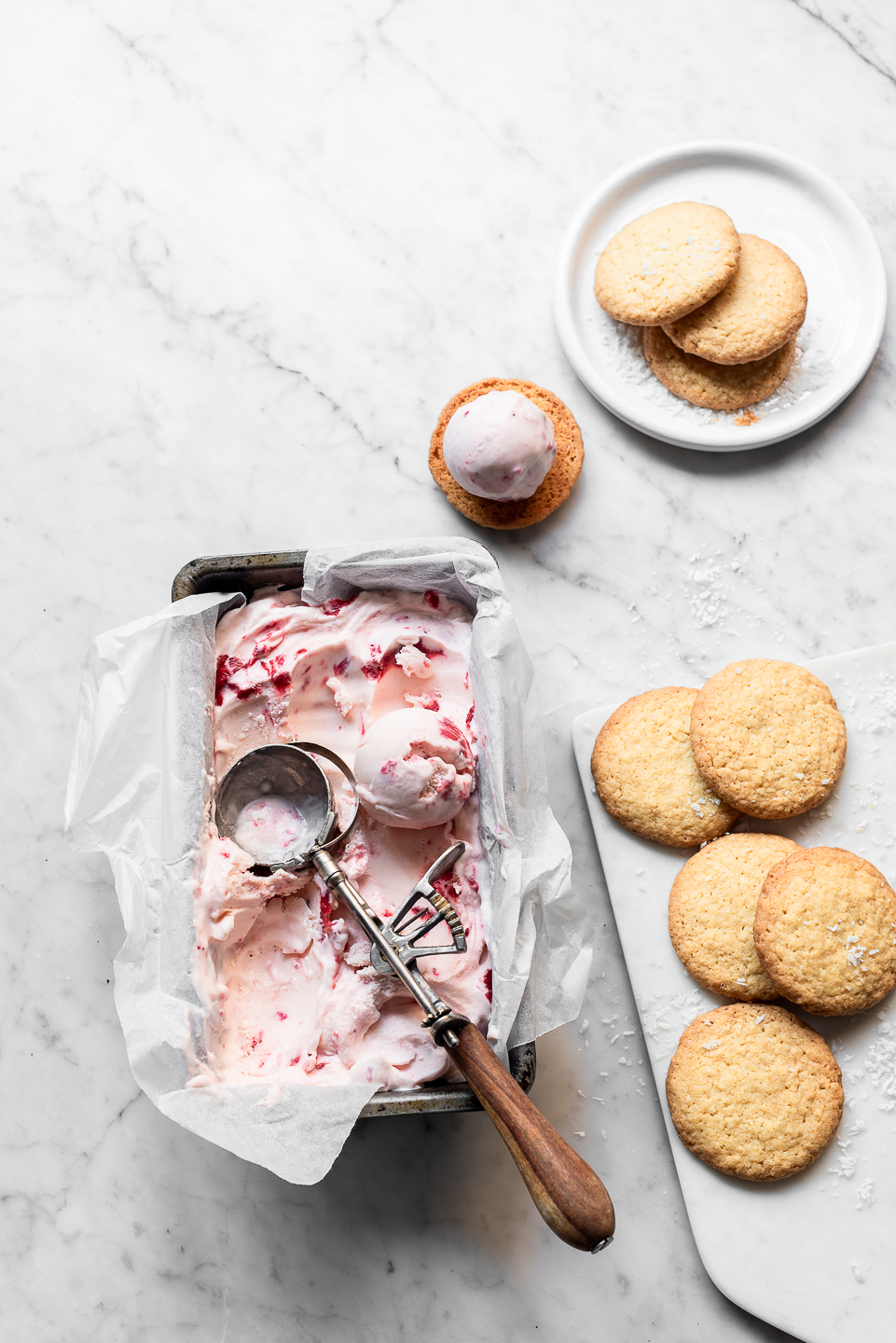 There's nothing that says summer quite like strawberries and cream. And when it comes casual summer desserts, ice cream and frozen yoghurt are the  frozen support you need for relaxed summer entertaining. My roasted strawberry frozen yoghurt is bright and fruity, with puddles of jammy strawberries swirled throughout. It doesn't really need a cookie to complete it, but then, when were cookies not a good idea? If you like a crisp cookie, more of a biscuit than chewy cookie, these buttery coconut cookies are snappishly crisp.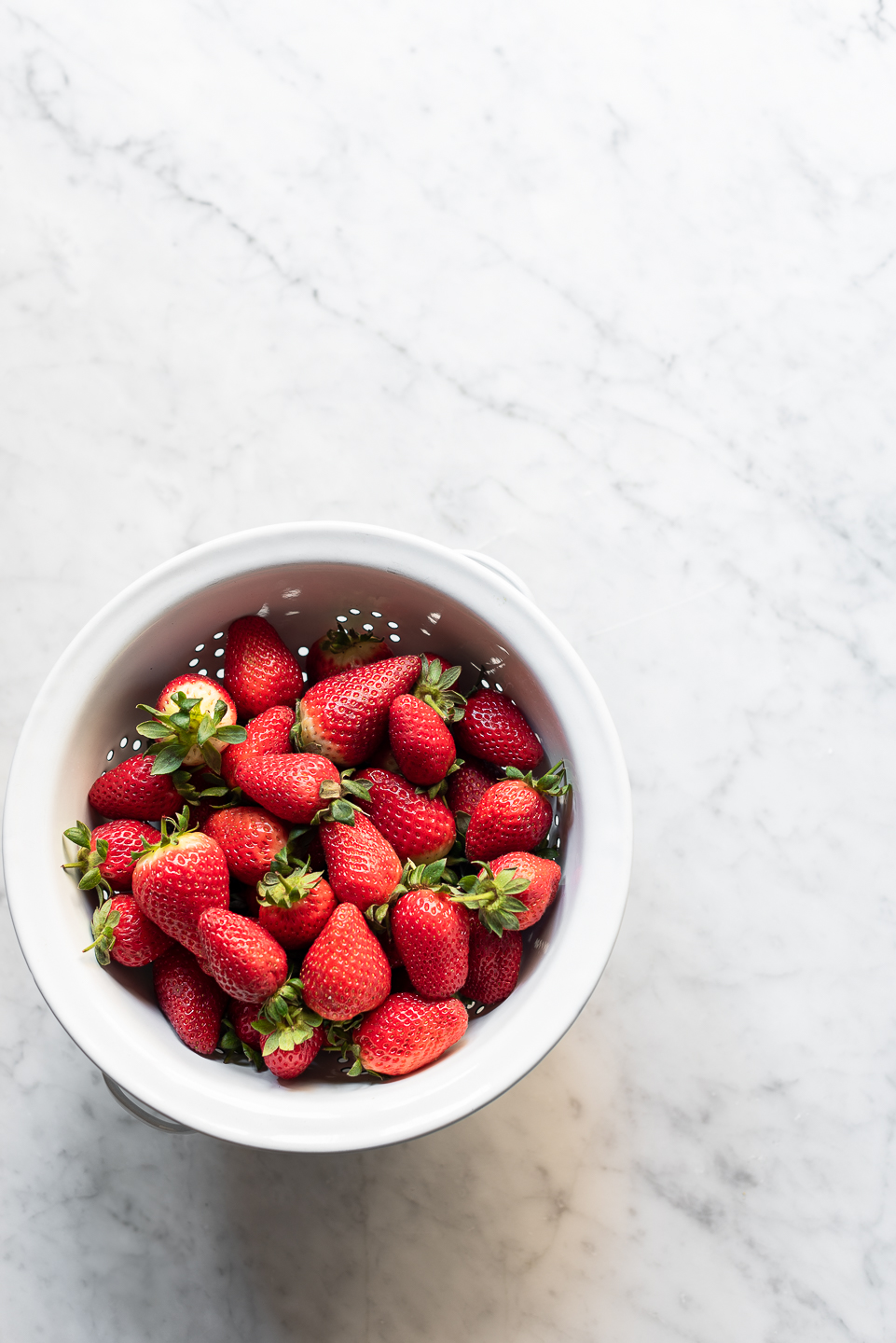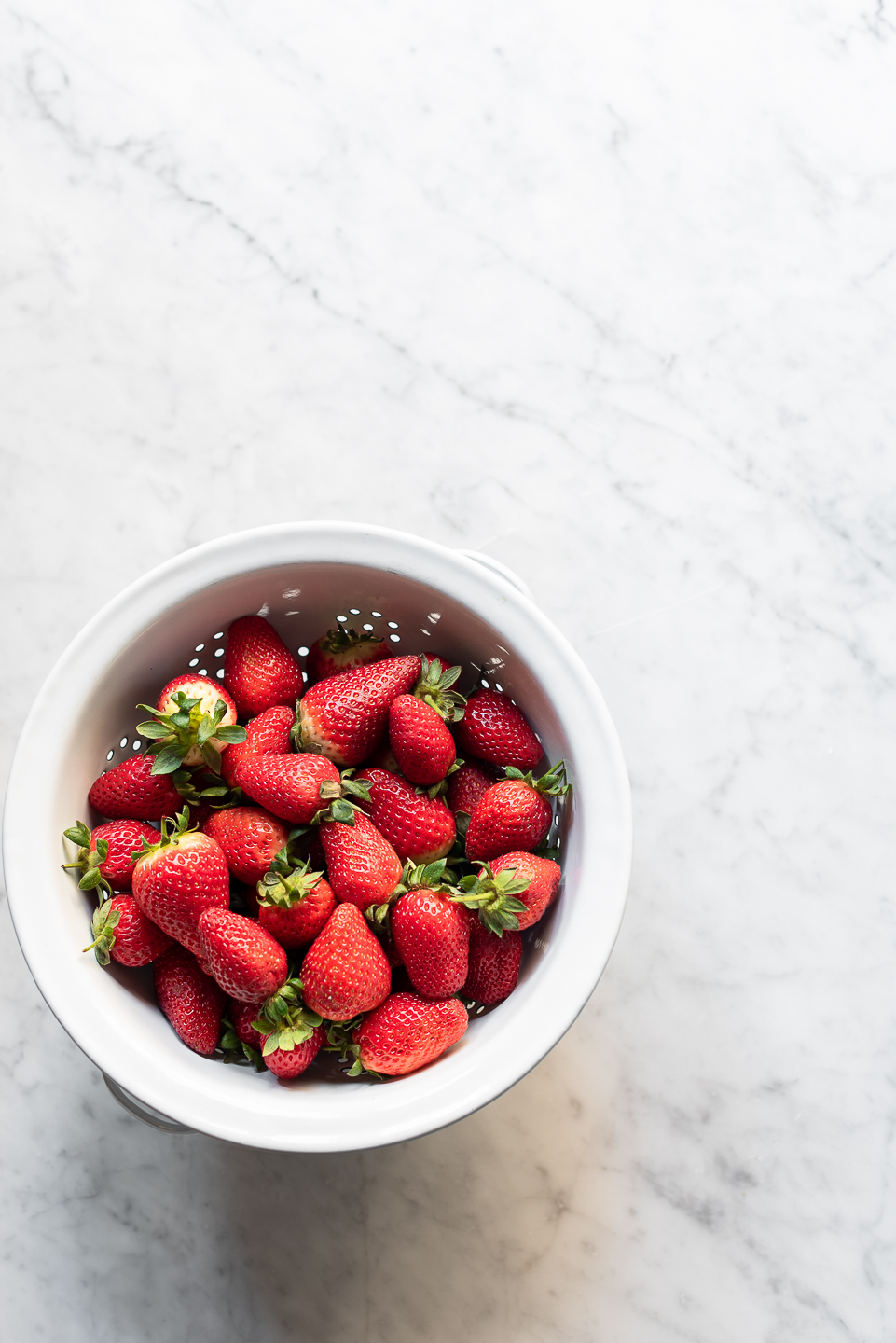 Like with all recipes, there are only two elements that determine the outcome – ingredients and method. Here, using quality ingredients and fruit that is in season will ensure the flavours are bold, honest and intensely delicious. For this recipe I've used strawberries to go with NutriDay's creamy Strawberry yoghurt, although most summer fruits are good for roasting. Raspberries, blackberries or red-skinned plums offer a tartness that will work really well with yoghurt.
Roasting does marvellous things to food by deepening and concentrating flavours. It's especially useful when you want to intensify the natural flavours and sweetness of the fruit. For the frozen yoghurt I made one times the quantity of roasted strawberries. In hindsight, I should maybe have doubled the recipe and saved half for later. It's an absolute joy with hot buttered toast or dolloped over brunch scones. When roasting the strawberries, remember to give them a gentle turn over every now to keep things moving and the jam from burning around the edges.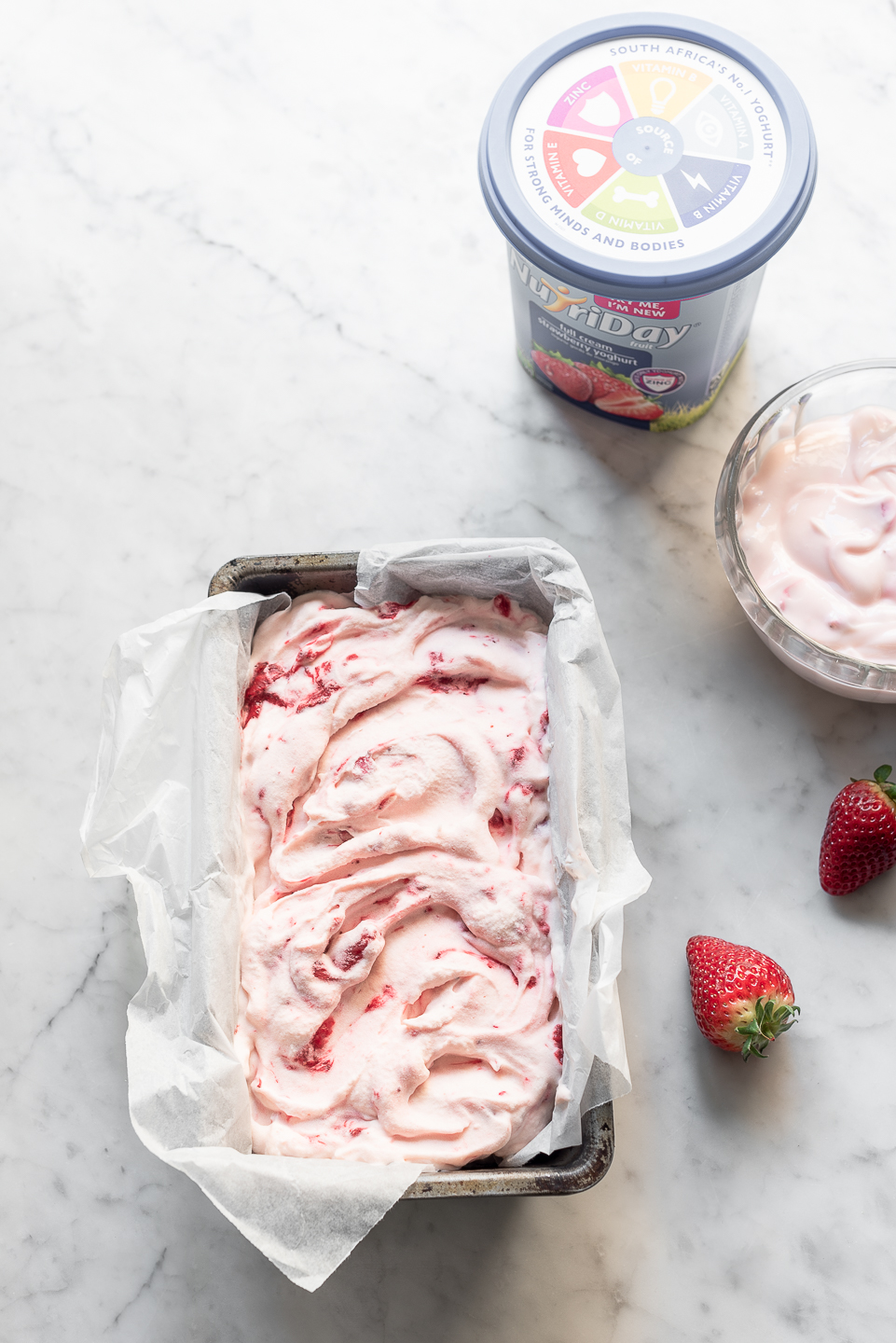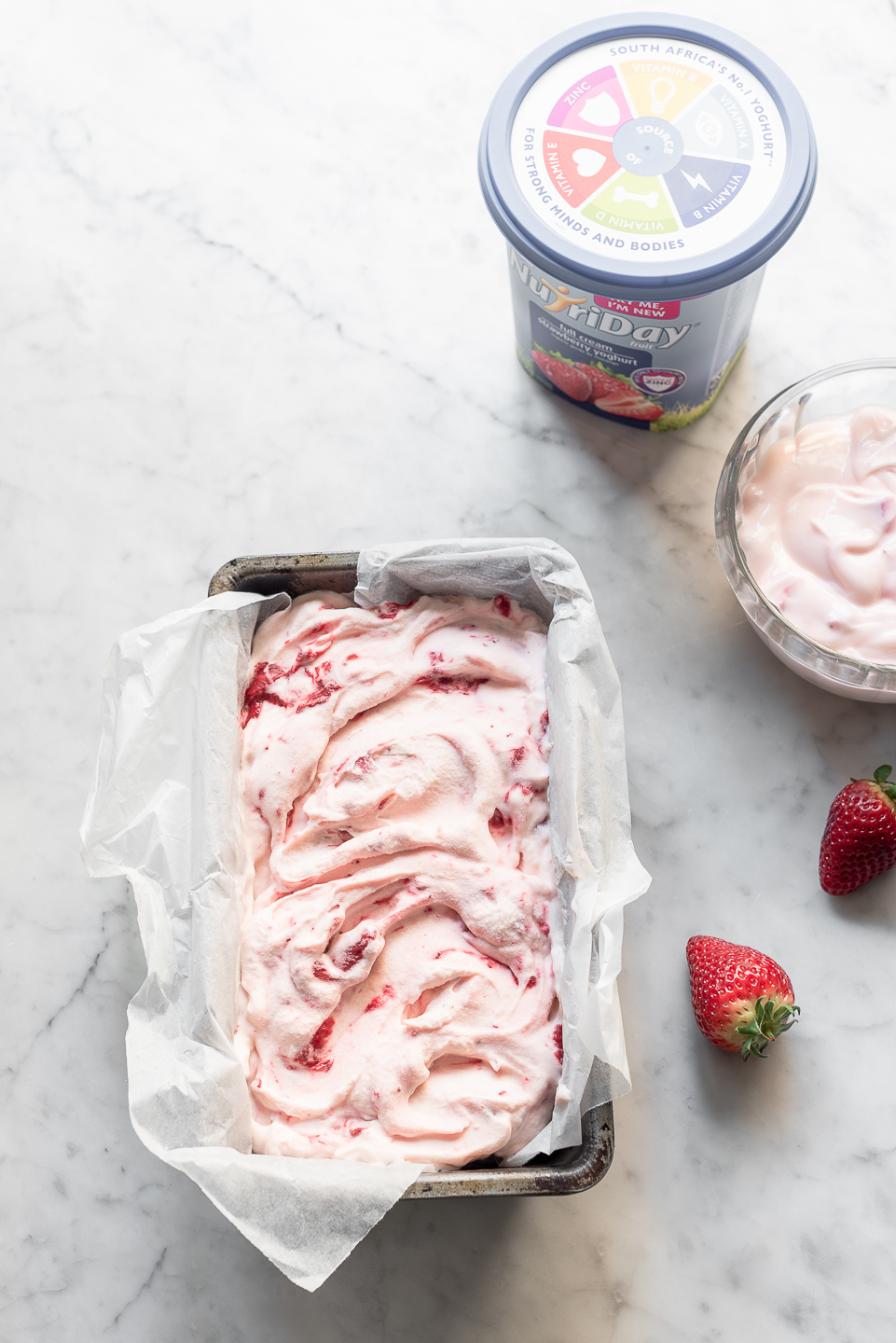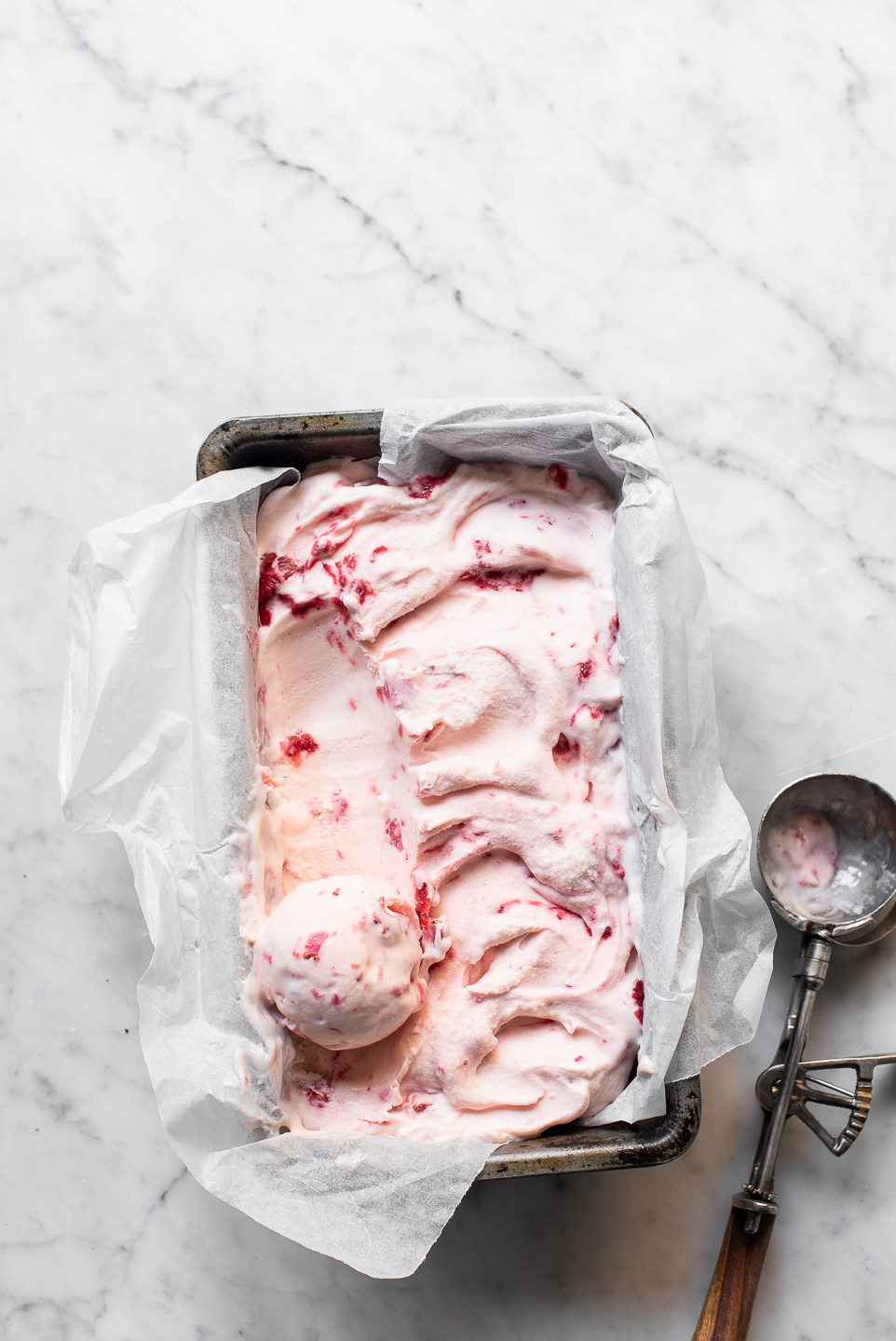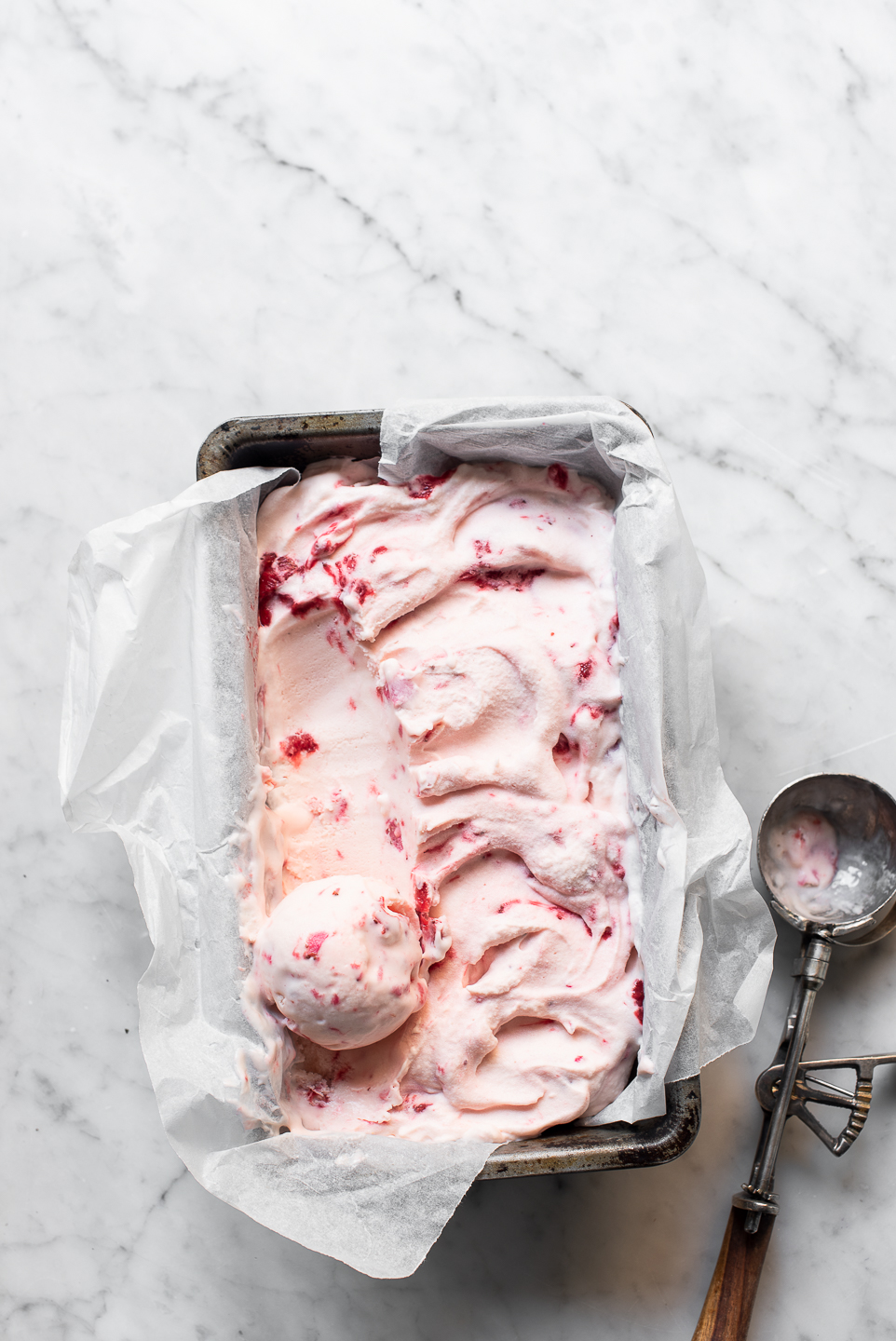 When it comes to homemade ice cream, sorbet or frozen yoghurt, the sugar content and acid will determine how it freezes. Excessive sugar prevents it from freezing sufficiently. Too little sugar in the mixture and it will freeze hard, with a less creamy consistency. You can adjust the amount of sugar slightly according to taste. To serve, bring to the table with your favourite homemade cookies and plenty napkins for creamy drips.
Cook's Note: If you're making the cookie sandwiches, the frozen yoghurt needs to soften sufficiently to make it scoop-able. I leave it out on the counter until it reaches the desired consistency.




Roasted Strawberry Frozen Yoghurt Cookie Sandwiches
Makes 1 litre
Roast Strawberries
250g strawberries, rinsed, hulled and quartered
55g  (1/4 cup) castor sugar
5ml (1 teaspoon) vanilla extract
20ml lemon juice
Strawberry Frozen Yoghurt
250ml (1 cup) fresh cream
125g (1/2 cup plus 1 tablespoon) castor sugar
5ml (1 teaspoon) vanilla extract
750ml (3 cups) NutriDay Full Cream Strawberry Yoghurt
Cookies, for serving
Preheat the oven to 180º C. Place the strawberries in a non-stick roasting tin. Scatter over castor sugar, vanilla and lemon juice, then toss to coat. Roast for 35-40 minutes until jammy and sticky. Turn the strawberries over several times while roasting to ensure even cooking. Set aside to cool.
For the strawberry frozen yoghurt, place the cream and castor sugar in a saucepan. Heat gently, stirring until the sugar is completely dissolved. Remove from the heat. Cool to room temperature.
Add the vanilla extract and NutriDay Full Cream Strawberry Yoghurt to the cream and whisk to combine. Transfer to a bowl and chill for several hours.
Pour the yoghurt mixture into an ice cream maker and churn until frozen. Scrape into a container, then swirl through the roasted strawberries. Cover and freeze for several hours until firm. For a soft-serve consistency, the frozen yoghurt can be serve immediately.
Remove from the freezer and set on the counter to soften before scooping into balls. Sandwich between crisp cookies and press together. Serve immediately.
What to do if you don't have an ice cream maker
Once chilled, divide the yoghurt mixture between two zip-lock bags. Seal tightly, then freeze overnight. Just before serving, remove the frozen yoghurt blocks from the ziplock bags and chop into cubes. Place in a processor and blitz until smooth and creamy. Serve immediately or freeze for several hours until firm.
Some cookie inspiration that will pair perfectly with the Roasted Strawberry Frozen Yoghurt
Brown butter chocolate chip cookies
The best halva chocolate chip cookies