Milk tart ice cream with gingerbread crumble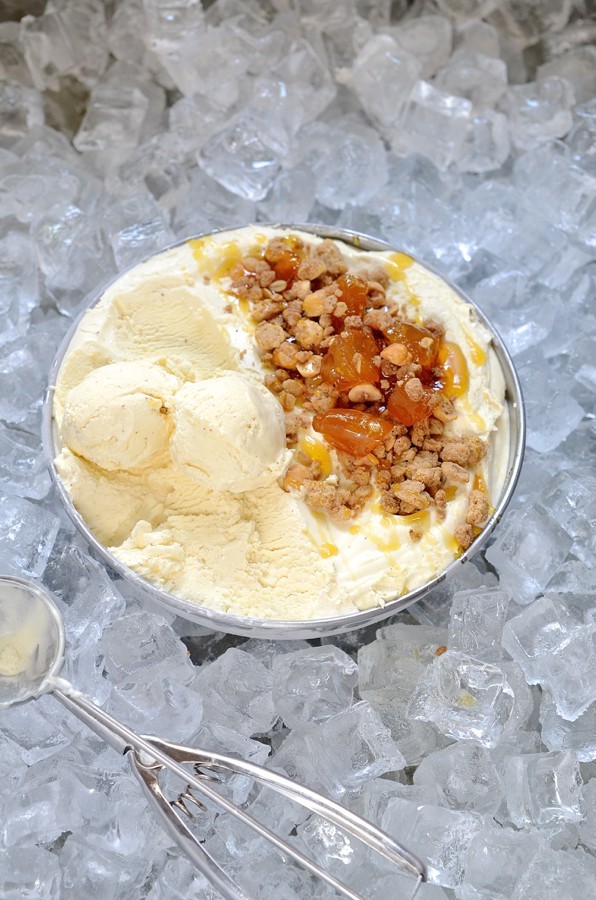 A 'tart' on its own could be interpreted several ways. If however you prefix it with milk, well then, we have something of an entirely different. Now add the words ice cream or gingerbread crumble and a frenzied kind of mayhem is likely to ensue. Drowning in pools of frosted ivory cream is my antidote for our current spate of scorching African heat.
Milk tart is as much a part of South African culture as the braai (barbecue). There exists more versions of this recipe than you can swing a stick at, with passionate milk tart enthusiasts clamouring for the original and best Ouma se melk tert title! (Your grandmother's best milk tart) Growing up, my Mum's crustless milk tart was a regular at our tea table, it obviously being the quickest route to a milk tart fix without the need for lined pastry cases. Milk tart happens to be a favourite of my daughter Skylar, so I occasionally concede to ardent pleas and hunker down to the task of blind baking the pastry shells. Filled with a cinnamon infused custard cream it remains an uncontested local winner.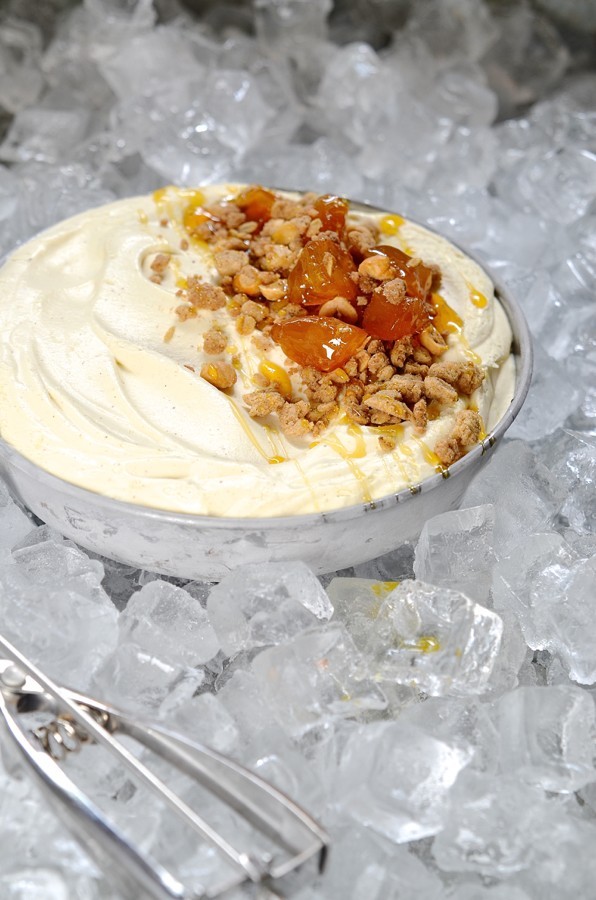 In addition to handing down a traditional milk tart recipe, my girls will also be issued with this Milk tart ice cream recipe. With consideration for all those not in possession of an ice cream machine, the words no-churn should makes this ice cream doable my most. It's lusciously creamy without the need for churning. The hazelnut gingerbread crumble topping with nuggets of syrup-coated candied ginger is the clincher! Current food trends dictate texture and crunch so toppings are mandatory for sensory food excitement. It's like ginger cookies and cream ice cream. C'mon heat, I'm ready for you!!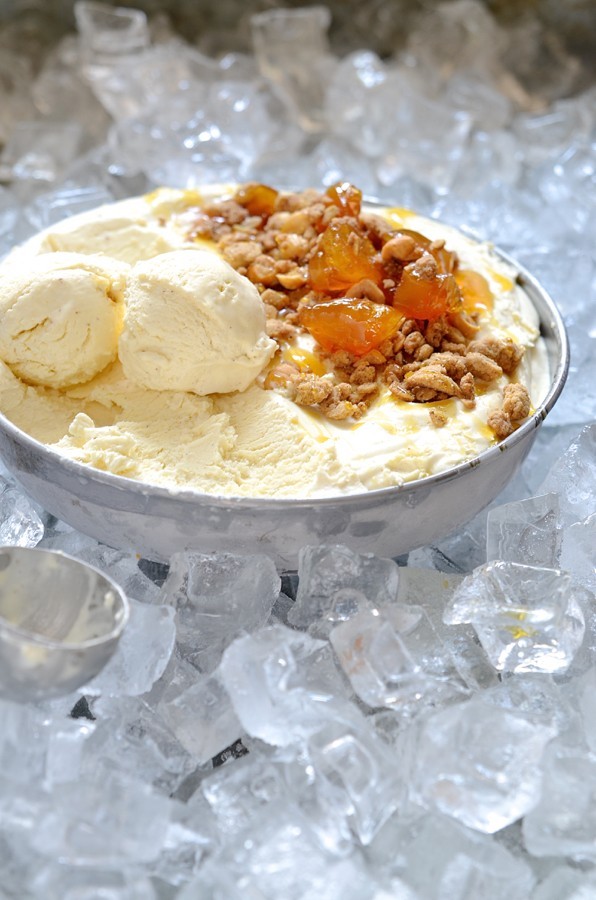 I'll be making this milk tart ice cream throughout the festive season. It's the perfect make-ahead dessert. The flavour combination of cinnamon ice cream and brandy-soaked fruit is a great match, so pair it with a traditional steamed Christmas pud. For casual poolside entertaining, ice cream wafer- sandwiches are a real crowd-pleaser. For another easy summer dessert, you should undoubtedly try this Peppermint crisp ice cream pudding cake. Sweet temptation!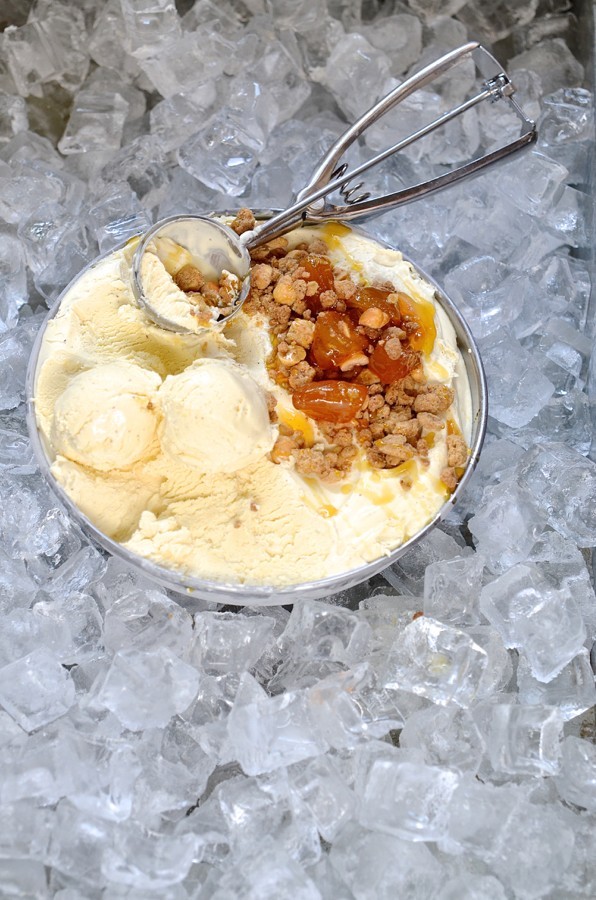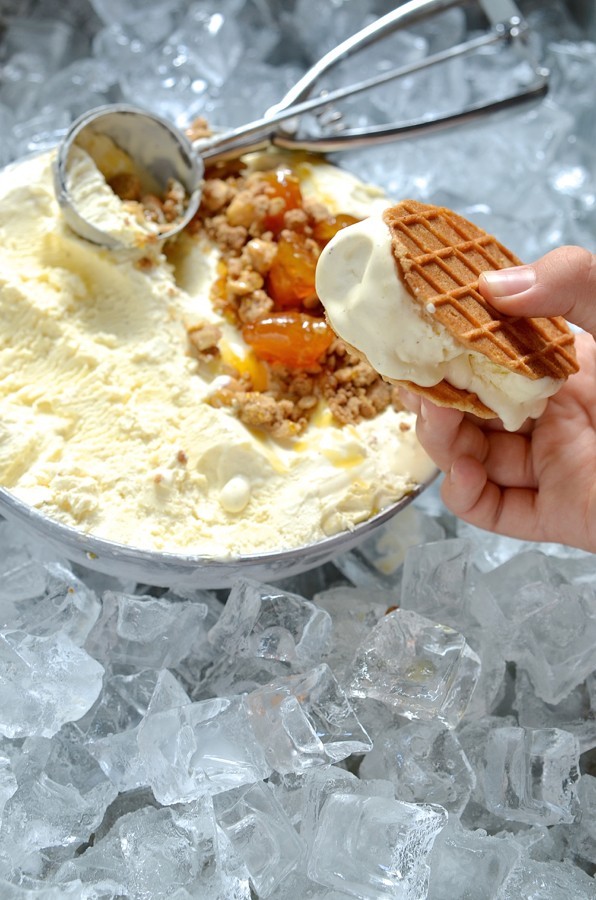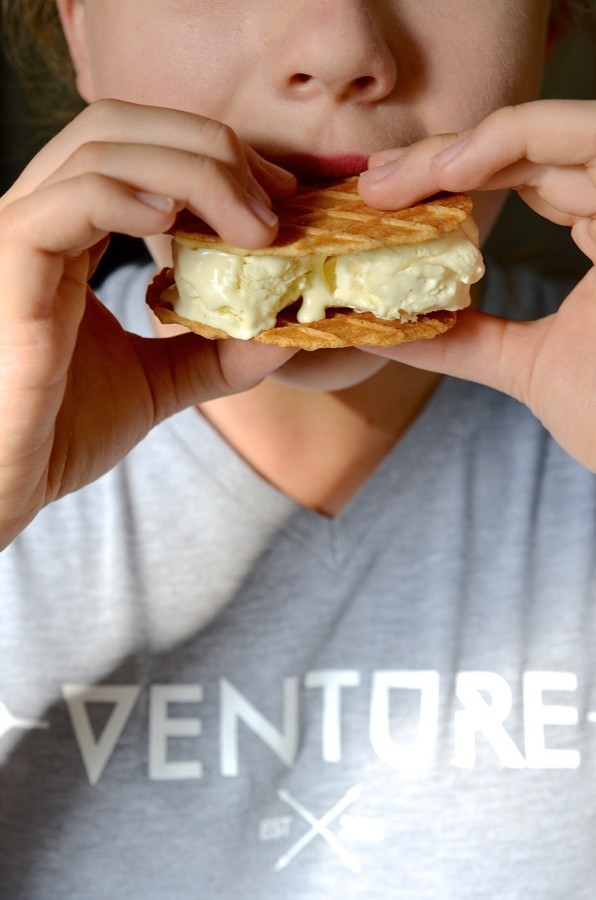 Milk tart ice cream with gingerbread crumble
Serves 10
750ml cream (whipping cream or single, at least 35% fat)
1 vanilla bean, seeds scraped
2 cinnamon quills
1/2 teaspoon ground cinnamon
300g condensed milk, chilled overnight
Hazelnut Gingerbread crumble
60g all-purpose cake flour
30g (2 heaped tablespoons) whole rolled oats
40g castor sugar
1/2 teaspoon ground cinnamon
1 teaspoon ground ginger
pinch of salt
40g butter
1/4 cup roasted hazelnuts, roughly chopped
Place 250ml cream, the vanilla bean, cinnamon sticks and ground cinnamon in a saucepan. Bring the cream up to the boil and reduce down by half. Remove from the heat and set aside to infuse for at least 15 minutes. Strain the mixture and discard the solids. Refrigerate until completely chilled.
In the bowl of an electric mixer, whisk together the cinnamon cream, the remaining 500ml whipping cream, and condensed milk until the cream holds a peak. Transfer the ice cream to a suitable container and freeze overnight.
For the gingerbread crumble, preheat the oven to 180º C. Sift together the flour, sugar, cinnamon, ginger and salt. Rub the butter into the dry ingredients to form large crumbs. Add the whole rolled oats and hazelnuts. Spread the gingerbread mixture onto a lined baking sheet and bake for about 25-30 minutes until golden and crisp. Turn the crumble over several times throughout the cooking time to ensure even browning.
To serve, set the ice cream on the counter for about 5 minutes before rolling out scoops. Scatter liberally with cooled gingerbread crumble and knobs of preserved ginger. AND perhaps, a drizzle of ginger syrup, just for good measure!