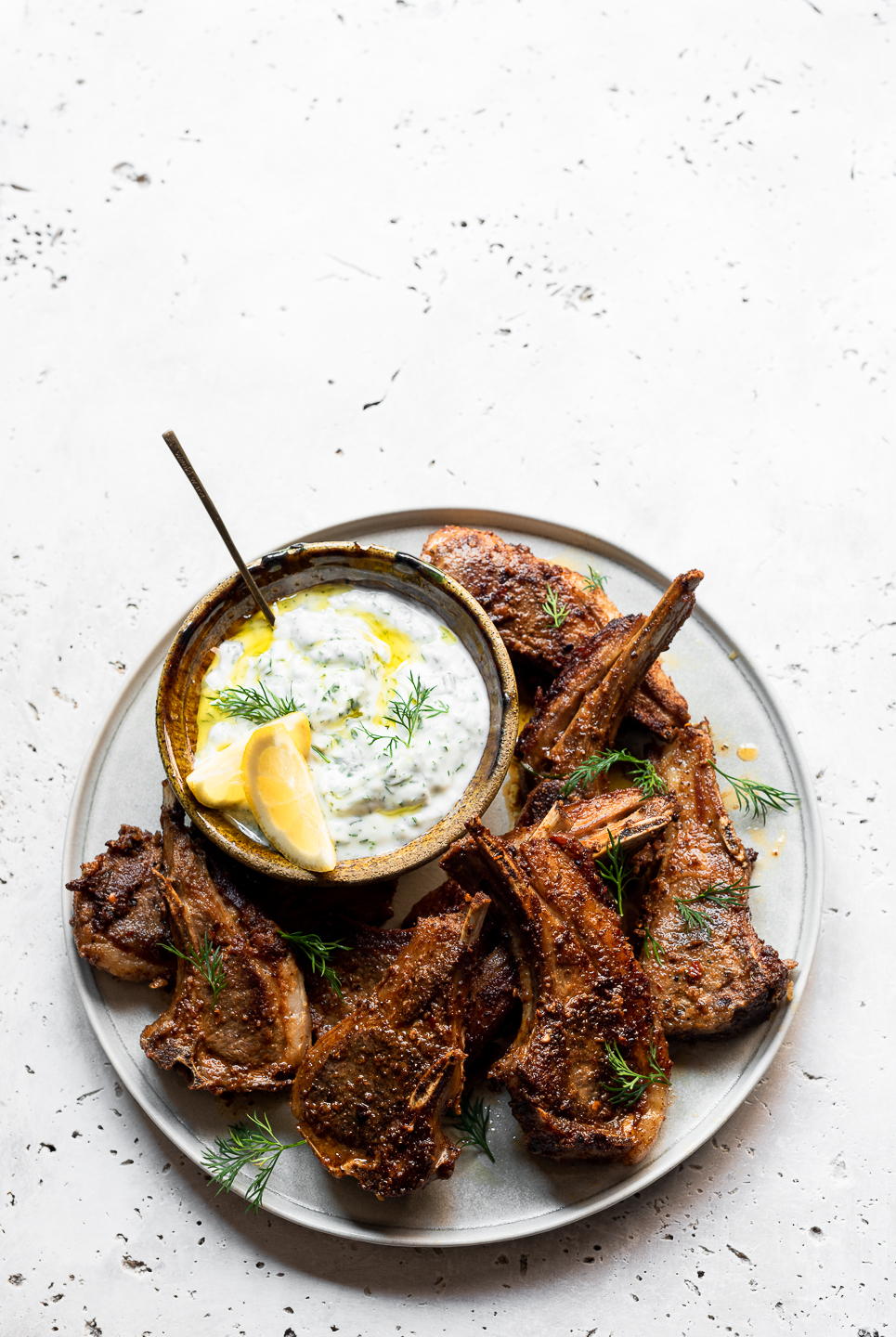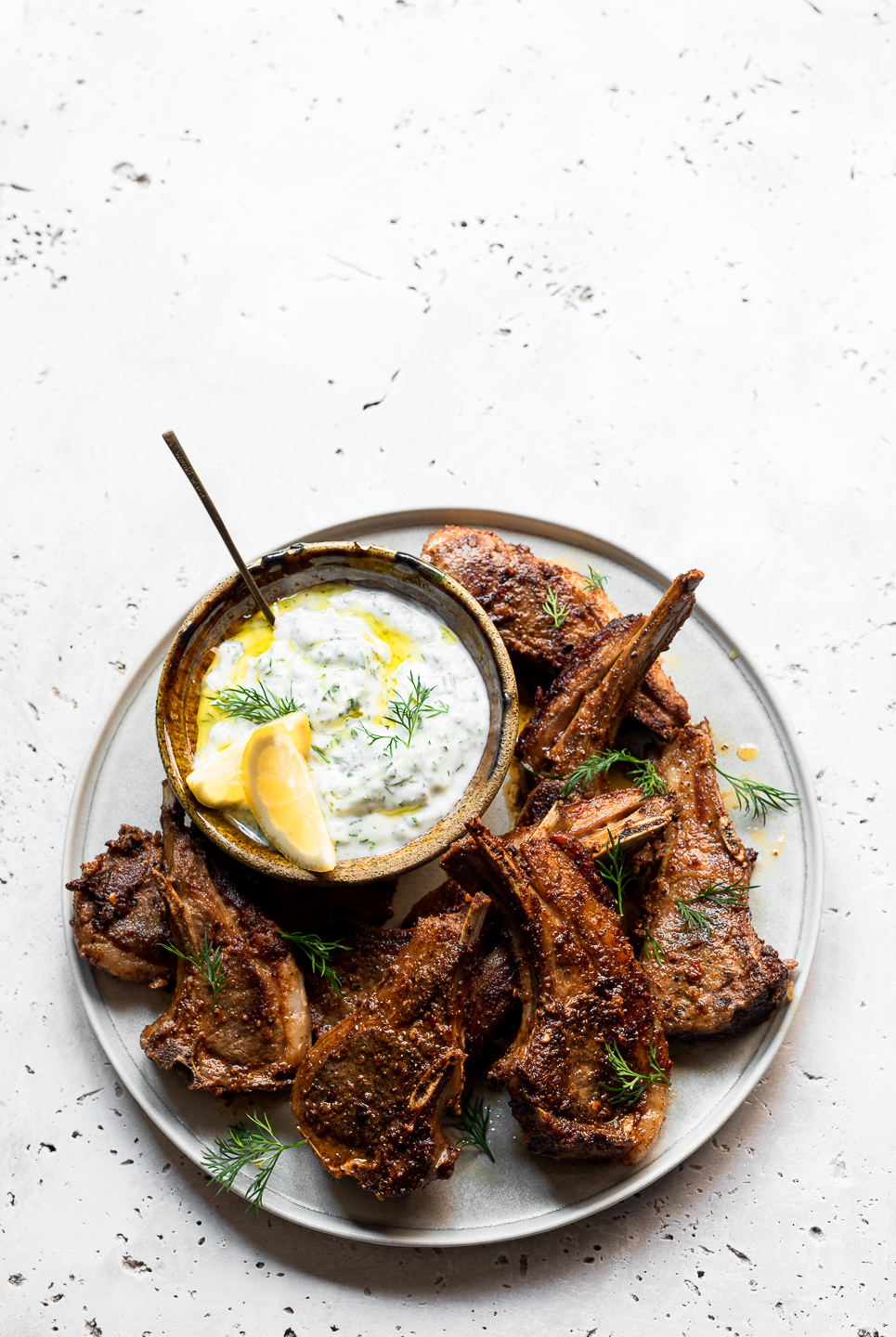 It's easy to be intimidated when you hear, sous vide. It is in fact, the easiest and most accurate way to ensure your meat is cooked to perfection, especially when it comes to tricky cuts like fillet or lamb. Translated from French, sous vide means 'under vacuum'. And to show you just how simple this water bath cooking method can be, I'm sharing my recipe for the juiciest Marinated Spiced lamb chops with a zippy herb yoghurt. You're going to lick your lips!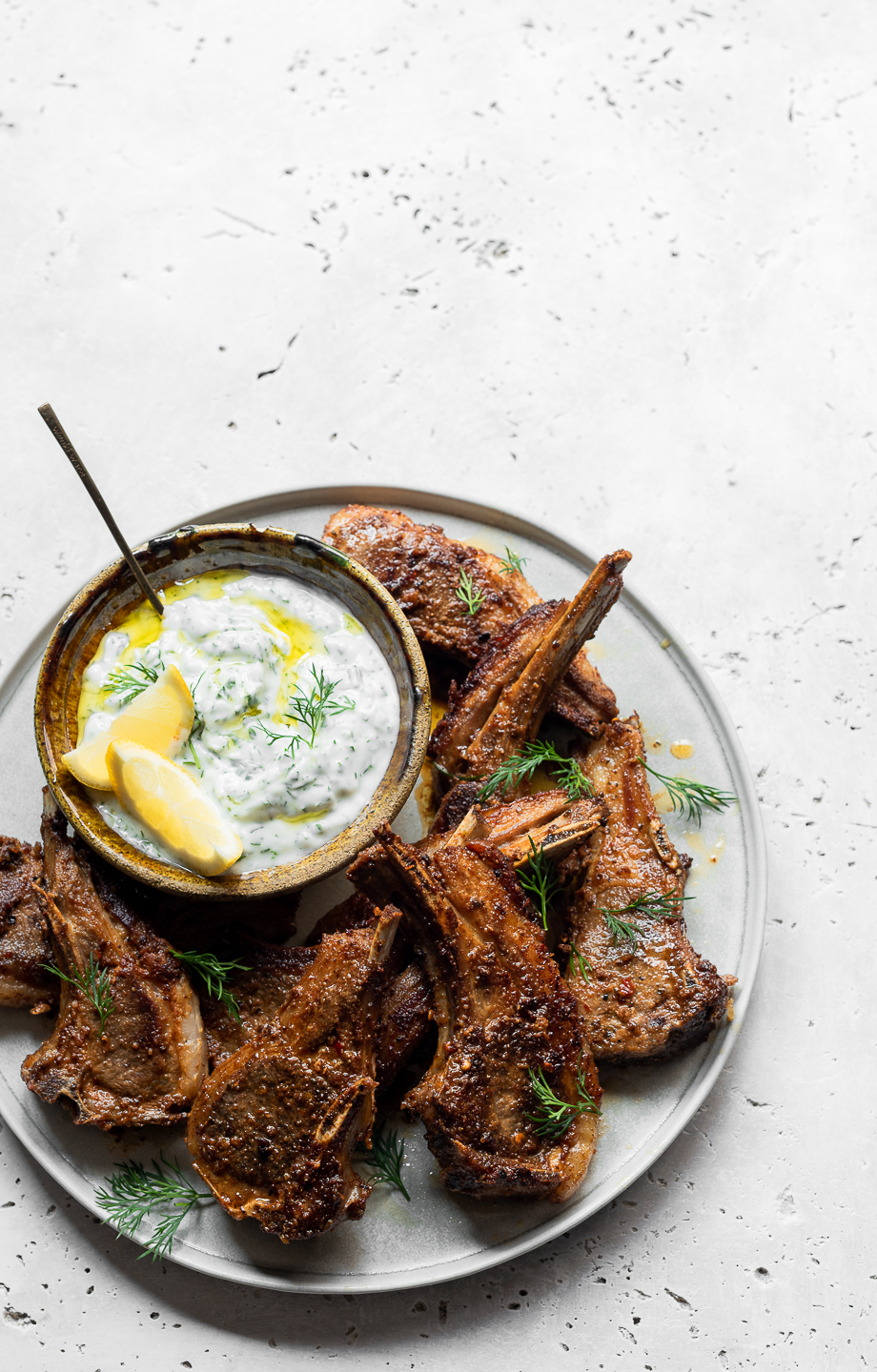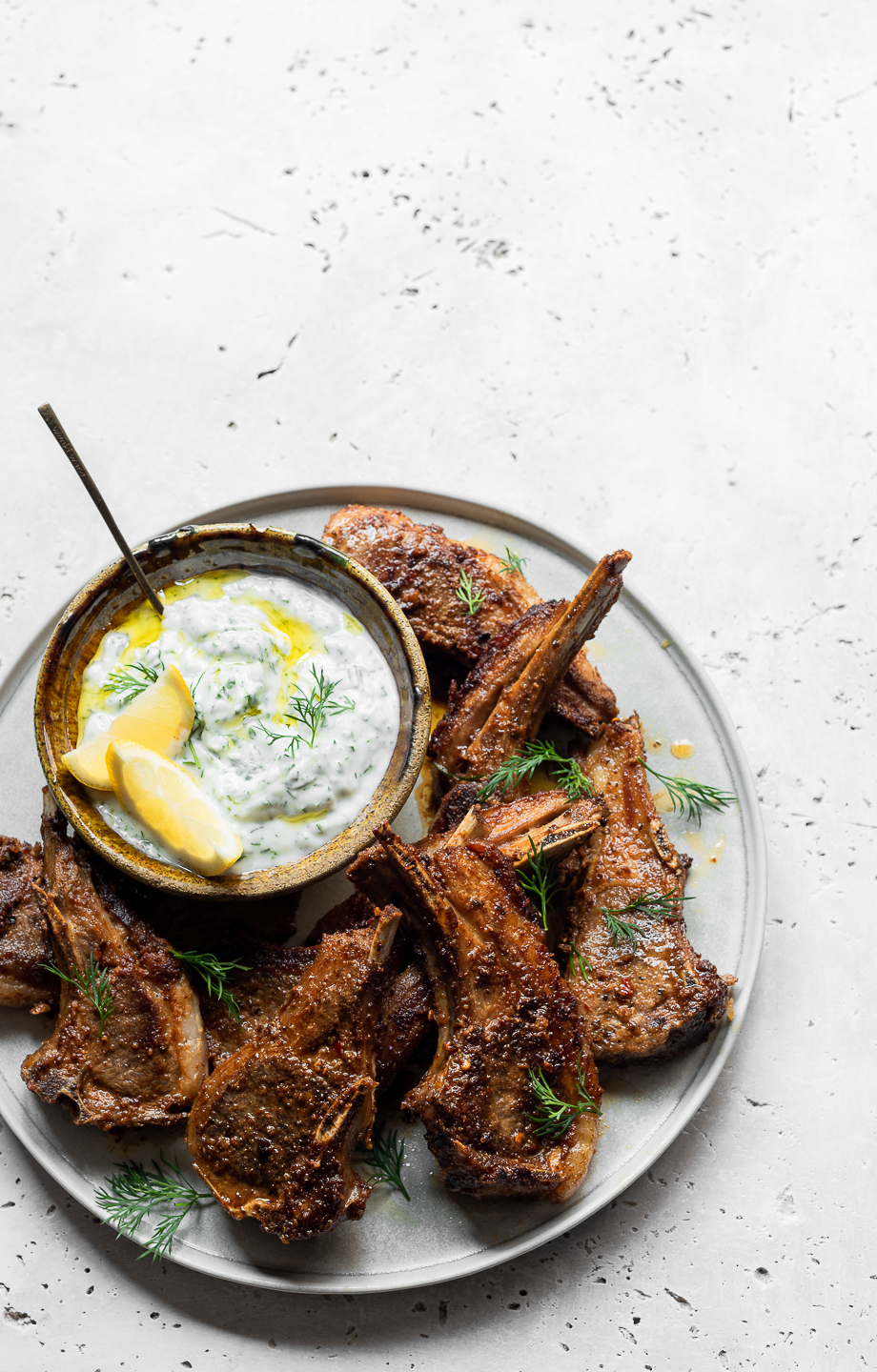 For today's recipe, I'm using the 'multi-talented' Instant Pot Duo Plus, which boasts with a fancy new Sous Vide function. It makes pro-cooking a doddle. In simplified terms, sous vide is gentle cooking in a moderate temperature water bath, as apposed to roasting in a conventional oven with a dry heat. It retains all the juicy flavours within the bag and cooks the food evenly over an extended time.
For these Marinated Spiced lamb chops I've chosen Middle Eastern flavourings like coriander, paprika and lemon that compliment the sweet fattiness of lamb. If you have time, marinating overnight will ensure the flavours are concentrated and certain, although you can get away with several hours. It's important not to overcrowd the bag though. I'd say 4 or 5 cutlets are ideal. Here, I've used the super handy Stasher Bag from Yuppiechef. You can cook, freeze and store just about anything in this reusable, plastic-free bag.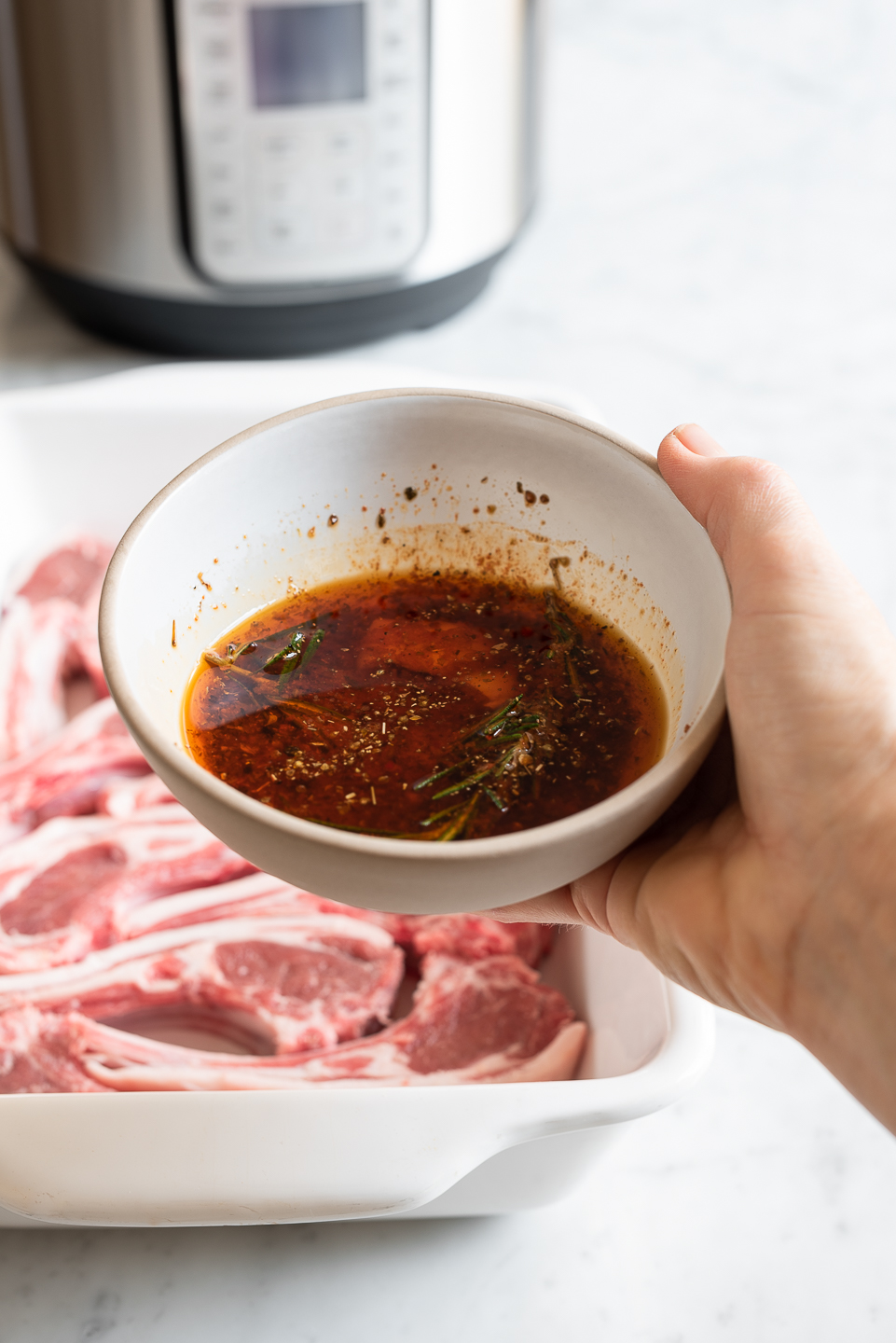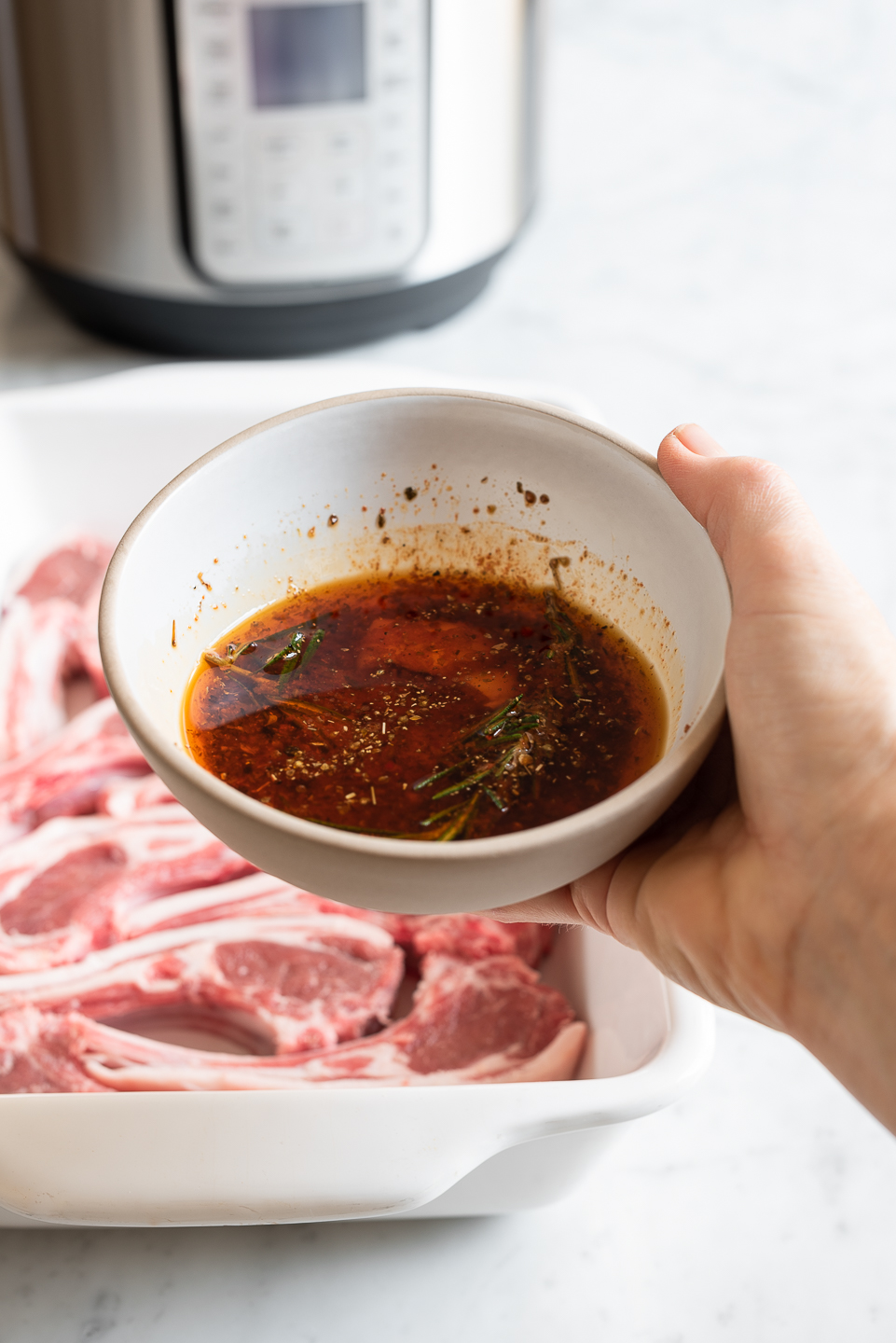 Because there's no direct or dry heat when cooking sous vide, reverse searing is essential. When the cooking time is complete, remove the bag from the water. Pat the meat dry and sear in a hot pan over a high heat to caramelise the natural sugars. I use any remaining marinating juices to deglaze the pan once deep, golden crust has formed on both sides. A cooling minted yoghurt is rather lovely to serve alongside. I've included a quick recipe here if you'd like to offer it with the chops.

Marinated Spiced Lamb chops
Serves 4-6
Marinade
60ml (1/4 cup) olive oil
45ml (3 tablespoons) fresh lemon juice
zest of 1 lemon
2 cloves garlic, bruised
5ml (1 teaspoon) dried oregano
10ml (2 teaspoons) ground coriander
7.5ml (1 1/2 teaspoons) smoked paprika
1/2 teaspoon dried red chilli flakes
5ml (1 teaspoon) sea salt flakes
1/4 teaspoon freshly ground black pepper
2 sprigs rosemary
3 bay leaves
8-10 lamb chops
olive oil, for grilling
lemon cheeks, to serve
Herbed yoghurt
250ml (1 cup) Double cream plain yoghurt
15ml (1 tablespoon) lemon juice
a handful of fresh mint, flat leaf parsley and dill, roughly chopped
salt, to taste
For the marinade, place all the ingredients in a small bowl and mix to combine. Rub the marinade over the lamb chops and place in a shallow dish. Cover and chill overnight. Bring the meat to room temperature before cooking Sous Vide.
Place the lamb chops in a Stasher Bag or zip lock bag. Extract as much air as possible, then press the seal closed.
Place the steam rack on the base of the Instant Pot Duo Plus inner pot and fill with warmish tap water, up to the 2/3 PC MAX line. Place the lid on and secure to close.
Select the Sous Vide Function. Using the +/- keys, set the temperature to 60º C (140F). Press the Sous Vide Function again and set the cooking time to 2 hours. The "ON" display indicates the water is heating. Once the cooker beeps, the water is at the correct temperature.
Open the lid and place the Stasher Bag in the water ensuring the seal is just above the water level. Place the lid on and turn to close. Once the cooking time is up, open carefully and remove the Stasher Bag. Allow to cool in the bag for 10 minutes before removing the lamb chops, reserving the marinating juices for later.
Pat the meat dry with kitchen towel and season lightly with salt.
Heat 1 tablespoon olive oil in a wide-based pan until hot. Brown the lamb chops over a high heat on both sides until golden. Deglaze with the reserved marinade and reduce until sticky. Alternately, brush the chops with olive oil and grill over hot coals while basting with the reserved marinade.
Serve with herb yoghurt and lemon cheeks.
The Instant Pot Duo Plus and Stasher Bag is available online from Yuppiechef.
This post was proudly sponsored by Instant Pot South Africa 
For more Instant Pot recipes, here are several blog favourites you may like to try.
North African Lamb knuckle bredie
Ostrich stroganoff pie with porcini mushrooms
Milk tart cheesecake with rum caramel