Lemon and herb chicken kebabs with sundried tomatoes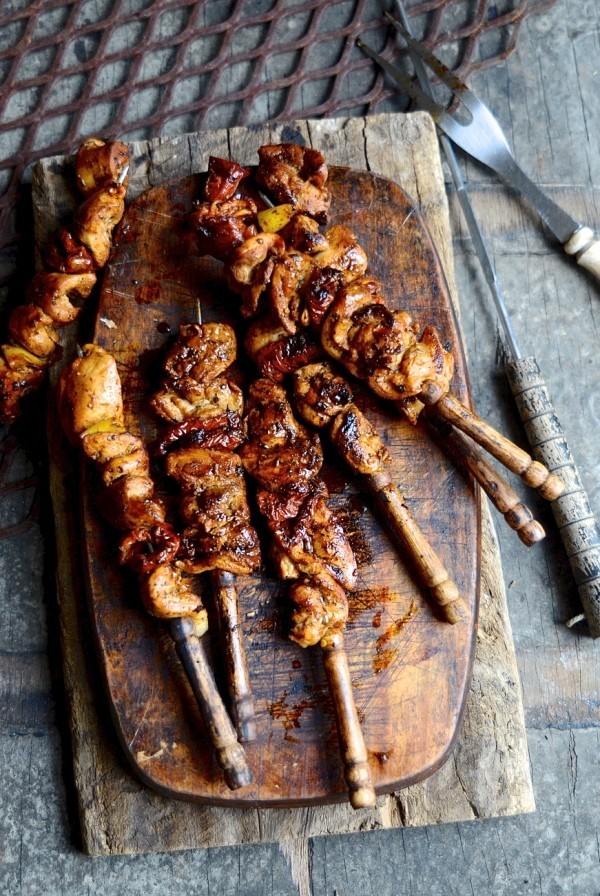 Open fire cooking is an age old form of preparing food dating back over 2 million years. According to anthropologist Richard Wrangham, this ancient practice was as basic as throwing hunks of meat straight into the fire. Bam! Talk about a sizzling steak. Possibly the original version of Steers flame grilled? In the popular reality show Survivor, fire symbolises your life in the game. In South Africa however, fire represents one of the nation's favourite ways to eat… On the Braai.
As a nation, we hardly need an excuse to light the fires, but on Heritage Day we go all out, collectively celebrating our cultural beliefs and traditions. In 2005 this national holiday was rebranded and became known as National Braai Day. Any SA braai (barbecue) worth its salt usually includes succulent red meats (rib-eye steaks), lamb chops, boerewors and racks of smoky sosaties (kebabs). We'll be throwing these lemon and herb chicken kebabs with sundried tomatoes on the grill. Left to marinate overnight in a herbs de provence and lemony-garlic marinade, the flavours are bright and fresh with a sweet tanginess from the sundried tomatoes. Simple and so good. Here's wishing you all a unified and community-rich Heritage Day with your best people and a table laden with a feast of soulful food.
If you're looking for some great salads, sides and desserts, here are a couple of easy to make recipes to bring to the table.
Corn and halloumi salad, roast veg with grilled feta salad and dessert of course, which can be none other than a peppermint crisp ice cream pudding cake.

Lemon and herb chicken kebabs with sundried tomatoes
Makes 6 kebabs
1 teaspoon herbs de provence or dried Italian herbs
1/2 teaspoon smoked paprika
genenous pinch dried red chilli flakes
1 garlic clove, bruised
pared skin of 1 lemon, plus juice of half (about 45ml)
4 tablespoons olive oil
3/4 teaspoon salt
freshly ground black pepper
about 10-12 sundried tomatoes in olive oil, drained
800g free range chicken thighs, de-boned, skinned and cut in half
wooden skewers, soaked in water for 30 minutes
For the marinade, combine all the ingredients up to and including the black pepper, in a bowl. Place the chicken in the marinade and toss to coat. Cover with cling film and set aside to marinate for an hour or overnight if time allows.
Thread the chicken and sun-dried tomato halves onto the skewers.
Cook over hot coals, turning and basting regularly.
Serve with additional lemon wedges on the side.