Giant couscous salad with peas, smoked bacon and parmesan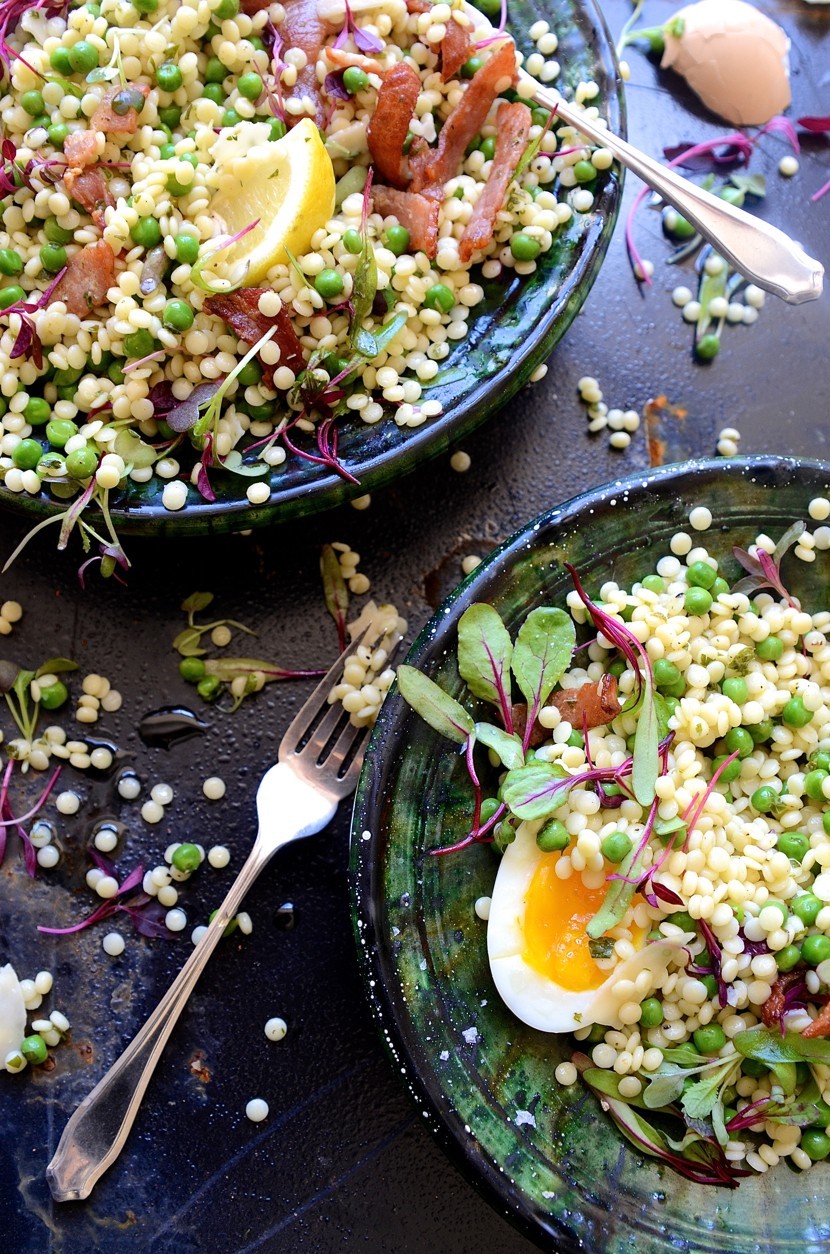 Summer eating is always lighter, fresher and preferably suited to alfresco dining, which is why salads are my go-to lunch or dinner option. If you're still haunted by  70's style limp salads with iceberg lettuce, onion rings and sad, watery tomatoes were the star ingredients, then this Giant couscous salad bowl is for you. Say hello to a sunshine salad bowl that is fresh and lively, with smoky bacon, salty parmesan and sweet petit pois.
Ok, so this hardly sounds like the ingredients for a conventional salad, but given the combination of carbs, greens and protein, I think it is a rather well balanced dish that will be welcomed, especially by little family members that don't usually opt for salads. A meal in a bowl or a great alternative to serve as a side with barbecued chicken or grilled meats. Giant couscous is essentially a pasta made from wheat, much the same as regular couscous, but larger, smoother and more pearly in texture. If you're after more fibre, then by all means swap the couscous for bulgar wheat, barley or quinoa.
As a busy mum, I'm always looking for ways to beat the 'system'. Yes, I know, a salad will hardly change your life, but it can come in very handy if you're short of time. So, when making this salad for your Sunday barbecue, prepare a little extra to pack for Monday's school lunch. Replace the eggs with strips of roasted chicken, add some rosa tomatoes and a handful of toasted pine nuts for crunch. You'll be the 'rocking' mum at school!' And if you don't want the rocking mum accolade, give them a jam sandwich and enjoy the leftovers yourself!
Giant couscous salad with peas, smoked bacon and parmesan
Serves 4
1 cup giant couscous
2 cups petit pois peas
125g smoked back bacon, cut into lardons
30g parmesan shavings
4 soft boiled eggs, optional
a handful of fresh mint and flat leaf parsley, chopped
baby rocket and beetroot leaves (micro herbs)
For the dressing
3 tablespoons olive oil
2 tablespoons fresh lemon juice
a pinch of castor sugar
1 teaspoon Dijon mustard
a generous pinch of salt and pepper to taste
Cook the couscous as per the packet instructions. Rinse and drain thoroughly before spreading out onto a wooden board or tray to dry off for about 10 minutes. Blanch the peas in boiling, salted water for 2 minutes. Drain and plunge into a bowl of ice water to stop the cooking process and to retain the vibrant, green colour. Drain once more and set aside.
Heat a drop of olive oil in a pan and fry the bacon lardons until the edges start to colour and brown. If you like your bacon crispy, cook slightly longer. Drain on paper towelling. Boil the eggs to you liking, peel and cut into halves. For the dressing, whisk all the ingredients together to form an emulsion.
To assemble the salad, place the couscous, peas, bacon, parmesan and herbs in a bowl. Pour over the dressing and toss through lightly. Transfer onto a serving platter and top with the soft boiled eggs. Finish with a few extra shavings of parmesan. This type of salad is best served at room temperature.