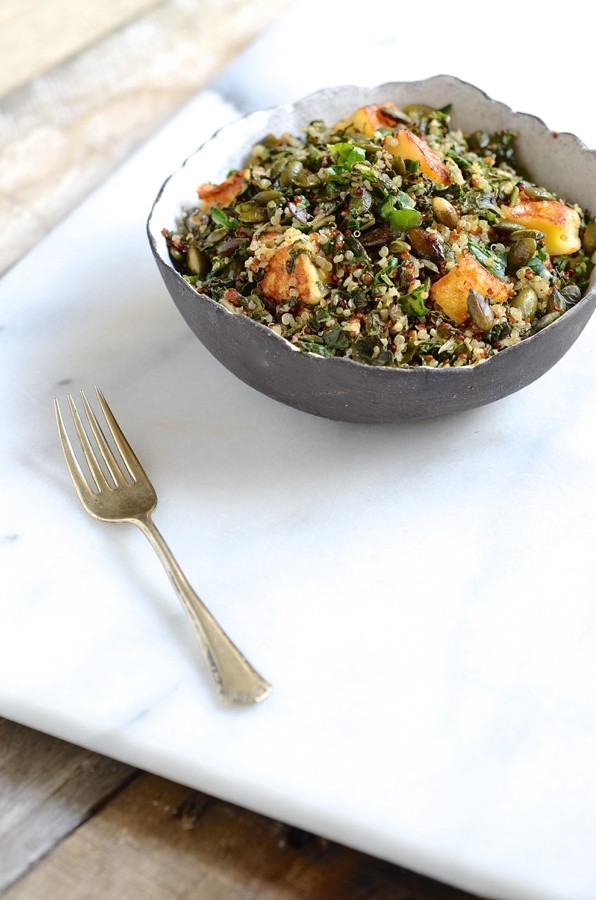 Clean and uncomplicated. Packed with nutritional super-powers, this textural quinoa salad bowl is given a flavour boost with fried halloumi. Light and fresh, yet completely satisfying.
Made with equal quantities red and white quinoa, flash-fried chard, roasted pumpkin seeds and of course, everyone's favourite cheese, fried halloumi. The dressing is a quick shake-up in a jar combination of cumin, chilli, lemon and peppery extra virgin olive oil. As a plant-based protein, quinoa absorbs flavours easily making it an ideal choice for either savoury dishes or sweet porridge based breakfasts. When making salads, remember to drain the cooked quinoa thoroughly as any excess water will dilute the dressing and result in a watered-down flavour.
.
I usually double the recipe and store it in the fridge for convenient packed lunches. I'll add either roast chicken pieces, sweet peppers and cranberries or for a vegetarian option, toss together with roast butternut, aubergines and zucchini chunks. As a take to work lunch I usually replace the halloumi with feta as hot-out-the-pan halloumi is the only acceptable way to enjoy this squeaky cheese. A quinoa salad bowl  travels well and is the healthiest kind of road-tripping food for holidays.
I'd happily serve this quinoa salad bowl warm alongside a traditional holiday roast. It also makes a healthy alternative to a traditional chicken or turkey stuffing, in which case I'd omit the cheese and replace the pumpkin seeds with chopped walnuts. With so many options, this green quinoa salad will weave its magic into countless wholesome dishes.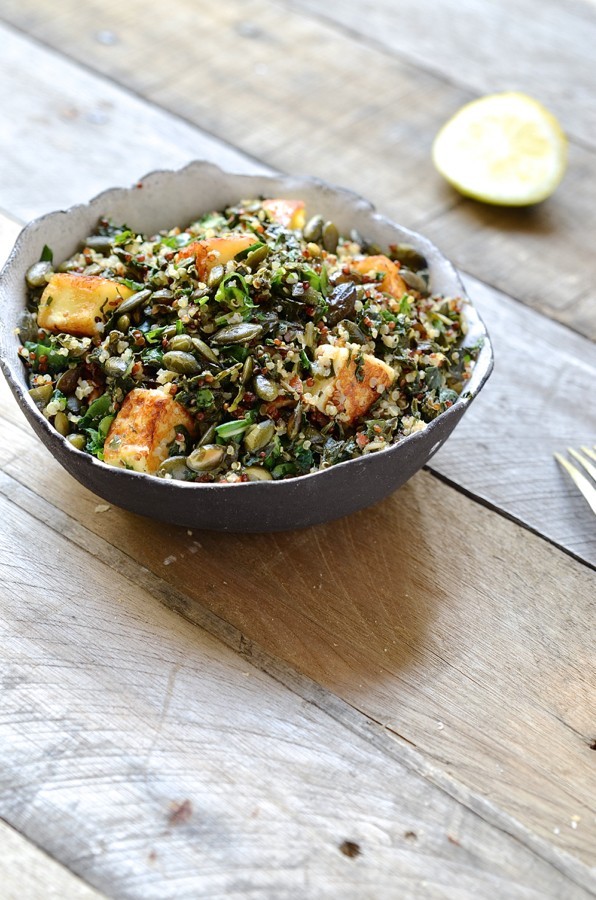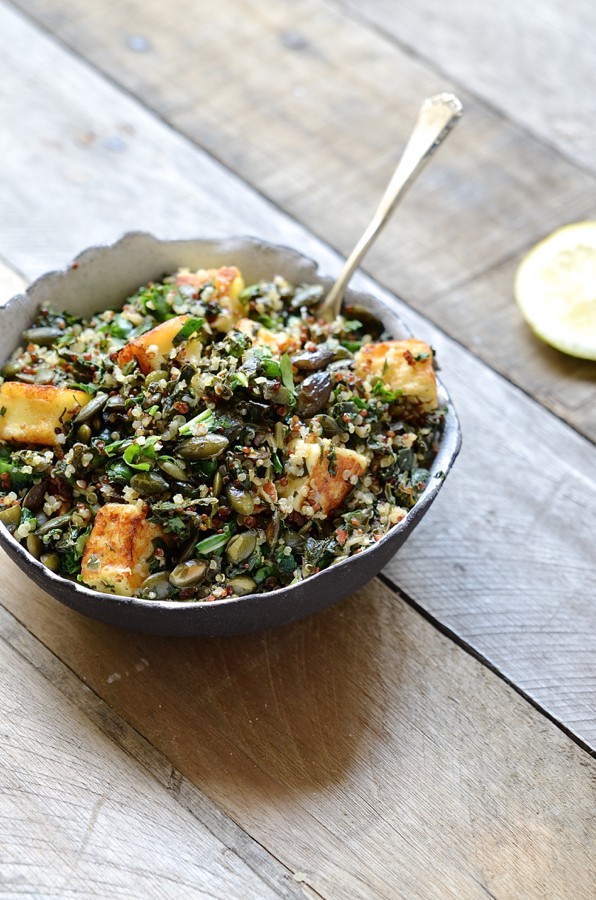 Quinoa, chard and halloumi salad
Serves 2 as a main, 4 as a side
1 cup quinoa (I use a combination of red and white)
olive oil, for cooking and dressing the salad
200g chard, finely chopped
zest and juice of half a lemon
1/2 teaspoon ground cumin
1/2 teaspoon dried red chilli flakes
40g rocket, finely chopped
100g halloumi, cut into chunky cubes
1/4 cup toasted pumpkin seeds
Cook the quinoa according to pack instructions. Drain thoroughly and set aside to 'air-dry' for about 30 minutes.
Heat 1 tablespoon olive oil in a pan and flash fry the chard until wilted. Season with salt and a generous grinding of black pepper. Add the quinoa to the chard and season with lemon zest and juice, cumin and chilli. Remove from the heat, toss through the finely chopped rocket and drizzle with about 2 tablespoons extra virgin olive oil. Transfer to a serving bowl.
Pan fry the halloumi until golden on both sides. Spritz with lemon juice and a little sea salt. Top the quinoa with the halloumi cubes and scatter with toasted pumpkin seeds. Serve either warm or at room temperature.